This recipe for Chicken Shawarma is one of my very favorite ways to prepare chicken. It is packed with flavor, and super tender and moist when made with chicken thighs. You can use the chicken to make a shawarma bowl, wrap, or sandwich.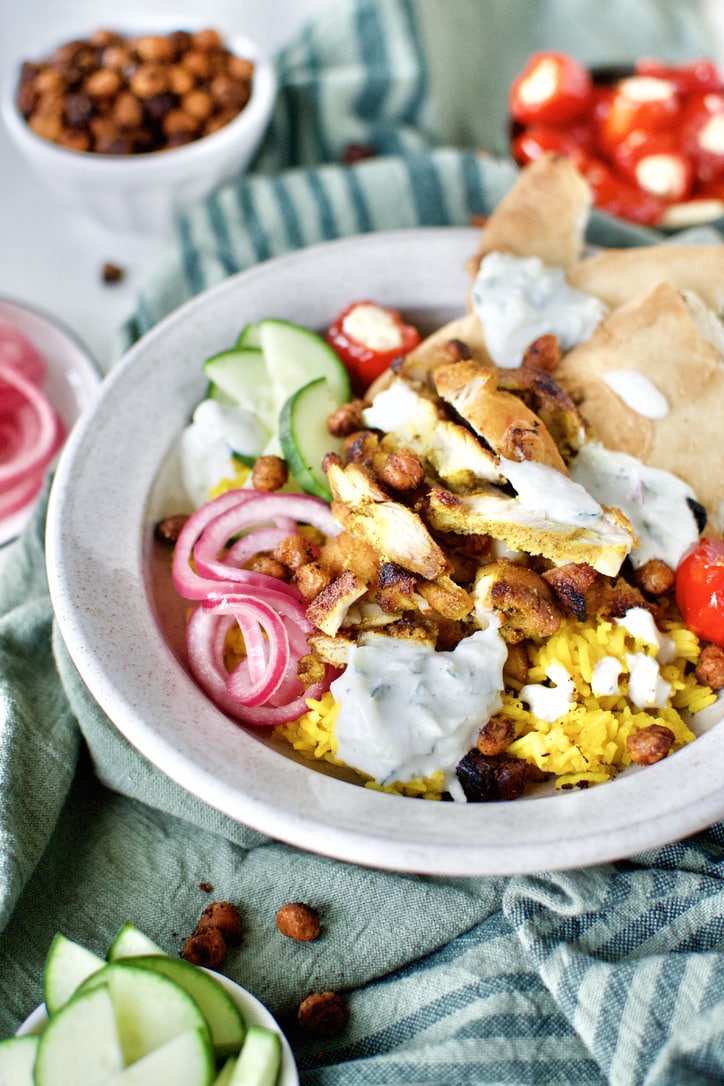 On top of being just plain delicious, this recipe also transports me right back to the streets of New York, but with just a little more flavor. Yes, that's a little shade! haha!
Jump to:
Ingredients
What really makes this recipe a success is the spices. You have to be generous with them, and use a healthy amount of salt so the flavors of all of them come through. There is a lot to be said for getting the salt level right, it makes all the difference...ok, that's all for my chef rant. HA!!
My other nonnegotiable is using chicken thighs. They cook up super tender and stay juicy and they also absorb the most flavor in my opinion. Take note of the love of dark meat here, I am not always a fan of it.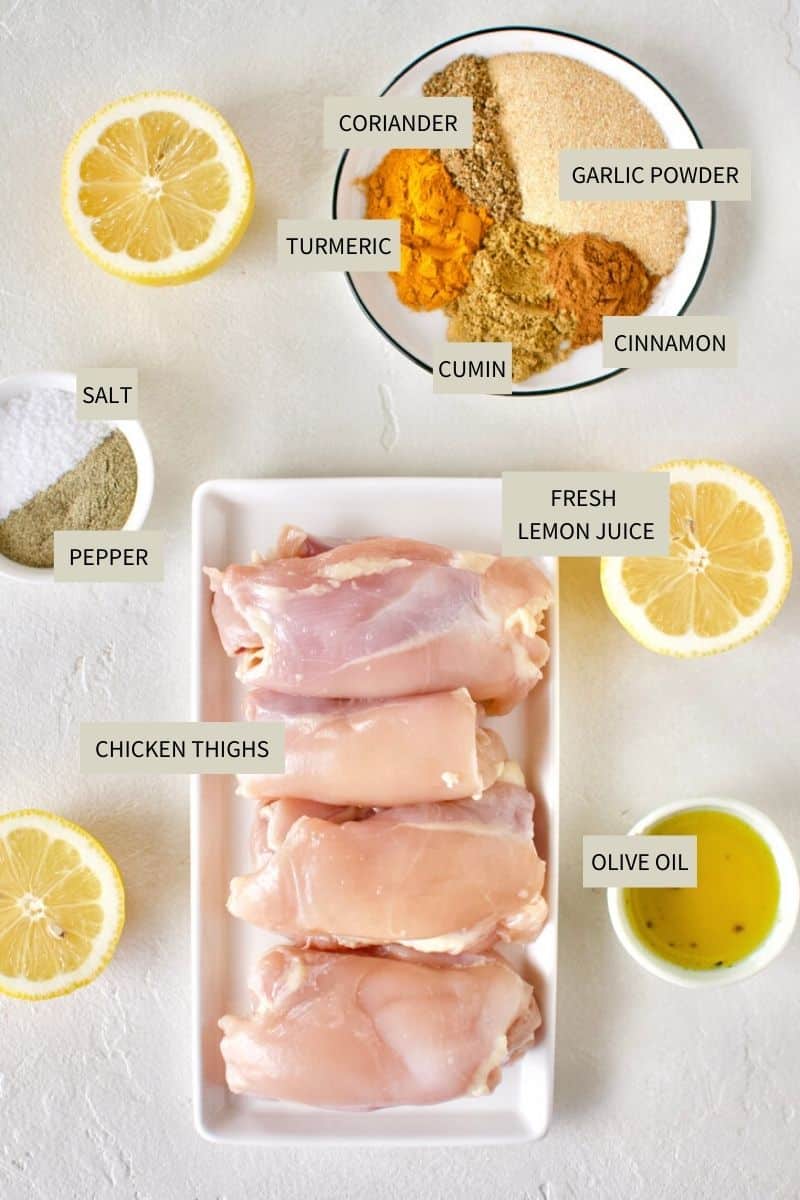 And one quick note on the use of lemon juice. When using it you need to do either a quick marinade or an overnight marinade. Anything in between will leave you with stringy, astringent chicken. And that's no good. So commit or be quick!
Method
As I said earlier, the success of the flavor of this recipe is in the spices and marinade. If you can, I totally suggest marinating the chicken overnight. It gives so much more flavor, and I almost always prioritize doing it this way.
The best thing to do is mix the marinade up in a bowl, season each piece of chicken on both sides with a little salt and pepper, then dip the chicken through the marinade. Flip it around a couple of times to really get the chicken coated. I then line them up in a plastic or glass dish and let them hang out.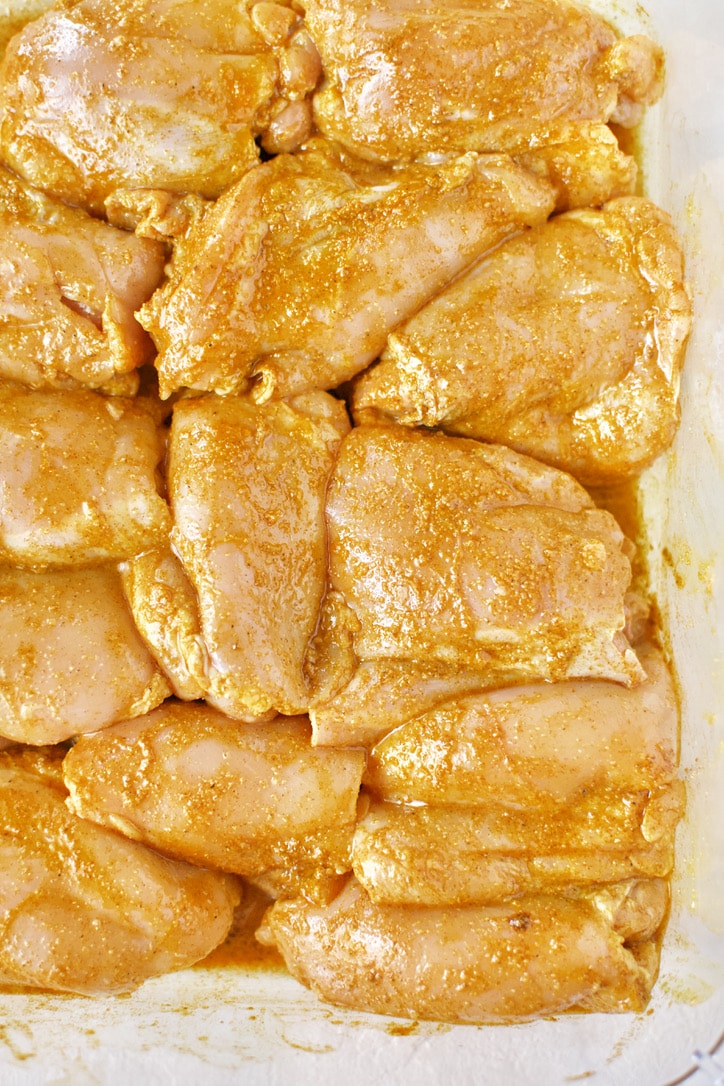 To cook the chicken, and make for easy cleanup, I foil-line a sheet pan and spray it with cooking spray. Then lay the chicken out on the pan and cook under the broiler.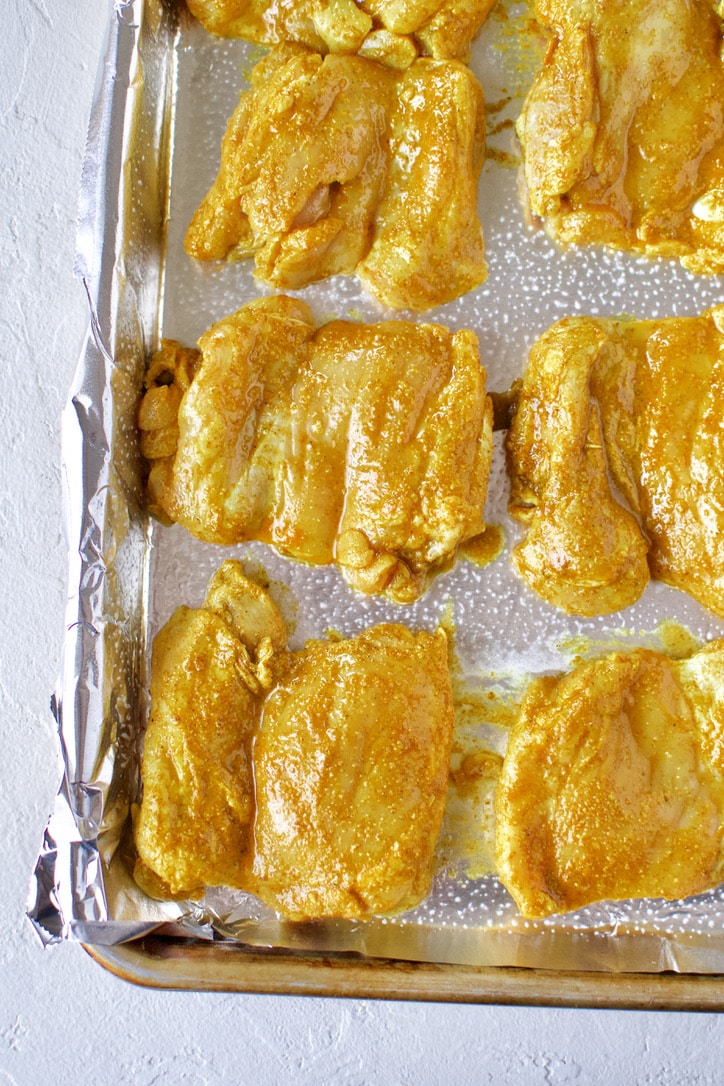 Cook until the chicken gets browned on one side, and if the pan gets full of liquid, drain it off into the sink. Then flip the chicken over and cook until browned on the second side. Allow the chicken to cool for about 5-7 minutes then slice it up and it is ready to serve.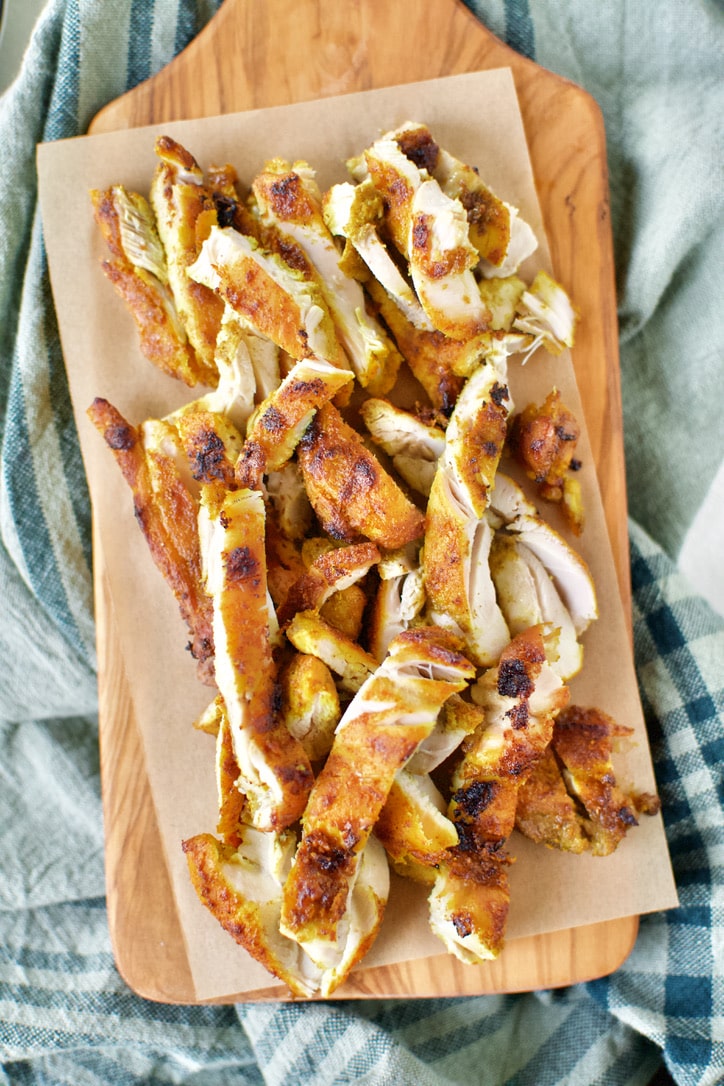 From here I most often make shawarma bowls, but you could totally make wraps, or sandwiches too!
Notes & Tips
If you are using this chicken to make a shawarma bowl, it's ALL about the toppings. I like to serve mine with Garlic Tzatziki, Quick Pickled Onions and Cukes, Stuffed Peppers, and Crunchy Chickpeas.
Of course, serving it simply on a piece of pita bread with some Baba Ghanoush is also a great option.
When using lemon juice to marinade, you need to do either a quick marinade or an overnight marinade. Anything in between will leave you with stringy, astringent chicken. And that's no good. So commit to overnight or be quick! (30 min only)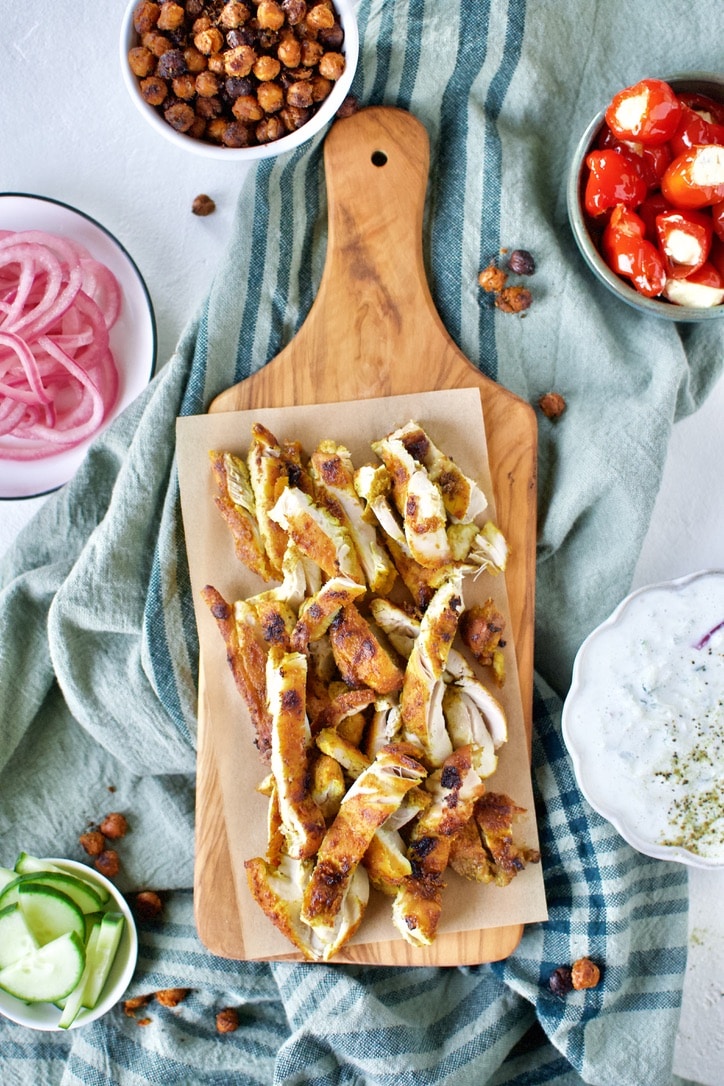 Substitutions
If you would like to take the guesswork out of using a custom blend of spices, you can always opt for this premade Shawarma Mix.
Any cut of chicken is great for this recipe, but I will say it again, chicken thighs are best for this recipe in my opinion. You can also use this marinade of beef or lamb too!
My motto is always, fresh is best, but if you don't have fresh lemon juice you can always use bottled lemon juice. Don't let that be the thing that stops you from making this recipe.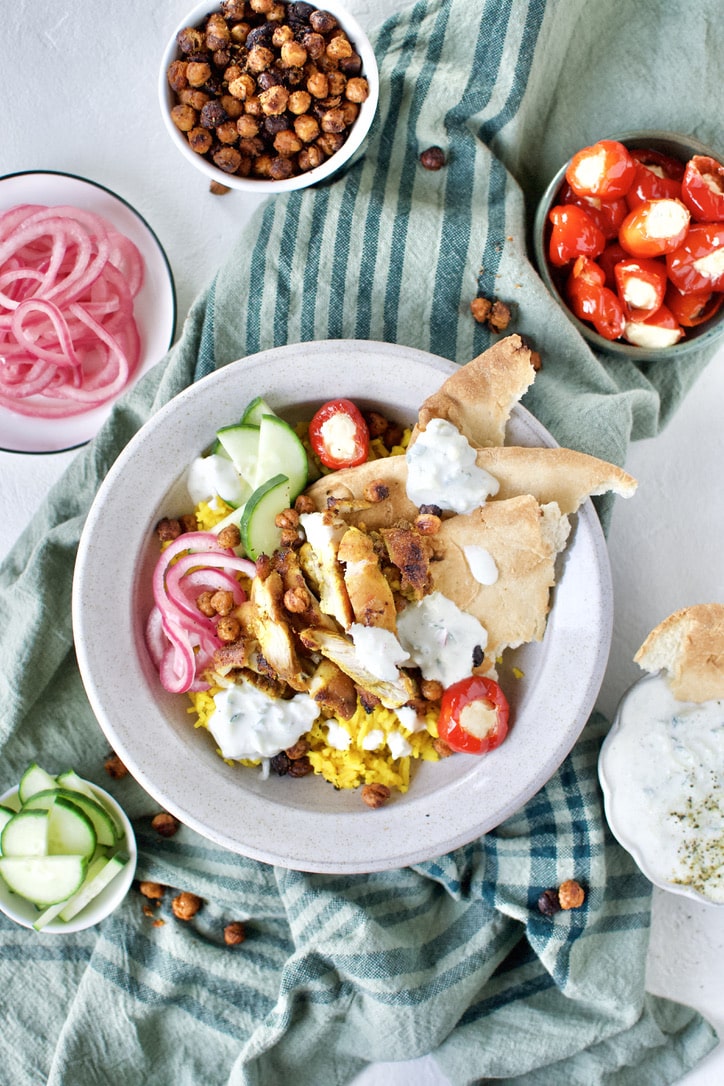 More foods from around the world
Did you make this recipe? Let me know by leaving a review or comment! And be sure to sign up for my newsletter, and follow along on Instagram, Pinterest, and Facebook!