If you've ever had the childhood experience of sitting around a campfire anxiously waiting for dessert to be ready, this Skillet Peach Cobbler is just the recipe you need to transport you right back! This summer skillet dessert comes together quickly with a little careful planning and will evoke all of the emotions of those simple summer nights. Oh and I grew it up just a little, but more about that soon.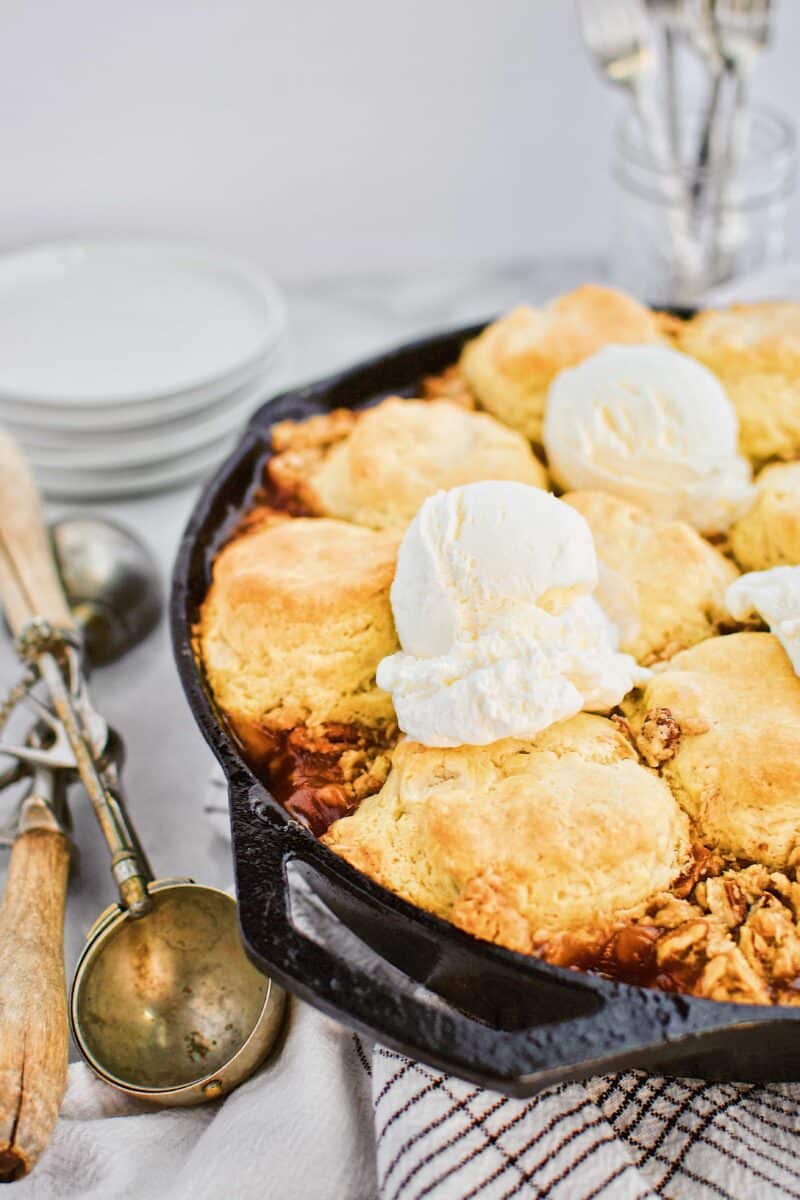 That Campfire Feeling at home!
For me there is no better food memory connection than cooking in cast iron. I spent my childhood in boy scout troops camping out under the stars and cooking over fires in cast-iron. My love for the product continued as I got older and on one of my last scout trips through Tennessee I made my parents stop at the lodge factory store and I racked up a bunch of goodies.
Thanks to that experience I am already cooking on cast-iron that has 15+ years of seasoning on it. One note I do want to pause on and tell you about is this new seasoning wax I have found for my cast-iron. I swear by it now and it gave my already used cast-iron a glass-like finish.
Get your hands on some BuzzyWax and you won't be sorry. I swear up and down by the stuff these days and I tell everyone I know about it!
Ok, back to the food now. I hear you wondering how a piece of cookware can evoke emotion in the way I am describing, but it is just one of those things that make me happy. I enjoy being in the kitchen for reasons like this, and if you can find something like that, that makes you enjoy your time in the kitchen, seek it out!
Cast-iron cooking takes me back to learning to cook over a campfire, and visiting the mountains with family and filling a cabin with the smell of bacon as it cooked on my new skillet. Find JOY in the food you create.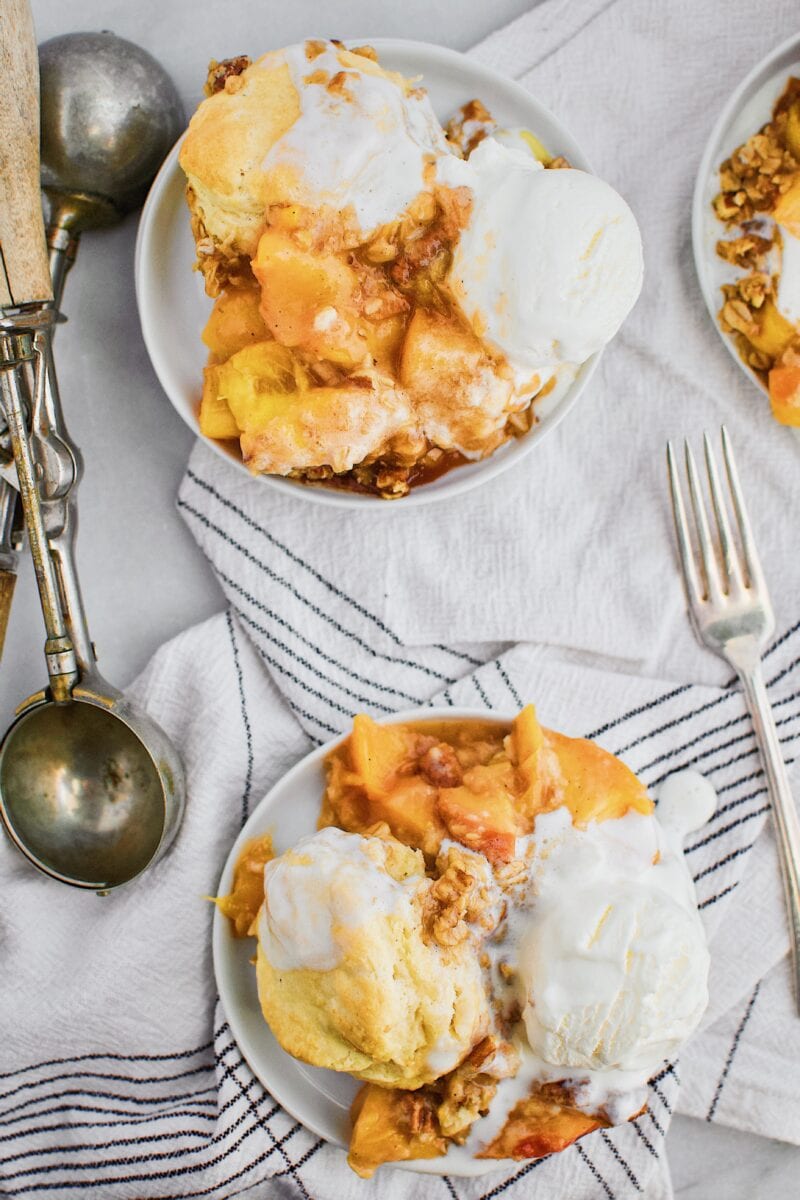 Why THIS Skillet Peach Cobbler?
Well, I have to say I personally LOVE this Skillet Peach Cobbler recipe because I decided to mix two of my favorite things together to get the desired end result. This recipe really is the perfect mix of a crisp and a cobbler. I like the nutty crunch of a crisp, and the fluff of a biscuity cobbler.
So why not through them together. I used my go-to crumble topping and my favorite biscuit recipe, and I have to say, it came out EXACTLY as I dreamed it would. This is the part of recipe creation that I love, trying something new that might feel outlandish, but then tasting it and falling in love!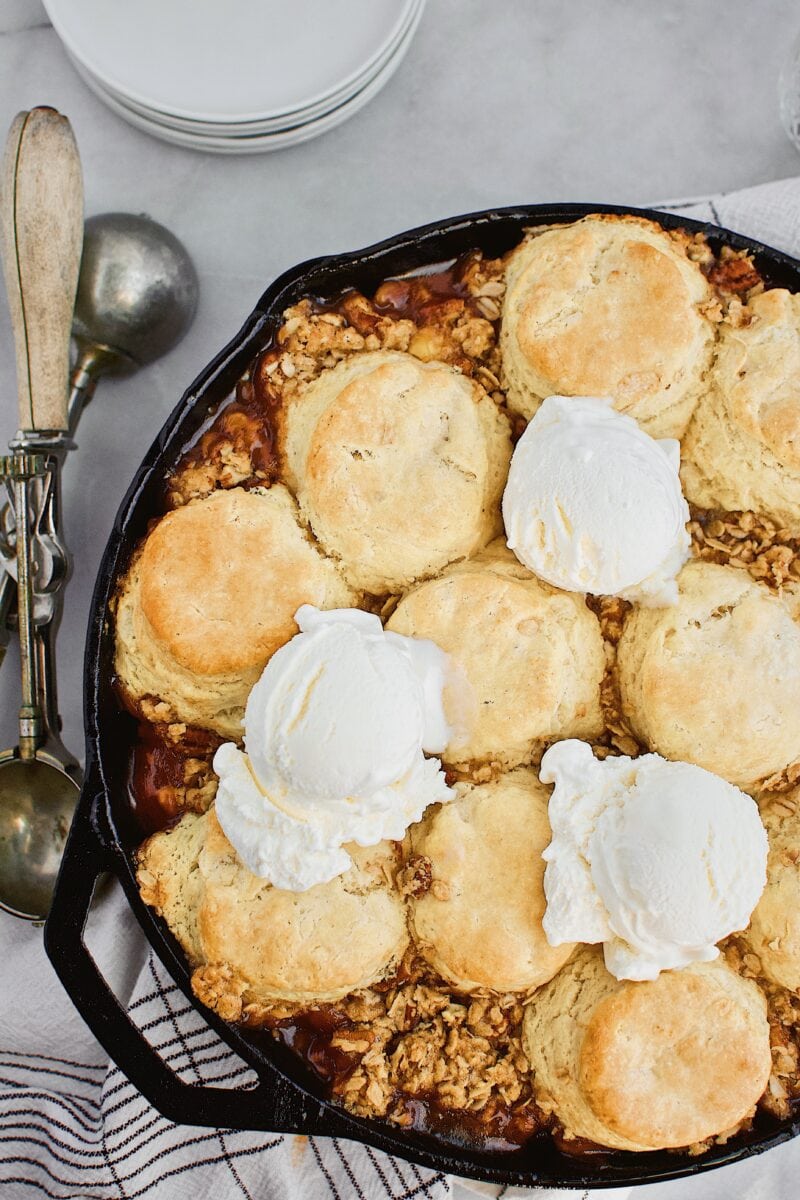 Planning makes Perfect!
While this recipe is fairly simple to make, the added elements of biscuits and crumble just take a little extra time. NOT a lot of time, but a quick bowl wash and some resting time in the fridge are required.
Start with you biscuits. I use my mixer to make them so I add some ease there, but they can be made up to the day before you want to use them if you really want to get ahead of yourself. Just lay them on a tray and wrap them up tight to keep them fresh.
Then lay them on top of the peach filling first when assembling.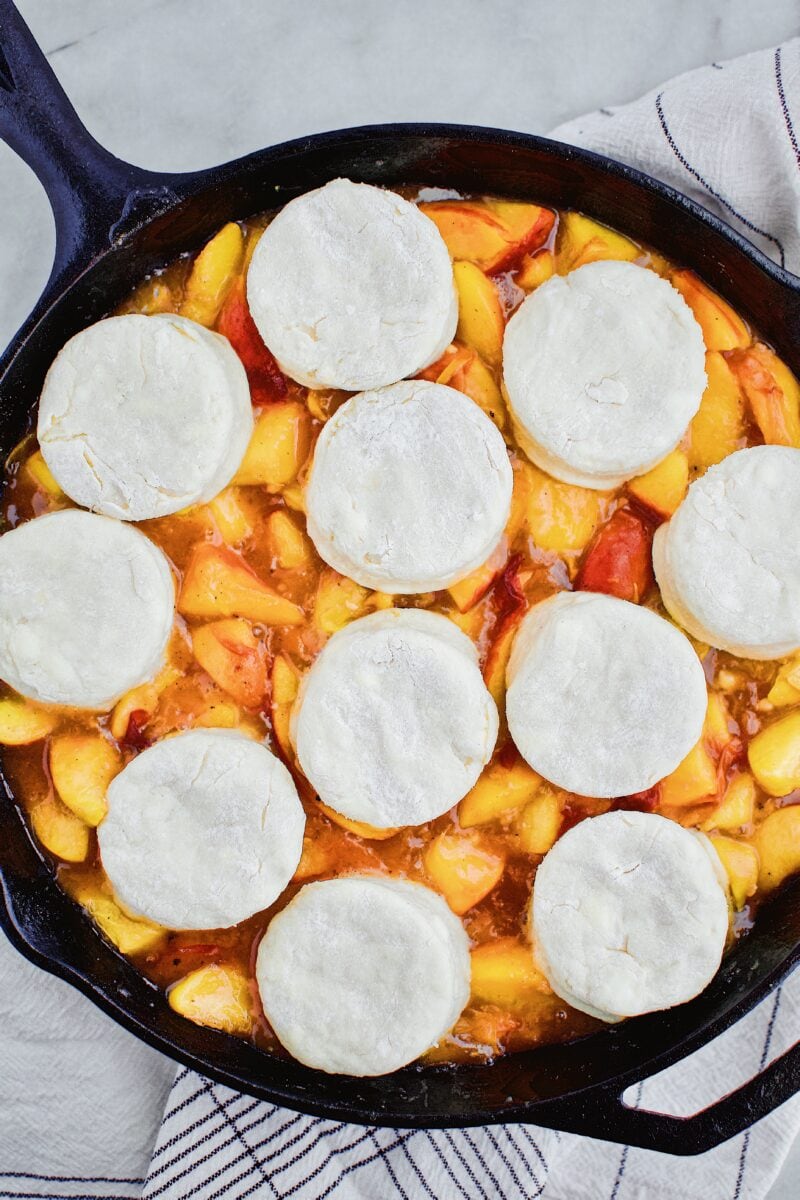 Next make your crumble topping. I like one that has nuts and rolled oats in it, I think it gives a much needed texture contrast here, where it could potentially be all mushy. Make that up to a day ahead as well and store in the refrigerator until ready to bake.
Fill the space between the biscuits with it when you are ready to bake.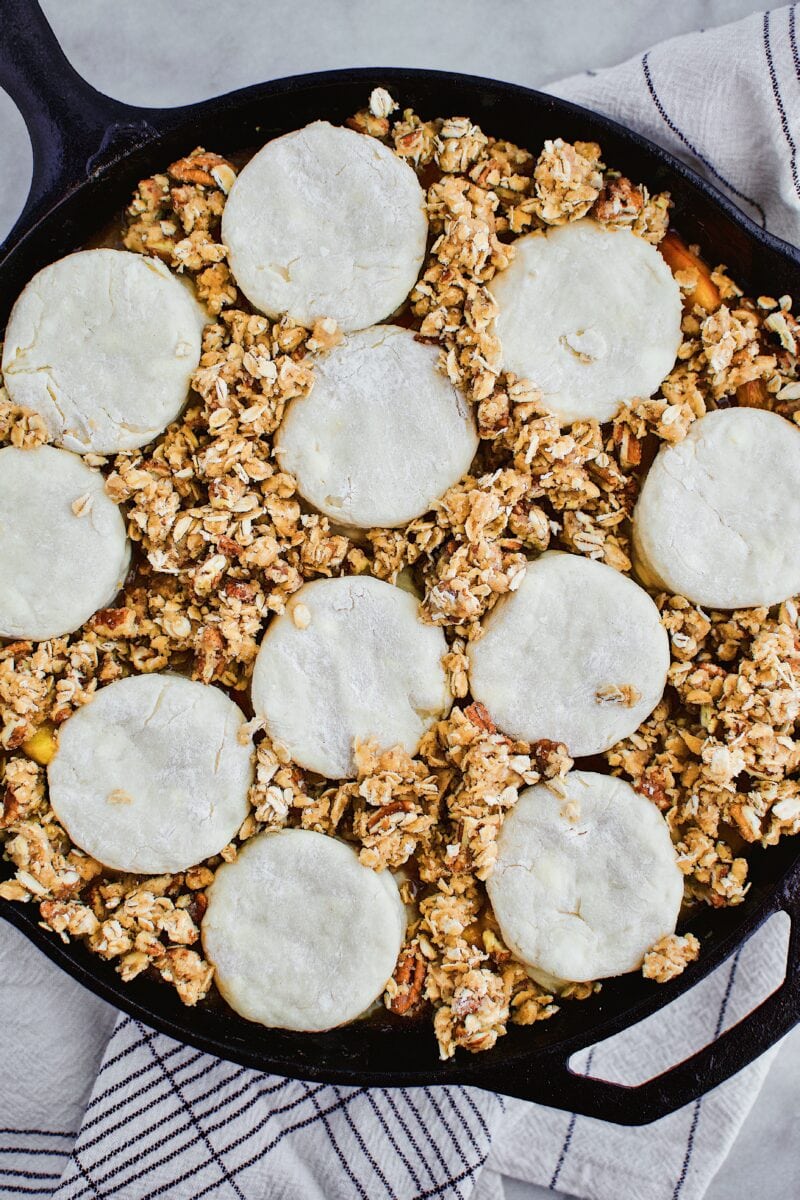 As long as you set yourself up with those toppins, the rest is CAKE. Or, well, cobbler in this instance! Making the peach filling is super simple, just quickly saute some fresh peaches in butter and sugar, add in some flavors and you are on your way to greatness.
This is a recipe you could even take to the campfire if you wanted to. Just make it in a dutch oven so you can put coals on the lid and cook those biscuits and crumble topping perfectly. You can even prepare everything ahead of time and just assemble at camp.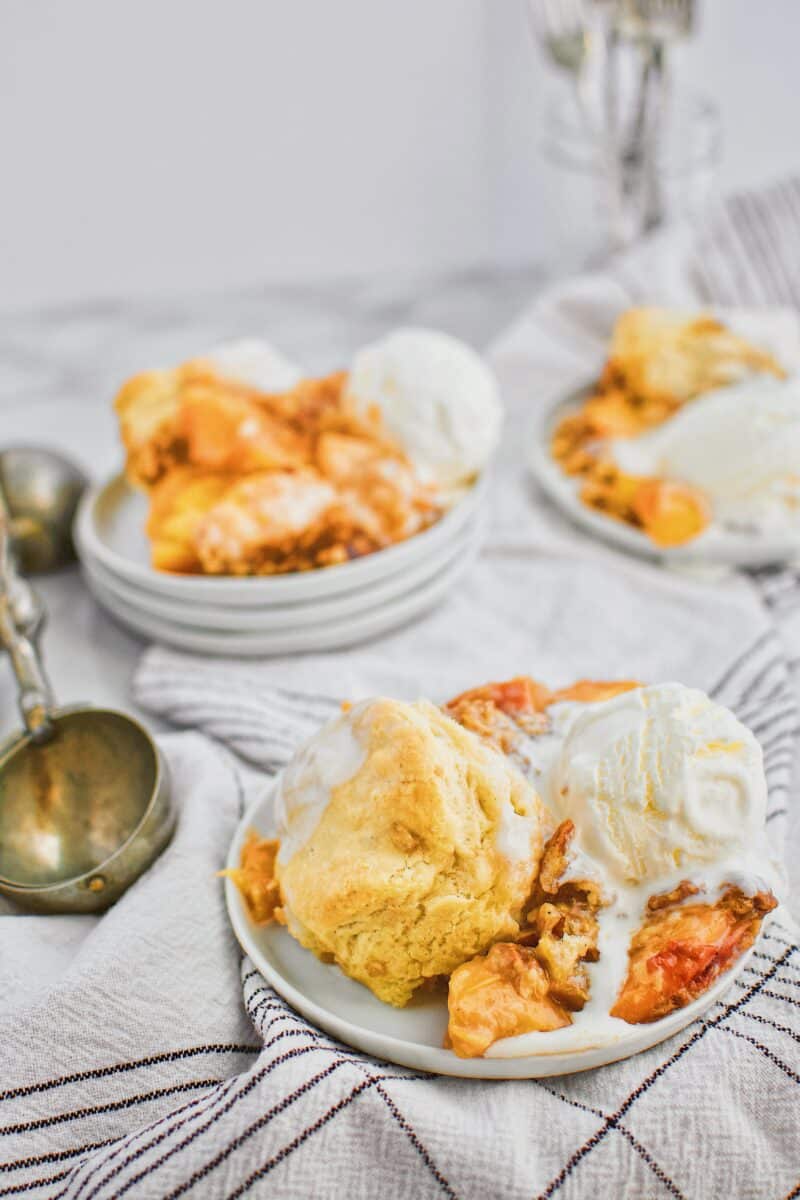 Another great note I have for you is that any leftover you have can sit out, covered, on the counter for up to 24 hours (great if you are at camp!) and then gently reheated in the oven at 350˚ or over the fire until warmed through and the crumble gets crisp again. And of course, be sure to add more ice cream on top too!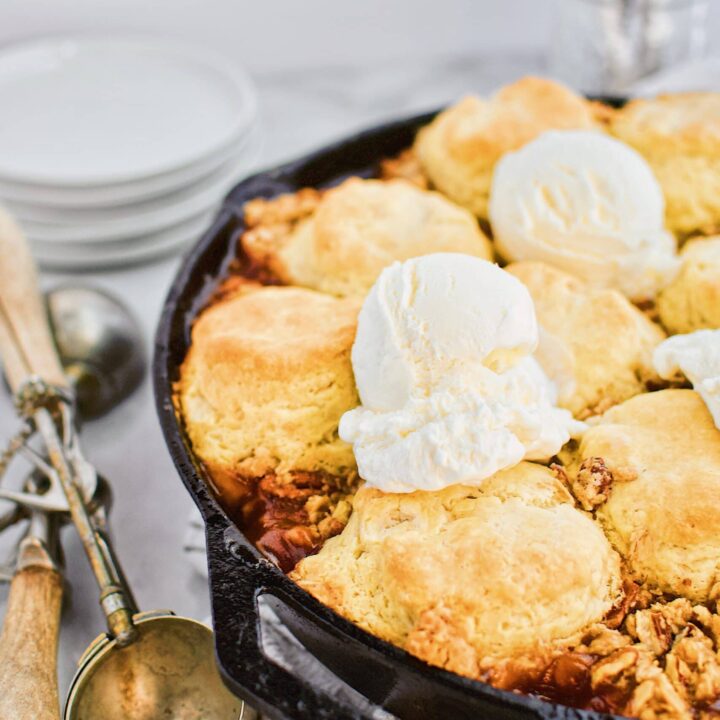 Skillet Peach Cobbler with Bourbon Brown Sugar Crumble
This recipe is a bit of a combo of some of my favorite childhood memories, taken up just a notch. Get your toppings prepared up to a day ahead of time, then the cobbler comes together in a flash.
Ingredients
for the biscuit top:
2 cups All-Purpose Flour
3 tablespoons Baking Powder
½ teaspoon Baking Soda
½ teaspoon Kosher Salt
12 tablespoon Unsalted Butter, small diced
1 lg Egg
¾ cup Buttermilk
for the brown sugar crumble:
4 tablespoons Unsalted Butter
½ cup Brown Sugar
½ cup Rolled Oats
¼ cup All-Purpose Flour
½ cup Pecans
1 tablespoon Bourbon
for the peach filling:
4 tablespoon Unsalted Butter
10 Peaches, pitted and diced
½ cup Light Brown Sugar
¼ teaspoon Kosher Salt
1 teaspoon Vanilla Extract
1 tablespoon Bourbon
Juice of a Lemon
¼ cup All-Purpose Flour
Instructions
for the biscuit top:
Gently mix beat the eggs into the buttermilk in a measuring cup. In the bowl of a stand mixer combine the flour, baking powder, baking soda, and salt. Fitted with the paddle attachment, mix on low to combine. Add the butter and mix on low until the flour clumps in your hand and the pieces are the sizes of peas. With the mixer on low, slowly add the buttermilk and eggs and mix until fully combined. Turn the mixture out onto a lightly floured surface and flatten the dough with your hands until it is about 1-inch thick. Fold the dough over on itself and flatten it again, repeat this process 5-6 times to create flaky biscuits. After the final fold flatten the biscuits dough out to about ¾-inch and cut out 10 biscuits. Place them on a tray and refrigerate until needed.
for the brown sugar crumble:
In the bowl of a stand mixer fitted with the paddle attachment, combine the butter, brown sugar, rolled oats, and flour and mix until well combined. Just before a paste forms, add the pecans and the bourbon and mix just until the pecans break up into pieces. Place the mixture in the refrigerator until needed.
for the peach filling:
Preheat the oven to 400˚F.
In a 12-inch cast-iron skillet or deep sauté pan, melt the butter and add the diced peaches to the pan. Cook over medium heat until the peaches begin to break down a bit and some juice begins to settle in the bottom of the pan, about 3-4 minutes. Add the brown sugar, salt, vanilla, bourbon, lemon juice, and flour. Cook for 2-3 minutes just until the flour becomes fully incorporated and you no longer see lumps. The mixture should be thick at this point. Turn off the heat and top with the 10 biscuits, arranging them with gaps in-between them, and then fill the gaps with the brown sugar crumble. Bake in the preheated oven for 20-25 minutes. Place a baking sheet on the rack below or under the skillet to prevent overflow from making a mess in your oven. When the biscuits have lightly browned and the crumble has disappeared, it is ready!
Serve warm topped with a generous scoop of vanilla ice cream.
Notes
The mixture will fill the pan and bubble over a bit, this is what makes it great, be sure to place the pan on a foil-lined baking sheet or place a sheet pan on a rack below the pan to prevent a messy oven. But I guarantee it is all worth it in the end!
Nutrition Information:
Serving Size:

1 grams
Amount Per Serving:
Unsaturated Fat:

0g
If you make this recipe, please let me know by leaving a review at the bottom of this page!
And make sure to sign up for my newsletter and follow along on Instagram, Pinterest, and Facebook for more KendellKreations!
MY LATEST RECIPES!
Get my NEW e-Cookbook here!! ⬇️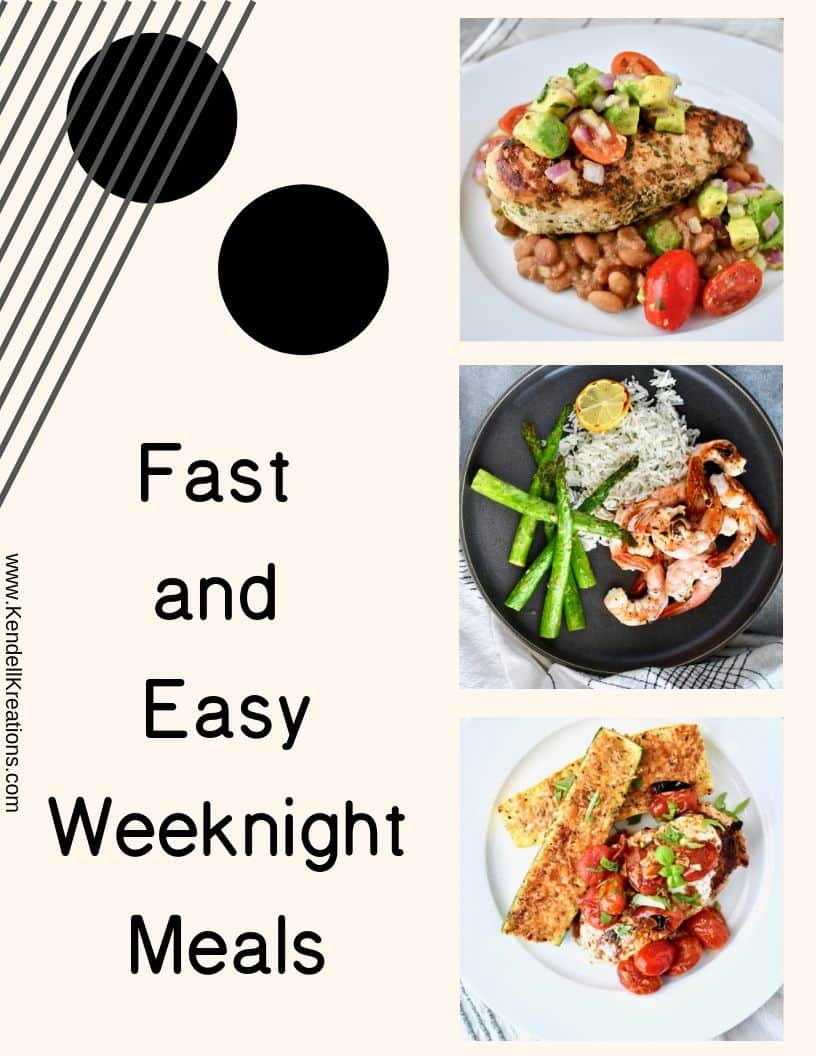 MY FAVORITE KITCHEN TOOLS!
Here are a few links to some of my favorite kitchen tools! You get a car, YOu get a car, YOU ALL GET A CAR…in my best Oprah voice
These Rösle Silicone Tongs are a little pricey but they will last you the rest of your life and are the softest in your hand. This is important for someone like m that cooks so much. It reduces strain, I have 4 sets in my kitchen!
These are my FAVE Nordic Ware Sheet Pans, every kitchen should have at least 2 sets of these! I think I have at least 4 of each of these.
This is my favorite pressure cooker, the Fagor is the same concept as the "Instant Pot" but easier to use in my opinion, if you don't have one you NEED one, it will be your best friend in the kitchen!
A sharp knife is the most important tool in the kitchen, these Japanese steel "Shun" knives are my favorite! And this is a great starter set to build on. Once you try them you will be in love so use this as a foundation you can build on for years to come.
This Scanpan 11″ skillet is just the right size for almost anything you will need to cook and my best friend and a real workhorse in my kitchen, it's also a great deal at $99. Scanpan is the best in the world for healthy cooking. It is coated with a proprietary ceramic-titanium coating that is durable while allowing you to use fewer fats and oils when cooking. It is a coating only they use. I could talk all day about my love for these pans, message me if you want more info. Here are some other sizes that are available if you are looking to outfit your kitchen with some new goodies. 8″ & 10″ Skillet set or 8″ Skillet, I still need this one for my kitchen Also, I don't really know how to cook small so the 12.5″ is my other fave!
This giant vat of olive oil is my favorite, I decant it into a smaller bottle for my counter. Or put this spigot on top of a wine bottle!
My favorite baking dish that is so easy to clean even burnt on cheese slides right off!
This Tovolo jar scraper has to be my single favorite kitchen tool, it is definitely the most used tool in my kitchen. If you are NOT a gadget person, this is the only necessity I say is a MUST beyond the wooden spoon.
A great wood spoon is essential, this Olive Wood one is my favorite, I have more than I can count. But can you really ever have too many?
A food scale can be a very important tool in your kitchen, this one is the one I use every day!
If you love Joanna Gaines as much as I do then the 'Magnolia Table Cookbook' is a must in your kitchen, get a copy HERE!