This Sparkling Pear and Elderflower Lemonade Cocktail is what summer dreams are made of! I combined my Absolute Pear and Elderflower Juice Vodka with a homemade lemonade simple syrup and Topo Chico. Perfection in a glass!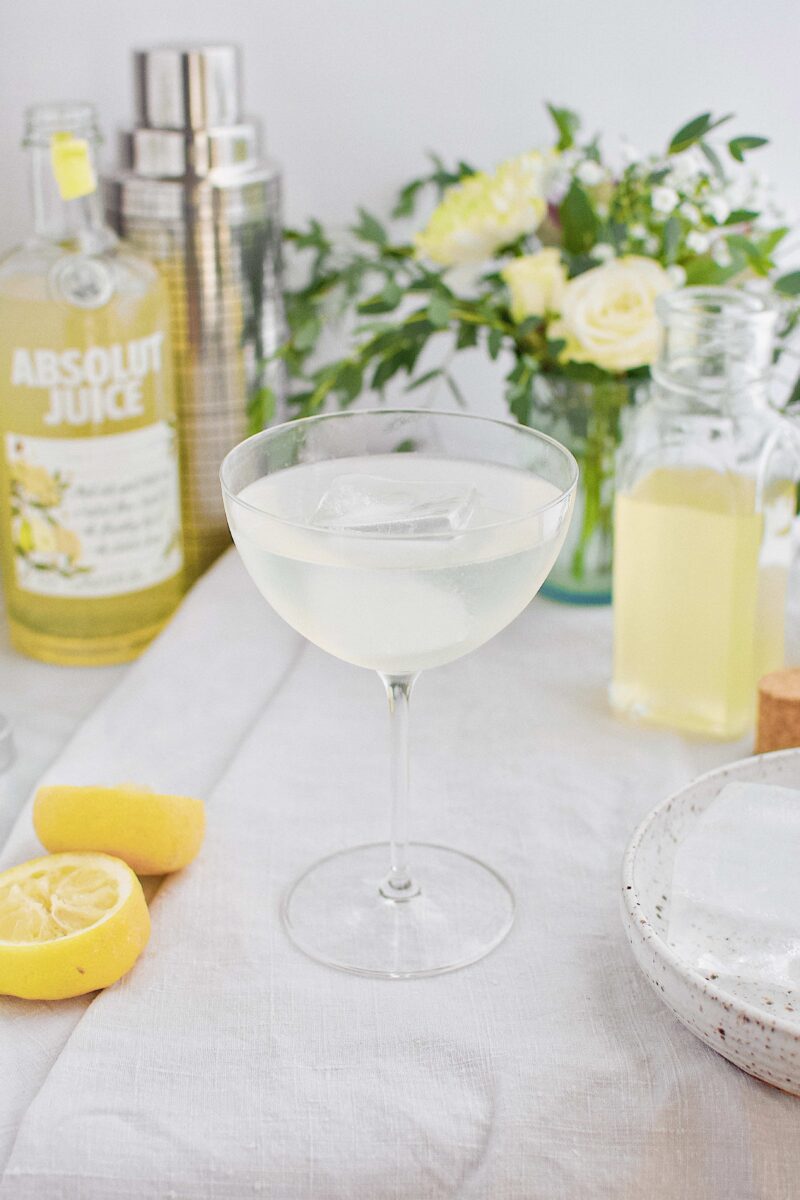 This post was first published on July 4, 2020 and was last updated on May 19, 2021
Jump to:
Creating a Perfectly Summery Drink!
In my (not-so-) humble opinion, I believe I've created summer's perfect drink! I stumbled upon this pear and elderflower vodka at the store one day. Being a sucker for anything and everything elderflower, I had to give it a try. I also had a big bag of lemons to use up, so I was looking for a little something different to mix with lemonade. Thus, this spiked Sparkling Pear and Elderflower Lemonade Cocktail recipe was born!
I love this cocktail because it's so light and refreshing, making it perfect for hot summer days.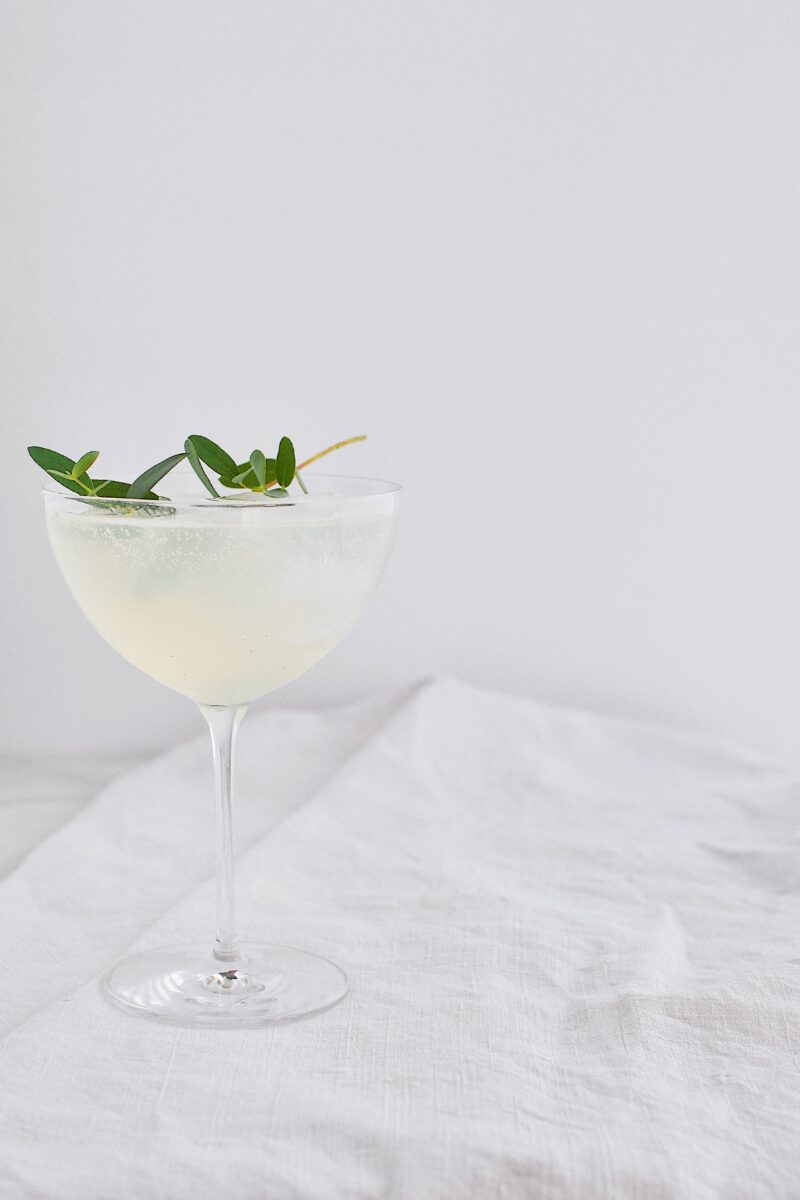 Use the JUMP TO RECIPE button at the top of the post, or scroll to the bottom of the post to see the full recipe card with ingredient measurements and instructions.
How To Make Lemonade Simple Syrup
This Sparkling Pear and Elderflower Lemonade Cocktail starts with the perfect base paired with this vodka! My Lemonade Simple Syrup balances and enhances the flavor of this vodka perfectly, creating a beautiful, juicy mouthful that is sweet and tart.
Classically simple syrup is made of equal parts of sugar and water, but in this case, I swapped the water for lemon juice. This creates a fantastic "lemonade concentrate," and it is just what makes this cocktail great! I called it my Lemonade Simple Syrup, and now I am imagining all the other things I could make with it!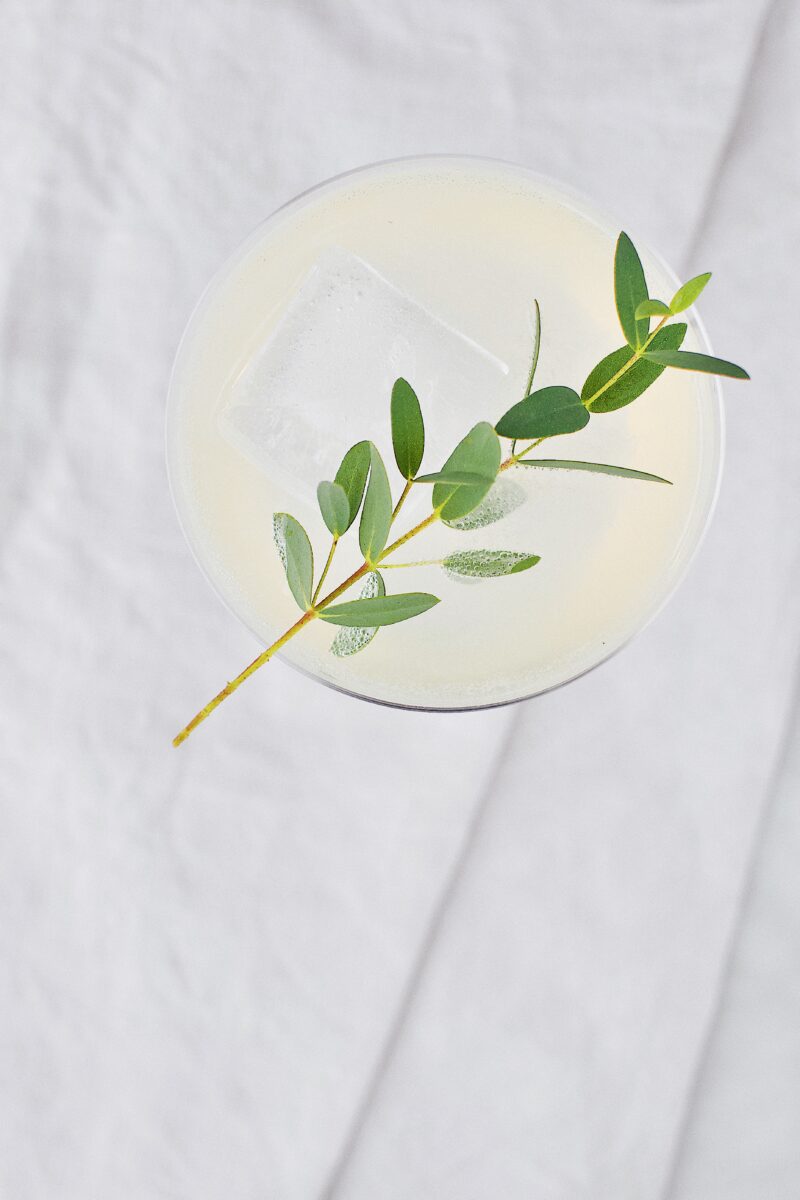 How To Create a Well-Balanced Cocktail
The drink itself is a simple 2:1 ratio of the pear and elderflower vodka to my Lemonade Simple Syrup that is shaken and poured over ice. I then finished it with a splash of Topo Chico, but feel free to use your favorite sparkling mineral water. It doesn't give it a huge fizz — not like a soda anyway — but it gives it just the right amount of lift without an overpowering amount of sugar that would overpower the homemade simple syrup.
Personally, I tend to like a sweeter drink most of the time, so one or two cocktails are all I usually need. (More often than not, for most people it's the sugar that causes a bad hangover the next day.) I am not a fan of bitter, so this is right up my alley!
It is sweet and tart in all the right ways. And after one I was definitely feeling it, just like you should with all good cocktails!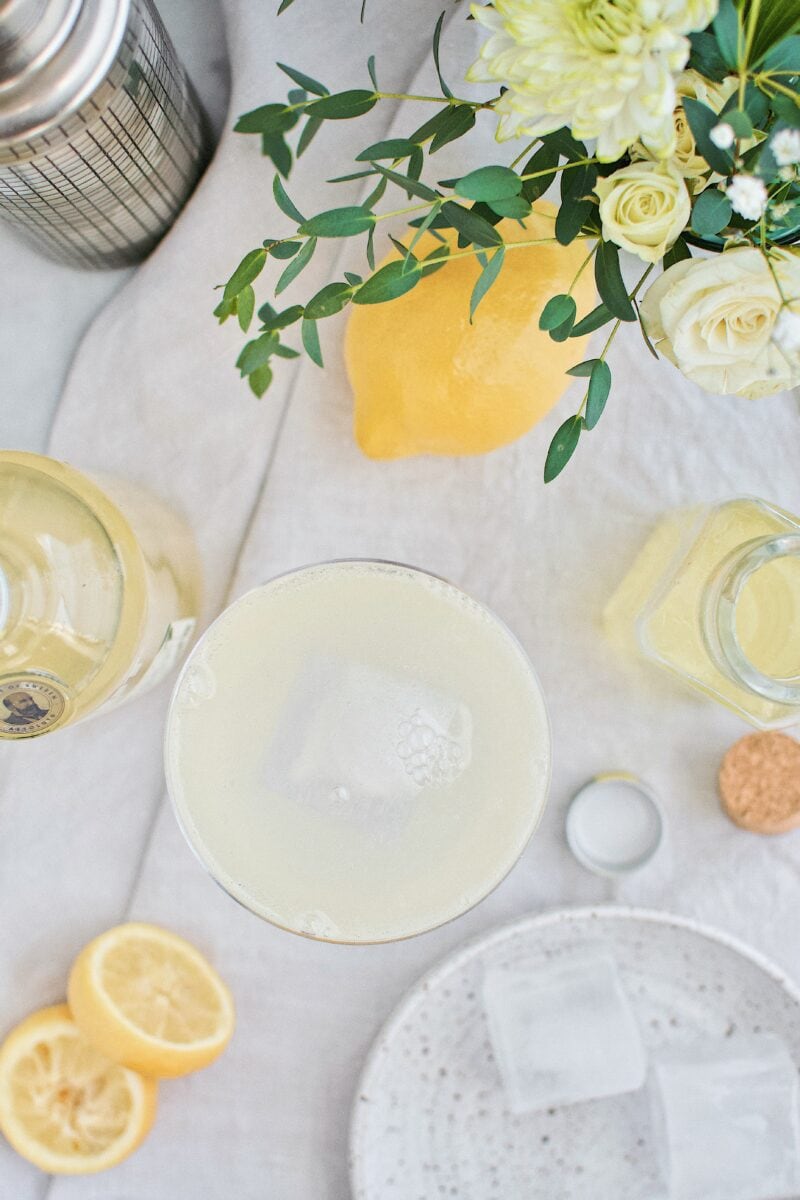 Ingredients
For the lemonade simple syrup, you'll need 1 cup of fresh-squeezed lemon juice and 1 cup granulated sugar. You can use store-bought lemon juice in a pinch, but fresh is best for cocktails.
For the sparkling pear and elderflower lemonade cocktail, you'll need 2 oz. Absolute Pear and Elderflower Juice Vodka, 1 oz. Lemonade Simple Syrup, Topo Chico (or other sparkling mineral water, and large ice cubes (for shaking and serving).
Equipment
For any proper cocktail, you'll need a cocktail shaker, a large ice cube mold, and a coupe glass (chilled before serving). This is a worthwhile investment for any at-home cocktail connoisseur!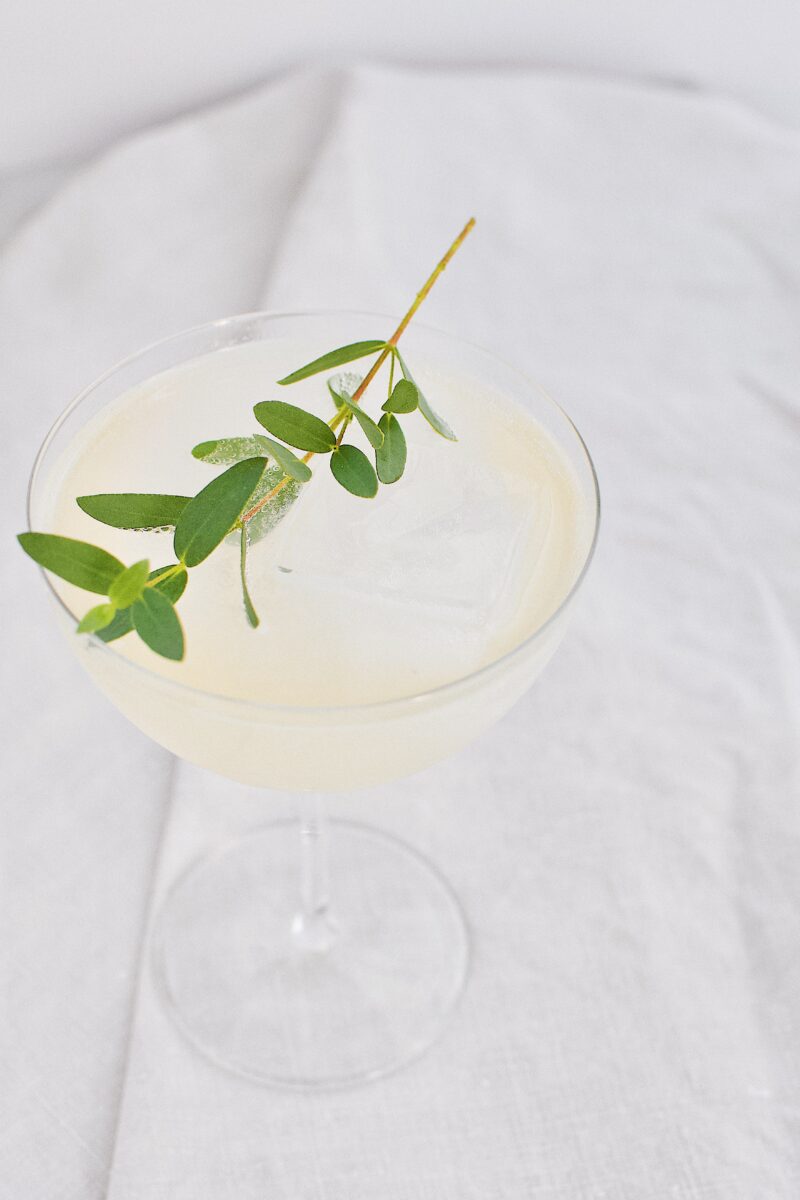 Method
Start by making your Lemonade Simple Syrup:
In a small saucepan, stir together the lemon juice and sugar and bring the mixture to a rolling boil. Continue to stir the mixture and boil for 2-3 minutes until the sugar is completely dissolved.
Strain the mixture through a fine-mesh sieve and pour it into a small bottle. Allow the mixture to cool completely before using.
Store the simple syrup in the refrigerator for up to 5 days.
For the Sparkling Pear and Elderflower Lemonade Cocktail:
Prepare the chilled glass with one large ice cube.
In a cocktail shaker, add two large square ice cubes, then layer in the vodka and simple syrup over the ice. Top with the cap and shake vigorously for 10 seconds.
Pour the mixture out into the prepared glass, and top with Topo Chico to fill the glass. Enjoy!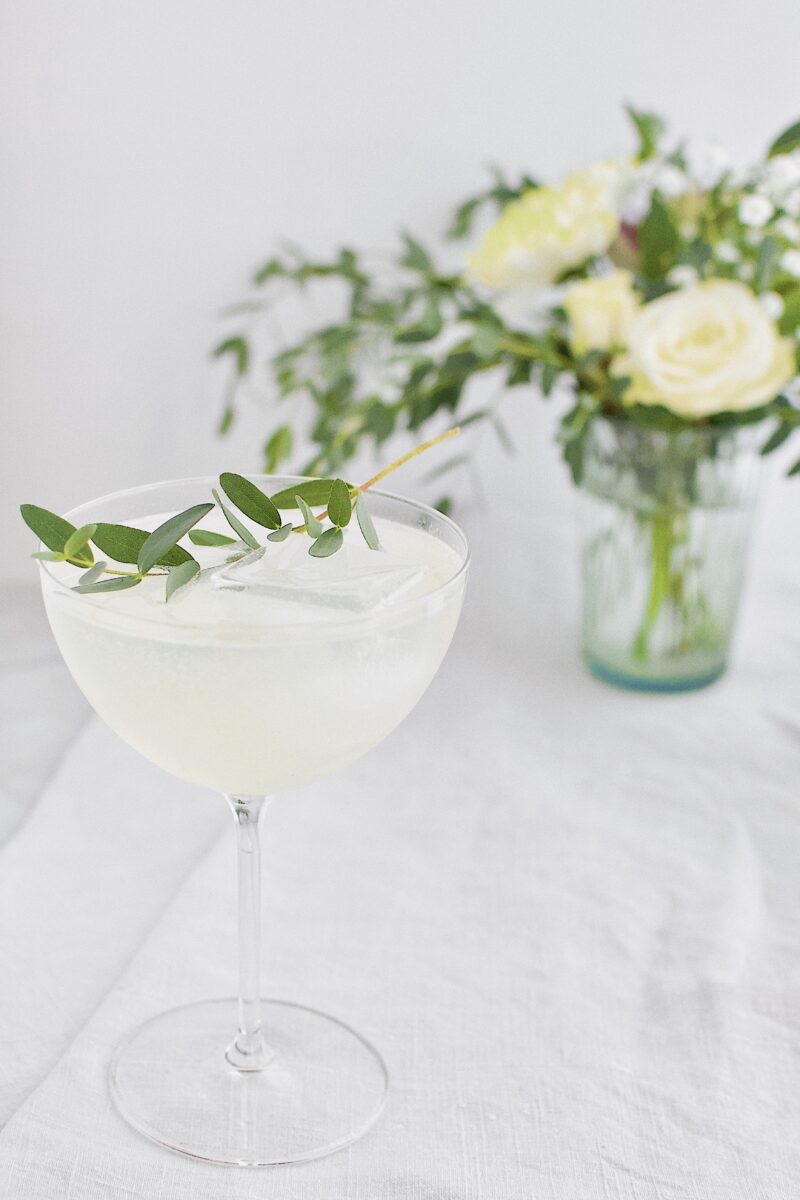 More Cocktail Recipes
If you enjoyed this Sparkling Pear and Elderflower Lemonade cocktail recipe, then you'll love these other drinks:
Did you make this recipe? Let me know by leaving a review or comment! And be sure to sign up for my newsletter, and follow along on Instagram, Pinterest, and Facebook!