If you know me you might know that my love for Topo Chico runs DEEP! So creating a Topo Chico Margarita is a no-brainer for me. The beauty of this recipe is that you can use it as a base and mix in any citrus juice you fancy. I sometimes use tangerine juice if I have been to Trader Joe's recently, but lime is perfect if that's what I have laying around. This is my go-to margarita all year, but they are especially good on Cinco de Mayo!
Jump to:
Ingredients
A good margarita is made with just a couple of good-quality ingredients. They are essentially the expansion of a tequila shot, a lick of salt, and a wedge of lime turned into a refreshing drink.
Tequila Blanco is what I always use for margaritas. It is usually referred to as the lesser tequila because it has been aged less. But that doesn't mean you want to skimp on quality. You don't need the fanciest tequila for mixing, you just don't want something super cheap that will leave you hungover and hating life tomorrow.
Buy the best tequila you can afford. Sauza or el Jimador are some of my favorites in the middle-of-the-road price range. And always use a Tequila Blanco for making margaritas. Save the more aged and pricy Reposado for sipping.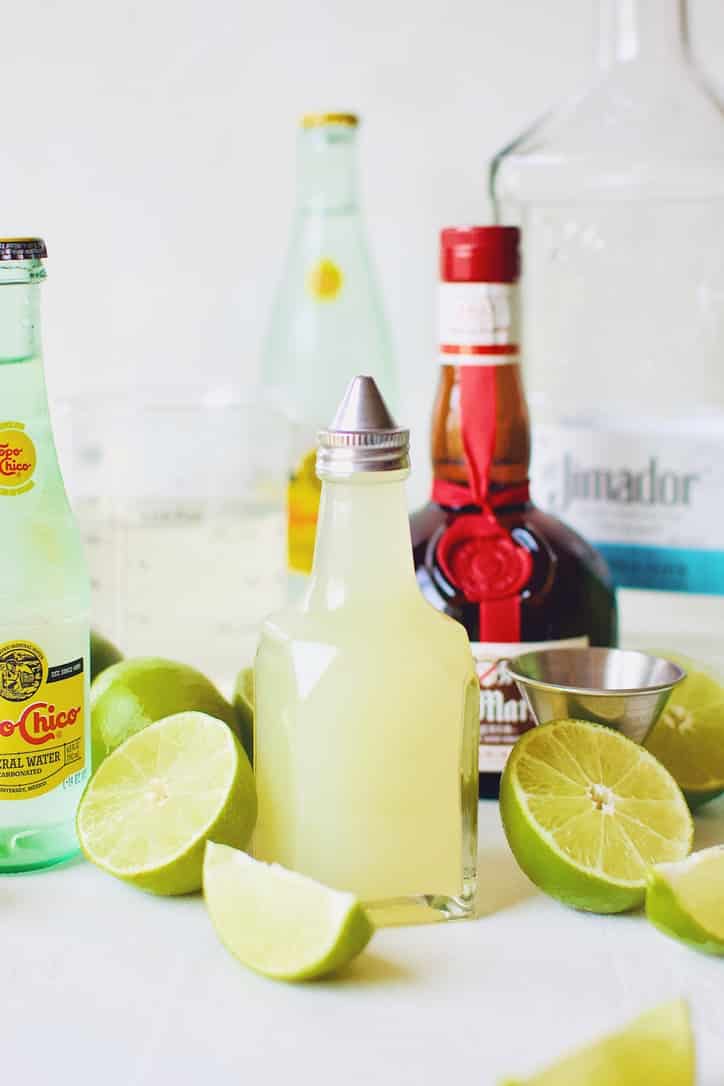 Use the JUMP TO RECIPE button at the top of the post, or scroll to the bottom of the post to see the full recipe card with ingredient measurements and instructions.
Method
Now that you've got a good tequila and you've juiced a TON of limes (fresh is best). Bring it all together by shaking up the simple syrup, tequila, and lime juice until well chilled. Salt the rim of your glass, pour over ice, top with Topo Chico, and a few slices or wedges of fresh lime. And you have yourself a perfect sparkling margarita!
A classic marg is always trendy, in fashion, and always a good choice.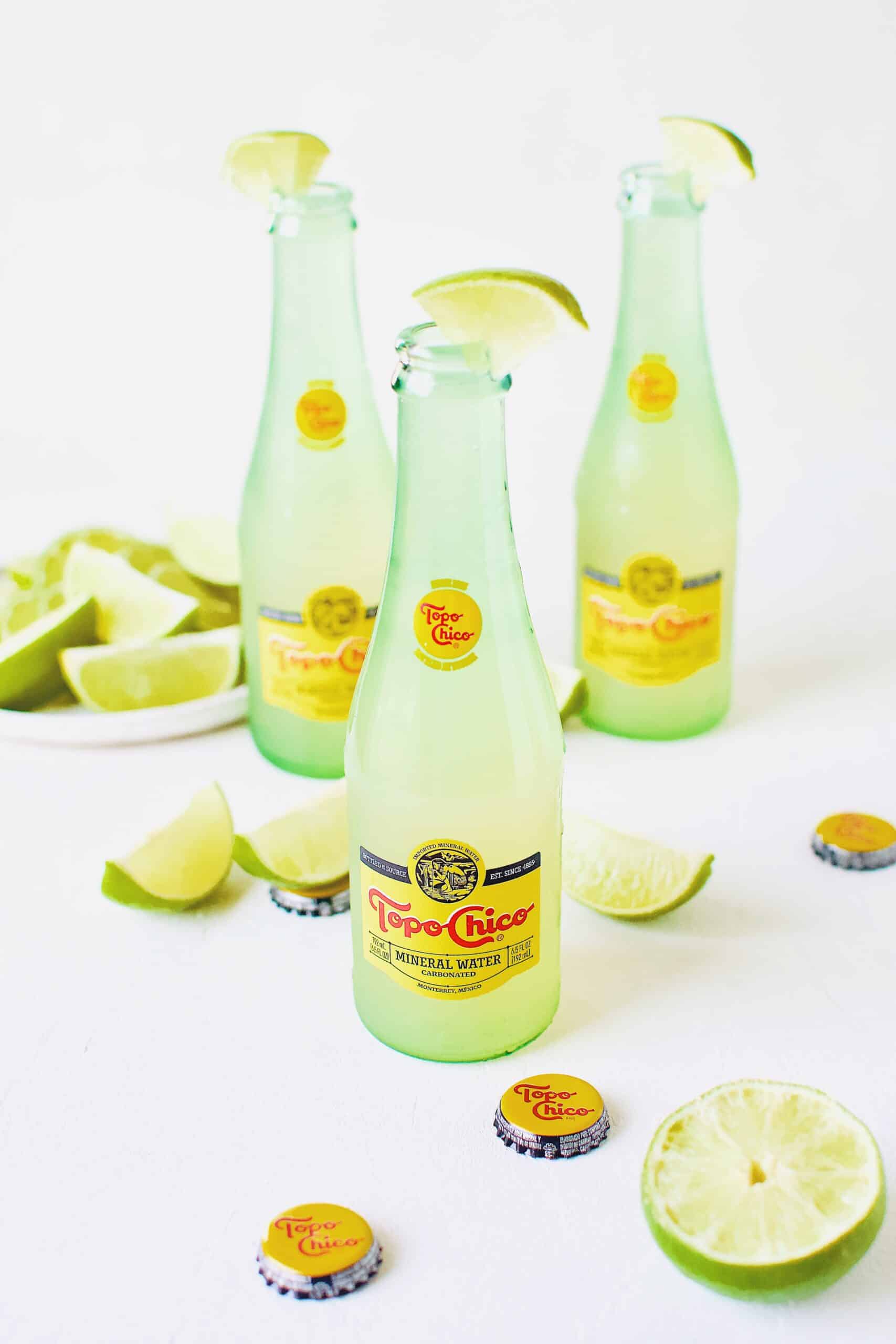 Scaling Up Your Recipe To Feed A Crowd (AKA making a Pitcher Of Margaritas!)
My favorite way to share a margarita is by making a pitcher of them. On a hot summer day, or for your next backyard barbeque, mix up a big batch and enjoy!
3 cups Tequila Blanco
3 cups freshly squeezed lime juice
2 cups Grand Mariner (or Cointreau)
½ cup Simple Syrup
4-6 Topo Chico bottles for topping off
Stir together all the ingredients in a pitcher and refrigerate until very cold. Get all your glasses assembled and ready to go (salted rims, filled with ice, lime wedges on standby), then fill each glass halfway and top with Topo Chico. You should get about 8-10 servings from a pitcher, depending on how generously you pour!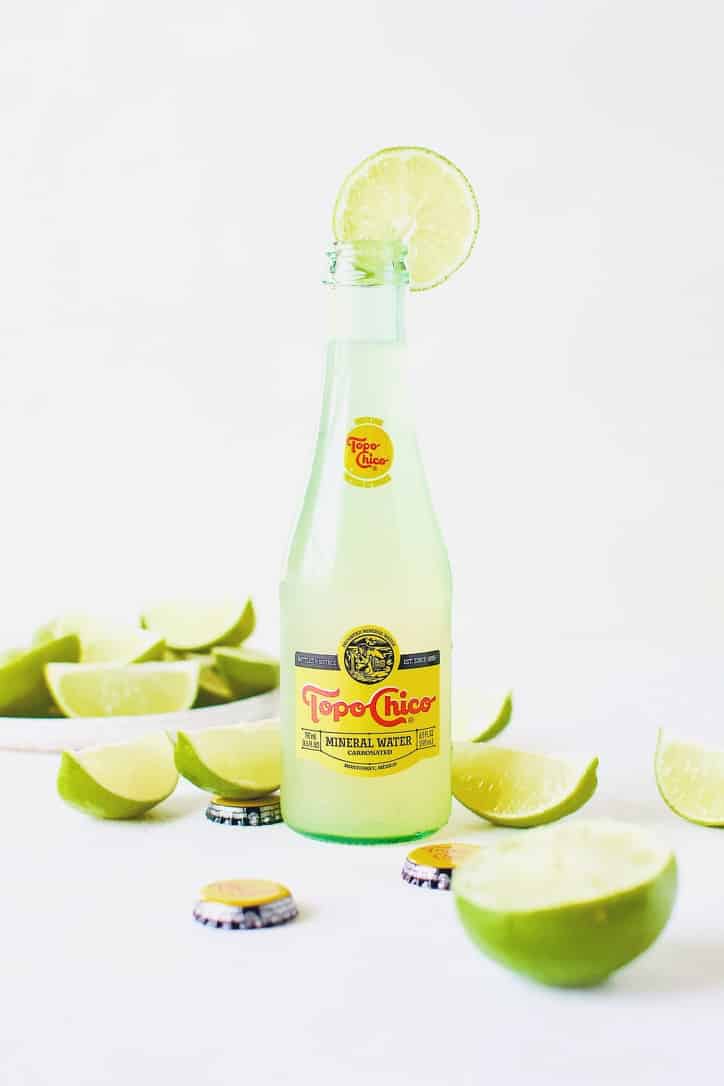 Notes & Tips
You can make these margaritas shaken or stirred in a glass. I prefer to shake mine, I like to get the liquor and lime nice and cold. But if you don't have a cocktail shaker you could mix everything in an ice-filled glass and give it a healthy stir.
For a little extra fun, you can even sip, or remove about 4 ounces of the Topo Chico from the glass bottle, then mix the liquor and lime juice right in the bottle and garnish with a lime wedge.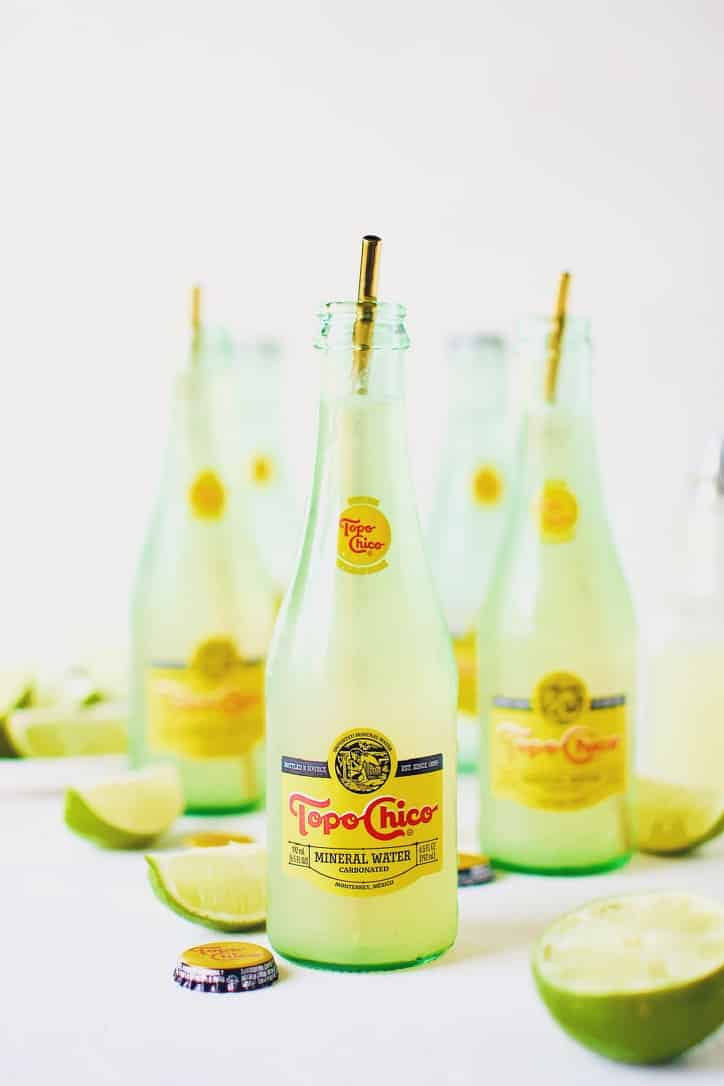 If you want to lighten this drink up a bit and make it more of a Topo Chico Ranch Water you can drop the simple syrup from the recipe. Lose the Grand Mariner for a true Ranch Water cocktail.
If I serve this cocktail in a glass, I like to get a little fancy and serve it in a champagne coupe. Serve it over Sonic Ice for an even more extra special touch!
To make simple syrup, mix equal parts sugar and boiling water together and stir until the sugar is dissolved. Let cool and use it to mix your margaritas.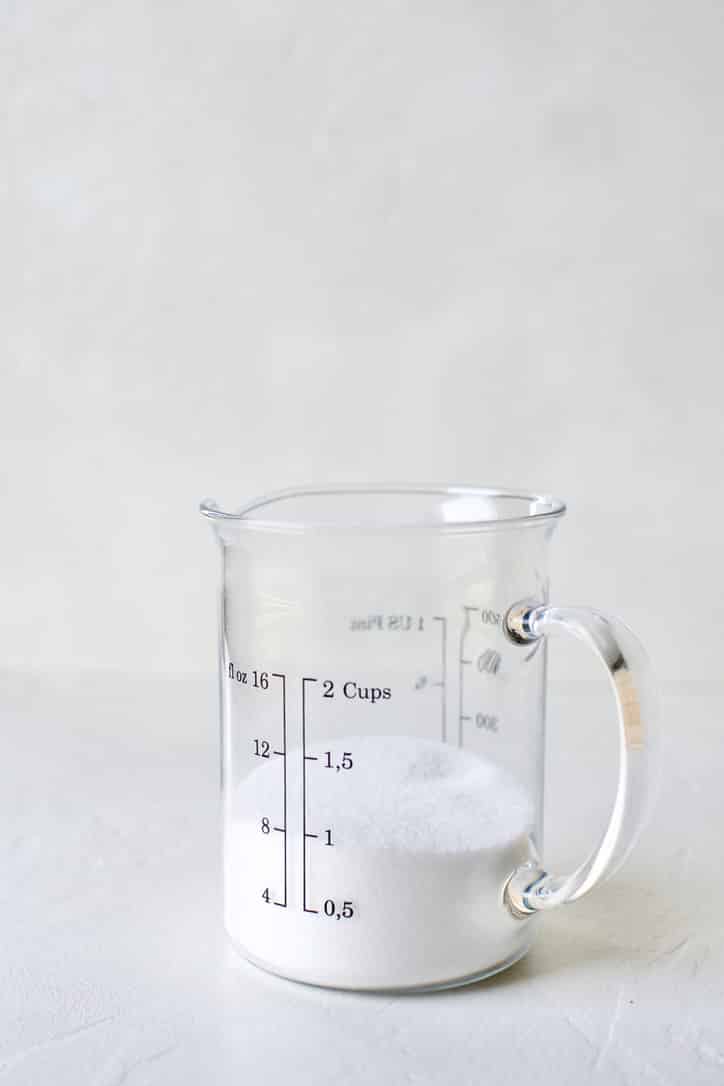 Substitutions
Use any tequila you like for this margarita, I like to use a silver tequila because it keeps the color of my margarita light, but if that isn't a concern of yours use what you prefer to drink.
I enjoy the flavor of Grand Mariner in my margaritas, but any citrus liquor will work, use your favorite.
Lime juice will give you a classic margarita, but I often swap it for tangerine, orange, pineapple, passionfruit...I think you get the idea, any fruity or citrus juice will work.
If you don't like a sweet margarita and you would rather it be more of a ranch water or skinny margarita, feel free to drop the simple syrup from the recipe. I like just a touch of sweetness, but it isn't completely necessary.
The Topo Chico is pretty integral to this recipe, but any sparkling water you prefer or can find can be used. I also use Lime, Tangerine, or Grapefruit Topo Chico from time to time depending on what I have on hand for some added flavor.
The salt and sugar are optional for rimming the glass. I even sometimes mix a little bit of both together for rimming. Do what makes you happy.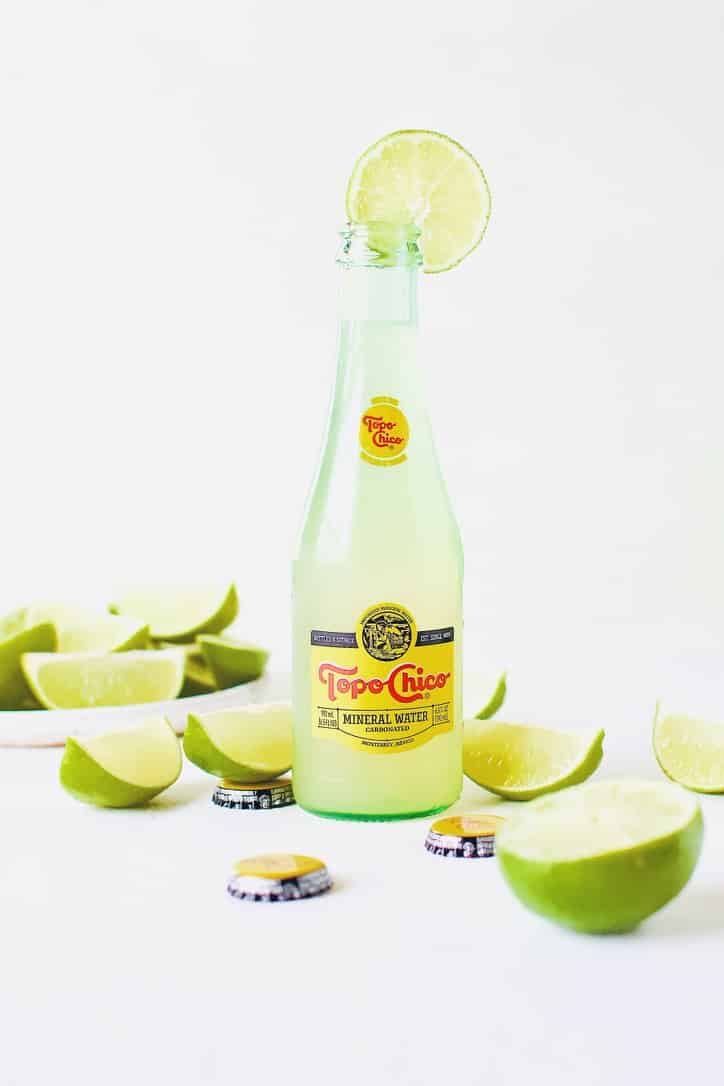 More warm weather Drinks!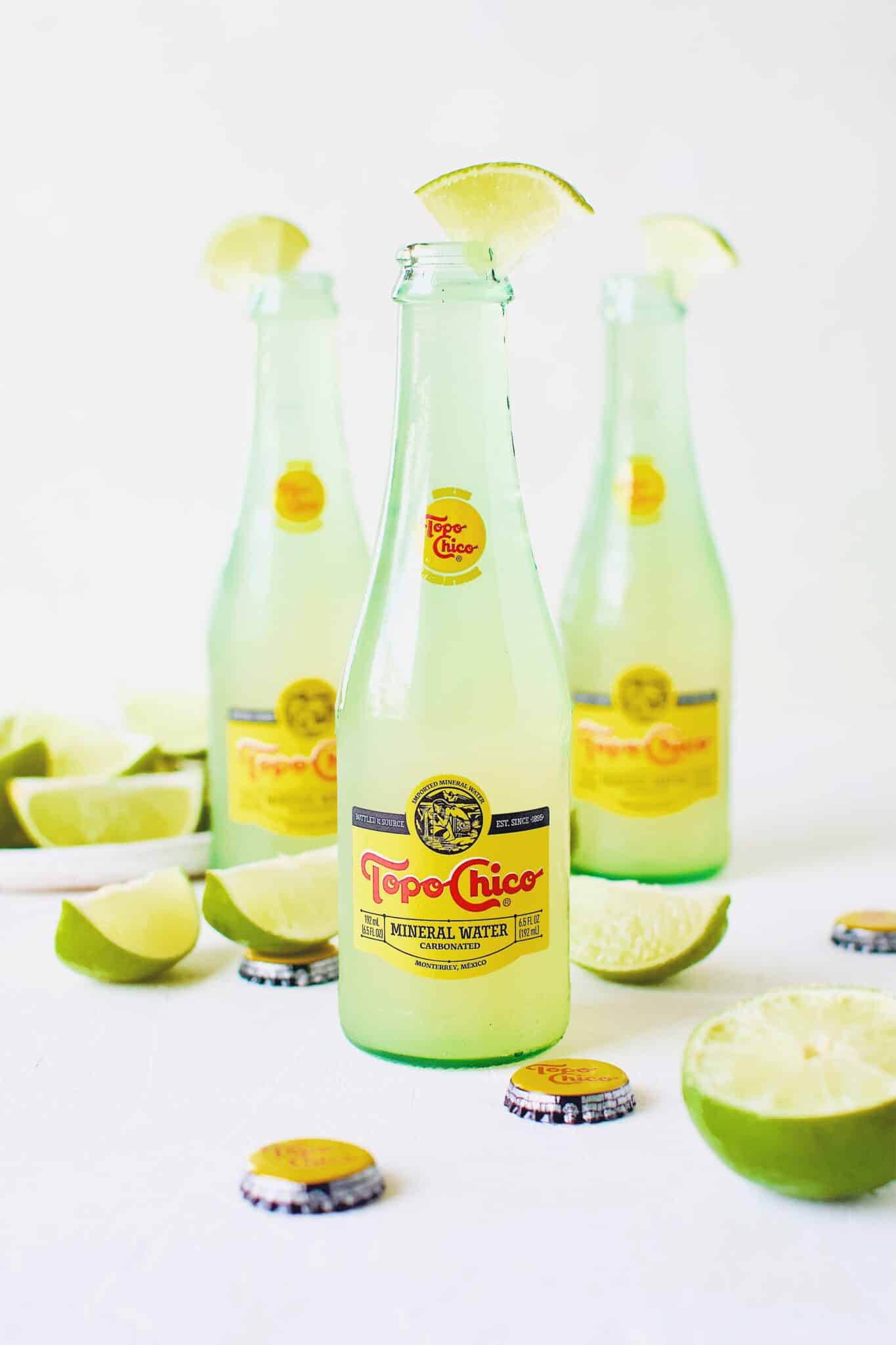 Did you make this recipe? Let me know by leaving a review or comment! And be sure to sign up for my newsletter, and follow along on Instagram, Pinterest, and Facebook!