This White Bean Chicken Chili recipe is a staple in my house. We make it weekly in the fall and winter, but it even has a place and time in the summer too. It comes together in about an hour in the instant pot with about 15 minutes of work.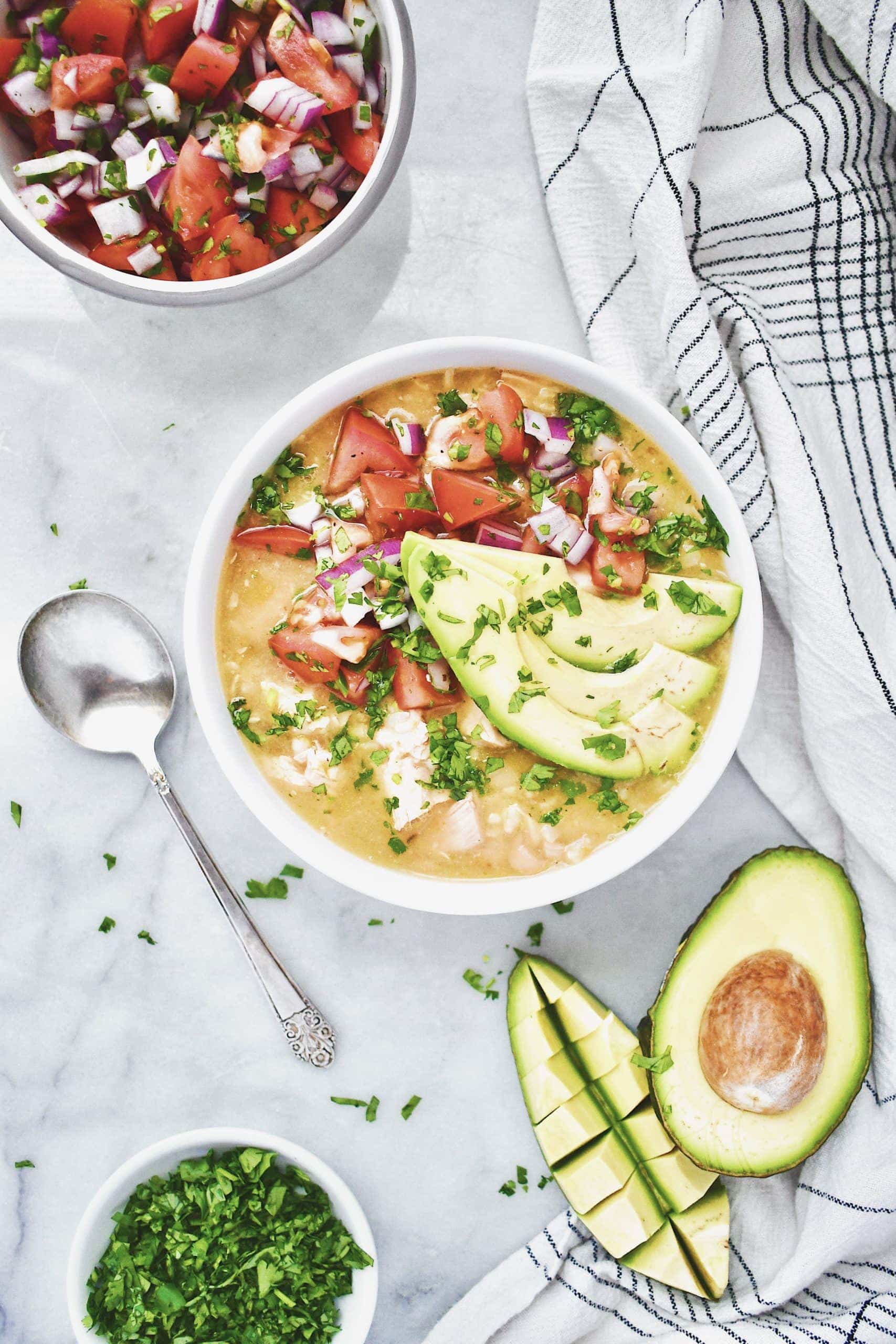 Since it comes together so quickly it is a perfect recipe for any weeknight. Especially when you're in a hurry or when you just want a warm soup on a cold day.
15 minutes of work, endless yumm!
I start this recipe with two cups of dry white beans and a box of chicken stock in the bottom of my pressure cooker. Cook on high pressure for 30 minutes. Then season the beans with salt, chicken base, and hatch green chilis.
I then add the meat of a rotisserie chicken, another box of chicken stock and a cup of brown rice to the pot. Cook on the brown rice setting for an additional 20 minutes. When the cycle finishes, the White Bean Chicken Chili is ready to enjoy.
I like to season the pot with the juice of a few limes and some cilantro as well as serving some extra on the side. You can also taste and adjust the salt at this time as well. I serve the soup topped with pico de gallo and avocado, but those are optional toppings.
I have created my favorite pico de gallo recipe and shared it HERE. Making mine with red onion is my favorite way, but use what you have. It is best seasoned with some lime juice and white vinegar.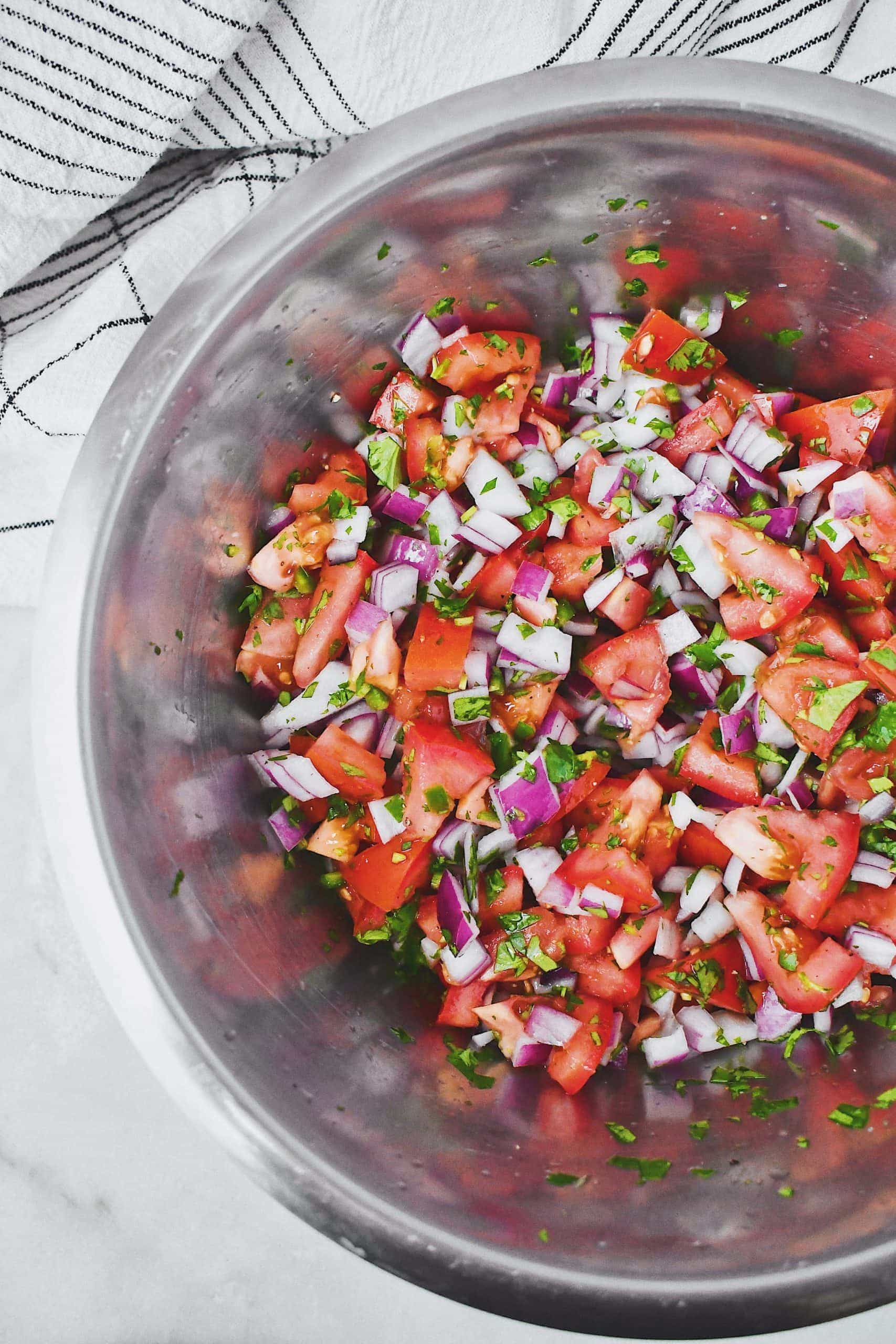 Alternate Cooking of the White Bean Chicken Chili
I love starting with dry beans here. Canned beans can have a lot of added salt and preservatives and this helps me remove that from my kitchen and my diet. Dry beans are also MUCH cheaper than canned and so easy to make when you employ your instant pot or electric pressure cooker.
That said, if you don't have one of those machines in your kitchen, you can still make this recipe on the stovetop, just use the canned beans and give them a good wash before adding to the pot. If you do make it on the stove you can basically add all the ingredients to the pot and boil till the rice is cooked.
That is kind of the beauty of this recipe. I equate it to a straight dough method for bread. Throw it all in, mix, and let it rise! Any way you make it, your house will be filled with the most heartwarming aroma that will have everyone at the kitchen table for dinner!
Enjoy!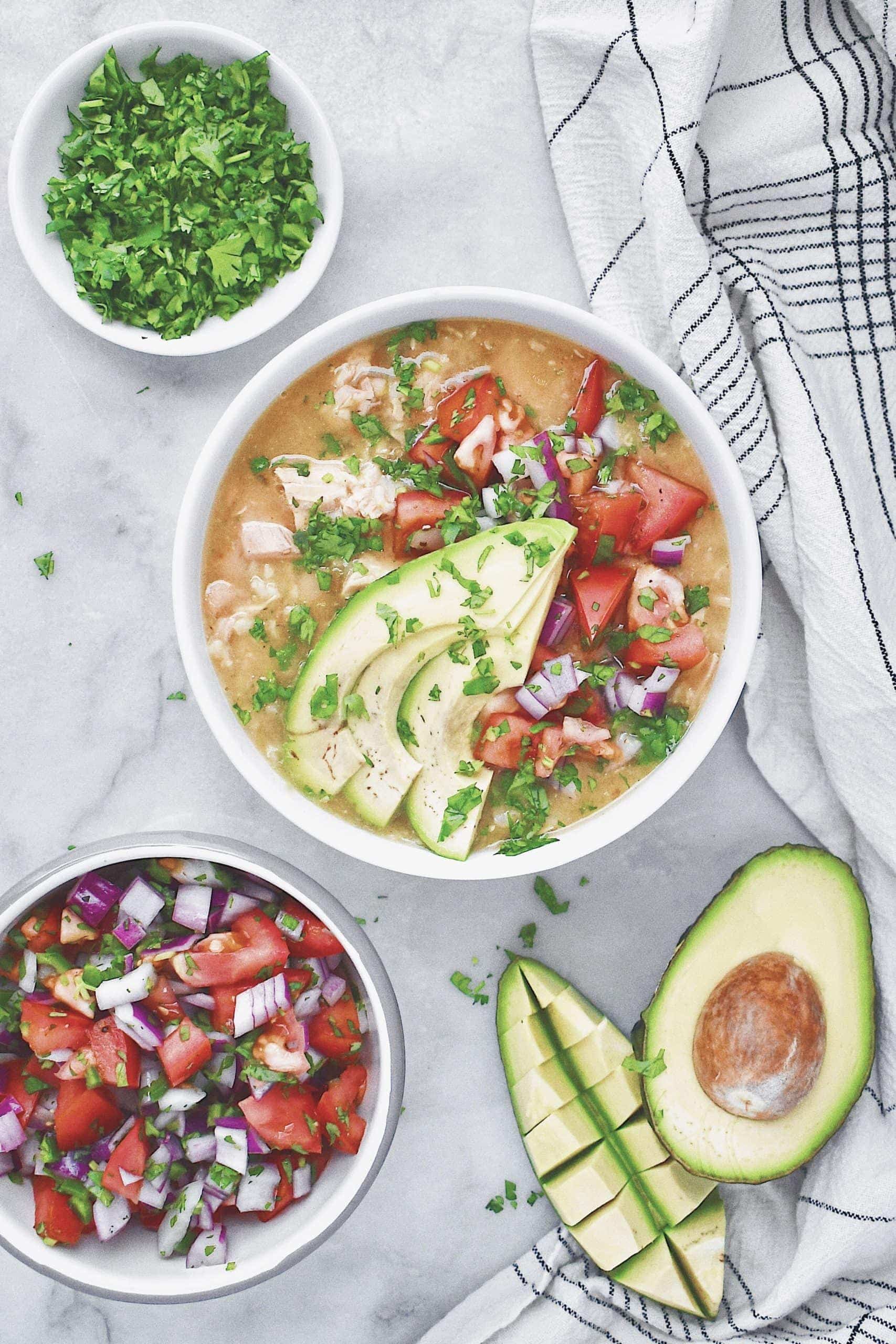 If you feel like pairing this recipe with something a little more classic chili, make @thefauxmartha's From me, to you + Jiffy Cornbread Copycat. It is the BEST cornbread around and that is coming from someone who usually passes on the cornbread!
I subbed blue cornmeal in mine when I made it and it came out just as great! I did that for a little fun contrast but regular serves well too!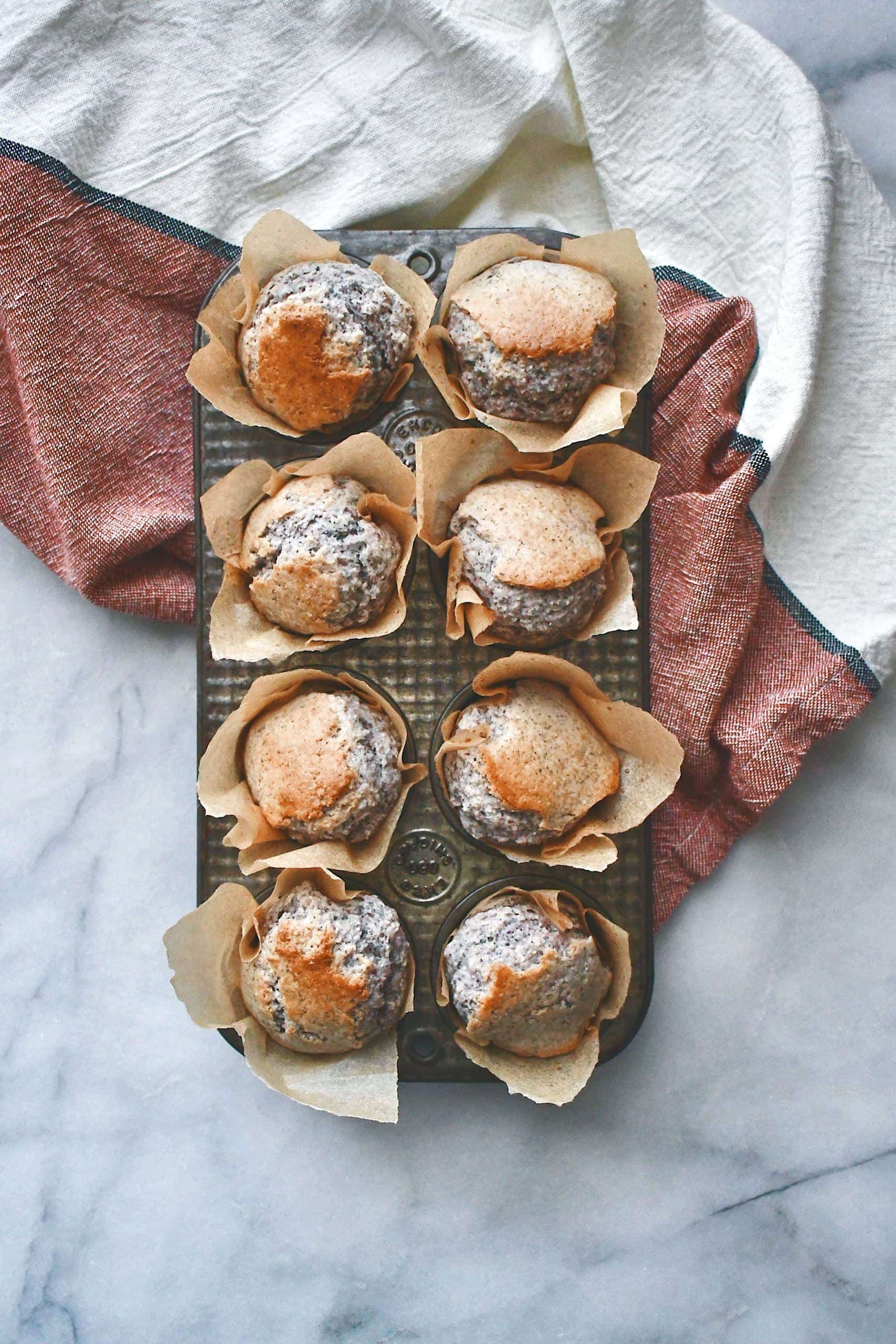 MY LATEST RECIPES!
Get my NEW e-Cookbook here!! ⬇️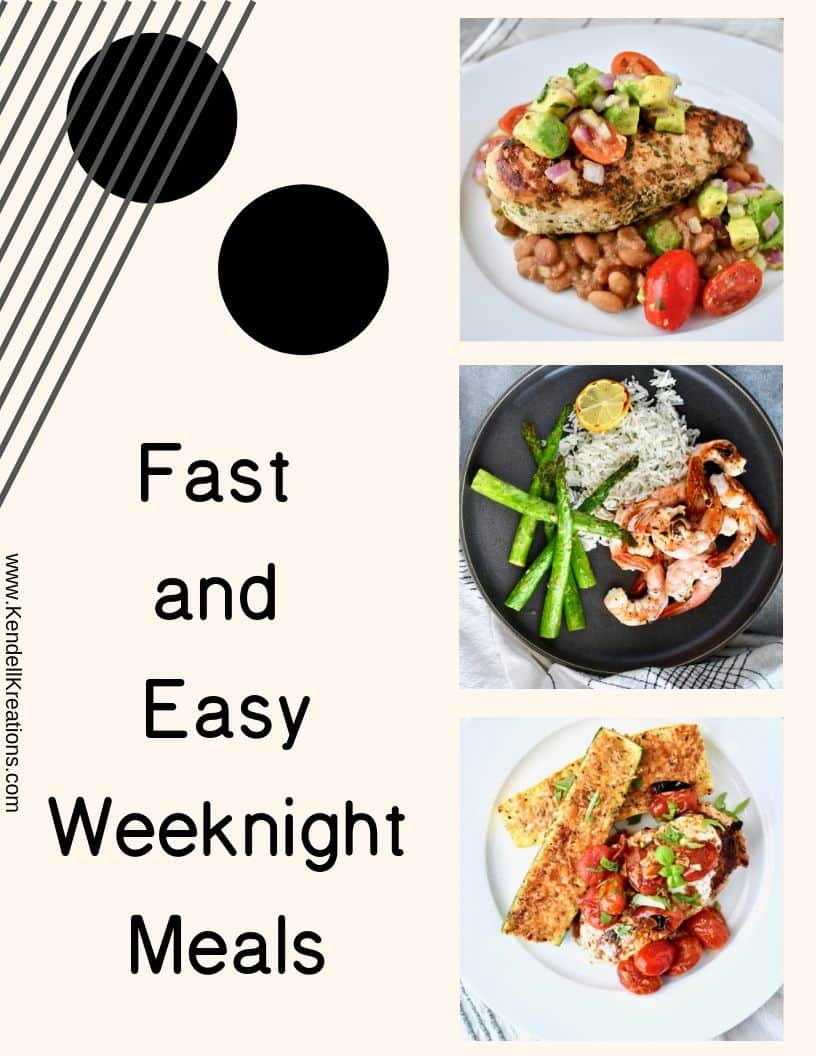 MY FAVORITE KITCHEN TOOLS!
Here are a few links to some of my favorite kitchen tools! You get a car, YOu get a car, YOU ALL GET A CAR…in my best Oprah voice
These Rösle Silicone Tongs are a little pricey but they will last you the rest of your life and are the softest in your hand. This is important for someone like m that cooks so much. It reduces strain, I have 4 sets in my kitchen!
These are my FAVE Nordic Ware Sheet Pans, every kitchen should have at least 2 sets of these! I think I have at least 4 of each of these.
This is my favorite pressure cooker, the Fagor is the same concept as the "Instant Pot" but easier to use in my opinion, if you don't have one you NEED one, it will be your best friend in the kitchen!
A sharp knife is the most important tool in the kitchen, these Japanese steel "Shun" knives are my favorite! And this is a great starter set to build on. Once you try them you will be in love so use this as a foundation you can build on for years to come.
This Scanpan 11″ skillet is just the right size for almost anything you will need to cook and my best friend and a real workhorse in my kitchen, it's also a great deal at $99. Scanpan is the best in the world for healthy cooking. It is coated with a proprietary ceramic-titanium coating that is durable while allowing you to use fewer fats and oils when cooking. It is a coating only they use. I could talk all day about my love for these pans, message me if you want more info. Here are some other sizes that are available if you are looking to outfit your kitchen with some new goodies. 8″ & 10″ Skillet set or 8″ Skillet, I still need this one for my kitchen  Also, I don't really know how to cook small so the 12.5″ is my other fave!
This giant vat of olive oil is my favorite, I decant it into a smaller bottle for my counter. Or put this spigot on top of a wine bottle!
My favorite baking dish that is so easy to clean even burnt on cheese slides right off!
This Tovolo jar scraper has to be my single favorite kitchen tool, it is definitely the most used tool in my kitchen. If you are NOT a gadget person, this is the only necessity I say is a MUST beyond the wooden spoon.
A great wood spoon is essential, this Olive Wood one is my favorite, I have more than I can count. But can you really ever have too many?
A food scale can be a very important tool in your kitchen, this one is the one I use every day!
If you love Joanna Gaines as much as I do then the 'Magnolia Table Cookbook' is a must in your kitchen, get a copy HERE!