These beautiful Baja Shrimp Tacos are served in a tortilla on a bed of red cabbage slaw and topped with a spicy pineapple pico. All those flavors together will blow your mind! I dare you to serve these to your next dinner guests. Just wait for the oo's and ahh's to roll in.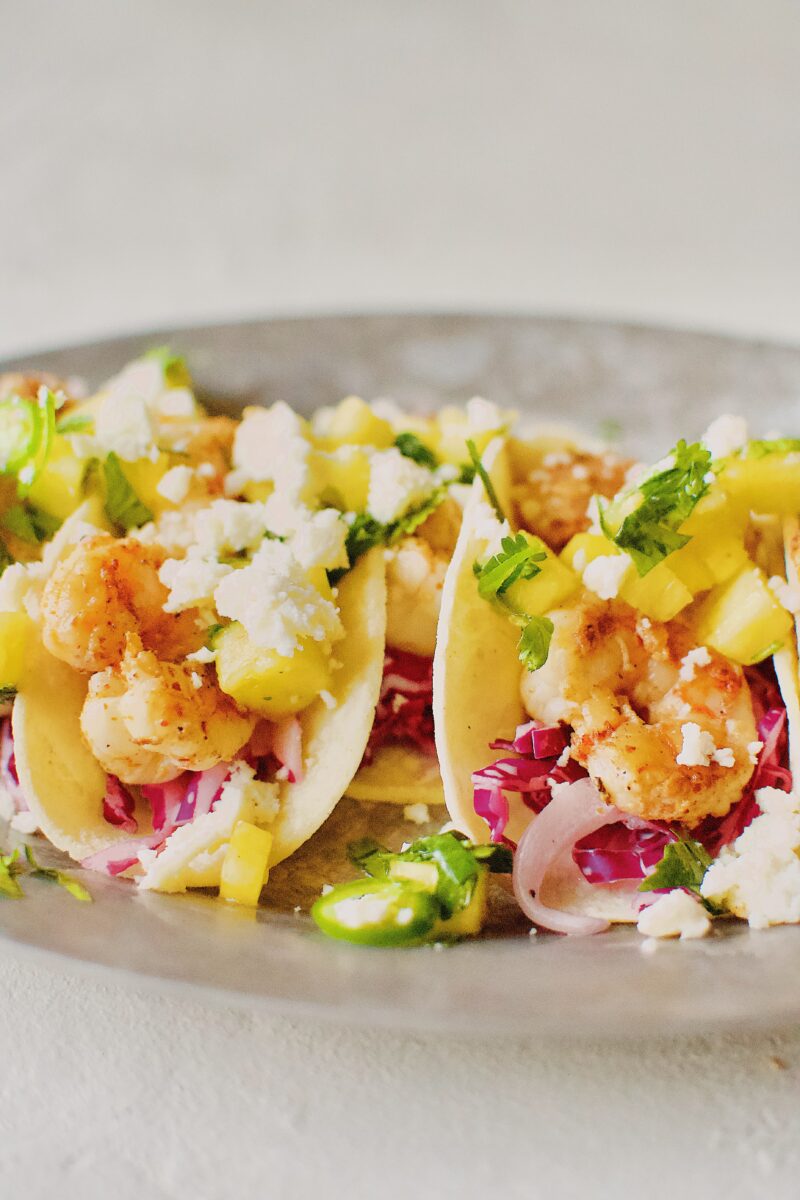 These are the tacos that summer dreams are made of. My family goes crazy for these tacos and pretty much begs me to make them on repeat during the hot summer. I share instructions for making these inside to get out of the heat, but the shrimp could EASILY be cooked on the grill too!
Jump to:
Ingredients
Ok, I am here to encourage you to make these RIGHT NOW. Because you are going to scroll down to the recipe and think that the ingredient list looks psycho! Believe me, it would scare me too. But taking the time to prepare all the different elements really makes these tacos GREAT!
But let's talk about these amazing shrimp I call for in this recipe! Argentinian Red Shrimp are like the LOBSTER of the shrimp world. They come from the cool water of, yep you guessed it, Argentina.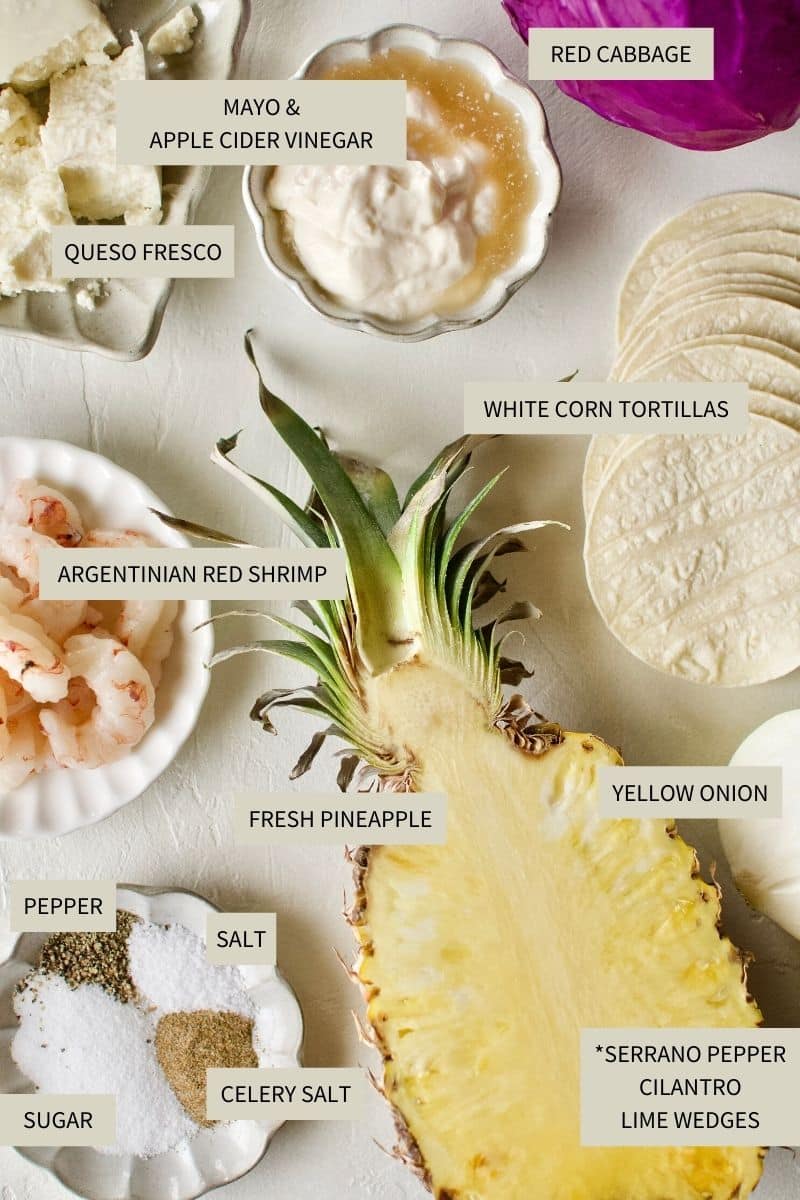 Argentinian Red Shrimp
They are a wild-caught red shrimp from the clean, cold waters off the coast of Argentina. This gives them a very delicate texture and a sweet taste of the sea. When working with them you will notice that they smell like seawater, not fishy, but like the ocean.
They go by many names, but they are becoming increasingly popular across the united states. You may find them under the name, Wild Red Shrimp, Patagonian King Prawn, Argentinian Red Shrimp, or Pleoticus Muelleri. You will also notice that they are naturally very red, this is why quick cooking is important.
You will mainly find these shrimp in the freezer section and I have even spotted them at Costco and Sam's Club. To cook them, thaw them and be sure that they are as dry as possible before seasoning them. I lay them on some paper towels and pat them dry to ensure they will quickly and even brown when cooked.
Use the JUMP TO RECIPE button at the top of the post, or scroll to the bottom of the post to see the full recipe card with ingredient measurements and instructions.
Method
Start with what I call the pineapple pico. It is simply pineapple, serrano peppers, cilantro, a little salt, and oil. Super simple, but makes a huge impact when added to the tacos.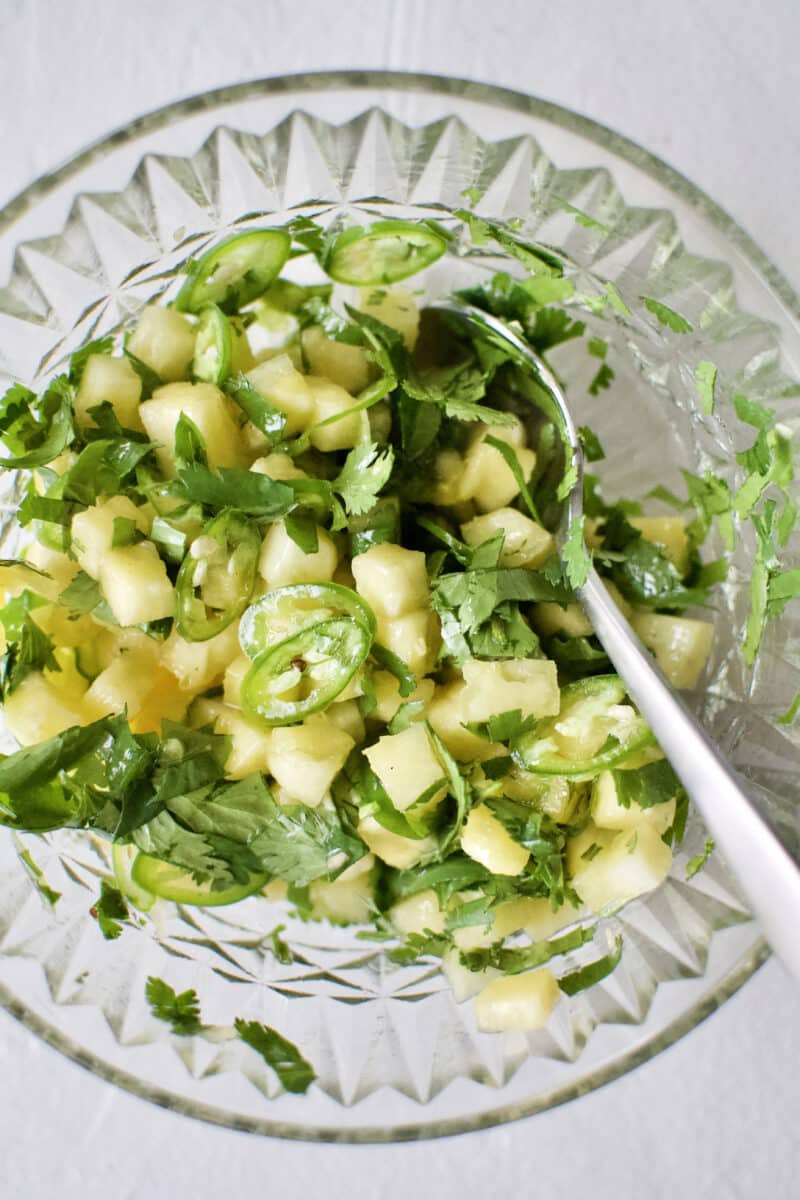 Next, make the cabbage slaw. Combine the first ingredients to make a dressing, then add the onions to that. Add the onions first and allowing them some time in the dressing takes the harsh raw flavors off them making them more enjoyable to eat.
Then add the cabbage to the bowl and toss everything together. I like to fold the pineapple in last to just lightly combine it with the cabbage. I make this slaw a little before I am going to serve it so all the flavors can meld together.
For the shrimp, I season them up and quickly saute them in a hot pan in a little bit of olive oil. Shrimp only need a few minutes to cook ever, and these Argentinian red shrimp especially cook quickly. You do not want to overcook them either, they will become rubbery.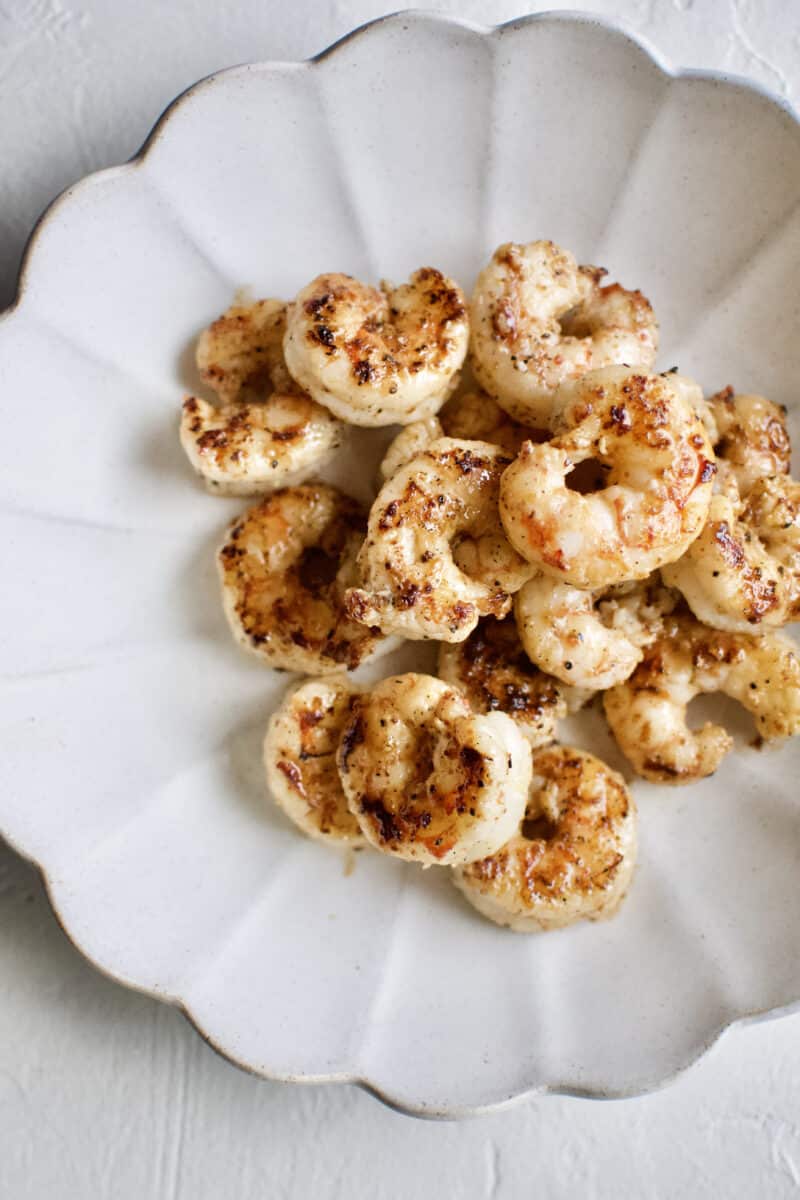 When I serve them, I fill a warm tortilla with the slaw, put a couple of shrimp on top, and finish with the pineapple pico, some queso fresco, cilantro, and a squeeze of lime. Talk about a new favorite in these Baja Shrimp Tacos!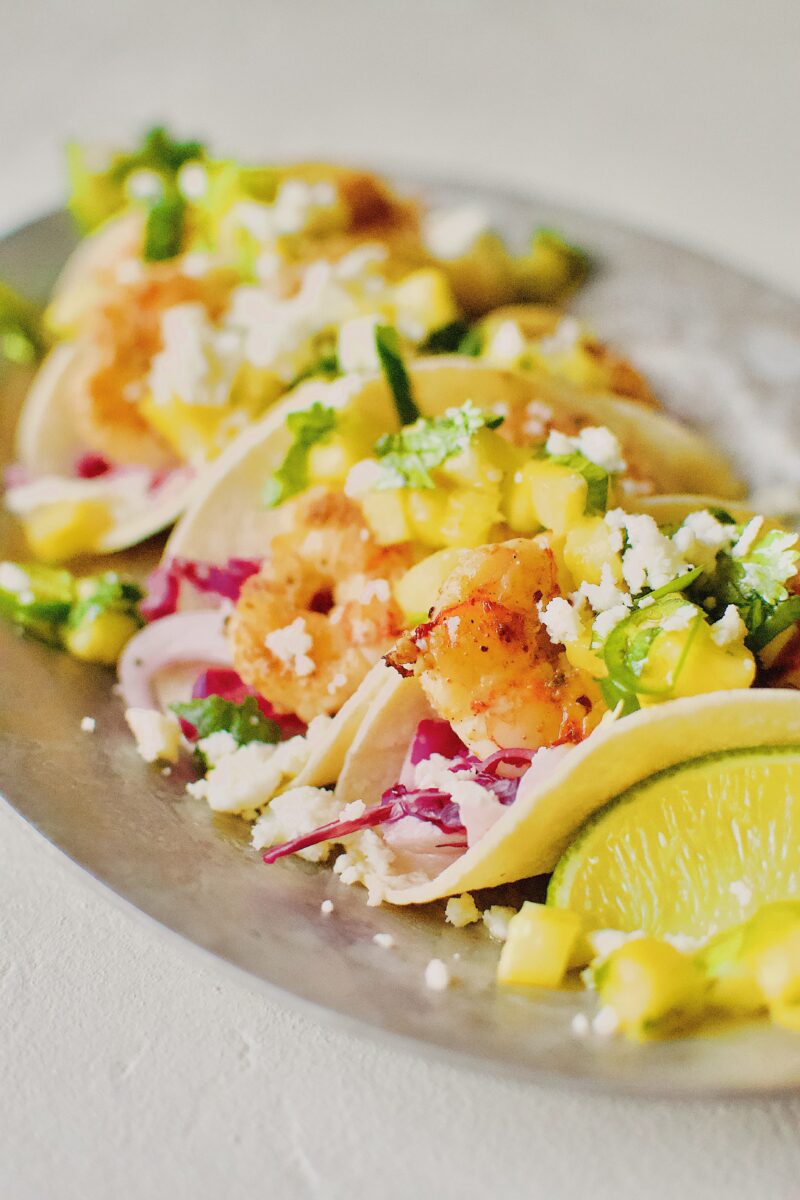 Notes & Tips
Thaw and dry your shrimp before cooking. And seek out the Argentinian Red Shrimp, you WILL not regret it!
The shrimp will have a strong odor, they should smell like the sea. Many other shimp do not have as much of an odor as these do. I just make this note so you are not alarmed when you smell them.
Prepare the pico and slaw early, when I am making these Baja Shrimp Tacos I sometimes make them first thing in my day so come dinner time all I really have to do it cook the shrimp.
When making the slaw, be sure to add the onion to the dressing before tossing everything together, it takes the raw bite off the onions making them more enjoyable to eat.
Substitutions
In place of the pineapple pico, you could eliminate a step and simply use a storebought pico de gallo. I simply enjoy the bright freshness the pineapple pico brings.
The mayo in the slaw dressing could be replaced with greek yogurt or sour cream in a pinch.
Out of apple cider vinegar, any vinegar will work, or even replace it with lime juice.
The celery salt really rounds all the flavors out really well, however you can leave it out if you don't have any.
And lastly, these tacos could easily be made with any variety of white fish as a substitute for the shrimp, chicken, or tofu!
More sweet summer recipes
Summer Salad with Avocado Cilantro Everything Dressing
Did you make this recipe? Let me know by leaving a review or comment! And be sure to sign up for my newsletter, and follow along on Instagram, Pinterest, and Facebook!