My Peach Sweet Tea recipe is the perfect way to put your fresh crop of summer peaches to work. Peach has been a long time favorite flavor profile of mine and I almost always order peach tea when it is available at a restaurant.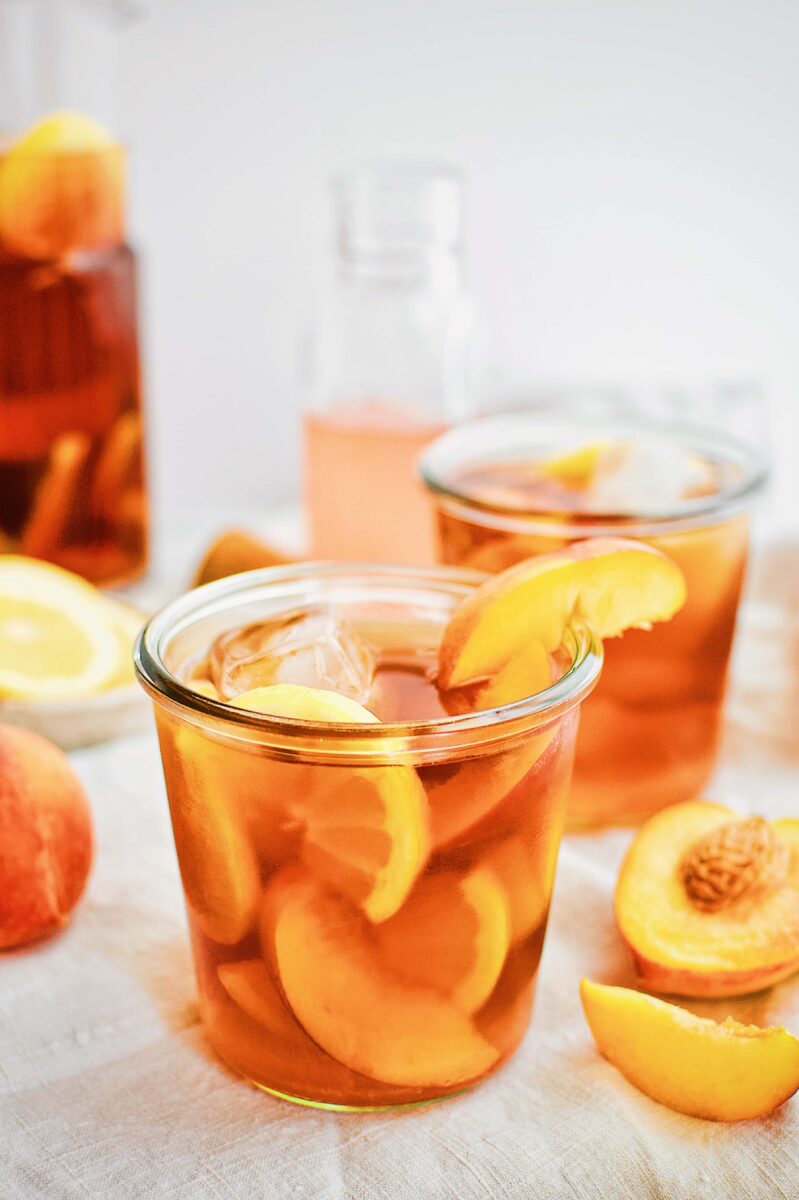 A refreshing summer treat!
I love a great sweet tea, I wasn't born in the south but I love most of the things that come out of it. Especially sweet tea! Peach Sweet Tea just might be my favorite though.
Sweet Tea is a staple all year and if you want to enjoy this recipe year-round be sure freeze some peaches during peek season. Or if your a dude like me and you have a big box of fresh peaches that are ready to go, take a look at all this peach greatness I have for you HERE.
I love making it with fresh peaches because I can control everything that is in it and keep it preservative-free. No matter what anyone tries to say, I will take real sugar over a chemical-laden substitute any day. It tastes better, life is short, enjoy it in moderation and do what works for you.
Ingredients needed:
Black Tea, brewed
Sugar
Water
Peaches
Lemon Juice - if peaches are super sweet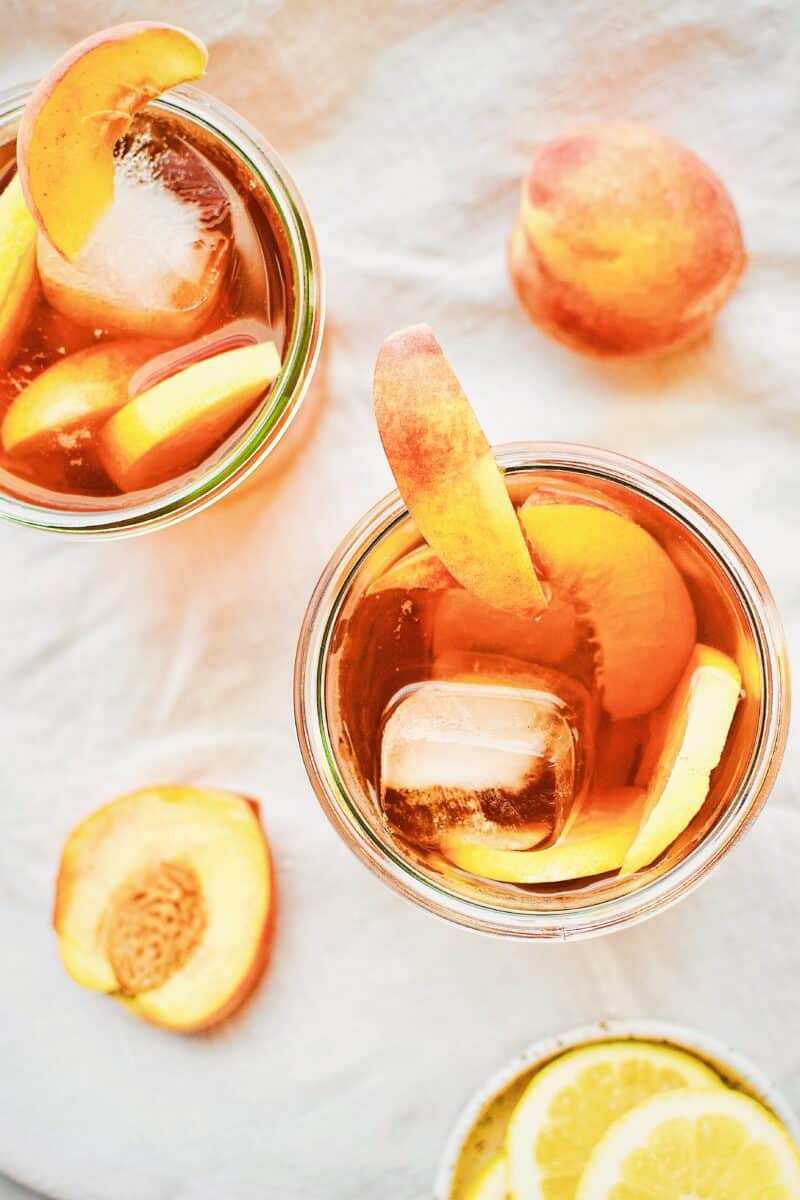 What makes great Peach Iced Tea?
The real key to this Peach Sweet Tea is making a perfect peach syrup. Cooking down the fresh peaches releases every ounce of the fantastic flavor they hold. By gently simmering, you get a flavorful syrup and preserved peaches.
Now a batch of this tea might not last long, I know it doesn't in my house. If you have a TON of fresh peaches like I do, double it and keep it in the fridge. It will keep for about a week when refrigerated.
View all of my "Peach Recipes" here if you need some more inspiration.
Update Summer 2020: The peaches I got this year were much sweeter than then ones I got when I first wrote this recipe. I like my tea with a little tartness. If you run into this same issue, add the juice of one lemon to your peaches when they are simmering on the stove.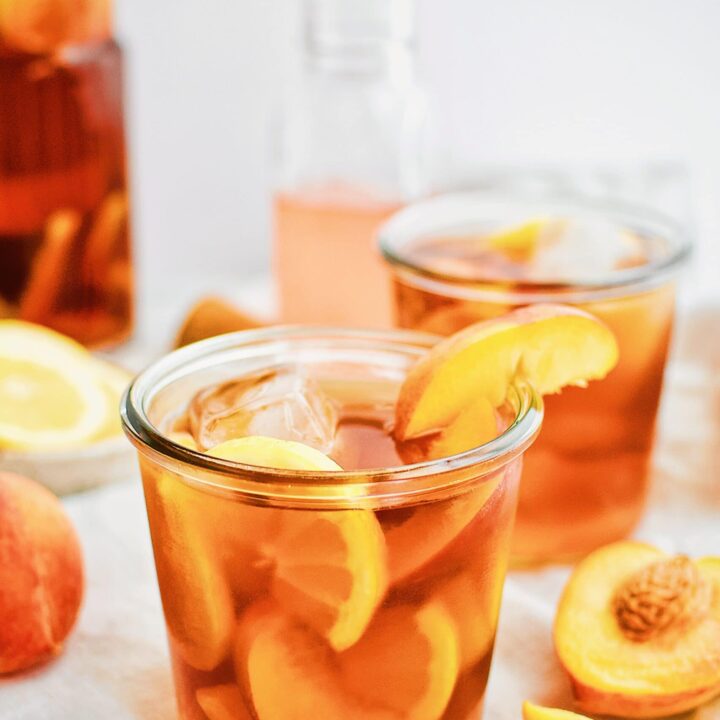 Peach Sweet Tea
My Peach Iced Tea recipe is the perfect way to put your fresh crop of summer peaches to work. If you want to make this outside of peak peach season, frozen is a great substitute.
Ingredients
2 qt Black Tea
1 cup Granulated Sugar
1 cup Water
3 Peaches, sliced
Instructions
Brew 2 qt of your favorite black tea.
Combine sugar, water, and peach slices in a small saucepan. Bring to a gentle boil for 5 minutes.
Remove from heat and let's steep for 30 min.
Strain and add to brewed tea. Pour over ice and enjoy!
Notes
Note: Save your peaches for topping your morning yogurt or enjoy like you would canned peaches.
Nutrition Information:
Serving Size:

1 grams
Amount Per Serving:
Unsaturated Fat:

0g
MY LATEST RECIPES!
Get my NEW e-Cookbook here!! ⬇️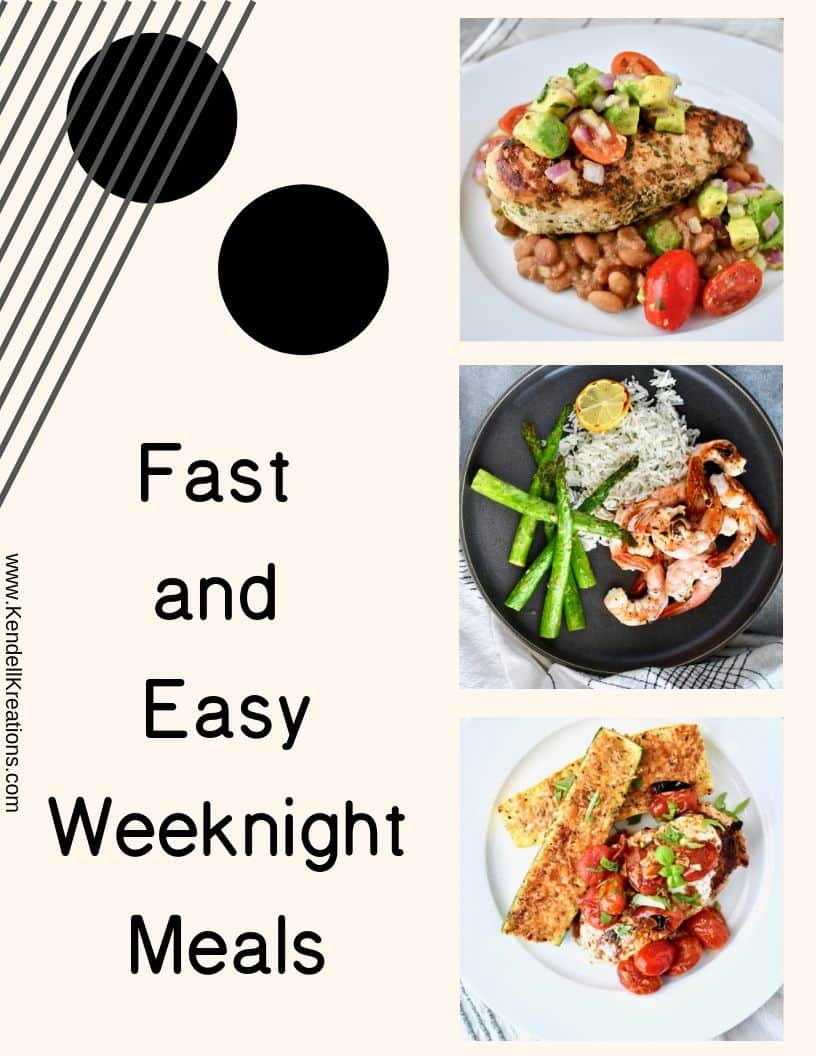 -
MY FAVORITE KITCHEN TOOLS!
Here are a few links to some of my favorite kitchen tools! You get a car, YOu get a car, YOU ALL GET A CAR…in my best Oprah voice
These Rösle Silicone Tongs are a little pricey but they will last you the rest of your life and are the softest in your hand. This is important for someone like m that cooks so much. It reduces strain, I have 4 sets in my kitchen!
These are my FAVE Nordic Ware Sheet Pans, every kitchen should have at least 2 sets of these! I think I have at least 4 of each of these.
This is my favorite pressure cooker, the Fagor is the same concept as the "Instant Pot" but easier to use in my opinion, if you don't have one you NEED one, it will be your best friend in the kitchen!
A sharp knife is the most important tool in the kitchen, these Japanese steel "Shun" knives are my favorite! And this is a great starter set to build on. Once you try them you will be in love so use this as a foundation you can build on for years to come.
This Scanpan 11″ skillet is just the right size for almost anything you will need to cook and my best friend and a real workhorse in my kitchen, it's also a great deal at $99. Scanpan is the best in the world for healthy cooking. It is coated with a proprietary ceramic-titanium coating that is durable while allowing you to use fewer fats and oils when cooking. It is a coating only they use. I could talk all day about my love for these pans, message me if you want more info. Here are some other sizes that are available if you are looking to outfit your kitchen with some new goodies. 8″ & 10″ Skillet set or 8″ Skillet, I still need this one for my kitchen Also, I don't really know how to cook small so the 12.5″ is my other fave!
This giant vat of olive oil is my favorite, I decant it into a smaller bottle for my counter. Or put this spigot on top of a wine bottle!
My favorite baking dish that is so easy to clean even burnt on cheese slides right off!
This Tovolo jar scraper has to be my single favorite kitchen tool, it is definitely the most used tool in my kitchen. If you are NOT a gadget person, this is the only necessity I say is a MUST beyond the wooden spoon.
A great wood spoon is essential, this Olive Wood one is my favorite, I have more than I can count. But can you really ever have too many?
A food scale can be a very important tool in your kitchen, this one is the one I use every day!
If you love Joanna Gaines as much as I do then the 'Magnolia Table Cookbook' is a must in your kitchen, get a copy HERE!