My Peach Sweet Tea recipe is the perfect way to put your fresh crop of summer peaches to work. Peach has been a long-time favorite flavor of mine and I almost always order peach tea when it is available at a restaurant. I love a great sweet tea, I wasn't born in the south but I love most of the things that come out of it.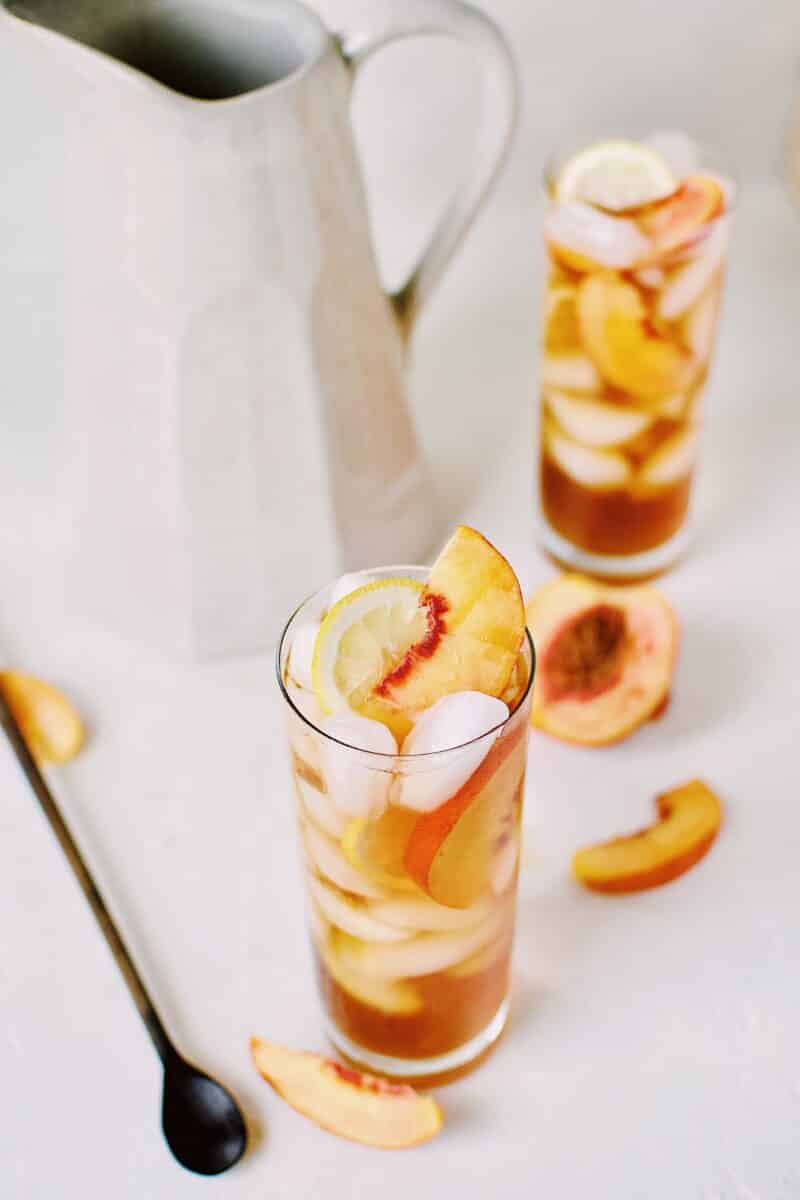 Jump to:
What makes THIS sweet tea, THE BEST?
Peach Sweet Tea just might be my favorite thing to come out of the south and is a staple in my home all year! If you want to enjoy THIS peachy recipe year-round be sure to freeze some peaches during the peak summer season.
You want to be sure to start with a GREAT base for this recipe! And the base here is the TEA of course. Since my first sip of Alabama Sweet Tea on the grounds of the Magnolia Market in Waco, TX I have been sold on it!
Grab a bag or two of their Sweet Southern to get you through the summer, you won't regret it!
Use the JUMP TO RECIPE button at the top of the post, or scroll to the bottom of the post to see the full recipe card with ingredient measurements and instructions.
Ingredients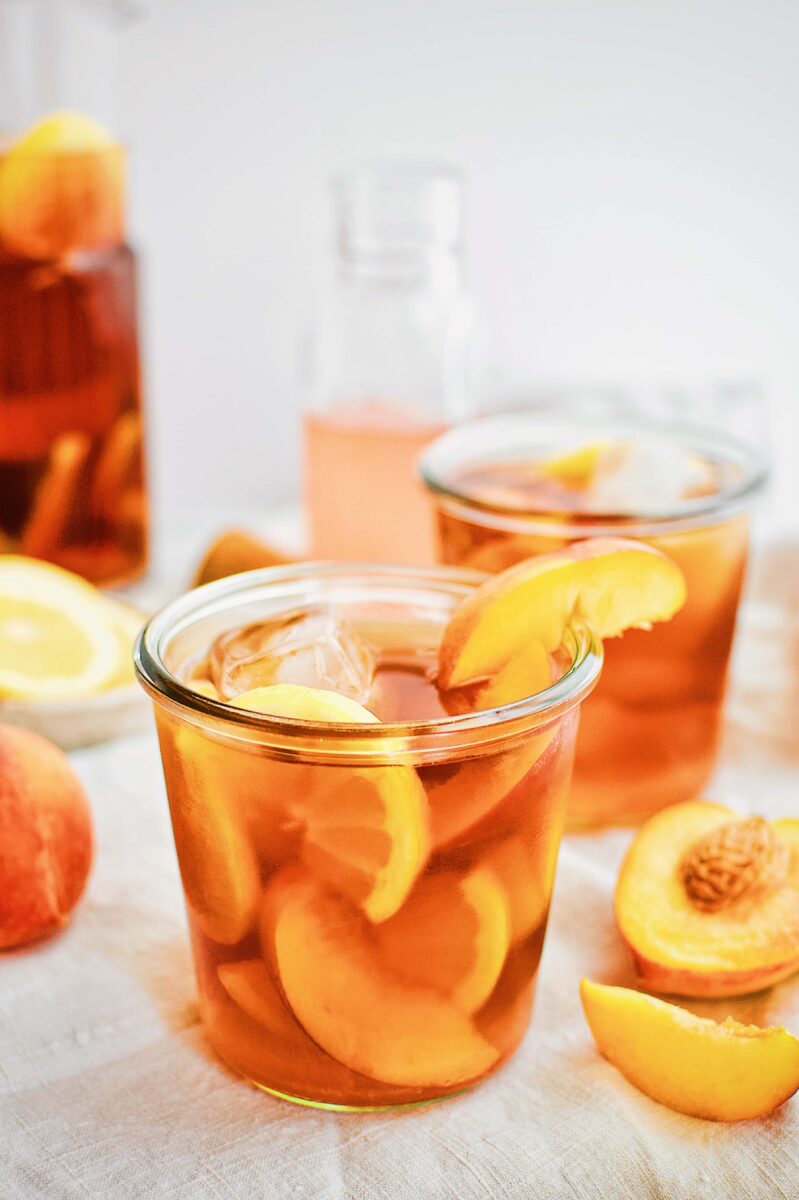 Method
To make this Peach Sweet Tea recipe, first, brew a good strong pitcher of black tea. If you get your hands on some Alabama Sweet Tea as I recommended earlier, simply follow their directions for a strong brew.
Next, make your peach simple syrup. This is what will sweeten your tea and give it all that great peach flavor. I like to gently simmer my peaches and sugar together just until the sugar dissolves, then let the peach slices steep like tea in the sugar water for a while to get as much flavor as possible out of them.
Using the method ensures the peaches don't deteriorate when cooking and essentially preserves them. I then strain the peach pieces out and save them to top yogurt with or to just enjoy any way you would peaches from a can. What you have essentially created is preserved peaches just like those you can get from a can by following this process.
After removing your now preserved peaches from the syrup, add the syrup to the brewed tea. If you like to sweeten each glass of tea, place the syrup on a bottle and serve alongside the cooled tea and ice. I like to serve my tea with a few fresh peach slices in it and some lemon wedges.
Notes & Tips
The real key to this Peach Sweet Tea recipe is making perfect peach syrup. Cooking down the fresh peaches releases every ounce of the fantastic flavor they hold. By gently simmering, you get a flavorful syrup and preserved peaches.
A batch of this tea might not last long, I know it doesn't in my house. If you have a TON of fresh peaches like I do, double it and keep it in the fridge. It will keep for about a week when refrigerated. This recipe can be multiplied over and over if you want a BIG batch of Peach Sweet Tea.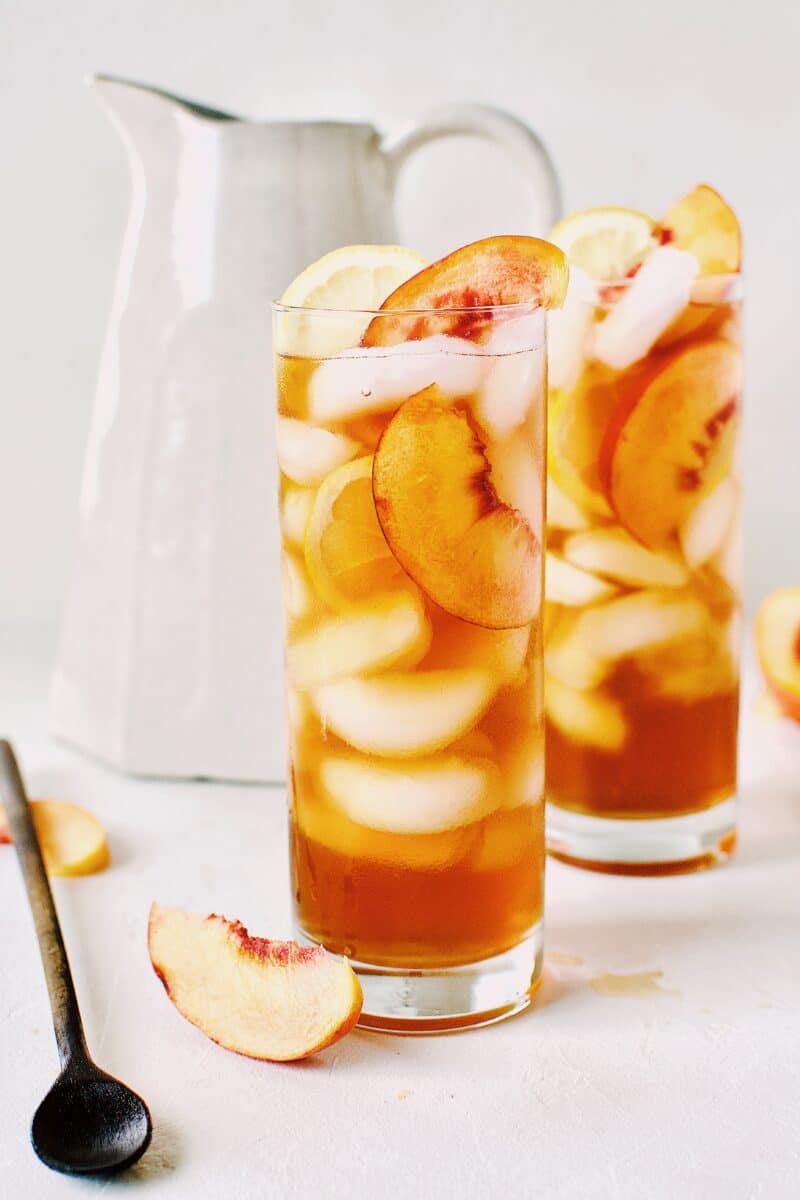 Substitutions
The peaches I got in 2020 were much sweeter than the ones I got when I first wrote this recipe. I like my tea with a little tartness. If you run into this same issue, add the juice of one lemon to your peaches when they are simmering on the stove.
Feel free to swap the sugar for stevia if you like for a lower glycemic drink option.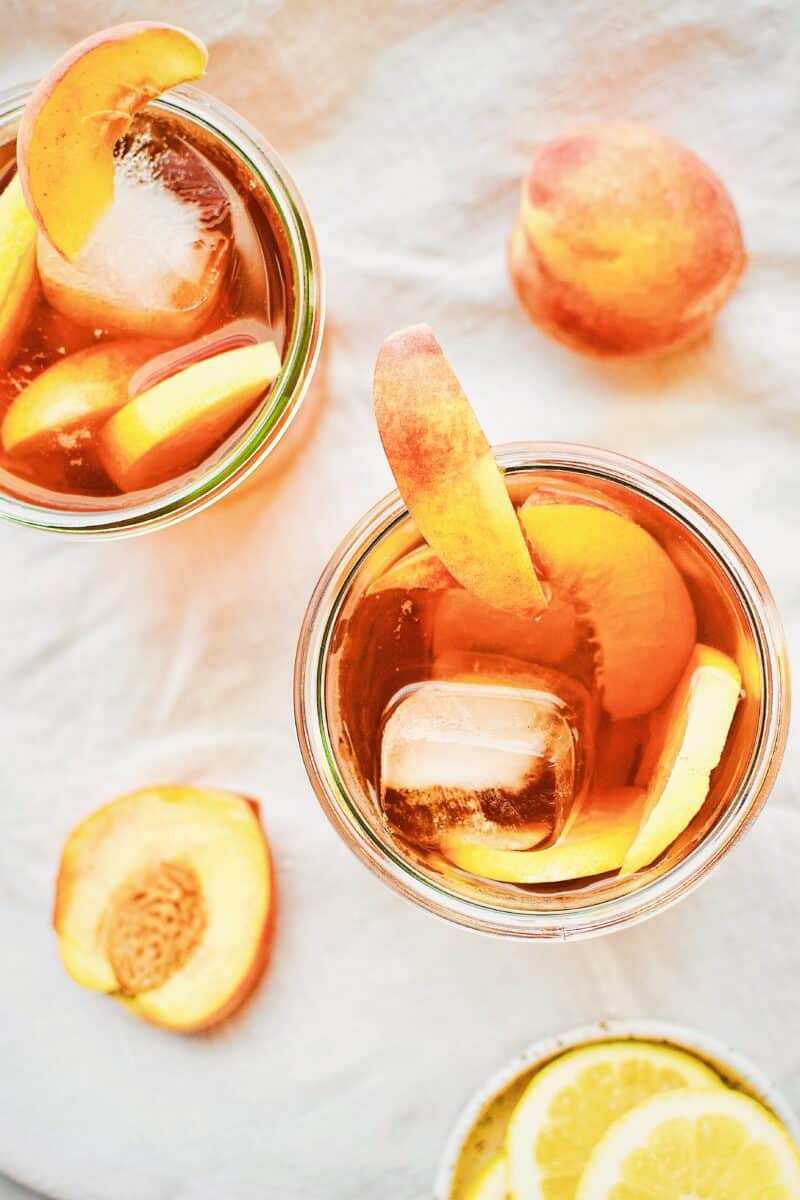 Did you make this recipe? Let me know by leaving a review or comment! And be sure to sign up for my newsletter, and follow along on Instagram, Pinterest, and Facebook!