Grilling season is in full swing right now and my Grilled Shrimp Skewers are on dinner time repeat right now! Letting them hang out in the garlic butter for a while is one of the secrets to making them taste so good. But more on that below.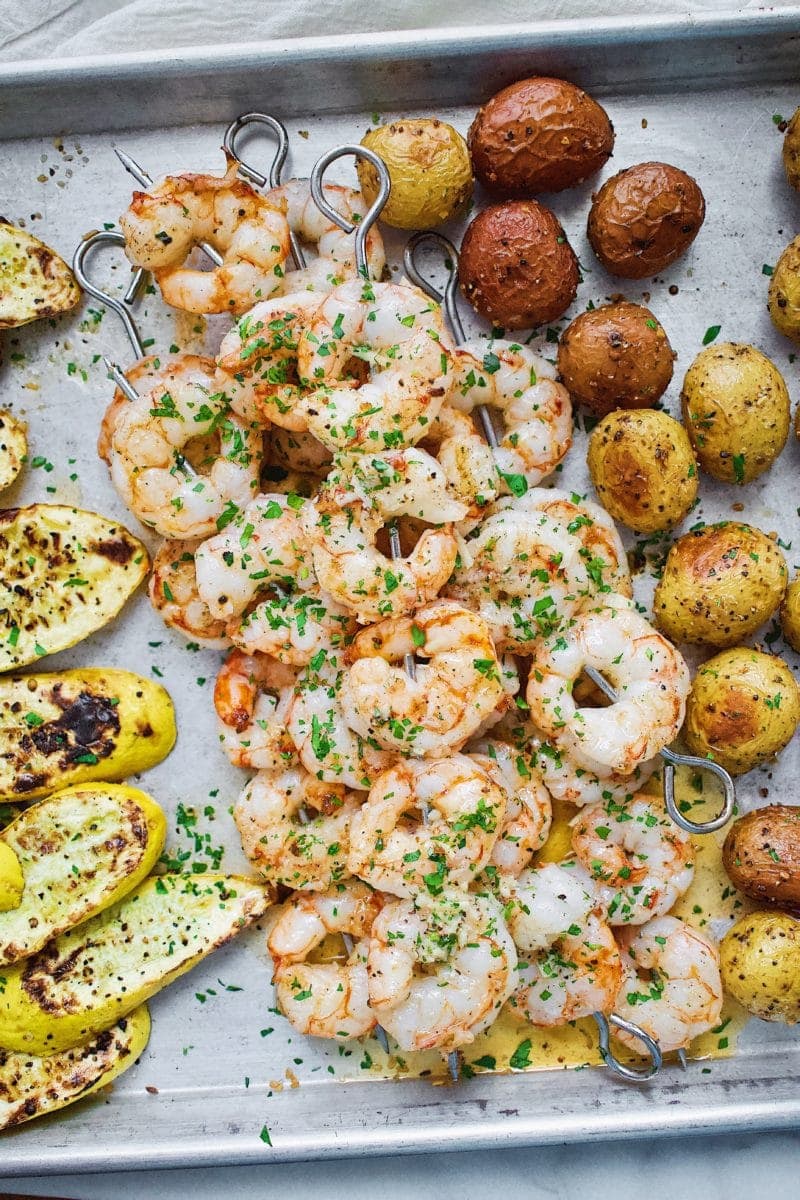 Picking your Shrimp
The shrimp I have chosen for this dinner are Argentinian Red Shrimp. While most any shrimp will do, I want to share about them with you. They are like this lobster of the shrimp world and if you can ever get your hands on them, DO IT!
They are a wild-caught red shrimp from the clean, cold waters off the coast of Argentina. This gives them a very delicate texture and a sweet taste of the sea. When working with them you will notice that they smell like seawater, not fishy, but like the ocean.
They go by many names, but they are becoming increasingly popular across the united states. You may find them under the name, Wild Red Shrimp, Patagonian King Prawn, Argentinian Red Shrimp, or Pleoticus Muelleri. You will also notice that they are naturally very red, this is why quick cooking is important.
They require only minimal cooking to ensure they keep their soft texture. Gently grill them or quickly sautee them. But as you might tell by this post I prefer them quickly grilled.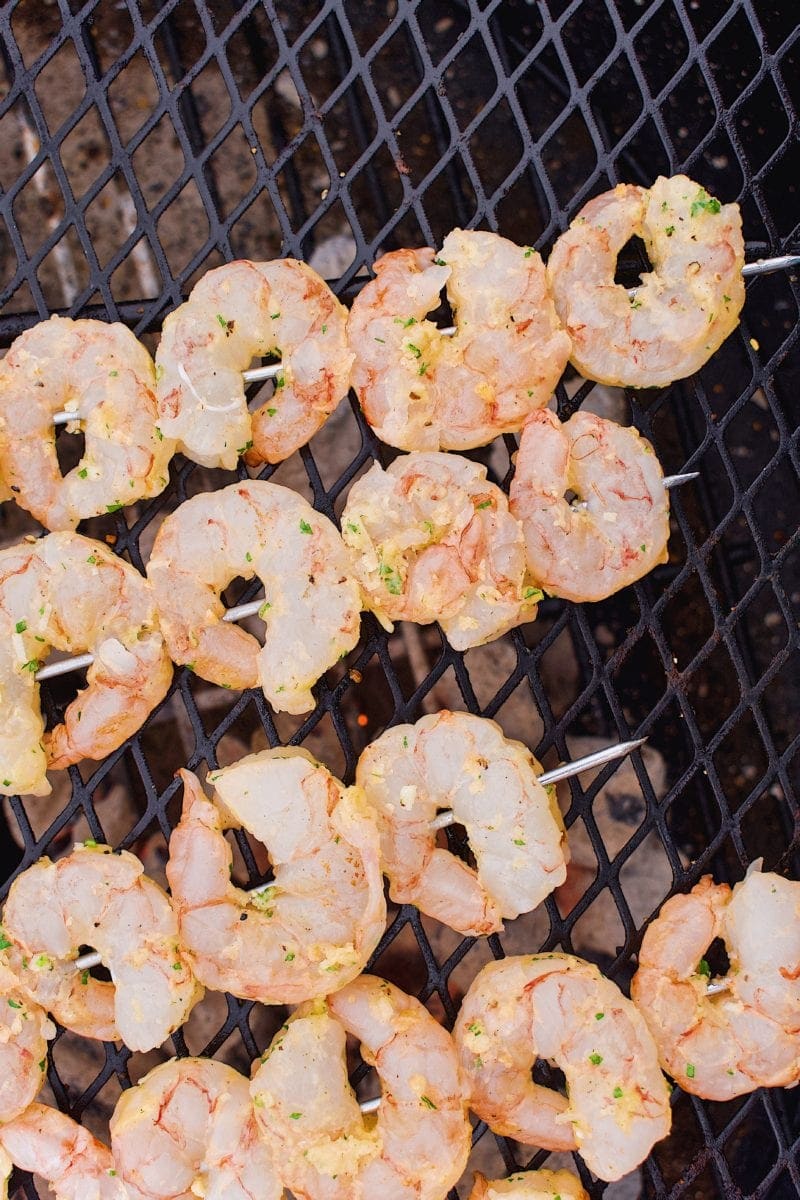 Preparing the shrimp for grilling
You will mainly find these shrimp in the freezer section and I have even spotted them at Costco and Sam's Club. To cook them, thaw them and be sure that they are as dry as possible before seasoning them. I lay them on some paper towels and pat them dry to ensure they will quickly and even brown when cooked.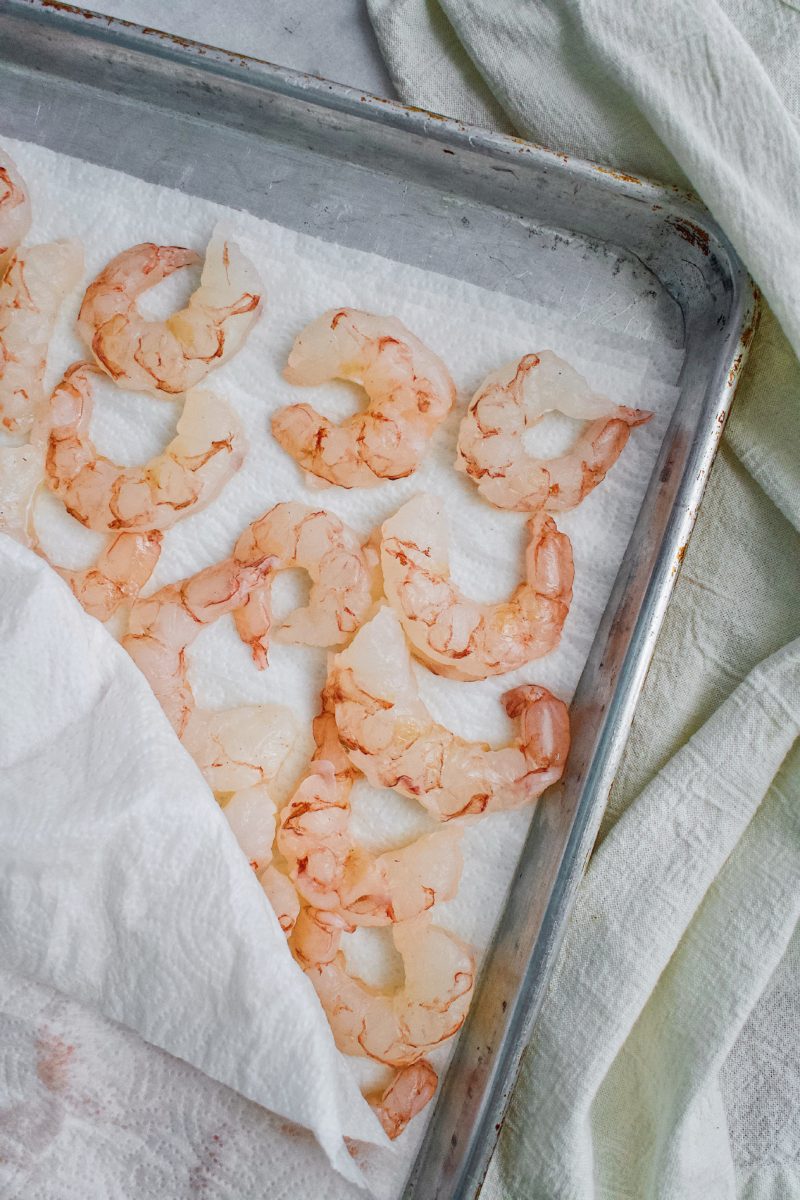 I like to toss them in gently warm butter, with lots of garlic, and seasoned well with salt and pepper. Skewer them and let them marinate in the butter and seasoning for 20-30 minutes while you prepare your hot grill.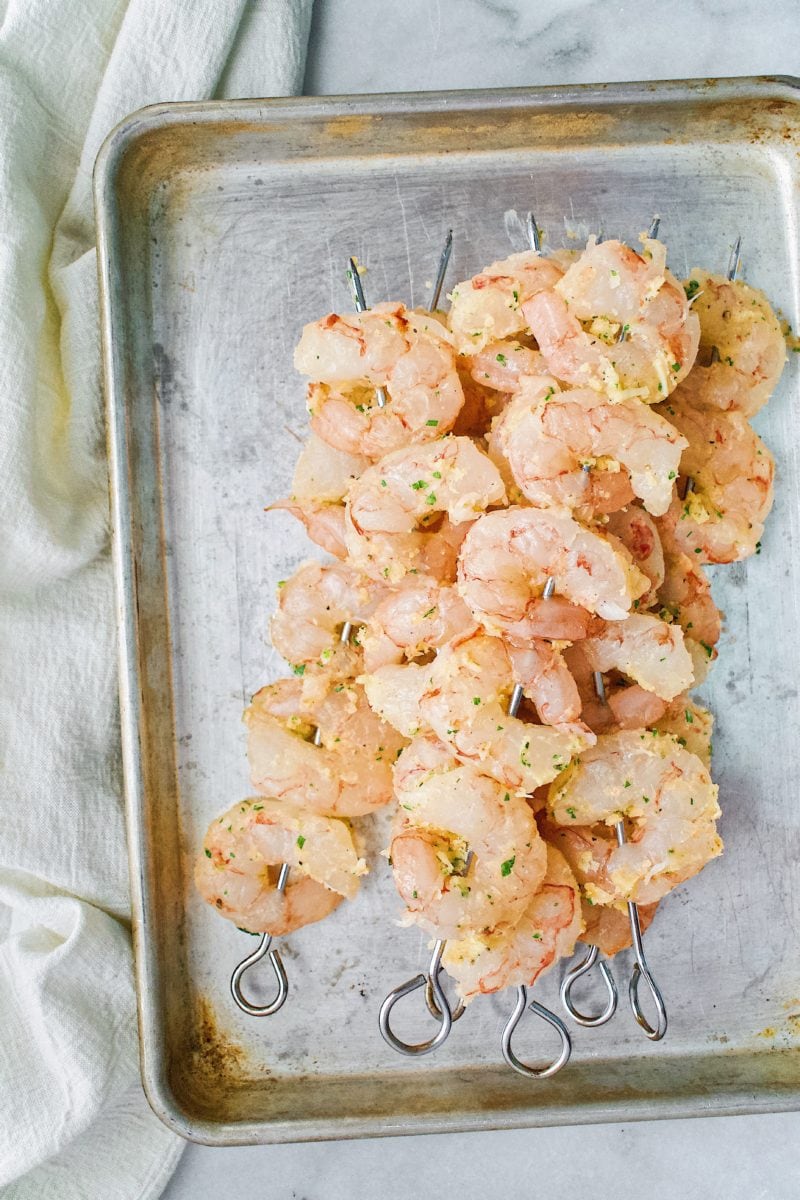 Cook them quickly as I said before, so you can prevent overcooking. I threw some seasoned squash on the grill alongside them and a few potatoes in the toaster oven.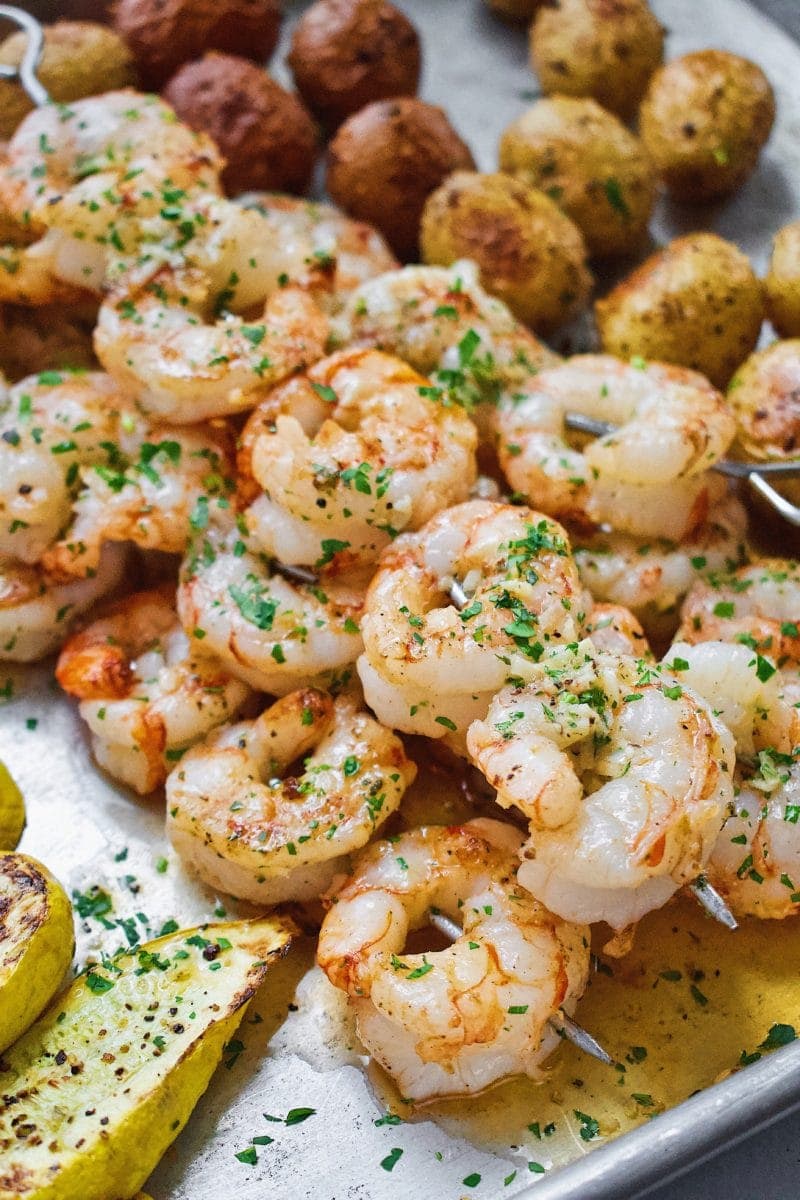 This is a quick dinner that can hit the table any night of the week, just be sure to thaw the shrimp ahead of time and you will be on your way to a shrimp feast!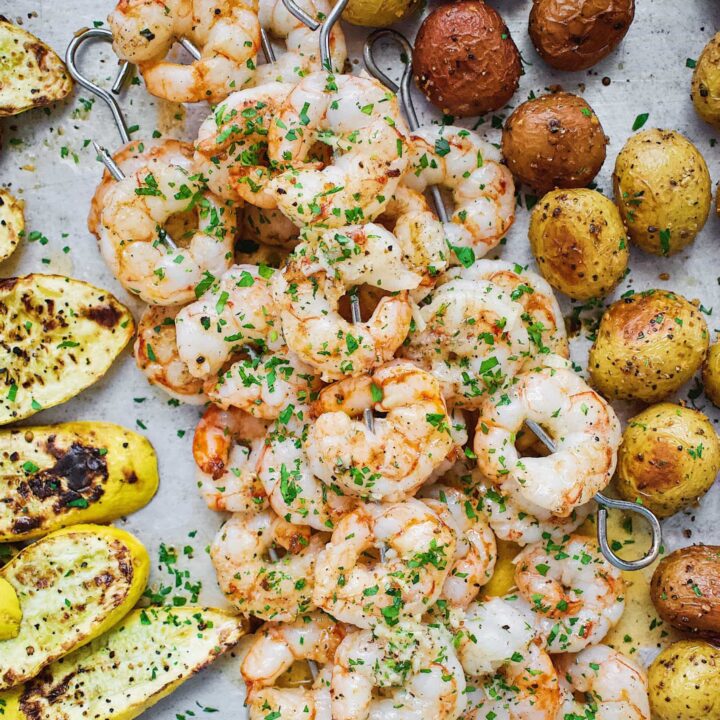 Grilled Shrimp Skewers
This recipe will work with any shrimp, but if you can find Argentinian Red Shrimp snatch them up and they will make this recipe all the better!
Ingredients
2 lb Red Shrimp
½ stick Butter
3 cloves Garlic, minced
½ teaspoon Kosher Salt
½ teaspoon Fresh Cracked Black Pepper
1 tablespoon Parsley, finely chopped
Instructions
Thaw and dry the shrimp between paper towels.
Melt the butter in a small saucepan along with the garlic, salt, and pepper. Once melted remove it from the heat and let cool for about 5 minutes. Add the parsley and stir to combine.
In a bowl or on a sheet pan toss the shrimp with the butter and sprinkle a bit more salt and pepper on top. Toss to coat the shrimp in the butter. Let it marinate for 20-30 minutes, then skewer and get them ready for the gill.
Grill over high heat for 4-5 minutes per side. Set the pan you marinated the shrimp on over the heat and any butter that is leftover can be used to baste the shrimp when they have finished cooking.
Serve immediately and enjoy.
Notes
Argentinian Red Shrimp are the best for this recipe. I call them the lobster of the shrimp world as they are very tender and require little cooking.
Nutrition Information:
Serving Size:

1 grams
Amount Per Serving:
Unsaturated Fat:

0g
If you make this recipe, please let me know by leaving a review at the bottom of this page!
And make sure to sign up for my newsletter and follow along on Instagram, Pinterest, and Facebook for more KendellKreations!
MY LATEST RECIPES!
Get my NEW e-Cookbook here!! ⬇️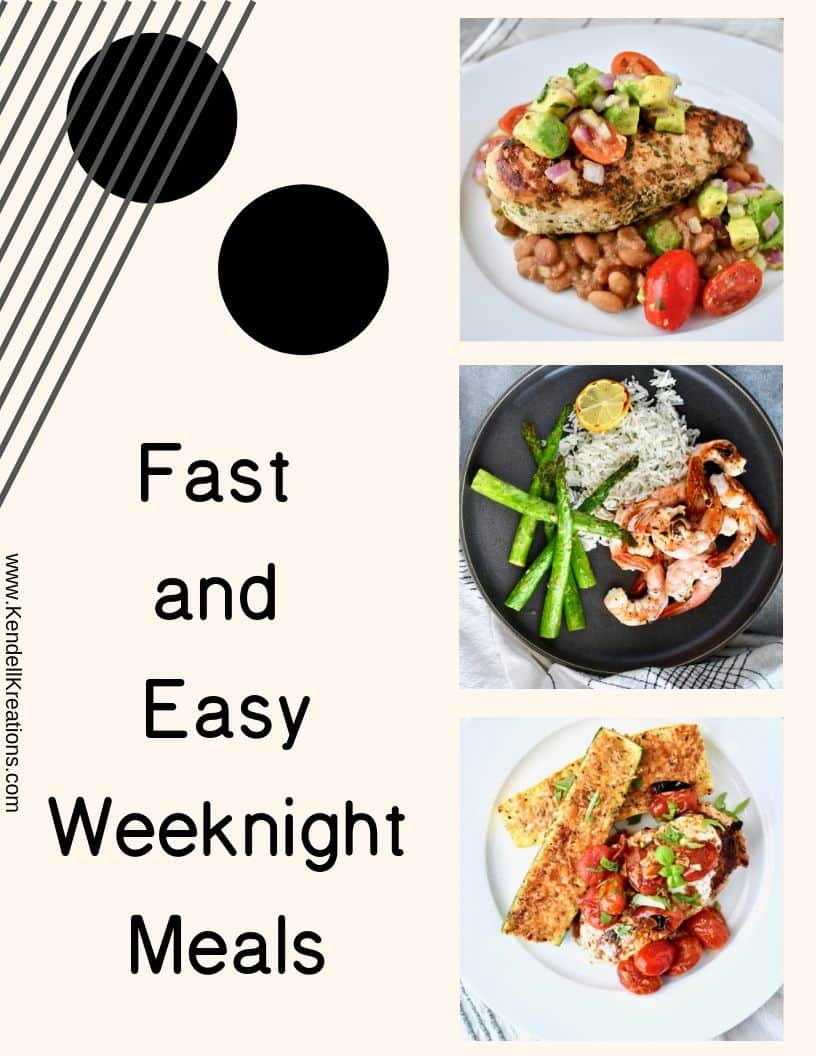 MY FAVORITE KITCHEN TOOLS!
Here are a few links to some of my favorite kitchen tools! You get a car, YOu get a car, YOU ALL GET A CAR…in my best Oprah voice
These Rösle Silicone Tongs are a little pricey but they will last you the rest of your life and are the softest in your hand. This is important for someone like m that cooks so much. It reduces strain, I have 4 sets in my kitchen!
These are my FAVE Nordic Ware Sheet Pans, every kitchen should have at least 2 sets of these! I think I have at least 4 of each of these.
This is my favorite pressure cooker, the Fagor is the same concept as the "Instant Pot" but easier to use in my opinion, if you don't have one you NEED one, it will be your best friend in the kitchen!
A sharp knife is the most important tool in the kitchen, these Japanese steel "Shun" knives are my favorite! And this is a great starter set to build on. Once you try them you will be in love so use this as a foundation you can build on for years to come.
This Scanpan 11″ skillet is just the right size for almost anything you will need to cook and my best friend and a real workhorse in my kitchen, it's also a great deal at $99. Scanpan is the best in the world for healthy cooking. It is coated with a proprietary ceramic-titanium coating that is durable while allowing you to use fewer fats and oils when cooking. It is a coating only they use. I could talk all day about my love for these pans, message me if you want more info. Here are some other sizes that are available if you are looking to outfit your kitchen with some new goodies. 8″ & 10″ Skillet set or 8″ Skillet, I still need this one for my kitchen Also, I don't really know how to cook small so the 12.5″ is my other fave!
This giant vat of olive oil is my favorite, I decant it into a smaller bottle for my counter. Or put this spigot on top of a wine bottle!
My favorite baking dish that is so easy to clean even burnt on cheese slides right off!
This Tovolo jar scraper has to be my single favorite kitchen tool, it is definitely the most used tool in my kitchen. If you are NOT a gadget person, this is the only necessity I say is a MUST beyond the wooden spoon.
A great wood spoon is essential, this Olive Wood one is my favorite, I have more than I can count. But can you really ever have too many?
A food scale can be a very important tool in your kitchen, this one is the one I use every day!
If you love Joanna Gaines as much as I do then the 'Magnolia Table Cookbook' is a must in your kitchen, get a copy HERE!