There are many iterations of banana bread out in the world, but this is my contribution. I have made my mom's recipe my whole life. But it was always left with a little wet spot right in the middle. Undercooked! But it took till I was 30 to try a new recipe and this a variation of that one, I have customized it to my family's liking. The addition of our favorite walnut, and just a sprinkle of chocolate chips, takes this Browned-Butter Banana Bread from good to GREAT!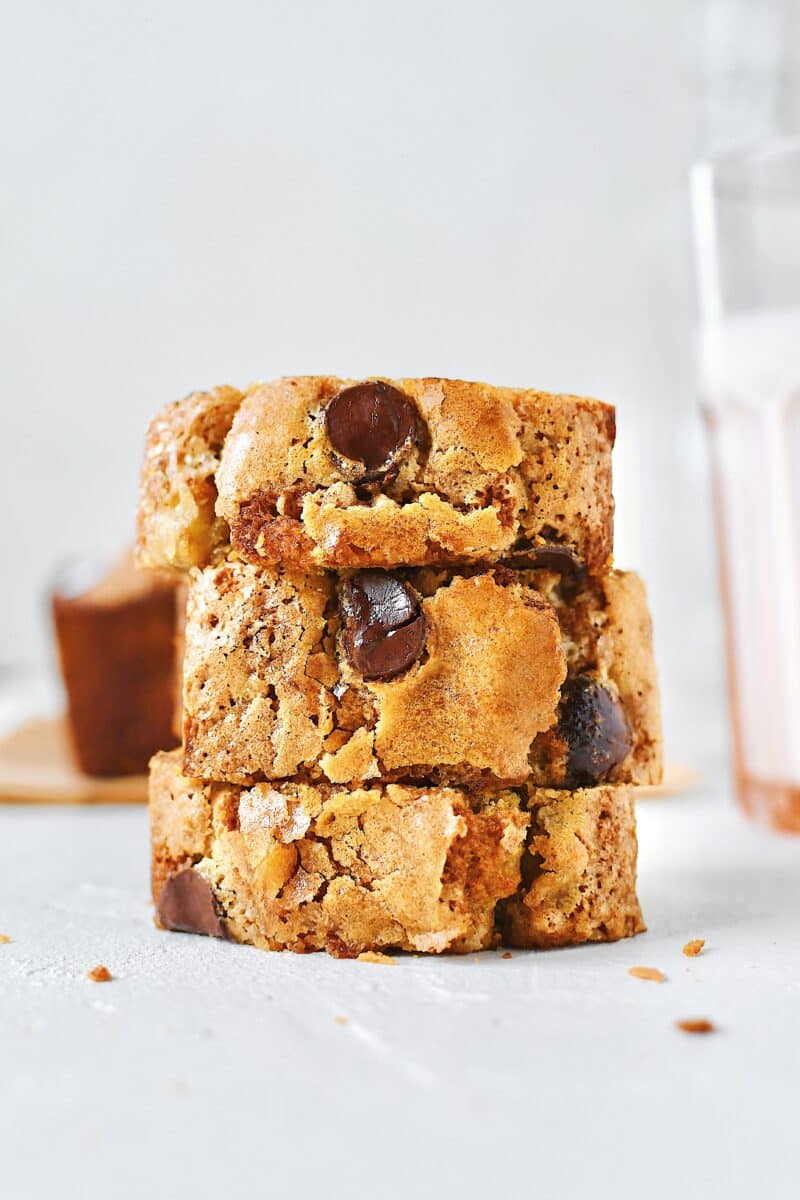 Jump to:
How to Make Brown Butter
Brown butter, or beurre noisette, is regular old butter that is melted and cooked until it browns which results in a change of flavor, aroma, and color. Butter is made up of water, fat, and protein. When cooked beyond the point of melting, the water will slowly evaporate leaving the butterfat and milk protein to continue cooking. As the proteins cook, they will brown, which you'll notice in your pan in the form of color and aroma changes.
In a heavy-bottomed saucepan, heat the butter over medium heat on the stove. Swirl the pan as the butter melts to prevent burning on the bottom of the pan. The butter will go from brown to burnt in an instant, so keep an eye on the pan when you are doing this.
Just before the butter browns, it will come to a boil. Then it will foam, when it foams it is done. Give it a swirl and you will see that the milk solids have browned in the bottom of the pan. Turn the butter out of the pan so it stops cooking, into a heatproof dish. Be sure to scoop all those brown bits off the bottom of the pan too. Those hold all the flavor we just created, you want all of that to work its way into your banana bread!
There is no real good substitute for real butter when making brown butter. Margarine and other vegan butter substitutes just don't contain the milk solids that are necessary for that roasty, toasted flavor and color.
Use the JUMP TO RECIPE button at the top of the post, or scroll to the bottom of the post to see the full recipe card with ingredient measurements and instructions.
Ingredients
We have already talked about the brown butter and its roll here, now I have one more note I want to share. It is about the bananas. I am kind of specific when it comes to them.
You will notice in the photo below that I have 2 frozen and 3 counter ripe (or overripe) bananas. I prefer this combo because using only frozen bananas leaves me with a batter that is too wet, and a soggy undercooked middle. Something we are trying to get away from, from mom's old recipe and her only using frozen bananas.
Any time I have a few bananas left that go past the eating stage, I toss them in the freezer. But using the mixture of frozen and counter ripe bananas leaves the banana bread batter perfectly hydrated, with just a few lumps of banana throughout. This is how I like my banana bread.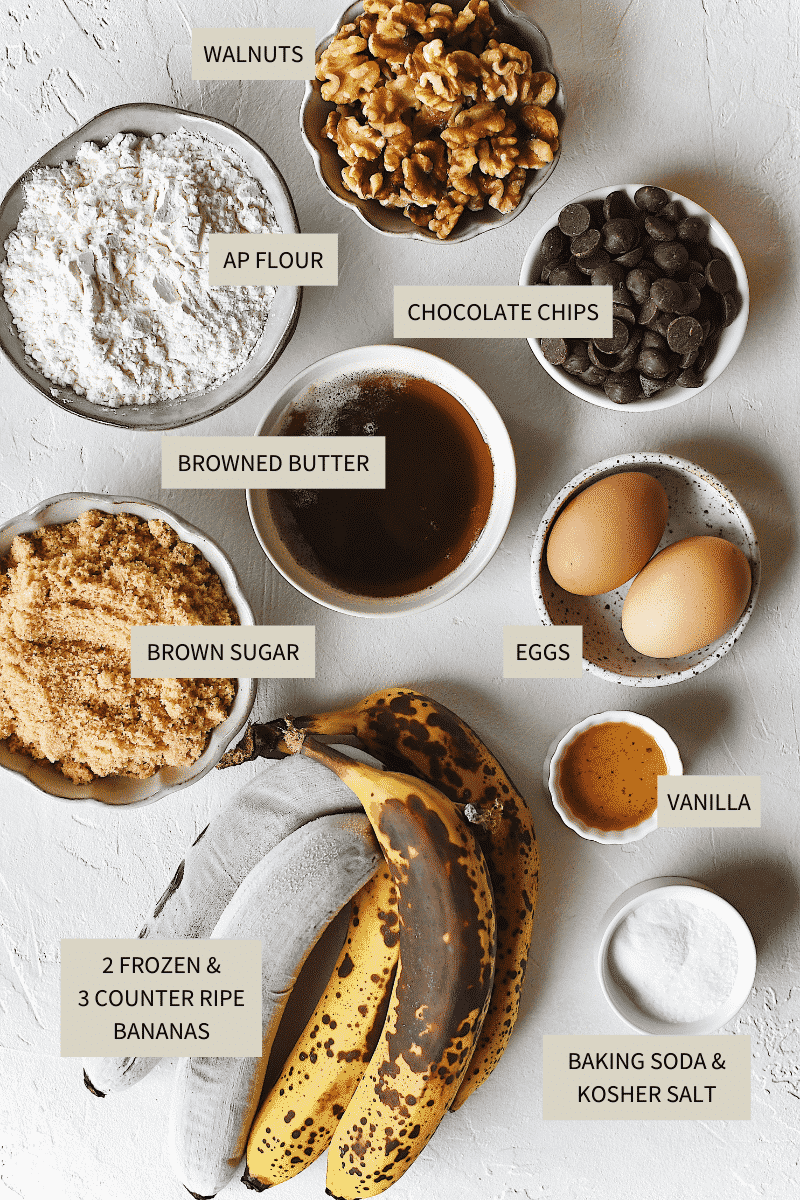 Method
One thing that I personally do, after blending the butter, sugar, and eggs together is make this a straight dough method. And that means, everything goes in the bowl and you mix. I like to follow this method so the mixer can chop the walnuts for me, leaving larger pieces throughout my batter.
Call it what you like, easy or lazy, but I like the end result, and it turns out exactly the same as when I take a slower approach. Believe me, I make this bread OFTEN, that is how I have gotten it down to such a quick easy method.
Here it is in picture form for you. After blending the butter, sugar, eggs, and vanilla the mixture will look a little split and be runny, but don't fear, it all comes together when you add in the dry ingredients.
I then fold in the chocolate chips at the end so I can ensure they get well dispersed and not broken up. And of course, I sprinkle the top with some before baking too! You will also notice I sprinkle some sugar on top too so the finished Browned-Butter Banana Bread has a nice crispy, crunchy exterior.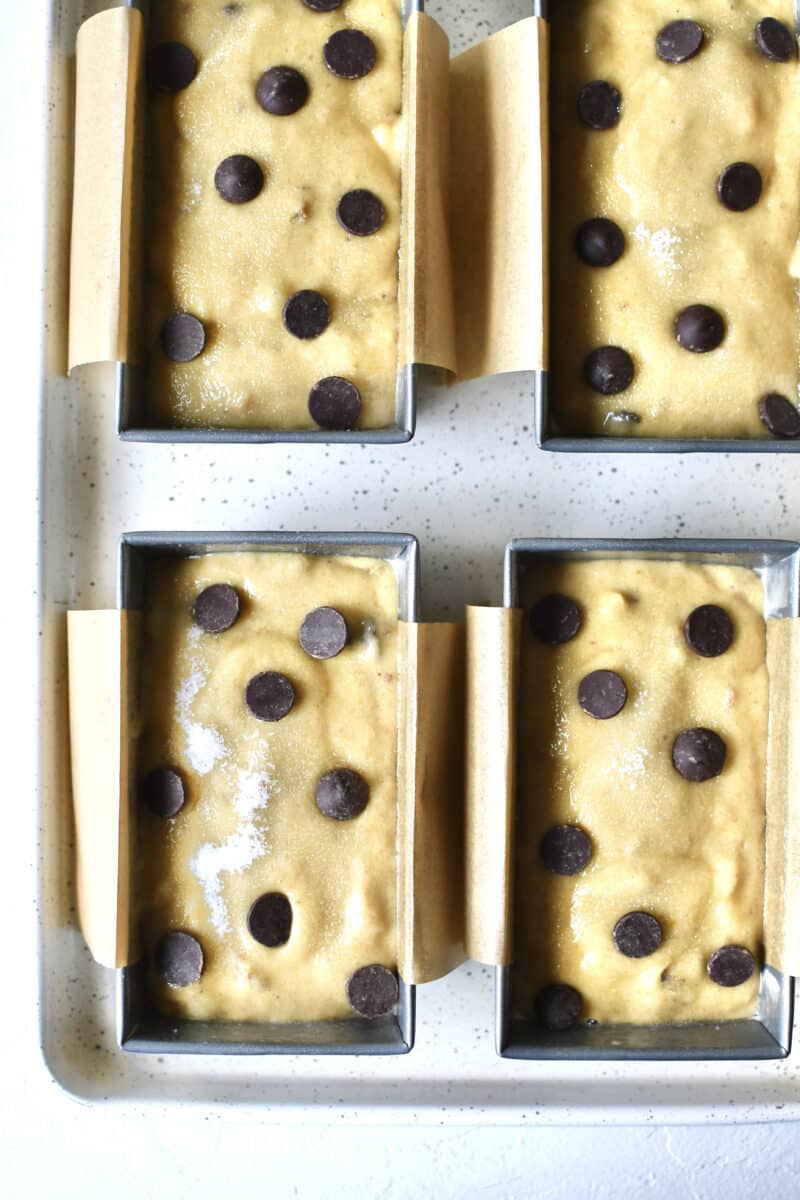 Notes & Tips
You do not have to wait till the butter has fully solidified to use it. But you do want to be sure it is at room temp. If it is hot, when you add the eggs it will begin to cook them, lessening their rising power in the oven. That said you can use it solid or liquid.
Don't spend the time chopping the walnuts and making a mess of your cutting board. Just toss them in and let the mixer do the work. The paddle attachment will break them up perfectly. Again, lazy or genius!?
Always line your baking pan with parchment. You can bake this bread in any pan you like, square, round, or other. You see in these pictures here that I baked it in these 4 little loaf pans. But I usually bake it in an 8x8 square, that's my favorite way to bake it.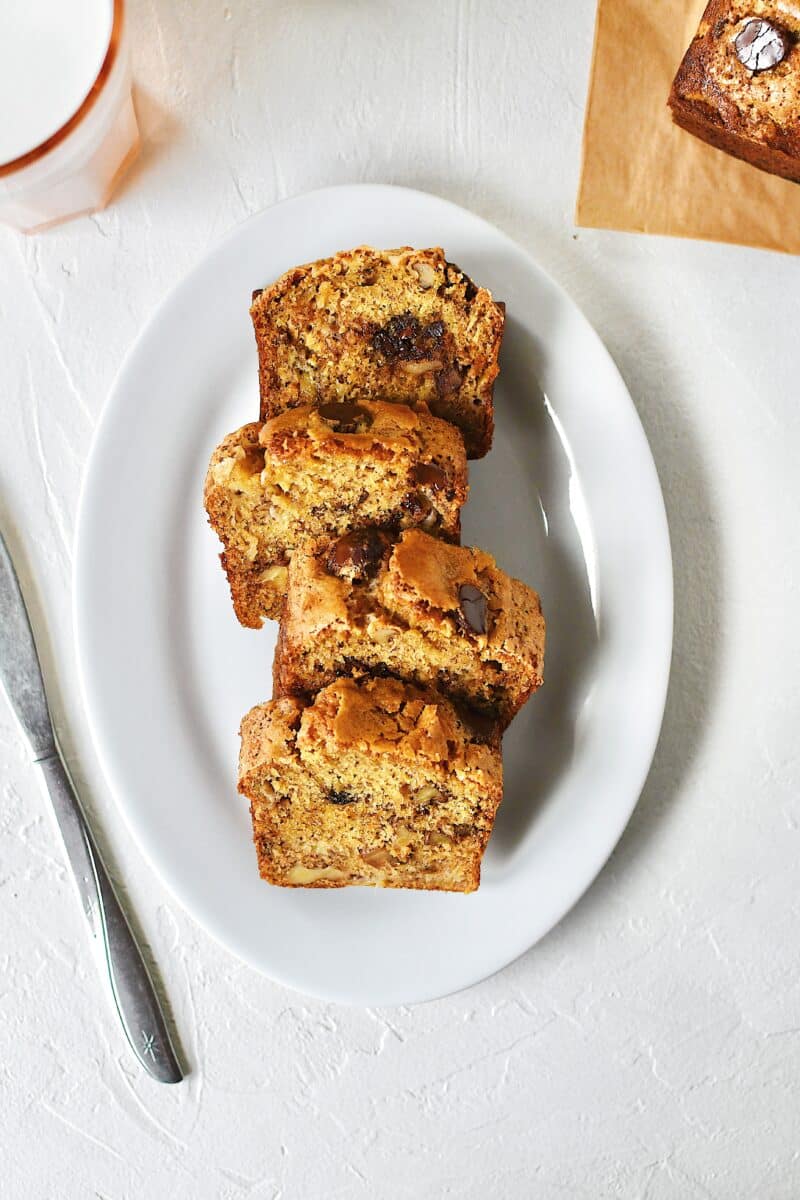 Substitutions
There is no real good substitute for real butter when making brown butter. Margarine and other vegan butter substitutes just don't contain the milk solids that are necessary for that roasty, toasted flavor and color.
An easy swap for brown sugar is coconut sugar if you want to lower the pure sugar content. If you are simply out of brown sugar, you can make it by mixing it in a blender or food processor. Mix granulated sugar and molasses, or honey to create an equal to brown sugar. Simply stream in the molasses until you get light or dark brown sugar.
For the bananas, you can use all frozen or all counter ripe. There is no issue there, the mixture is purely my preference.
The walnuts can be swapped for pecans or left out altogether if needed. I have made this with pecans when I was out of walnuts. It's equally delicious!
More great Banana recipes
Did you make this recipe? Let me know by leaving a review or comment! And be sure to sign up for my newsletter, and follow along on Instagram, Pinterest, and Facebook!