These sweet Banana Nut Muffins take everyday banana bread to the next level with the addition of some simple cream cheese frosting. This is my favorite banana bread, it comes out just right every time, and I like to leave the bananas a little extra chunky for more flavor. It is simple perfection at it's finest!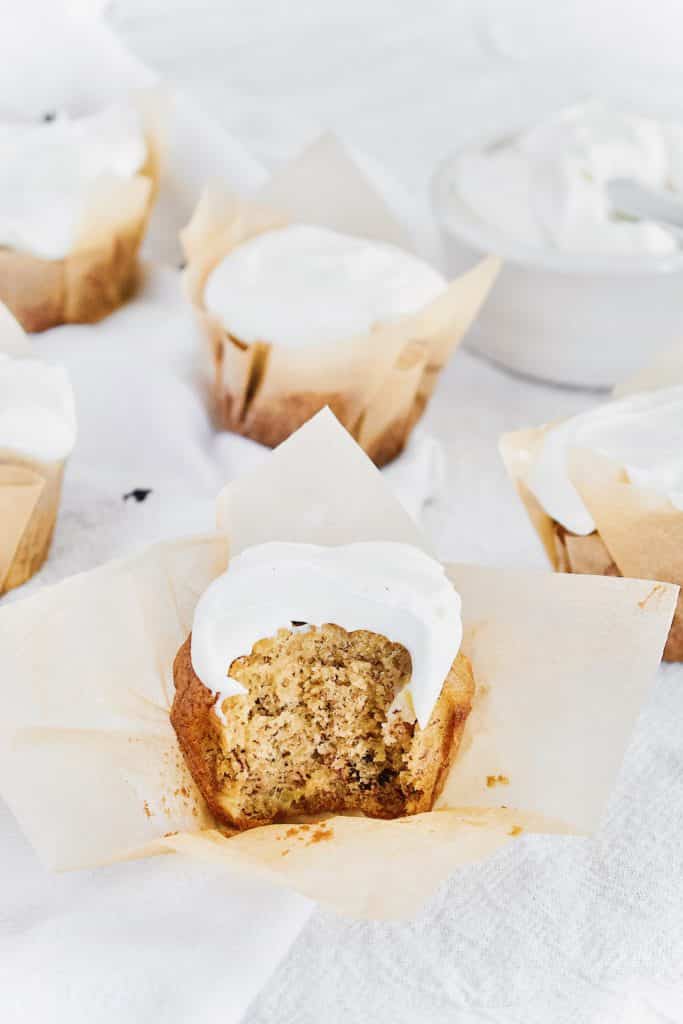 Sometimes you just have to strip things back to the basics to find how great they really are. When I first started working with this recipe I thought that it needed some spices or cinnamon or something else. But I was wrong, the brown sugar provides all the flavor you need, while not masking the banana.
I am a purist at heart, but sometimes I get in my head and want to add too much. But when stripped back, this basic banana cake recipe is just that, a good ole banana cake!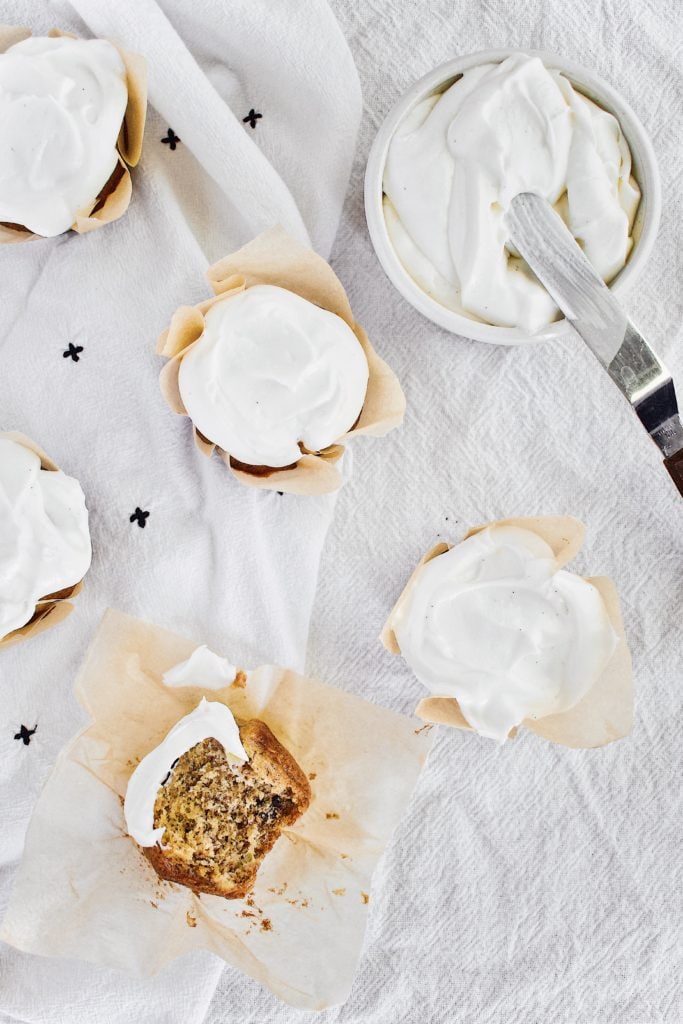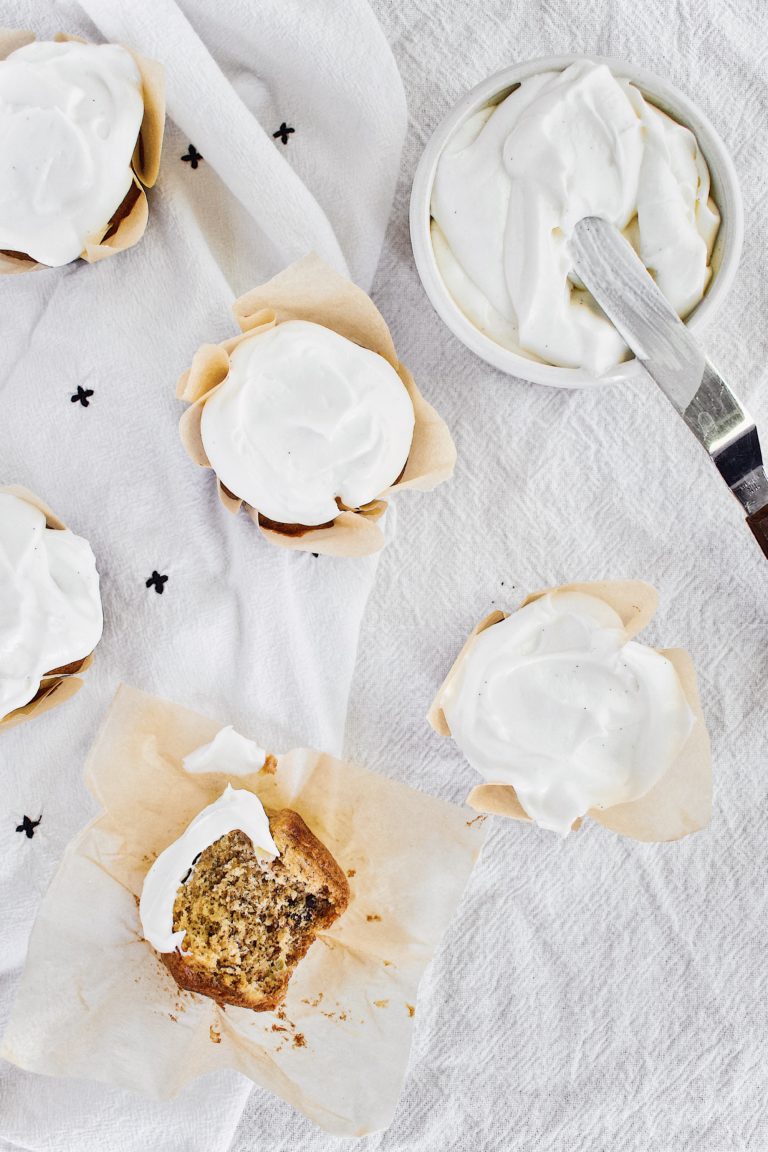 How to make Banana Nut Muffins
My muffin journey starts with the muffin cups. Call me extra, or whatever you want, but I love the bakery look of these cups that have the points on them. They can be pricey to buy, but take a look at THIS TUTORIAL for info on making them at home.
It is super easy, for my standard muffins I cut 5-inch squares and they fit it perfectly. I learned this trick when I bought this cute little vintage muffin tin that no one makes a line to fit it. So I had to DIY it, but now it is my preferred method.
Next, I am a bit of an all in one guy. I just don't see the point in dirtying 3 bowls to make this recipe. I don't need to sift and mix the flour, baking soda, and salt before adding to the base. I am not making a pure white cake, and the mixture will work out just fine here.
It is meant to be a homey recipe, so if it is a little rustic I won't be mad at it. That said, I have made this recipe TONS of times and never have one side of the cake rise more than the other.
I wouldn't really suggest making this recipe into a layer cake, it is a little too soft, but if you wanted to bake it in a square or round cake pan and top with the cream cheese frosting, that would work too. It would be a bit like a coffee cake if you did it that way.
One more note. I call for vanilla bean paste in the recipe. I use this cause I like to see the little vanilla flecks in the frosting, it is no problem to use extract if that is what you have.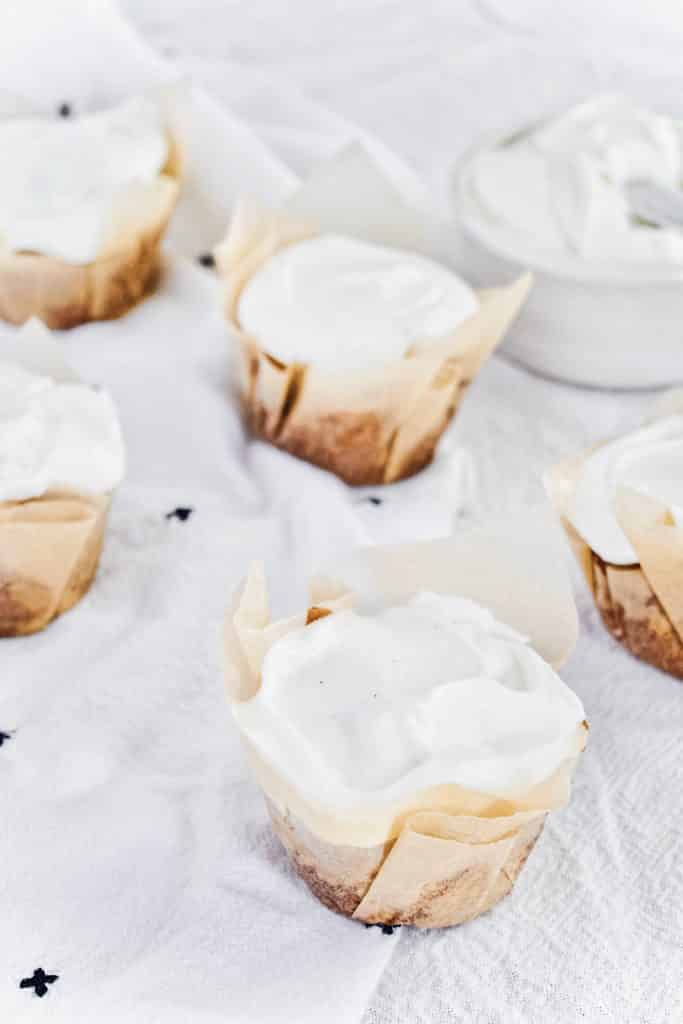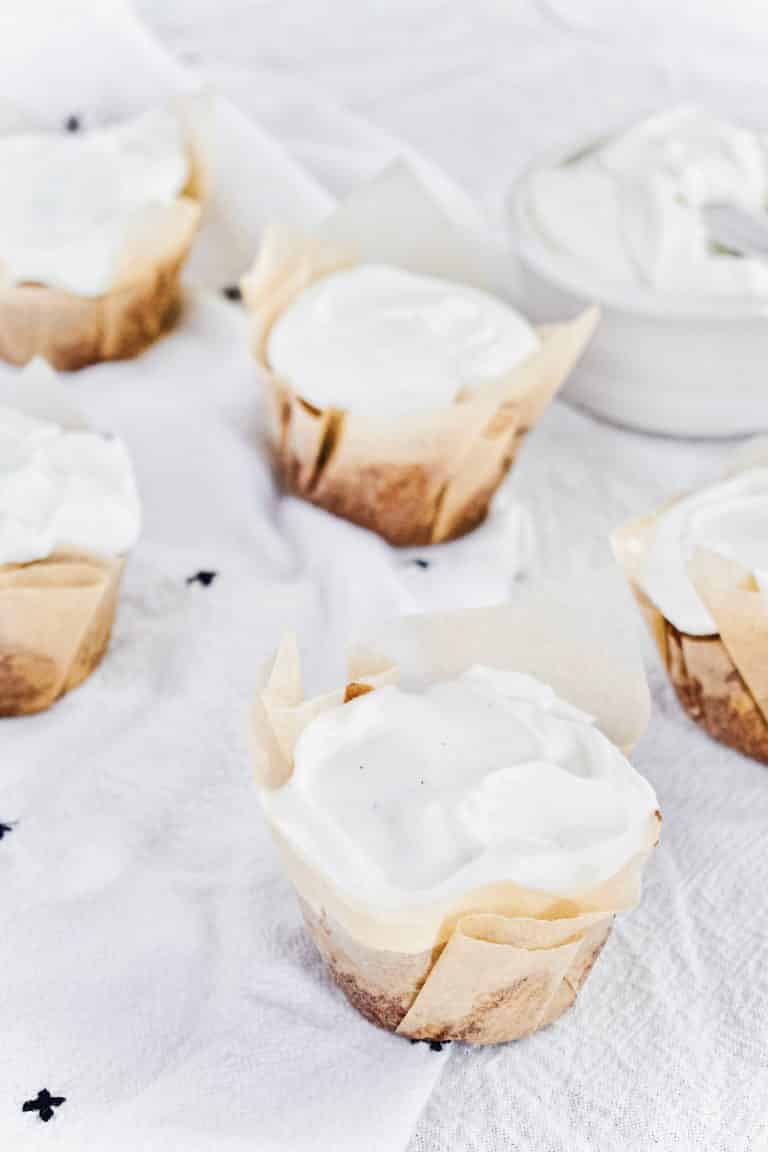 Ok y'all, time to hit the kitchen. Let those brown bananas have a second life in this delicious recipe. Simple greatness is all you need, now go enjoy!
Banana Nut Muffins
This banana cake recipe is pure perfection. It is super basic, but keeping it simple yields the best ever banana bread. It can be baked in muffin, bar, or bread form, do what you like, just don't skip the cream cheese frosting, it makes it amazing!
Ingredients
For the Banana Cake:
8

T

Butter

room temp

1

C

Light Brown Sugar

packed

2

lg Eggs

2

t

Vanilla Extract

5

ripe Bananas

mashed

2

C

AP Flour

1 1/2

t

Baking Soda

1/2

t

Kosher Salt

1

C

Pecans

chopped
For the cream cheese frosting:
4

T

Butter

room temp

4-

ounces

Cream Cheese

room temp

1

C

Powdered Sugar

1/2

t

Vanilla Bean Paste or Extract
Instructions
For the Banana Cake:
Preheat the oven to 350˚F. Line a muffin tin with pan liners or make your own using parchment paper, see the notes below for more info.

In a stand mixer fitted with the paddle attachment, blend the butter, sugar, eggs, and vanilla until well combined. Add the bananas and mix gently. Top the wet mixture with the flour, baking soda, salt, and pecans.

Mix until just combined and flour spots are no longer present.

Using an ice cream scoop, portion out the muffins into the pan. Bake in the preheated oven for 25-30 minutes, until a toothpick inserted in the middle comes out clean. The muffins can be stored at room temp for up to 2 days, unfrosted. With frosting, eat within 24 hrs or refrigerate.
For the cream cheese frosting:
Cream together the butter and cream cheese in the bowl of an electric stand mixer fitted with the paddle attachment. Beat at medium-high speed until fluffy, 1 to 2 minutes, stopping to scrape down the bowl 2-3 times. Sift in the powdered sugar and mix on low until just combined. Blend at medium-high speed until frosting is smooth. Finish with the vanilla and refrigerate until ready to use.

Top the muffins with 3-4 tablespoons of cream cheese icing and spread to smooth on top.
Notes
If you choose to bake this in a cake pan use an 8×3 or larger round, or a 9×9 square for bars. It can be baked in a loaf pan but the cooking time may be extended, I would suggest if you want loaves, split it up into a few small loafs for better baking.
To make your own parchment paper muffin liners like you see in my photos, check out this link for more info on doing so. https://www.thekitchn.com/how-to-make-pretty-muffin-liners-out-of-parchment-paper-cooking-lessons-from-the-kitchn-213478
If you make this recipe, please let me know by leaving a review at the bottom of this page!
And make sure to sign up for my newsletter and follow along on Instagram, Pinterest, and Facebook for more KendellKreations!
MY LATEST RECIPES!
Get my NEW e-Cookbook here!! ⬇️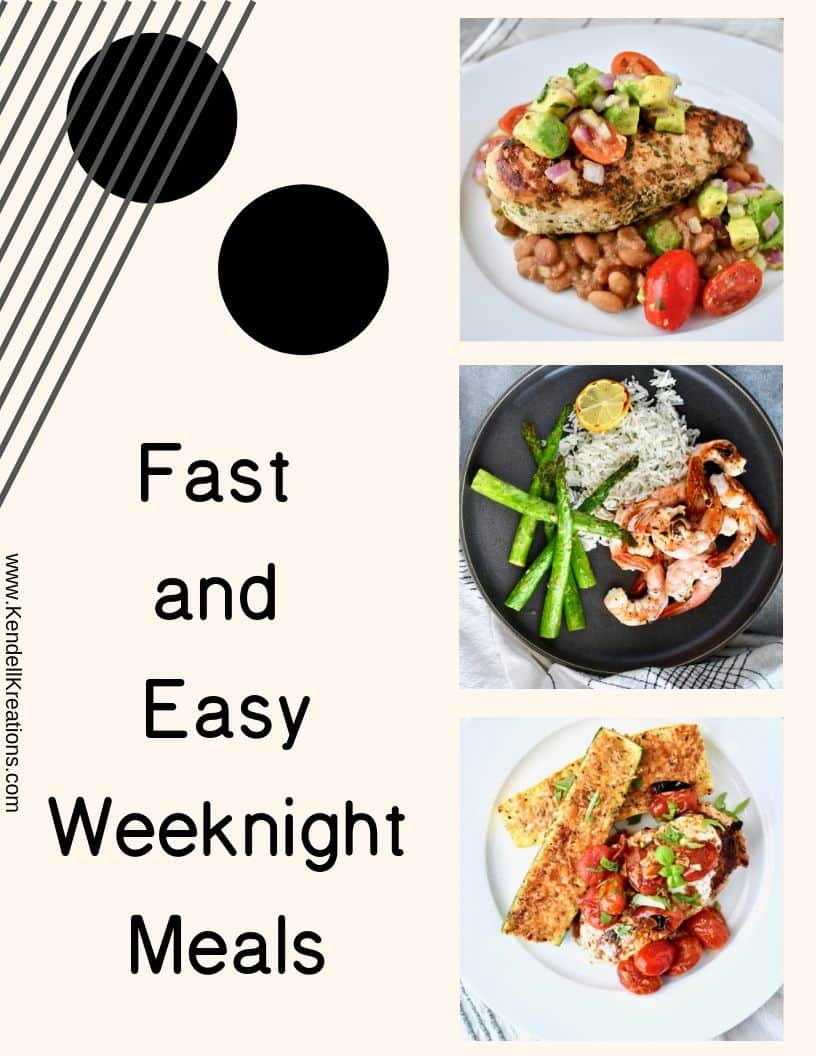 MY FAVORITE KITCHEN TOOLS!
Here are a few links to some of my favorite kitchen tools! You get a car, YOu get a car, YOU ALL GET A CAR…in my best Oprah voice
These Rösle Silicone Tongs are a little pricey but they will last you the rest of your life and are the softest in your hand. This is important for someone like m that cooks so much. It reduces strain, I have 4 sets in my kitchen!
These are my FAVE Nordic Ware Sheet Pans, every kitchen should have at least 2 sets of these! I think I have at least 4 of each of these.
This is my favorite pressure cooker, the Fagor is the same concept as the "Instant Pot" but easier to use in my opinion, if you don't have one you NEED one, it will be your best friend in the kitchen!
A sharp knife is the most important tool in the kitchen, these Japanese steel "Shun" knives are my favorite! And this is a great starter set to build on. Once you try them you will be in love so use this as a foundation you can build on for years to come.
This Scanpan 11″ skillet is just the right size for almost anything you will need to cook and my best friend and a real workhorse in my kitchen, it's also a great deal at $99. Scanpan is the best in the world for healthy cooking. It is coated with a proprietary ceramic-titanium coating that is durable while allowing you to use fewer fats and oils when cooking. It is a coating only they use. I could talk all day about my love for these pans, message me if you want more info. Here are some other sizes that are available if you are looking to outfit your kitchen with some new goodies. 8″ & 10″ Skillet set or 8″ Skillet, I still need this one for my kitchen Also, I don't really know how to cook small so the 12.5″ is my other fave!
This giant vat of olive oil is my favorite, I decant it into a smaller bottle for my counter. Or put this spigot on top of a wine bottle!
My favorite baking dish that is so easy to clean even burnt on cheese slides right off!
This Tovolo jar scraper has to be my single favorite kitchen tool, it is definitely the most used tool in my kitchen. If you are NOT a gadget person, this is the only necessity I say is a MUST beyond the wooden spoon.
A great wood spoon is essential, this Olive Wood one is my favorite, I have more than I can count. But can you really ever have too many?
A food scale can be a very important tool in your kitchen, this one is the one I use every day!
If you love Joanna Gaines as much as I do then the 'Magnolia Table Cookbook' is a must in your kitchen, get a copy HERE!