This is my version of the Starbucks Banana Bread Recipe. Some might call it a copycat, but their unique use of walnuts and pecans is totally delicious!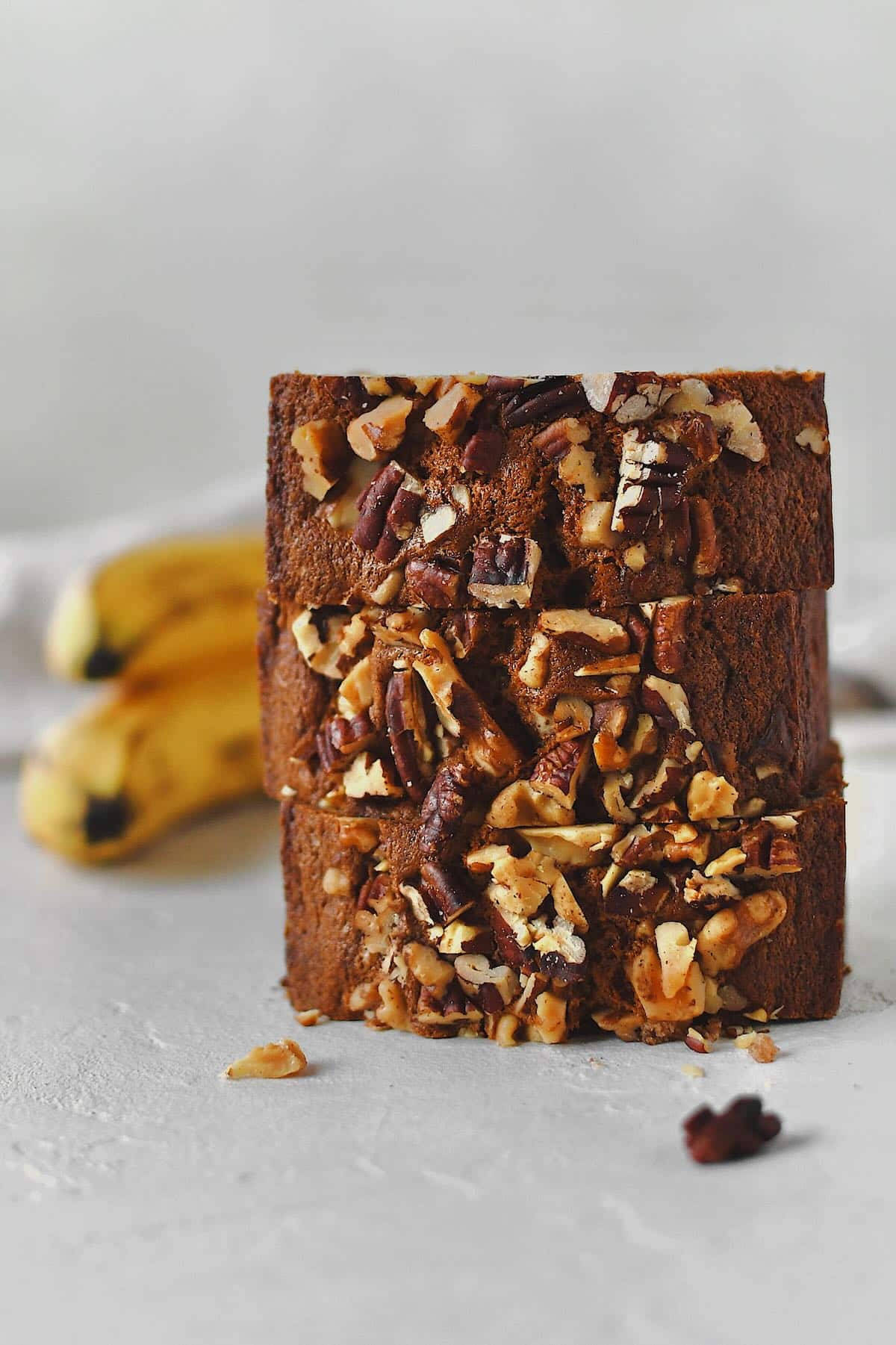 I love their bread but hate the price, at $4 bucks a slice, I can make a whole loaf or 2 for that price! It is a nice treat when I am on a road trip or vacation, but for every day I have issues making it at home.
If you love banana bread with some chocolate in it, take a look at THIS RECIPE!
Jump to:
Ingredients
What's great about recipes like this is the humble ingredient list. I call this a pantry staple because it can be made with things that are always in my pantry.
When the bananas go overripe, mash them and mix them with a little flour, sugar, eggs, leaveners, and seasonings. The butter and sour cream bring decadence and tenderness, all things you want in a great banana bread!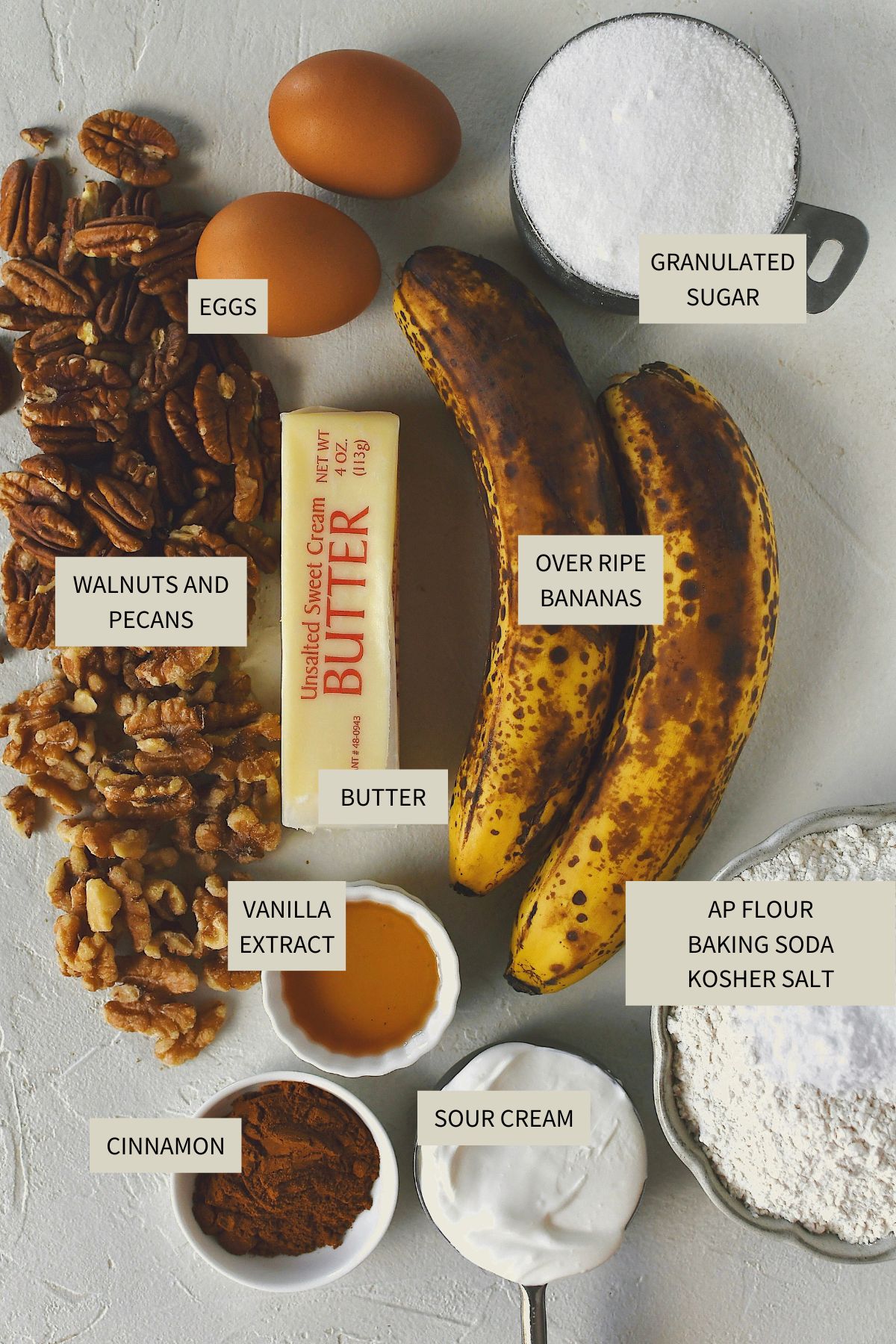 What you need:
Unsalted Butter
Granulated Sugar
Eggs
Vanilla Extract
Bananas
Sour Cream
All-Purpose Flour
Baking Soda
Kosher Salt, Morton's
Cinnamon
Walnuts
Pecans
See the recipe card for full quantities.
Use the JUMP TO RECIPE button at the top of the post, or scroll to the bottom of the post to see the full recipe card with ingredient measurements and instructions.
Method
First, mash your bananas and measure them. I used 2 medium bananas and got exactly a cup, more will make your recipe too wet.
Then cream the butter and sugar together before adding the banana, eggs, and sour cream to the bowl.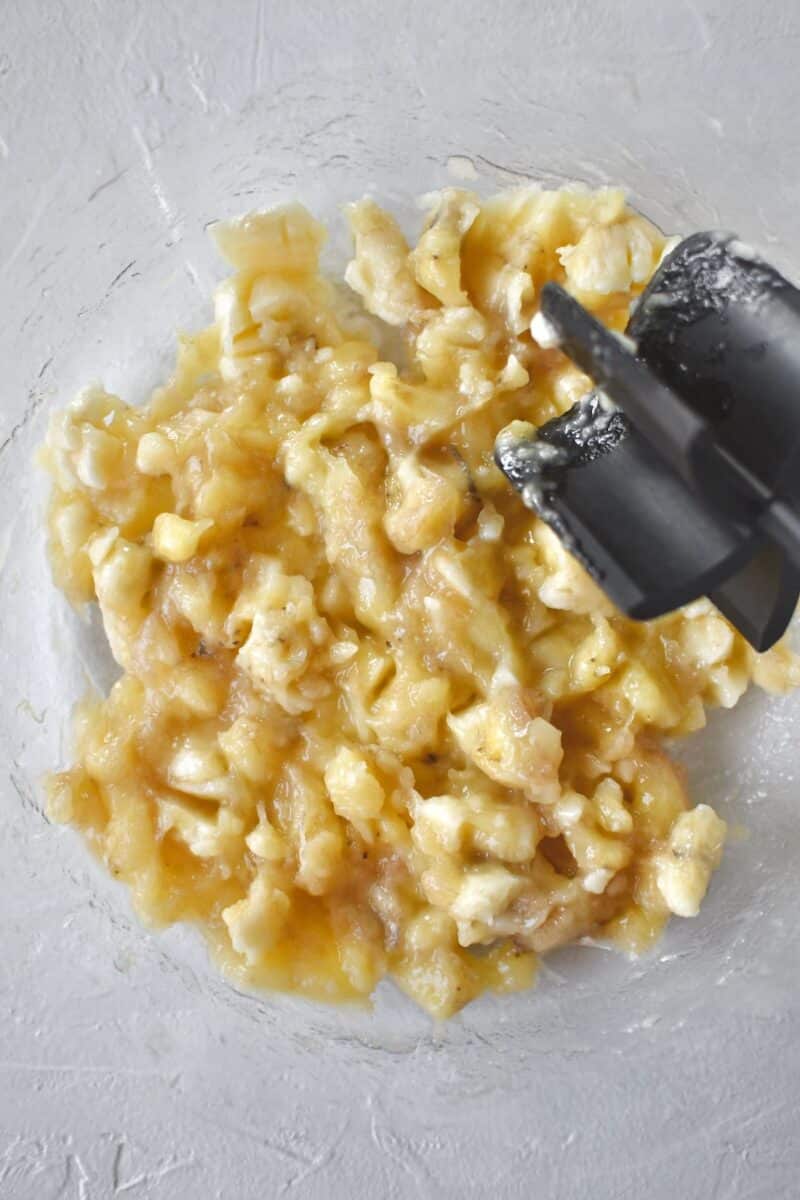 Fold in the dry ingredients just until they are mixed in, then place the batter in a greased and parchment-lined loaf pan. Bake until golden brown and a toothpick or cake tester comes out of the center of the cake clean after inserting.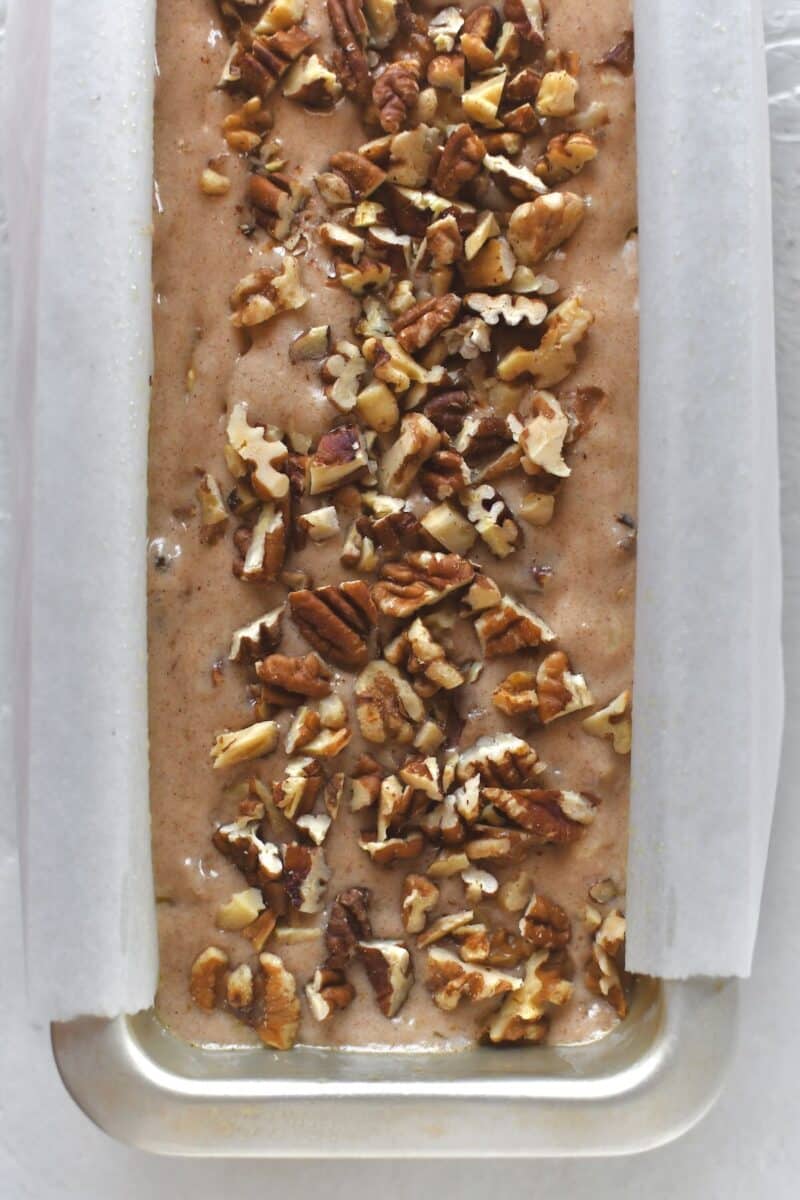 Let the bread cool in the pan for about 5 minutes, then remove it to a rack to cook for about an hour before slicing.
Serve with a generous slather of butter for the best enjoyment!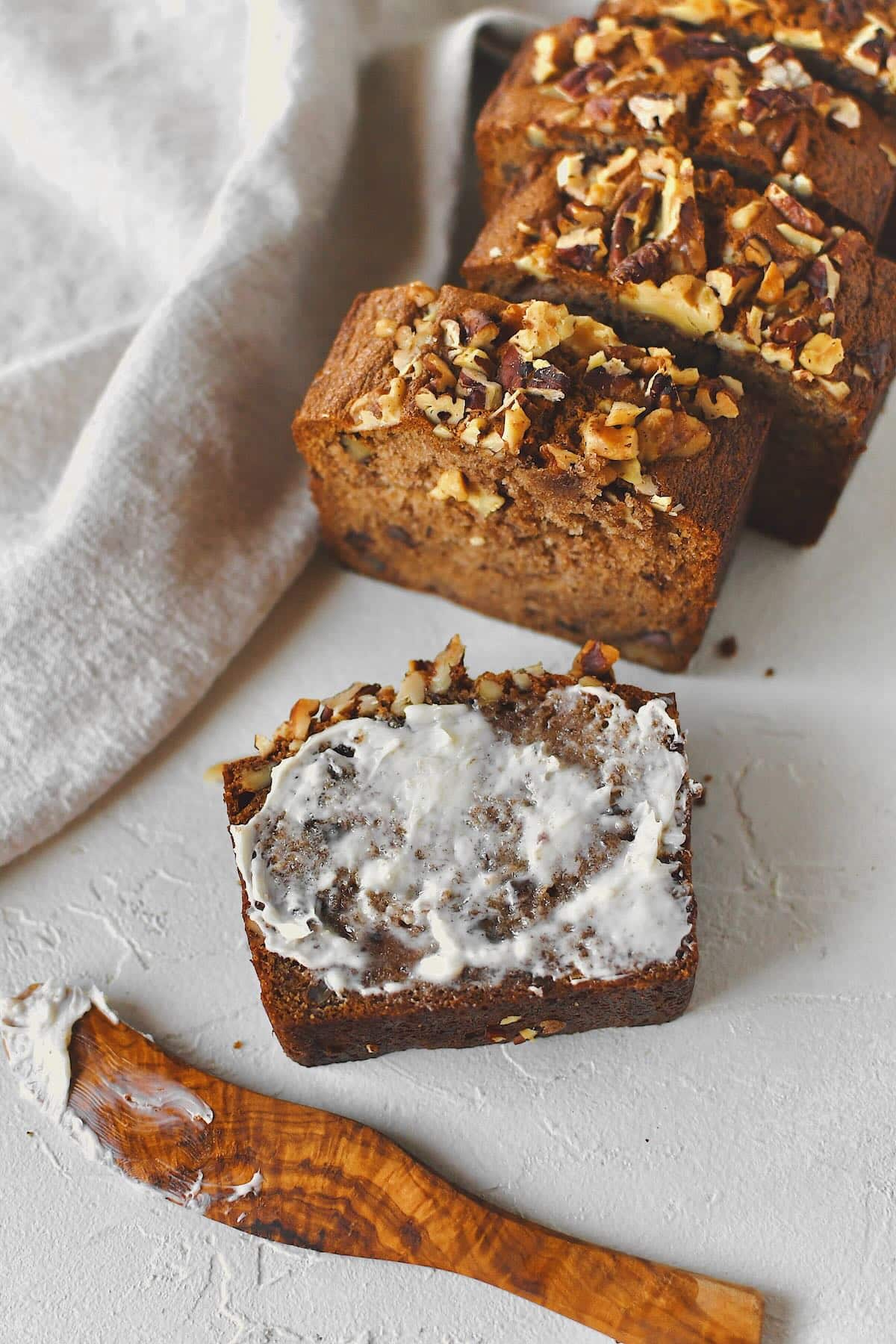 Notes & Tips
I love to bake my loaves in this long pan. It helps ensure no raw centers and gives you a few extra slices.
Be sure to grease and parchment line the pan. I do this so I can lift the loaf out of the pan after it cools in it for a few minutes. This ensures my edges stay crisp as the loaf cools and the bread doesn't get soggy.
If it lasts that long, the bread can be kept in an air-tight container at room temp for up to 3 days. It might last a little longer than that, but I don't enjoy it much after that.
If you have excess, let it cool completely, place slices in a freezer bag and store for up to 3 months in the freezer.
Substitutions
For those who are dairy-free or vegan and want to make this recipe, I highly suggest using THIS vegan butter substitute. It works perfectly in baked goods and keeps the same body and texture in them as real butter. Coconut oil or vegetable oil could also be used.
If you are Vegan, use THIS PRODUCT to make flax eggs to replace the whole eggs with. The directions are on the back of the package and it works perfectly to make a fantastic baked good. Also, swap the sour cream for THIS.
This is my favorite gluten-free flour that bakes up perfectly in this recipe for those with the need to remove gluten from their diet.
Of course, if you have any nut allergies, you can leave them out and still have the most beautiful loaf of banana bread ever!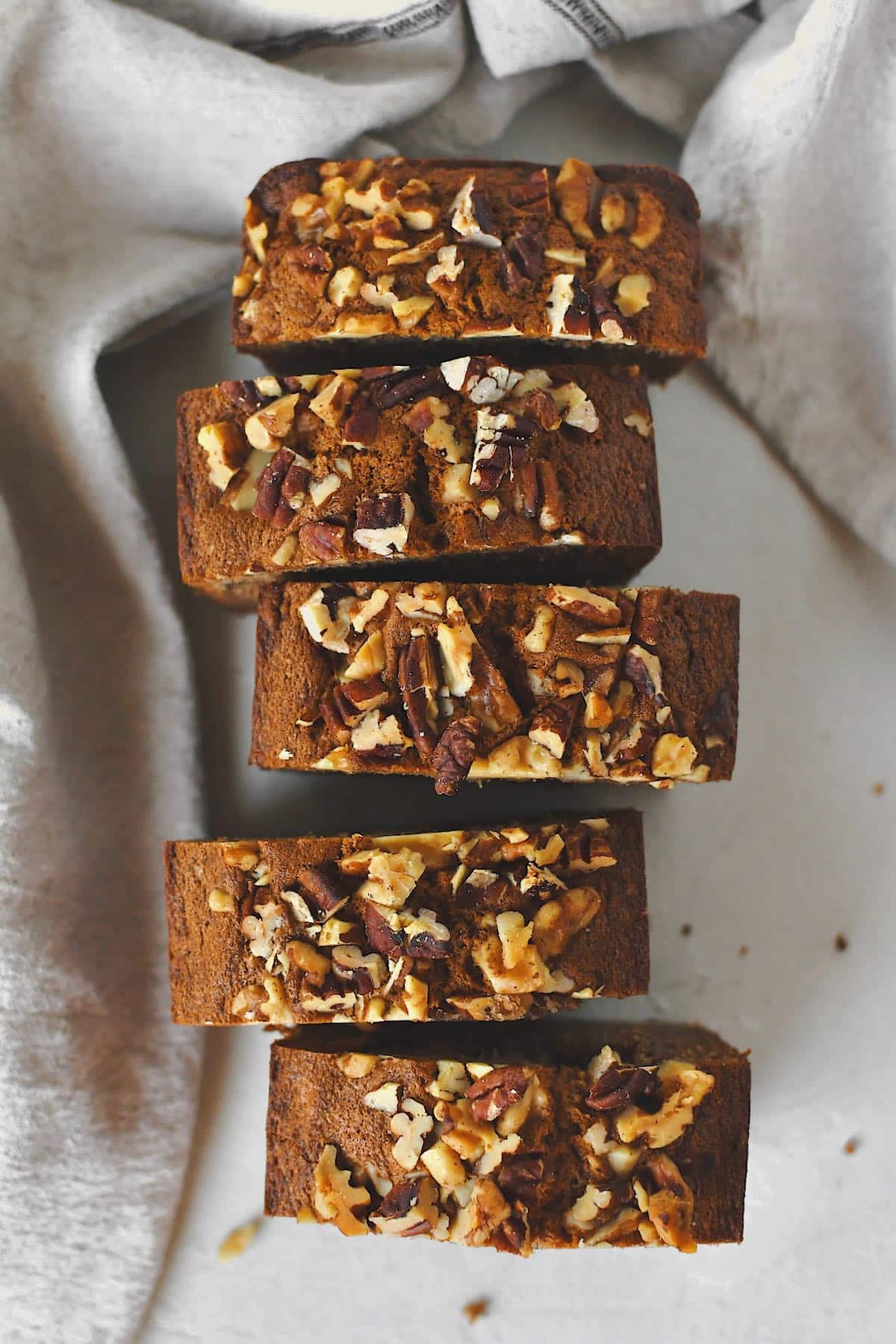 More of my Favorite Bakes
When you want a quintessential fall bake, reach for my Pumpkin Spice Bread. It is much like this one, and a bit of a take on the one Starbucks sells.
My very favorite bake is my Fluffernutter Cookie that I got to bake for Joanna Gaines in the Silos Baking Competition.
This one is mostly a no-bake, but my Banana Pudding Pie is one of the best things I have ever made, you just have to bake the crust.
When you want to be a little adventurous, make my friends Miso Toffee Chocoalte Chip Cookies and be ready to have your mind blown!
Did you make this recipe? Let me know by leaving a review or comment! And be sure to sign up for my newsletter, and follow along on Instagram, Pinterest, and Facebook!