This stuffing recipe is one that I made and fell in love with the first time I made Thanksgiving dinner from scratch. That was just after graduating from culinary school, I haven't made it since, but it has stuck in my memory. I stumbled across it in an old notebook and I figured I'd pull this Cheesy Brioche and Chorizo Stuffing out and share it with you now!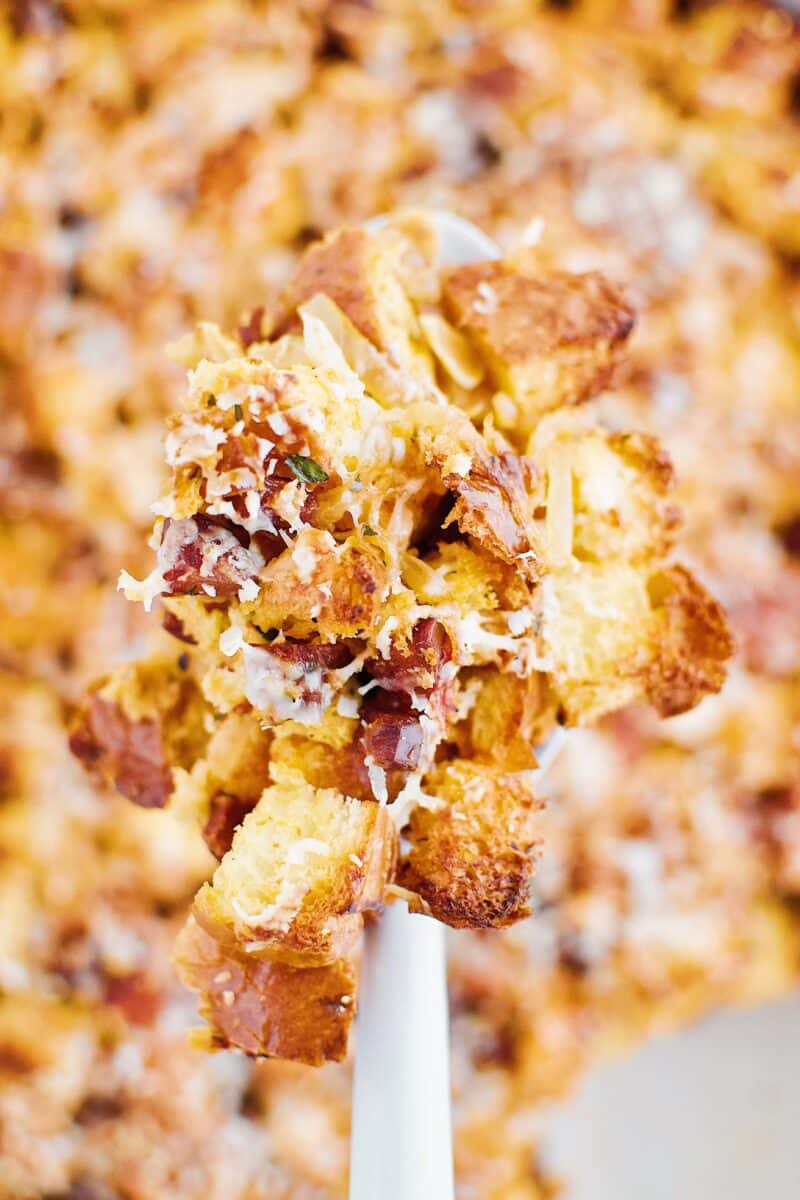 Making the stuffing
Now I know that stuffing is something most people tend to reserve for holiday table spreads, but this is one you may want to whip out a little more often once you taste it. I know just the process of making it again had me falling in love and wondering why I hadn't made it again in so long!? I know it is partly because my sister will ONLY eat stove top at Thanksgiving so I don't make stuffing for that holiday, but I am going to be looking for more excuses to make it soon!
The recipe starts with the cutting and toasting of the bread. I like to buy big brioche hamburger buns for this. They are usually the best price, and 8 buns fit my 9x13 pan PERFECTLY! Once the bread is toasted it is on to the filing!
First, slice an onion, a few cloves of garlic, and dice the chorizo and add to a hot pan.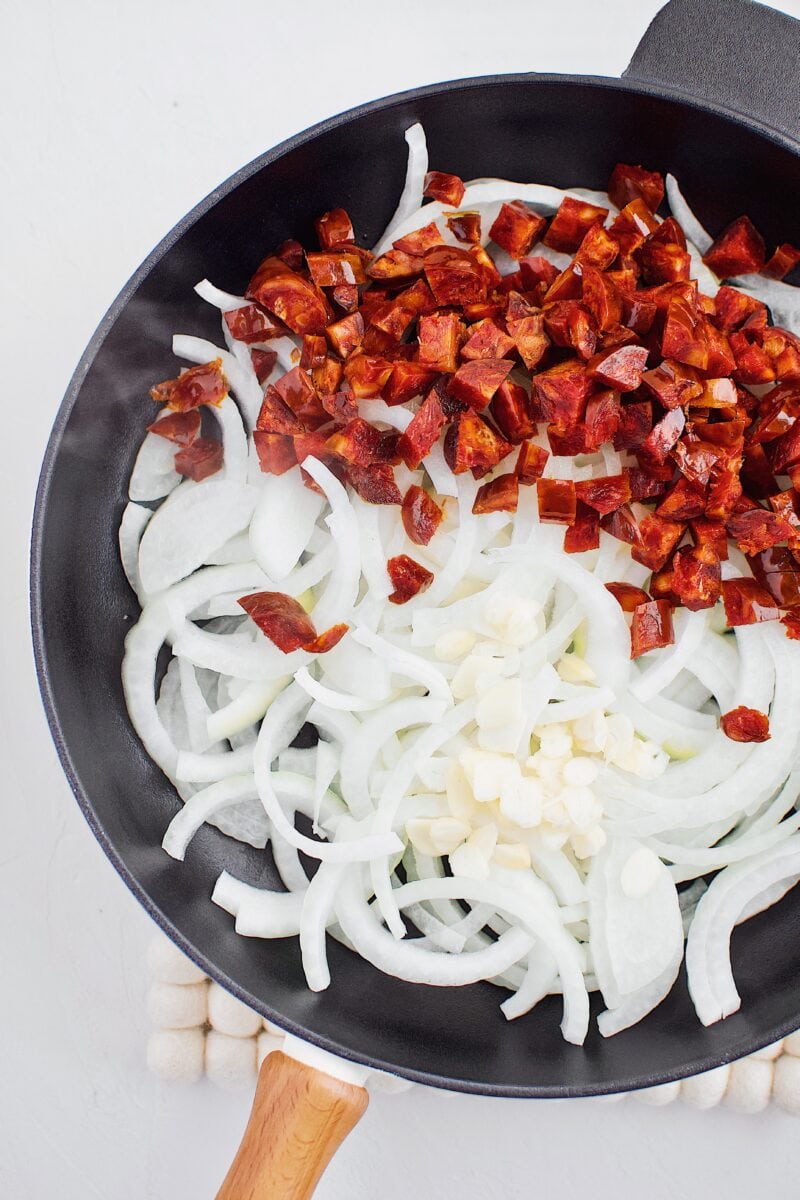 Cook these down until the onions get soft. Then add in a large diced tomato and some HOT paprika.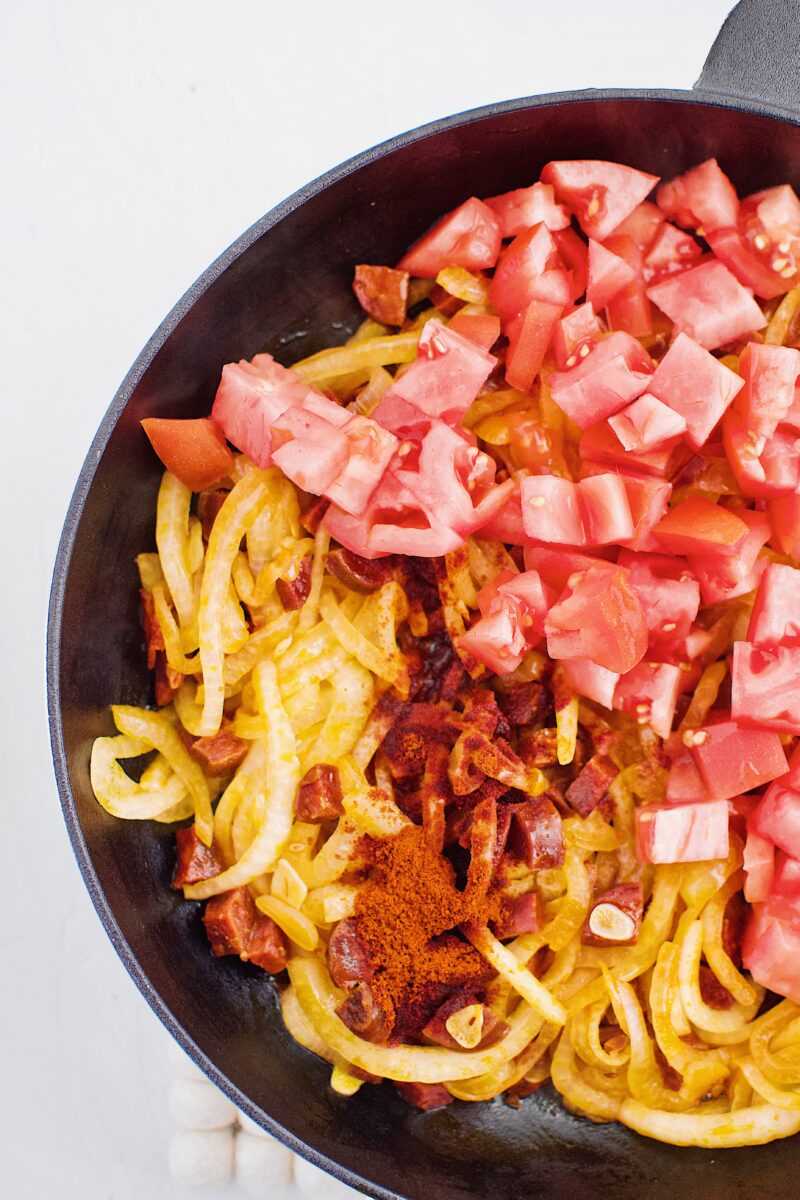 Finish with a little white wine and reduce the mixture down until almost all the liquid has reduced.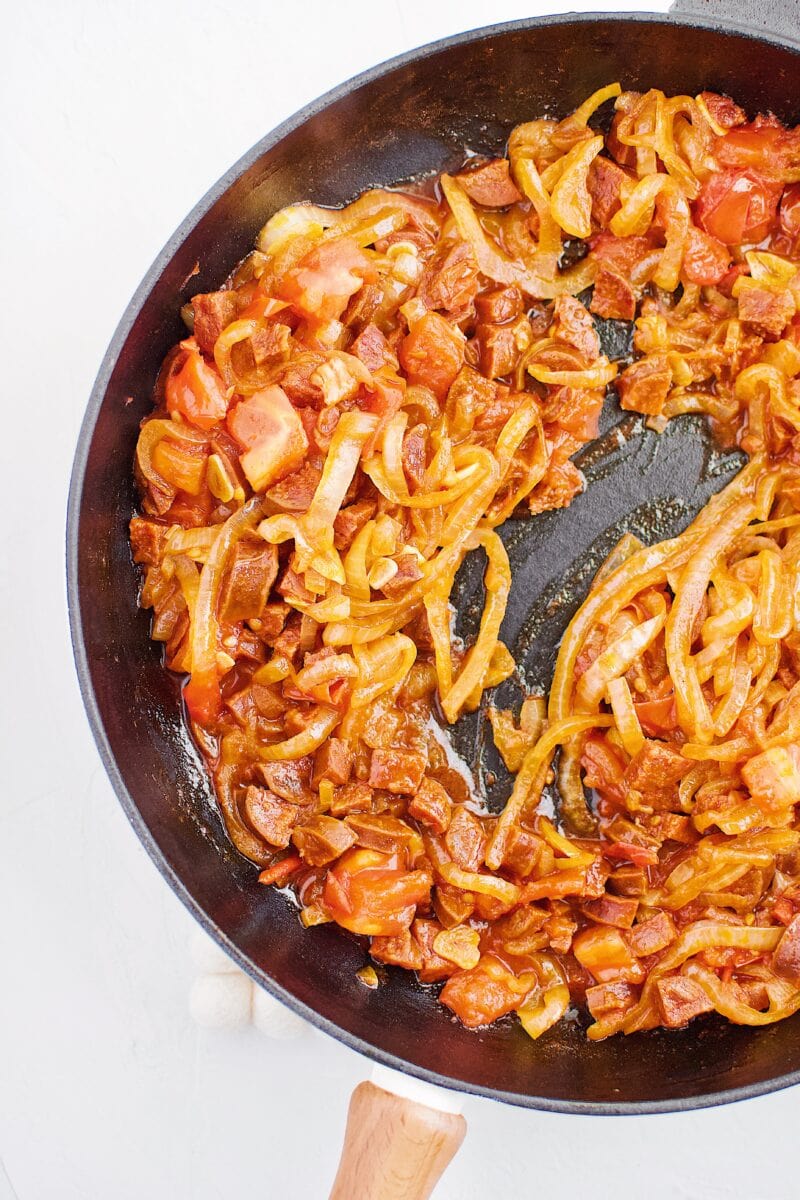 Add everything to a large bowl with the toasted brioche and add in the chicken stock and eggs at this point.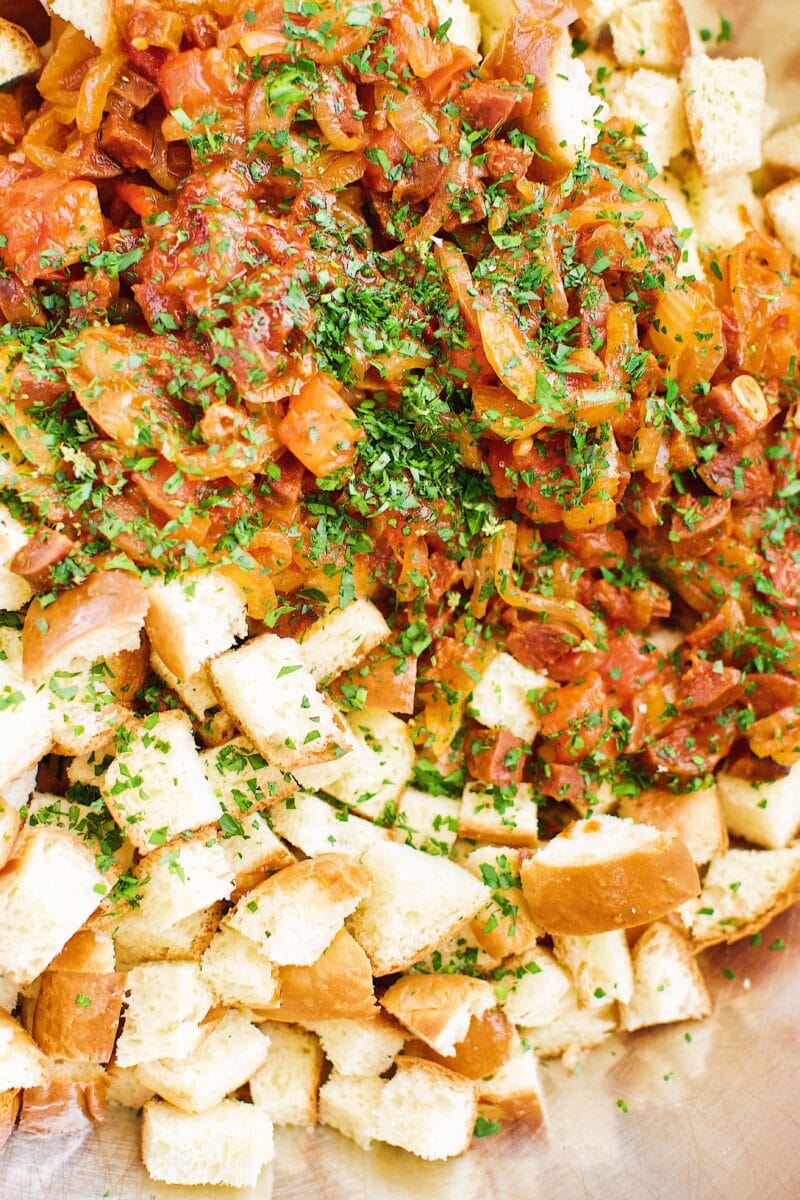 Stir it all together until well combined.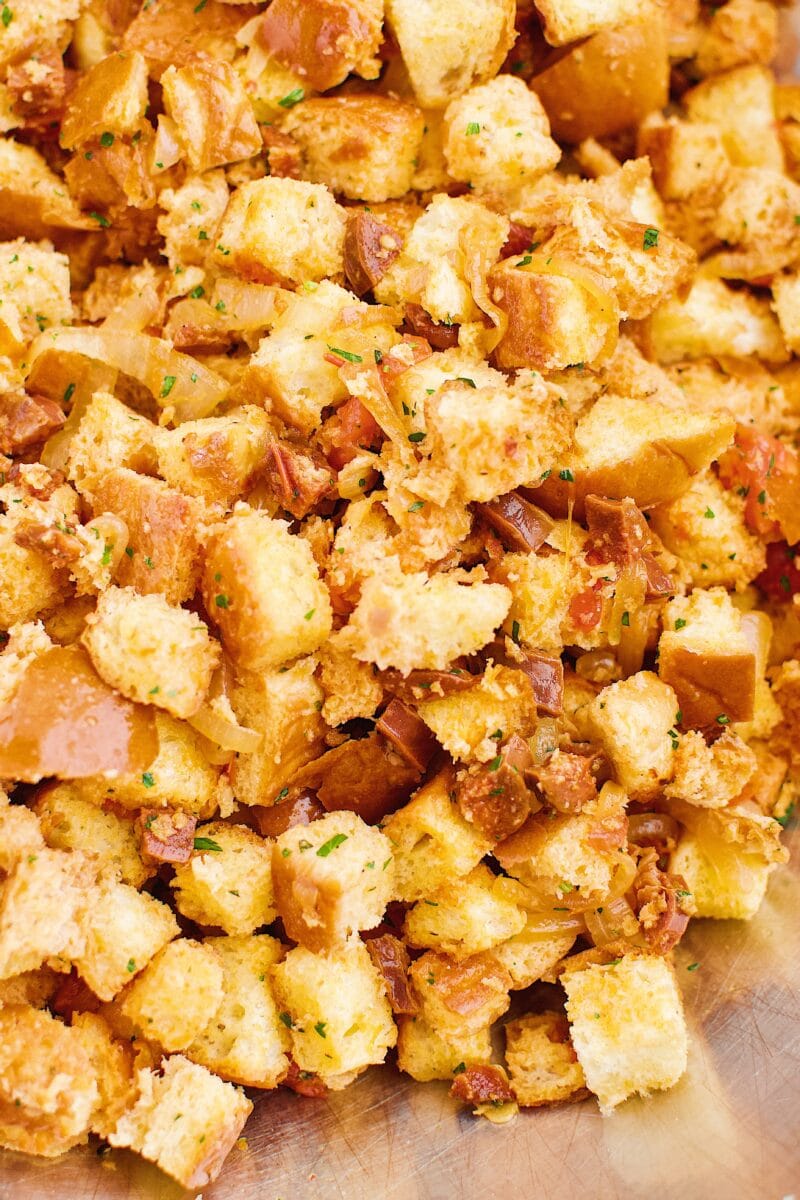 Place the well-combined mixture into a greased 9x13 baking dish, cover with foil and bake until set, about 45 minutes. Then remove the foil and add the Manchego cheese on top, bake 20 more minutes until the cheese is melted and the top is crisp.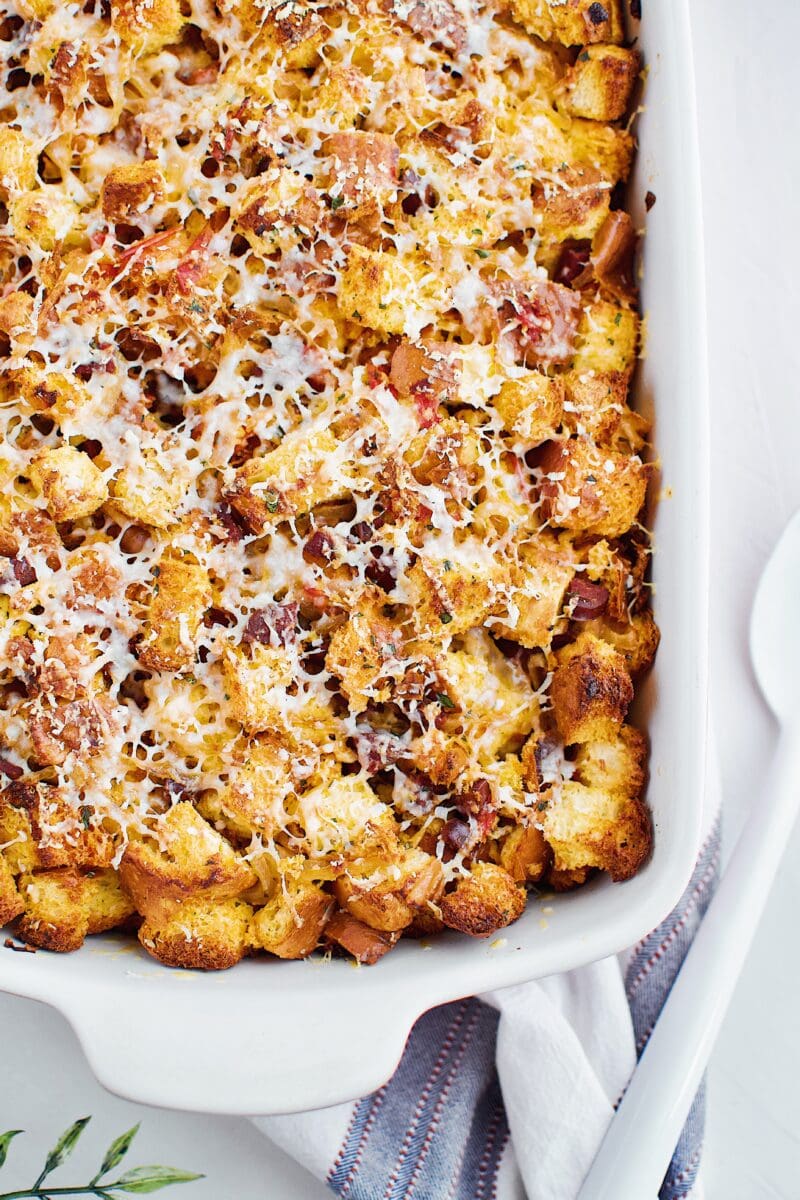 This recipe makes 10-12 servings, if you are having a smaller Thanksgiving or Christmas this year, this recipe can easily be cut in half. Just use 4 brioche buns and keep the eggs at 2. A half recipe is perfect for a family of 4 and will leave with you sufficient leftovers.
Did you make this recipe? Let me know by leaving a review or comment! Also, be sure to sign up for my newsletter, and follow along on Instagram, Pinterest, and Facebook!
For MORE of my most POPULAR Magnolia Table Reviews!
If this recipe review was valuable to you, take a look a some of my other reviews that have been super popular!
See all of my reviews of recipes Joanna cooked in Season 1, HERE!
Jo's recipe for 1919 Pimento Cheese is by far my most read review. I have adjusted to the recipe to replace the Velveeta, which I just can't bring myself to bring into my kitchen.
Her Zucchini Bread is my next most popular review, and it is one of my very favorites to pick up when visiting Waco.
And to ready my full ranking of every recipe in the first cookbook check out this post...Magnolia Table Cookbook…my overview!