I really do think that I can call this Ranch Potato Salad perfect! I have never made a recipe that tasted more quintessential. It is just right, and full of flavor, I would eat this potato salad EVERY DAY!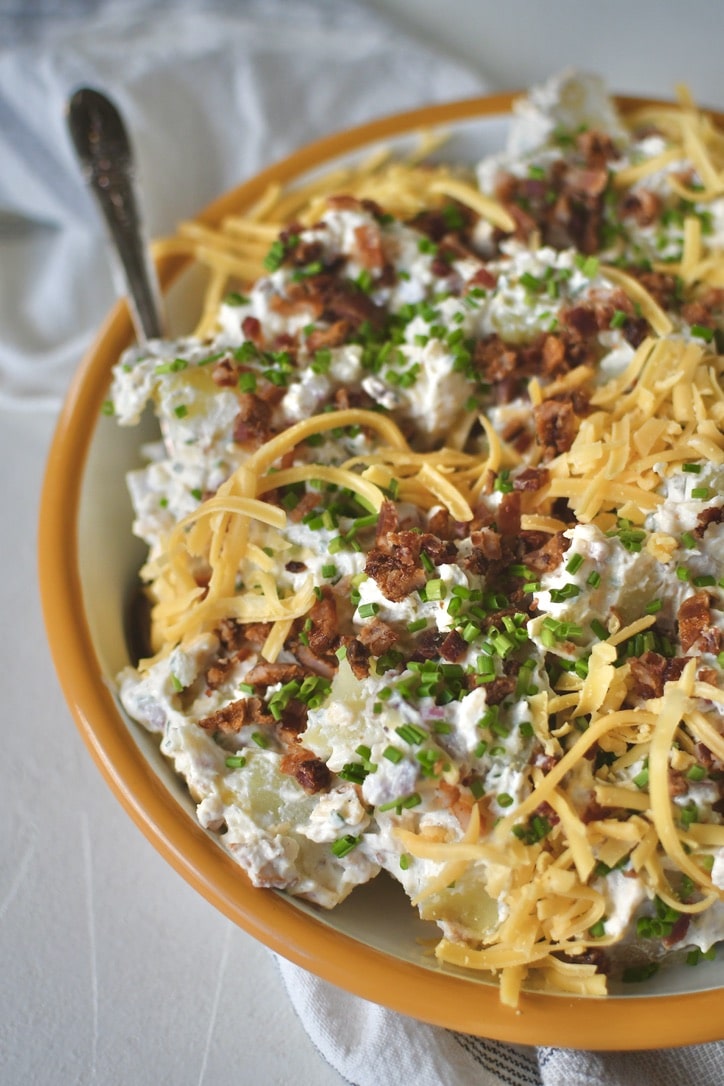 It took a couple of tries, but I really perfected this recipe and made it one that pleases the whole family. Serve it at a weeknight dinner, or stun at a backyard barbeque. Alongside roast chicken or grilled hamburgers, it works with both!
Jump to:
Ingredients
Each of these ingredients plays a very specific role in making this recipe great. From the tangy sour cream to herby ranch seasoning and just a little bite from the red onion.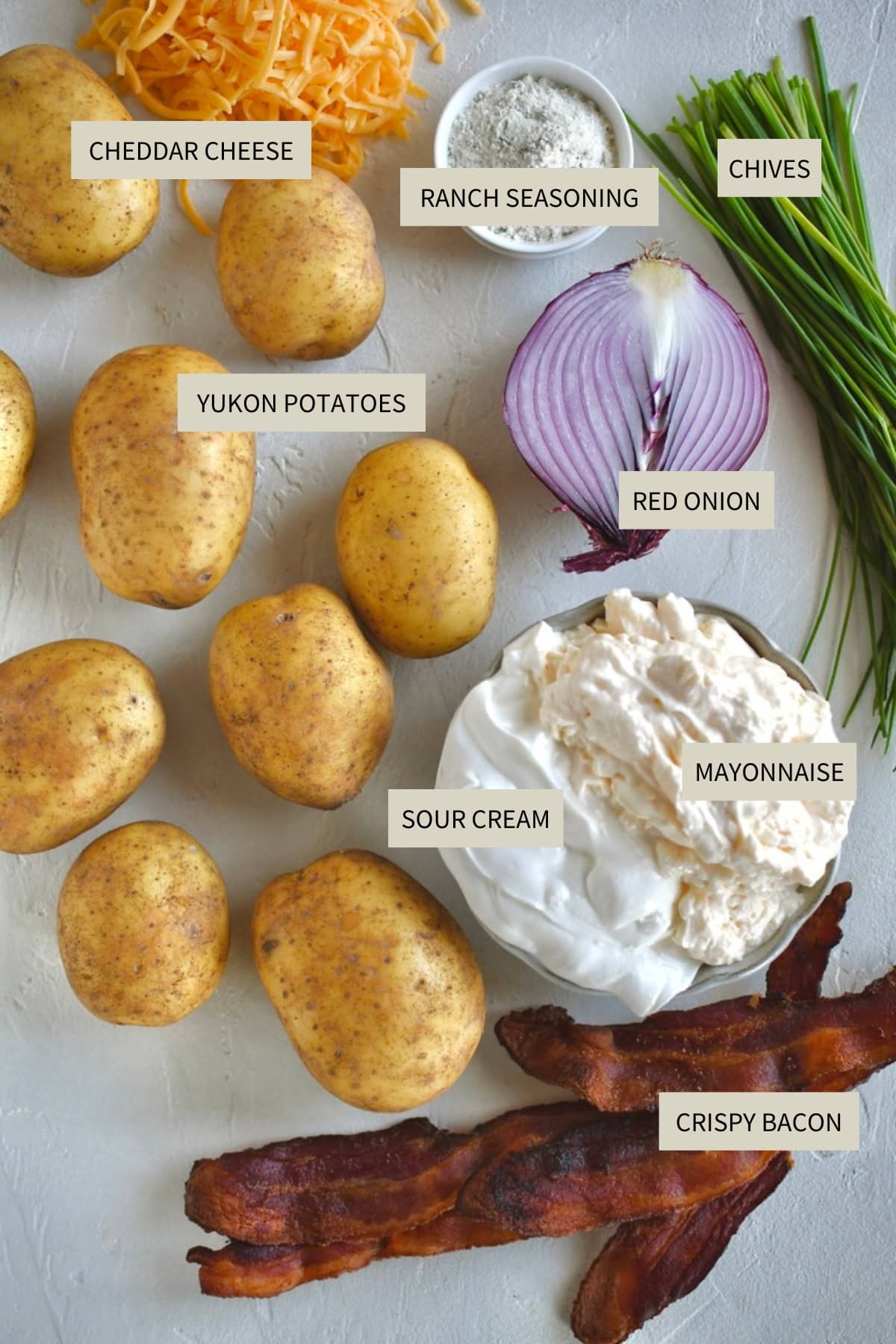 Round everything out with some bacon and my favorite Tillamook cheddar cheese, and toss it all together with some perfectly cooked buttery potatoes and you have a recipe for delicious!
Use the JUMP TO RECIPE button at the top of the post, or scroll to the bottom of the post to see the full recipe card with ingredient measurements and instructions.
Method
This recipe could NOT be easier to make. Start by boiling a large pot of water, and dicing the potatoes. It really doesn't matter what size you cut your potatoes, just make them bite-size and all relatively the same size, that's the key to them all cooking at the same rate and doneness.
Boil the potatoes in the water with a little salt just until tender, about 10-12 minutes. Then drain them from the water and let them cool on a sheet pan until room temp, then place them in the fridge or freeze till COLD!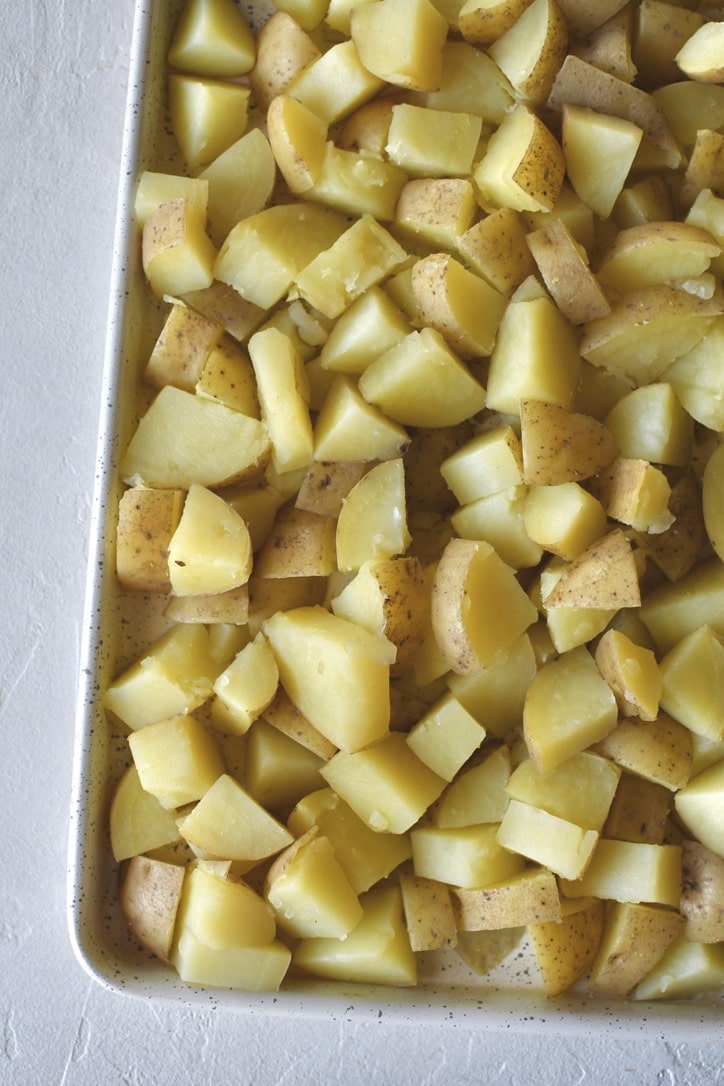 While the potatoes cool, made the dressing for the potato salad. Mix together the mayo, sour cream, ranch seasoning, chives, and red onion. Fold in some of the cheddar cheese and add the potatoes when they are cool. Season with salt and pepper and add a little of the bacon.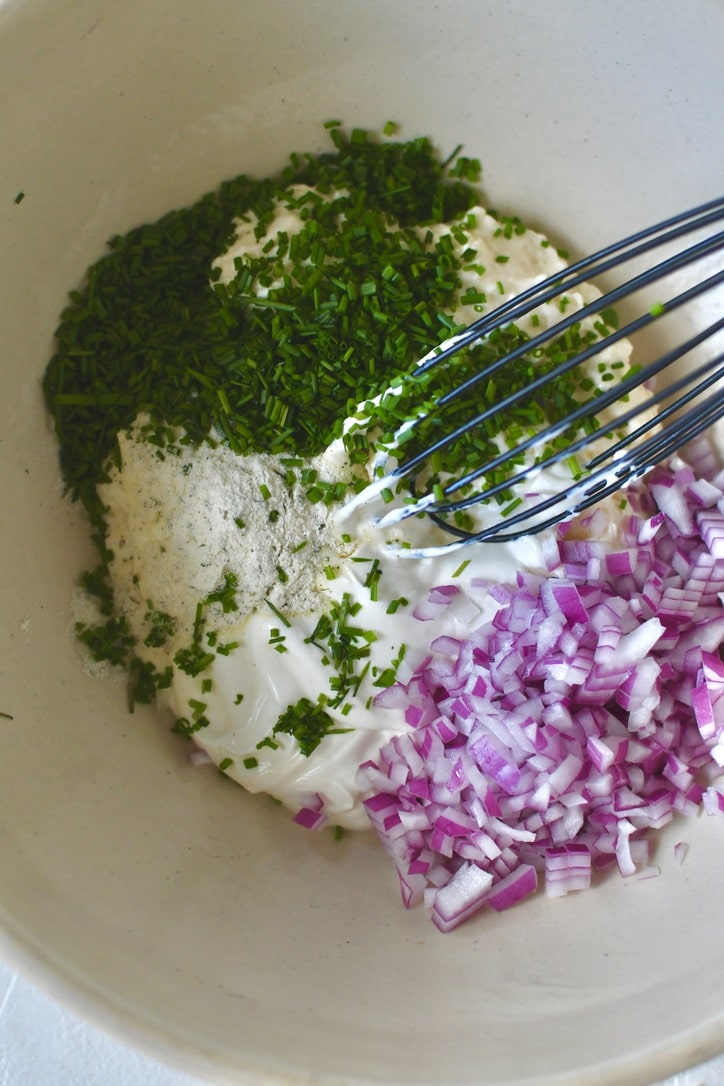 Fold everything together until evenly combined then taste and adjust the seasoning if needed. Garnish the top of the Ranch Potato Salad with the remaining cheese, bacon, and chives. Refrigerate the salad for at least an hour before serving.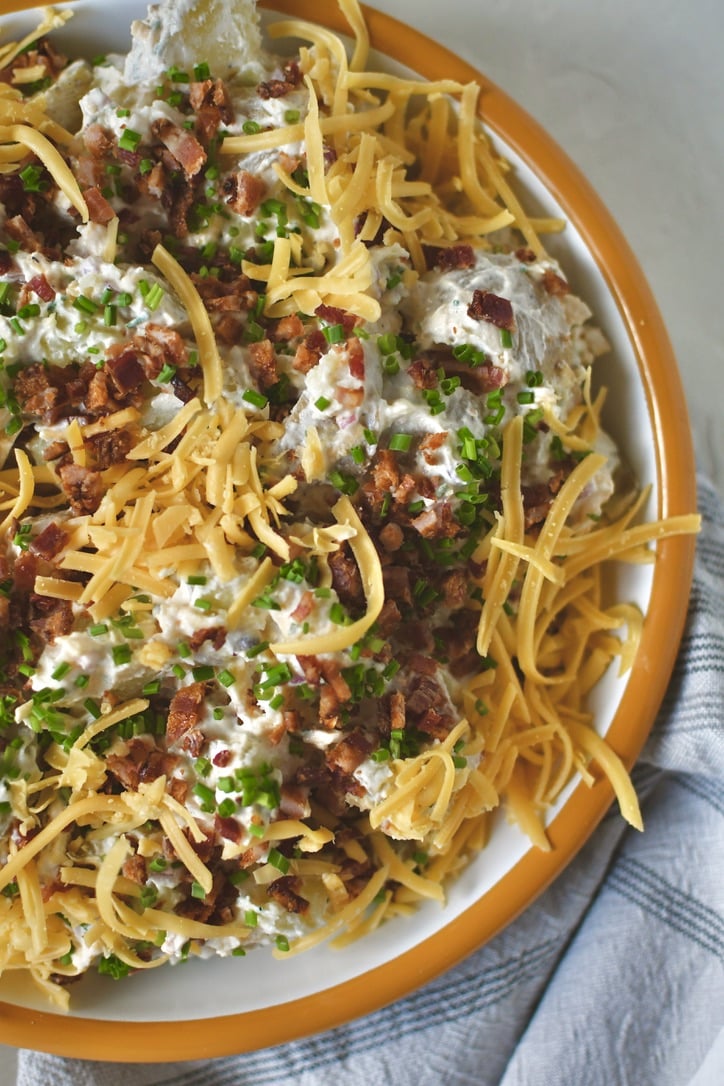 Notes & Tips
When you bring the water to a boil, season the water before or after adding the potatoes. You just want to be sure to season the water at some point, it will help the potatoes have even more flavor.
When cutting the potatoes, it really doesn't matter the shape or size. Though I like to cut them into bite-size pieces. What's more important is that whatever size you cut, they are mostly all the same so they cook evenly.
For the best flavor, use freshly grated cheddar cheese. Pre-shredded cheese has a coating on it that will make your potato salad cakey and less enjoyable.
This potato salad holds up really well, it can be made a day or even 2 ahead of serving. It also holds for about 4-5 days in the fridge and still tastes fresh. Just be sure to place it in an air-tight container.
Substitutions
I like to use Yukon gold potatoes because they are nice and buttery soft when cooked. You could use russets, but gold potatoes are much better
I like to use freshly cooked, thick-cut bacon and chop it up. But you could use bacon bits too. If you opt for them, saute them quickly in a skillet to freshen them up and make sure they are crispy.
I like to use a really good sharp yellow cheddar cheese. However, white cheddar would be great too.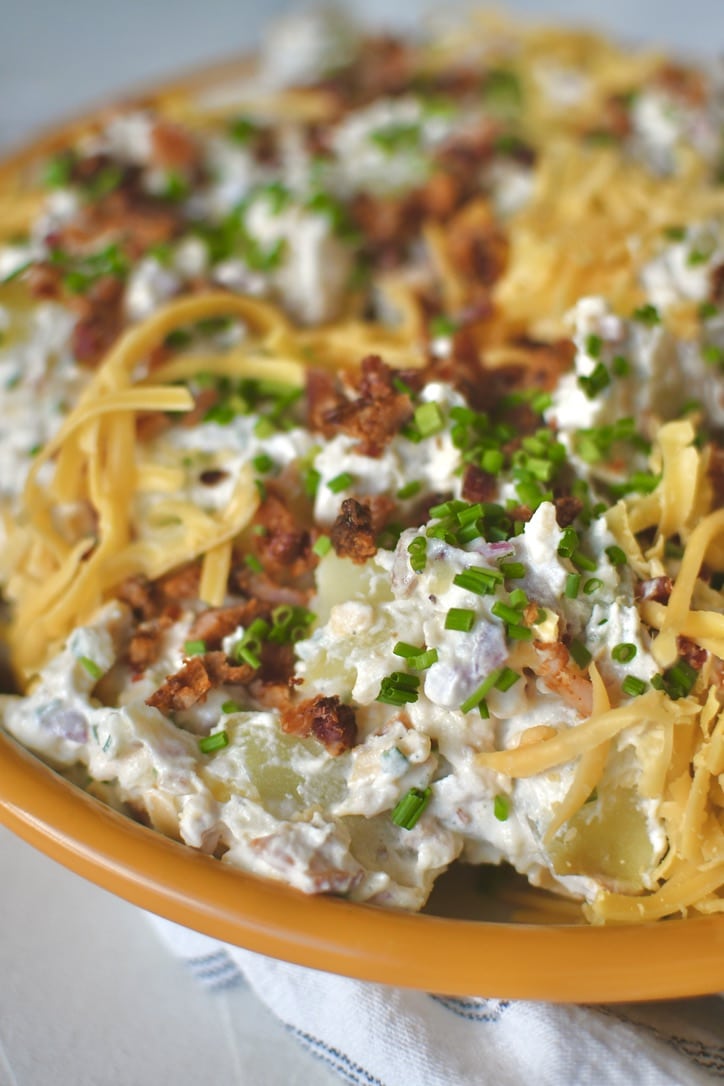 Did you make this recipe? Let me know by leaving a review or comment! And be sure to sign up for my newsletter, and follow along on Instagram, Pinterest, and Facebook!