This incredibly flavorful and one-pot Chicken Stroganoff comes together in just a few minutes and is perfectly heartwarming and tummy-filling. This dish is instant nostalgia in a bowl, and is what comfort food is made of!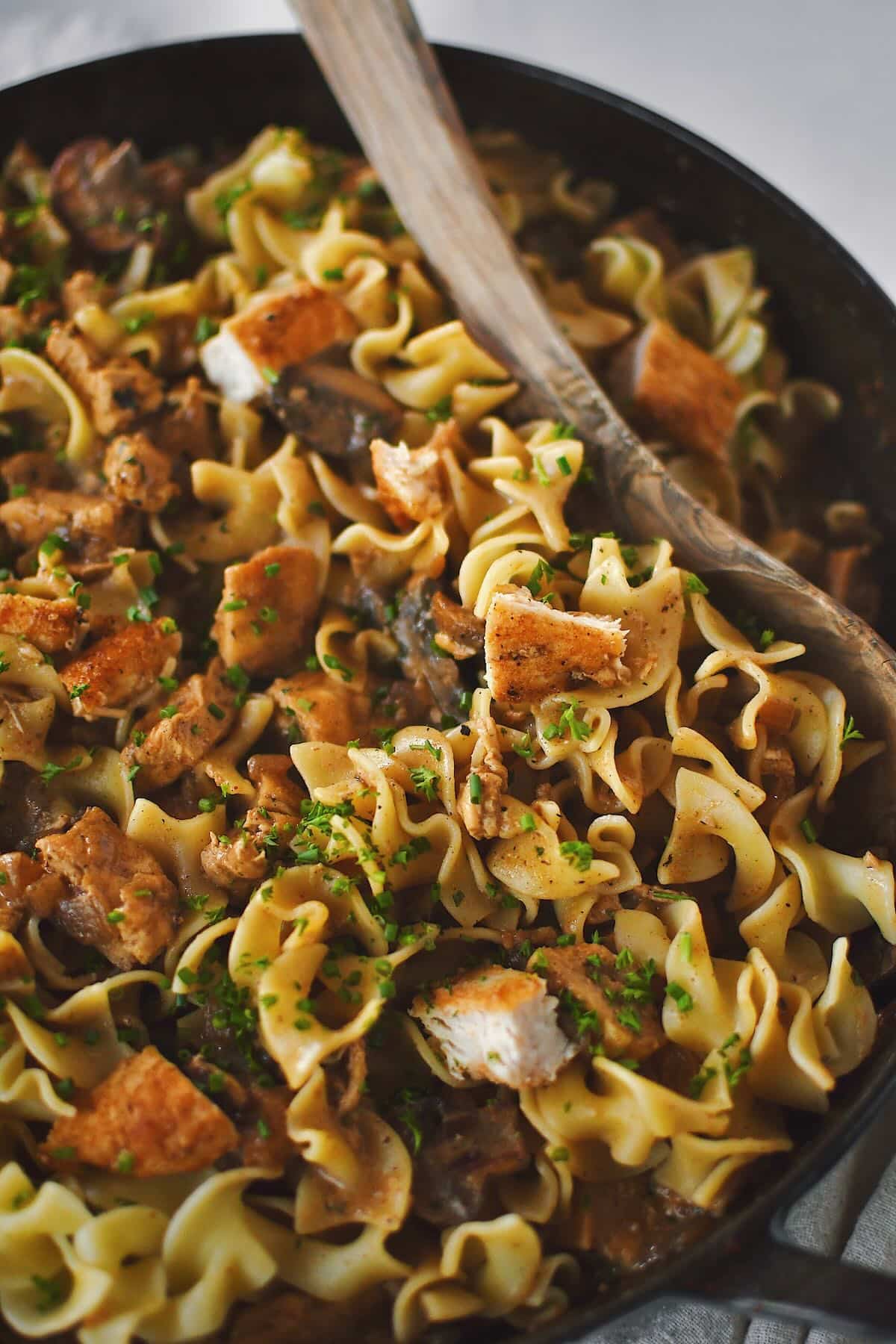 I am always looking for ways to give chicken a new spin, and this recipe gives it all new life. Let's face it, chicken is the budget-friendly workhorse of family dinners, but it can still be great!
Jump to:
Ingredients
Now I know this ingredient list may look a little long, but it is mostly pantry staples, seasonings, fats, and sauces. So yes, a little long, but nothing wildly crazy or expensive. You just need a good splash of white wine, so use what you might have on hand or completely replace it with chicken stock.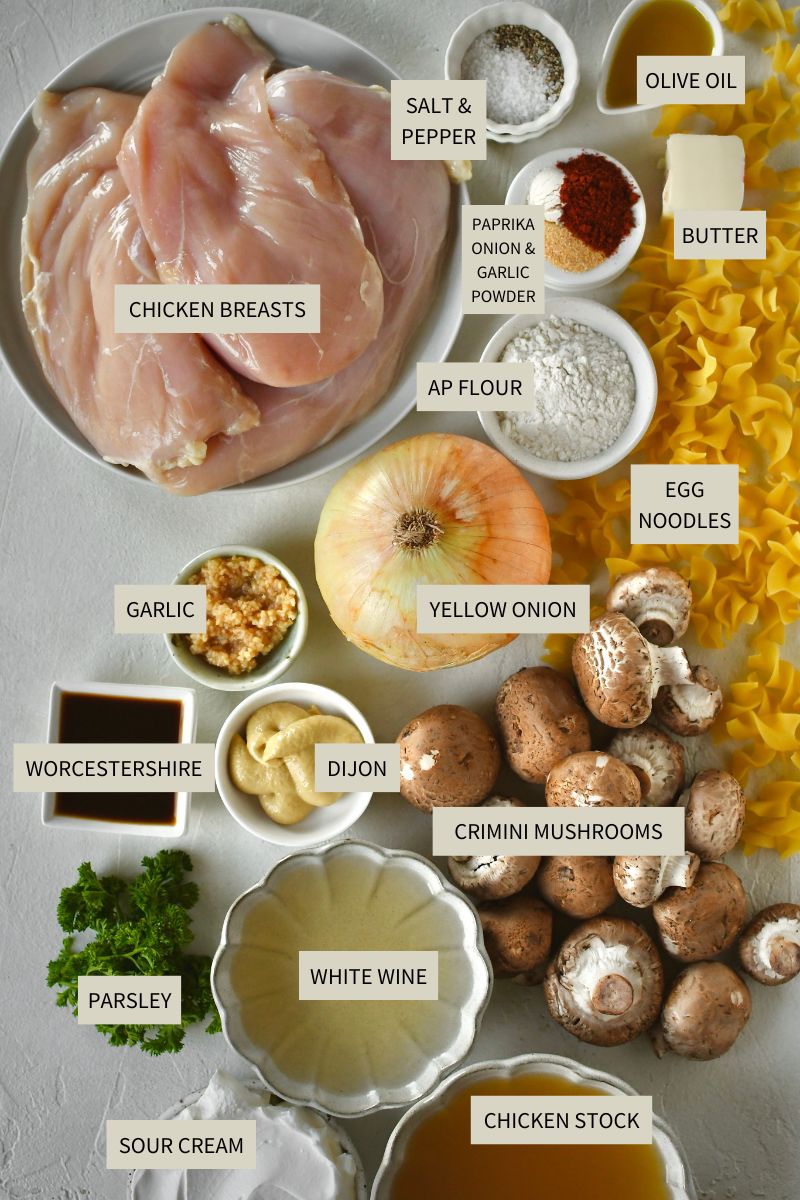 The only thing I might ever lack from this list is fresh herbs, and those are never a deal breaker. Leave them out if you don't have them or use dry. Give or take the mushrooms, I could probably whip this recipe up at a moment's notice any day.
Use the JUMP TO RECIPE button at the top of the post, or scroll to the bottom of the post to see the full recipe card with ingredient measurements and instructions.
Method
I am a HUGE fan of tenderizing your chicken. Pound it out between two pieces of cling film for no mess, then season it and sear it off in a large skillet. Set aside till needed.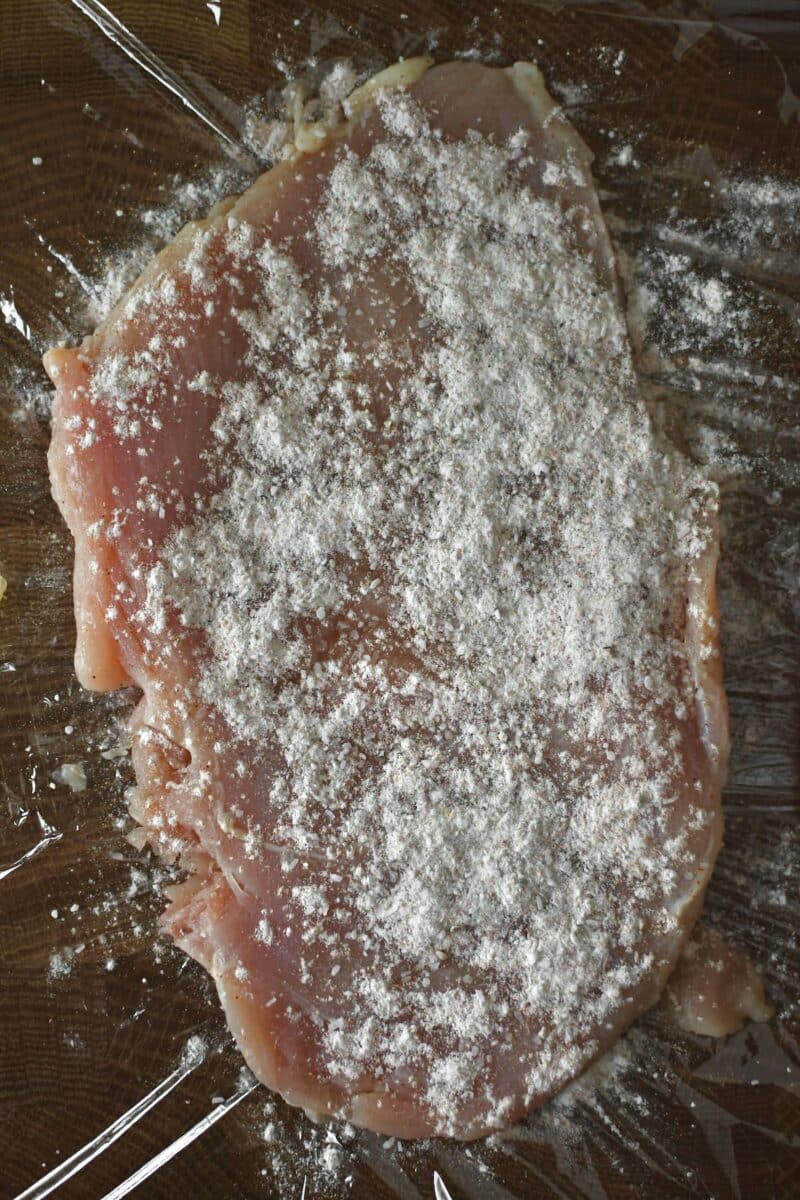 In the same skillet, cook the onions, mushrooms, and garlic till the mushrooms get golden brown.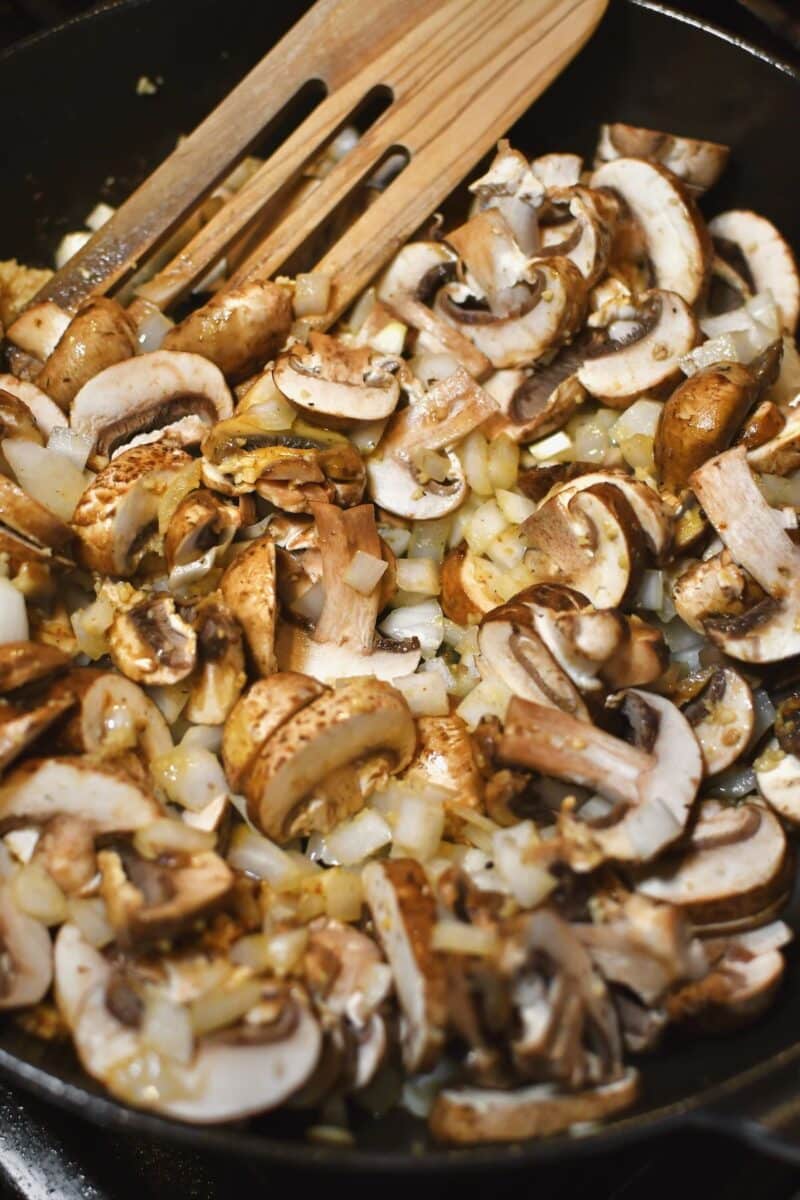 Then make the sauce by deglazing the pan with the wine and dijon, and cook in the flour. Stir in the stock and sour cream until a beautiful sauce forms and the sour cream completely melts into it. Dice the chicken and stir it back into the pan.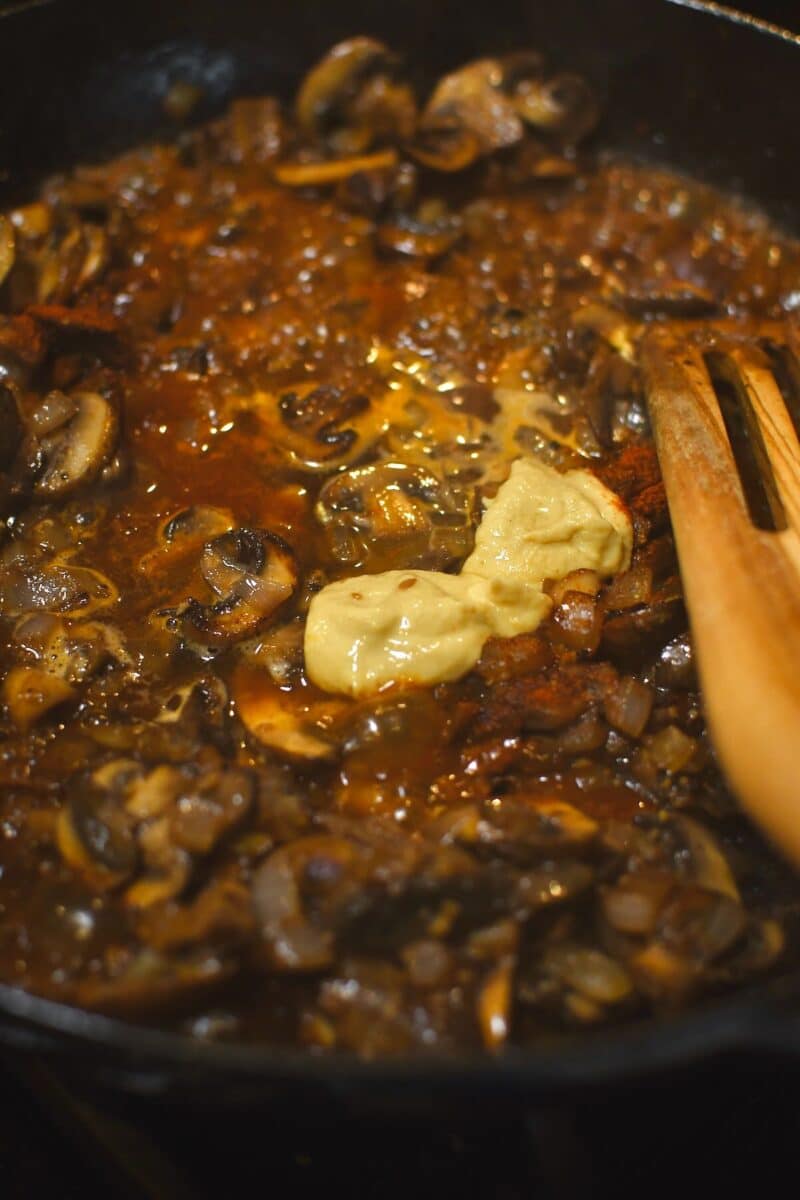 You can then stir the pasta right into the sauce or serve the sauce over the pasta. As you can see I like to toss everything together and make it a one-pot dinner.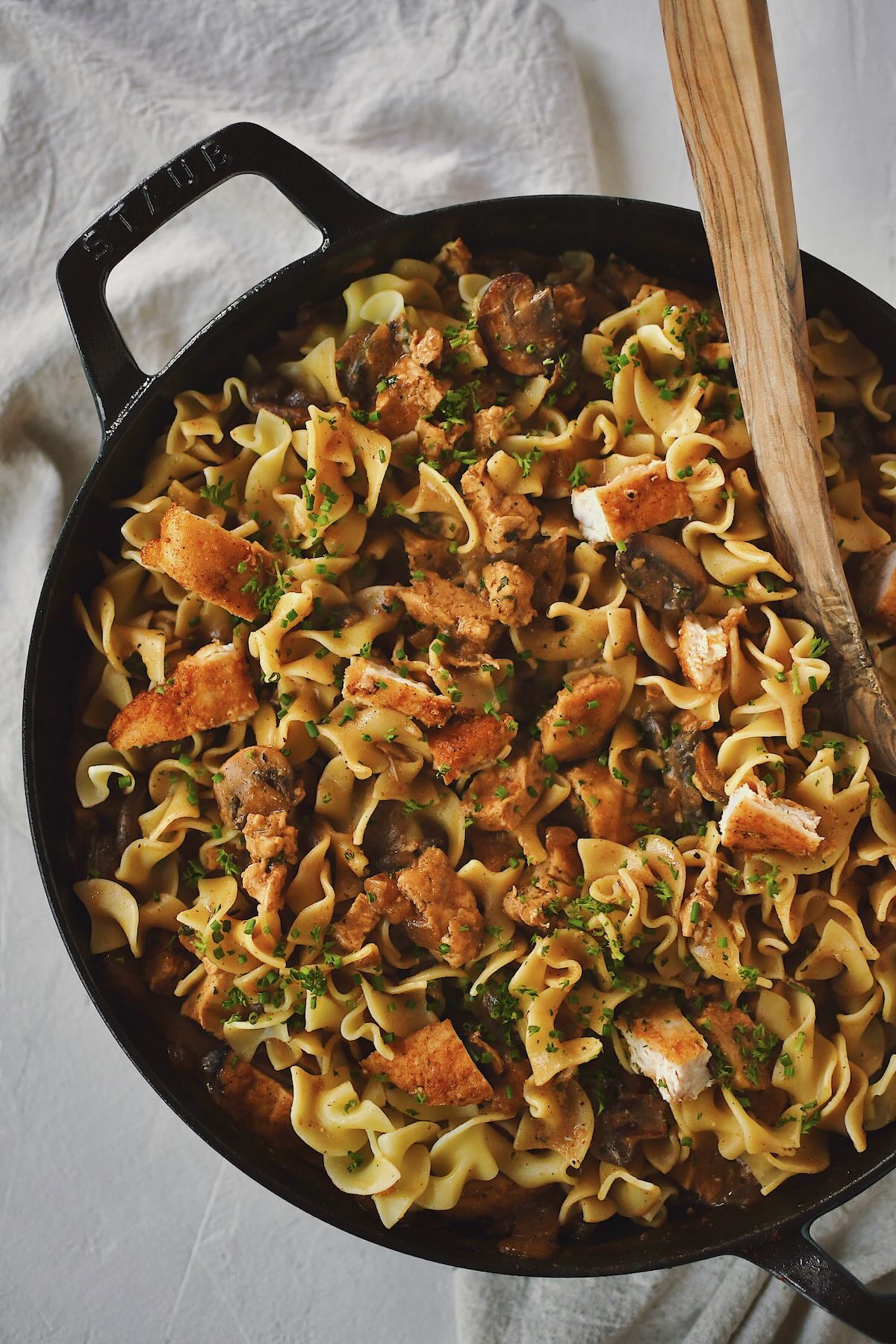 Notes & Tips
Don't skip the step of tenderizing the chicken. If you don't have a meat mallet, use a heavy saute pan or a sturdy (empty) wine bottle to flatten the chicken. It makes a huge difference in the final texture of the chicken.
When cooking the mushrooms, don't just stick to a time limit. Cook them till them they begin to get a deep golden brown. Turn your heat up till this happens if necessary.
I still consider this a one-pot wonder, even though you cook the pasta in a second pot. Dishes are still minimal and almost everything cooks in the same giant skillet.
Substitutions
I use chicken breast because that is what my family prefers. However, you can absolutely use ANY cut of chicken you prefer for this recipe, I just suggest that it be boneless.
One of my favorite spices is Roasted Garlic Powder. You will see many of my recipes call for it. It adds that little extra flavor that makes people ask why this is so good. But use regular garlic powder if you can not locate it.
If you would like to keep this recipe gluten-free, dust the chicken with cornstarch in place of the flour. And for the sauce, replace the flour with cornstarch too, but mix it with equal parts water and stir it in with the beef stock. Also, opt for gluten-free pasta or serve over rice.
If you would like to keep this recipe dairy-free, replace the butter with more olive oil or coconut oil. Also, swap the sour cream for a plant-based sour cream, they work great as a replacement.
I like crimini mushrooms for the easy accessibility and rich flavor. But feel free to leave the mushrooms out if your family doesn't love them, or swap them for your favorite mushroom. Any readily available supermarket mushroom will work here.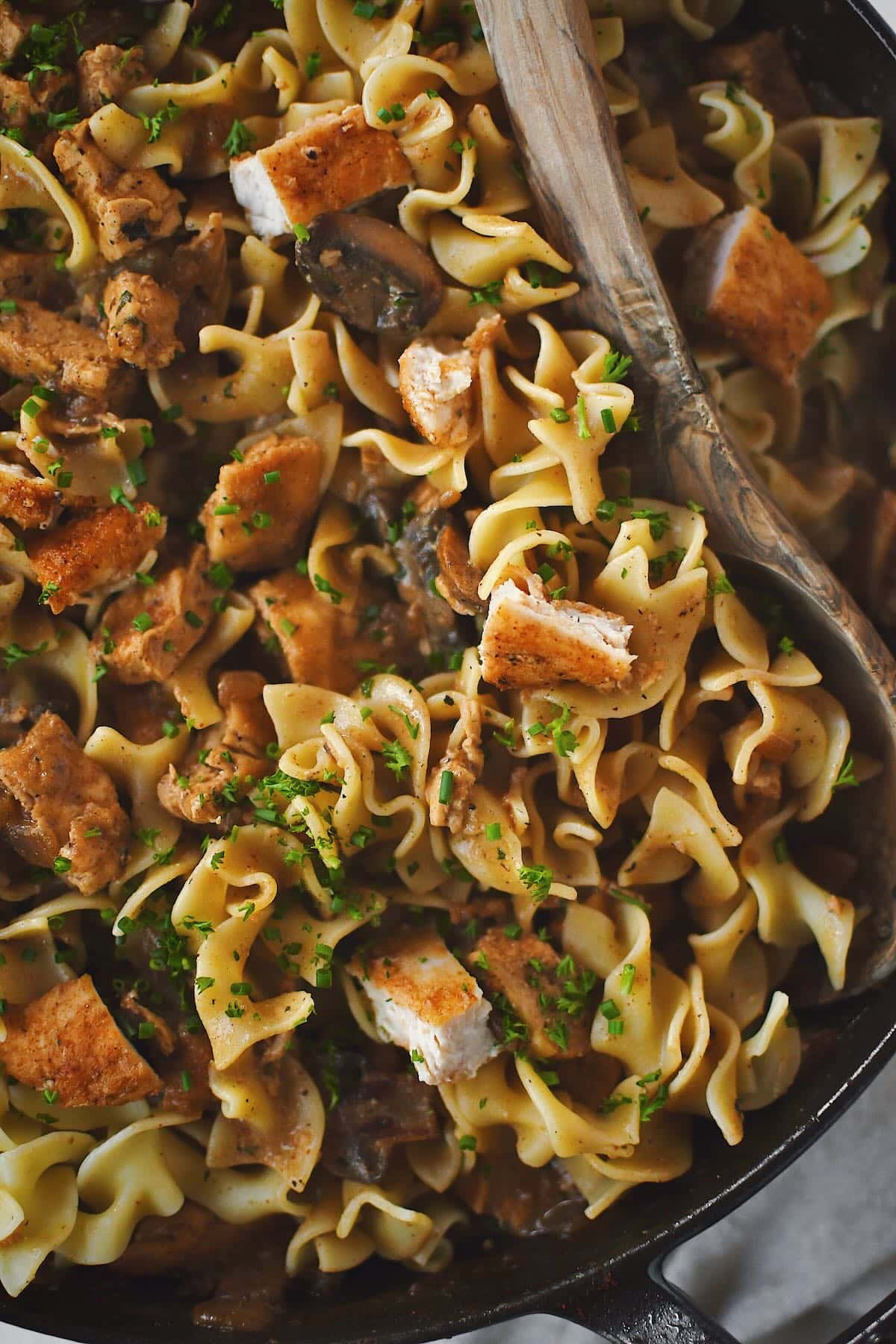 Did you make this recipe? Let me know by leaving a review or comment! And be sure to sign up for my newsletter, and follow along on Instagram, Pinterest, and Facebook!