This quick and simple stir-fry of Cashew Chicken comes together in just a few minutes with a light and familiar flavor. I honestly never eat out, and I kinda dislike eating out, so I love recreating dishes like this in my own kitchen.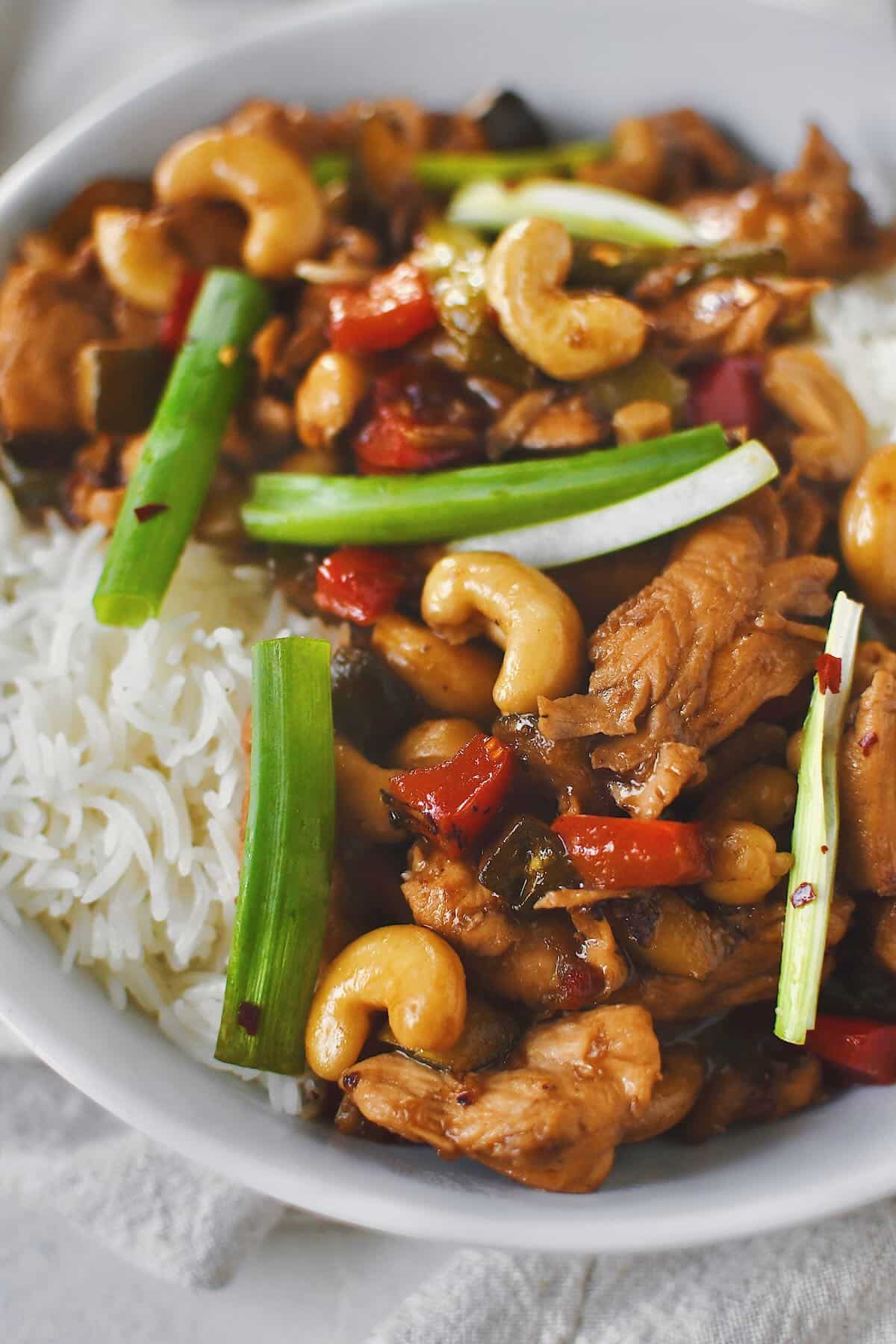 And while I don't know if it is BETTER than take-out, it satisfies my love for Americanized Asian cuisine. Those flavors are some of my favorites, but I like to make them at home these days.
Jump to:
Ingredients
This recipe makes a very light-flavored sauce that is made from ingredients that are readily found in many grocery stores these days. What is great is that you cook up all the veggies and chicken in the same pan, and you get a perfectly well-rounded meal in a one-pot-wonder.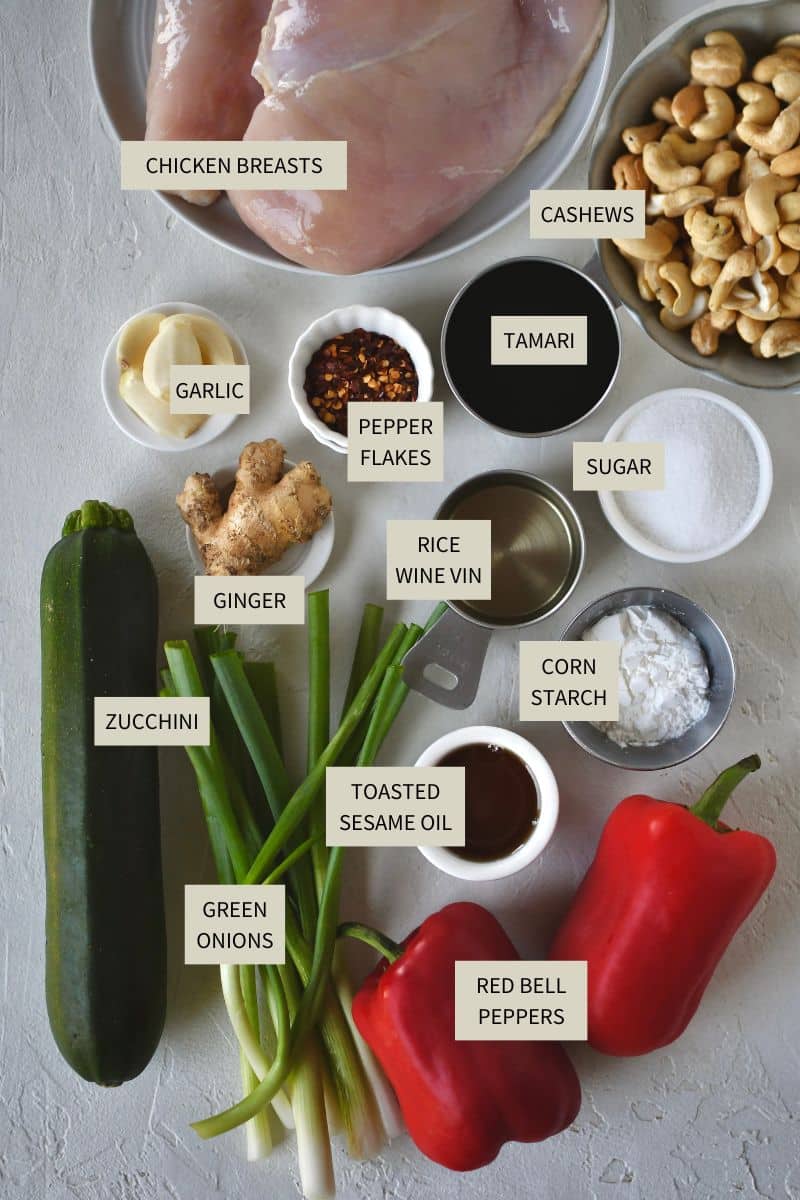 What is more important to use is the aromatics, ginger, garlic, toasted sesame oil, and the green onions. These flavors really make the dish, don't skimp on them.
Use the JUMP TO RECIPE button at the top of the post, or scroll to the bottom of the post to see the full recipe card with ingredient measurements and instructions.
Method
First, mix up some of the soy sauce and the cornstarch and toss the chicken in it. This kind of quickly marinates the chicken, helps is brown quickly in the hot pan, and will later thicken the sauce in the pan.
Quickly brown the chicken in a hot pan, the think sliced chicken should cook super fast, I usually do 1-2 batches depending on how much chicken I have. Then toss the veggies in the same pan after removing the chicken.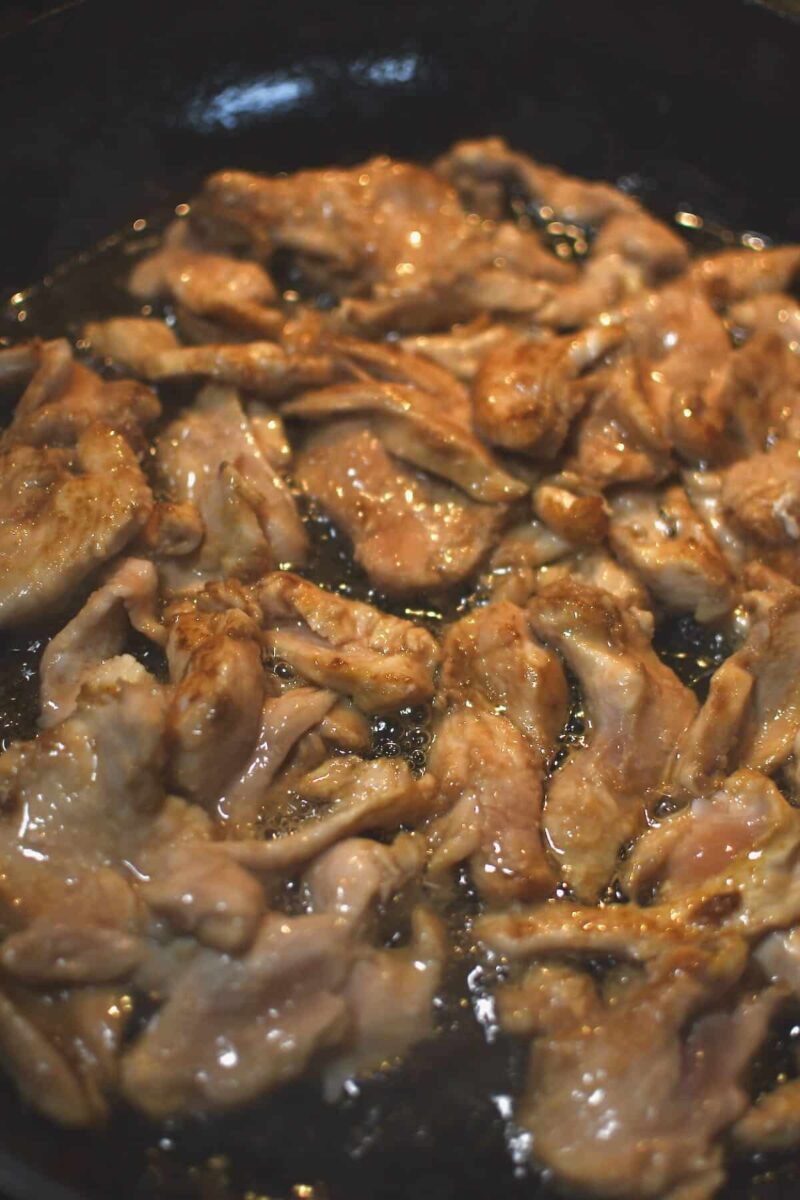 Cook just till the squash becomes soft, then toss in the aromatics and cashews to toast them up a little. Finally, add the chicken back to the pan along with the sauce and simmer everything together for a few minutes to ensure the chicken is fully cooked and let the sauce thicken.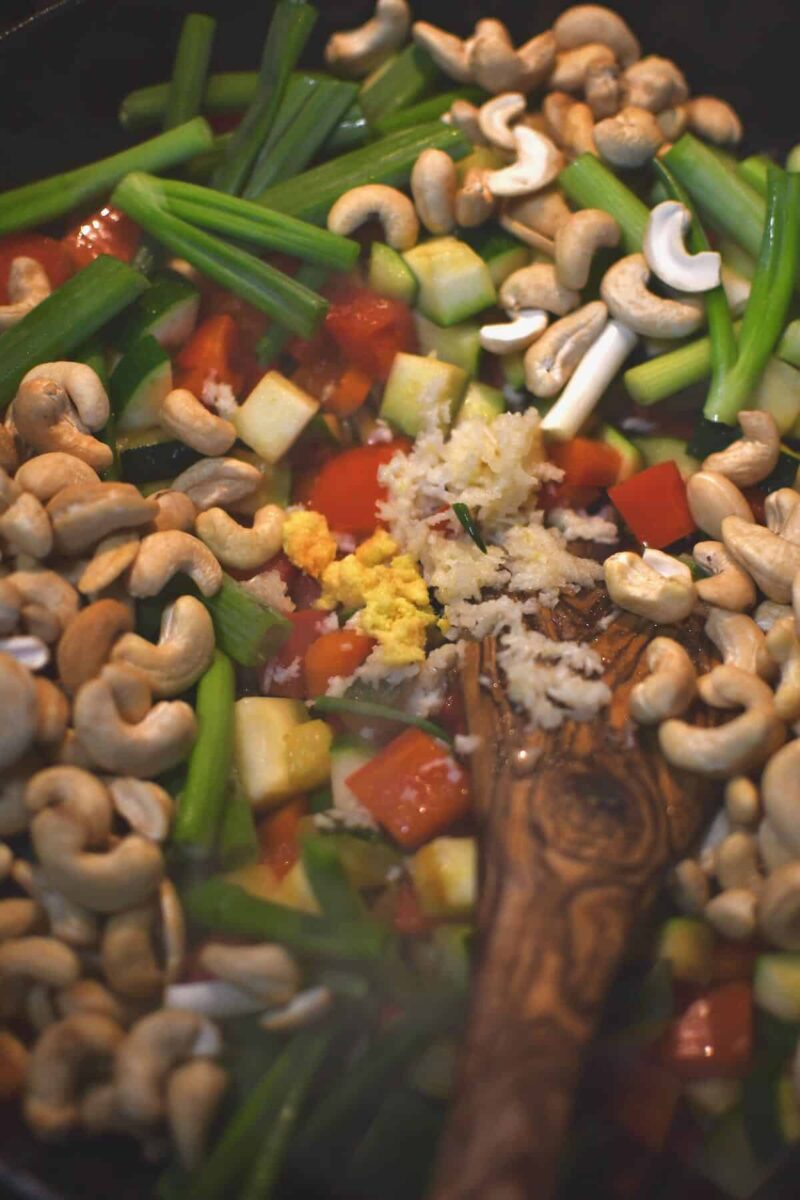 I like to add some more red pepper flakes on top and fresh green onions for some extra flavor. But that is it. This is a super quick, delicious dinner ready in minutes.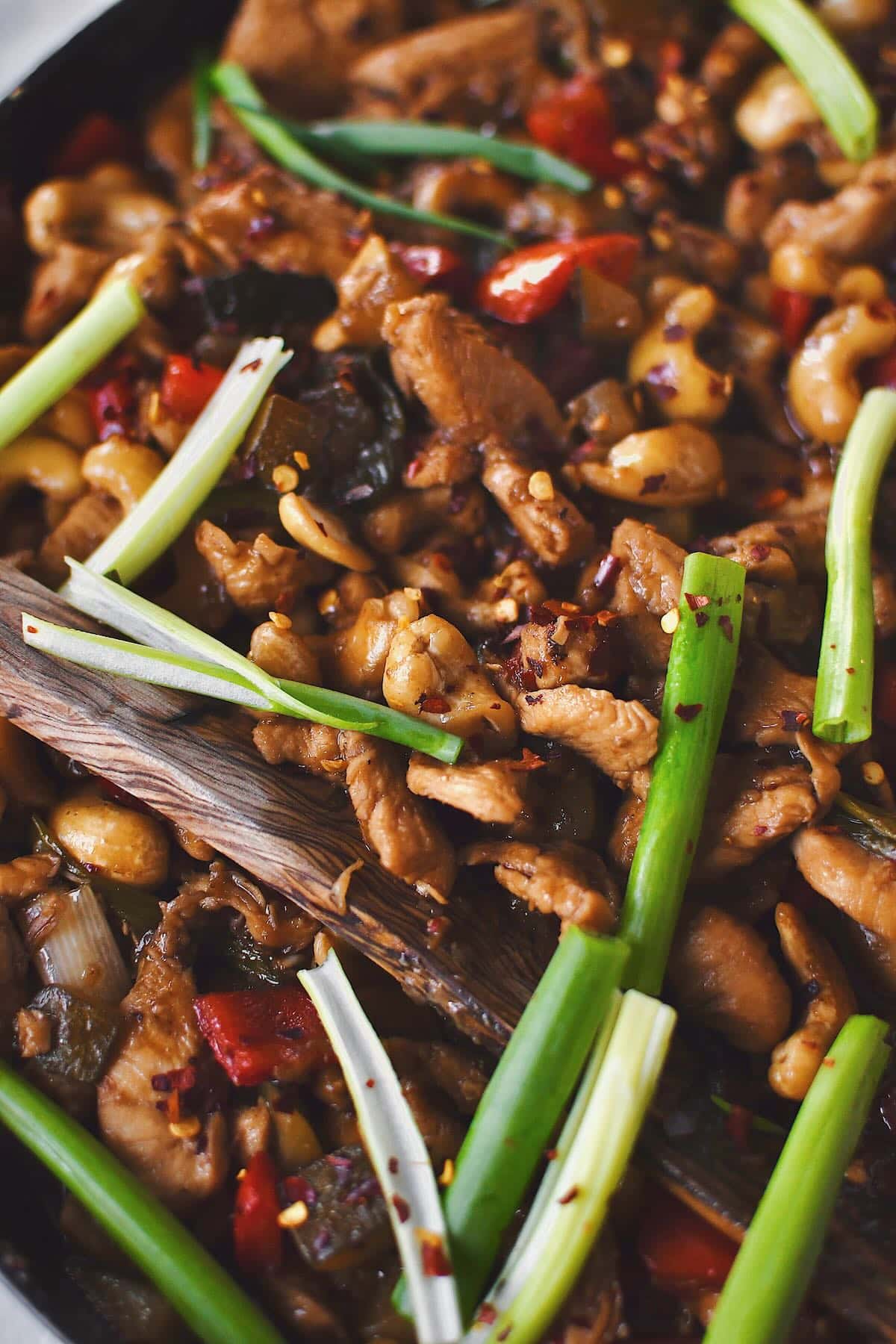 Notes & Tips
This recipe comes together really quickly once you start cooking it. I like to ensure all my prep is done before I start. I usually chop all my veggies, then marinate my chicken and start cooking.
I suggest tenderizing the chicken by pounding it flat so it is an even thickness all the way across, then slicing it into thin strips. This will give you super soft and tender chicken in your end dish.
Basmati is my favorite rice and the only one I keep in my kitchen at all times. All rice has a little arsenic in it, but basmati naturally has the least. It is also a really nice, fluffy long grain rice, if you have never used it I encourage you to get some.
This recipe holds up really well to refrigerating and reheating. I love to make it for meal prep. Double up the batch for lots of leftovers. You can also freeze it for 2-3 months, but it never makes it to the freezer in my house.
Substitutions
I prefer using Tamari soy sauce because it has a bit of a deeper, less salty flavor. You can however use regular soy sauce, or even shoyu if you like. Tamari is also usually gluten-free, just check the label to be sure.
Rice Wine Vinegar or Mirin can be used here. They are a little different and the use of Mirin will yield a slightly sweeter end result.
Using cornstarch makes this recipe naturally gluten-free. Just be sure if you use a regular soy sauce that it is also gluten-free.
I use chicken breast because it is my preference. You can also use dark meat chicken thighs in this recipe if you prefer them.
The toasted sesame oil brings a lot of fragrance and flavor to this recipe. However, if you do not have it you can also use a high-heat oil like grapeseed, or even vegetable.
Feel free to use any color pepper you like, I just like to use red for its vibrance.
Zucchini is what you traditionally see in this recipe, however pretty much any soft squash can work in this recipe.
Now cashew is the namesake of this recipe, but you could also make it with peanuts for a more budget-friendly option.
If you do not have fresh ginger or garlic, you could use powdered, in a pinch. I also like to keep those frozen cubes on hand for emergencies too!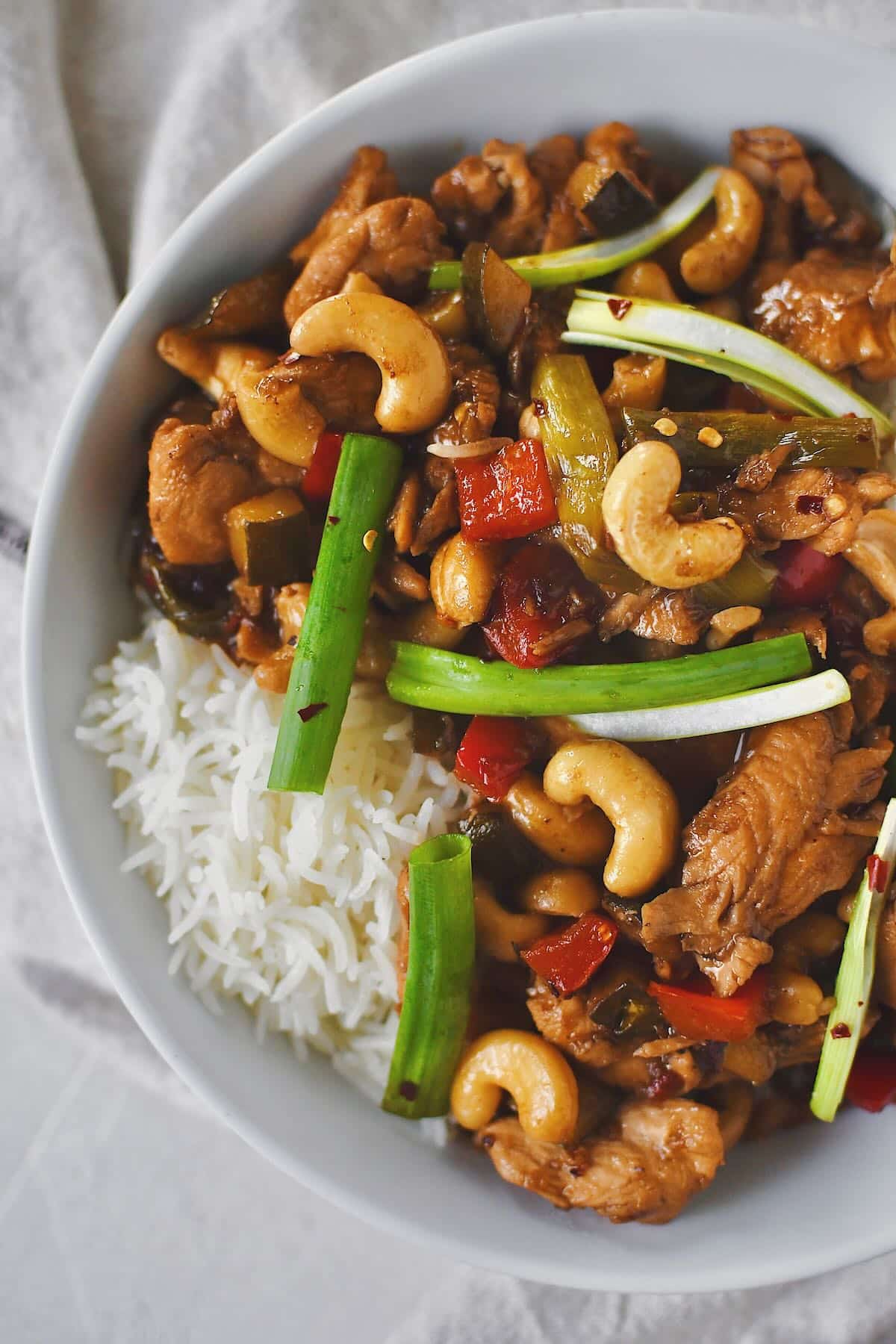 Did you make this recipe? Let me know by leaving a review or comment! And be sure to sign up for my newsletter, and follow along on Instagram, Pinterest, and Facebook!