This Pumpkin Butter Chicken recipe is best served over rice with fresh lime juice and cilantro. It's the kind of comfort food that's delicious year-round and a breeze to make!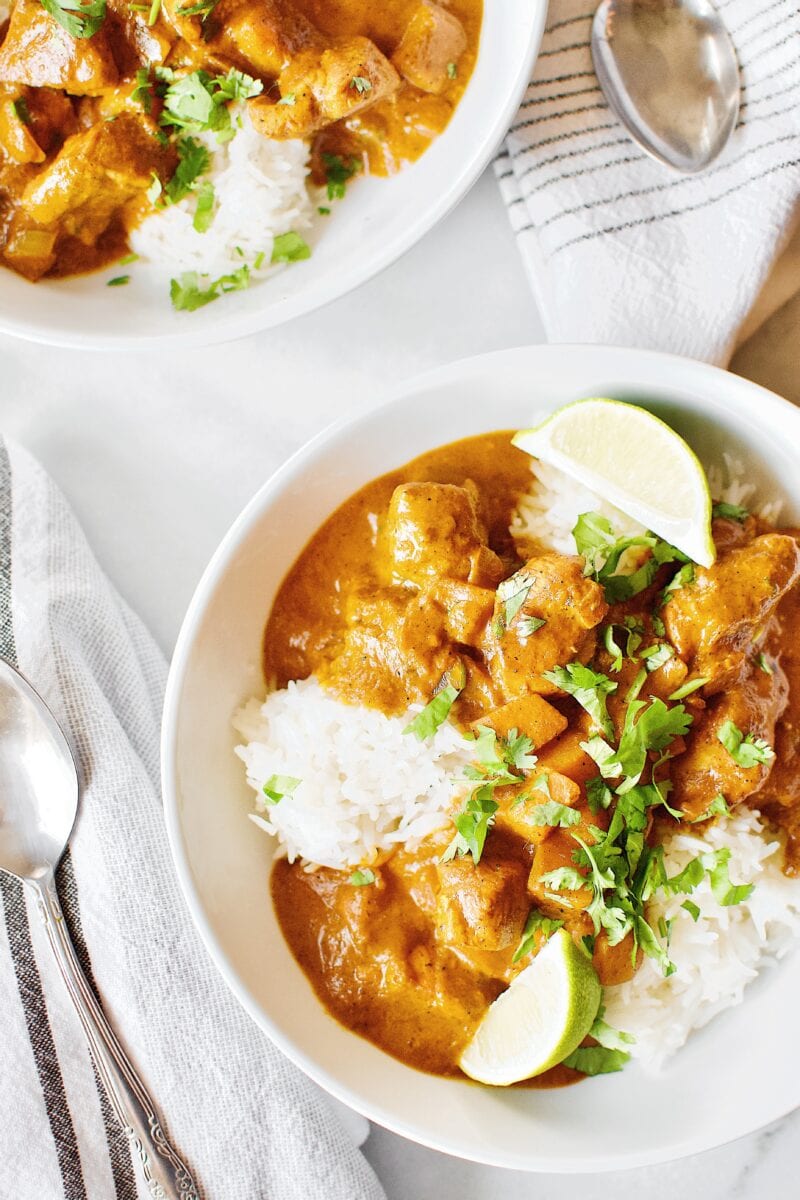 This post was first published October 19 , 2020, and was last updated June 14, 2021.
Jump to:
A Brief History of Indian Butter Chicken
Did you know that butter chicken was actually created on accident? It was first made by mistake in India when someone tried reheating chicken in tomato gravy. Originally called "Murgh Makhani," this dish has evolved through the years after first appearing in American in 1975 under the name "Butter Chicken." Today, it's enjoyed around the world. In Australia and New Zealand, it's even used as a pie filling. (Yum! I may need to take a crack at that ...)
Use the JUMP TO RECIPE button at the top of the post, or scroll to the bottom of the post to see the full recipe card with ingredient measurements and instructions.
What Is Pumpkin Butter Chicken, Exactly?
One of my favorite things to do as a chef is to explore other cultures through food. This recipe is my take on an Indian Butter Chicken with pumpkin thrown in 'cause if you know me you know I love pumpkin!
Traditionally, Butter Chicken is made sans vegetables, but I thought the pumpkin squash would work well with the curry tomato gravy and tender chicken. Safe to say, that was the right call! It not only makes this dish more flavorful and hearty, but the cooked pumpkin also adds a nice texture to enjoy with the chicken, sauce, and rice.
If fresh pumpkin is out of season when you make this dish, feel free to use butternut squash. It has the same flavor and texture, and makes this a dish you can enjoy year-round.
Also, take this meal up a notch by serving it with Naan bread. This is a traditional Indian flat bread and would be used to pick up the meal with your hands instead of using utensils. Talk about comfort food!
This is a super simple dinner that comes together in about 30 minutes. (But is still impressive!)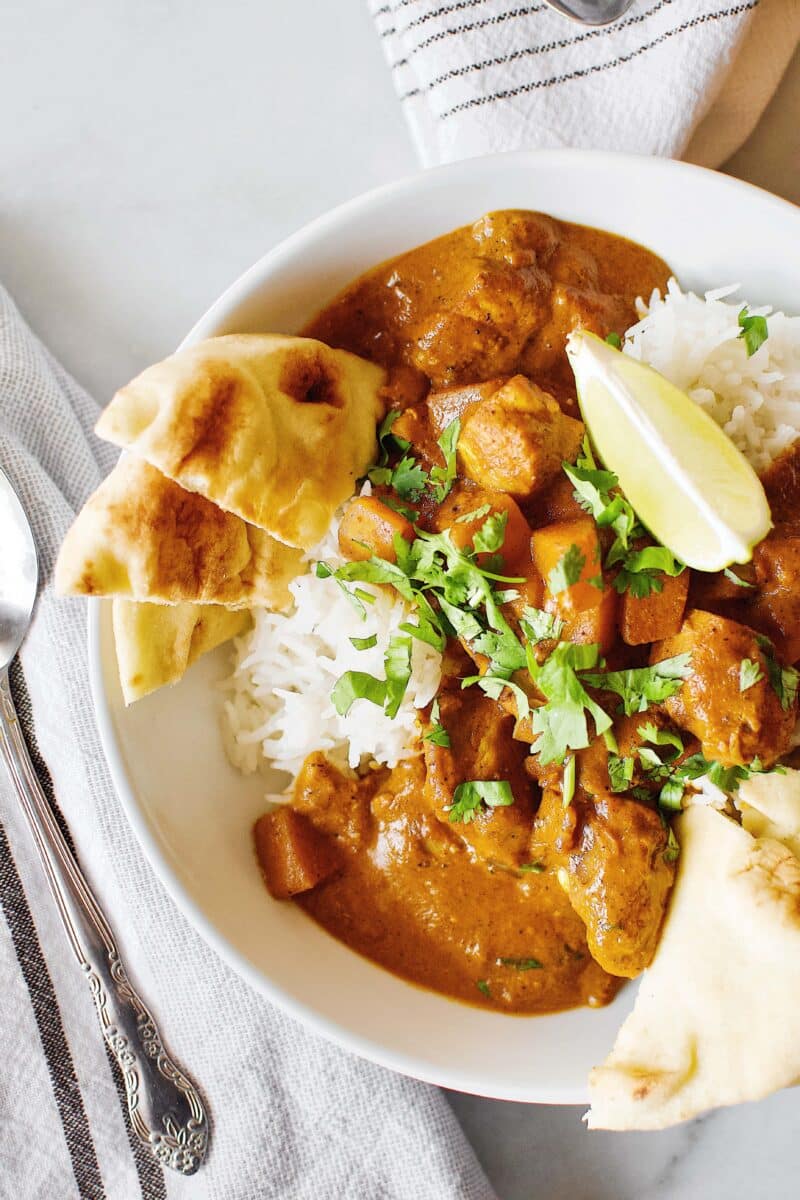 The Beauty of Indian Spices
One of the things I enjoy about Indian food is the spices they use. They're fragrant, flavorful, a little warm, and a great way to amp up any recipe any time of the year.
Curry powder is one of the dominant spices in this dish. Most Indian household has their own version, so I learned to blend my own from a friend of mine who is from the country of Trinidad. We blended my own custom blend that has a bit more coriander in it because it is one of my favorite spices.
If you want to explore these flavors, that same friend taught me to make her Curry Chicken and Roti Buss-up-Shut. It is an equally fantastic meal, and I loved learning to make a dish from her home country.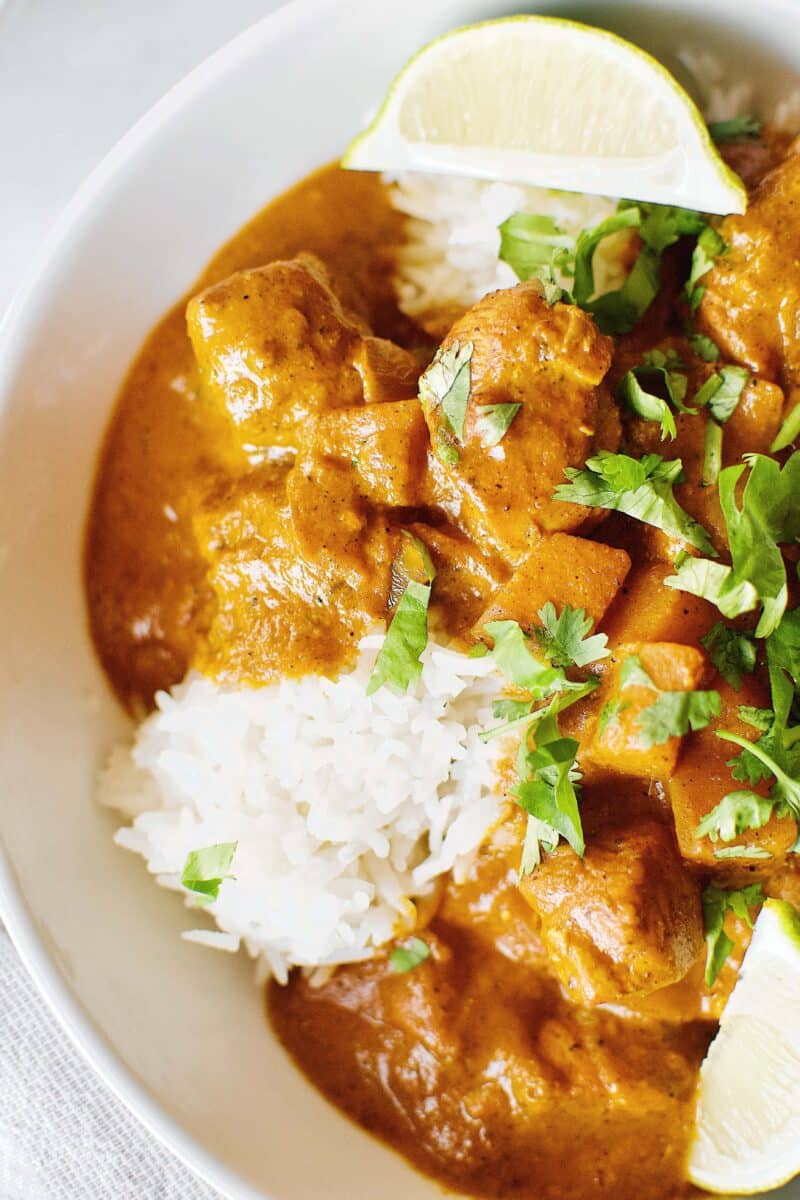 Ingredients
The yogurt, tomato paste, butter, and chicken are all traditional ingredients for butter chicken. It is a meal of simmered chicken in a tomato and onion coconut milk sauce with curry powder, garam masala, turmeric, garlic, and ginger. Greek yogurt and butter stirred in at the end to make it extra creamy and luscious. I like to serve it over my favorite long-grain rice — basmati — with fresh lime wedges and naan bread.
And don't skimp on the cilantro! A generous dusting is a must on butter chicken.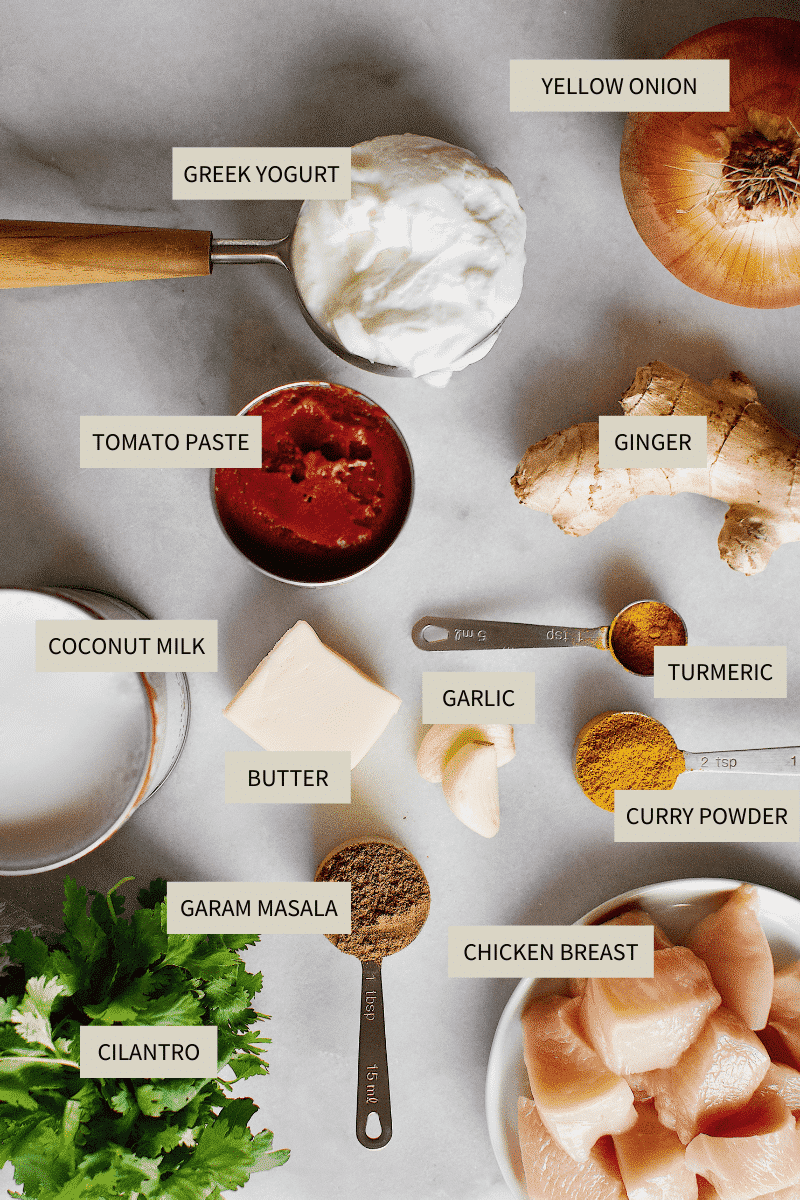 Method
What I might love most about this Pumpkin Butter Chicken recipe is that it all comes together in one pot! Perfect for building a strong flavor profile and for easy cleanup.
Prep the Chicken: Dice your chicken breasts into bite-sized pieces, and season them heavily with salt and pepper. Let them stand 20-30 minutes while you gather and prep the remaining ingredients to let the seasonings sink in and draw out some moisture.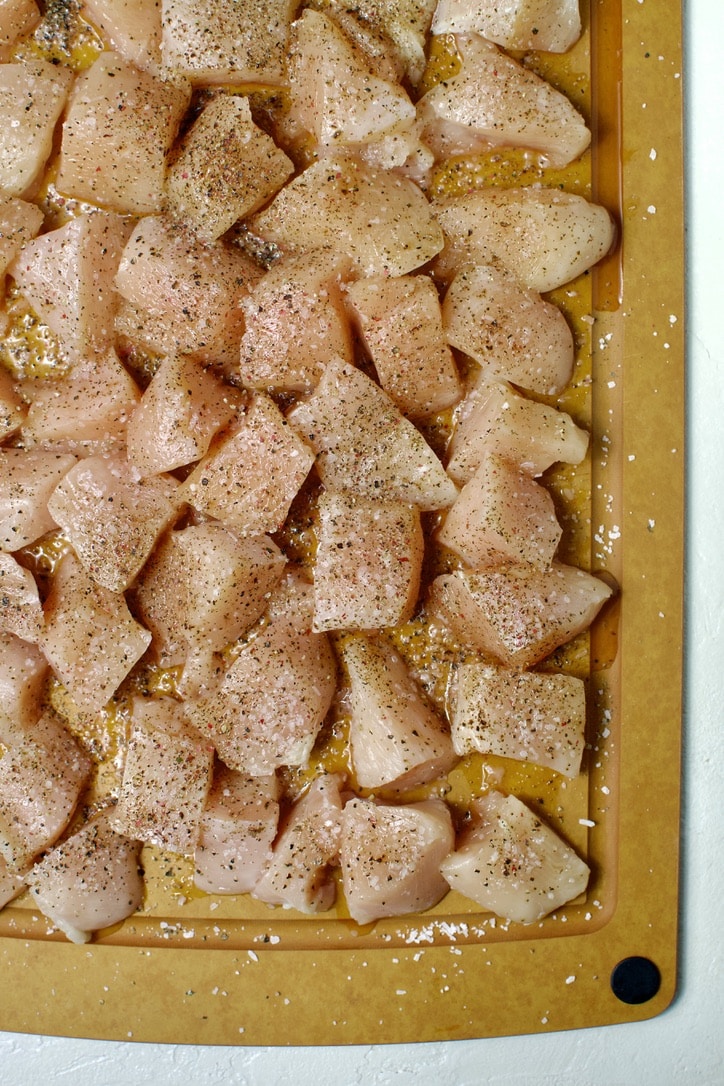 Build Your Curry: Heat the oil and butter over medium heat in a Dutch oven. Sear the chicken pieces on one side until crisp, about 5 minutes, until browned. (Do this in batches if needed so you don't overcrowd the pan.) Remove the crisped chicken from the pan and add the onion, garlic, and ginger. Cook until the onions become translucent. Add the garam masala, curry powder, and turmeric to the pan and stir until fragrant, about 1 minute. Stir in the tomato paste and coconut milk, then bring the sauce to a simmer and add in the diced pumpkin and the chicken. Simmer the sauce for 10-15 minutes until the pumpkin gets soft and the chicken is cooked through. Finish the sauce with the greek yogurt and 2 tablespoons of butter. Simmer about 5 minutes longer to meld everything together.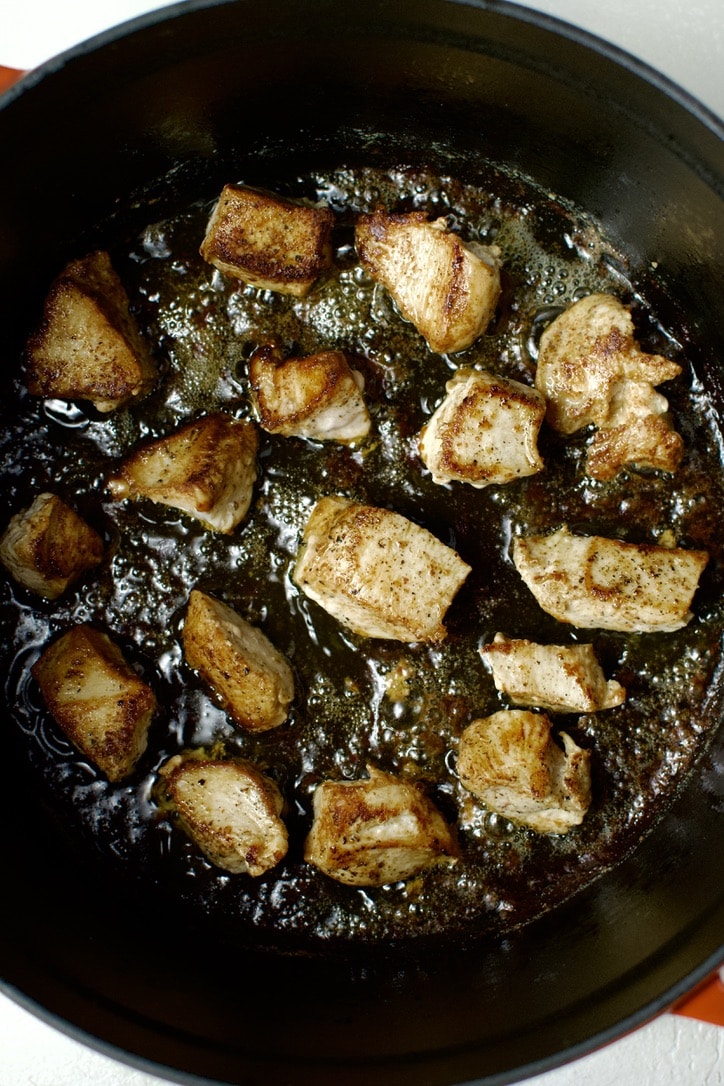 Finish the Butter Chicken: Turn off the heat, and add in a healthy pinch of cilantro. Stir to combine. Serve over steamed basmati rice with lime wedges and naan bread. Enjoy!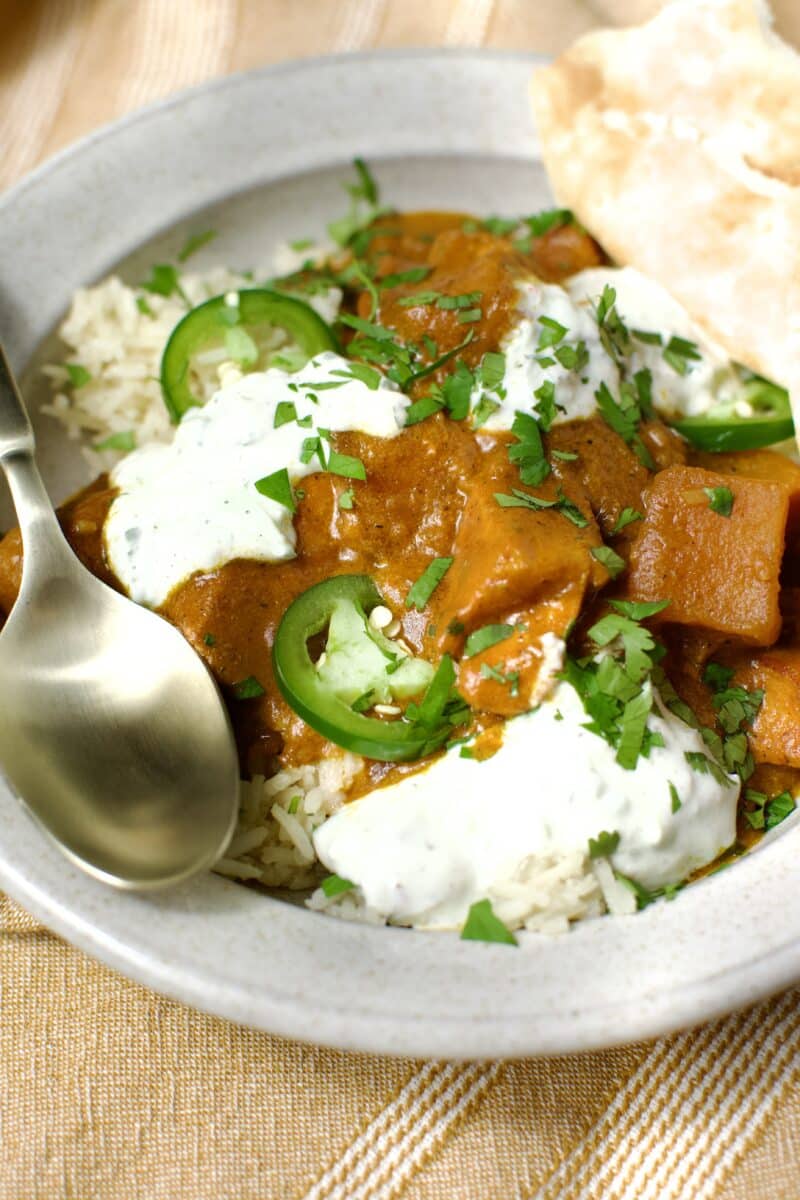 If you have a little extra time, let your curry simmer on the stove for a while so the chicken stays super tender. The longer spices like curry powder, garam masala, turmeric, and ginger have to cook in the coconut milk, tomato paste, and yogurt, the better they'll taste!
Notes & Tips
All curry powders are not created equal. And the stuff you buy at the grocery store in a jar is not what you want for this recipe. It takes a little extra effort, but make THIS RECIPE for curry powder to use here.
If you enjoy spicy foods, you can add a jalapeno, habanero, or hotter pepper if desired to the cooking method when cooking the onions.
I enjoy serving this with a nice flatbread, something homemade is great, but often I grab some Naan bread from the grocery store to add to the table when serving.
Substitutions
To make this vegan or vegetarian, you could leave out the chicken and bulk up the pumpkin to be the main star of this dish.
To make this a year-round staple, replace the pumpkin with butternut squash, it is readily available in most grocery stores at all times.
A good swap for the Garam Masala is, Allspice and Cumin: Combine 4 parts ground cumin with 1 part allspice, for an easy substitute when you're in a hurry. You can also use more curry powder in place of it as well.
Greek yogurt adds a little tang to the dish, as well as mellows out the spices just a bit. You can omit if needed to make this dairy-free, simple replace the yogurt with more coconut milk.
Speaking of dairy-free, I know this is butter chicken, you kinda need the butter, but you could exchange the butter for coconut oil if you wanted to keep it free of dairy.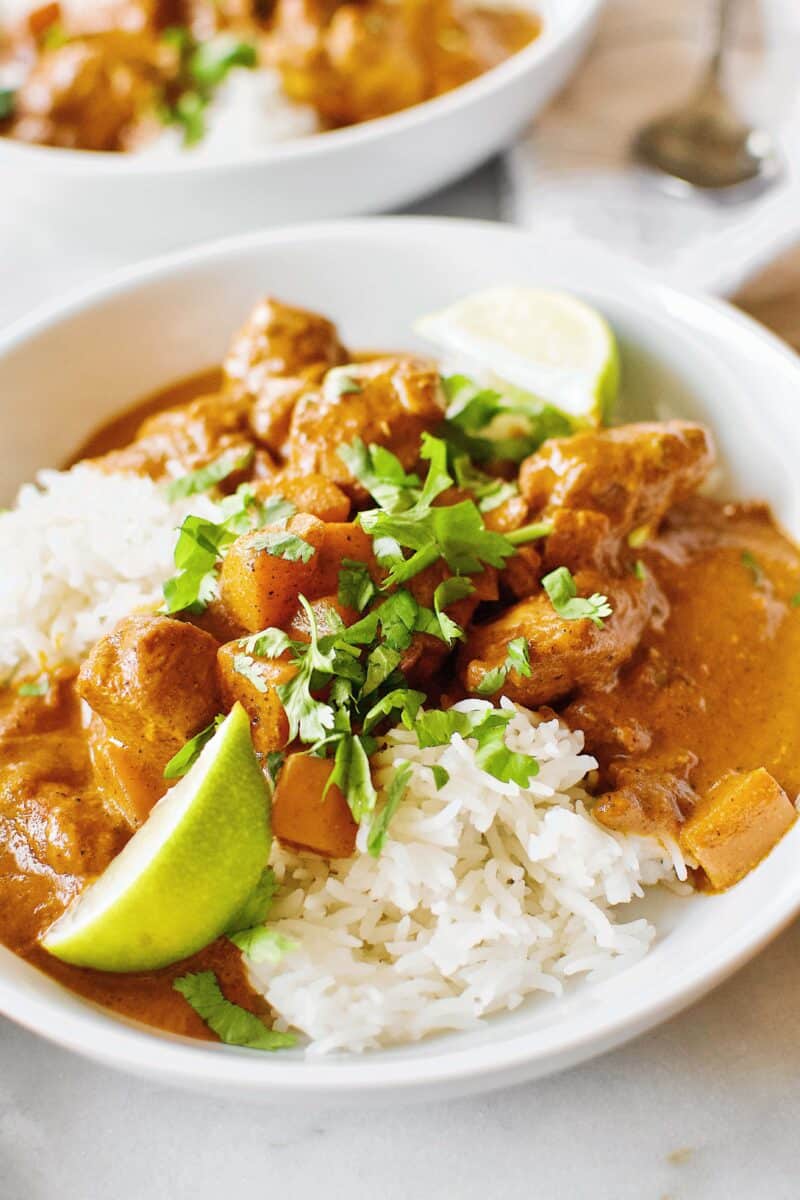 More Recipes To Try
Did you make this recipe? Let me know by leaving a review or comment! And be sure to sign up for my newsletter, and follow along on Instagram, Pinterest, and Facebook!