One of my favorite things to do as a chef is to explore other cultures through food. This recipe is my take on an Indian Butter Chicken, with pumpkin spin thrown in, cause if you know me you know I love my pumpkin! This is my adaptation, packed with flavors I love and I hope you enjoy it too.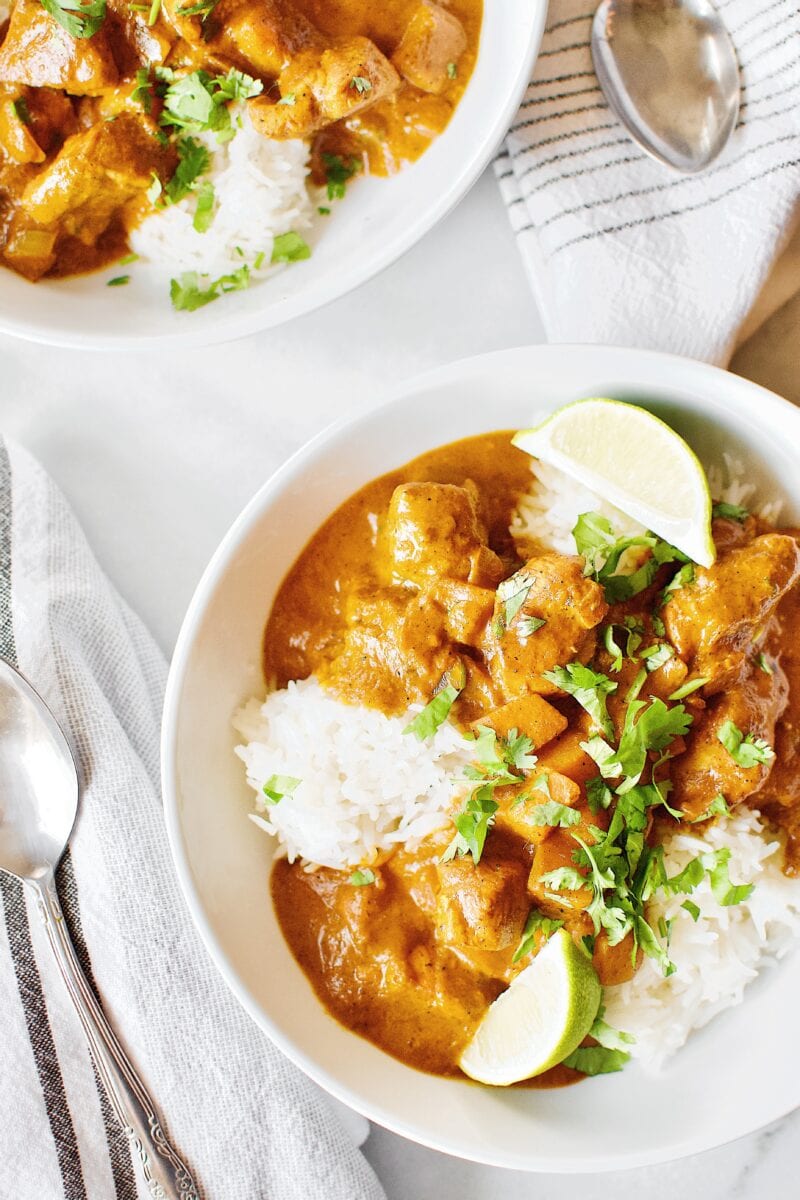 This is a super simple dinner that comes together in just about 30 minutes. Though if you have a little extra time I like to let it simmer on the stove for a while so the chicken can remain super tender.
I love this dish, because upon doing a little research on it I learned that it was first made slightly by mistake in India when reheating a chicken in tomato gravy. The dish has changed and evolved through the years after first appearing in American in 1975 under the name "Butter Chicken". It is eaten today around the world and in Australia and New Zealand they use it as a pie filling.
What you need to make Pumpkin Butter Chicken:
The yogurt, tomato, butter, and of course chicken are all traditional ingredients to the dish. It is a meal of simmered chicken in a tomato and onion based sauce. I like to serve it over my favorite rice, basmati. I could go on an on about basmati rice, but more on that another time.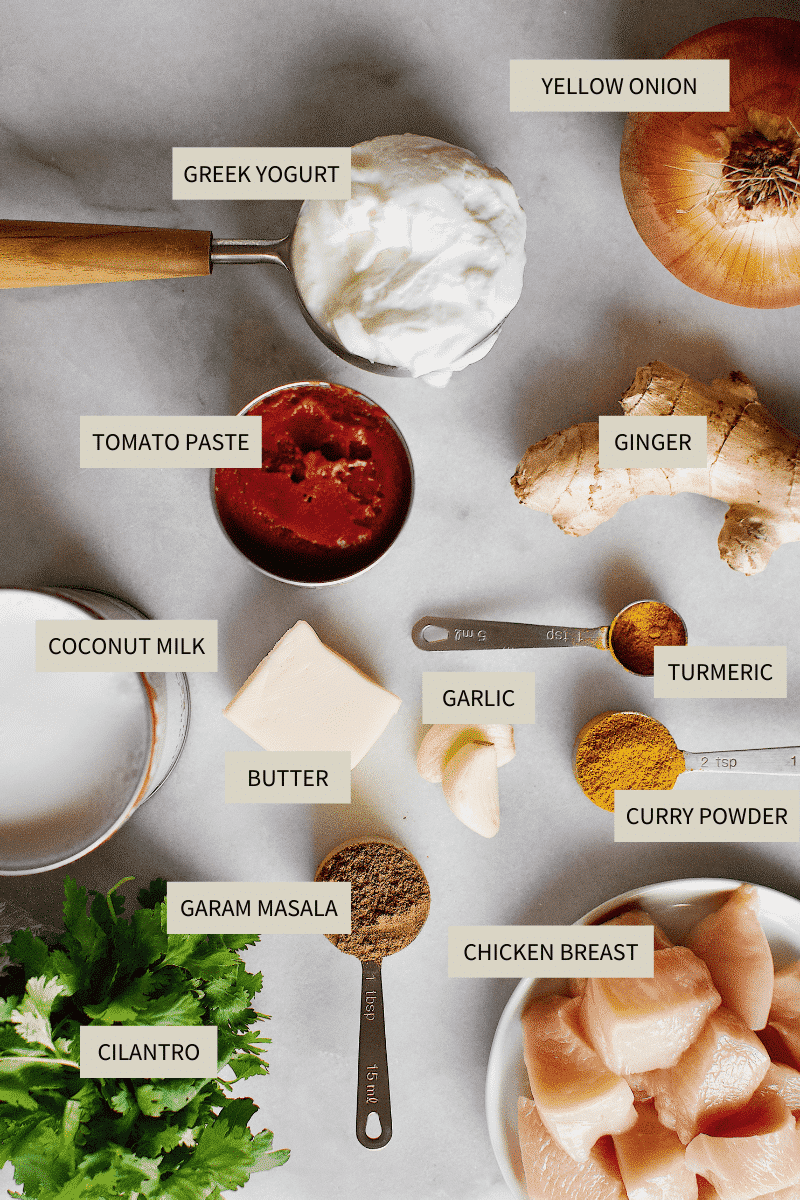 One of the things I enjoy about Indian food is the spices they use. It opens me up to a whole new world and all the interesting flavors get my mind whirling about how I can work them into other dishes.
Curry Powder is one of the dominant spices in this dish, and while every Indian household has there own version, and its use spans through many other cultures and countries, I learned to blend my own Curry Powder from a friend of mine who is from the country of Trinidad. We blended my own custom blend that has a bit more coriander in it because it is one of my favorite spices.
If you want to explore these flavors, even more, that same friend taught me to make her Curry Chicken and Roti Buss-up-Shut. It is an equally fantastic meal and I loved learning to make a dish from her home country.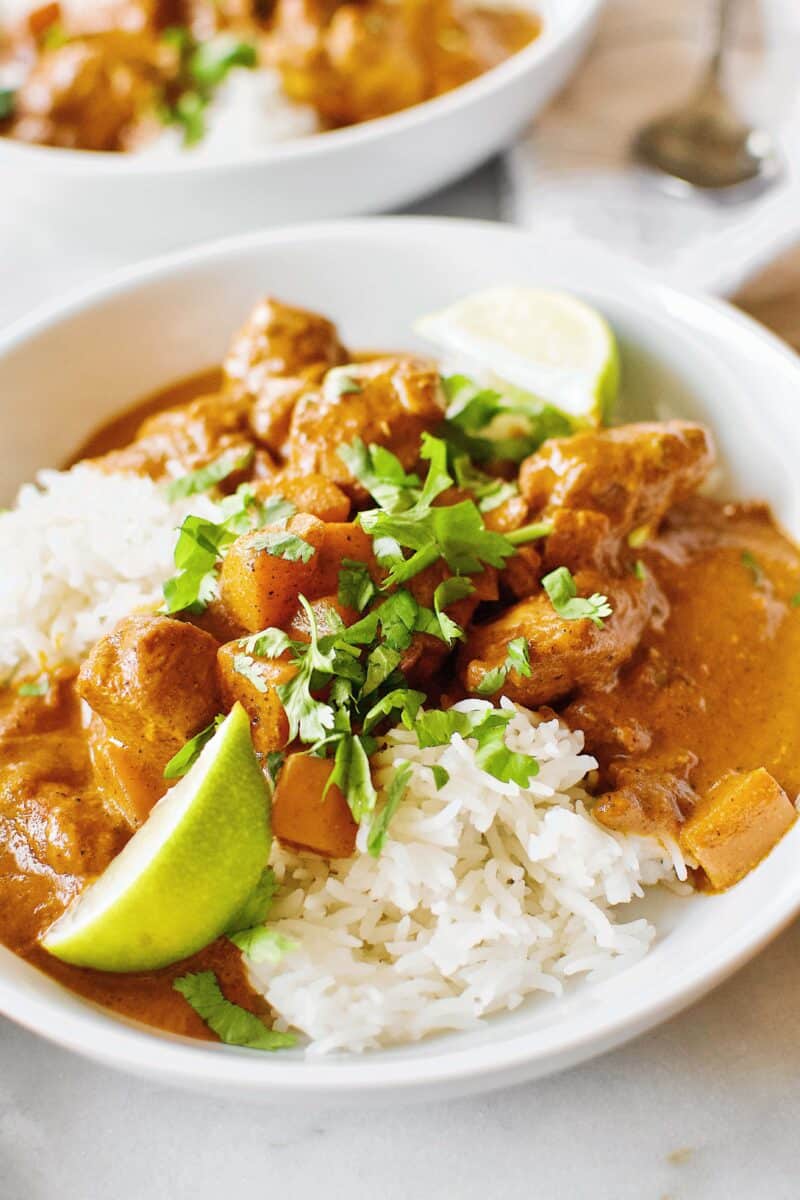 A little about Butter Chicken!
One more fact for you, the original name for this dish in India is Murgh Makhani. And don't skimp on the cilantro, a generous dusting is a must on butter chicken.
It seems that traditionally the dish is not made with any vegetables in it, so the fresh diced pumpkin is all me. And if fresh pumpkin is out of season feel free to use butternut squash. It has the same flavor and texture and makes this a dish you can enjoy year-round.
And I know it can be seen as carbs on carbs, but serving it with Naan bread is another great idea. It is a traditional Indian flat bread and would be used to pick up the meal with your hands sans utensils.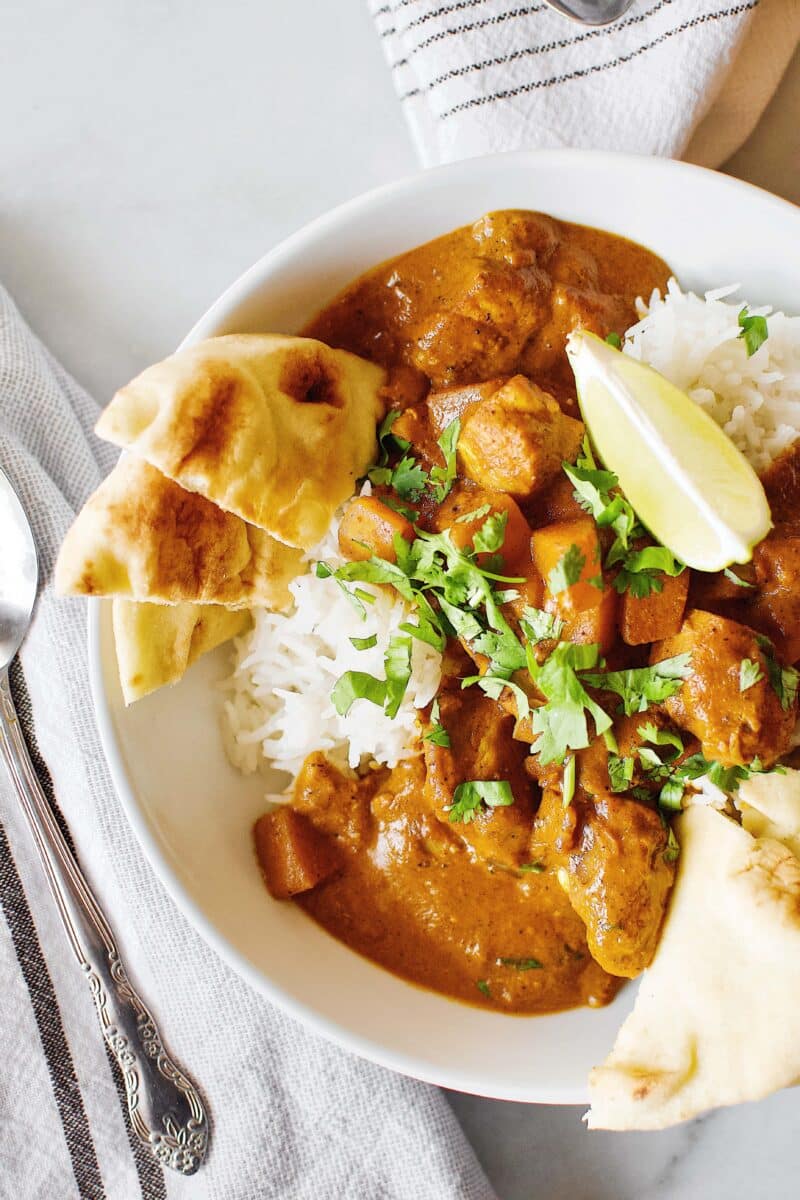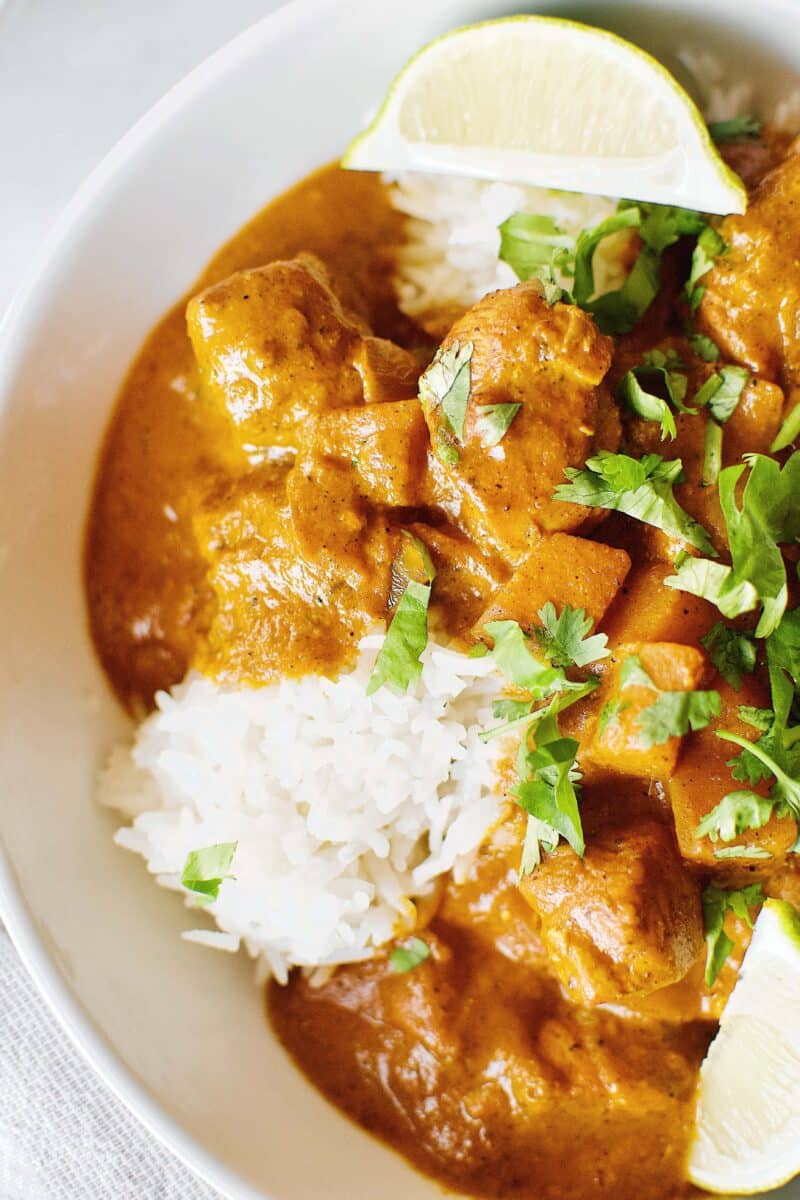 If you make this recipe, please let me know by leaving a review at the bottom of this page!
And make sure to sign up for my newsletter and follow along on Instagram, Pinterest, and Facebook for more KendellKreations!
MY LATEST RECIPES!
Get my NEW e-Cookbook here!! ⬇️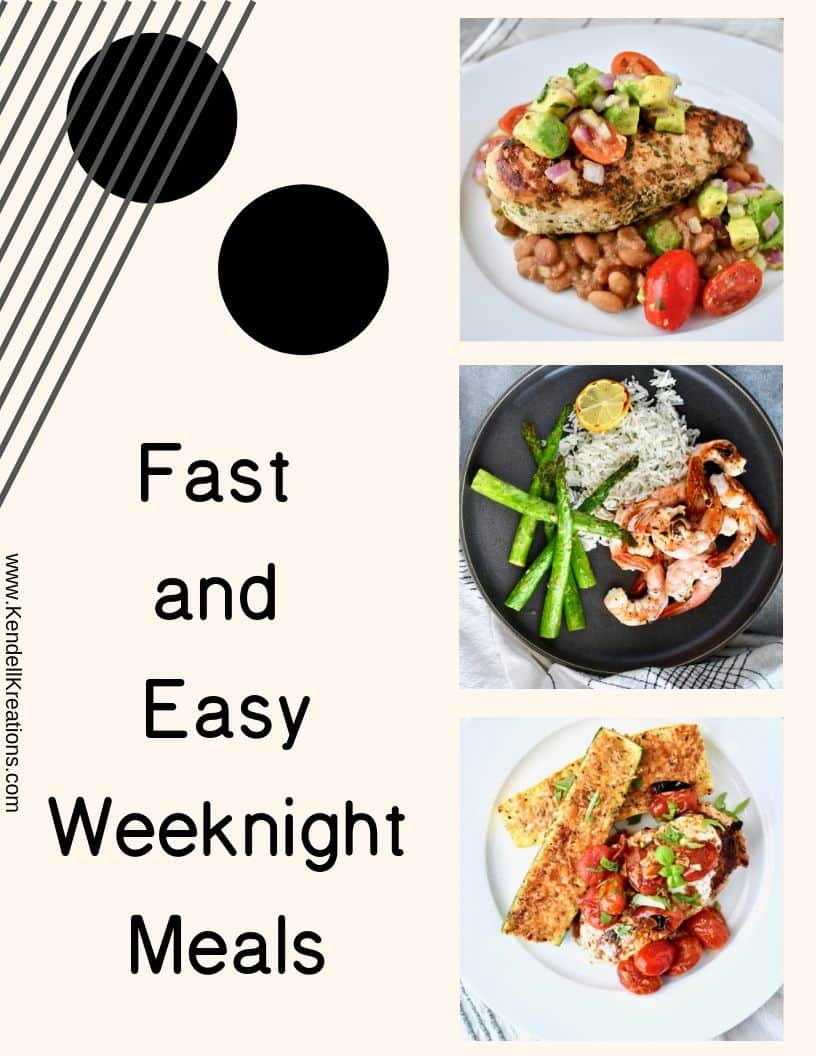 MY FAVORITE KITCHEN TOOLS!
Here are a few links to some of my favorite kitchen tools! You get a car, YOu get a car, YOU ALL GET A CAR…in my best Oprah voice
These Rösle Silicone Tongs are a little pricey but they will last you the rest of your life and are the softest in your hand. This is important for someone like m that cooks so much. It reduces strain, I have 4 sets in my kitchen!
These are my FAVE Nordic Ware Sheet Pans, every kitchen should have at least 2 sets of these! I think I have at least 4 of each of these.
This is my favorite pressure cooker, the Fagor is the same concept as the "Instant Pot" but easier to use in my opinion, if you don't have one you NEED one, it will be your best friend in the kitchen!
A sharp knife is the most important tool in the kitchen, these Japanese steel "Shun" knives are my favorite! And this is a great starter set to build on. Once you try them you will be in love so use this as a foundation you can build on for years to come.
This Scanpan 11″ skillet is just the right size for almost anything you will need to cook and my best friend and a real workhorse in my kitchen, it's also a great deal at $99. Scanpan is the best in the world for healthy cooking. It is coated with a proprietary ceramic-titanium coating that is durable while allowing you to use fewer fats and oils when cooking. It is a coating only they use. I could talk all day about my love for these pans, message me if you want more info. Here are some other sizes that are available if you are looking to outfit your kitchen with some new goodies. 8″ & 10″ Skillet set or 8″ Skillet, I still need this one for my kitchen  Also, I don't really know how to cook small so the 12.5″ is my other fave!
This giant vat of olive oil is my favorite, I decant it into a smaller bottle for my counter. Or put this spigot on top of a wine bottle!
My favorite baking dish that is so easy to clean even burnt on cheese slides right off!
This Tovolo jar scraper has to be my single favorite kitchen tool, it is definitely the most used tool in my kitchen. If you are NOT a gadget person, this is the only necessity I say is a MUST beyond the wooden spoon.
A great wood spoon is essential, this Olive Wood one is my favorite, I have more than I can count. But can you really ever have too many?
A food scale can be a very important tool in your kitchen, this one is the one I use every day!
If you love Joanna Gaines as much as I do then the 'Magnolia Table Cookbook' is a must in your kitchen, get a copy HERE!