There isn't much that's better on a summer day than a big ol' Chili Dog! They scream Americana, and they are just so dang delicious. Now whether you agree that they should be topped with mustard, onions, jalapenos, cheese or all of the above, one thing is for sure, my Chili Dog Chili MUST be on top!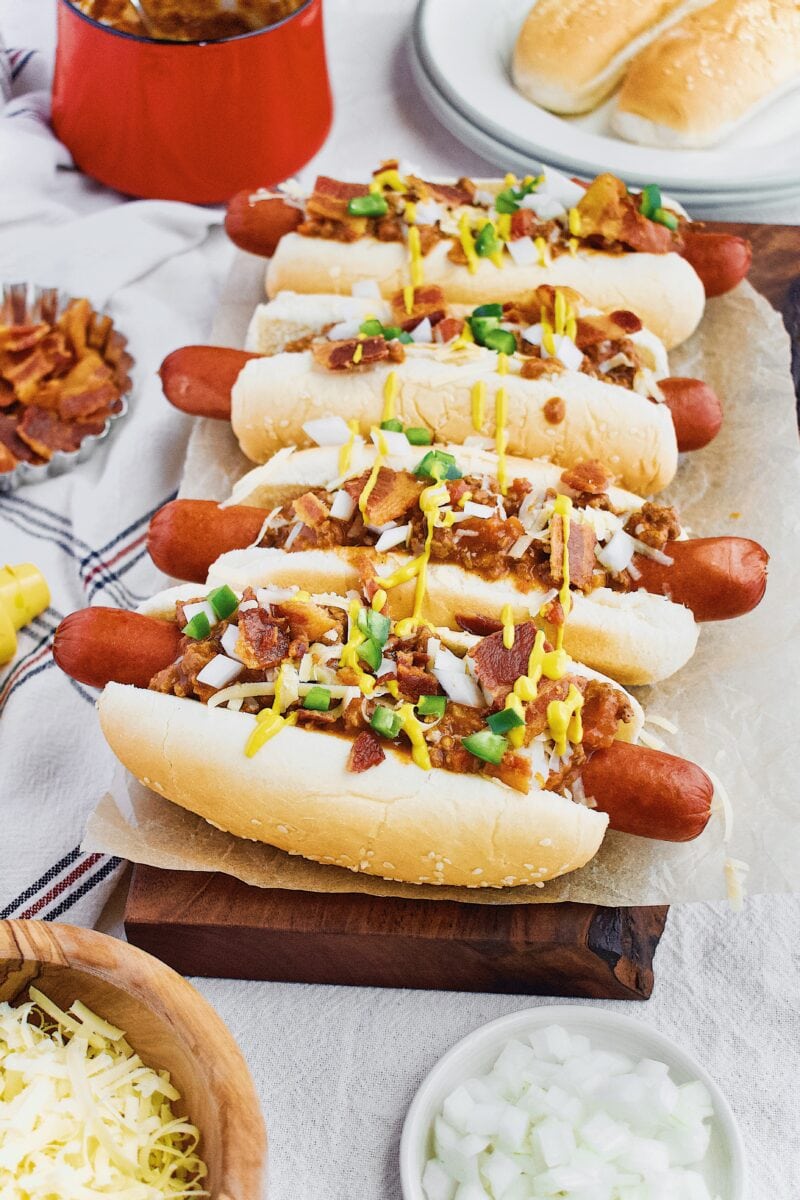 So I have kind of taken a simple and basic lunch to a bit of an extreme with this one. As I was making it I thought, I sure know how to make something simple a good bit EXTRA! ?But who would I be if I didn't go the extra mile?
It really isn't that hard in the end, but I just kept coming out of the fridge with one ingredient after the other. But, that is what makes it a KendellKreation, I use what I have and make something delish! So feel free to edit the toppings to what you have or like, but be sure you make the chili, it can even be made a day ahead of time.
Because we all know chili is always better a day or two after making!
Creating a GREAT chili
At its heart chili is a stew, so that means the longer you can let it hang out and let the flavors develop, THE BETTER. While it may be ready to eat, and you certainly can eat it, within an hour or so, if you let it simmer as long as you can bare, it will be that much better. This allows all of the herbs and spices that you have seasoned it with to fully bloom and deepen the flavor.
This is the reason why it always tastes even BETTER the next day.
Next, you want to be sure to keep the heat high enough to reduce the liquid but not burn the bottom. I simmer it just one dot above low on the oven knob, just keep an eye on it. For chili dogs, you just want to be sure to get a nice thick chili so it doesn't make you bun soggy and it doesn't run down your arm.
This recipe is a bit of a large batch, that is because I usually make it so we can eat a bowl with cornbread as it cooks and uses the leftovers for chili dogs. Feel free to cut it in half if you just want Chili Dog Chili.
Now I realize, living in Texas, that if you are from here you will say that this is not chili because it has beans in it. But that is ok, just call it a beef and bean stew and be on your way! It is delicious and that is all that matters.
Topping your DOGS!
Another topic up for discussion is what you should top chili dogs with? My addition of yellow mustard seems to be a bit controversial. People either love it or hate it.
I think that it has a lot to do with where you're from or where you were raised. It is one of those things that has to be ingrained into you from childhood. I have to say, I am not much of a yellow mustard fan in general, but I LOVED a light spray on these dogs!
I also believe that a chili dog MUST have onions and cheese on top. I topped mine with white cheddar because I had it one hand, and like I said, ingredients just kept flying out of the fridge, so feel free to make your own adaptations from here.
I would love to know what you think is an essential chili dog topping, let me know in a comment at the bottom of this page 🙂
If you make this recipe, please let me know by leaving a review at the bottom of this page!
And make sure to sign up for my newsletter and follow along on Instagram, Pinterest, and Facebook for more KendellKreations!
MY LATEST RECIPES!
Get my NEW e-Cookbook here!! ⬇️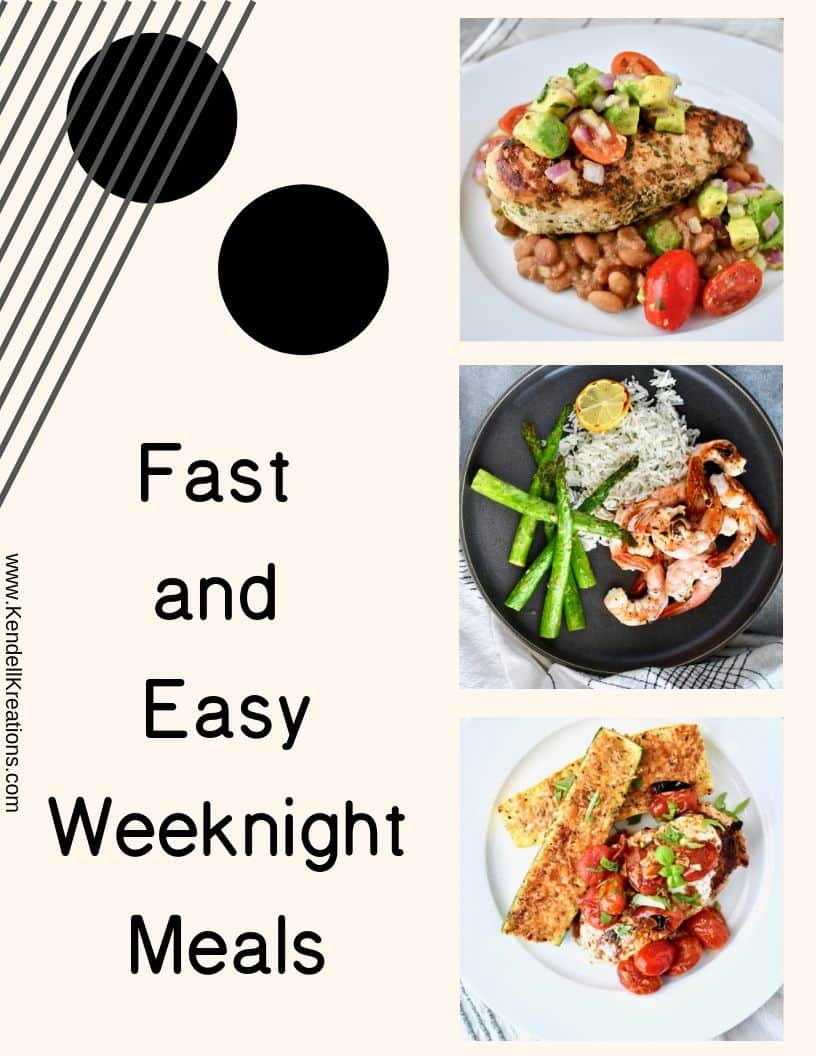 MY FAVORITE KITCHEN TOOLS!
Here are a few links to some of my favorite kitchen tools! You get a car, YOu get a car, YOU ALL GET A CAR…in my best Oprah voice
These Rösle Silicone Tongs are a little pricey but they will last you the rest of your life and are the softest in your hand. This is important for someone like m that cooks so much. It reduces strain, I have 4 sets in my kitchen!
These are my FAVE Nordic Ware Sheet Pans, every kitchen should have at least 2 sets of these! I think I have at least 4 of each of these.
This is my favorite pressure cooker, the Fagor is the same concept as the "Instant Pot" but easier to use in my opinion, if you don't have one you NEED one, it will be your best friend in the kitchen!
A sharp knife is the most important tool in the kitchen, these Japanese steel "Shun" knives are my favorite! And this is a great starter set to build on. Once you try them you will be in love so use this as a foundation you can build on for years to come.
This Scanpan 11″ skillet is just the right size for almost anything you will need to cook and my best friend and a real workhorse in my kitchen, it's also a great deal at $99. Scanpan is the best in the world for healthy cooking. It is coated with a proprietary ceramic-titanium coating that is durable while allowing you to use fewer fats and oils when cooking. It is a coating only they use. I could talk all day about my love for these pans, message me if you want more info. Here are some other sizes that are available if you are looking to outfit your kitchen with some new goodies. 8″ & 10″ Skillet set or 8″ Skillet, I still need this one for my kitchen  Also, I don't really know how to cook small so the 12.5″ is my other fave!
This giant vat of olive oil is my favorite, I decant it into a smaller bottle for my counter. Or put this spigot on top of a wine bottle!
My favorite baking dish that is so easy to clean even burnt on cheese slides right off!
This Tovolo jar scraper has to be my single favorite kitchen tool, it is definitely the most used tool in my kitchen. If you are NOT a gadget person, this is the only necessity I say is a MUST beyond the wooden spoon.
A great wood spoon is essential, this Olive Wood one is my favorite, I have more than I can count. But can you really ever have too many?
A food scale can be a very important tool in your kitchen, this one is the one I use every day!
If you love Joanna Gaines as much as I do then the 'Magnolia Table Cookbook' is a must in your kitchen, get a copy HERE!