This recipe for Steak Frites, which is just French for 'fries' has me living my Miss Congeniality dreams, IFYKYK. Can you see it? Gracie Lou Freebush, pre-makeover, eating her steak in the fancy NYC steakhouse? I can still hear her chewing!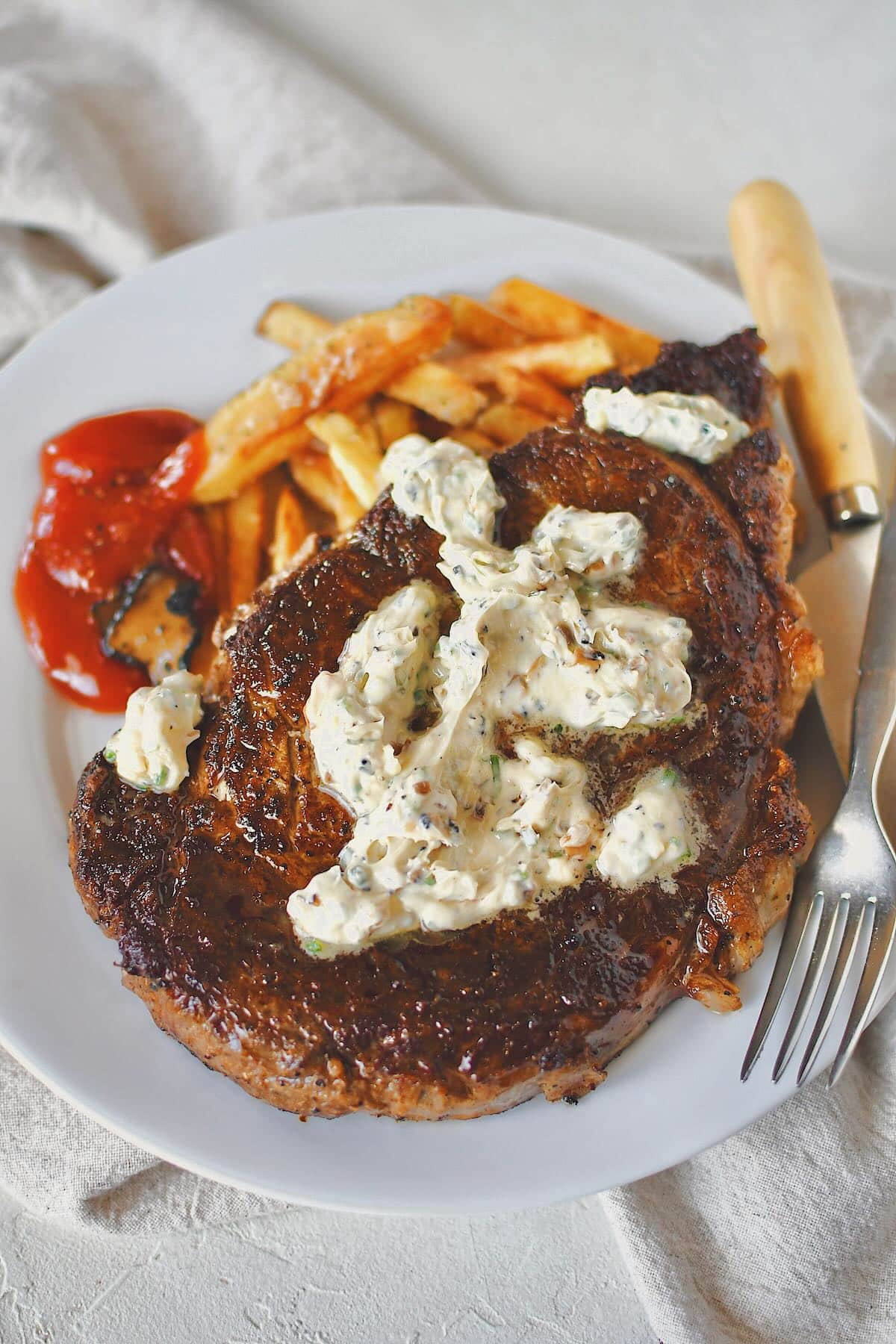 Regardless of whether or not you get the reference, this dinner is just out of this work tasty! A perfectly cooked steak served with freshly crisped french fries, and not ketchup, but chili sauce, and I add a little, salt, pepper, and truffle to mine to fancy it up. This Steak Frites will have you looking and feeling fancy, and comforted at the same time!
Jump to:
Ingredients
The most important ingredients are the steak and the potatoes. They make up the steak frites, exactly. I prefer a ribeye steak for this recipe, you could also use a new york strip, but that isn't my favorite cut. A fillet mignon would also be GREAT, that's my favorite cut, but pretty pricy, ribeyes are middle of the road and super tasty.
You also need the perfect potato, and russets are best here. They have the least water content of any potato, which means they will get nice and crispy.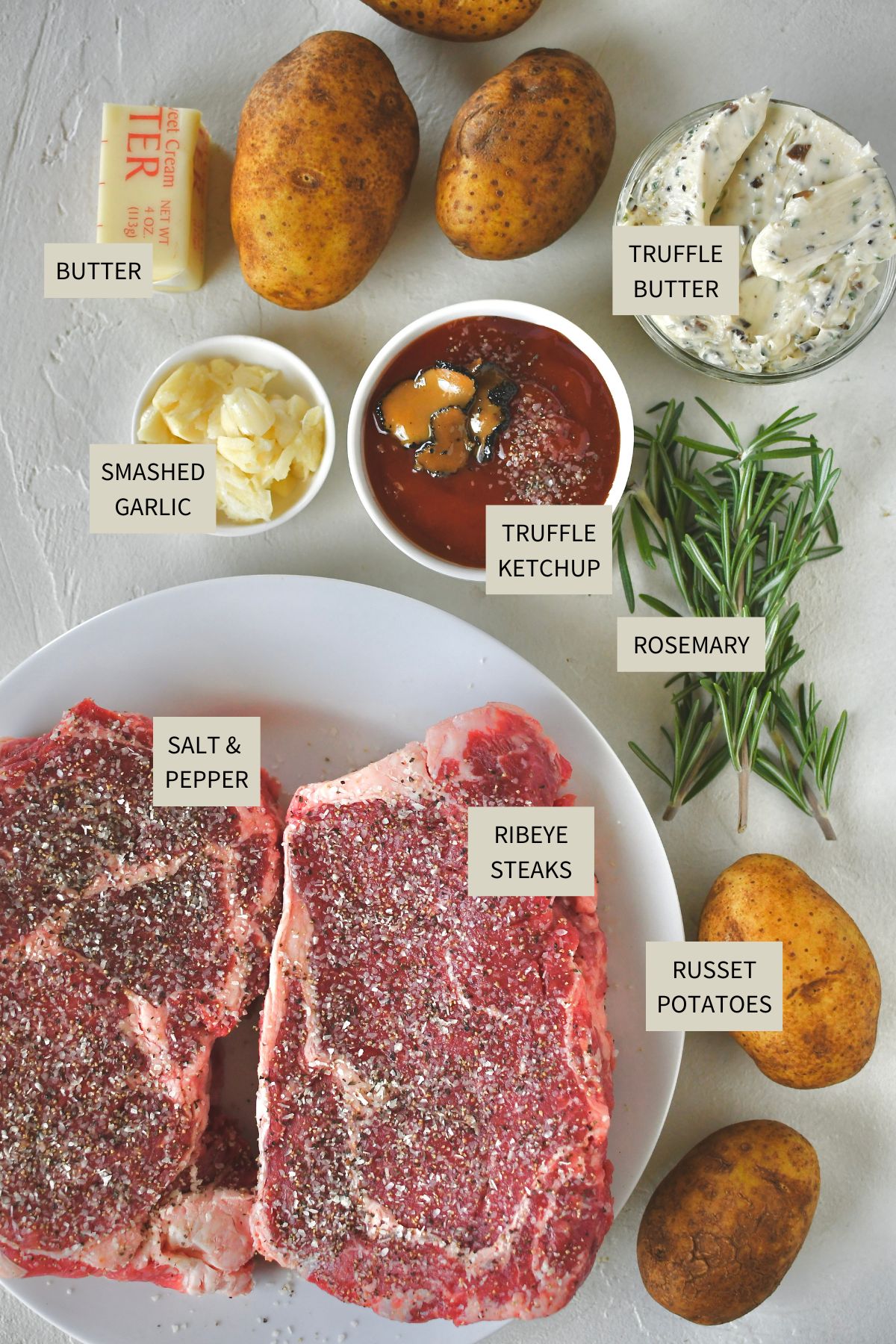 I also like to serve the finished plate with some truffle ketchup. You can buy this or make it with some chili sauce, a little salt, pepper, and some truffle carpaccio diced up and mixed in with some of the oil from the container. It is important to use the chili sauce. It classes things up a bit and is kind of like a really rich ketchup, it was on the table in the movie, so that keeps it true to form for me.
The garlic and rosemary are there to flavor the steak during cooking. I also whip up a batch of my truffle butter to top the steaks with when they are done cooking. It sends a steak over the moon and just makes it ultra delicious! Plus, dipping your fries in the runoff is, chef's kiss!
Use the JUMP TO RECIPE button at the top of the post, or scroll to the bottom of the post to see the full recipe card with ingredient measurements and instructions.
Method
I start with the fries for this Steak Frites recipe. Cut them into matchsticks, and you can leave them a rustic size as I show here or you can cut them finer if you like a smaller fry. First, rinse them till the water runs clear and soak for 15 minutes. Then drain the water and place them on paper towels to dry.
You will then heat your oil on the stove or in a deep fryer to 300 degrees Fahrenheit and par-cook them for 5 minutes. Then when your steaks are done cooking, heat to oil to 350 and fry for 7-10 minutes longer till dark brown and crispy.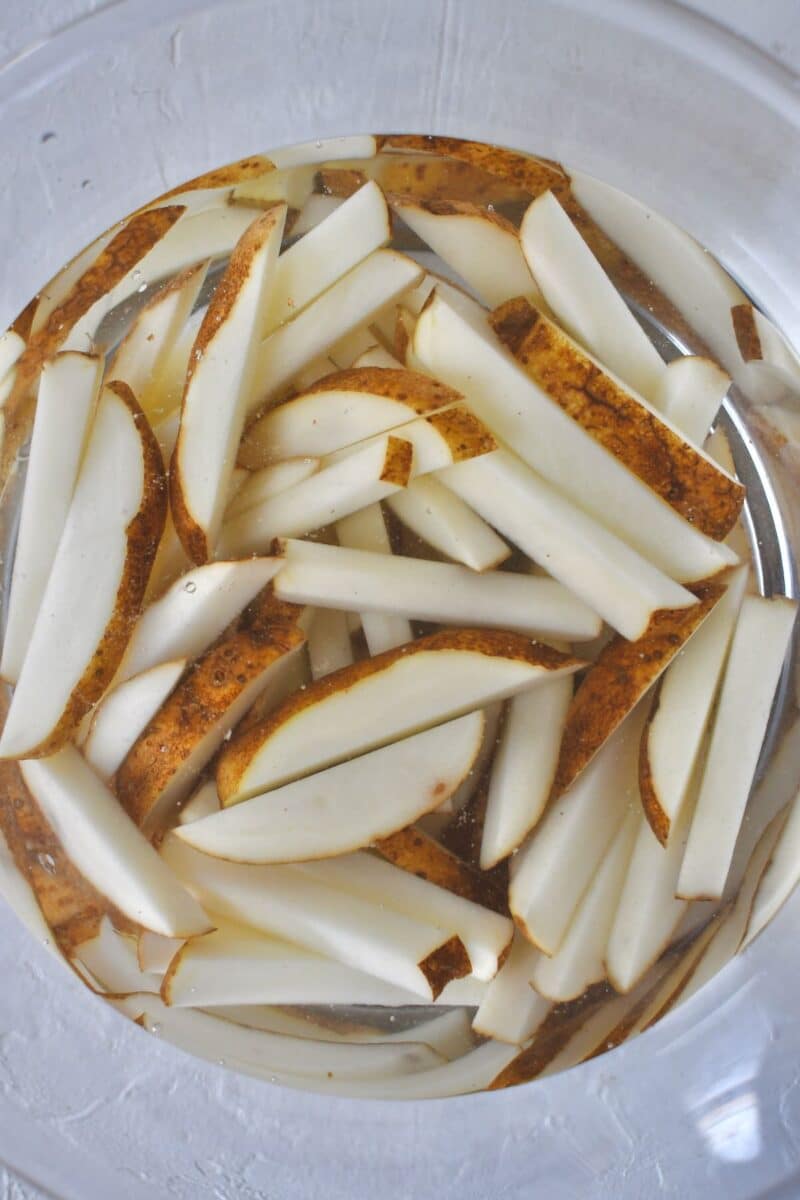 One hour before you are ready to cook the steak, remove them from the fridge and season heavily with salt and pepper on both sides. Then heat a large cast iron skillet over medium-high heat and sear the steaks in a dry pan until a dark crisp sear has been achieved on the first side. Then add the butter, garlic, and rosemary to the pan, flip the steak, and cook till they reach your desired temperature. Basting them with the butter by lifting the pan and using a spoon to collect the butter and pour it over the steaks as they finish cooking.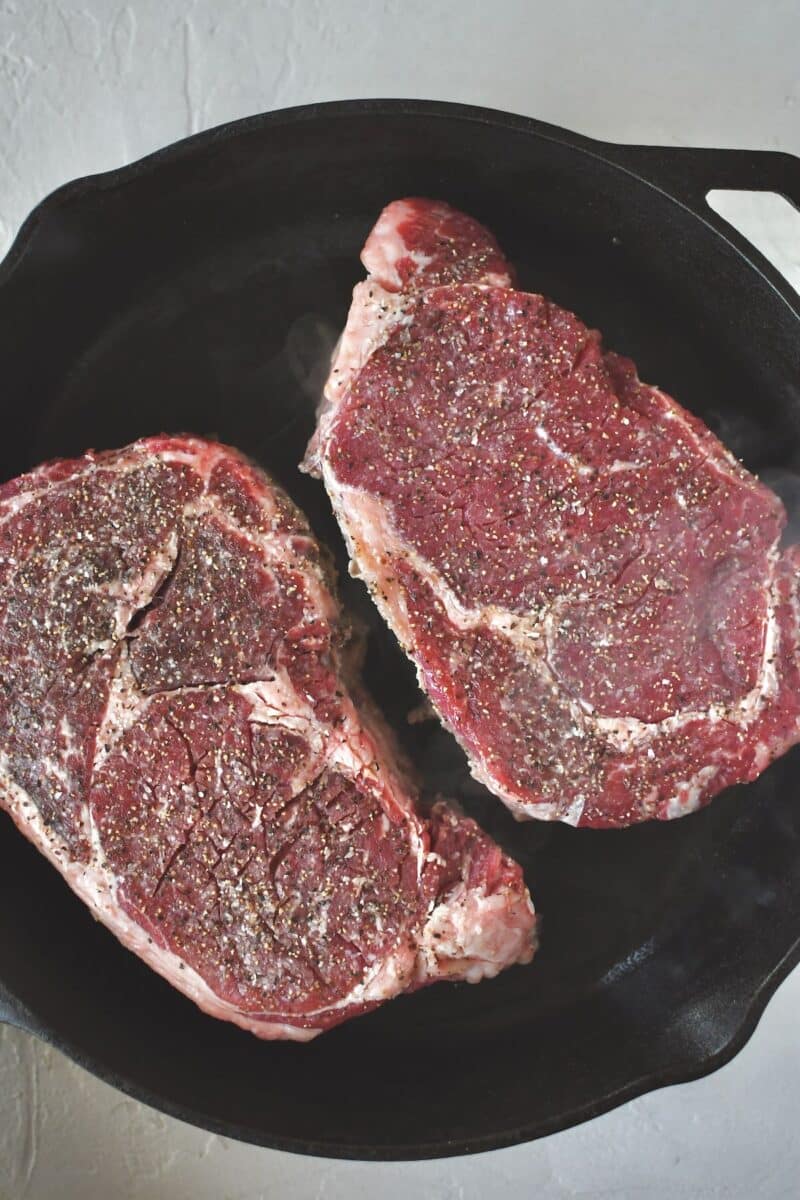 When the steaks are done cooking, remove them and rest them on a carving board to catch the juices. Slather them with the truffle or steak butter. When I flip the steaks I turn the fryer back on so it can heat back up and the frites can be done as soon as the steak is done resting. Cook them till crisp and serve with truffle ketchup for the most mouth-watering dinner you've ever had!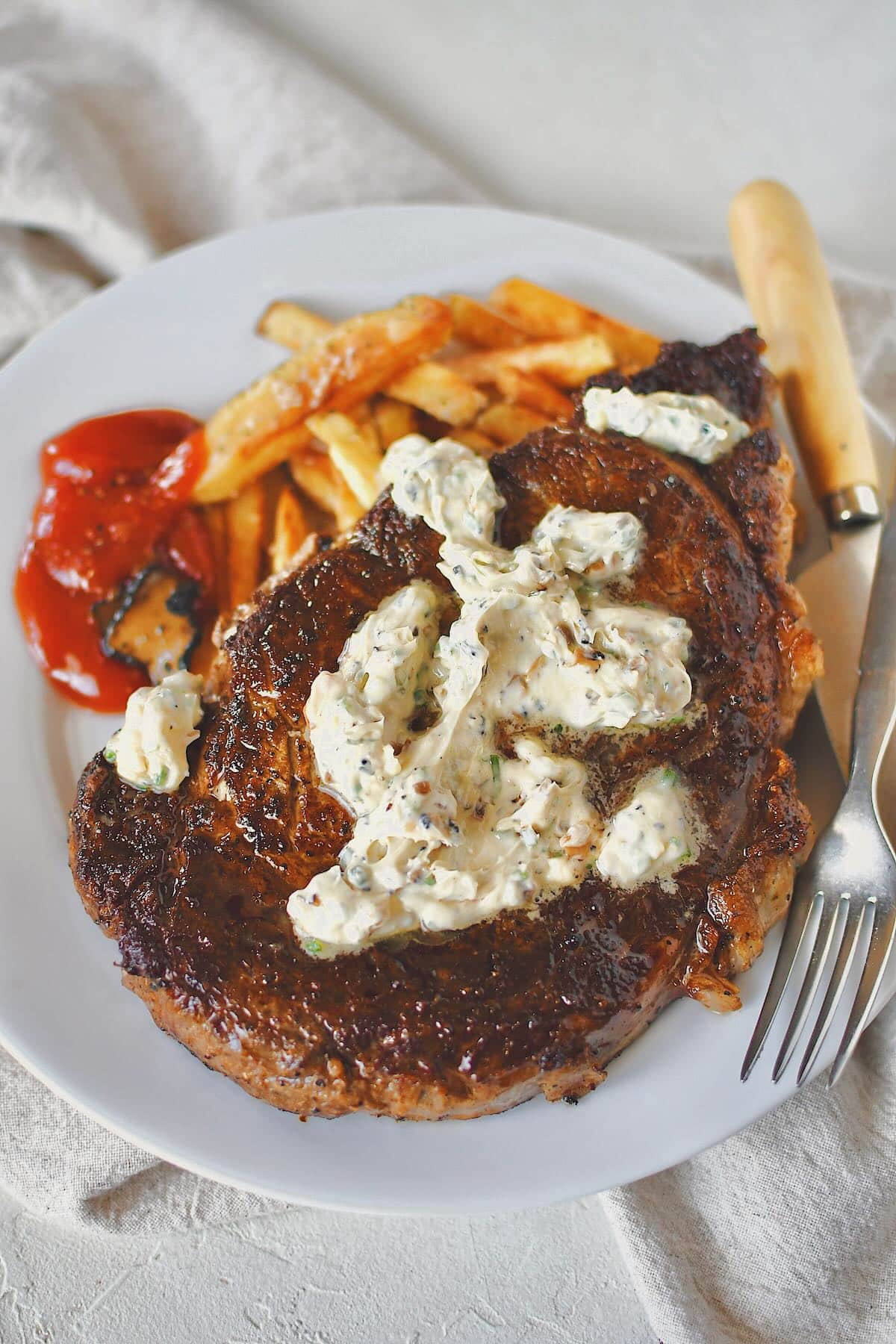 Notes & Tips
I love to grill a steak, and you can absolutely grill them for this recipe. While cooking in a pan and basting with butter on the stove is a bit messy, the flavor is uncompromised! The garlic and rosemary flavor really infuse and make your steak so flavorful.
The frites require 2 separate cooking times and temps. You can cut, rinse, and drain them up to a couple of hours in advance. This takes some pressure off before dinner time. I then start by doing the first par cook of the fries. Then rest them and turn off the fryer as I begin to cook the steaks.
When I flip the steaks over I turn the fryer back on. Heat it to 350 and fry them till crisp, this has them finish just as the steaks are done resting. It is all about timing. So the fries and steak are still both hot.
I prefer to season the fries with salt AND pepper as they come out of the fryer. They can take the extra flavor of the pepper served with the steak.
Substitutions
My family LOVES a big beautiful ribeye steak. You could also use New York Strip for this recipe or even fillet. I like to keep it a little fancy with one of those cuts.
I really believe that all a great cut of beef needs is salt and pepper on it. You can use a steak seasoning or rub if you like, but basic is best with this one.
If you are dairy-free, you can leave the butter out and just baste with the steak juices. You can also make the truffle butter with plant-based butter for that finishing flavor.
Garlic and Rosemary are traditional for cooking a steak in this manner, you can also use shallot or onion in a pinch. The rosemary can also be swapped for any hearty herb you might have from the garden, like thyme, sage, or oregano.
Russet Potatoes are the best and most used for french fries or frites because they have the lowest water content and they crisp up really well. I also like to make fries with Yukon gold potatoes sometimes, they end up with a really fluffy interior when done.
Vegetable or Peanut oil can be used for frying the potatoes. I have a little countertop deep fryer that I do mine in and I just keep veg oil in mine. Peanut oil has a little more flavor.
Finishing the steak with a flavorful compound butter is what really makes this recipe great in my opinion! However, a drizzle of nice olive oil and some flakey sea salt can also be used to finish it off.
At a minimum, serve the Steak Frites with chili sauce, not just ketchup. I just jazz mine up with some salt, pepper, a little chopped truffle, and some of the oil from the jar.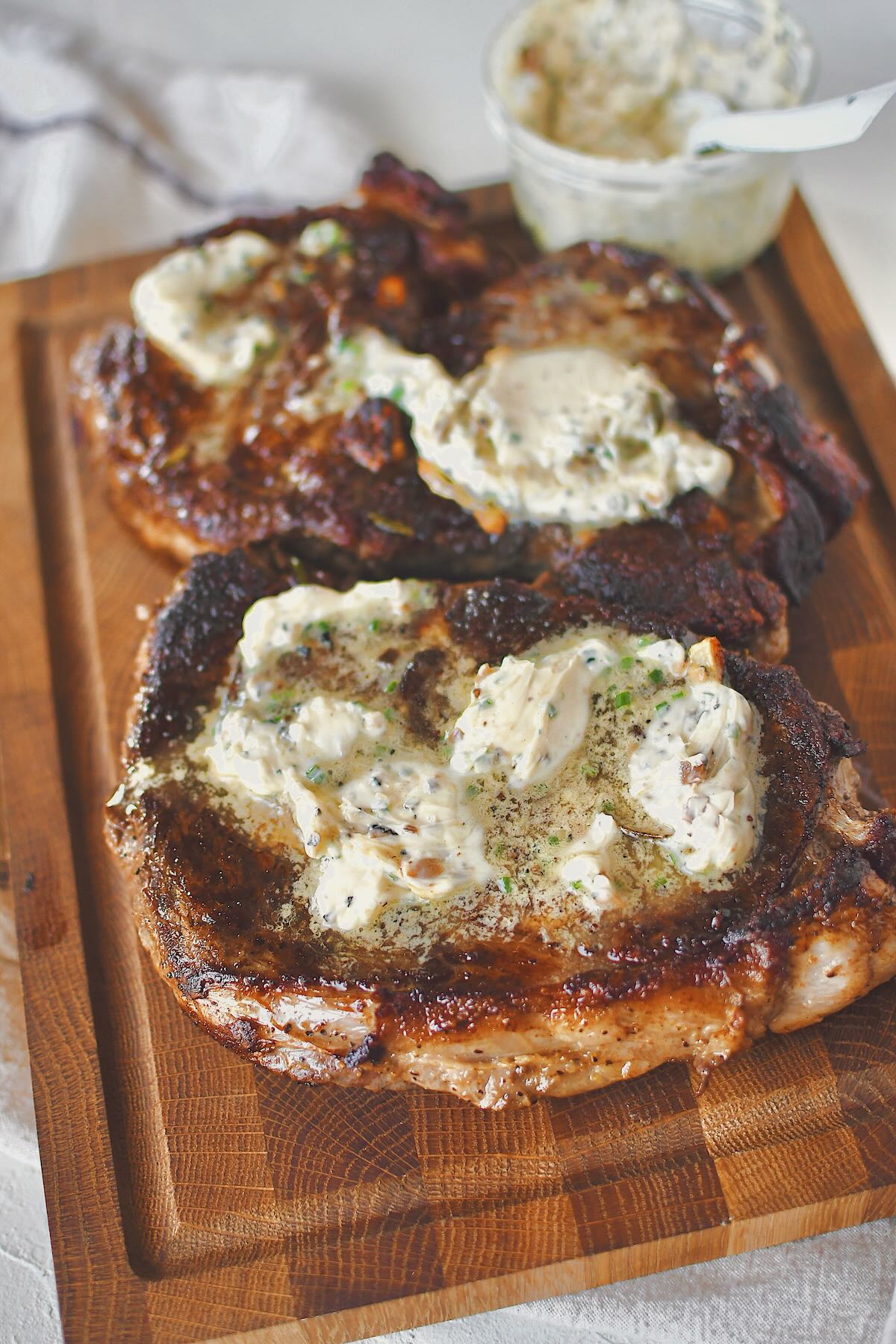 Did you make this recipe? Let me know by leaving a review or comment! And be sure to sign up for my newsletter, and follow along on Instagram, Pinterest, and Facebook!