This recipe from the Magnolia Table Cookbook was the first time I had ever made a Spoonbread and I think it's safe to say it won't be the last! I love that this calls for minimal ingredients making it simple to throw together and the perfect southern side dish to go with a multitude of main courses.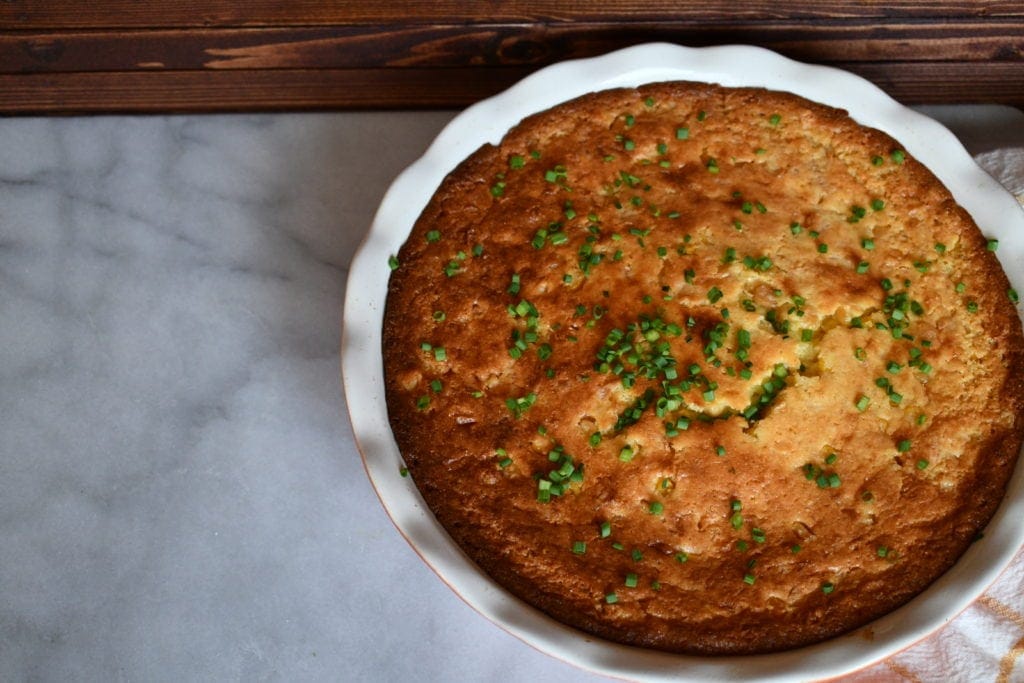 Joanna shares that she likes the addition of the corn kernels for texture and I have to say that balanced it out really nicely. She also mentions that it Chip loves it under chili but I have to agree with Jo, that it is a great stand-alone side even fit for the Thanksgiving table.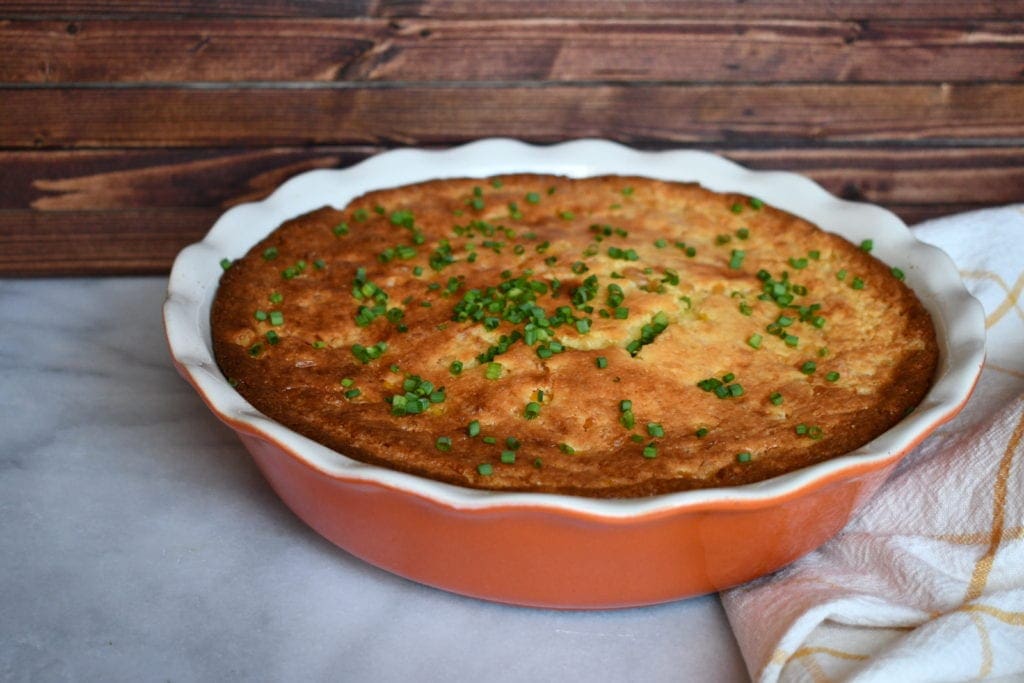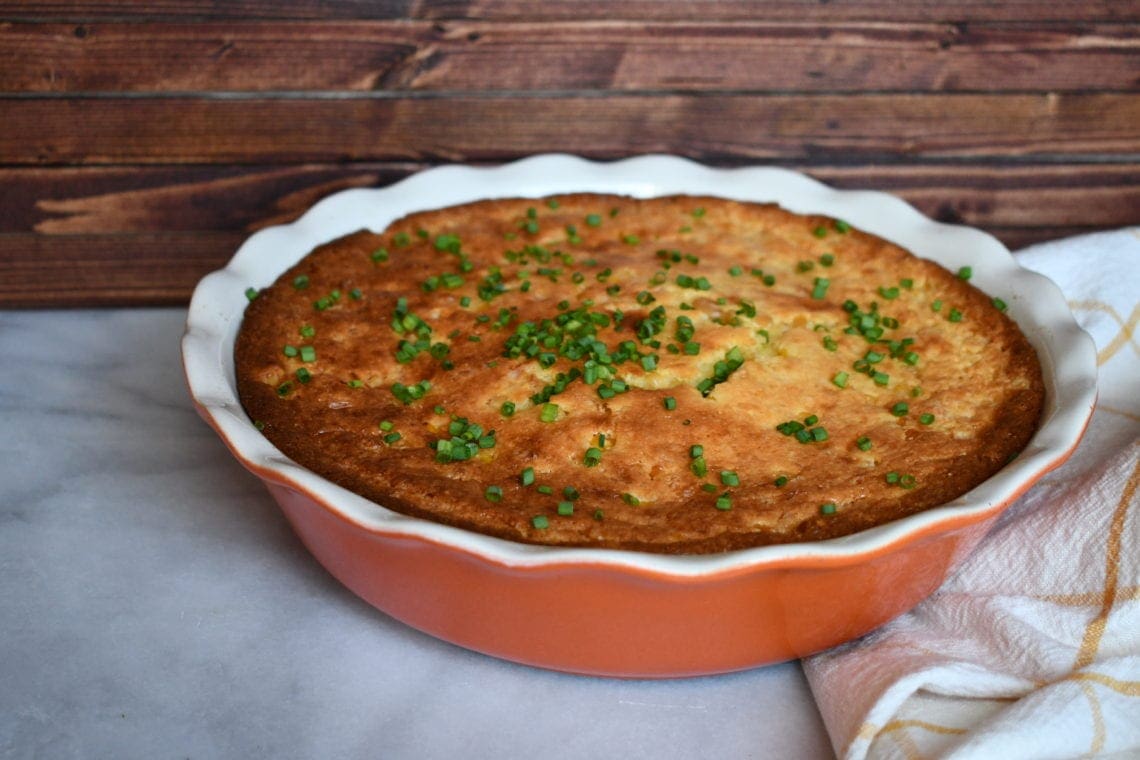 I made this to go with the Fathers Day dinner I made. We enjoyed Ribeye steaks and what my family loving refers to as "Claws Shrimp" as well as the spoon bread and a side salad. If you have ever seen the new show "Claws" you will know what I am talking about. It is about a group of women who run a nail salon in Florida while washing money for the dixie mafia. Anyway, they are always eating from a shrimp hut in the parking lot that sells giant fried shrimp. So on Sunday nights in the summer I make "Claws Shrimp" and we watch the show together. It has become a fun little summer tradition for us. The show is terribly trashy but hilariously funny at the same time, don't watch with children, I'm not sure why I love it but it gives me the laughs that I need once in a while. Fathers Day was the premiere of the new season so we enjoyed a hearty dinner and our favorite new show .?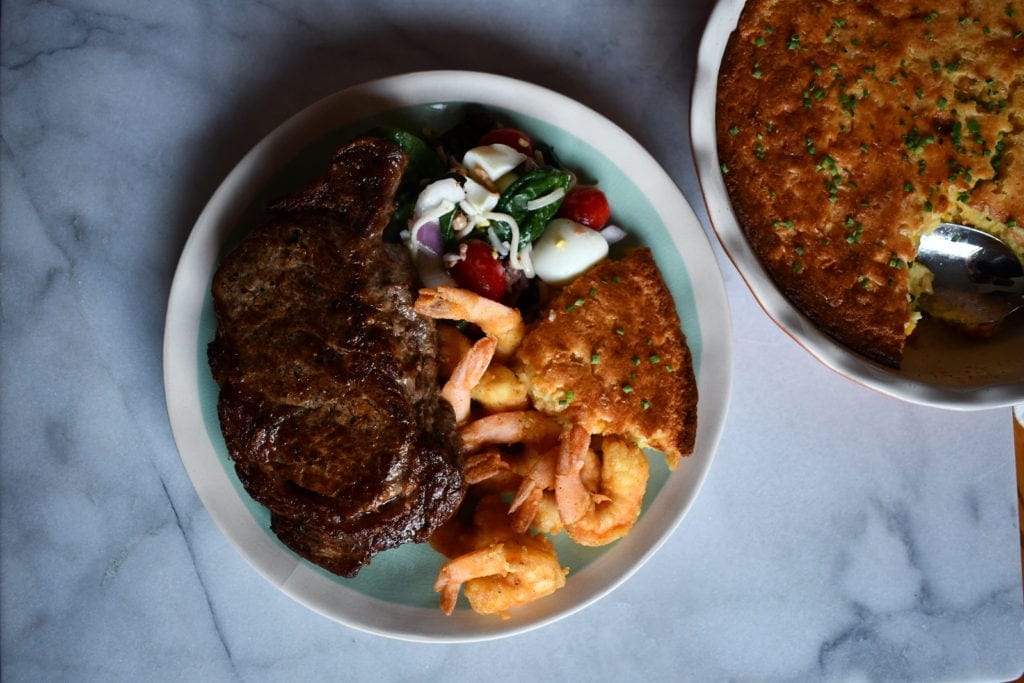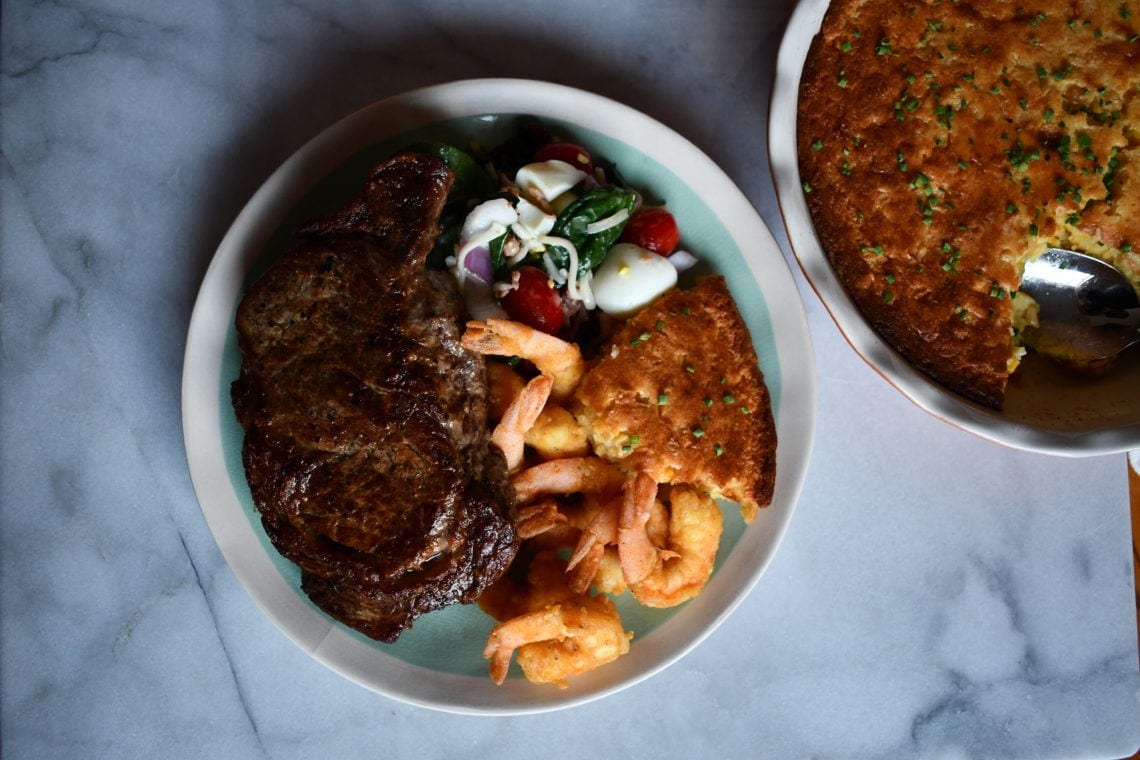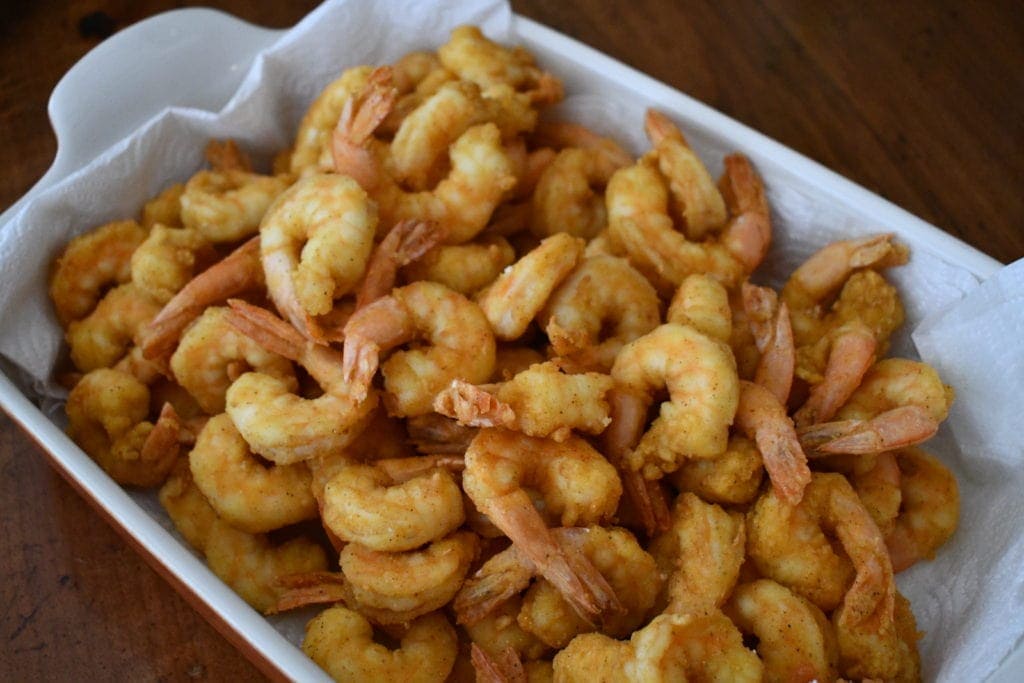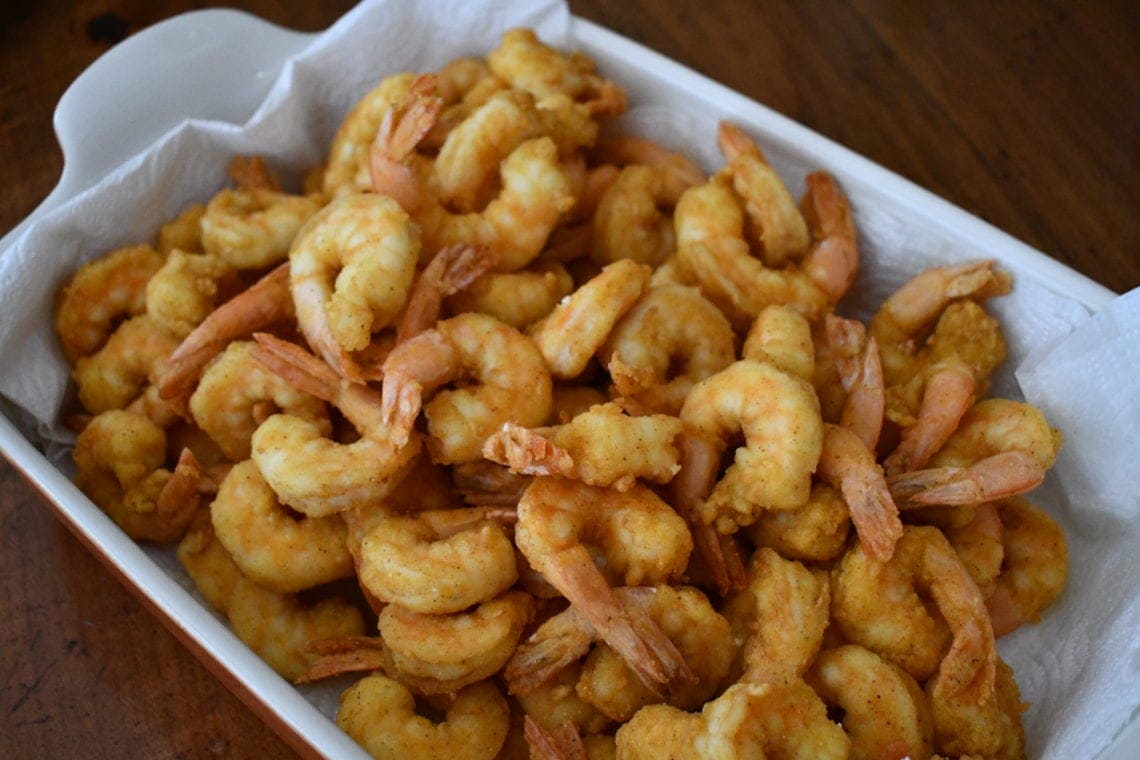 Enough with that, back to my review of the spoonbread. I really loved this recipe as an alternative to cornbread because I have yet to find a cornbread that doesn't get too dry for my liking. I will say that this had to cook quite a bit longer than what it called for in the recipe to get the top browned. Mine cooked for about 45 minutes. I did cook it in a deep pie dish, that said it was cooked in the middle before it browned, I let it continue until "golden" as stated in the recipe. Everyone absolutely loved this spoonbread so much we fought over who got the last bit. It will be my go-to from now in place of cornbread.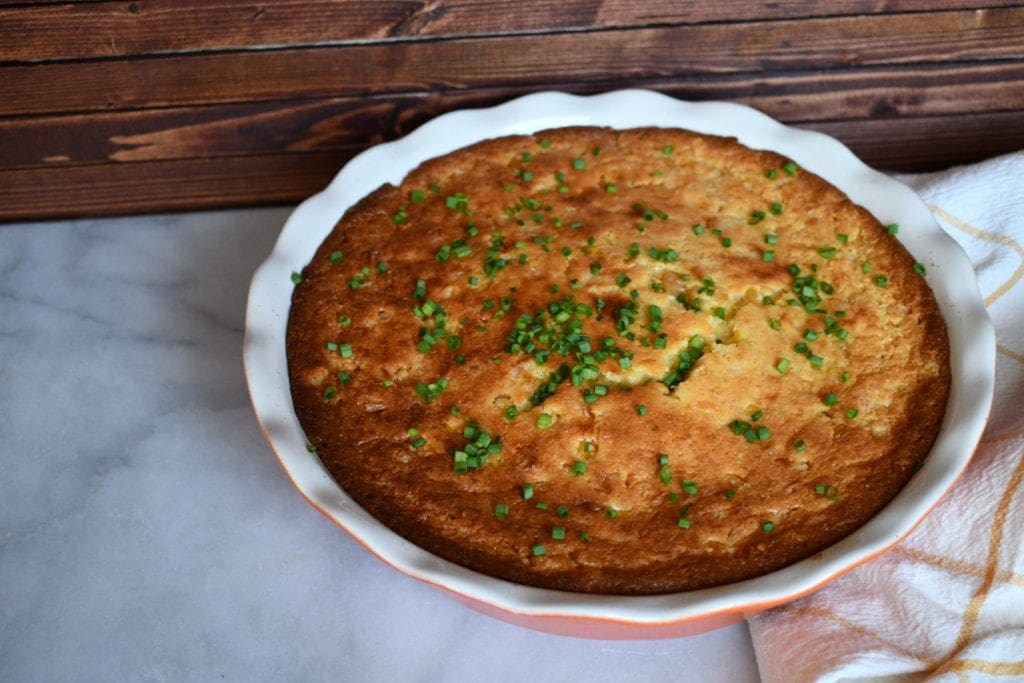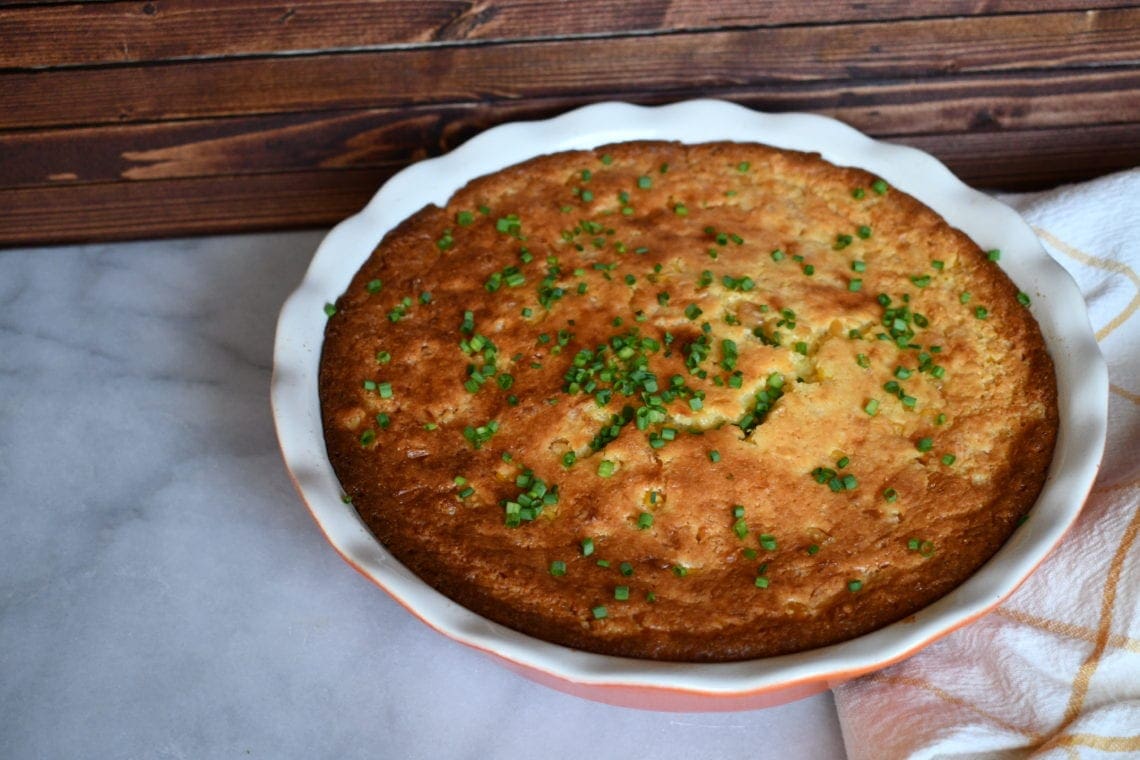 Leave me a comment and let me know if you have tried it and if your family fought over like mine did??
Until next time, happy cooking!
Kendell
-
For MORE of my most POPULAR Magnolia Table Reviews!
If this recipe review was valuable to you, take a look a some of my other reviews that have been super popular!
Jo's recipe for 1919 Pimento Cheese is by far my most read review. I have adjusted to the recipe to replace the Velveeta, which I just can't bring myself to bring into my kitchen.
Her Zucchini Bread is my next most popular review, and it is one of my very favorites to pick up when visiting Waco.
And to ready my full ranking of every recipe in the first cookbook check out this post...Magnolia Table Cookbook…my overview!
MY LATEST RECIPES!
Get my NEW e-Cookbook here!! ⬇️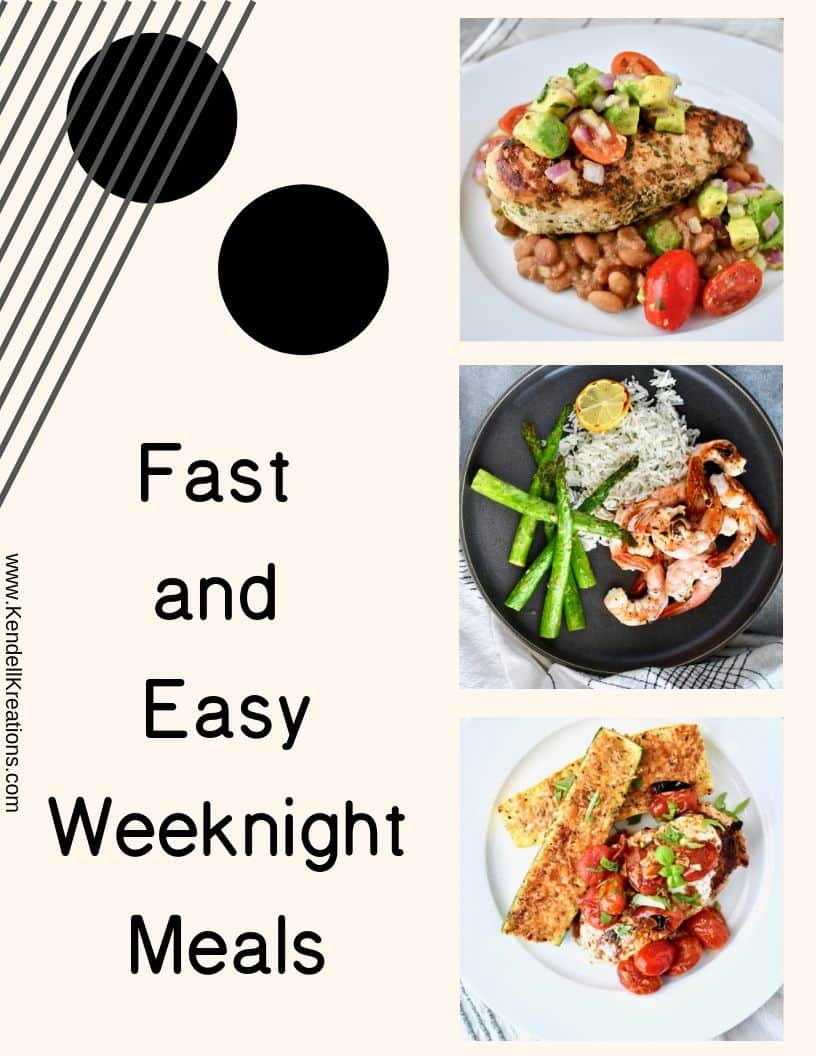 MY FAVORITE KITCHEN TOOLS!
Here are a few links to some of my favorite kitchen tools! You get a car, YOu get a car, YOU ALL GET A CAR…in my best Oprah voice
These Rösle Silicone Tongs are a little pricey but they will last you the rest of your life and are the softest in your hand. This is important for someone like m that cooks so much. It reduces strain, I have 4 sets in my kitchen!
These are my FAVE Nordic Ware Sheet Pans, every kitchen should have at least 2 sets of these! I think I have at least 4 of each of these.
This is my favorite pressure cooker, the Fagor is the same concept as the "Instant Pot" but easier to use in my opinion, if you don't have one you NEED one, it will be your best friend in the kitchen!
A sharp knife is the most important tool in the kitchen, these Japanese steel "Shun" knives are my favorite! And this is a great starter set to build on. Once you try them you will be in love so use this as a foundation you can build on for years to come.
This Scanpan 11″ skillet is just the right size for almost anything you will need to cook and my best friend and a real workhorse in my kitchen, it's also a great deal at $99. Scanpan is the best in the world for healthy cooking. It is coated with a proprietary ceramic-titanium coating that is durable while allowing you to use fewer fats and oils when cooking. It is a coating only they use. I could talk all day about my love for these pans, message me if you want more info. Here are some other sizes that are available if you are looking to outfit your kitchen with some new goodies. 8″ & 10″ Skillet set or 8″ Skillet, I still need this one for my kitchen  Also, I don't really know how to cook small so the 12.5″ is my other fave!
This giant vat of olive oil is my favorite, I decant it into a smaller bottle for my counter. Or put this spigot on top of a wine bottle!
My favorite baking dish that is so easy to clean even burnt on cheese slides right off!
This Tovolo jar scraper has to be my single favorite kitchen tool, it is definitely the most used tool in my kitchen. If you are NOT a gadget person, this is the only necessity I say is a MUST beyond the wooden spoon.
A great wood spoon is essential, this Olive Wood one is my favorite, I have more than I can count. But can you really ever have too many?
A food scale can be a very important tool in your kitchen, this one is the one I use every day!
If you love Joanna Gaines as much as I do then the 'Magnolia Table Cookbook' is a must in your kitchen, get a copy HERE!