This recipe for Easy Beef Stroganoff is just that. So easy and delicious that your family will request it over and over, and you'll be happy to oblige.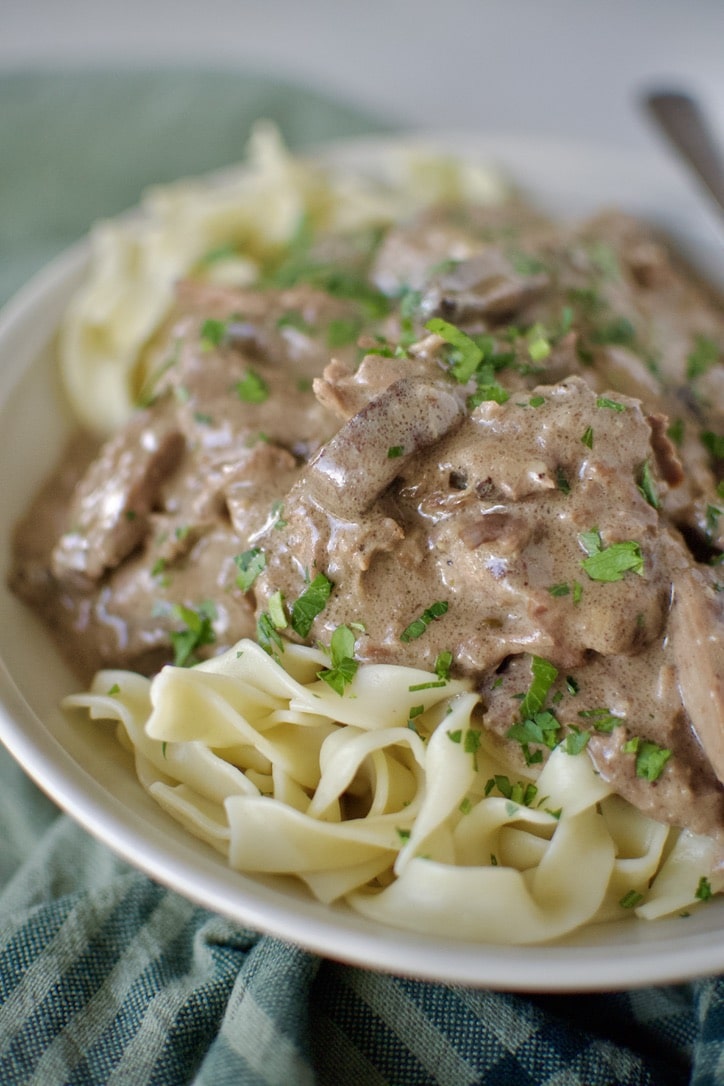 I really love this recipe, and I wouldn't call it a weeknight recipe, but it could be if you started it early in the day and threw it in a crock pot. That's a great way to let it cook and you can set it and forget it. Let's dive into this yummy recipe.
Jump to:
Ingredients
I would call this a medium-sized ingredient list, yet all of them I would call pantry staples. Nothing crazy to hunt down or really out of the ordinary. And humble, this is a very budget-friendly recipe and it feeds a crowd, or two!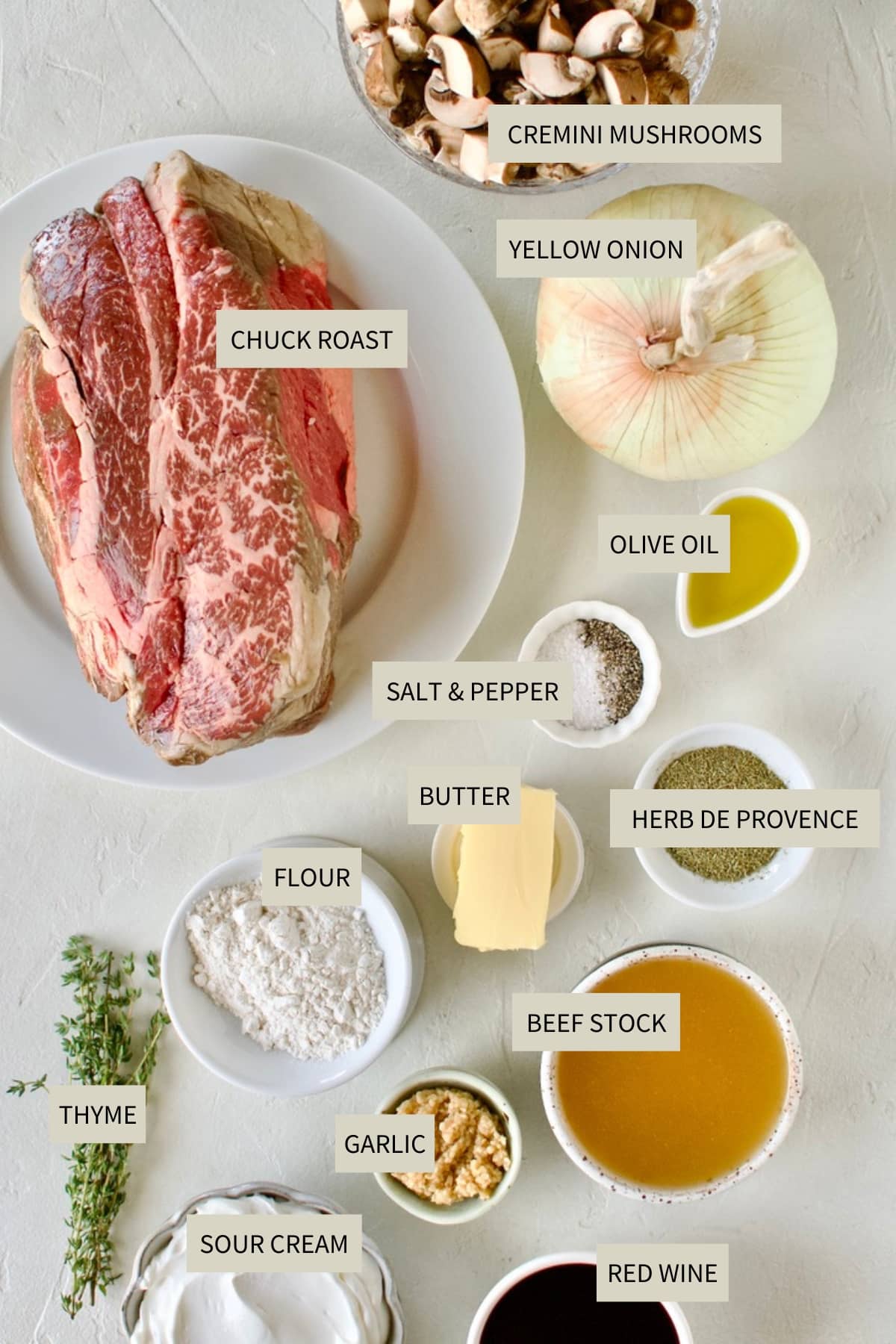 I guess what I am trying to say is that it feeds a lot of people, and it is super heartwarming and belly-filling.
Use the JUMP TO RECIPE button at the top of the post, or scroll to the bottom of the post to see the full recipe card with ingredient measurements and instructions.
Method
I start this recipe by cooking the mushrooms. I like to get a really nice browning on them and cook the flour so I do it in the first step. After they have cooked and you've added the flour, remove them from the pot.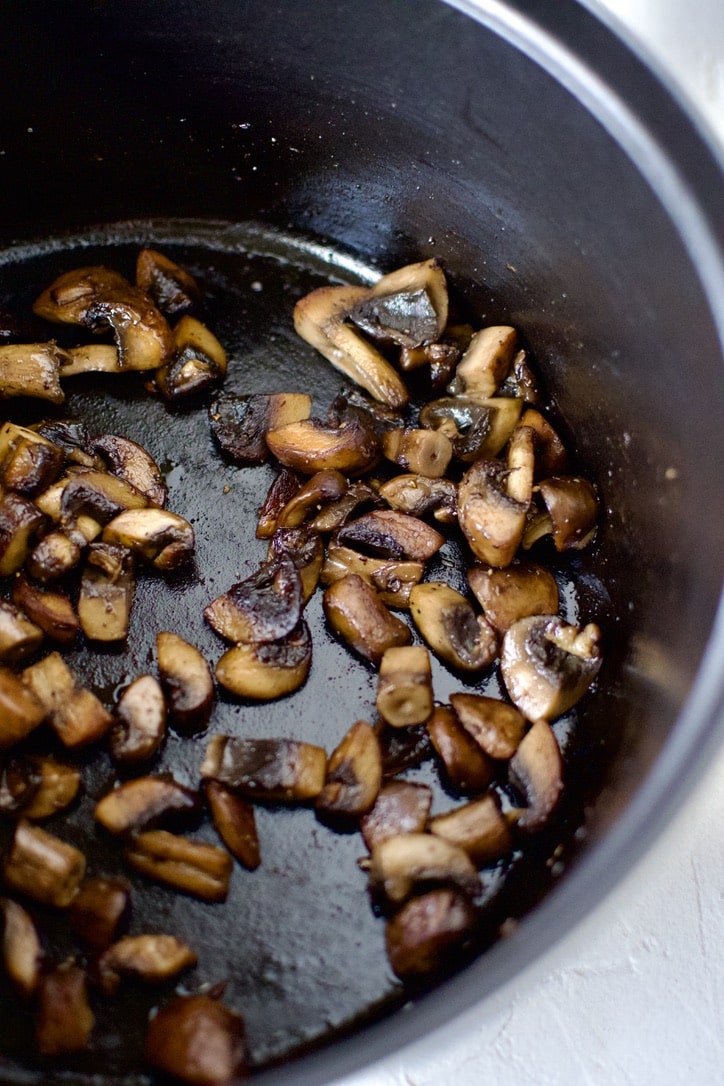 Then sear off the seasoned chuck roast until browned on all sides. Then add the mushrooms back to the pot along with the remaining ingredients, minus the sour cream. Bring the pot to a boil, then simmer it for a few hours, flipping the roasts over every hour or so if cooking on the stovetop.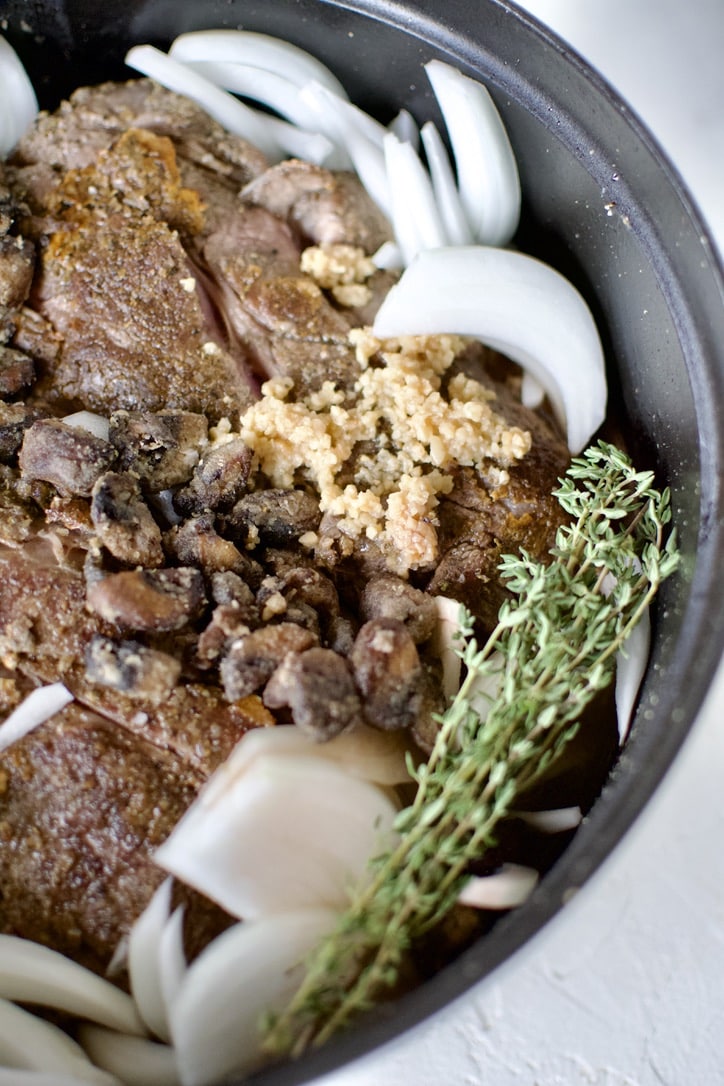 When the roast becomes fork-tender, remove it from the pot and let it cool for a few minutes or until you can handle it. Pull any super fatty spots off and discard them along with the thyme sprigs, then shred the remaining meat into bite-sized pieces.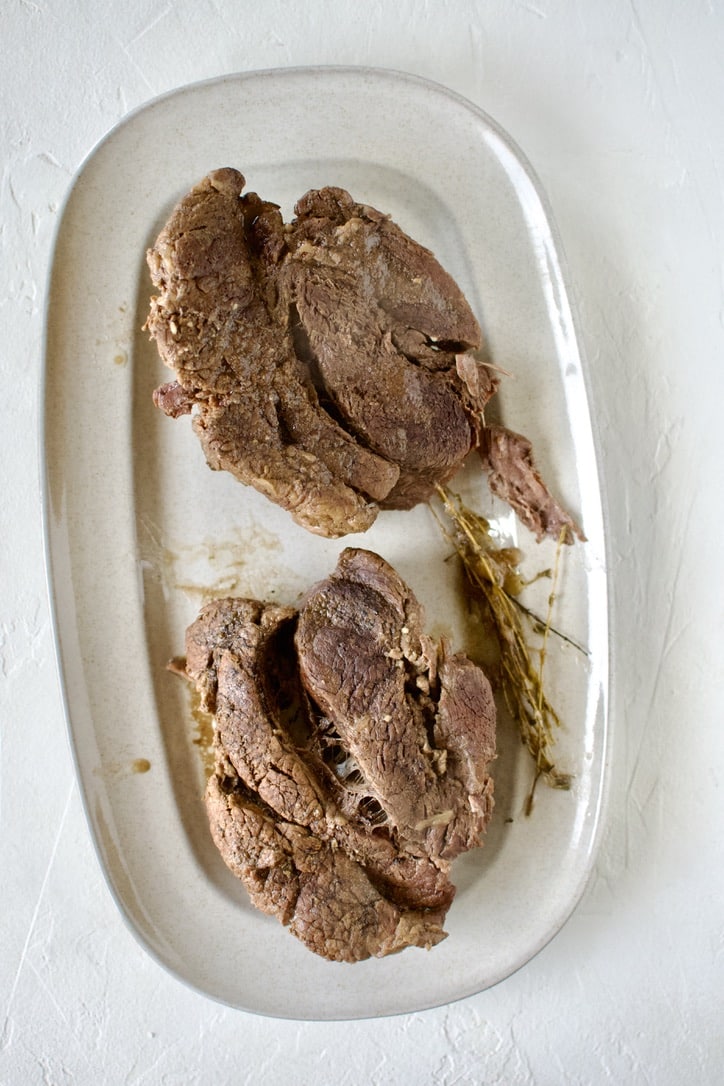 Add the shredded beef back to the pot and stir in the sour cream. I like to try and make sure that I don't boil the mixture again after adding the sour cream, but you want to keep it on low heat to warm everything back through.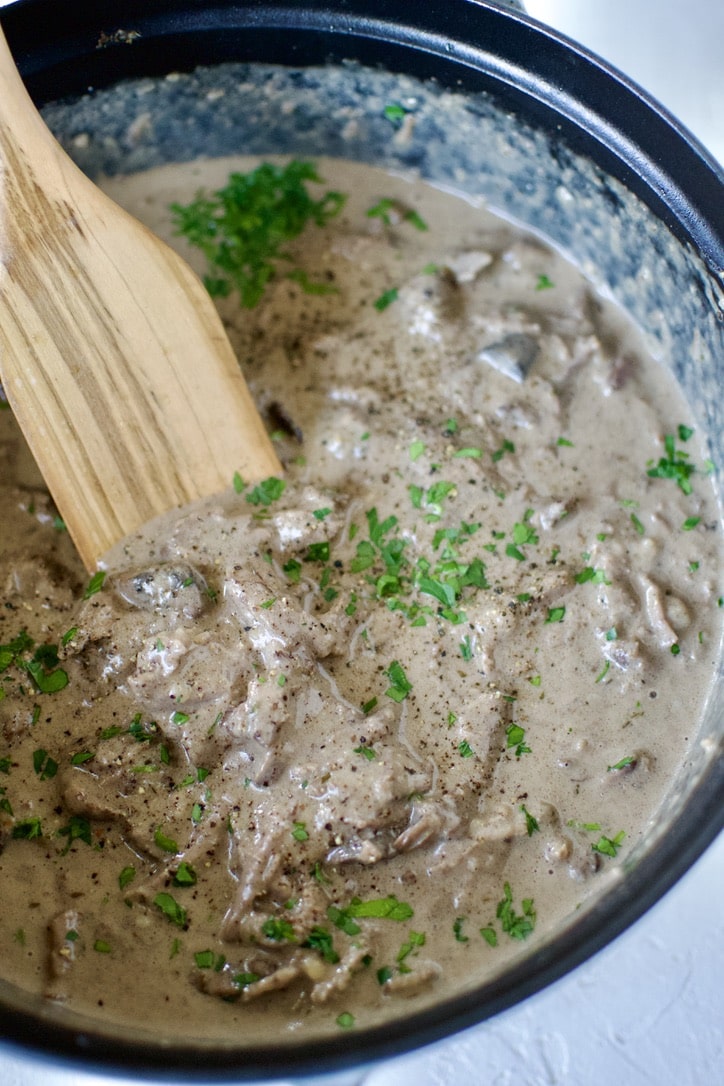 Serve the Easy Beef Stroganoff over some cooked egg noodles if you like. I like to finish each bowl with a few cracks of pepper and some chopped parsley for color. It also goes well served over rice, potatoes, or roasted spaghetti squash.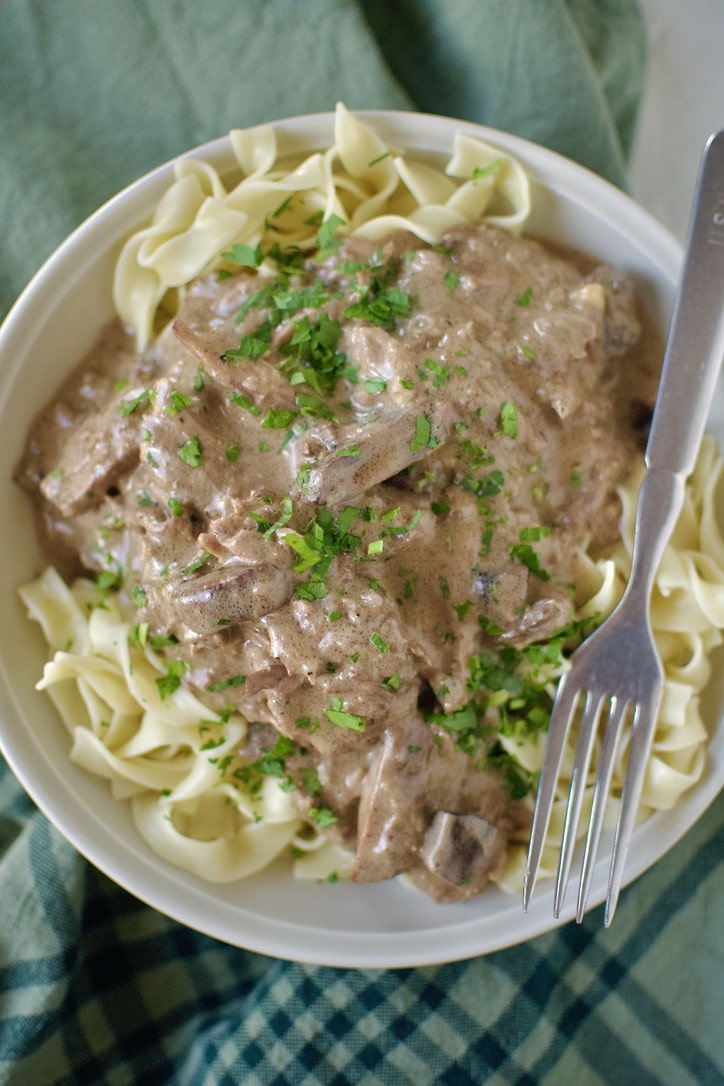 Notes & Tips
Heavily season the beef with salt and pepper. Roasts are typically really thick cuts of meat and you want to get the flavor all the way through it. Don't be shy with the salt, and if you use Herbs de Provence grind them in a spice grinder till you have a powder for the best use of the seasoning.
When selecting a red wine for use in this recipe, I like to live by the rule of cooking with something you'd drink. You just need a little bit for this recipe, and you can drink the rest of the bottle with dinner. So it's a win, win!
This is a recipe I typically start early in the day and let simmer on the stove all day. You could also cook and sear the mushrooms and beef in a skillet and then toss everything in a slow cooker until tender, cooking on high for 4-5 hours. Follow the remaining instructions the way they are written.
Substitutions
A chuck roast is great for this recipe, but really you can make this with any tough cut of meat. You could even speed things up a bit and use diced stew beef.
I like to use some Herbs de Provence because it brings some great flavor to the dish. If you can't get your hands on it, use some dry thyme and rosemary when you season the beef.
If you want to keep this recipe dairy free, omit the butter completely and use olive oil. And replace the sour cream with a dairy-free alternative sour cream, it works really great.
I personally prefer egg noodles for serving this over, I think it brings back childhood nostalgia. But you could also serve it over butter rice, or roasted spaghetti squash.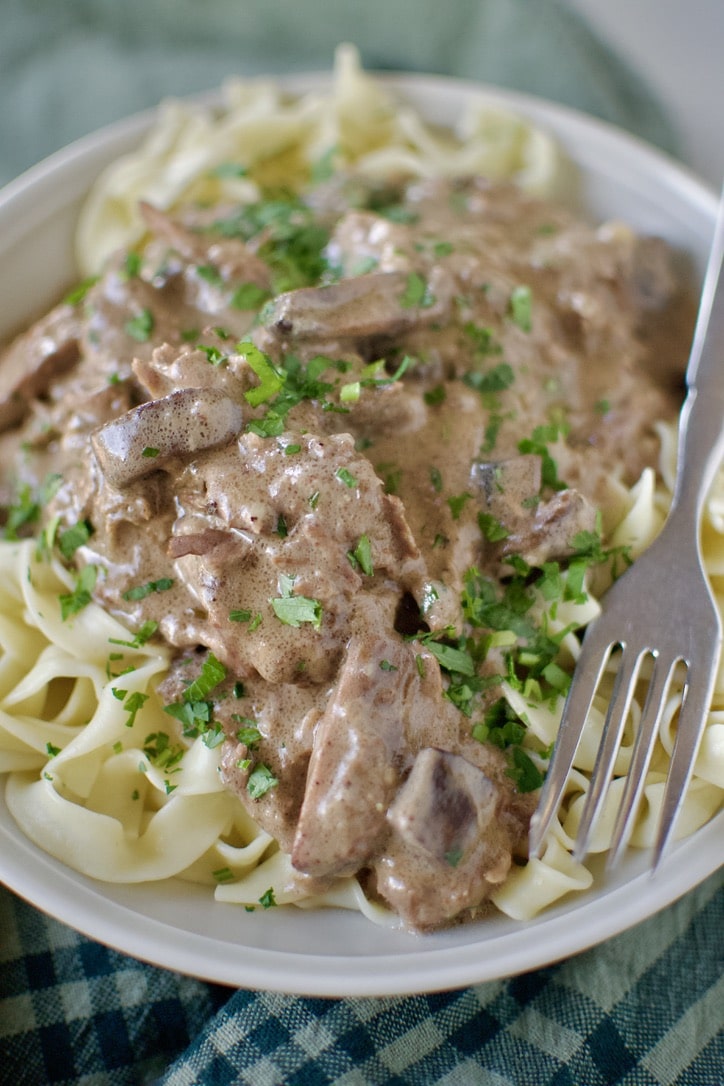 Did you make this recipe? Let me know by leaving a review or comment! And be sure to sign up for my newsletter, and follow along on Instagram, Pinterest, and Facebook!