Here you will learn How to Roast Spaghetti Squash. This simple vegetable when properly cooked shreds and makes spaghetti-like strands. It is very easy to do and is a great swap when you want a lighter meal, or are trying to eat low-carb or keto.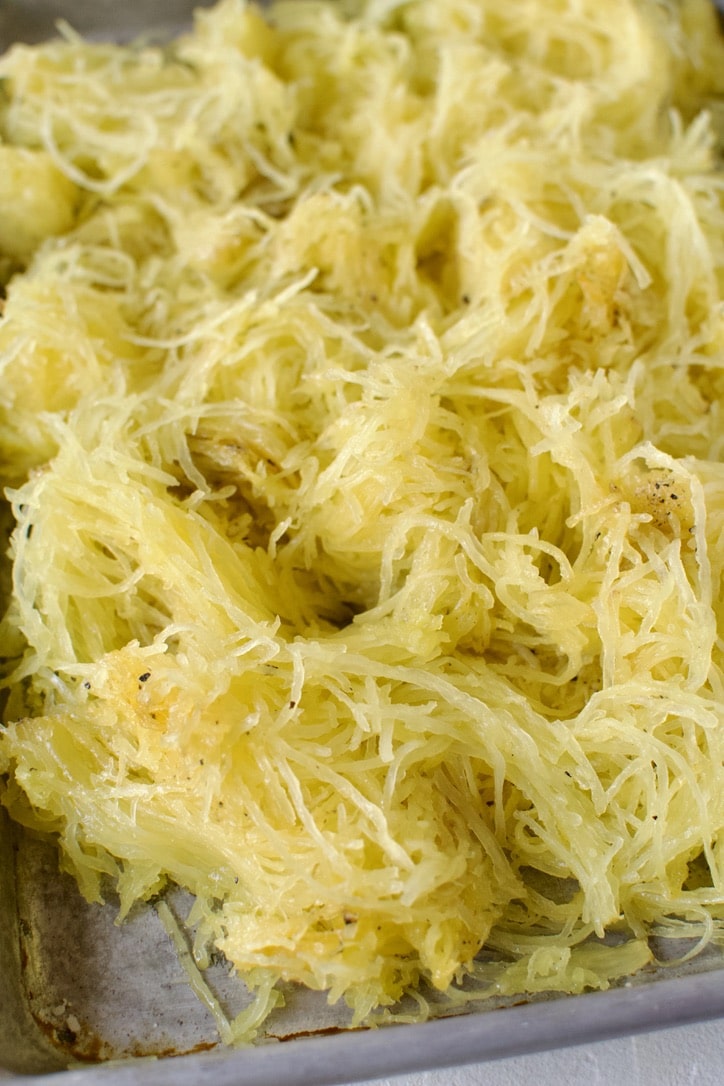 I love to make this recipe and use it to serve my Chicken Ragu over. It makes for the perfect pasta substitute for any reason you like or need that for.
Jump to:
Ingredients
Roasting a Spaghetti Squash just might require THE shortest ingredient list ever! You want a little oil to help create steam when baking and some seasoning to flavor it. Creating steam helps release the perfect strands when done cooking that mimic spaghetti.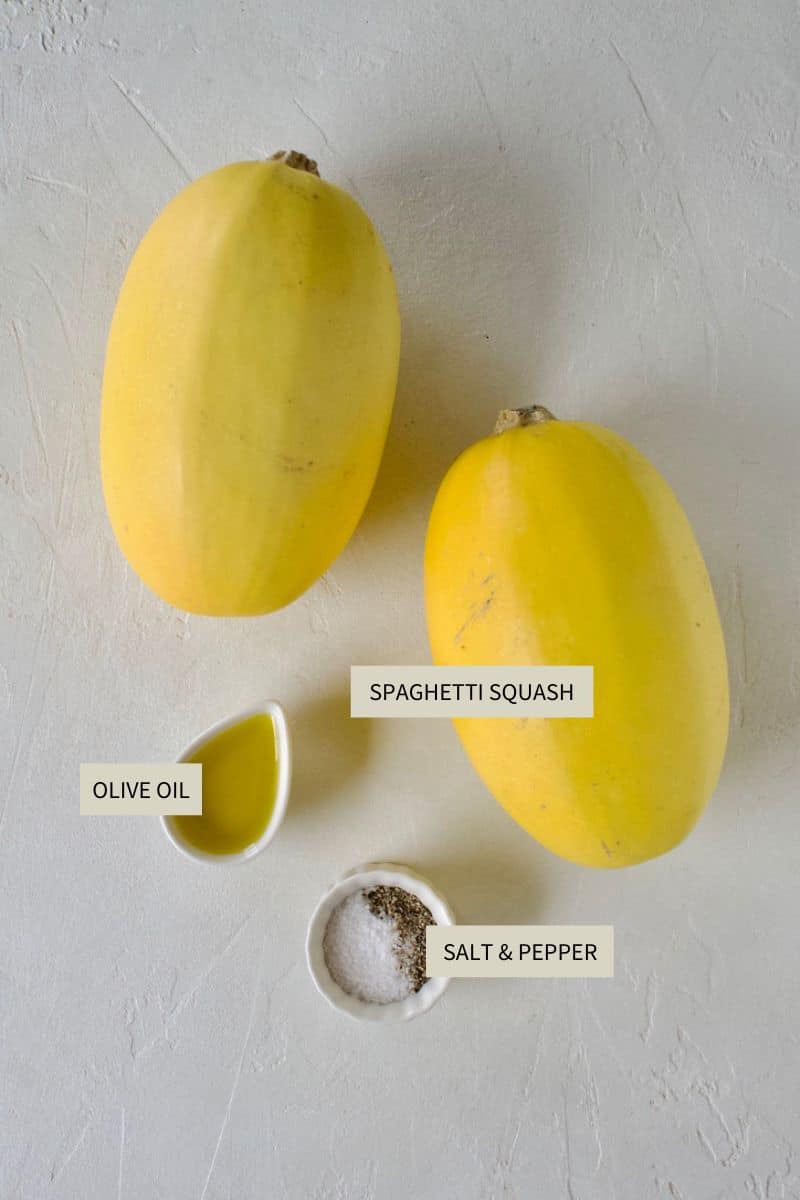 Use the JUMP TO RECIPE button at the top of the post, or scroll to the bottom of the post to see the full recipe card with ingredient measurements and instructions.
Method
Preparing the squash for roasting is easy, you just need to take care and have a super sharp knife to prevent injury.
I start by removing the hard stem ends, this will help you split the squash in half without the struggle of cutting through that. Then slice through the squash swiftly and with power to slice it in half.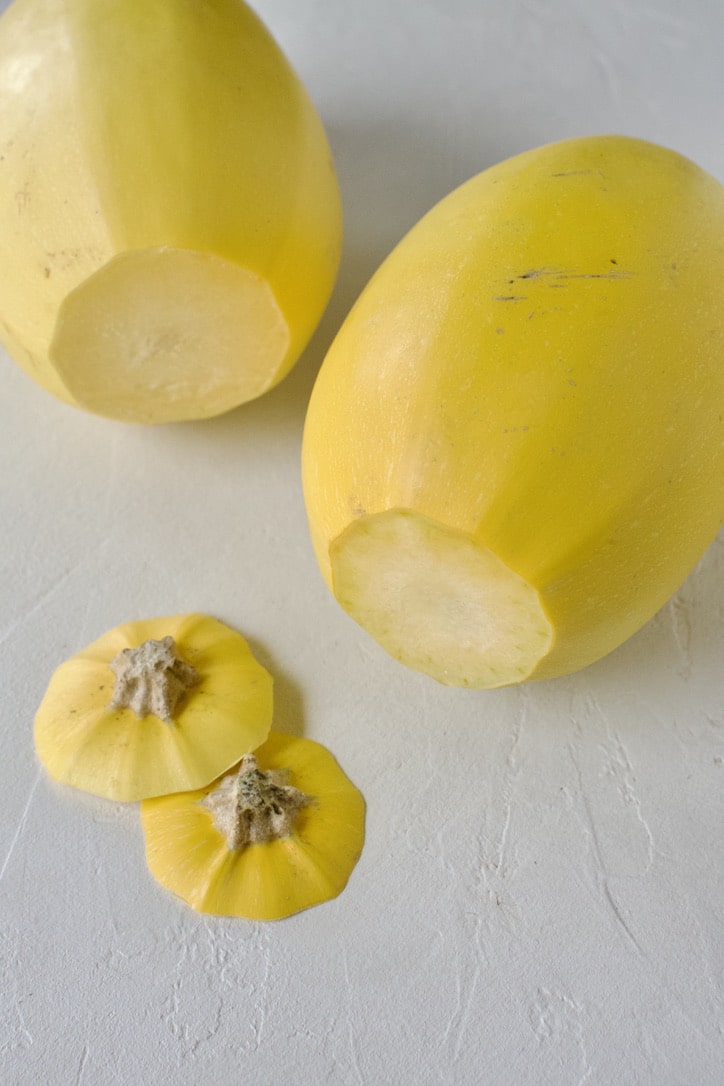 Then scoop out the seeds and place the halves on a sheet pan. Season with the oil, salt, and pepper, and then turn them cut side down and roast in a hot oven.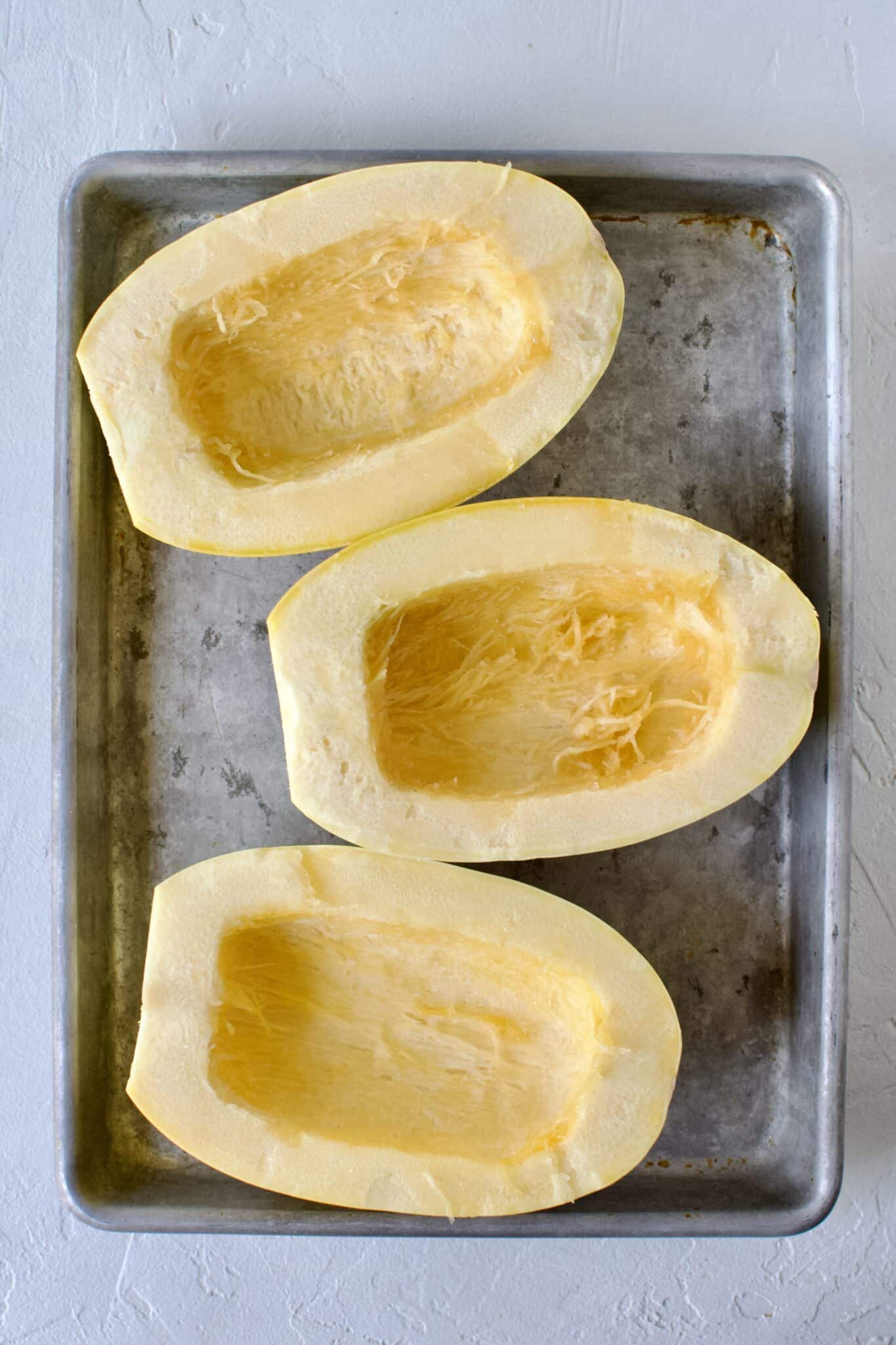 You know the squash is done, and this can vary depending on the size of them, when you press on them and they leave a dent. I use a pair of tongs to press on them and when they are soft I take them out. Turn them over with the tongs and let them cool a few minutes then scrape out with a fork to get the spaghetti shreds.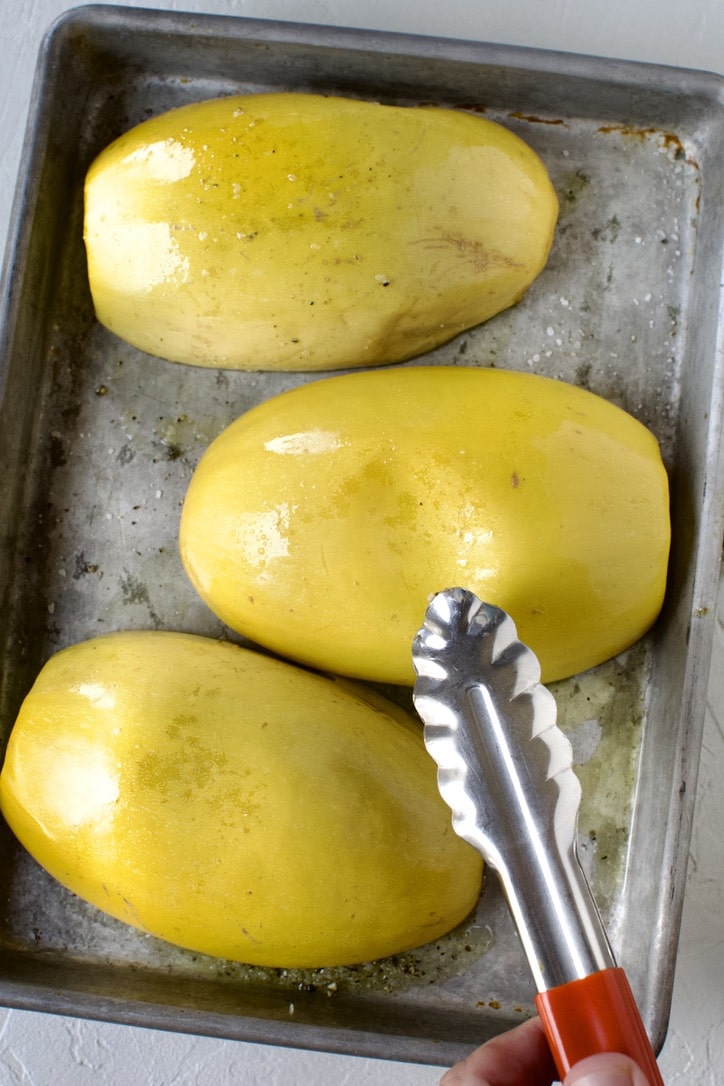 Notes & Tips
To cut the squash with the most stability, stab the knife into the middle of the squash and pull it down to only cut half the squash, then turn it around and repeat. This gives you the most control with the lowest risk of injury. The last thing you want is to knick a finger when trying to split a squash.
After 25-30 minutes, start checking the squash for doneness. If you overcook it, it will turn too much and release a lot of liquid. There is a line between just right and done. It is done when you apply just a little pressure and the squash gives a little.
The best way to get the beautiful strands that are desired from this namesake squash, use a fork to remove the meat and let it shred as you scrape at it.
Substitutions
In place of the olive oil, you can really use any oil you like or even butter for a richer flavor.
And for more flavor, you could also season with crushed red pepper, or any flavor that compliments the recipe you are serving the squash with.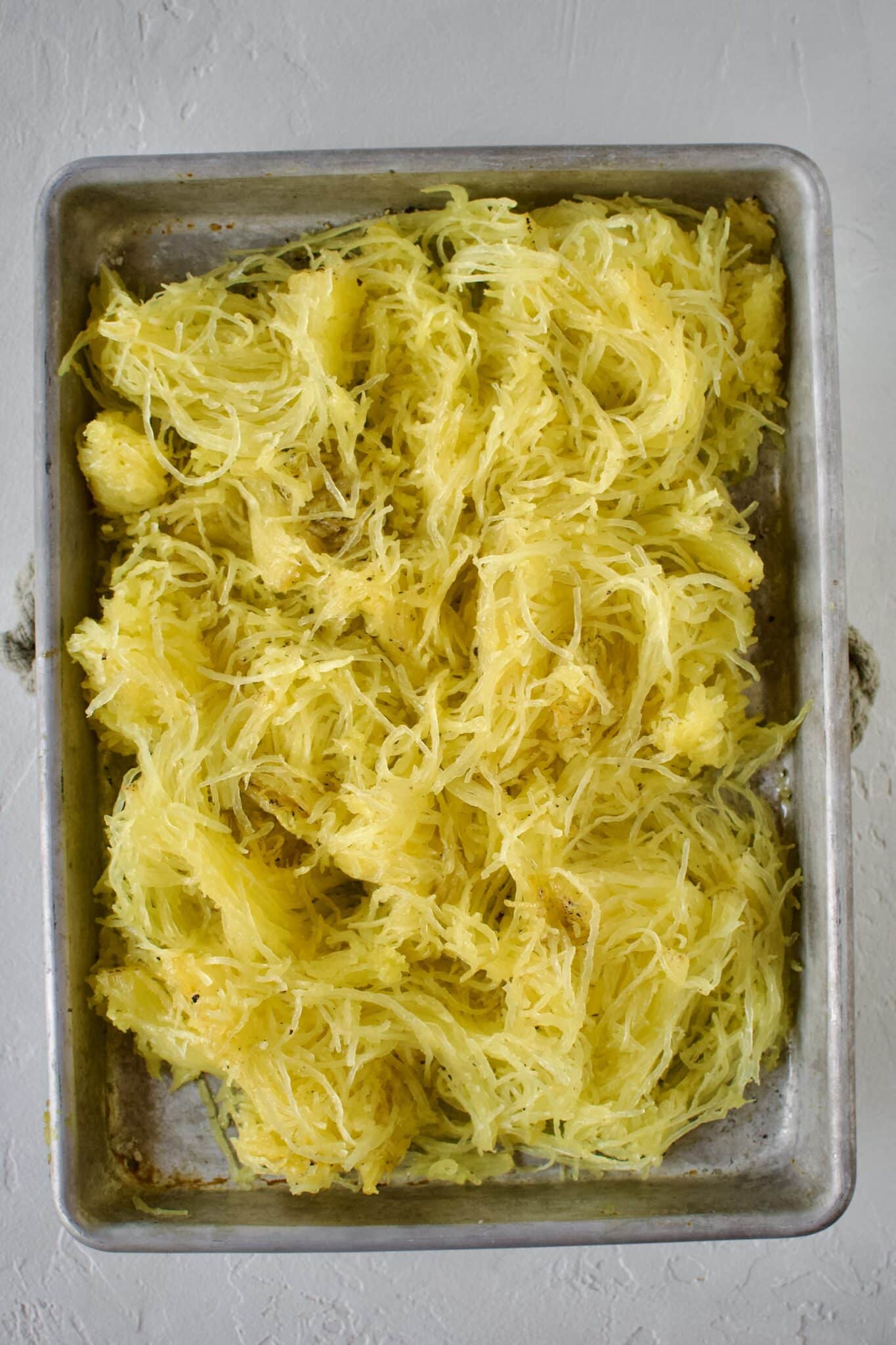 Did you make this recipe? Let me know by leaving a review or comment! And be sure to sign up for my newsletter, and follow along on Instagram, Pinterest, and Facebook!