When you are a chef and working in restaurants, almost every meal turns into a burrito bowl, that's what I always equated it to anyway. Throw a bunch of stuff in a bowl and eat it! But with this recipe, I'm making it something you'd want to present to the dinner table.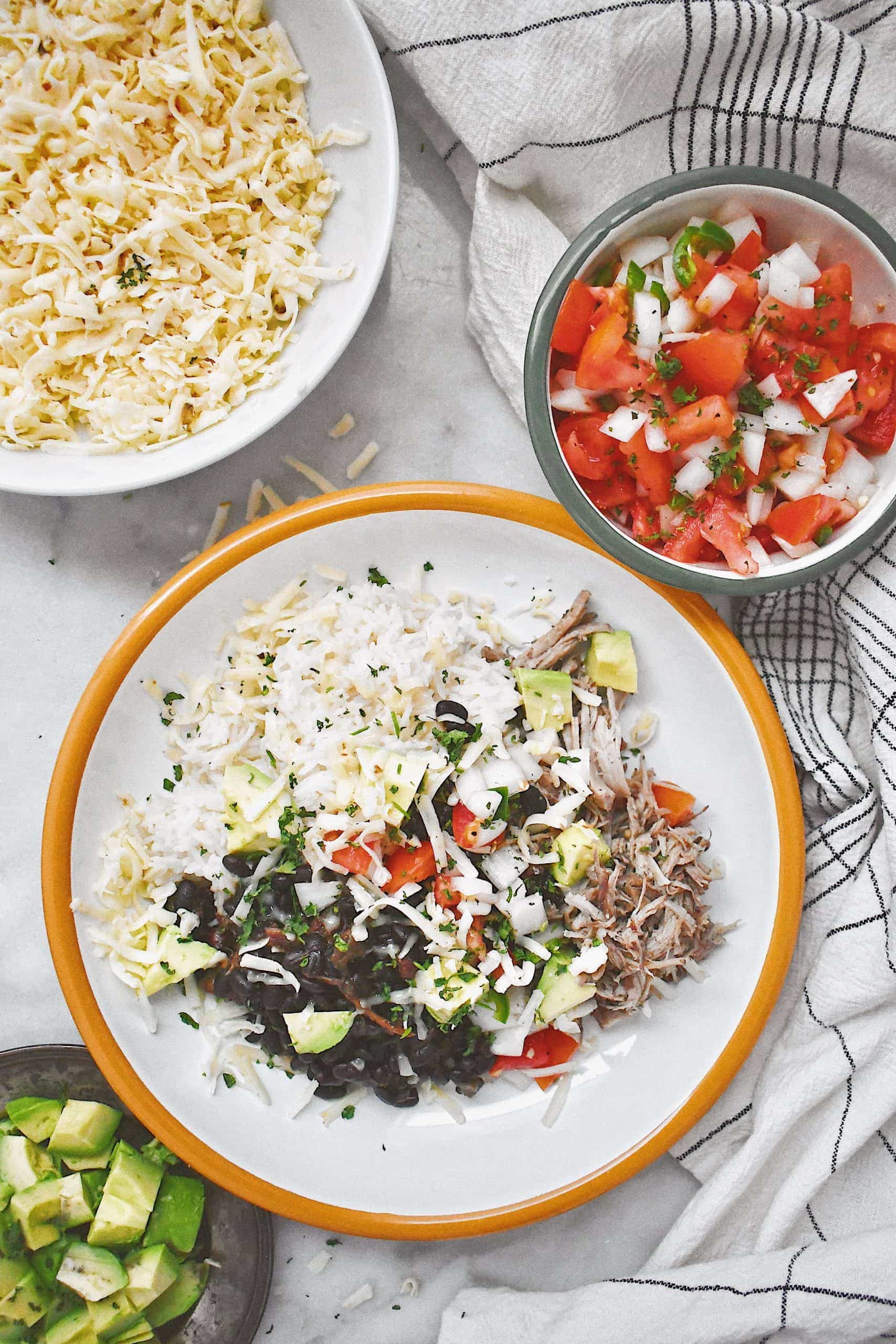 It also makes it fun and customizable for those in the family that may be picky eaters. Maybe dad wants more meat, and the kids don't want any pico. It is a quick and easy way to make quick work of special orders.
That said, it's also a great way to get kids, or anyone for that matter, involved in making their own plate and giving them creative freedom over it. I set everything out on the counter and let them go to town. It usually leaves everyone satisfied and it's fun!
Feel free to add or take away from this list with your favorite toppings. That is the great part about cooking at home. You can make it just the way YOU or your family likes it.
Think of this as a guide to get you started and you can go from there. Just a jumping-off point and a great way to cook your meat and beans. I love doing it this way because it leaves no waste and builds on all the yummy flavor left in the pot.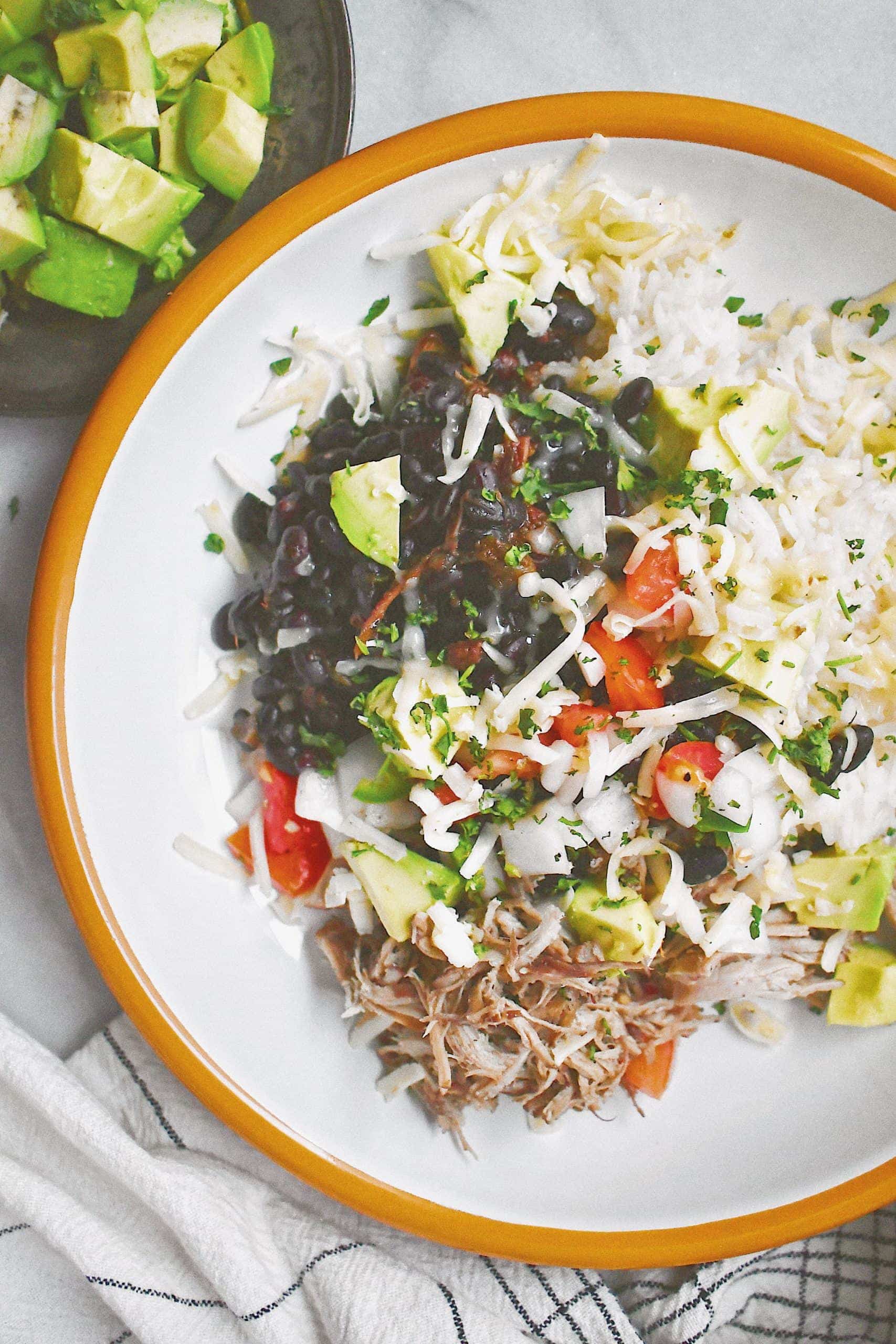 Preparing your Burrito Bowl
I begin with the pork roasts. Season them with salt and pepper, sear them off in your instant pot or electric pressure cooker and cook on manual high pressure for 25 minutes. After the initial cooking, remove the roasts from the pot and cook the beans in the drippings.
This gives them the BEST flavor, and there is no waste. This is the hardest part of this recipe, which really isn't that hard in the end.
While all that is going down I shred some cheese and make pico de gallo. I also prepare my rice as the beans finish. My favorite rice is basmati, it has the lowest levels of arsenic of all kinds of rice and is my favorite to cook.
Cooking the Rice
Basmati is great because it cooks so quickly and doesn't get very sticky. Rinse the rice a few times before cooking, cover with water, bring to a boil for 5 minutes, then turn the heat off and cover. Let stand 5 more minutes and you have perfectly cooked fluffy rice.
It is the only rice I keep around these days and has become a fast favorite!
Shredded Pork Burrito Bowl
This is a great recipe for creating personalized burrito bowls for everyone in the house. Add or take away from the toppings list and make it your own!
Ingredients
for the Pork and Black Beans:
4

lb

Pork Sirloin Tip Roast

2

t

Ghee or Olive Oil

1

C

Hatch Chilis

2

C

dry Black Beans

1/2

C

Pico de Gallo
for the Rice:
2

C

Basmati Rice

rinsed

4

C

Water

1/2

t

Kosher Salt

2

T

Butter
for topping:
Pico de Gallo

Pepper Jack Cheese

Shredded

Avocado

Lime Wedges
Instructions
for the Pork and Black Beans:
Season the pork roasts generously with salt and pepper and set the pressure cooker to "Brown" and brown the roasts in the bottom of the pot on two sides. After you flip the roasts put the lid on the cooker and set to manual high pressure for 25 minutes. Let the cooker release its pressure naturally. Remove the roasts from the pot and cut each into 4 smaller pieces. Return them to the pot and pressure cook 15 more minutes. Place a towel over the steam valve and release the pressure when the cycle finishes. Remove the roast pieces from the pot.

Add the black beans and pico de gallo to dripping left in the pot and cook on manual high pressure for 30 minutes. When that cycle finishes, add the roast pieces back to the pot and cook on manual high pressure 15 minutes longer.

Shred the pork into the beans when that cycle finishes and serve over rice. Top with pico, cheese, avocado, and lime juice as desired.
for the Rice:
Rinse the rice 2-3 times in cool water until it gets clear. Add the rice, water, salt, and 1 tablespoon of butter to a saucepot. Cook over medium heat until the water boils. Reduce heat by half and simmer for 5 minutes. Turn off the heat and cover the pot and let stand 5 minutes. Add the remaining butter and fluff the rice with a fork.
Notes
If you don't have an instant pot or electric pressure cooker, the meat can be slow-cooked until completely tender, about 8 hours, and you can use canned black beans, rinsed, drained, and mixed with the pico de gallo.
Get my Pico de Gallo recipe here!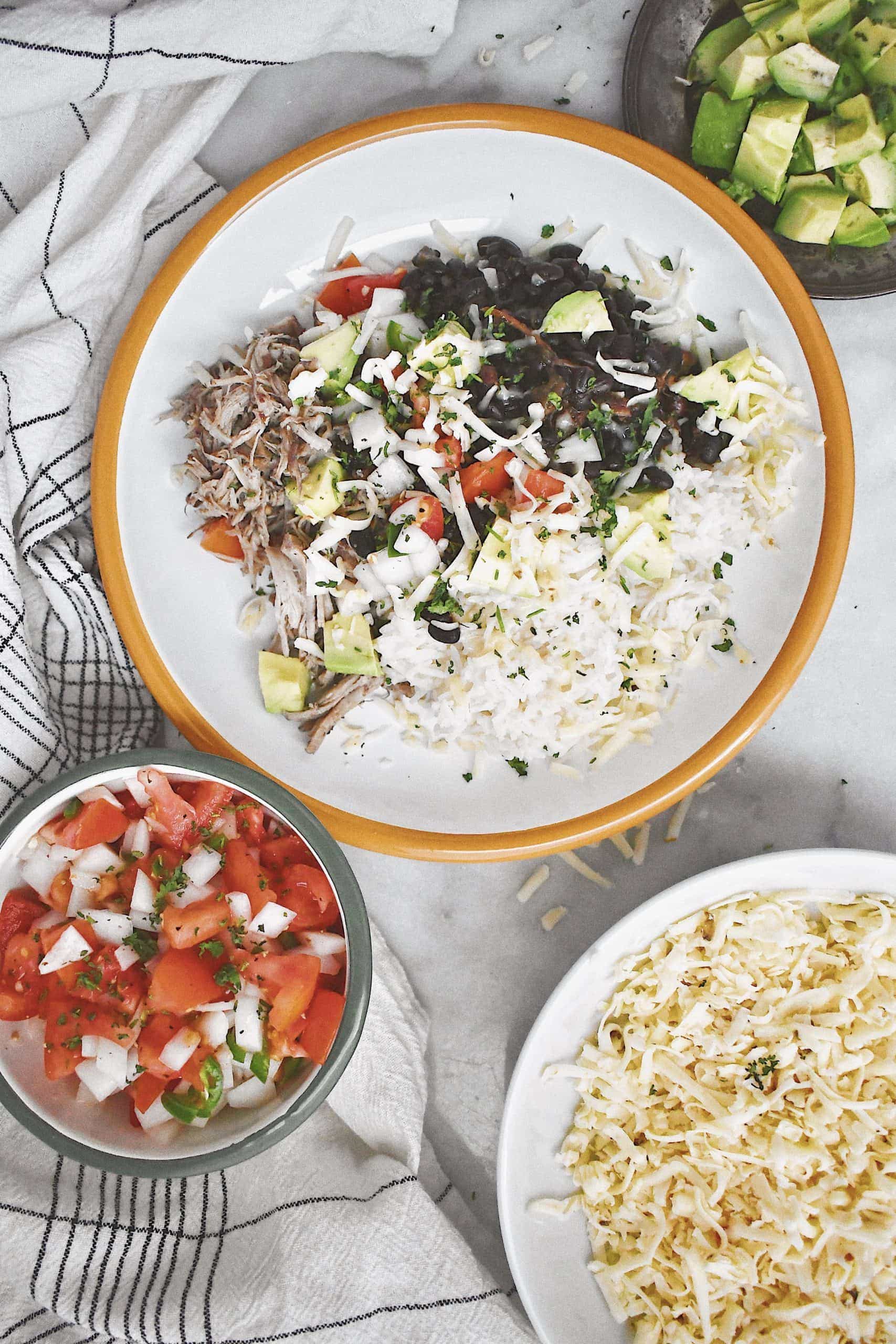 Lori shares her Best Homemade Tortilla Chips that would be a great pairing with this recipe, along with her Fresh Guacamole. Her Jalapeño, Apple, and Carrot Slaw would also be a great option if you want to get a few more veggies in your buritto bowl.
MY LATEST RECIPES!
Get my NEW e-Cookbook here!! ⬇️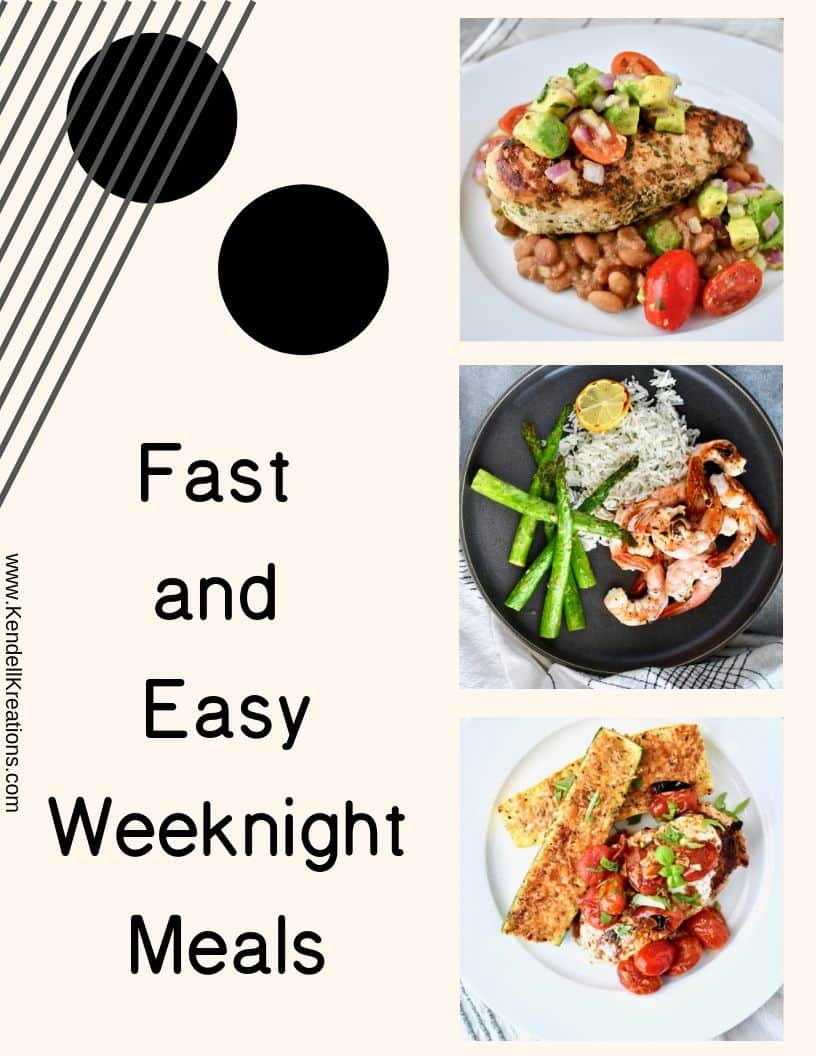 MY FAVORITE KITCHEN TOOLS!
Here are a few links to some of my favorite kitchen tools! You get a car, YOu get a car, YOU ALL GET A CAR…in my best Oprah voice
These Rösle Silicone Tongs are a little pricey but they will last you the rest of your life and are the softest in your hand. This is important for someone like m that cooks so much. It reduces strain, I have 4 sets in my kitchen!
These are my FAVE Nordic Ware Sheet Pans, every kitchen should have at least 2 sets of these! I think I have at least 4 of each of these.
This is my favorite pressure cooker, the Fagor is the same concept as the "Instant Pot" but easier to use in my opinion, if you don't have one you NEED one, it will be your best friend in the kitchen!
A sharp knife is the most important tool in the kitchen, these Japanese steel "Shun" knives are my favorite! And this is a great starter set to build on. Once you try them you will be in love so use this as a foundation you can build on for years to come.
This Scanpan 11″ skillet is just the right size for almost anything you will need to cook and my best friend and a real workhorse in my kitchen, it's also a great deal at $99. Scanpan is the best in the world for healthy cooking. It is coated with a proprietary ceramic-titanium coating that is durable while allowing you to use fewer fats and oils when cooking. It is a coating only they use. I could talk all day about my love for these pans, message me if you want more info. Here are some other sizes that are available if you are looking to outfit your kitchen with some new goodies. 8″ & 10″ Skillet set or 8″ Skillet, I still need this one for my kitchen Also, I don't really know how to cook small so the 12.5″ is my other fave!
This giant vat of olive oil is my favorite, I decant it into a smaller bottle for my counter. Or put this spigot on top of a wine bottle!
My favorite baking dish that is so easy to clean even burnt on cheese slides right off!
This Tovolo jar scraper has to be my single favorite kitchen tool, it is definitely the most used tool in my kitchen. If you are NOT a gadget person, this is the only necessity I say is a MUST beyond the wooden spoon.
A great wood spoon is essential, this Olive Wood one is my favorite, I have more than I can count. But can you really ever have too many?
A food scale can be a very important tool in your kitchen, this one is the one I use every day!
If you love Joanna Gaines as much as I do then the 'Magnolia Table Cookbook' is a must in your kitchen, get a copy HERE!