This simple soup recipe is one that my mom has made my entire life. My dad asks for it at least weekly and I think he would eat it every day if he could find someone to make it for him. It is a basic French Onion Soup recipe, but the cheesy toast on top makes it amazing!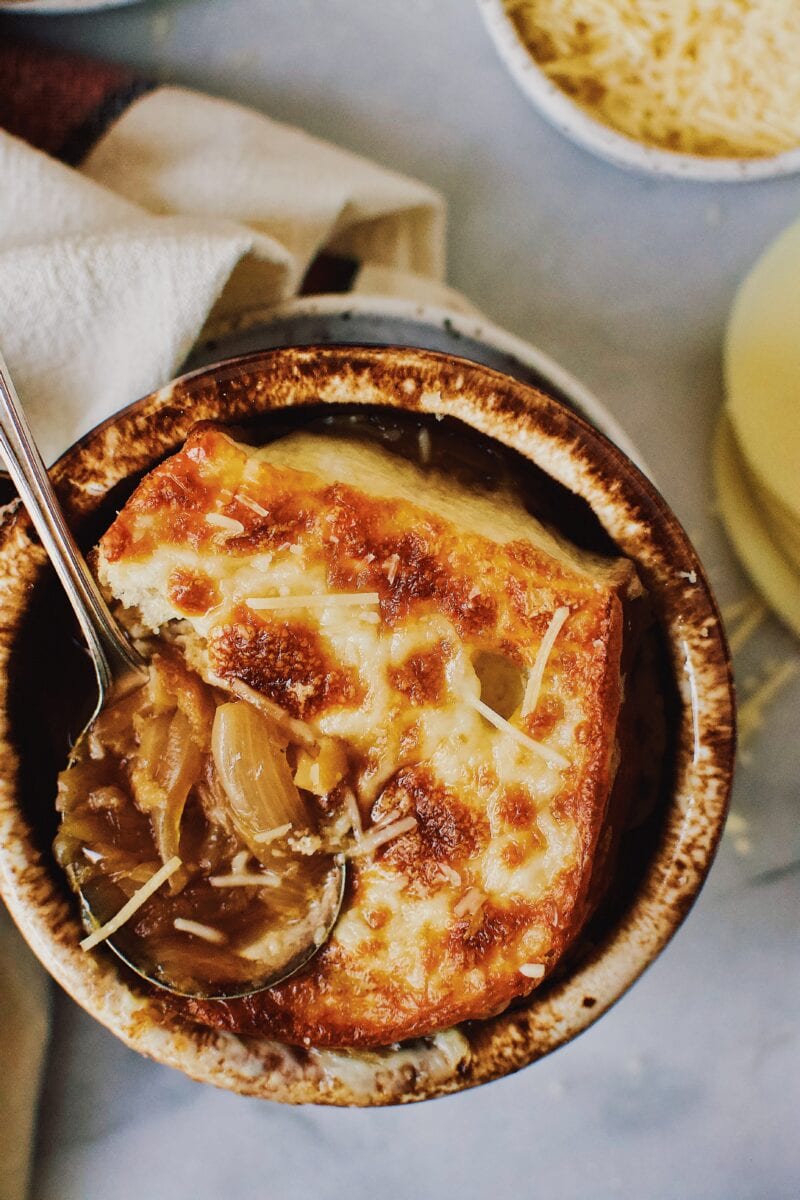 This recipe can be a 30-minute meal, or you can let it hang out on the stove all day. I make it both ways, it just depends on the day.
Why do they call it French Onion Soup?
Classic French Onion Soup gets its name because it originated in France in the 18th century and it has been a worldly treasure ever since. Traditionally French Onion Soup is made with caramelized onions, beef broth, white wine, bay leaves, and thyme, thus French + Onion + Soup! So this recipe is missing a couple of those elements, but this is mom's recipe and I guess you could call it a quick version and the version I remember.
It has those deep ingrained scent and flavor memories that just make it feel like home.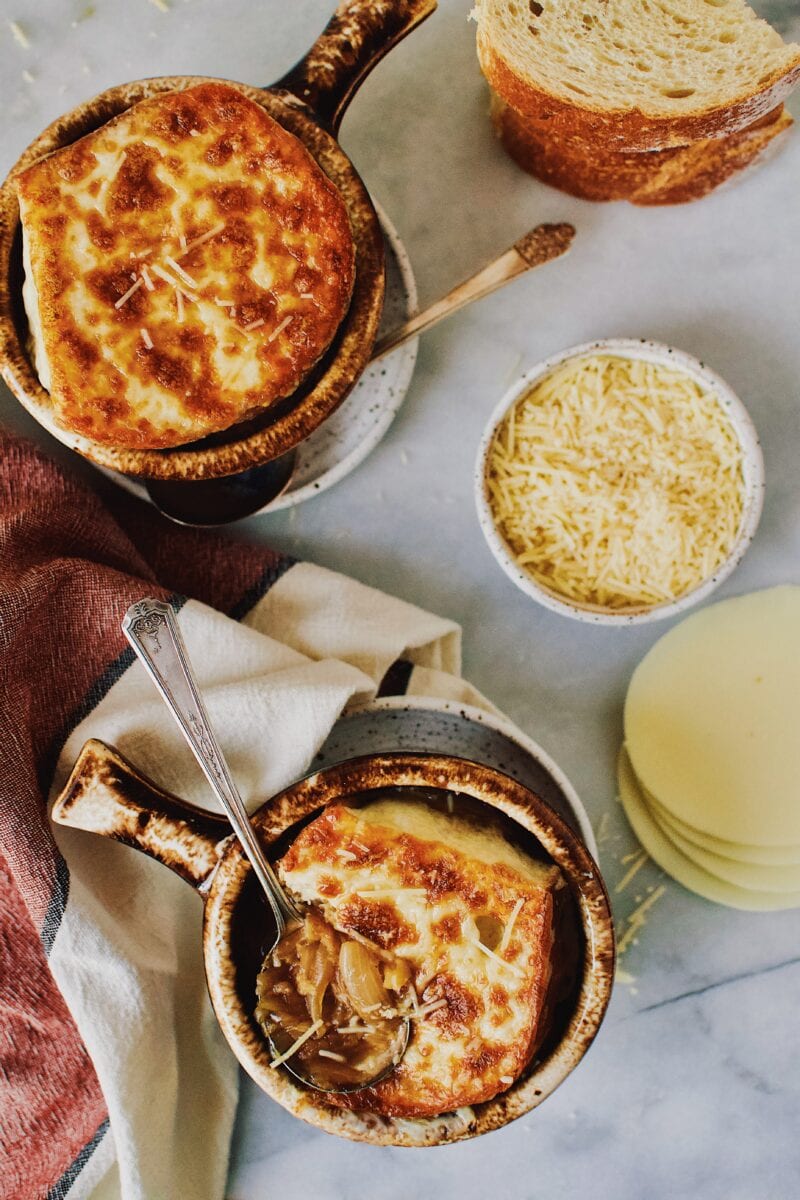 What onions make the best French Onion Soup?
I like to use sweet yellow onions when making French Onion Soup. I like mine to be a little on the sweet side when it is done. Any onion will work, even red onions. You just have to cook them down and soften them, all the real goodness comes from cheesy bread on top, in my opinion anyway.
What cheese should I use for French Onion Soup?
Swiss or Gruyere are the most traditionally used for French Onion Soup. Mom always used parmesan and provolone. I like this combo because the freshly grated parm gives everything a nice tang, and the provolone melts so beautifully and browns fantastically.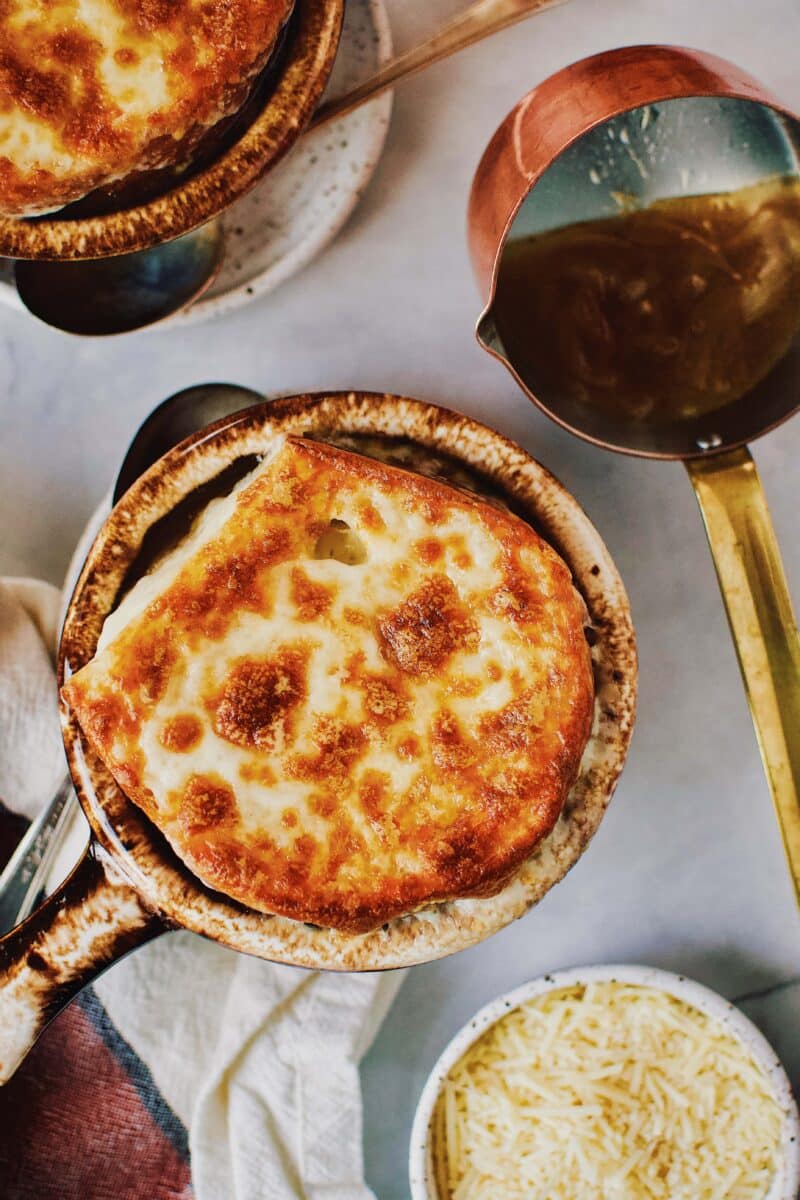 What you need:
Some of the very best recipes have the shortest ingredient lists and this one fits that bill. Butter, onions, some cheese, and a loaf of bread and you have a soup the world swoons over. Feel free to add more herbs if your a fan, thyme is traditional, but whatever you do, make it!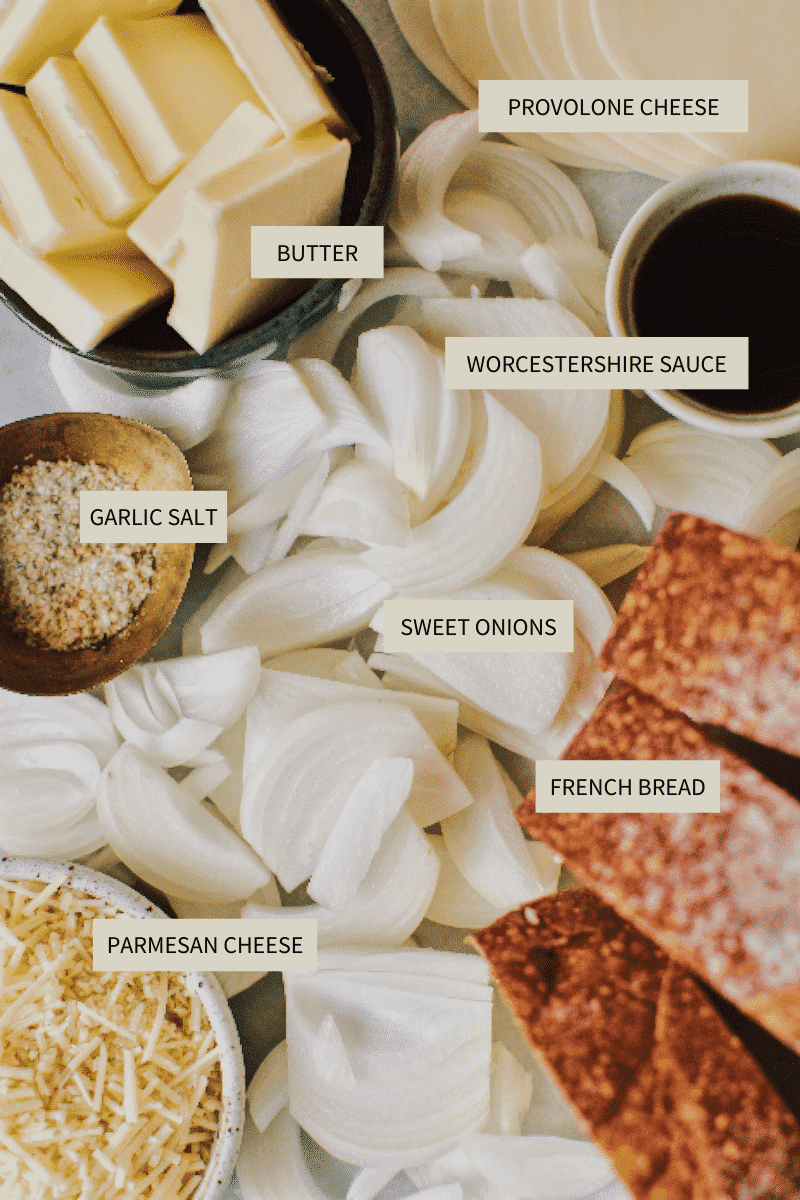 More Great Soups
I usually end up making soup for an entire week the moment fall hits in Texas where I live. My recipe for a Chef's Zuppa Toscana is a family favorite at my house. My recipe for Fast Chicken Tortilla Soup is one that you can make utilizing leftovers or can be made fresh!
My recipe for Creamy Potato Soup is one I created with a friend on a cold day in Washington on a visit, and I had to share. And why not round it all out with my White Bean Chicken Chili. Topped with fresh Pico de Gallo and avocado, you just can't go wrong with it.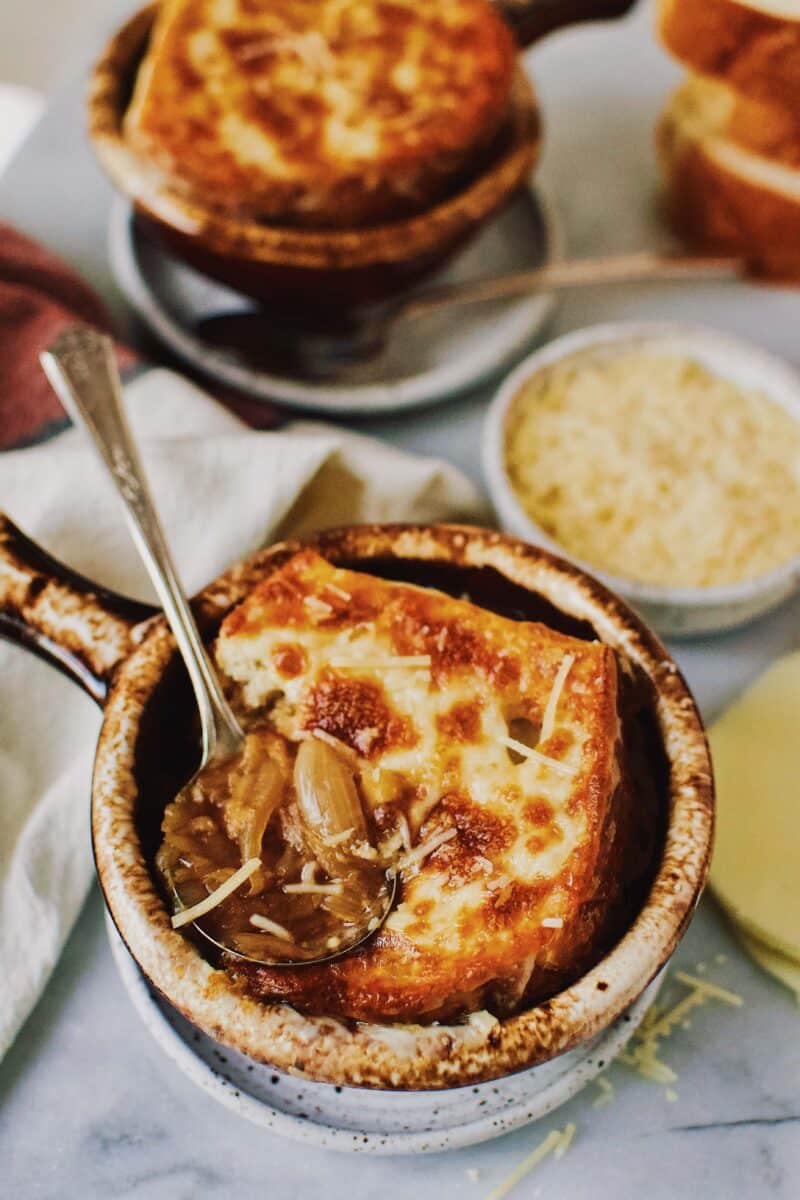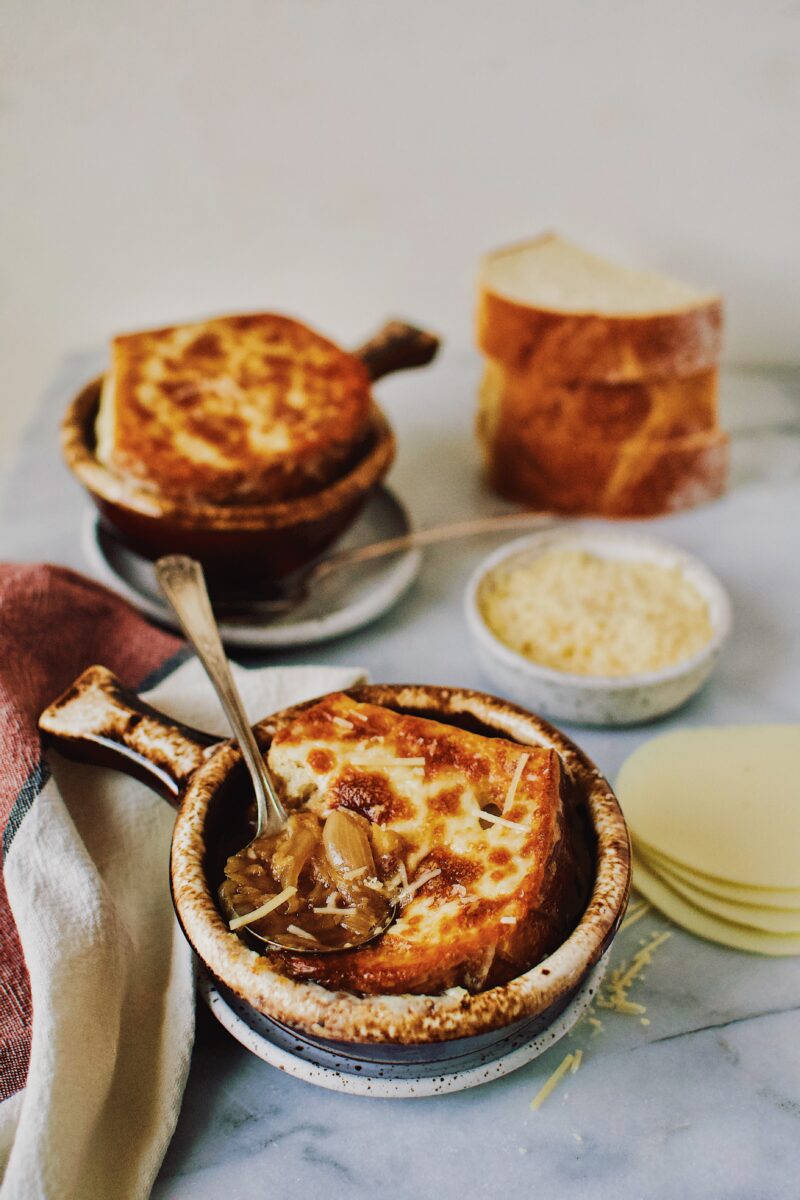 Did you make this recipe? Let me know by leaving a review or comment! And be sure to sign up for my newsletter, and follow along on Instagram, Pinterest, and Faceboo