There may be a lot of Zuppa Toscana recipes out there in the world, but I want to share mine with you. I have taken a bit of a signature "KendellKreations" spin on it and elevated it beyond what Olive Garden might have to offer. It is a soup that will fill your heart and your home with abundant warmth, and that is ALWAYS welcome on a cold winter day.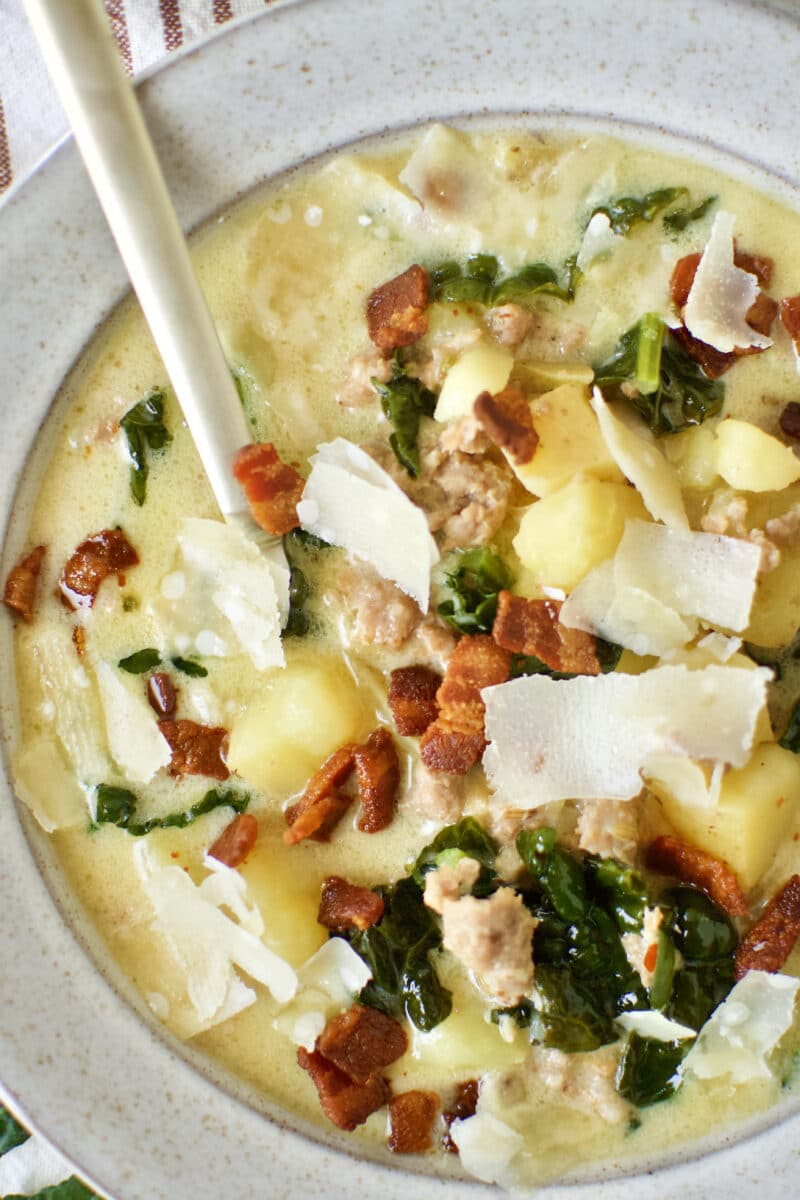 Jump to:
Where I stray from the norm...
The base of many of the other recipes out there is hot Italian sausage and russet potatoes. And already I am changing things up. My base is a sweet Italian sausage and Yukon gold potatoes.
I prefer the flavor of the sweet Italian sausage and using it allows me to spice things up to my liking. And the richness and natural creaminess that the Yukon gold potatoes bring leave the broth perfectly silky.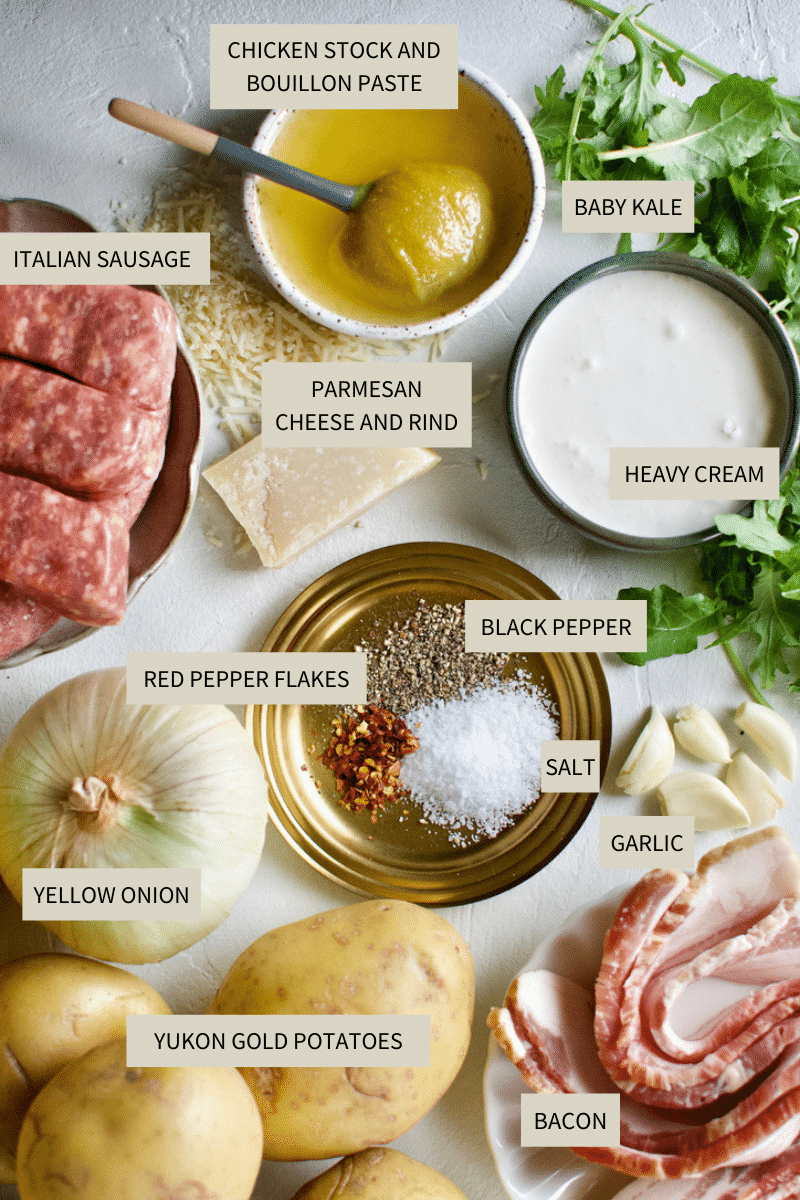 Use the JUMP TO RECIPE button at the top of the post, or scroll to the bottom of the post to see the full recipe card with ingredient measurements and instructions.
I also never understand why anyone would want to use regular kale? Baby kale is 100% where it's at. I hate getting a huge piece of the stalk in my mouth from regular kale and it being super hard and crunchy.
That would be a no go for me. Stick with the baby kale and just pile a big stack at the bottom of each bowl just before serving. It doesn't need as much cooking as big daddy kale does.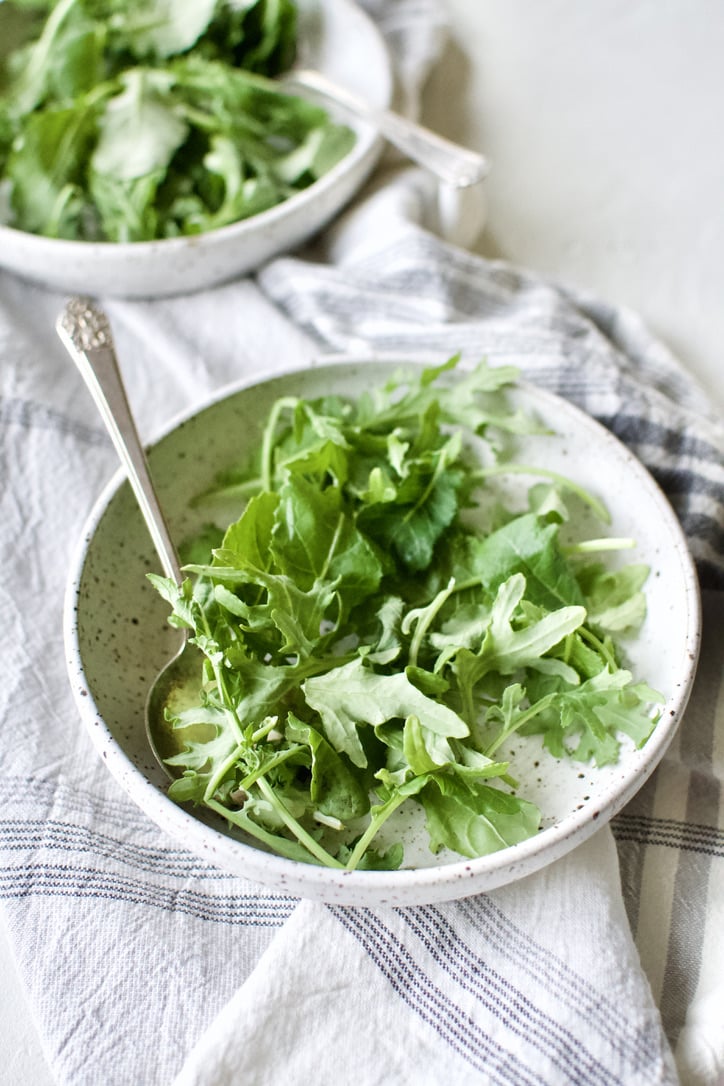 a Chef's Zuppa Toscana at home
It takes a couple of basic building blocks that create the flavor that makes this soup amazing, as opposed to good. Start by layering in the flavor.
First, cook 4-5 slices of bacon in the bottom of the pan until crisp. This is a step most recipes skip and olive garden doesn't do at all. When crisp, remove the bacon bits from the pan and drain on a towel-lined plate.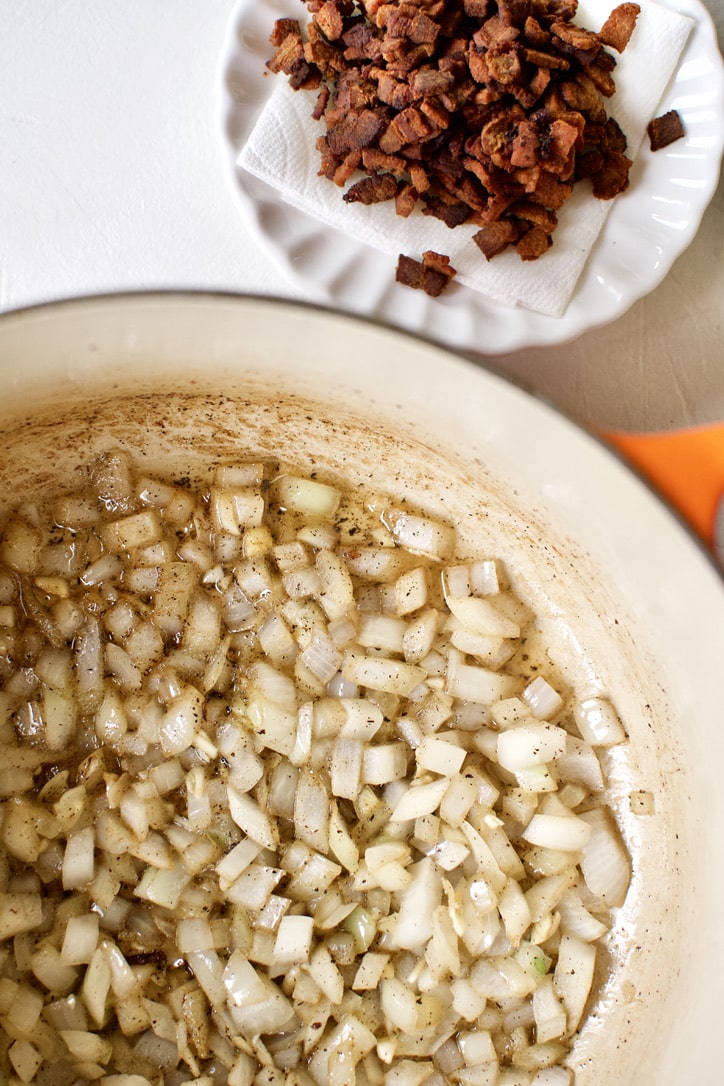 Then we add the onion and garlic and allow them, to stew down in the bacon fat. There isn't much of a better smell or flavor combo than onions and bacon fat. Let them cook till tender, about 5 minutes.
Then add in the Italian sausage and cook till browned. This is when you want to add your seasonings as well. Season with salt, pepper, and red pepper flakes.
Adding the red pepper flakes now will allow the entire soup and broth to be steeped with the spice and flavor while it cooks.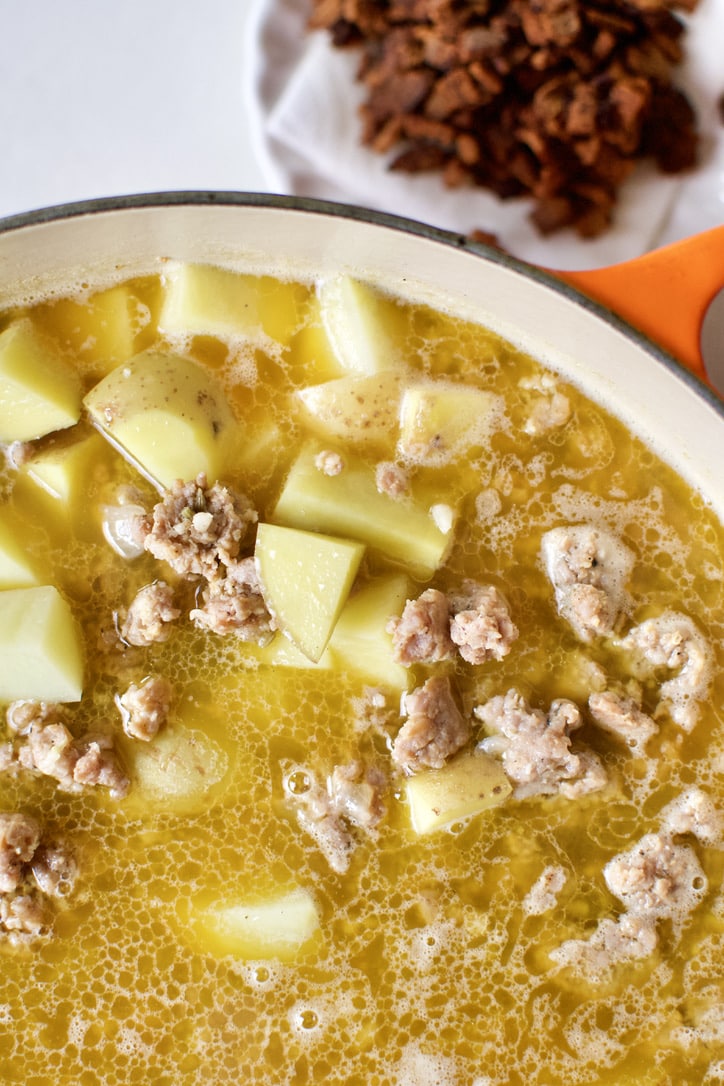 I then add in my chicken stock, and parmesan rind, and let the soup come to a boil while I dice my potatoes. Toss in the potatoes and continue to cook until they become fork tender. Remove ⅓ to ½ of them into a bowl and mash with a fork.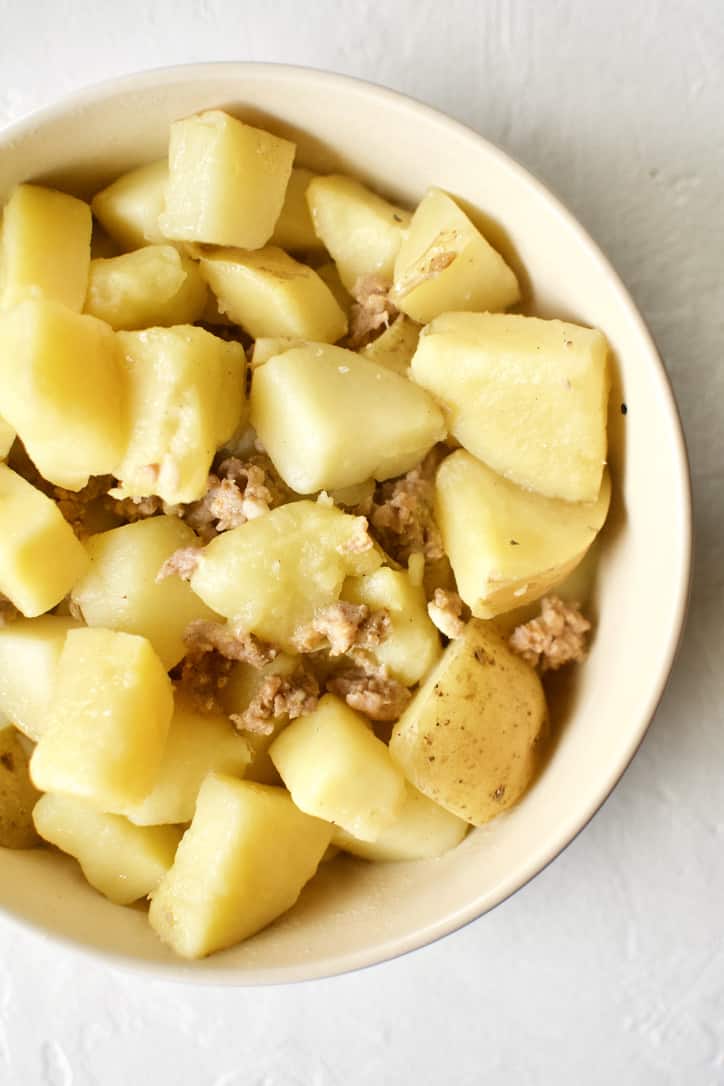 This will allow the potatoes to thicken the soup and give texture to it at the same time. I then add my cream and adjust the seasoning as needed. Maybe it needs a little more salt or I want a little more spice.
The soup is ready to serve. Add the brothy soup to a giant bowl of baby kale and top with the bacon bits and a generous shave of parmesan. A simple handful of ingredients and you have the perfect soup for a cool night, enjoy!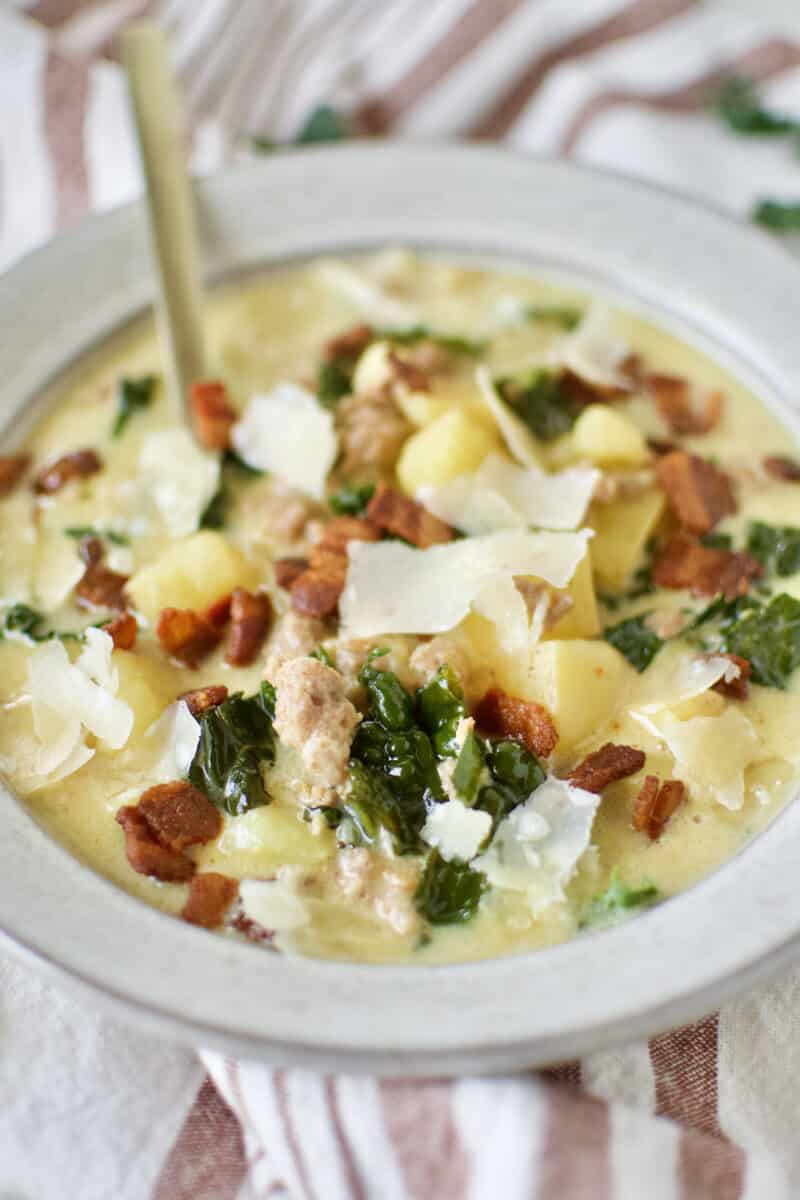 More great soups from my friends!
Lori's Best Tomato Bisque
Kathryn's Orzo Soup with Sausage and Spinach
Kat's Italian Beef Soup (Brodo di Carne)
Did you make this recipe? Let me know by leaving a review or comment! And be sure to sign up for my newsletter, and follow along on Instagram, Pinterest, and Facebook!