Now I know that there are a lot of Zuppa Toscana recipes out there in the world, but I want to share mine with you. I have taken a bit of a signature KendellKreations spin on it and elevated it beyond what Olive Garden can offer. I hope you enjoy it and that it warms your heart and your home.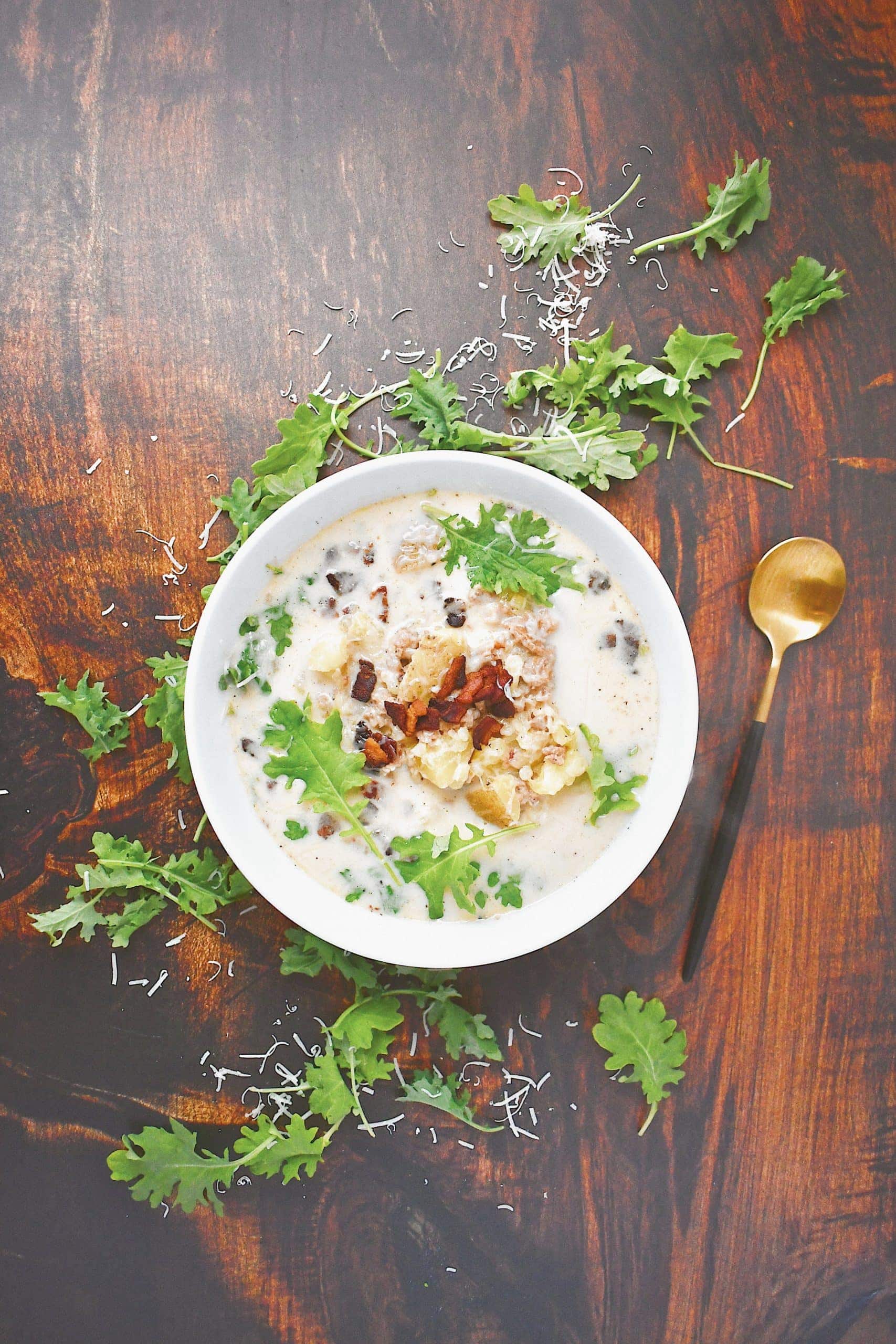 Where I stray from the norm...
The base of many of the other recipes out there is hot Italian sausage and russet potatoes. And already I am changing things up. My base is a sweet Italian sausage and Yukon gold potatoes.
I love the flavor of the sweet Italian sausage better and I make it spicy to my liking. And the richness and natural creaminess that the Yukon gold potatoes bring leave the broth perfectly silky.
I also never understand why anyone would want to use regular kale? Baby kale is 100% where it's at. I hate getting a huge piece of the stalk in my mouth from regular kale and it being super hard and crunchy.
That would be a no go from me. Stick with the baby kale and just pile a big stack at the bottom of each bowl just before serving. It doesn't need as much cooking as daddy kale.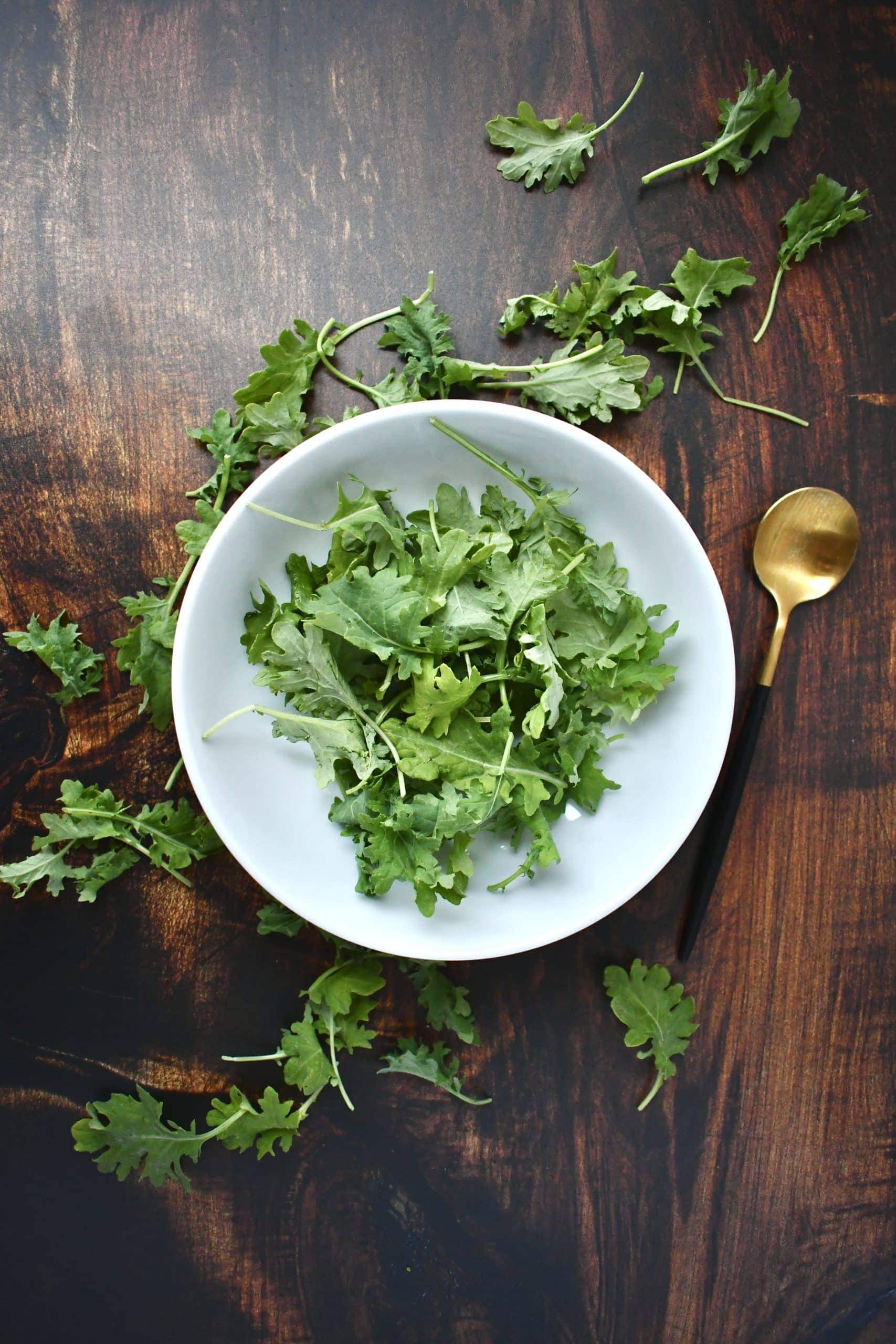 a Chef's Zuppa Toscana at home
It takes a couple of basic building blocks that create the flavor that makes this soup amazing, as opposed to good. Start by layering in the flavor.
First, cook 4-5 slices of bacon in the bottom of the pan until crisp. This is a step most recipes skip and olive garden doesn't do at all. When crisp, remove the bacon bits from the pan and drain on a towel-lined plate.
Then we add the onion and garlic and allow them, to stew down in the bacon fat. There isn't much of a better smell or flavor combo than onions and bacon fat. Let them cook till tender, about 5 minutes.
Then add in the Italian sausage and cook till browned. This is when you want to add your seasonings as well. Season with salt, pepper, and red pepper flakes.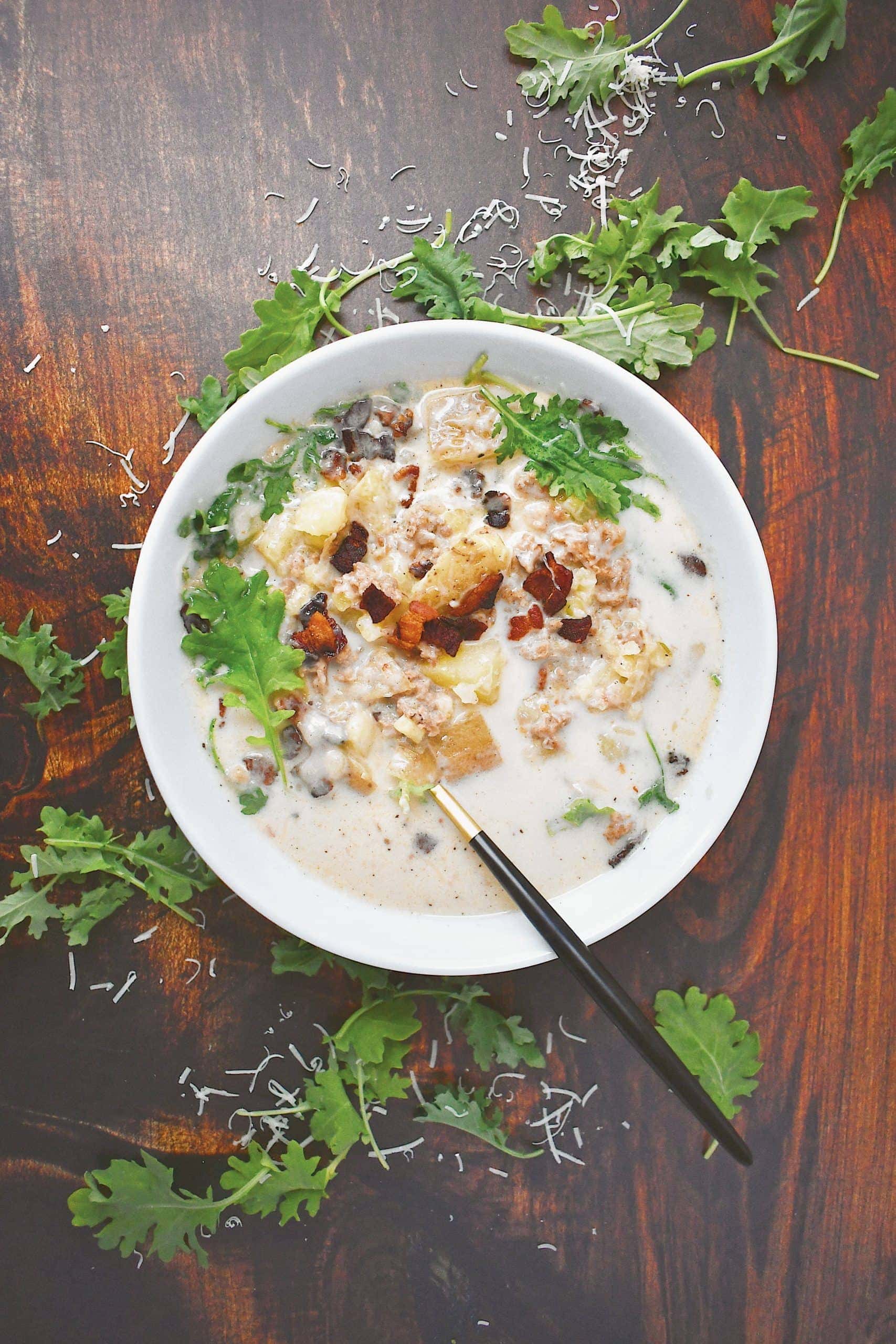 Adding the red pepper flakes now will allow the entire soup and broth to be steeped with the spice and flavor while it cooks.
I then add in my chicken stock, and parmesan rind, and let the soup come to a boil while I dice my potatoes. Toss in the potatoes and continue to cook until they become fork tender. Remove ⅓ to ½ of them into a bowl and mash with a fork.
This will allow the potatoes to thicken the soup and give texture to it at the same time. I then add my cream and adjust the seasoning as needed. Maybe it needs a little more salt or I want a little more spice.
The soup is ready to serve. Add the brothy soup to a giant bowl of baby kale and top with the bacon bits and a generous shave of parmesan. A simple handful of ingredients and you have the perfect soup for a cool night, enjoy!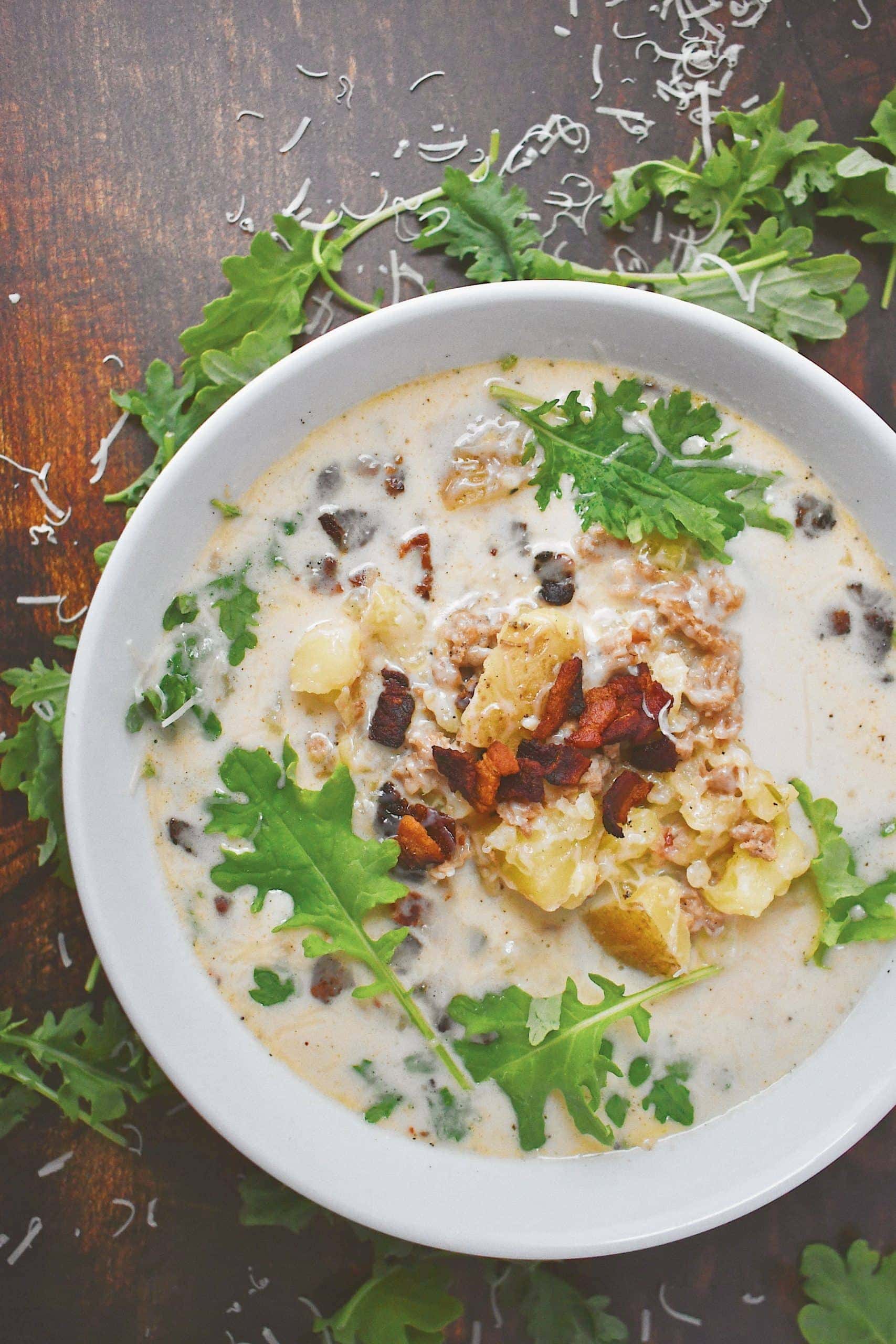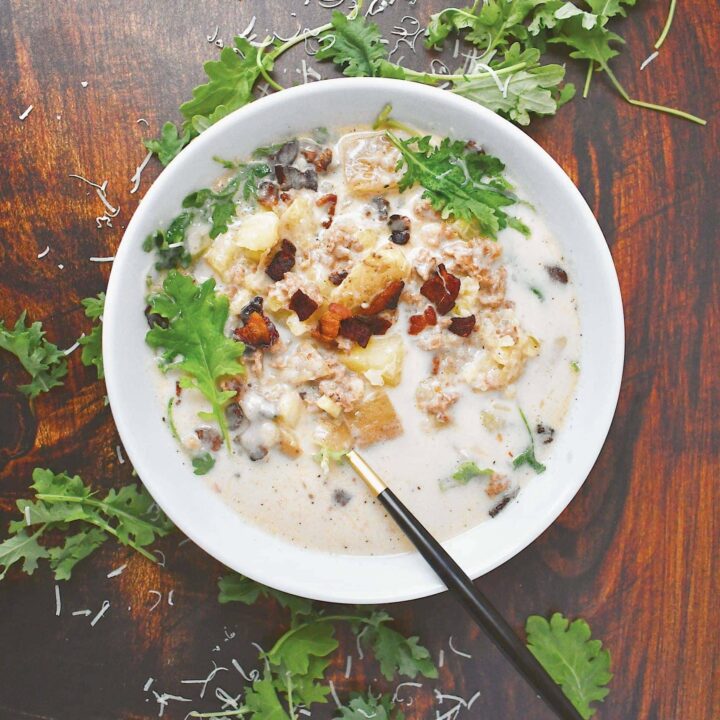 Zuppa Toscana
This is a Chef's take on a restaurant classic. Take it up a couple of notches and make it something to be proud of.
Ingredients
4-5 strips Bacon, diced
1 medium Onion, diced
6 cloves Garlic, sliced
6 Italian Sausage Links, casing removed
1 teaspoon Red Pepper Flakes
2 teaspoons Kosher Salt
½ teaspoons Fresh Cracked Black Pepper
64oz Chicken Stock
3 tablespoons Chicken Base, Better than Bouillon
1 Parmesan rind
8 med. Yukon Gold Potatoes, diced
2 cups Heavy Cream
14 oz Baby Kale
2 cups Parmesan Cheese, shredded
Instructions
In a large stockpot heated over medium-low heat, cook your bacon pieces until completely crips and fully rendered of all fat. When the bacon bits are completely crips, remove them to a paper towel-lined plate to drain the fat.
Remove half the fat left in the bottom of the pot. Add the onions and garlic to the remaining fat left in the pan and cook until soft, about 5 minutes.
Add the sausage, pepper flakes, salt, and pepper. Cook until sausage is browned and begins to crisp slightly.
Deglaze the pot with the chicken stock and bring to a boil. Add the chicken base and parmesan rind and allow it to simmer for about 20 minutes.
Add the diced potatoes to the pot and simmer until fork tender. Remove ⅓ to ½ of the potatoes into a bowl and mash them with a fork. Return the mashed potatoes to the pot and add the heavy cream.
Taste and adjust the seasonings if needed.
Serve the broth over a full bowl of baby kale with a generous shaving of parmesan and top with bacon bits.
Notes
Pro tip: Buy a block of parmesan, shred down to the rind and throw it into the pot while the soup simmers for tons of extra flavor!
Nutrition Information:
Serving Size:

1 grams
Amount Per Serving:
Unsaturated Fat:

0g
More great soups from my friends!
Lori's Best Tomato Bisque
Kathryn's Orzo Soup with Sausage and Spinach
Sarah's Slow Cooker Butternut Squash Soup
MY LATEST RECIPES!
Get my NEW e-Cookbook here!! ⬇️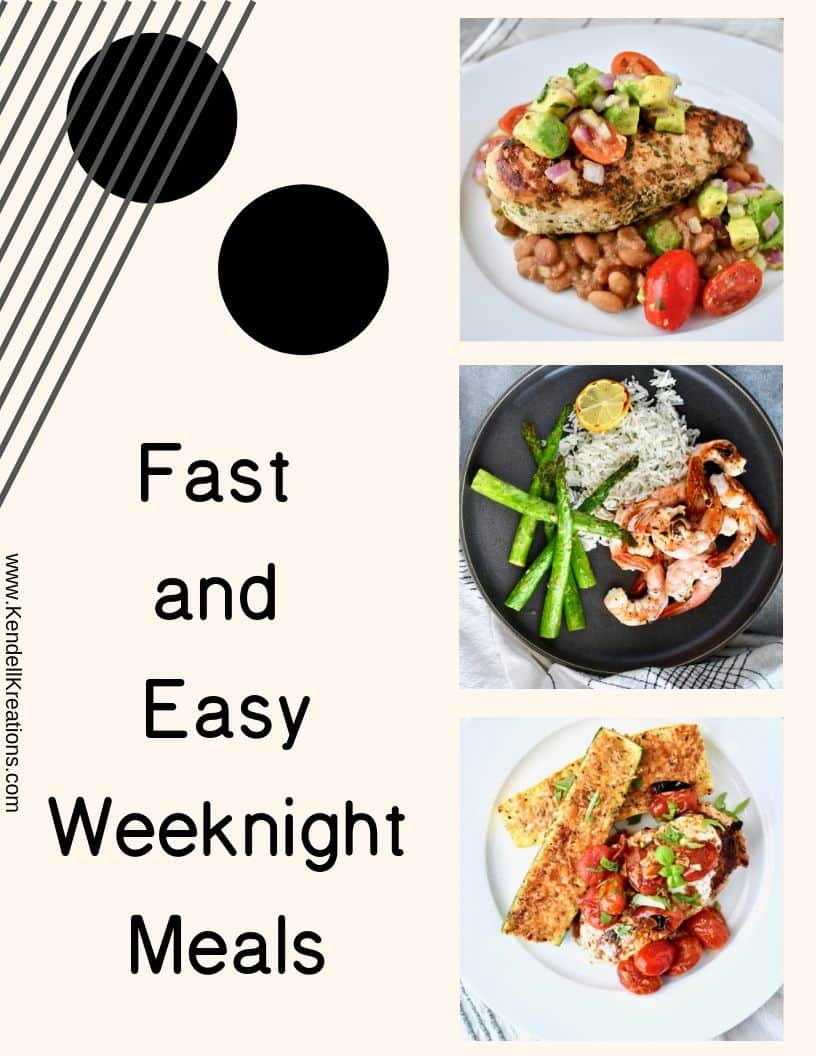 MY FAVORITE KITCHEN TOOLS!
Here are a few links to some of my favorite kitchen tools! You get a car, YOu get a car, YOU ALL GET A CAR…in my best Oprah voice
These Rösle Silicone Tongs are a little pricey but they will last you the rest of your life and are the softest in your hand. This is important for someone like m that cooks so much. It reduces strain, I have 4 sets in my kitchen!
These are my FAVE Nordic Ware Sheet Pans, every kitchen should have at least 2 sets of these! I think I have at least 4 of each of these.
This is my favorite pressure cooker, the Fagor is the same concept as the "Instant Pot" but easier to use in my opinion, if you don't have one you NEED one, it will be your best friend in the kitchen!
A sharp knife is the most important tool in the kitchen, these Japanese steel "Shun" knives are my favorite! And this is a great starter set to build on. Once you try them you will be in love so use this as a foundation you can build on for years to come.
This Scanpan 11″ skillet is just the right size for almost anything you will need to cook and my best friend and a real workhorse in my kitchen, it's also a great deal at $99. Scanpan is the best in the world for healthy cooking. It is coated with a proprietary ceramic-titanium coating that is durable while allowing you to use fewer fats and oils when cooking. It is a coating only they use. I could talk all day about my love for these pans, message me if you want more info. Here are some other sizes that are available if you are looking to outfit your kitchen with some new goodies. 8″ & 10″ Skillet set or 8″ Skillet, I still need this one for my kitchen Also, I don't really know how to cook small so the 12.5″ is my other fave!
This giant vat of olive oil is my favorite, I decant it into a smaller bottle for my counter. Or put this spigot on top of a wine bottle!
My favorite baking dish that is so easy to clean even burnt on cheese slides right off!
This Tovolo jar scraper has to be my single favorite kitchen tool, it is definitely the most used tool in my kitchen. If you are NOT a gadget person, this is the only necessity I say is a MUST beyond the wooden spoon.
A great wood spoon is essential, this Olive Wood one is my favorite, I have more than I can count. But can you really ever have too many?
A food scale can be a very important tool in your kitchen, this one is the one I use every day!
If you love Joanna Gaines as much as I do then the 'Magnolia Table Cookbook' is a must in your kitchen, get a copy HERE!