When you are looking to lighten things up a little, grab this recipe for my Healthy Breakfast Sandwich. It is a great Meal Prep Breakfast sandwich and holds up great in the freezer for the week. You can think of this sandwich as a Bread-less Eggwich, which is even great for anyone doing keto, or just when you want to up the protein content of your breakfast or a snack.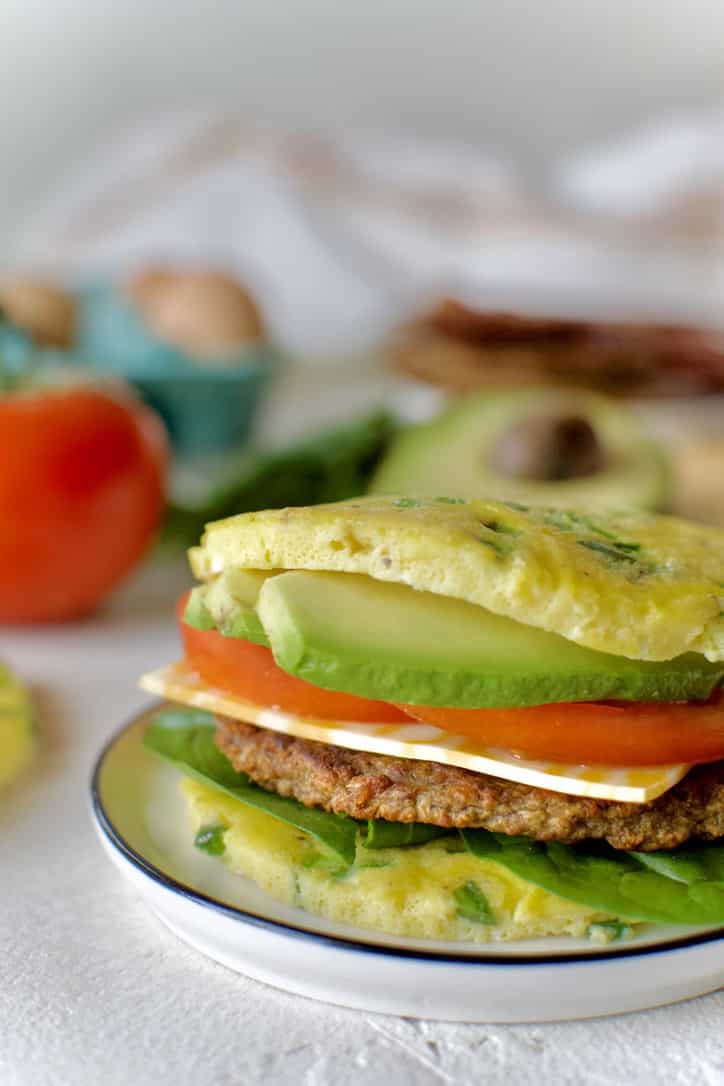 Jump to:
Ingredients
Only a few of the ingredients you see below are key to making the "EggBread" for this Healthy Breakfast Sandwich or "Eggwich". The eggs, half and half, oil, salt, and pepper, are what will give the eggs flavor and body to create the "bread" of this sandwich.
Everything else is optional. Use your favorite cheese or toppings, and any meat or meat substitute you like for the middle. I like bacon or sausage patties and cheese at a bare minimum.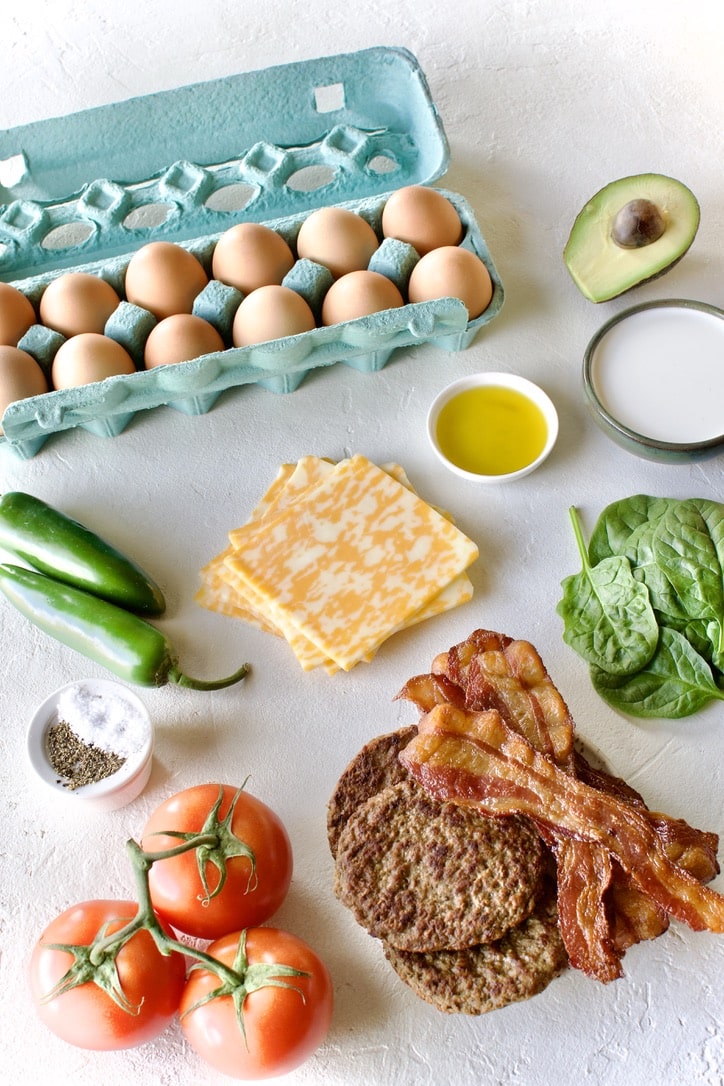 Use the JUMP TO RECIPE button at the top of the post, or scroll to the bottom of the post to see the full recipe card with ingredient measurements and instructions.
Method
To create the "egg bread", start by cracking the whole eggs and whisking them up until frothy. Add the cream and olive oil and whisk until well combined. I then like to whisk in some diced jalapeno for color and texture. I remove the seeds so they don't add much spice, you could use any pepper or herb you like here.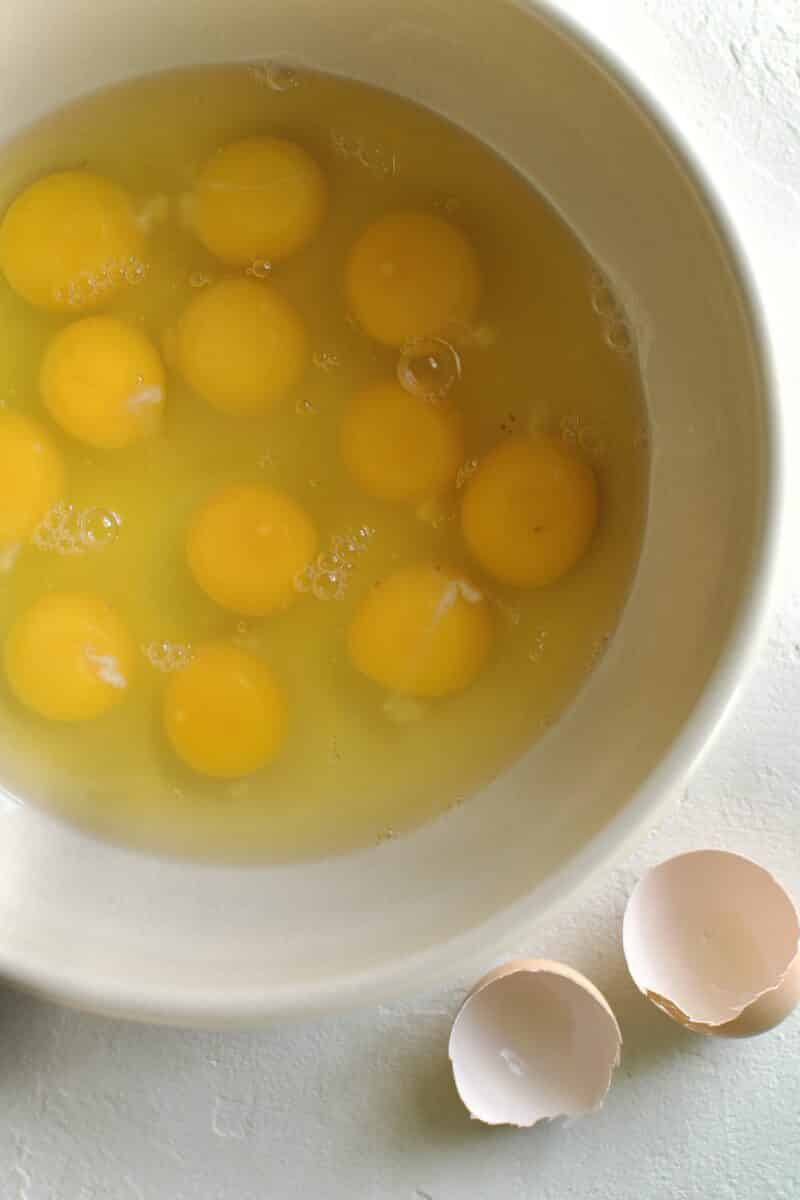 Next, pour the egg mixture onto a greased, and parchment-lined sheet pan. Be sure to grease it and press the parchment into the pan so the eggs don't run under the paper. Bake until the eggs have set. Remove the pan from the oven and using a large biscuit cutter, cut the set eggs into about 3-inch rounds.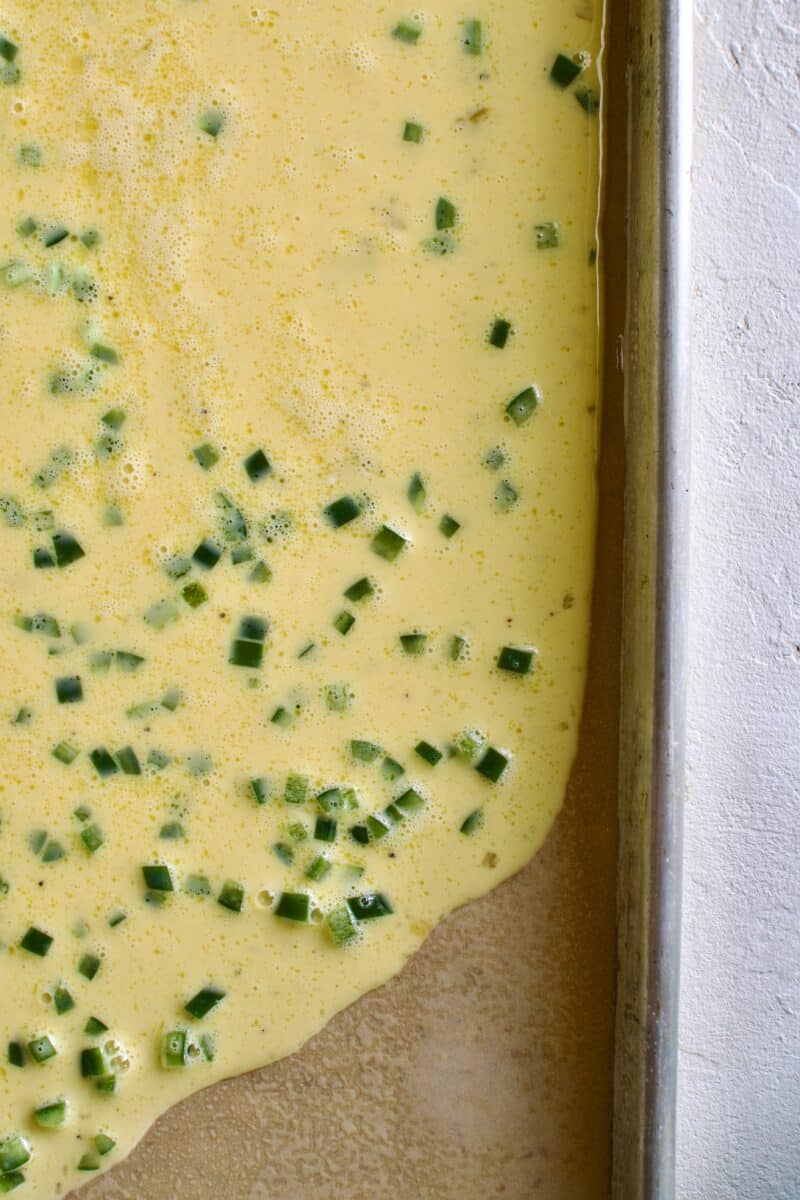 Now that you have your egg rounds, you can build an egg-wich and personalize it any way you like. Like I mentioned earlier, cheese, sausage, and/or bacon are my must-haves. Tomato, Avocado, and Spinach are also great additions, but you do you and put what you like on it. A few dashes of hot sauce are good too!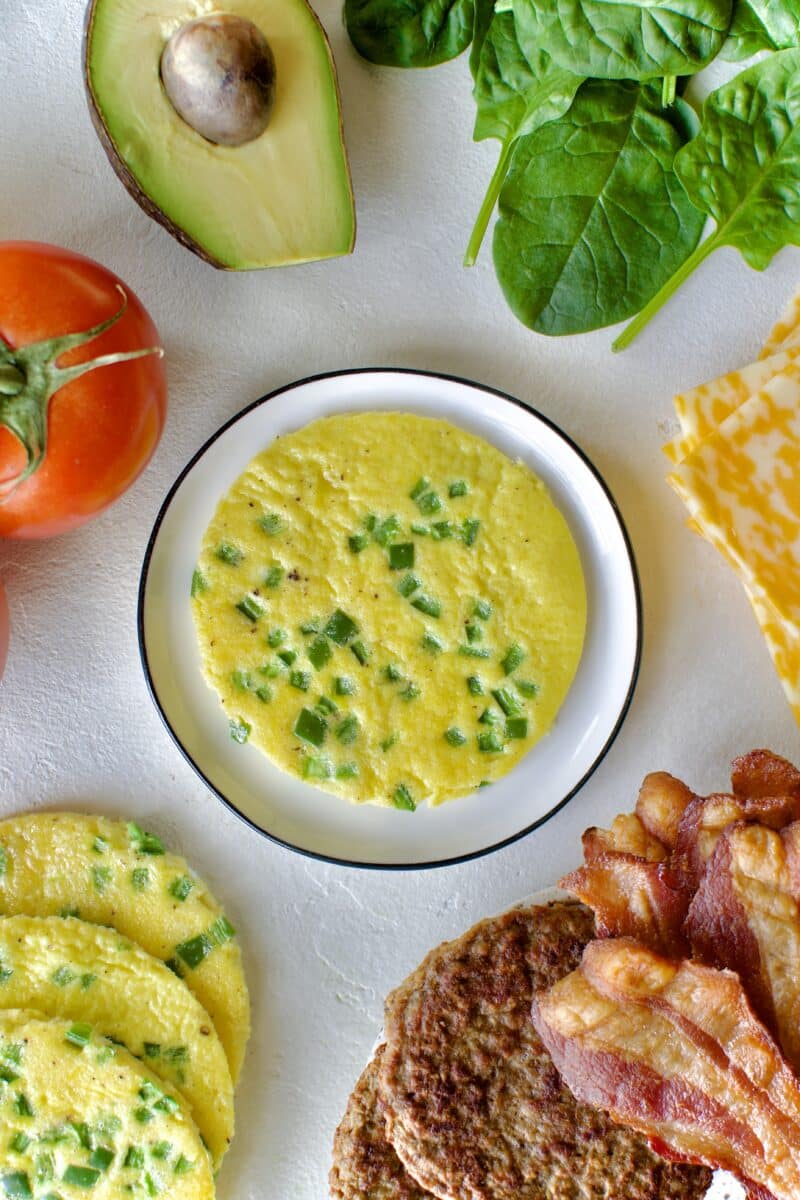 Notes & Tips
One big note to make, be sure to use sheet pans with raised edges, sometimes called jelly roll pans, so your eggs don't run away from you. Even if I use a non-stick pan, I grease it with cooking spray and line the pan with parchment paper. Eggs like to stick no matter what you do, so this just ensures they don't and makes clean up easier.
You can also use those same parchment sheets to wrap your sandwiches in for storage in the fridge or freezer if you are meal-prepping these for use all week. See the images below for how to wrap, seal with a piece of tape to hold it all together. Alternately, you can use these parchment sandwich bags, I had some in my pantry, so I actually ended up using them, they are perfect for making quick work of these and you can microwave the egg-whiches right in the bag and run right out the door, looking like you stopped at Starbucks and everything!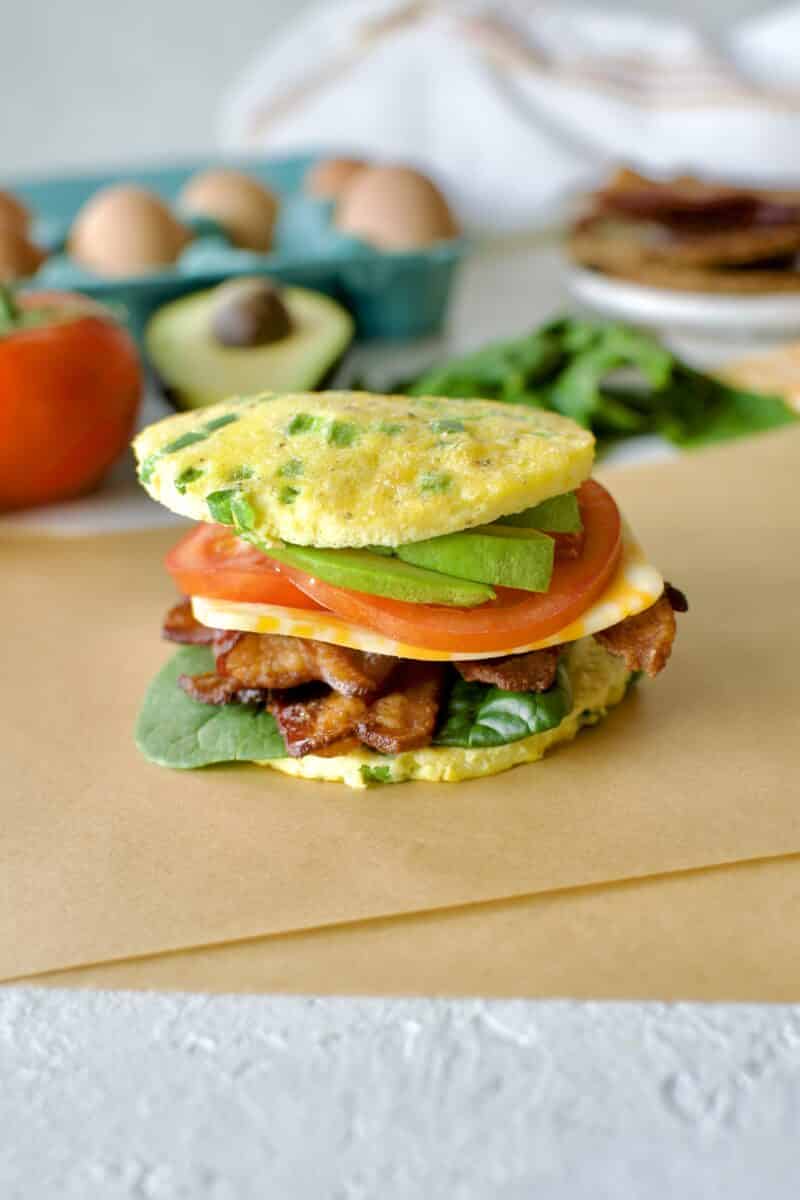 Substitutions
This recipe can be made with Just-Eggs for a vegan egg option. Use your favorite plant-based meat option to replace the sausage or bacon.
If using real eggs, the half and half can be swapped for heavy cream, or whole, or 2% Milk. I just like to use half and half for extra richness and fluffiness. It helps make the eggs feel more like bread.
If you don't have olive oil, any neutral oil will work, you just want to be sure to use a little fat, even butter, to help the eggs not stick, it also adds richness to them.
I use the Jalapeno peppers for color and texture. If you do not prefer them, use a more mild pepper like a bell, or omit the peppers altogether. Spinach is also a great option for adding directly into the eggs, just chop about 2 cups of fresh spinach up into small pieces and mix it in before baking.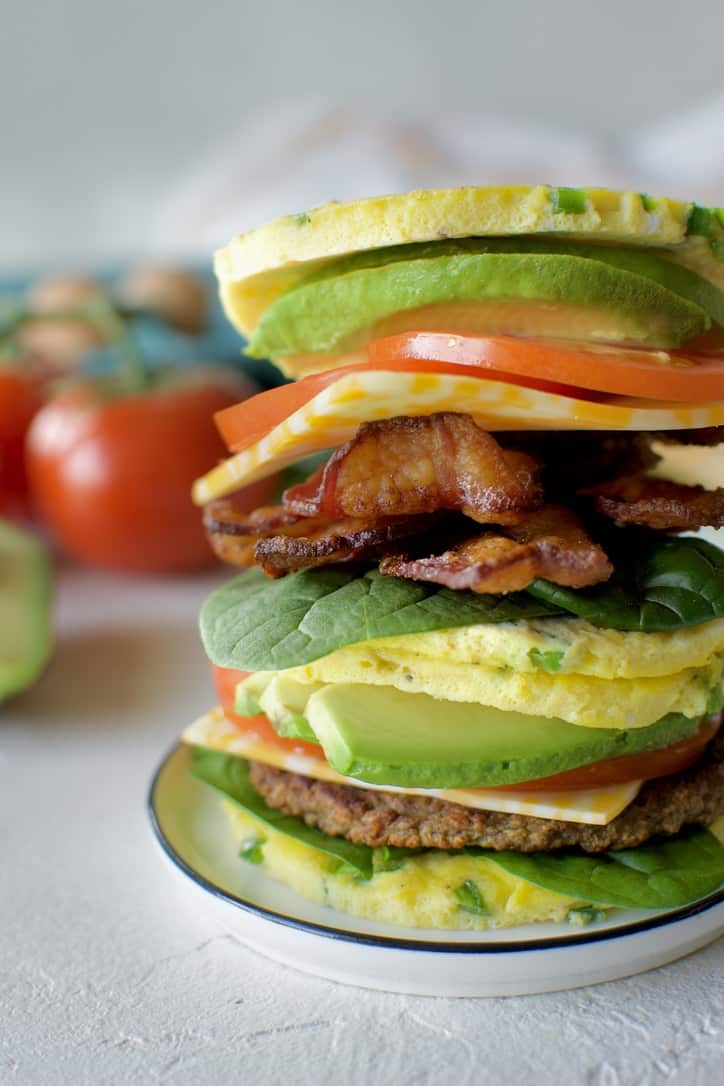 More healthy-ish breakfast options
Did you make this recipe? Let me know by leaving a review or comment! And be sure to sign up for my newsletter, and follow along on Instagram, Pinterest, and Facebook!