Today's review of Joanna Gaines' recipe for Chicken Tacos + Corn Tortillas from her Magnolia Table Cookbook Vol. 2 is a weeknight winner that is sure to make the whole family happy!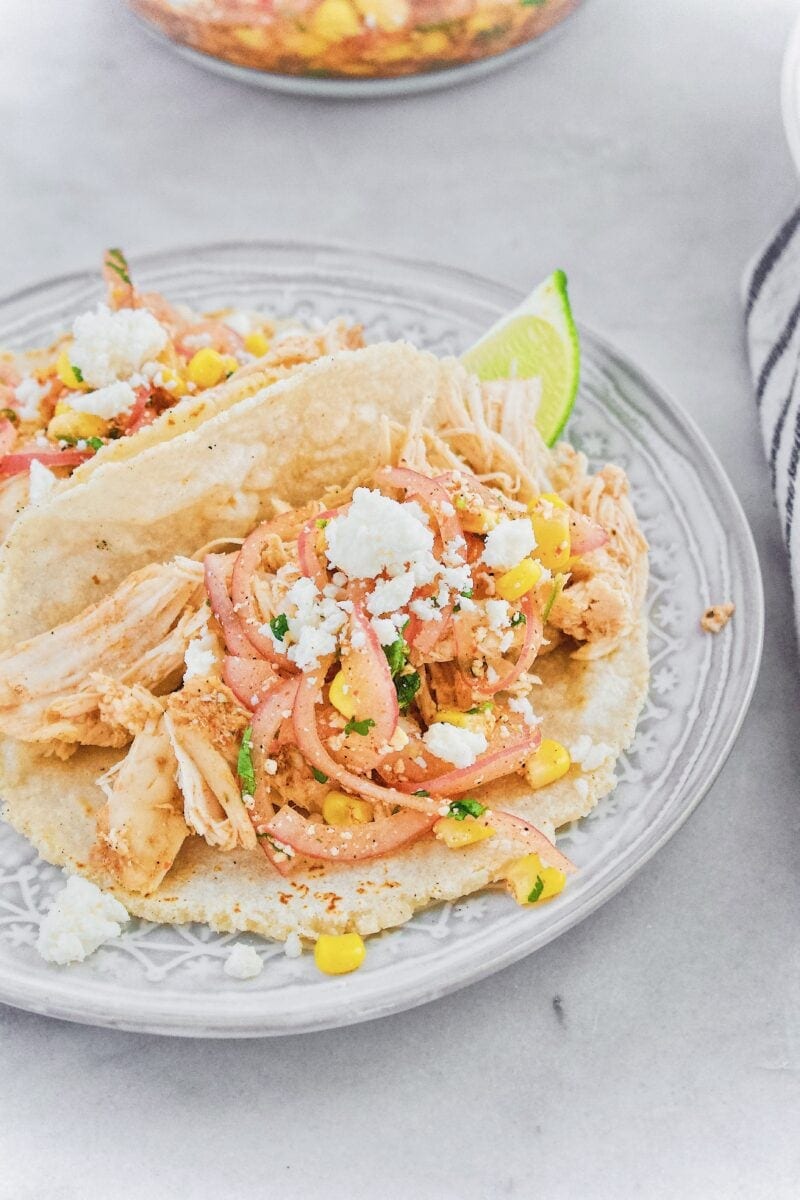 The review...
This is one of those set it and forget it type of recipes, perfect for a busy weeknight meal. You throw a few pieces of boneless chicken and some seasonings into a roasting pan, cover it, and put it in the oven. It really is almost as easy as that.
Shred the chicken with a couple of forks when it is done and it is ready to hit a tortilla. Joanna also shares a recipe for a corn salad topping you can use to give it just a little extra love. And honestly, you need it to give some interest to your tacos!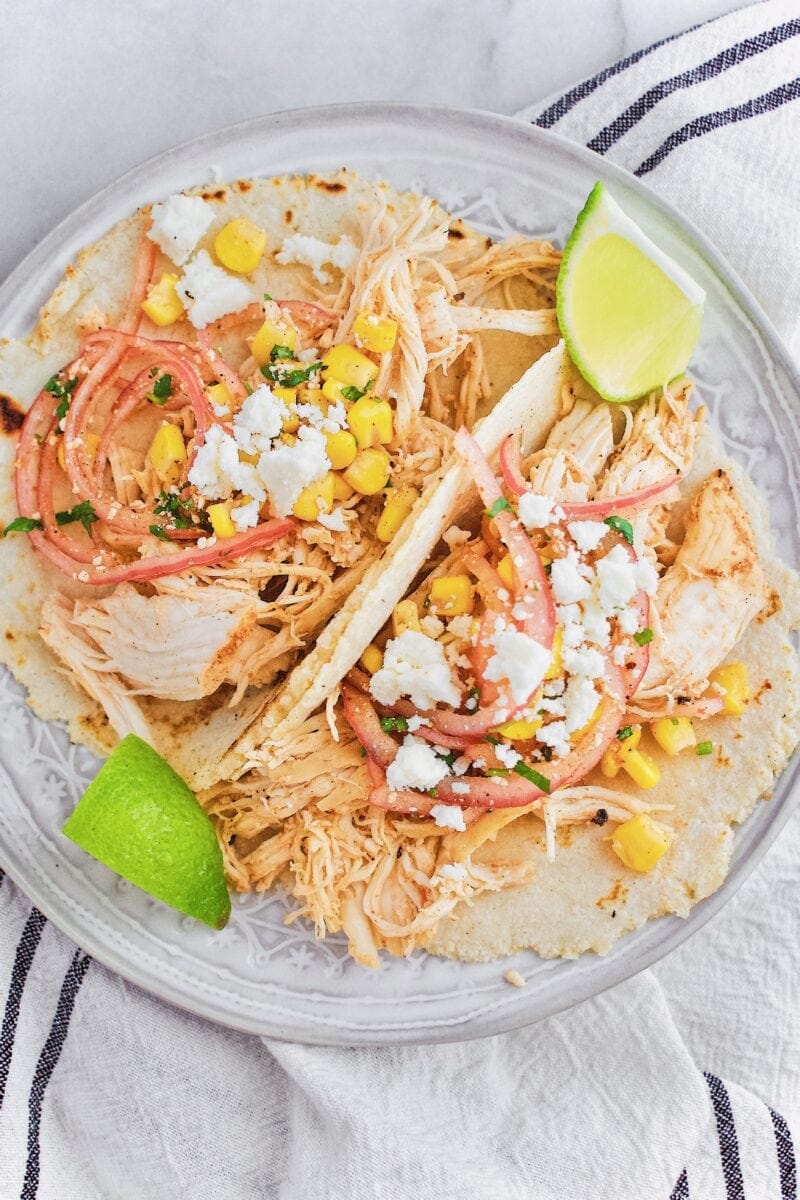 The reaction...
Without the corn and pickled onion "salad" on top, the chicken inside a tortilla is pretty much something fit for a toddler. I feel like the seasonings were heavy and I expected to have some great flavor come from it. But the chicken was beyond bland and needs a much bigger boost, somewhere!
I would almost double the amount of seasonings I use to cook the chicken if I made this again, or at a minimum be sure to give a heavy sprinkle of salt on top before putting it in the oven.
So if you can't tell yet, the reaction was a bit of, "it's OK".
I even went the extra mile and made some more homemade tortillas and the chicken needs to live up to the work you put into making tortillas from scratch.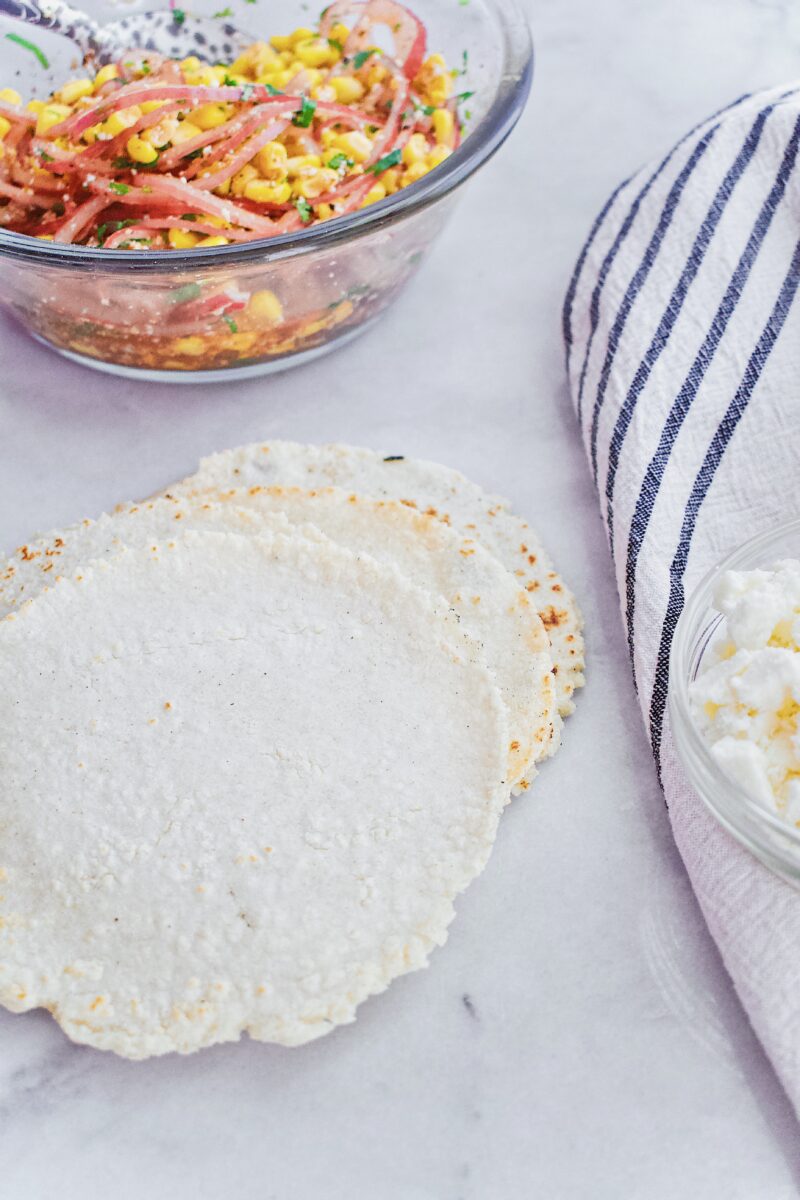 The TIPS...
The best tip I can share is, BE HEAVY HANDED with the Seasonings! At least if you want your tacos to have GREAT flavor.
The chicken holds up really well for about a week in the fridge. Before you pack it up for the night, toss the chicken into strainer or colander to let the excess liquid drain off. Doing this after it sits in the liquid to cool at room temp will give you a better end result for using leftovers to make quesadillas and what not.
I am not a fan of runny tacos or quesadillas that leave liquid running down your arm as you eat it. That might just be me, but that's why I drain off the extra liquid.
I have also fallen in love with the homemade tortilla process. I would suggest getting on board with that, and if you need a good tortilla press I picked up this one and it has been a lifesaver! It is also important to note that is works great for pressing the flour tortillas as well.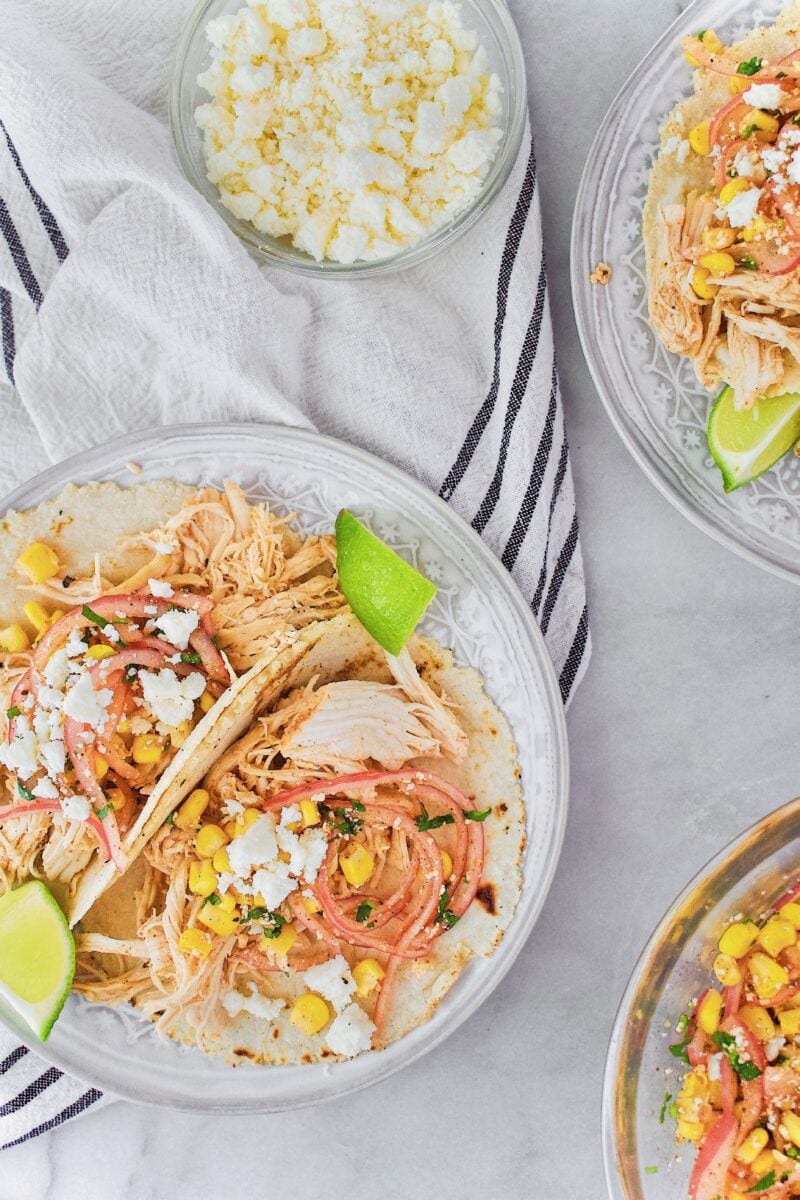 Overall, the Chicken Tacos were good, but I think that they could be GREAT, you just need to adjust the seasonings. Even the corn salad needed a little extra love, so just taste and adjust as you go and tailor it to your liking.
Until next time, Happy Cooking!
Kendell
If you watched Joanna makes this recipe on Season 3, Episode 2 of her new cooking show 'Magnolia Table with Joanna Gaines' you can get the recipe by CLICKING HERE, she shared it on her blog so you can make it at home!
read my other reviews of season 3 episode 2 here...
Street Corn (coming soon)
Mango Avocado Salad (coming soon)
Crispy Saffron Rice (coming soon)
Churros (coming soon)
Did you make this recipe? Let me know by leaving a review or comment! And be sure to sign up for my newsletter, and follow along on Instagram, Pinterest, and Facebook!