OMG!! I have to start by telling you that this recipe is SOOOOOO GOOD!! If you have just started to cook from Joanna Gaines Magnolia Table Cookbook, you need, no MUST, put this recipe at the top of your shortlist!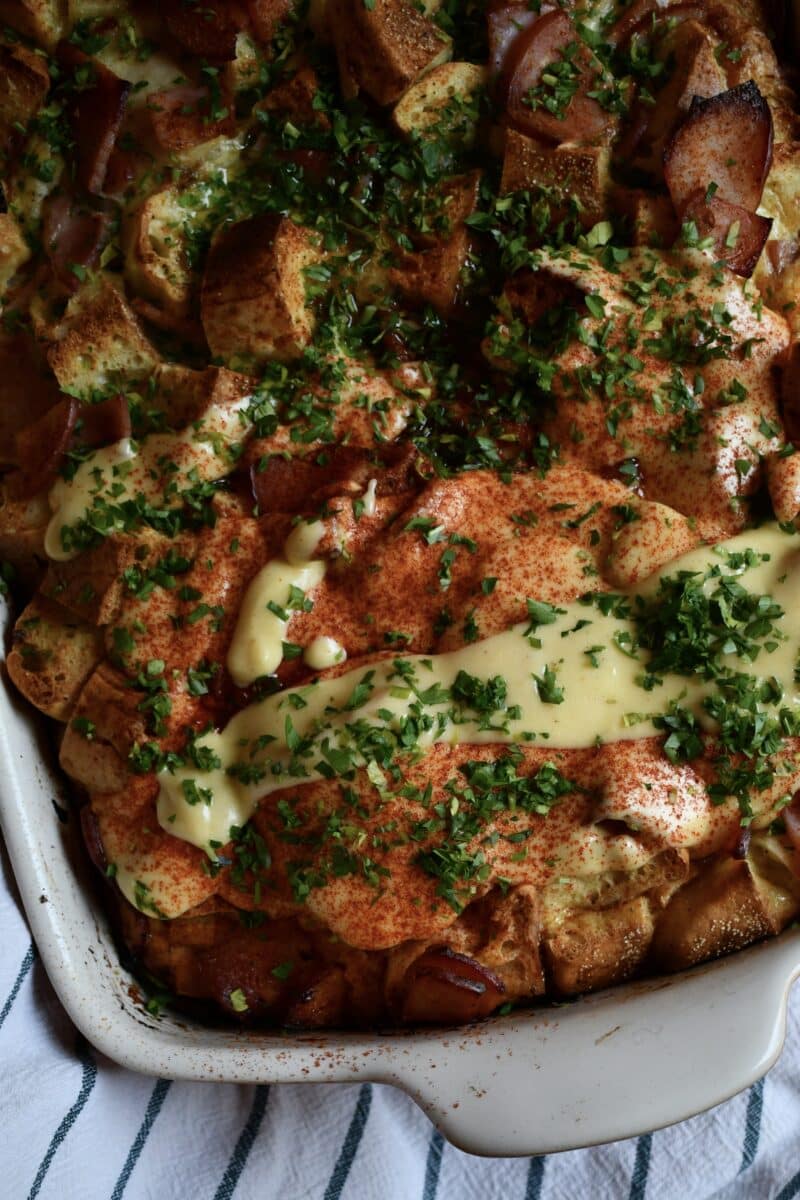 Did you make this recipe? Let me know by leaving a review or comment! And be sure to sign up for my newsletter, and follow along on Instagram, Pinterest, and Facebook!
As a Chef that has worked in restaurants where I have had to make eggs Benedict for hundreds of people on weekend brunches, and have only made them a handful of times for my own family. I have to say that this recipe checks all of the boxes for flavor while giving you the ability to please a crowd with far less effort.
It became a massive new favorite at my house! It may have to be put into a monthly rotation I have been told. Everything was so good, from the fluffy bread pudding-like texture to the crispy edges that added so much texture.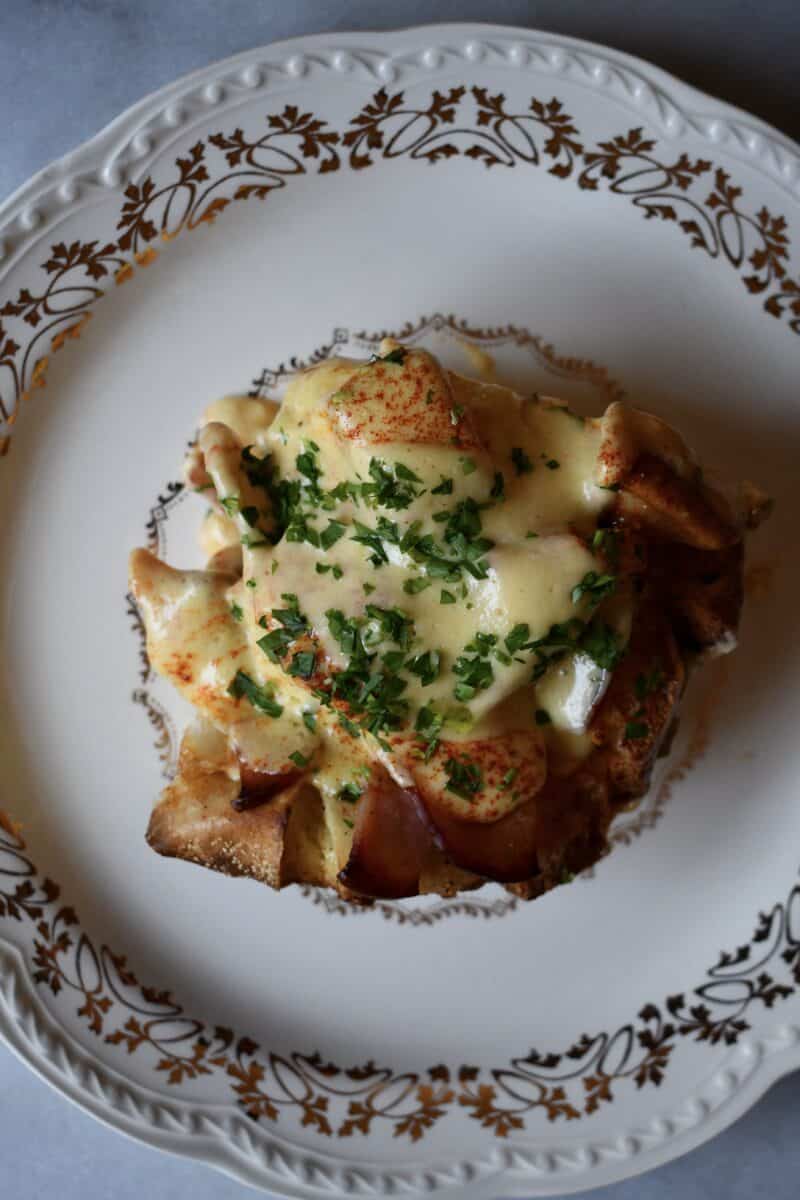 The lemony hollandaise on top put it on another level! I want to encourage you, DO NOT BE AFRAID to make this recipe just because of this sauce. Just remember to whisk as fast as your little arms can, because just when you think the sauce is about to break it all comes together. It gets worse before it gets better, when it is finished you will be left with a beautifully creamy, deliciously thick egg sauce that will knock anyone's socks off!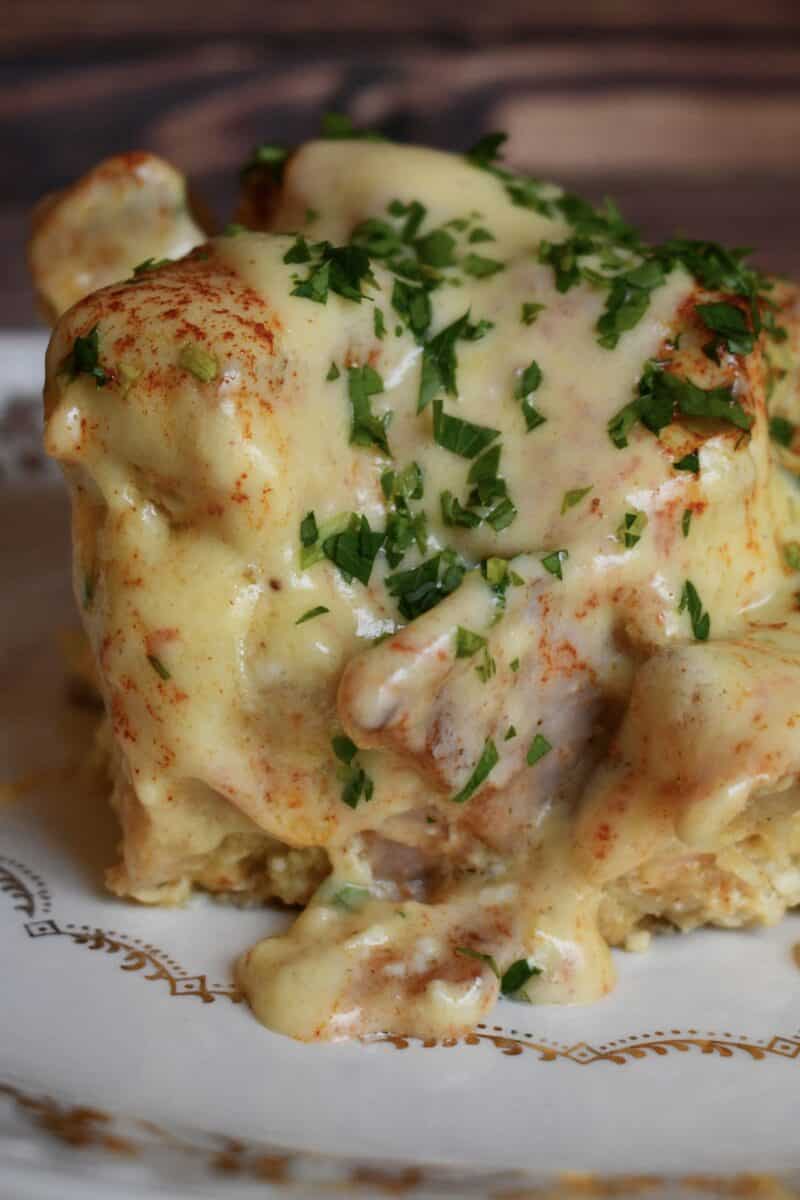 Be confident and impress everyone with the amazingly scrumptious recipe at your next family breakfast!
My pro tips...I feel like I cut my English muffins a little smaller than Joanna called for in the recipe. I cut mine into three strips and then in three again to make "squares". I feel that she intended for them to just be quartered and the same with the Canadian bacon. I will cut them all larger next time for a fuller texture.
Let me know in the comments what method you decide to go with and feel free to drop me a note, I'd love to see how your's comes out!
Until next time, happy cooking!
Kendell
If you watched Joanna makes this recipe on Season 4, Episode 5 of her new cooking show 'Magnolia Table with Joanna Gaines' you can get the recipe by CLICKING HERE, she shared it on her blog so you can make it at home!
Read my other Reviews of Season 4, Episode 5 here...
Snickerdoodle Coffee (coming soon)
Mixed Berry Salad (coming soon)