I call these my Kitchen Sink Cookies because the base cookie dough is super versatile and can be adapted into many variations. Plus they are super easy to make, and who doesn't like to pack a cookie with all their favorite things!?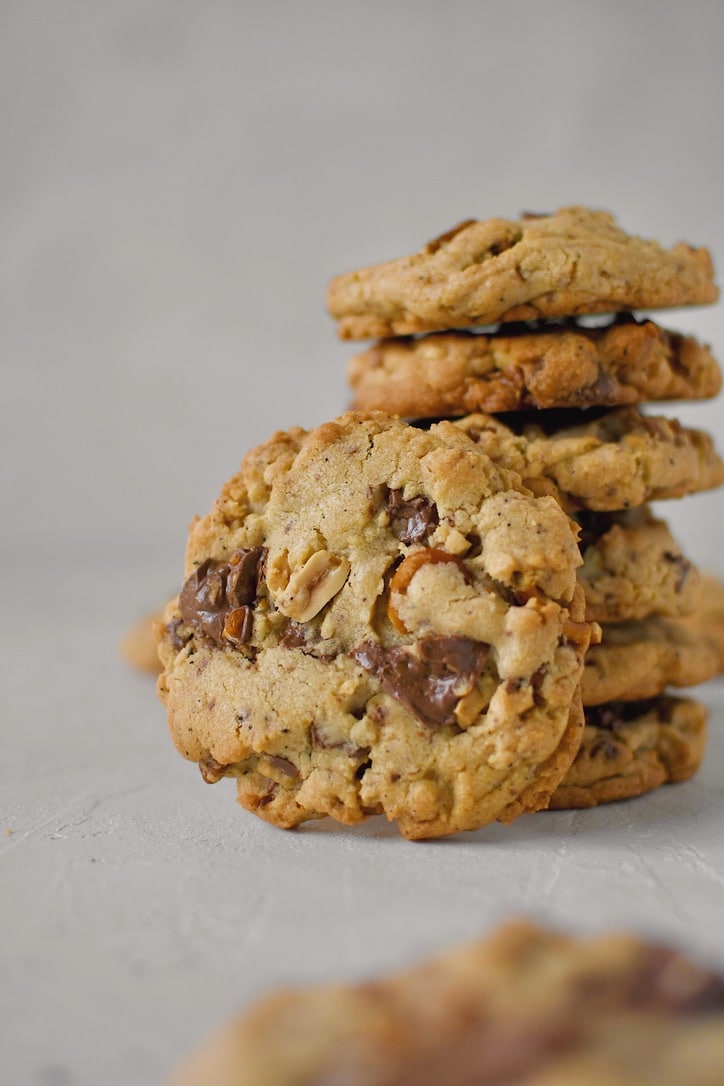 Sometimes when I make them I add potato chip crumbles, or different types of specialty baking chips, the sky really is the limit!
Jump to:
Ingredients
I like to use this recipe the way I have written it here as a jumping-off point. Some chocolate, nuts, and salty pretzels. I don't know what it is about pretzels in a cookie, but I love them!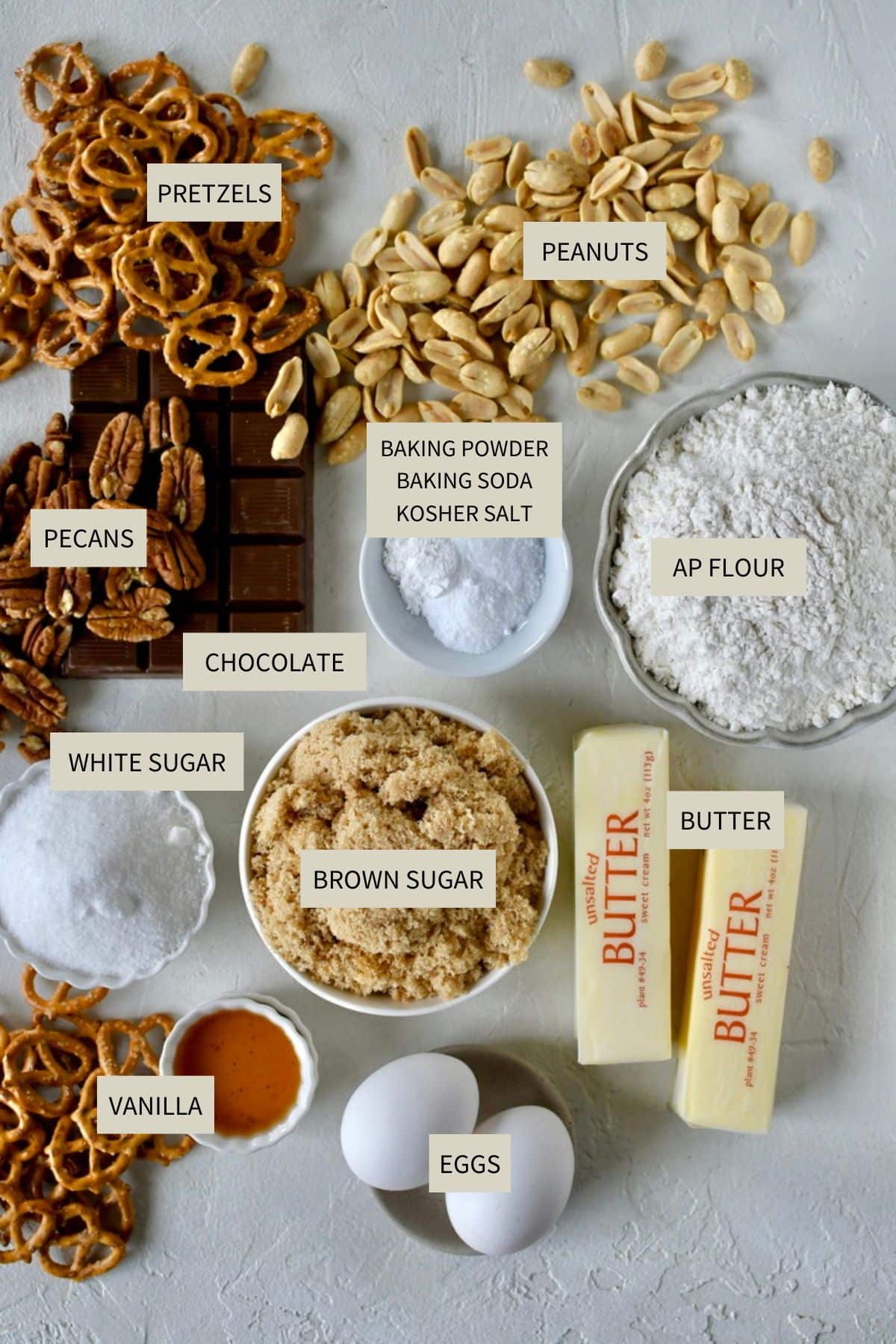 Use the JUMP TO RECIPE button at the top of the post, or scroll to the bottom of the post to see the full recipe card with ingredient measurements and instructions.
I also loved using this amazing chocolate bar that I came across at Trader Joe's. And it was so fantastic in this cookie! I am going to stock up so I can have some around for long time in case they take it away.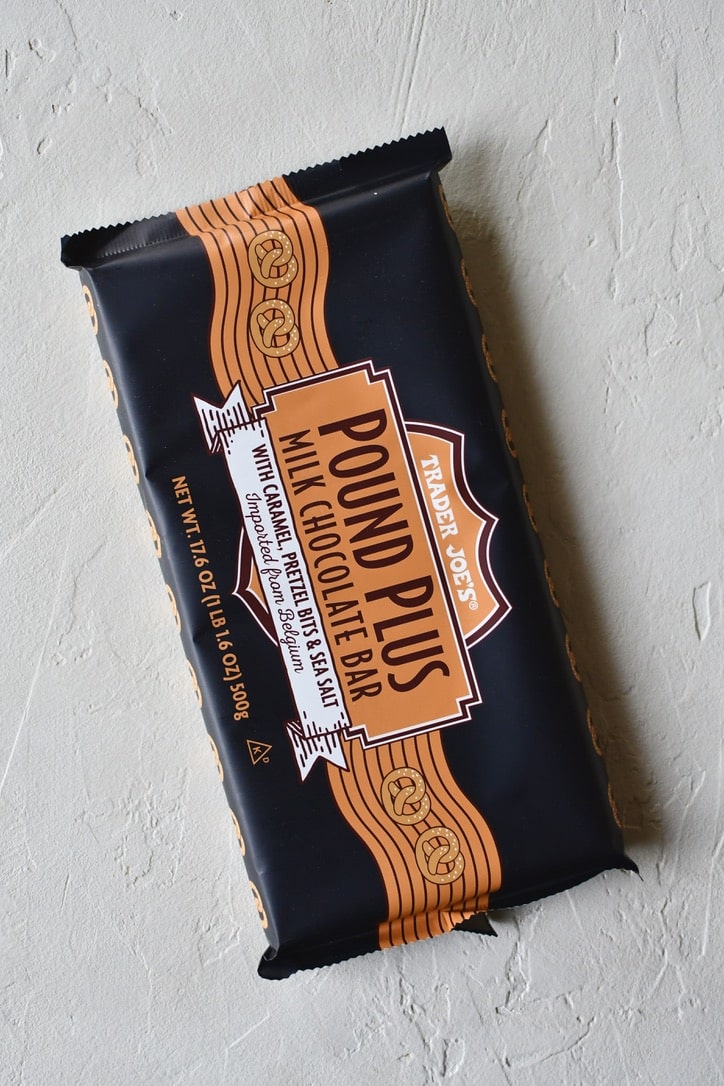 Method
The first thing you need to do for these cookies is to brown the butter and let it cool. One important note is that once you have browned the butter, put it back into a measuring cup and fill it using neutral oil until you have ½ cup. You want to keep the fat at ½ cup, and when browning some water will cook off and lessen the amount. Stir it in to balance everything out.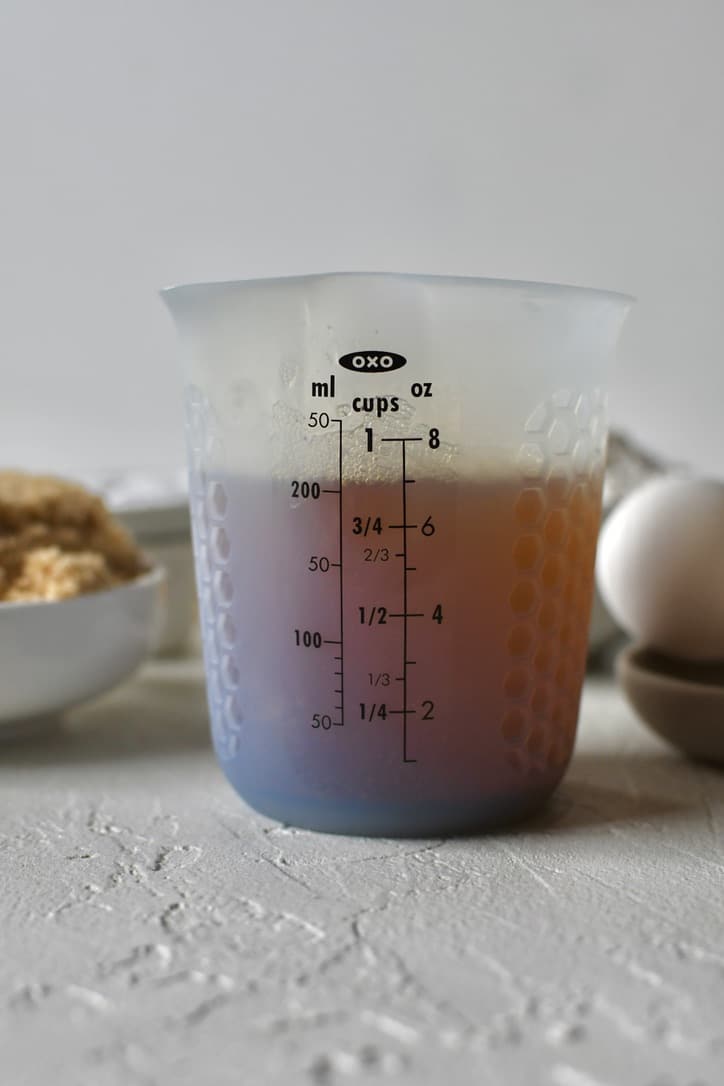 Then let the butter cool completely, until almost solid. It will never fully solidify again because of the oil, but until completely cool. Then beat the butter in a stand mixer with the sugar until fluffy.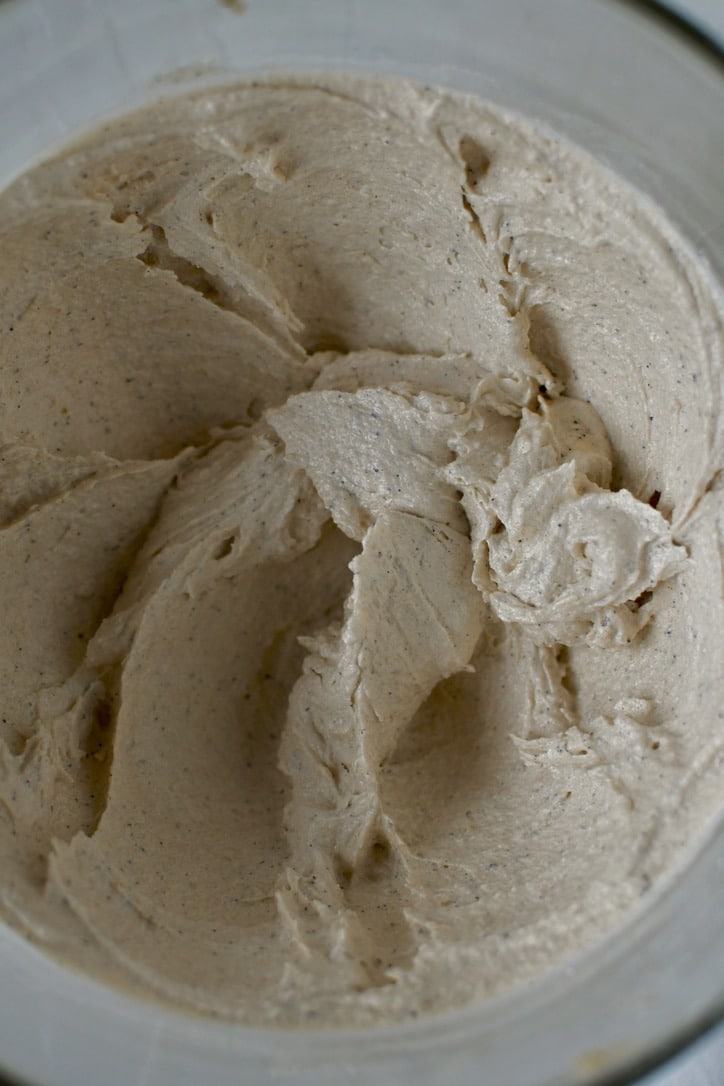 Next, work in dry ingredients, but just until a few streaks of flour remain in the bowl. Then add your mixins. The chocolate, nuts, pretzels, or anything else you might like.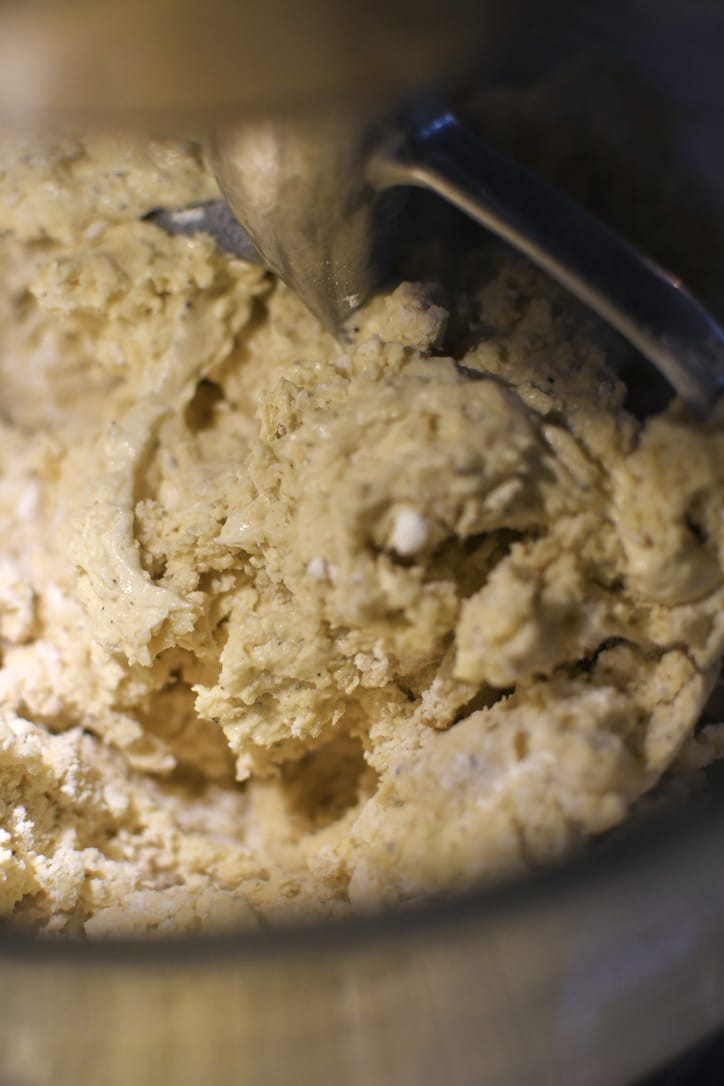 Then portion out the cookies to the size you like. I like a large 2-ounce cookie so I use a portion scoop to make uniformly-sized cookies. I then press some chocolate chunks into the top of the cookie so you end up with puddles in your finished bakes. Lay them out about 3 inches apart on a parchment-lined baking sheet and bake until just set and lightly golden brown.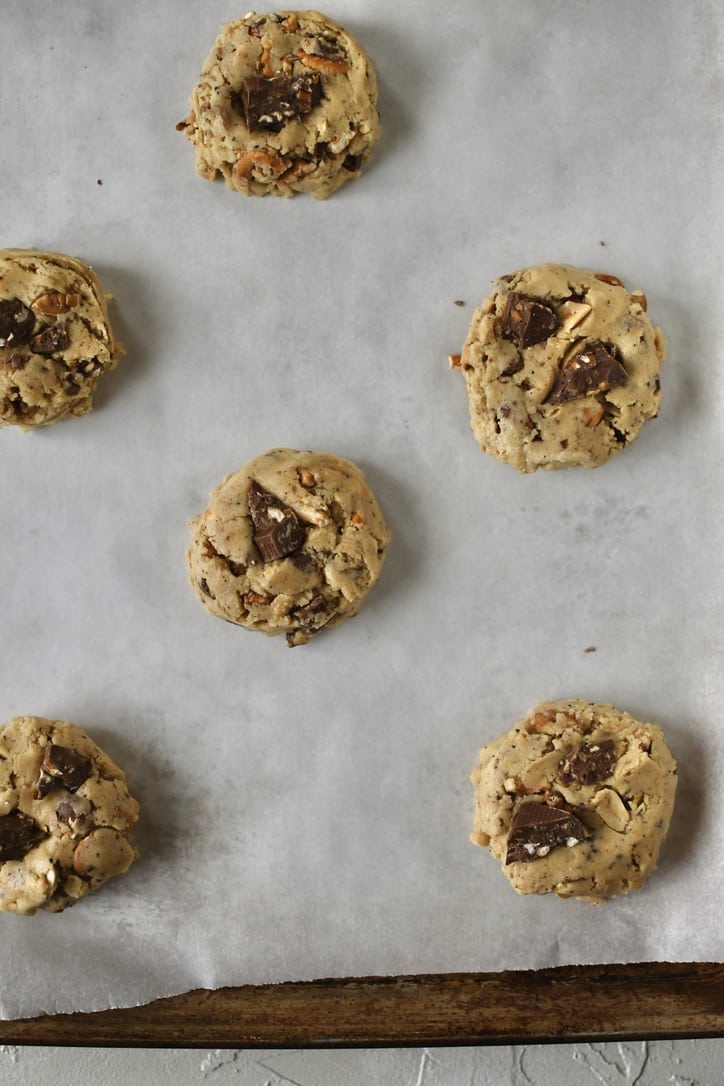 These cookies are full of flavor, and not too sweet. The brown butter cuts the sweetness and adds super rich flavor. Making these cookies super decadent!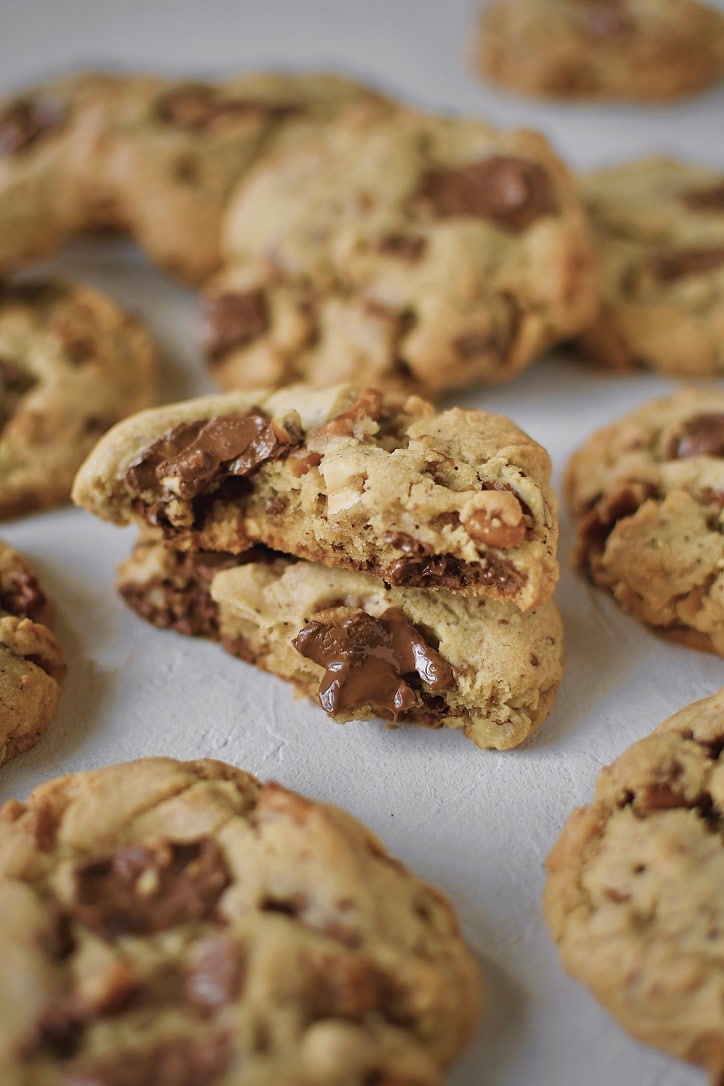 Notes & Tips
When browning your butter, I prefer to do it in a skillet to prevent burning and hot spots. You also want to be sure to stir it constantly once melted to prevent blackening. Then remove it from the heat as soon as it gets golden as it will continue to cook for a minute or two after you take it off the heat.
The secret to getting beautiful pools of chocolate in any cookie you make is to use bar chocolate and chop it into chunks. Then mix some of the chunks into the cookies and save some to press on top before baking. The result is a super photogenic cookie with delectable pools of chocolate melted on top.
Be sure to cream the cooled butter and sugars for 3-4 minutes. This helps to ensure you have a super fluffy cookie in the end. Creaming the butter is super important and can be done too much and too little, so getting it just right yields the perfect cookie.
Achieving the perfect cookie is also heavily dependent on having ingredients at the proper temperature. Everything should be at room temp at a minimum. And if your home runs a little cold, just be sure the butter is a little warm, if it is too cold it won't blend well with the sugar.
Substitutions
If you like an even deeper flavor, you can swap the light brown sugar for dark brown sugar.
I noted the chocolate bar that I used in this recipe above, but using your favorite bar of chocolate is the best thing to use. I like one with nuts in it at a minimum, but as long as it is a bar it will work.
Chocolate chip cookies with pecans are my favorite, so I like to toss some in here, along with some peanuts for more crunchy. But feel free to use any nut you prefer, or even omit them if needed.
Here you will see the recipe call for pretzels. But you could swap those for potato chips, I love to use up the crumbs at the bottom of a bag in a batch of cookies.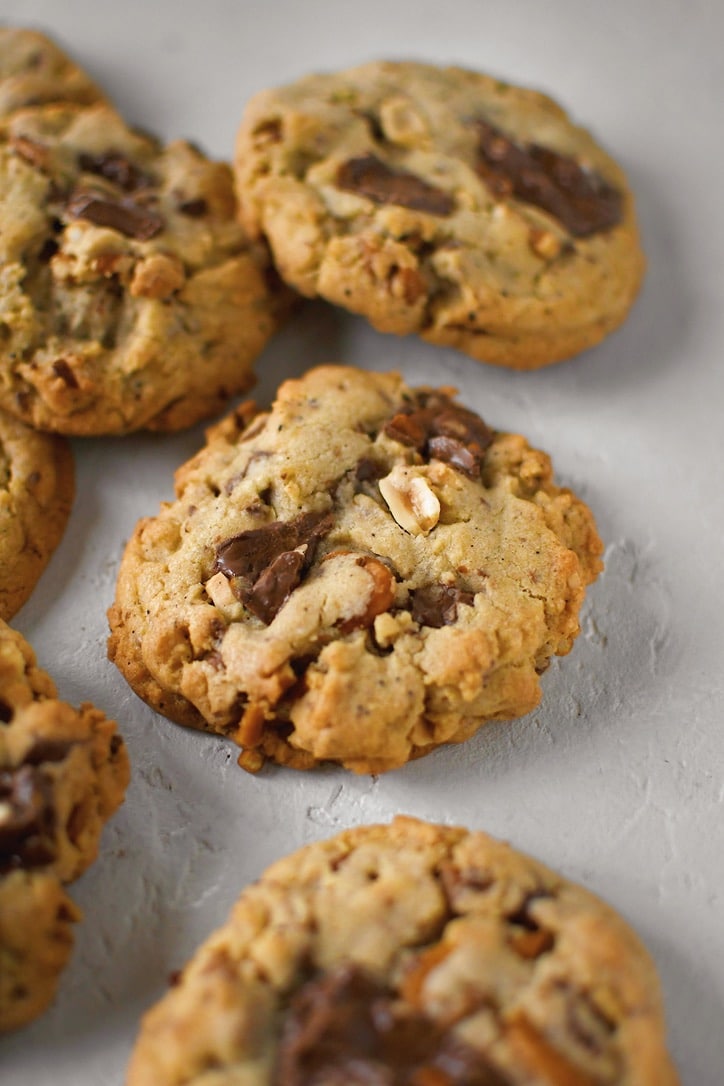 Did you make this recipe? Let me know by leaving a review or comment! And be sure to sign up for my newsletter, and follow along on Instagram, Pinterest, and Facebook!