My love for pumpkin runs DEEP! I am always looking for a new way to work it into a recipe, and after talking with a friend recently I realized I can really pack it into just about anything. This recipe for Pumpkin Chocolate Chunk Oatmeal Cookies is like the pumpkin cookie of my dreams. You are really going to love them!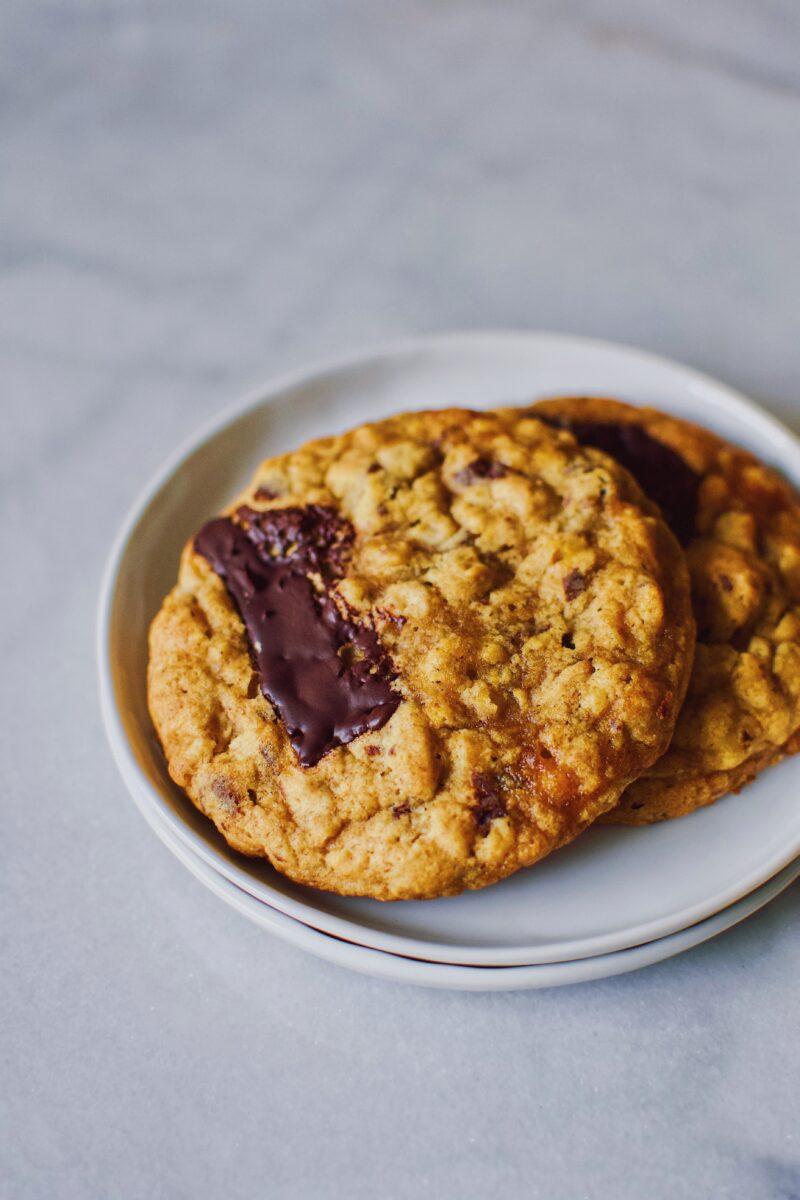 What you need:
These cookies require a fairly simple ingredient list, most of which I usually have on hand anyway. The only planning ahead you want to do it to make a batch of my Pumpkin Spice Praline Pecans to use as an added mix in.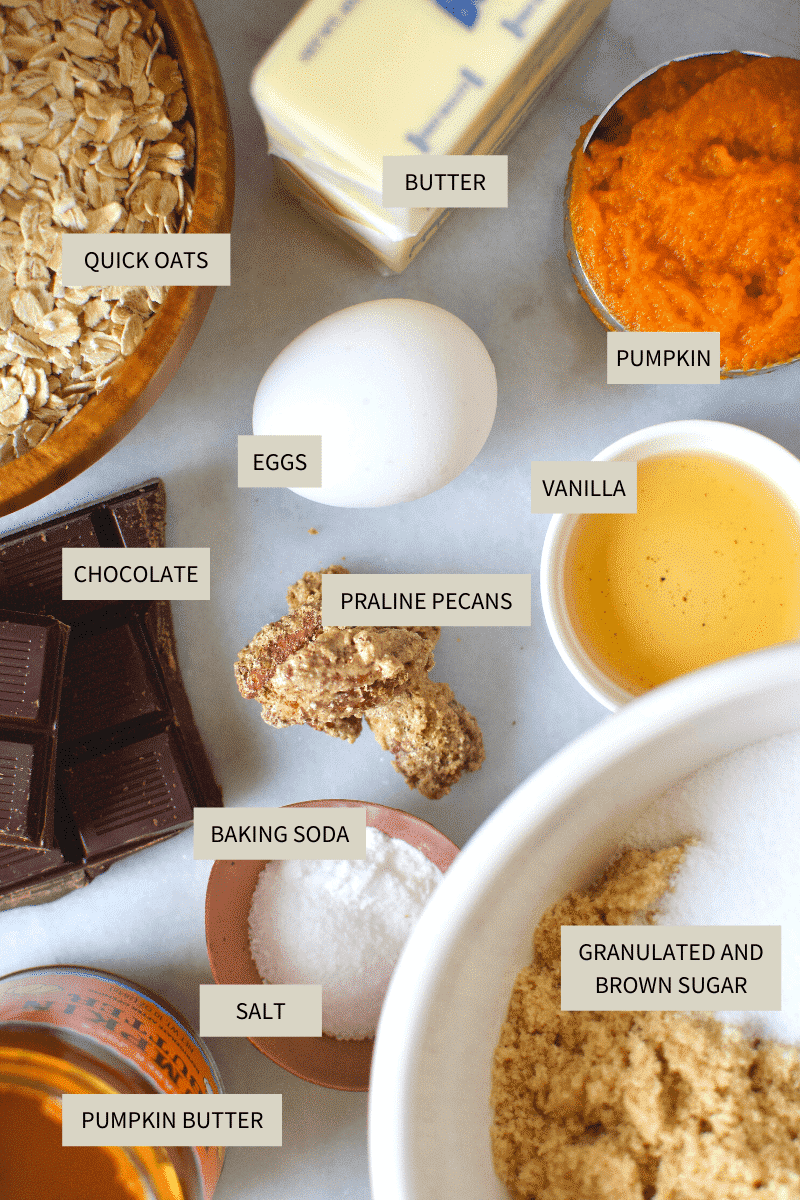 I also like to use a brick of baking chocolate for the chunks here, the melt so nicely, and give you large and small pockets of chocolate to enjoy. Chop it up and pull out 16-18 of the larger chunks to press into the top of the cookies before baking. Toss the rest in when the time comes.
How to:
Start by creaming your butter and sugars together. Then add in the pumpkin and and egg and beat until combined.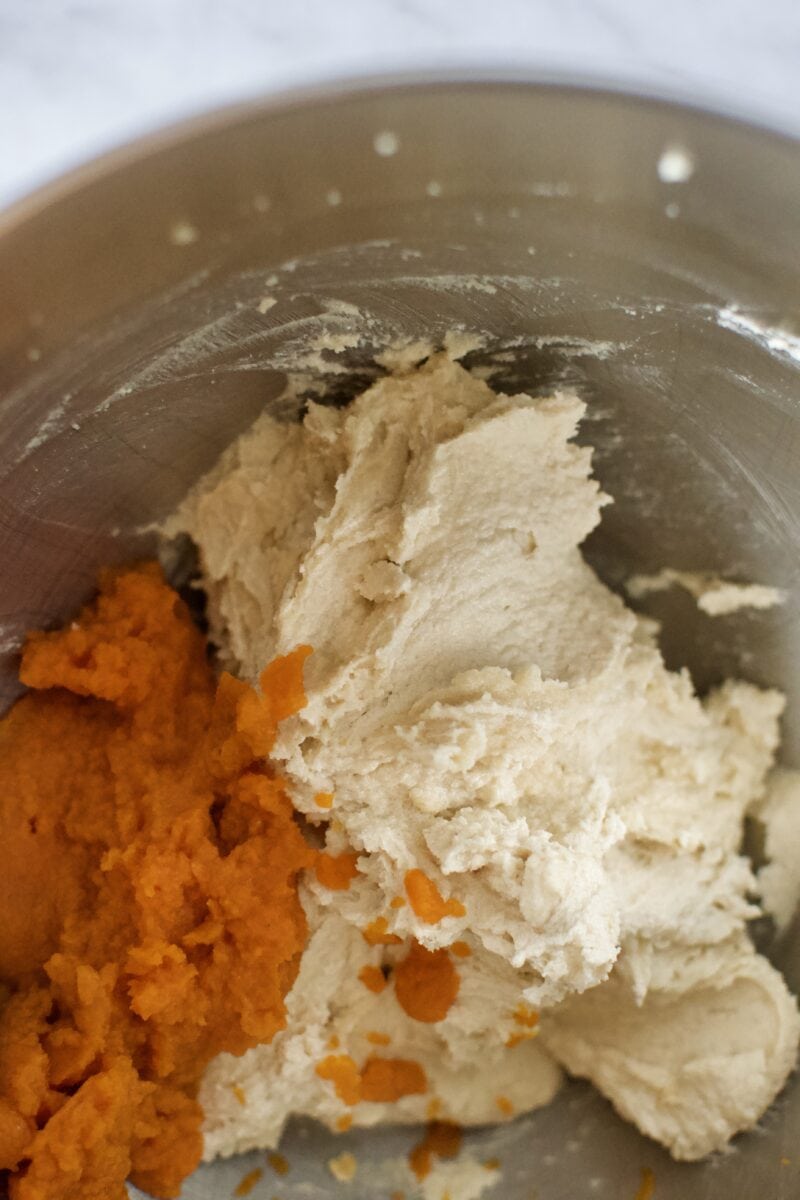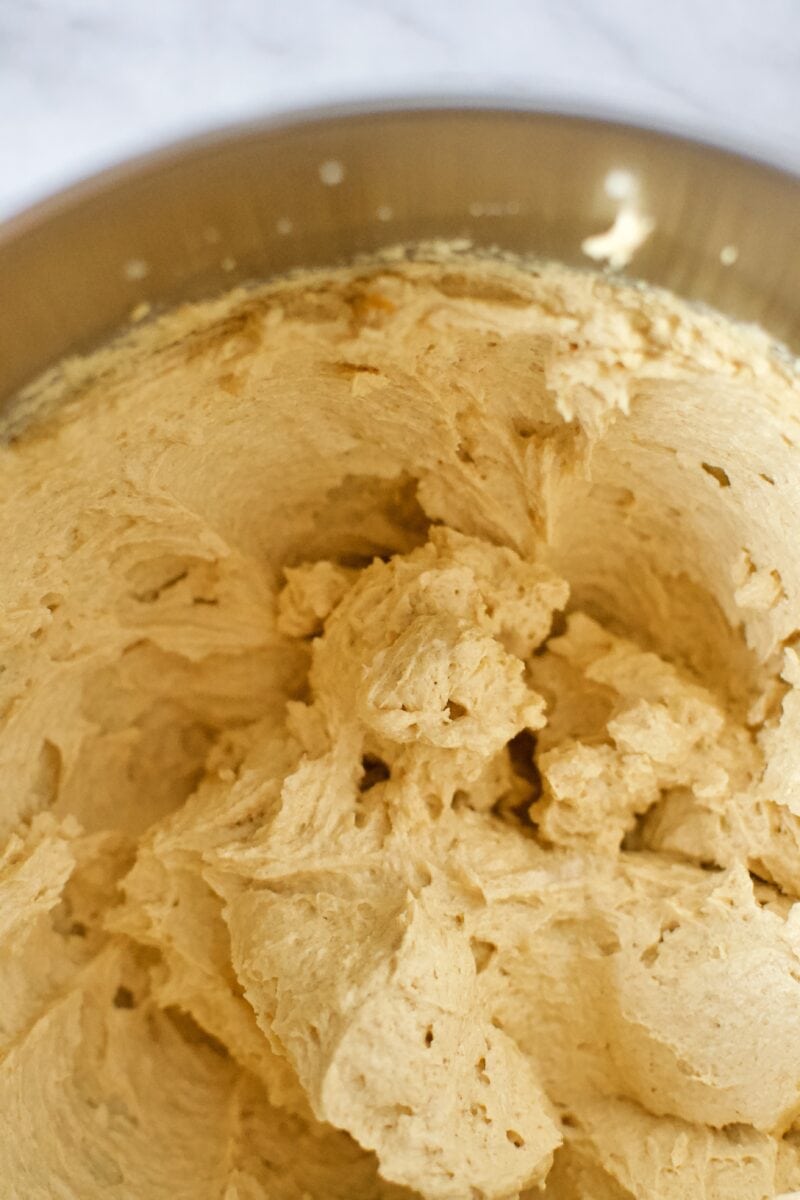 Next it is time for the mix ins. Blend in the oatmeal and add the chocolate chunks, and praline pecans. Fold by hand when adding the pecans and chocolate so they don't get broken up.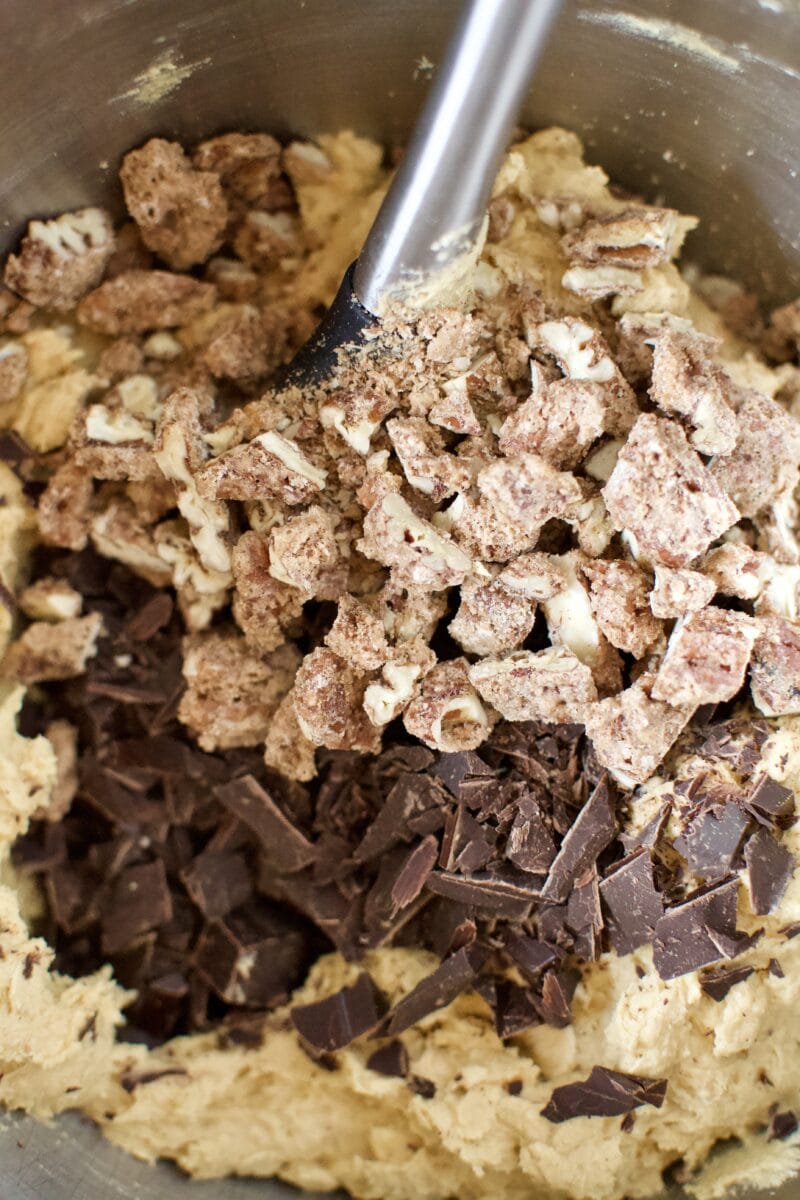 I then add in a generous drizzle of pumpkin butter. This can be homemade or store-bought. I already made the pecans to add, so I used store-bought.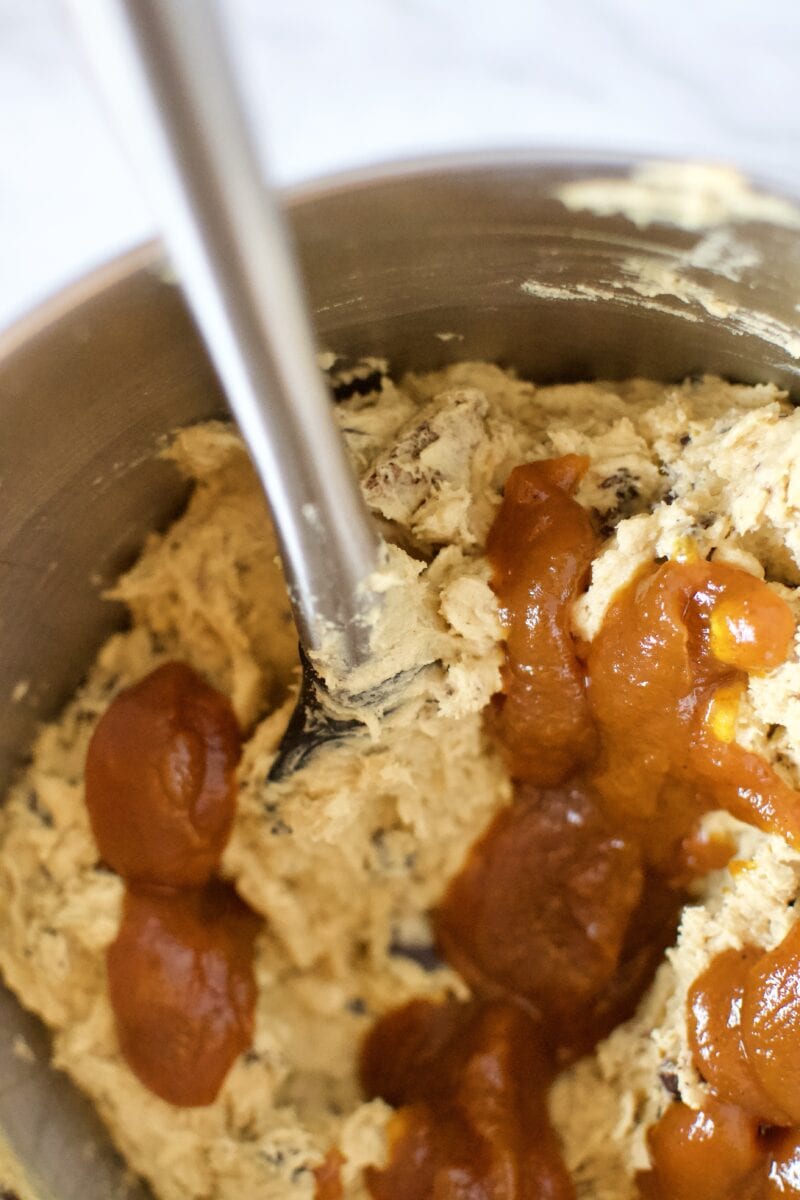 This must also be mixed by hand, literally only fold it into the bowl 4-5 times so big pockets of it are left throughout the dough.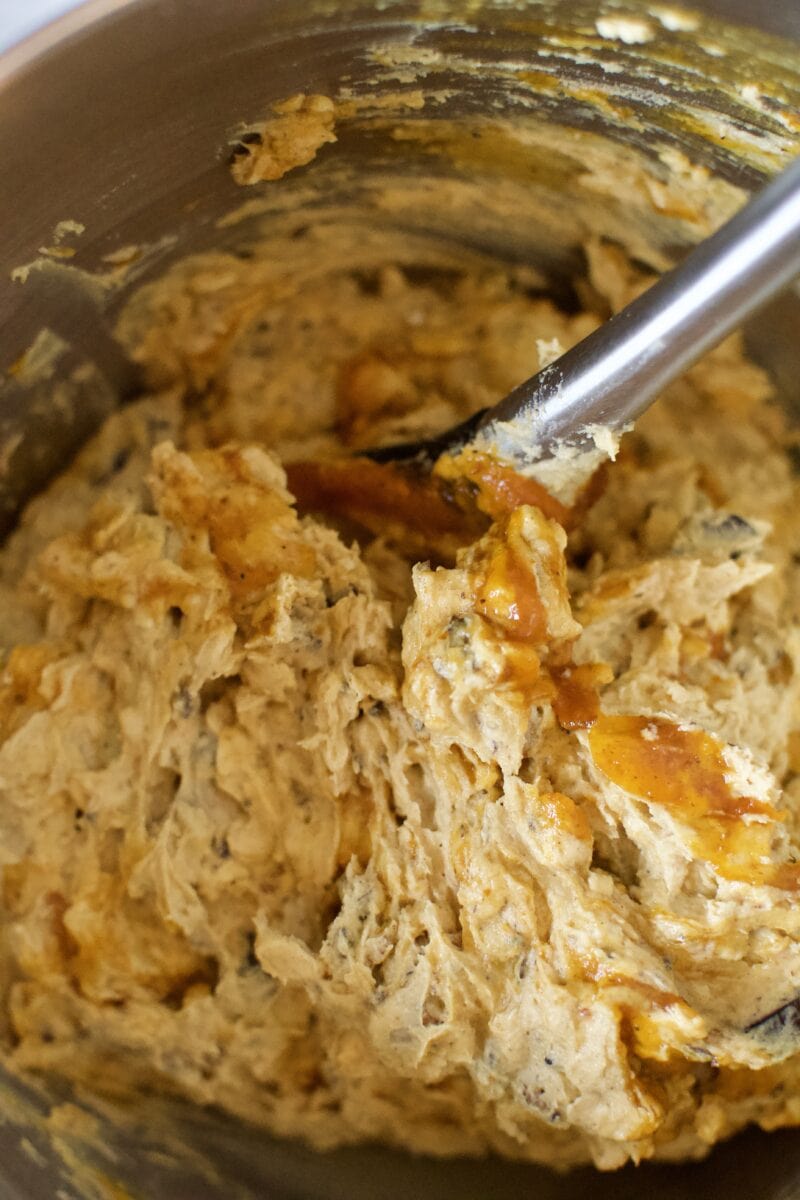 Portion out the cookies on to 3 lined cookie sheets. I used a 2 tablespoon scoop, but you can really scoop them to any size you like, just adjust the cooking time. Press one of your reserved chocolate chunks into the top of each cookie for more goodness!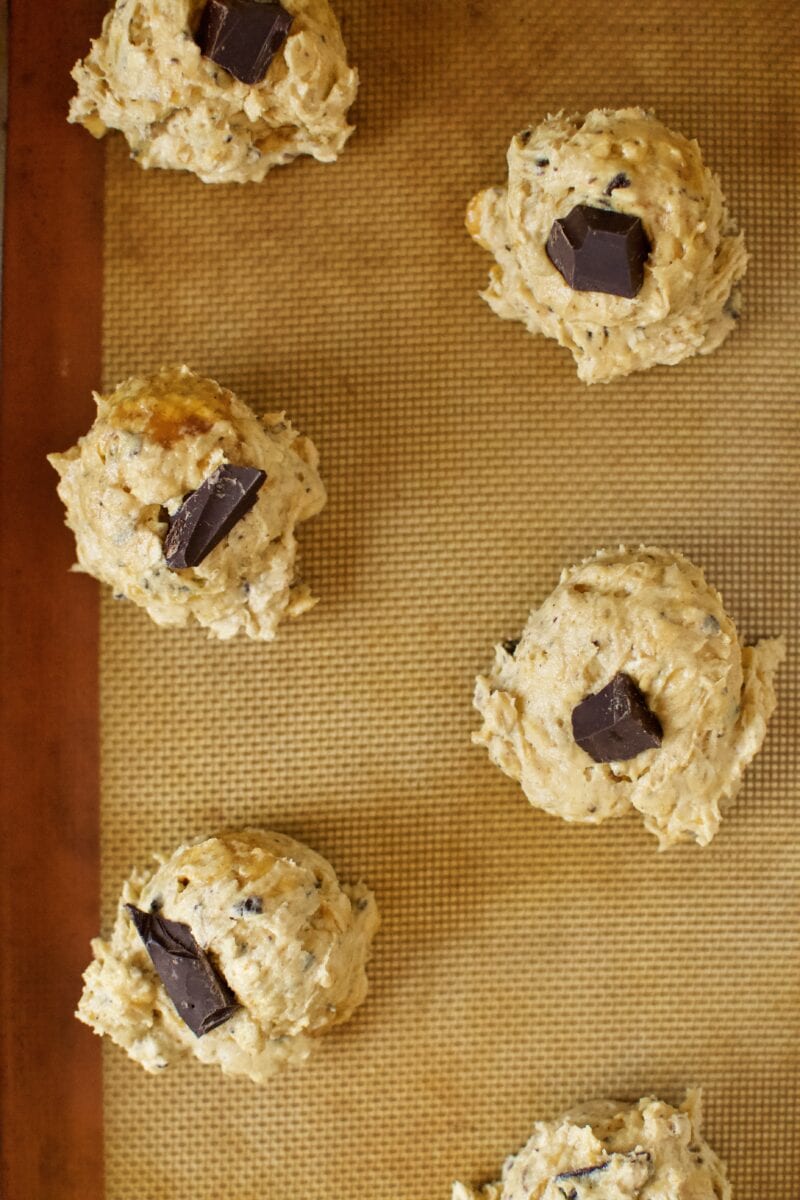 These cookies are a little moist from the pumpkin and the pumpkin butter. Cook them until a dark golden brown to ensure that the bottoms set completely. Then let them cool on the cookie sheet until the chocolate chunk is no longer melted. If you are too hasty you middles may stick to the pan.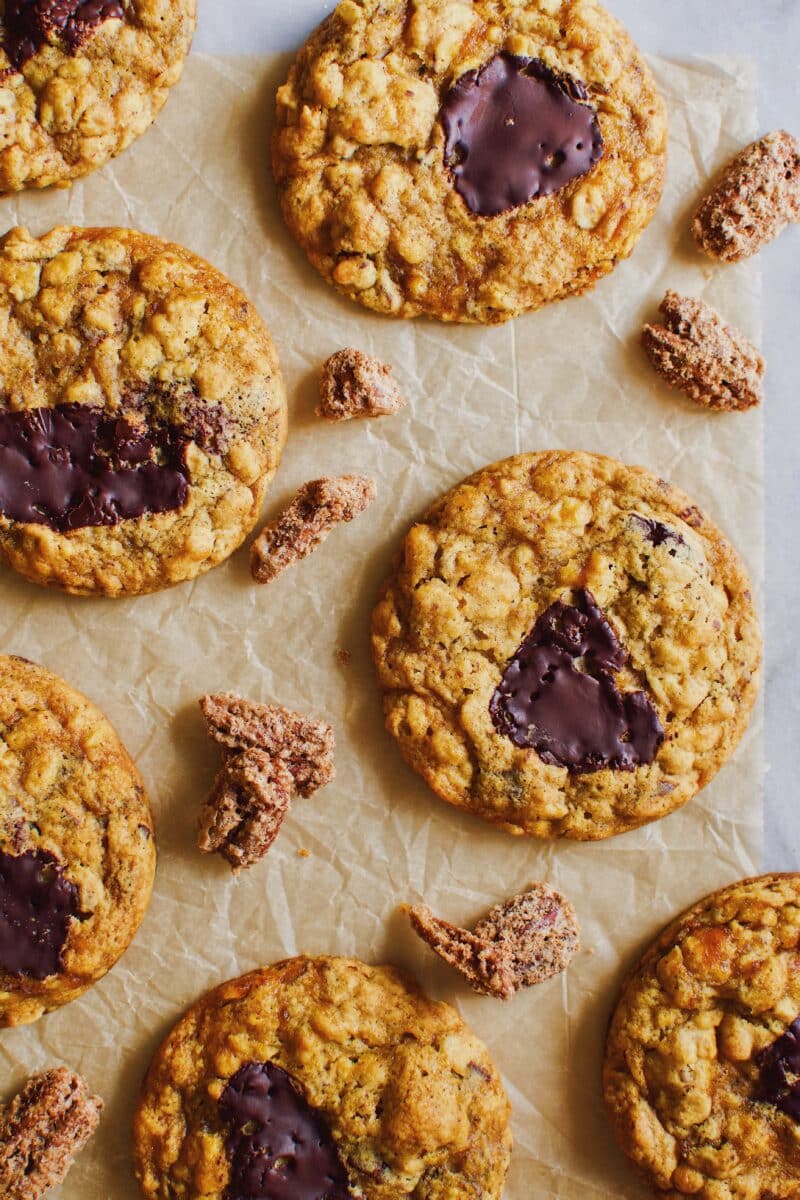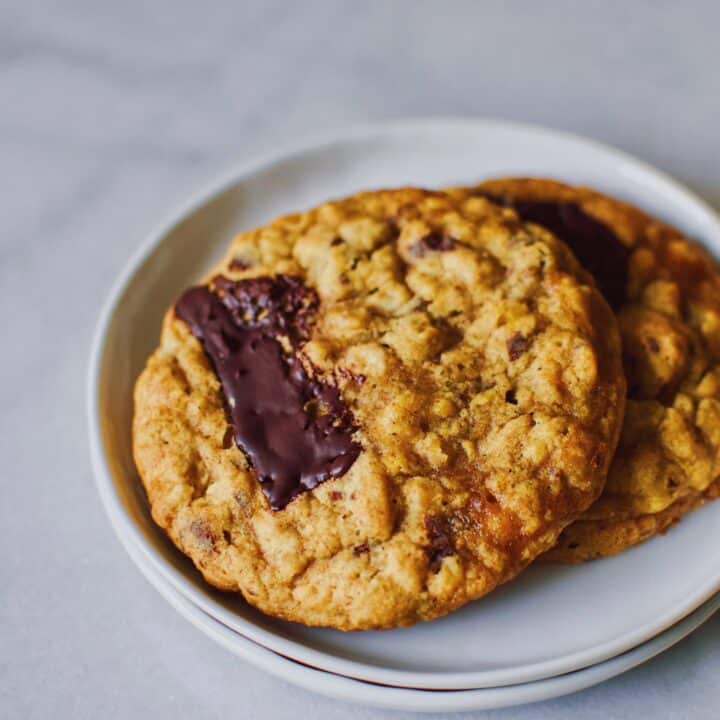 Pumpkin Chocolate Chunk Oatmeal Cookies
Enjoy these as beautiful cookies from the oven, or use them to create ice cream sandwiches, either way, know they are a delicious treat to add to your fall baking plan.
Ingredients
16 tablespoons Unsalted Butter, room temp
1 cup Light Brown Sugar, packed
¾ cup Granulated Sugar
1 lg Egg
1 teaspoon Vanilla Extract
1 teaspoon Kosher Salt
1 teaspoon Baking Soda
2 cups All-Purpose Flour
1 ½ cups Rolled Oats
1 ½ cups Dark Chocolate Chunks, or a 6 oz bar chopped
½ cup Pumpkin Butter
Instructions
Preheat the oven to 350˚F. Line three baking sheets with parchment paper.
In a stand mixer fitted with the paddle attachment, cream the butter and sugars together at medium speed until fluffy, 4 minutes. Add the egg, pumpkin, and vanilla, beat until well combined.
Add the salt and baking soda and beat to blend into the mixture. Add the flour and the oats and blend just until the mixture comes together and no flour is visible. Add the chocolate chunks and pecans and fold them in by hand. Place the pumpkin butter in the bowl and fold in only 4-5 times to leave streaks running through the cookie dough.
Portion the cookies out on to the prepared baking sheets into 2 tablespoon size balls and bake for 18-20 minutes until golden brown. Press a chunk of chocolate into the top of each before baking for the melted chocolate effect on top.
Notes
The size of the cookies can be adjusted larger or smaller to your liking, just know that the baking time may change, these are a soft cookie, so you almost have to overtake them the slightest bit. Also, be sure to let the cookies fully cool on the pan before trying to remove them. The chocolate and pumpkin butter makes them very gooey, and they will stick and lose their centers if you try to remove them too soon. Use a spatula to carefully get them off the tray.
Nutrition Information:
Serving Size:

1 grams
Amount Per Serving:
Unsaturated Fat:

0g
More Pumpkin Goodness!
When you find you love these Pumpkin Chocolate Chunk Oatmeal Cookies - Turn them into Ice Cream Sandwiches using my Pumpkin Cardamom Ice Cream for even more delight! It also features more Pumpkin Spice Pecans!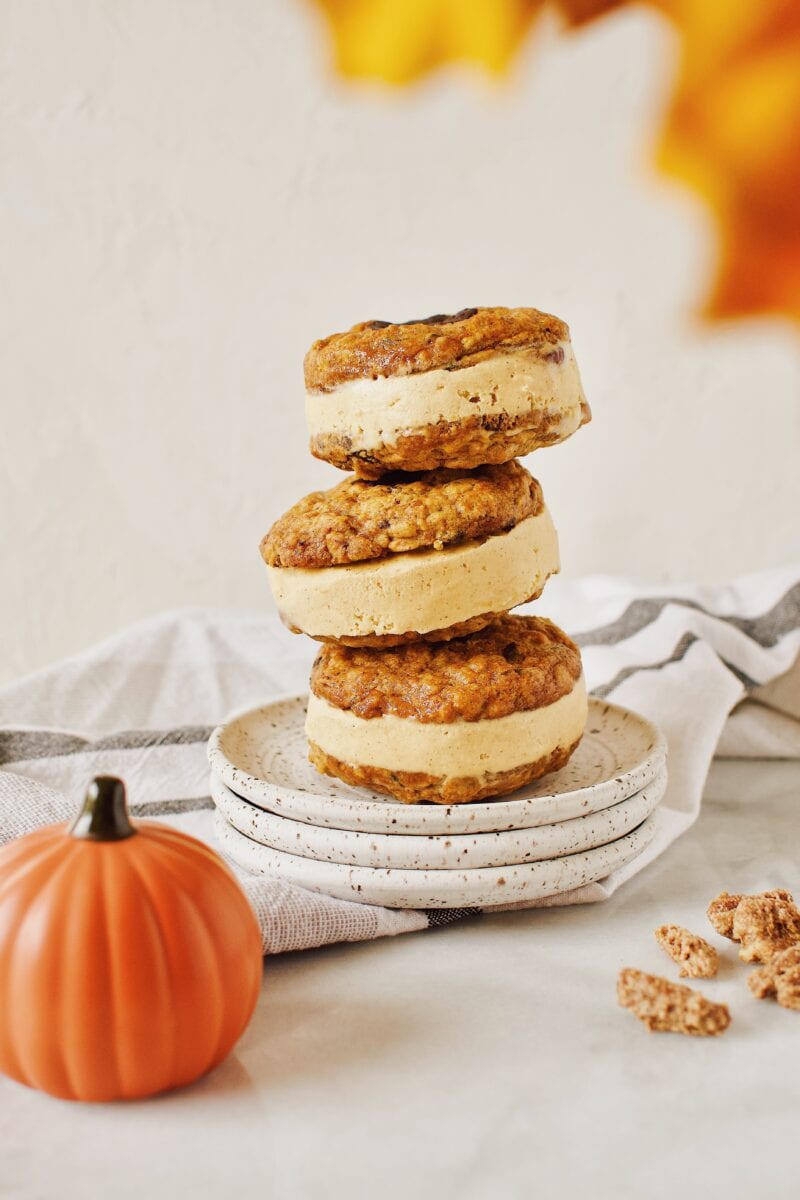 And get my Pumpkin Spiced Praline Pecans recipe HERE!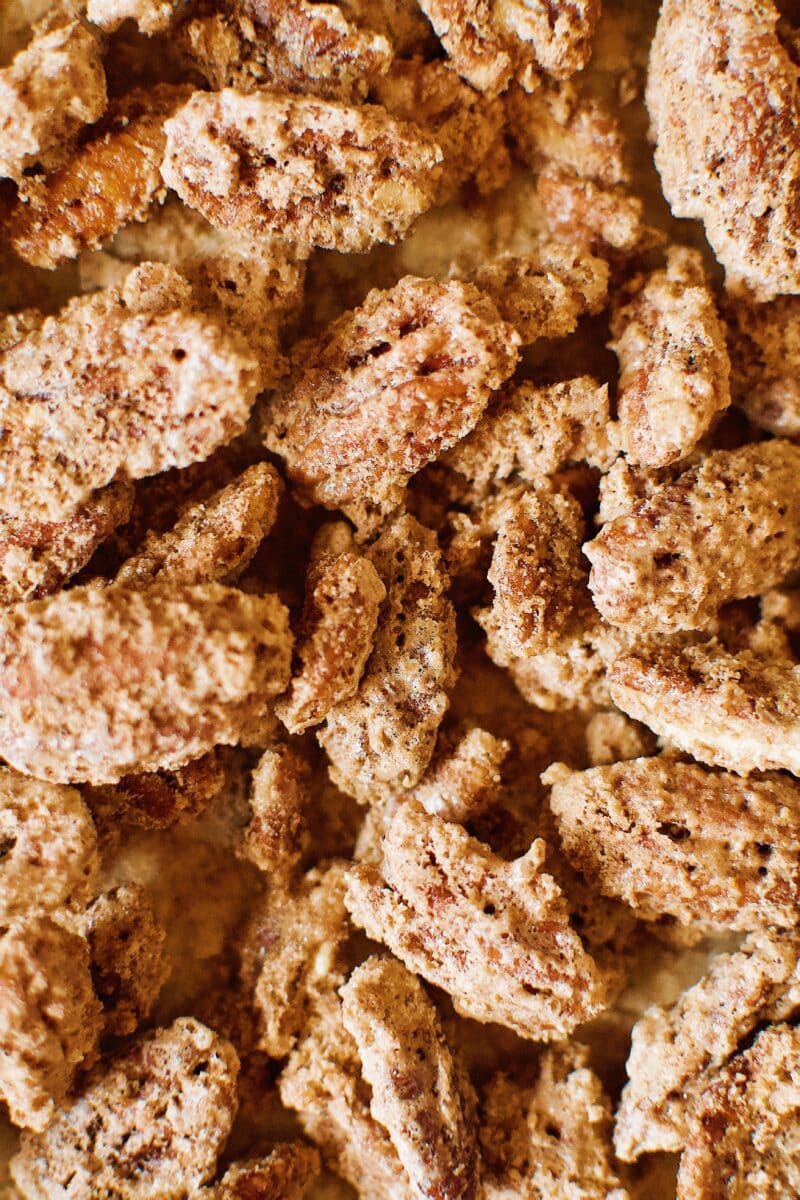 If you make this recipe, please let me know by leaving a review at the bottom of this page!
And make sure to sign up for my newsletter and follow along on Instagram, Pinterest, and Facebook for more KendellKreations!
MY LATEST RECIPES!
Get my NEW e-Cookbook here!! ⬇️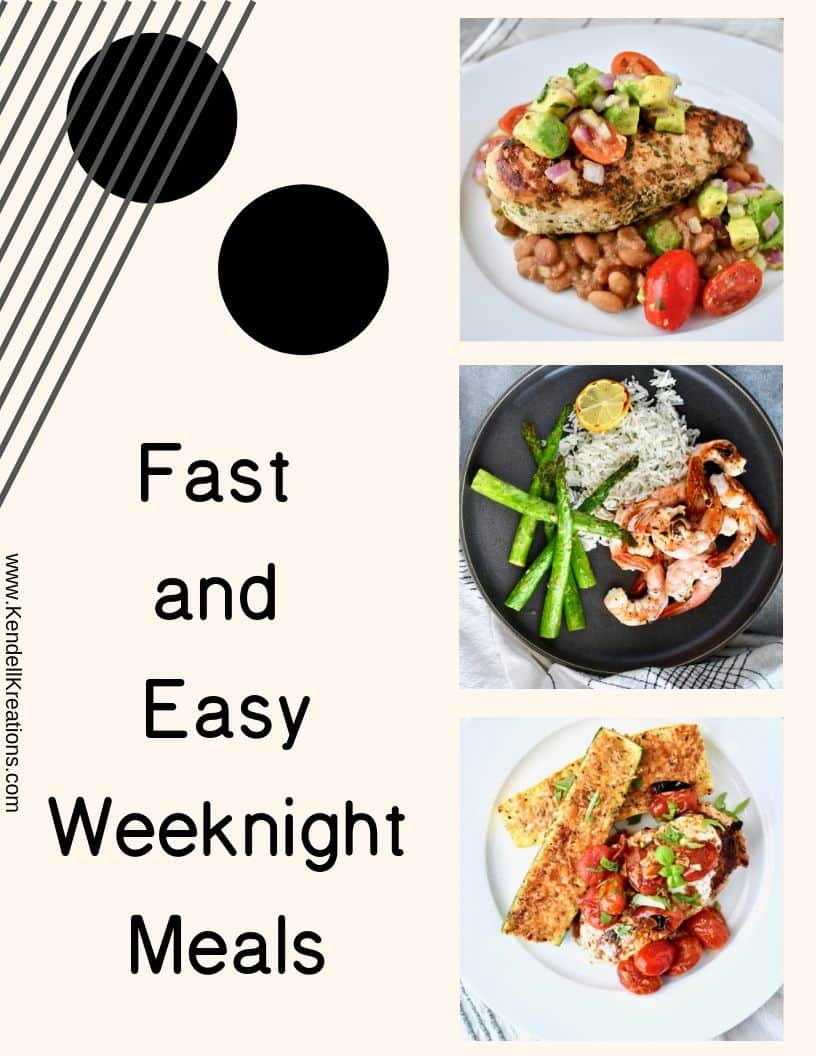 MY FAVORITE KITCHEN TOOLS!
Here are a few links to some of my favorite kitchen tools! You get a car, YOu get a car, YOU ALL GET A CAR…in my best Oprah voice
These Rösle Silicone Tongs are a little pricey but they will last you the rest of your life and are the softest in your hand. This is important for someone like m that cooks so much. It reduces strain, I have 4 sets in my kitchen!
These are my FAVE Nordic Ware Sheet Pans, every kitchen should have at least 2 sets of these! I think I have at least 4 of each of these.
This is my favorite pressure cooker, the Fagor is the same concept as the "Instant Pot" but easier to use in my opinion, if you don't have one you NEED one, it will be your best friend in the kitchen!
A sharp knife is the most important tool in the kitchen, these Japanese steel "Shun" knives are my favorite! And this is a great starter set to build on. Once you try them you will be in love so use this as a foundation you can build on for years to come.
This Scanpan 11″ skillet is just the right size for almost anything you will need to cook and my best friend and a real workhorse in my kitchen, it's also a great deal at $99. Scanpan is the best in the world for healthy cooking. It is coated with a proprietary ceramic-titanium coating that is durable while allowing you to use fewer fats and oils when cooking. It is a coating only they use. I could talk all day about my love for these pans, message me if you want more info. Here are some other sizes that are available if you are looking to outfit your kitchen with some new goodies. 8″ & 10″ Skillet set or 8″ Skillet, I still need this one for my kitchen Also, I don't really know how to cook small so the 12.5″ is my other fave!
This giant vat of olive oil is my favorite, I decant it into a smaller bottle for my counter. Or put this spigot on top of a wine bottle!
My favorite baking dish that is so easy to clean even burnt on cheese slides right off!
This Tovolo jar scraper has to be my single favorite kitchen tool, it is definitely the most used tool in my kitchen. If you are NOT a gadget person, this is the only necessity I say is a MUST beyond the wooden spoon.
A great wood spoon is essential, this Olive Wood one is my favorite, I have more than I can count. But can you really ever have too many?
A food scale can be a very important tool in your kitchen, this one is the one I use every day!
If you love Joanna Gaines as much as I do then the 'Magnolia Table Cookbook' is a must in your kitchen, get a copy HERE!