Crunchy Peanut Butter Cookies made this way are my favorite. I don't know why I never see a recipe for them made with crunchy peanut butter, but I like to have some peanuts in my cookies. It makes them a little bit more sandy and soft, and that is just how I like them.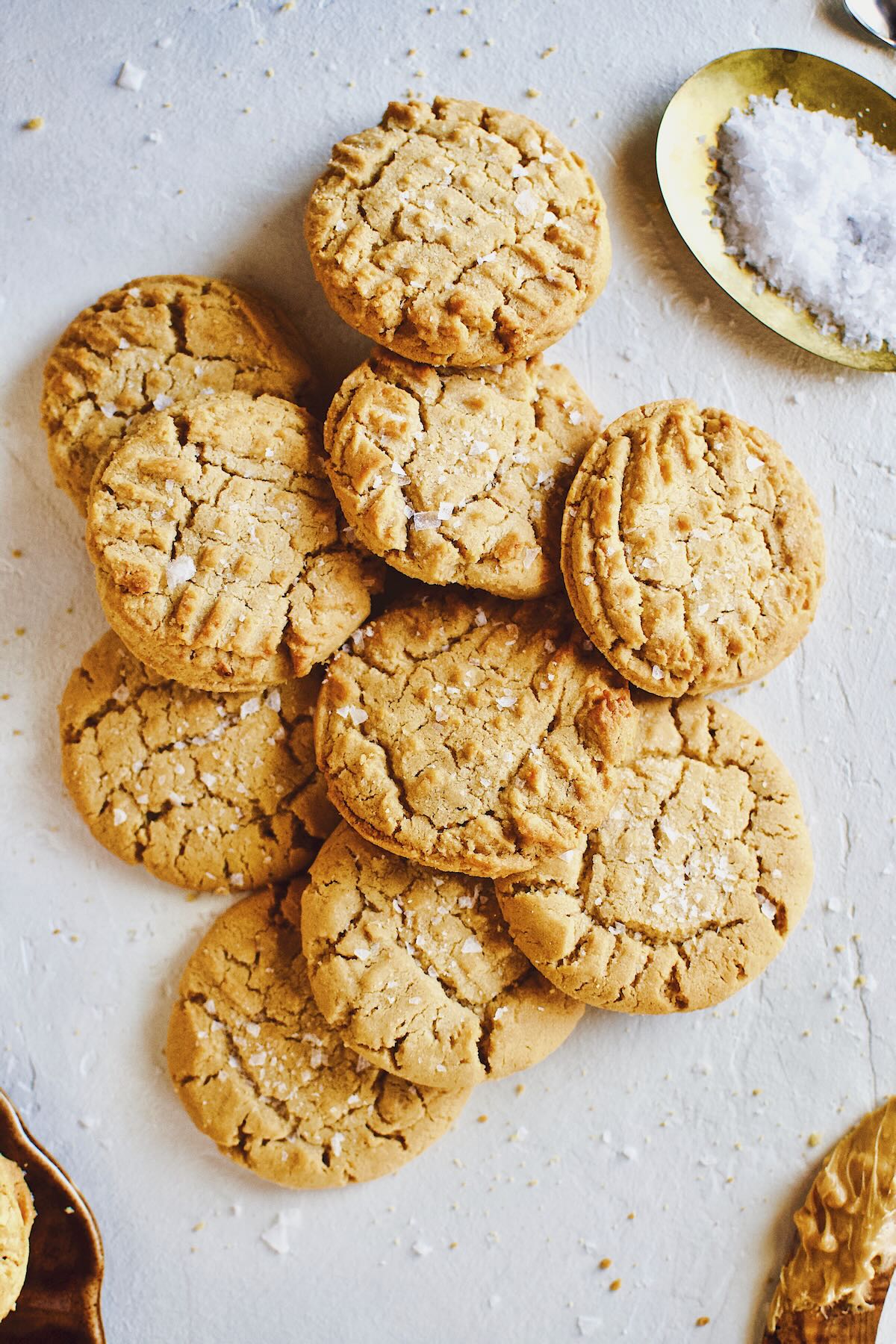 I originally published this recipe on January 27, 2021, it was updated on May 1, 2023.
Jump to:
Why "Crunchy" Peanut Butter Cookies?
It makes me think of this packaged cookie I remember having as a kid that had 3 little halves of peanut in the middle of the cookie. I would eat all the way around the cookie and save that crunchy and gooey center for the last bite. For the life of me, I can't remember the brand, and I never see them anymore, but they were by far my favorite.
I don't even think they make them anymore, but if they did they would be my go-to snack. If you remember them and the brand be sure to tell me in the comments at the bottom of this page.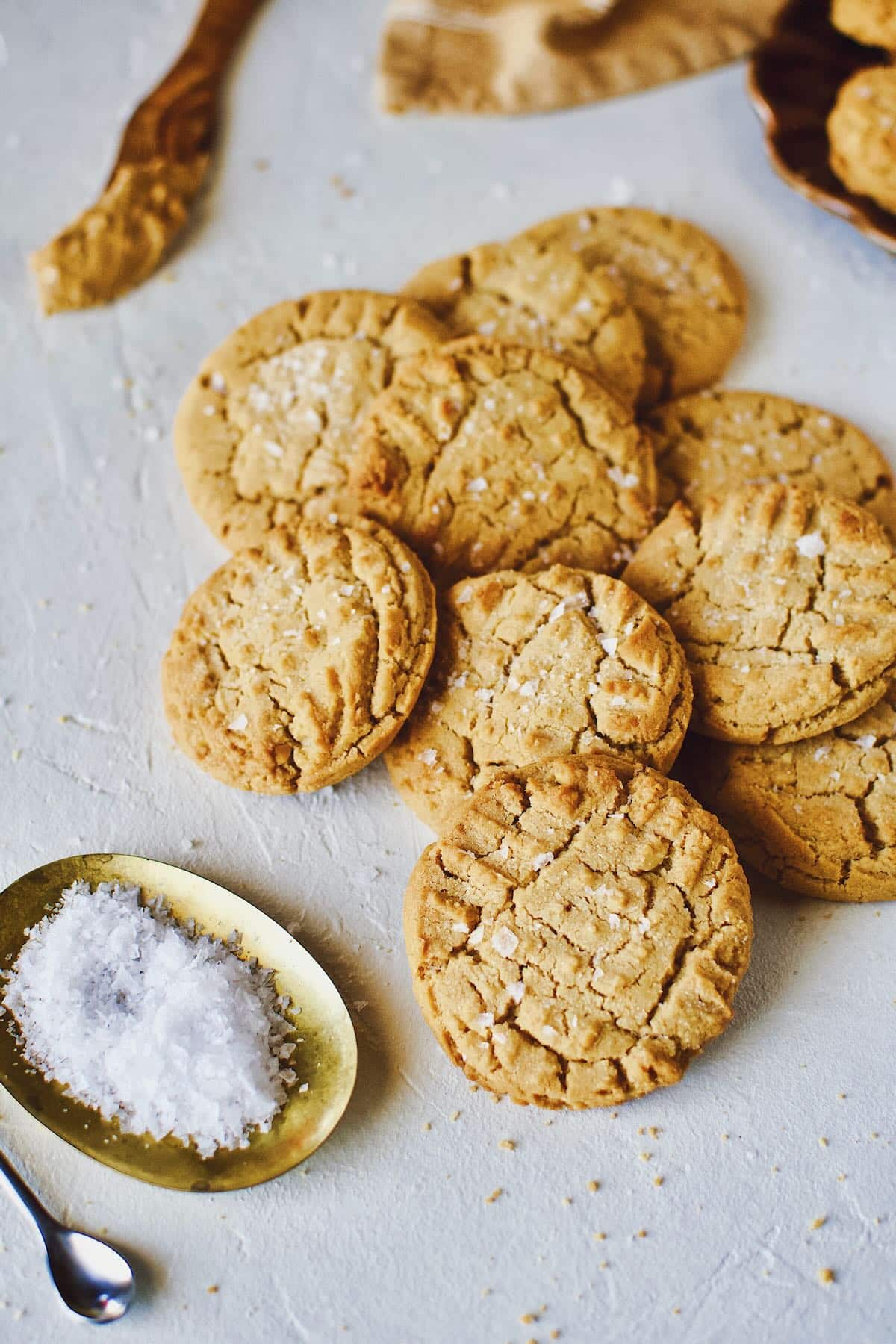 Use the JUMP TO RECIPE button at the top of the post, or scroll to the bottom of the post to see the full recipe card with ingredient measurements and instructions.
Ingredients
The name may be a little bit misleading, but this recipe yields a fantastically soft and chewy cookie, I just like to use "Crunchy Peanut Butter", as opposed to smooth. It lends a texture that I enjoy and leaves you with some crunchy peanut bits inside.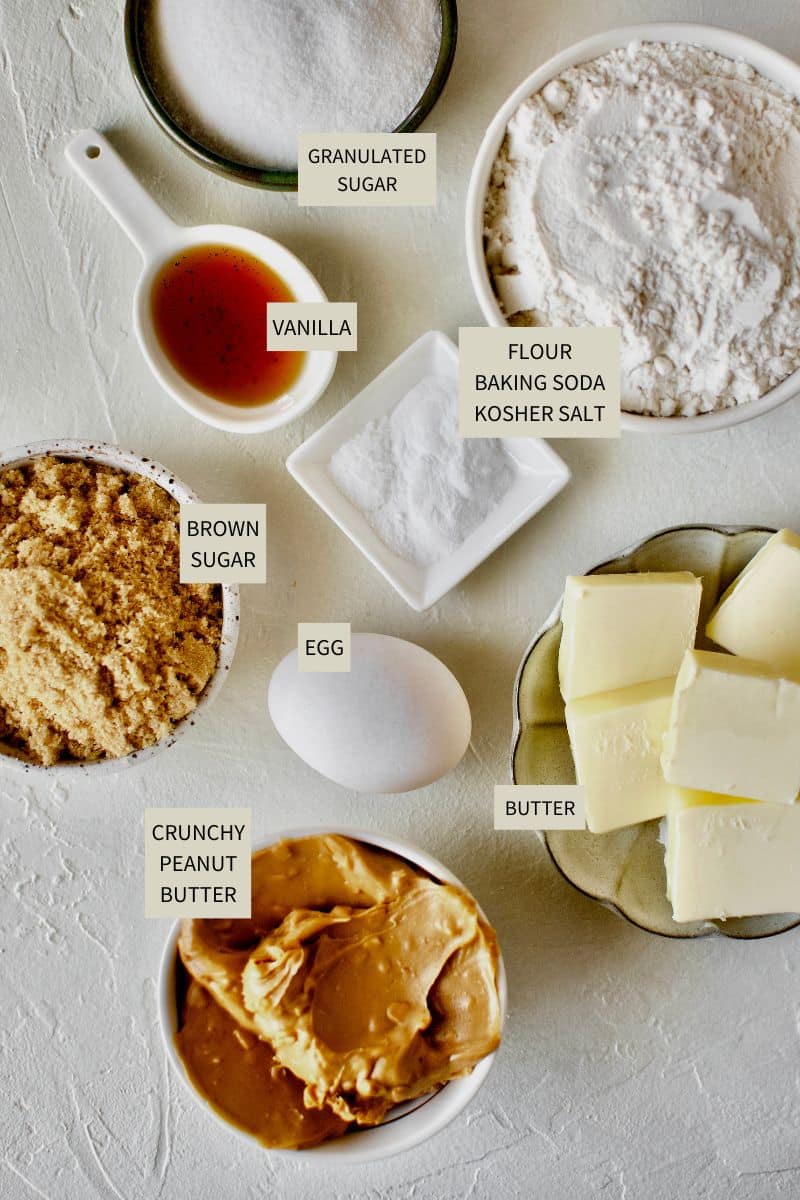 They do however retain the quality of that favorite childhood memory, with a slightly crisp outer edge and a smooth and chewy center.
This recipe is great because it requires minimal ingredients and might even be considered small-batch baking. Just one egg, one cup of sugar and flour, and a single stick of butter. These are the small-batch Crunchy Peanut Butter Cookies of your dreams. The recipe makes 20 1-ounce cookies.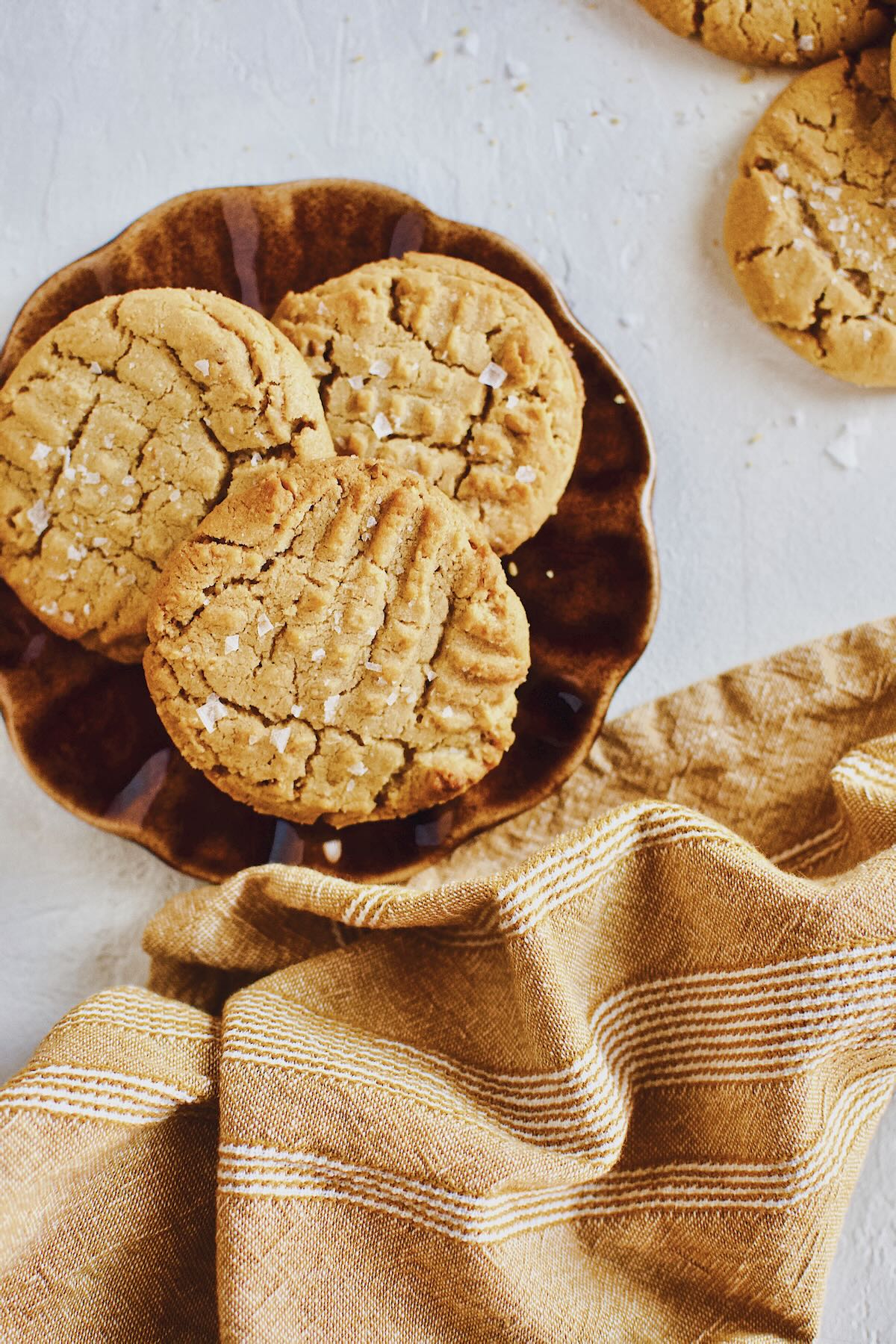 Method
Start by creaming together the butters and sugars in the bowl of a stand mixer until light and fluffy. This should take about 3 minutes.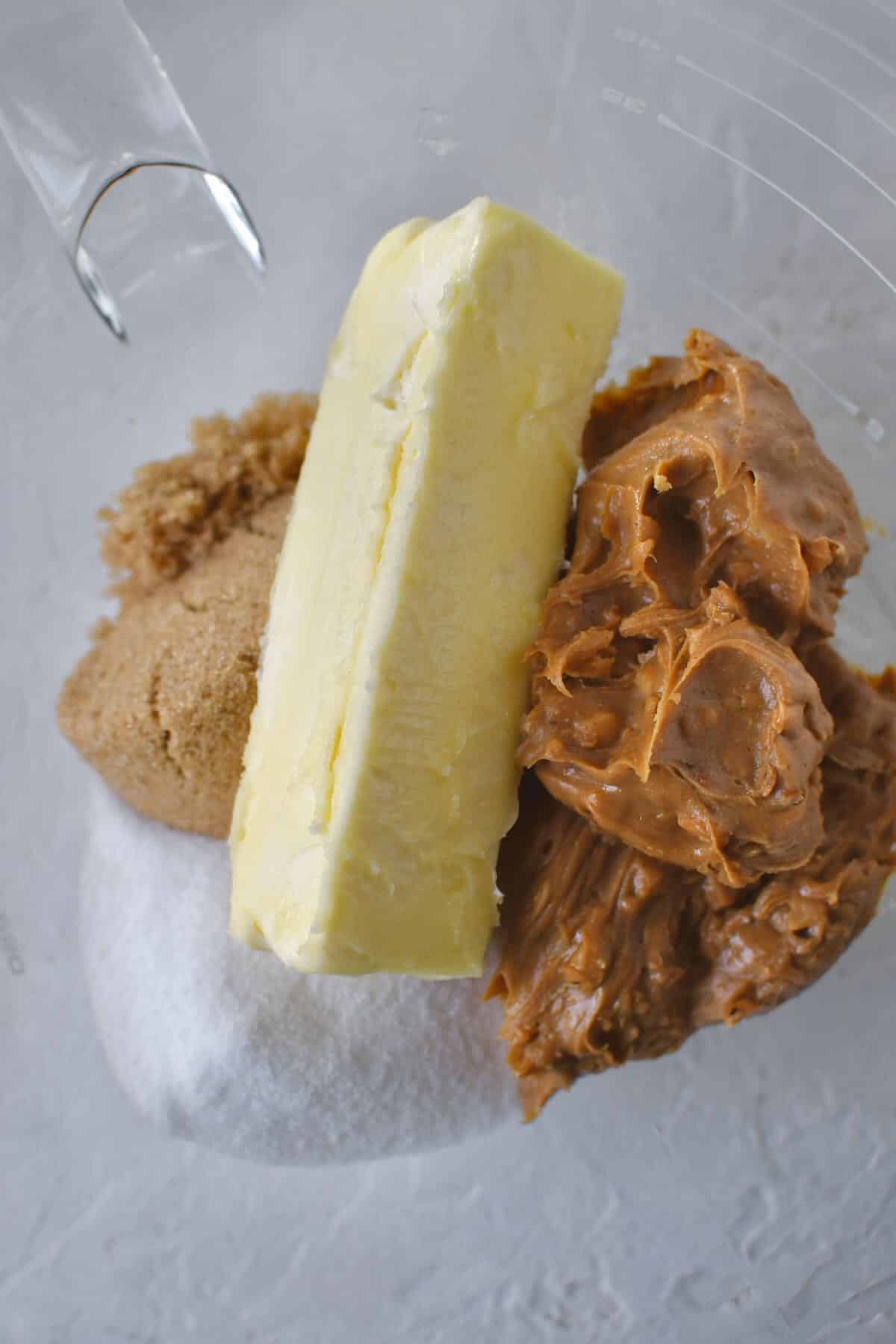 Beat the egg in till fully combined, then add the dry ingredient and let the mixer run on low just till no streaks of flour remain.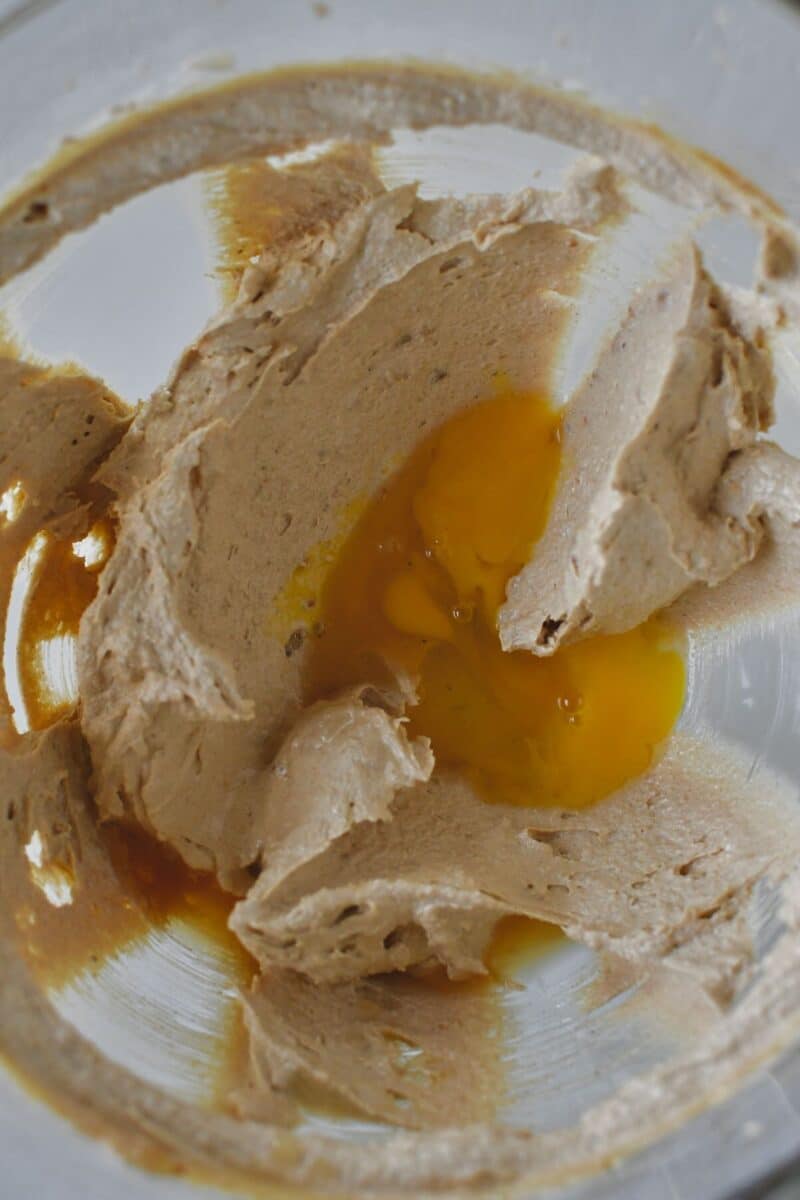 Portion the cookies out onto a sheet pan lined with parchment paper. Then using a fork, dipped in sugar, create a cross-hatch pattern on the top of each cookie. Pressing them down a little as you do it.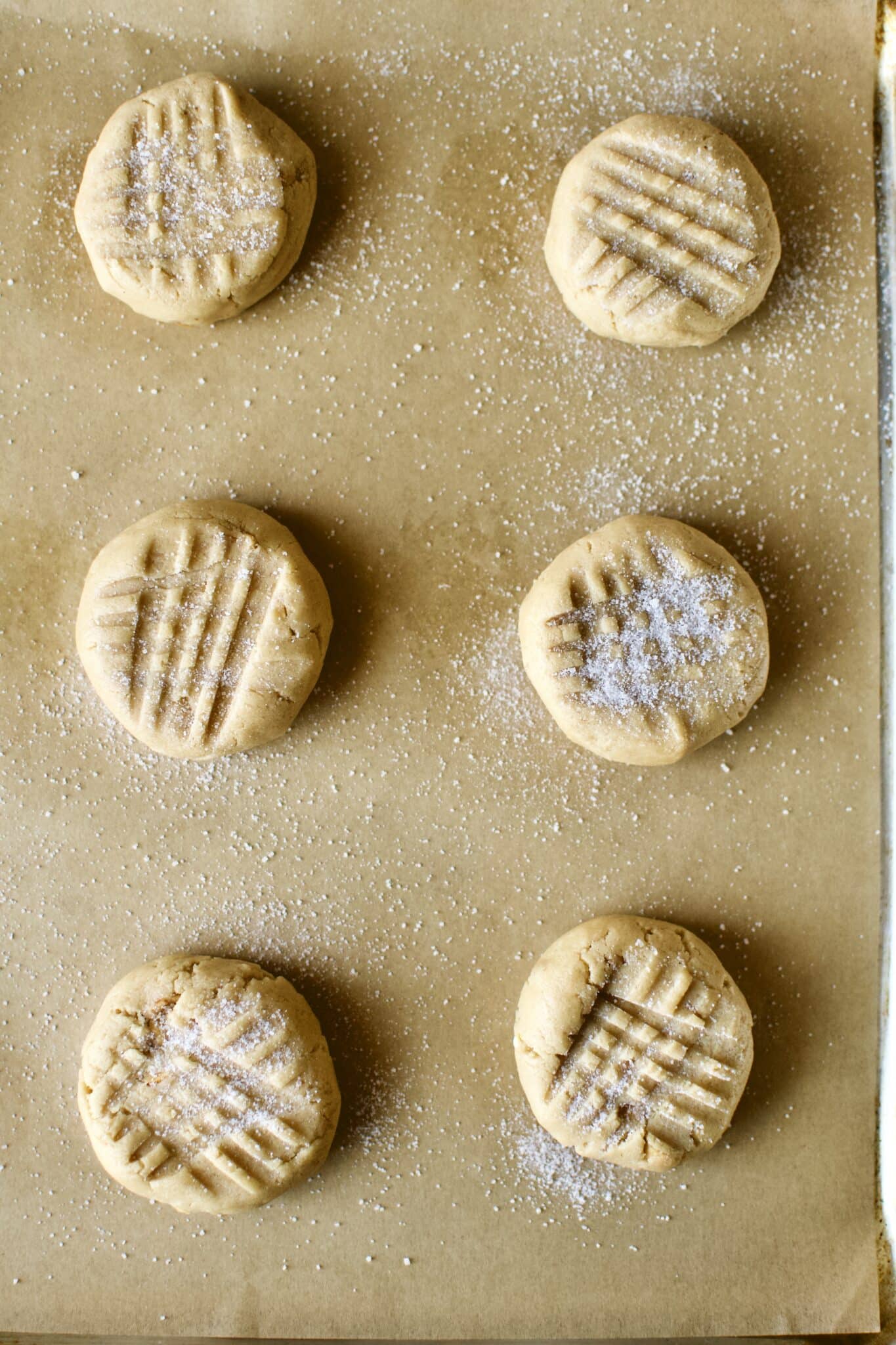 It is optional, but I like to finish the cookies off with a sprinkle of flakey sea salt when they come out of the oven. It adds a little extra crunch and balance to the cookie. It is very welcome!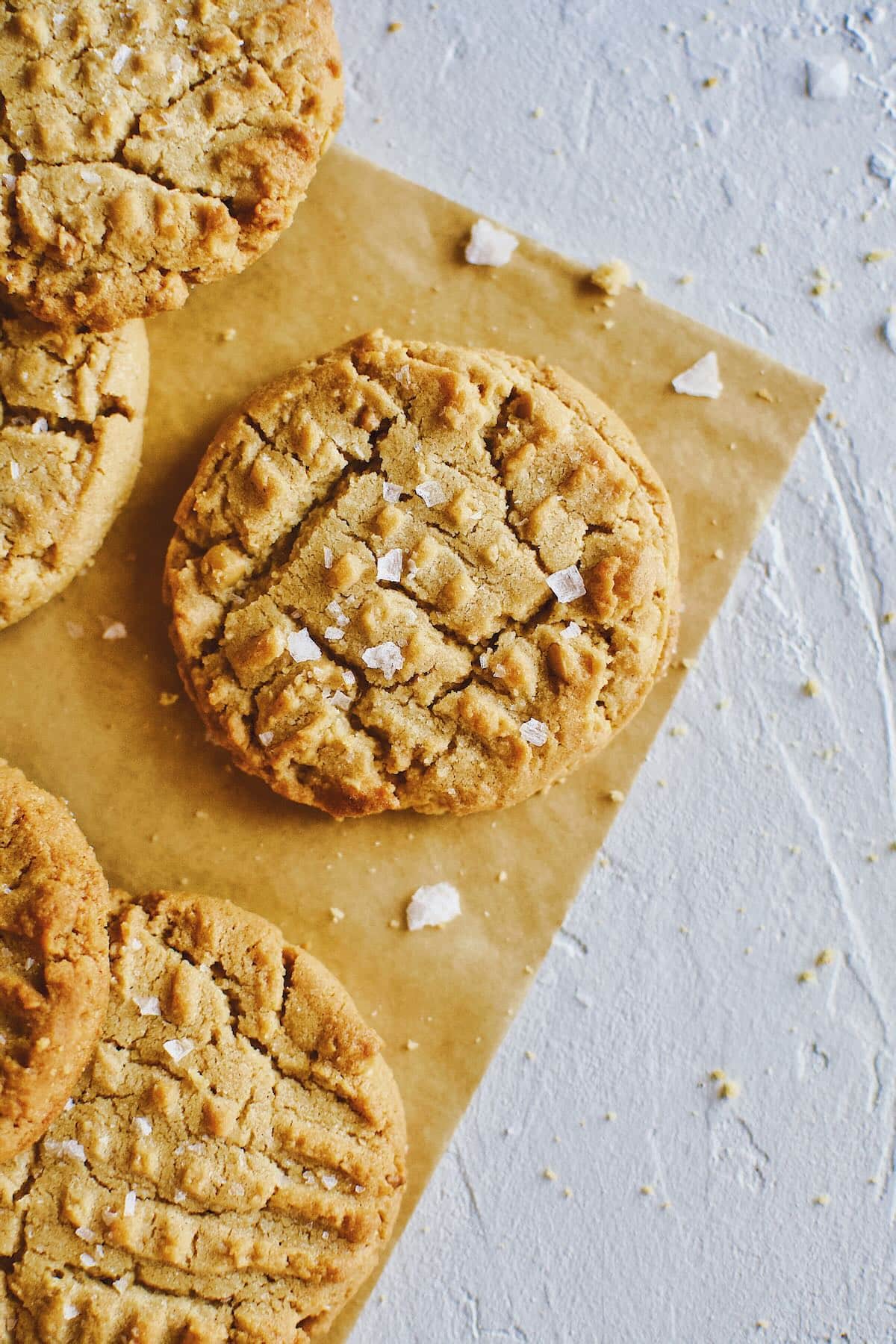 Notes & Tips
One tip that I love to share is one that I learned from Christina Tosi. It has to do with the beginning stage of making cookies. She gets a little sciencey with it, but essentially you want to really beat the heck out of your butter and sugar at the beginning of the cooking dough-making process.
Doing this ensures you get a luxuriously textured cookie, and that when it comes time to add the flour to the mixture you don't have to overwork the flour. Overworking the flour can result in a cookie that has a tough texture, and nobody wants that!
So always be sure to really beat the butter, for at least 3-4 minutes and it begins to get almost white. This will ensure you get a perfectly textured cookie. The rest of the process is pretty straightforward. Add everything in at the proper stages and gently fold in the flour as the last thing you do.
Substitutions
I make my cookies with crunchy peanut butter, but you could 100% make these with regular if you don't like the peanut pieces in your cookie. But steer clear of the natural stuff. I know, I know, but I am a fan of Jif all the way!
Don't drop the ball on the good ol regular peanut butter for this recipe, Jif is where it's at! They are cookies, after all, none of those words like healthy or healthy-ish here.
If you did want to make this dairy-free, you can substitute shortening for the butter, good old Crisco, or a plant-based shortening, I have used both.
If you don't have brown sugar on hand, you can make brown sugar by combining 1 cup of white granulated sugar and 1 tablespoon of molasses together in a food processor until combined.
You can sub vanilla extract with one of a couple of things. Vanilla flavored milk, almond or soy, or Maple Syrup. Bourbon, Rum, or Brandy can also be used, many vanillas are alcohol-based, and these carry enough flavor to imitate the vanilla.
And finally, if you wanted to make these cookies gluten-free I would suggest using almond flour. It provides the protein and structure of classic wheat flour while keeping the cookie chewy in the center. If you want a more robust almond flavor, toast the flour in a dry skillet over medium-low heat until golden and fragrant, cool before using.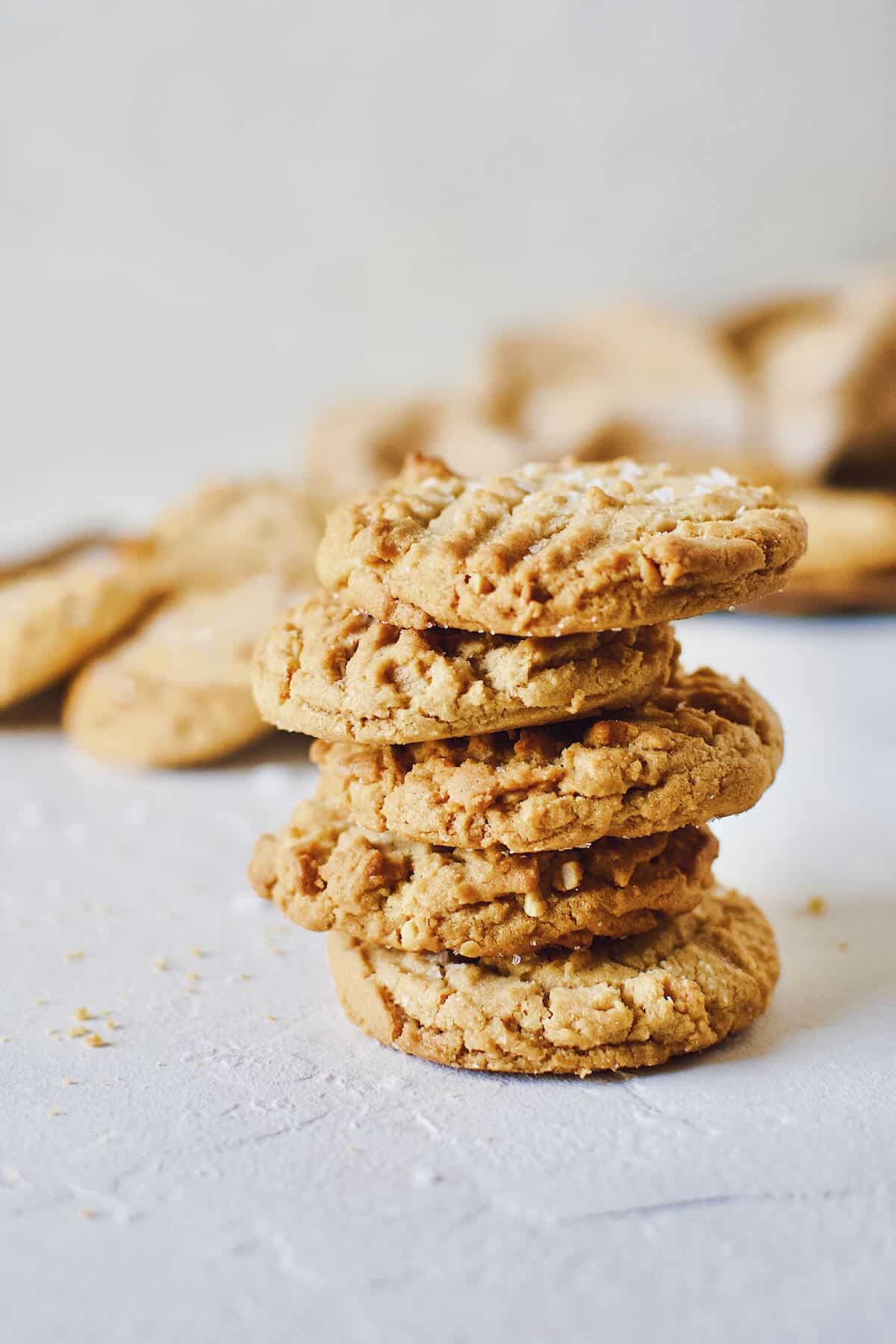 I hope you enjoy these as much as I do, peanut butter just might be my favorite food ever. At the very least I am a sucker for anything that includes it. I even love to slather it on banana bread, like this one.
And if you love this cookie, check out my version that features marshmallow fluff, I even got to bake them for Joanna Gaines in the Silos Baking Competition. Get the recipe HERE!
More Peanut Butter Goodness
Chewy Chex Mix Peanut Butter Bars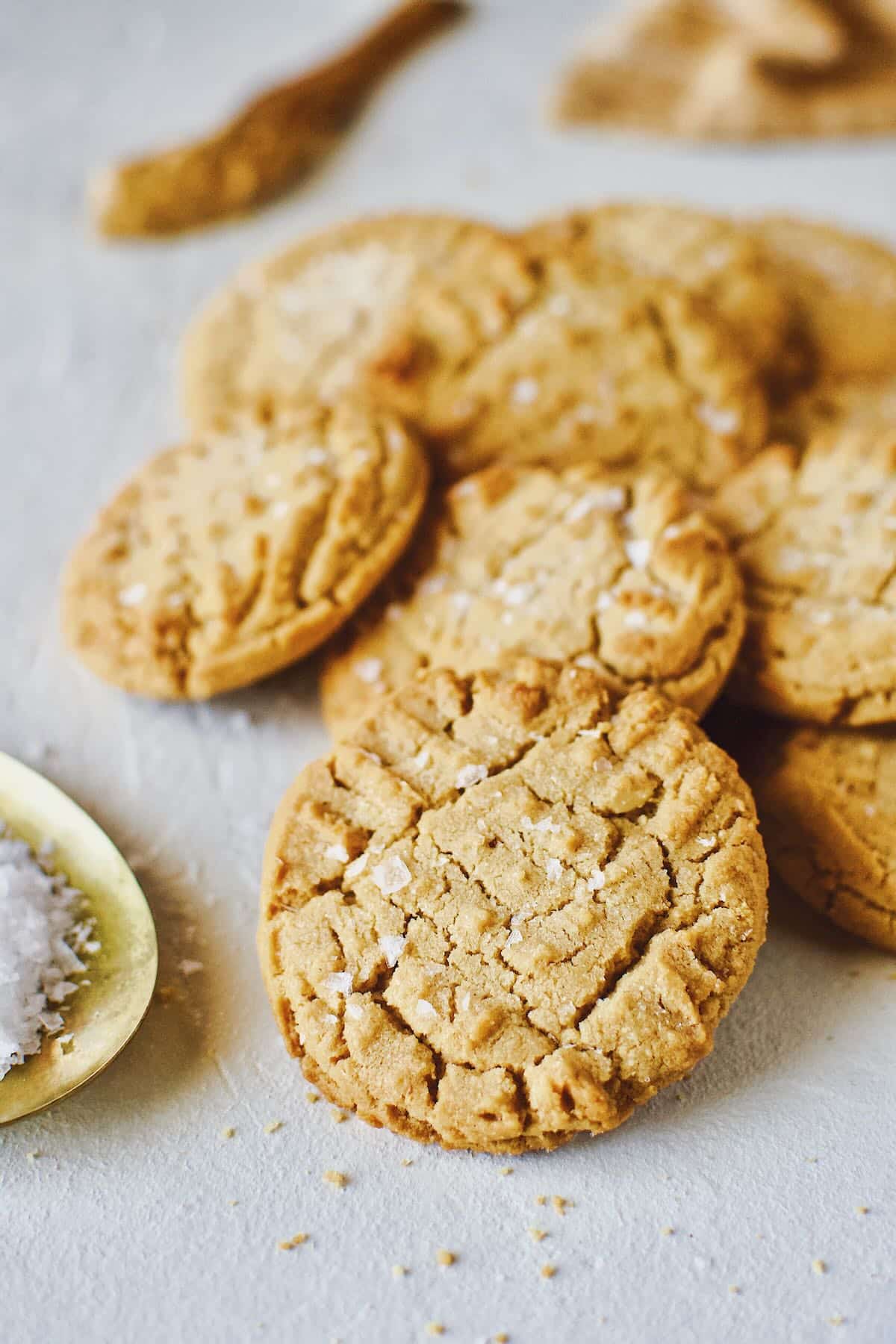 Did you make this recipe? Let me know by leaving a review or comment! And be sure to sign up for my newsletter, and follow along on Instagram, Pinterest, and Facebook!