This recipe makes a delicious homemade "Oreo" style cookies. It is a chocolate sablé cookie that can be filled with a delicious buttercream or frosted like a sugar cookie. Any way you choose to enjoy it, the cookie itself is absolutely delicious.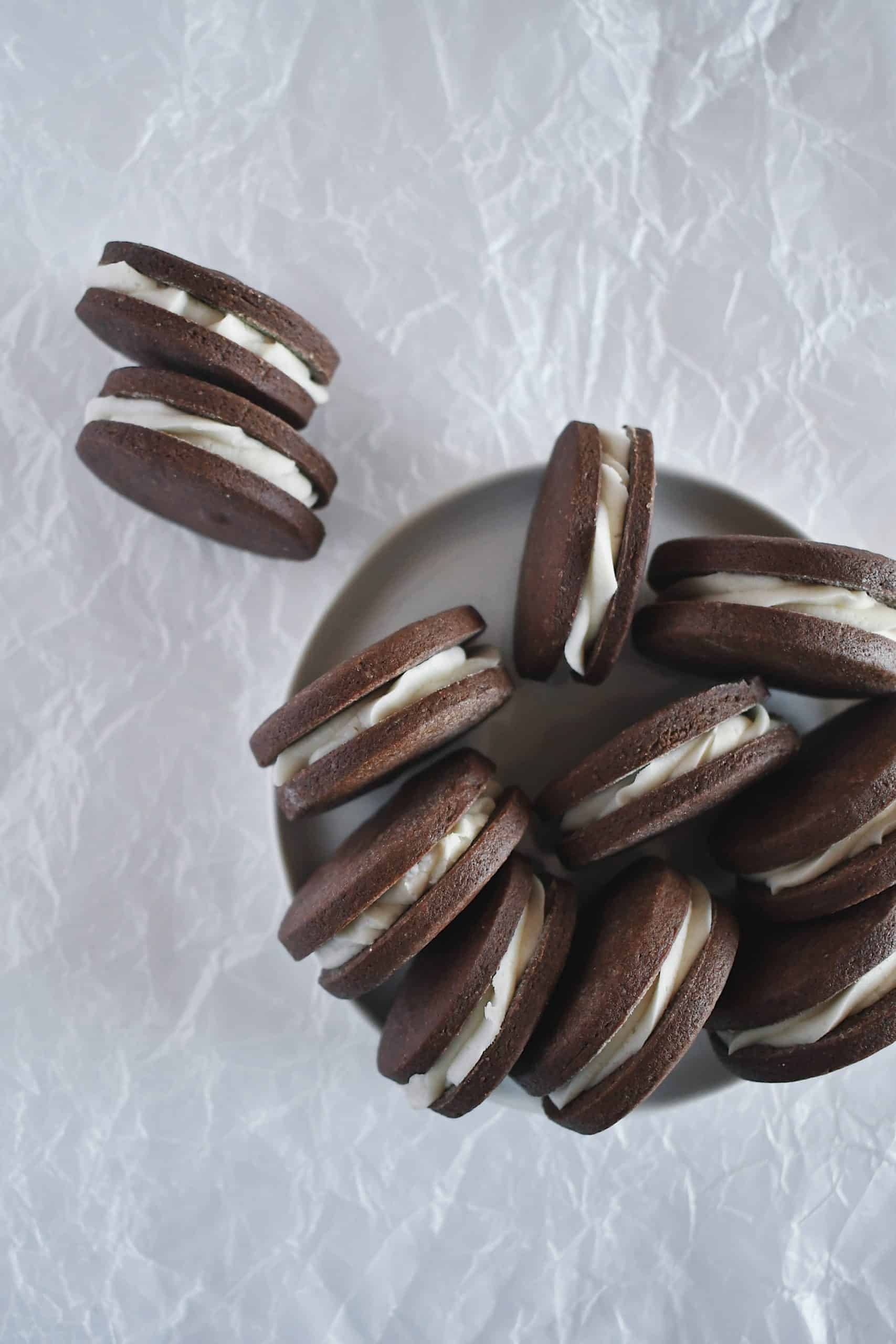 I have to say, I couldn't love this process more! I am that person who enjoys the oreo "cookie"...more than the filling. The cookie is soooo gooood, but I could leave the cream filling behind, and fill the cookies with peanut butter. LOL!
But honestly, any time that I can recreate a favorite at home that has FAR fewer preservatives, I'M IN! I am happy to report that this recipe also holds up really well to any shape you want it to cut it into. I have even used it to make my "gingerbread" village this year!
More on that in a day or two! If you read anything about the uproar over the Oreo cookie "gingerbread" house that was available this year (but sold out in October!), then stay tuned. It's a gingerbread house you'll actually want to eat!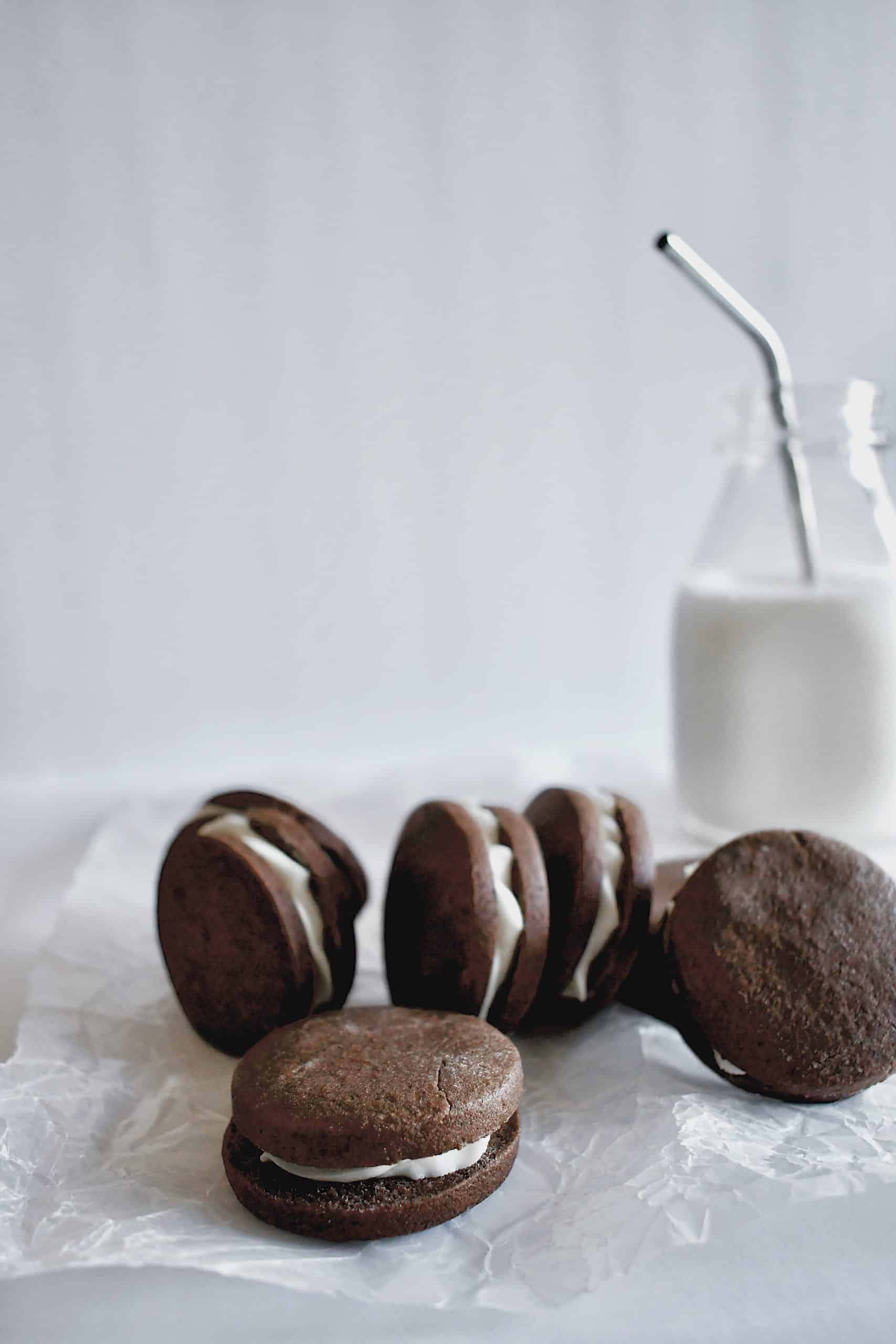 If you are looking for the perfect cookie to pair with milk for Santa, look no further. I mean, wouldn't you want to eat those if you were Santa?
Tips for making homemade "Oreo" cookies
This dough is slightly sticky and will need a generous dusting of flour for rolling out. But if you want to use less flour when rolling them out, resulting in deeper colored cookie, you can roll the dough out in between to sheets of parchment paper. If you roll and cut the cookies then remove the excess, freeze them till firm and then space them out for baking.
If you choose to roll them out with flour, which is how I actually do it, just be sure to brush the excess flour off of them before you freeze them. The flour will be set on and won't come off.
They need to be chilled or frozen for 10-15 minutes. I do this so that they don't spread excessivly when baked. I like them to keep a tight form, which also makes them great for making cut out cookies with.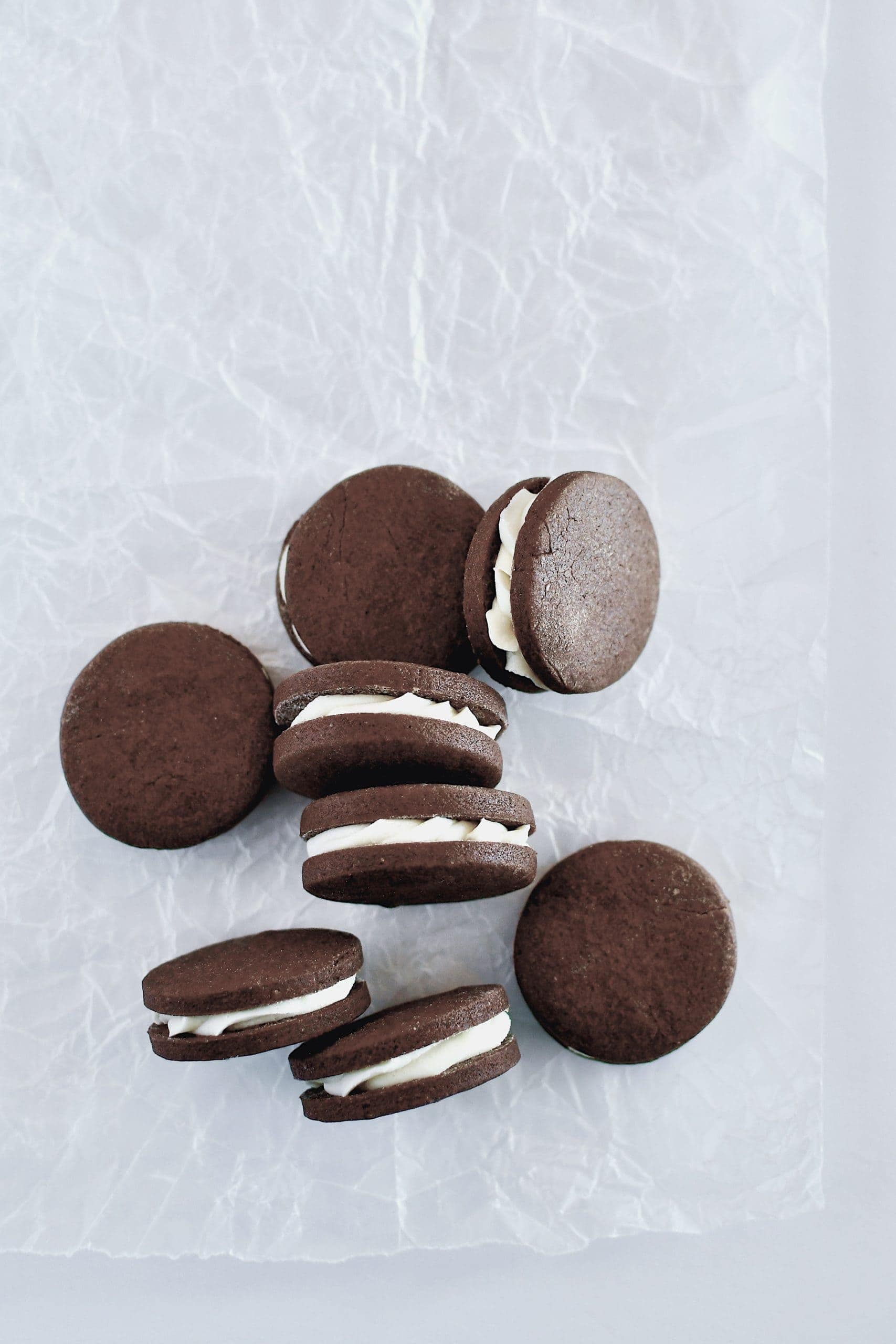 Enjoy these cookies with a tall glass of milk and as always let me know if you make them!
If you make this recipe, please let me know by leaving a review at the bottom of this page!
And make sure to sign up for my newsletter and follow along on Instagram, Pinterest, and Facebook for more KendellKreations!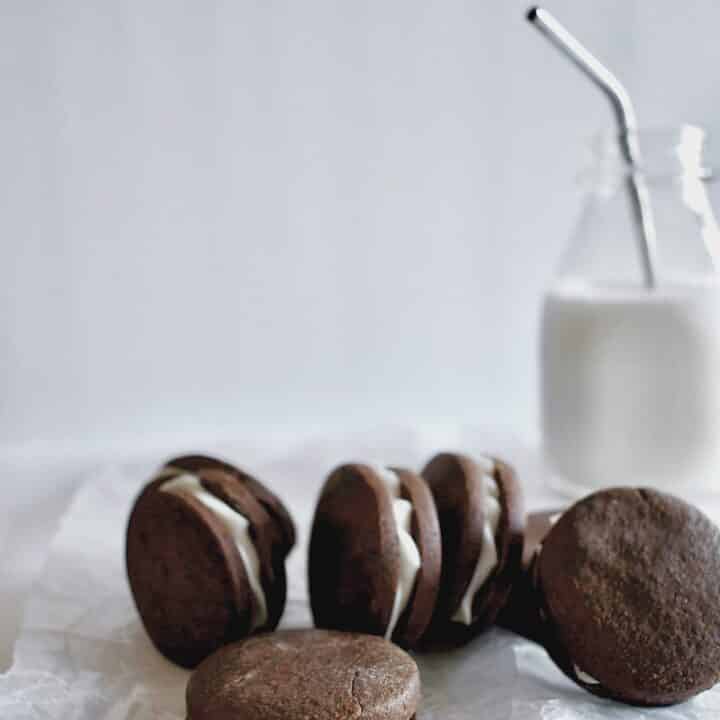 Homemade "Oreo" Cookies
This is a great chocolate cookie that will hold up to any shape you cut it in. Get a little creative and make some fun, homemade sandwich cookies.
Ingredients
for the Chocolate Sablé Cookie:
1 cup Unsalted Butter, softened
1 cup Granulated Sugar
2 ½ teaspoons Kosher Salt
2 lg Eggs
2 ¼ cups All-Purpose Flour
1 ½ cups Cocoa Powder
½ teaspoons Baking Soda
for the Filling:
½ cups Unsalted Butter, softened
2 cups Powdered Sugar
1 teaspoon Vanilla Extract
Instructions
for the cookies:
In the bowl of an electric stand mixer fitted with the paddle attachment, cream the butter, sugar, and salt, until light and fluffy.
Beat in the eggs until fully incorporated. Scrape the bowl down and beat until the batter gets airy about 2 minutes.
Combine the flour, cocoa powder, and baking soda and add the batter.
Mix on low speed until fully combined.
Turn the dough out onto a square of plastic wrap and push together into a flat square. Wrap the dough tightly in the plastic wrap and refrigerate for 1 hour to allow the flour to become completely absorbed.
Preheat oven to 350 degrees.
Remove the dough from the fridge and roll out on a well-floured surface.
Using a small round cookie cutter cut the dough into individual circles and place on a large parchment-lined baking sheet, leaving at least ½-inch between each cookie.
Pack together and re-roll out any scraps to cut additional cookies. Repeat with this process until you have cut cookies out of all of the dough.
Using a soft pastry brush, brush off any flour left of the surface of the cut cookies, do this on both sides.
Chill the cookies in the freezer for 10 minutes before baking, this helps them retain their shape and prevent spreading.
Bake in a preheated oven for 15-20 minutes, rotating the pans halfway through cooking.
When the cookies have finished baking transfer them to a cooling rack to cool completely.
for the filling:
Combine the butter, powdered sugar, and vanilla extract in the bowl of an electric stand mixer. Beat together until light and fluffy scraping down the bowl a couple of times until the mixture becomes fluffy and white.
Place the filling in a piping bag fitted with your favorite tips, alternatively use a ziptop bag with the corner cut off.
Assemble the cookies by squeezing a generous amount of the icing onto one of the cookies and sandwiching it with another. Give it a light squeeze to fill the cookies all the way to the edge.
Enjoy with a big glass of ice-cold milk and Enjoy!
Nutrition Information:
Serving Size:

1 grams
Amount Per Serving:
Unsaturated Fat:

0g
Stay tuned for my Chocolate "Gingerbread" Houses coming in a couple of days. I have created a Nordic-inspired village this year and I can't wait to share them with you.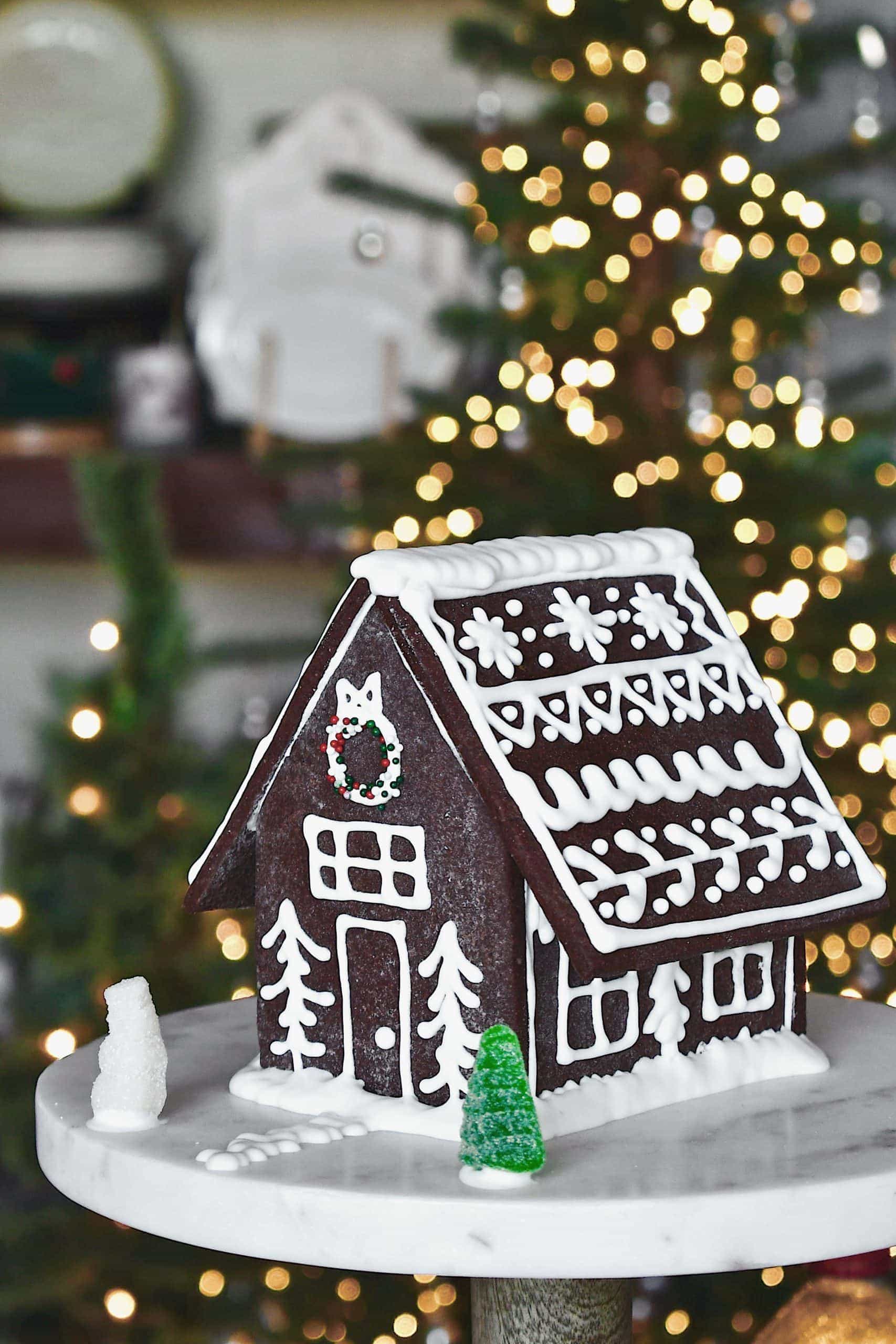 Christmas Advent Calendar
A new recipe every day from December 1-24 from me or one of my friends!
Lori, from @JosieandNina. Italian Home Cook - JosieandNina.com
Sarah, from @SaltJar. Farm Fresh Food - SaltJar.com
Niki, from @CleanPlateClb. Food Photographer - CleanPlateClb.com
Kathryn, from @WornSlapOut. Recipe for the Joyfully Exhausted - WornSlapOut.com
Ruchi, from @TiffinKitchen. Plant forward food - TheTiffinKitchen.com
Kendell, from @KendellKreations. Food & Travel - KendellKreations.com
We have been working hard to bring you some great recipes that will bring the family together each night leading to Christmas Day. I hope you enjoy them and be sure to let us know if you make them by tagging any of us on Instagram through the month.
Christmas Advent Calendar Recipes
MY LATEST RECIPES!
Get my NEW e-Cookbook here!! ⬇️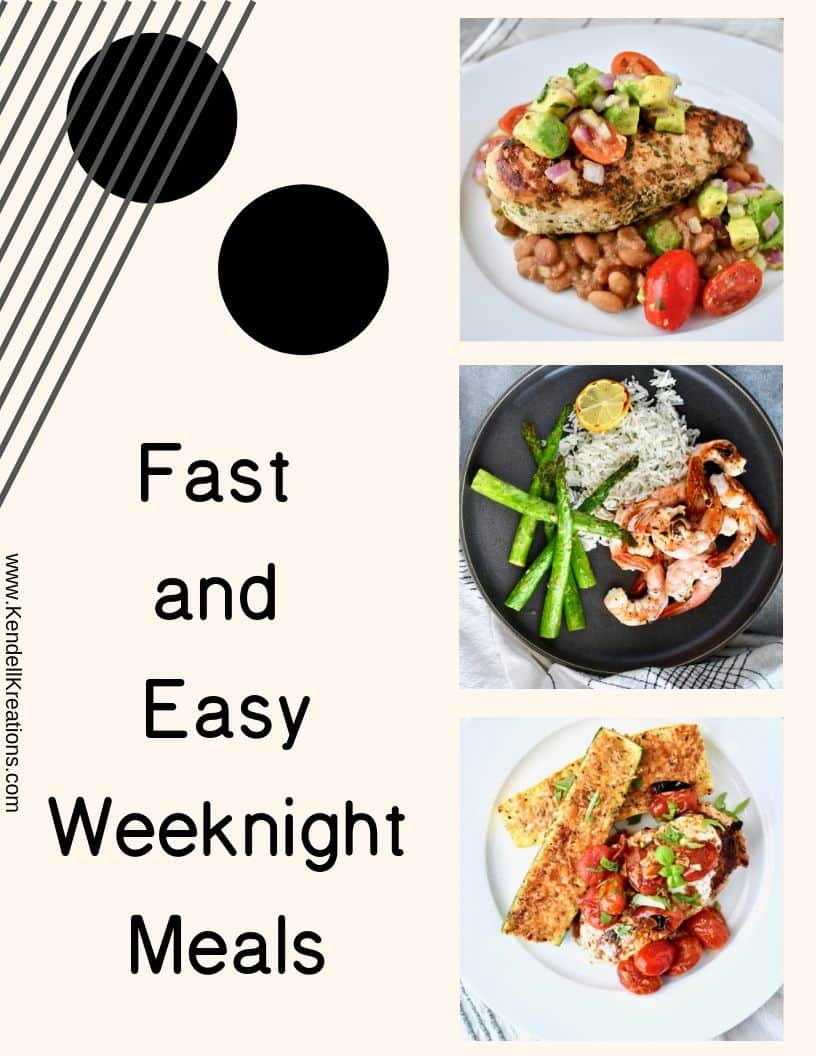 MY FAVORITE KITCHEN TOOLS!
Here are a few links to some of my favorite kitchen tools! You get a car, YOu get a car, YOU ALL GET A CAR…in my best Oprah voice
These Rösle Silicone Tongs are a little pricey but they will last you the rest of your life and are the softest in your hand. This is important for someone like m that cooks so much. It reduces strain, I have 4 sets in my kitchen!
These are my FAVE Nordic Ware Sheet Pans, every kitchen should have at least 2 sets of these! I think I have at least 4 of each of these.
This is my favorite pressure cooker, the Fagor is the same concept as the "Instant Pot" but easier to use in my opinion, if you don't have one you NEED one, it will be your best friend in the kitchen!
A sharp knife is the most important tool in the kitchen, these Japanese steel "Shun" knives are my favorite! And this is a great starter set to build on. Once you try them you will be in love so use this as a foundation you can build on for years to come.
This Scanpan 11″ skillet is just the right size for almost anything you will need to cook and my best friend and a real workhorse in my kitchen, it's also a great deal at $99. Scanpan is the best in the world for healthy cooking. It is coated with a proprietary ceramic-titanium coating that is durable while allowing you to use fewer fats and oils when cooking. It is a coating only they use. I could talk all day about my love for these pans, message me if you want more info. Here are some other sizes that are available if you are looking to outfit your kitchen with some new goodies. 8″ & 10″ Skillet set or 8″ Skillet, I still need this one for my kitchen Also, I don't really know how to cook small so the 12.5″ is my other fave!
This giant vat of olive oil is my favorite, I decant it into a smaller bottle for my counter. Or put this spigot on top of a wine bottle!
My favorite baking dish that is so easy to clean even burnt on cheese slides right off!
This Tovolo jar scraper has to be my single favorite kitchen tool, it is definitely the most used tool in my kitchen. If you are NOT a gadget person, this is the only necessity I say is a MUST beyond the wooden spoon.
A great wood spoon is essential, this Olive Wood one is my favorite, I have more than I can count. But can you really ever have too many?
A food scale can be a very important tool in your kitchen, this one is the one I use every day!
If you love Joanna Gaines as much as I do then the 'Magnolia Table Cookbook' is a must in your kitchen, get a copy HERE!