This is one of those recipes I make at home now because I just don't eat out hardly ever anymore. I loved this Panera Asian Sesame Salad, but making it at home lets me easily customize it and is way easier on the budget, I can make 4 salads for the price of one at the restaurant.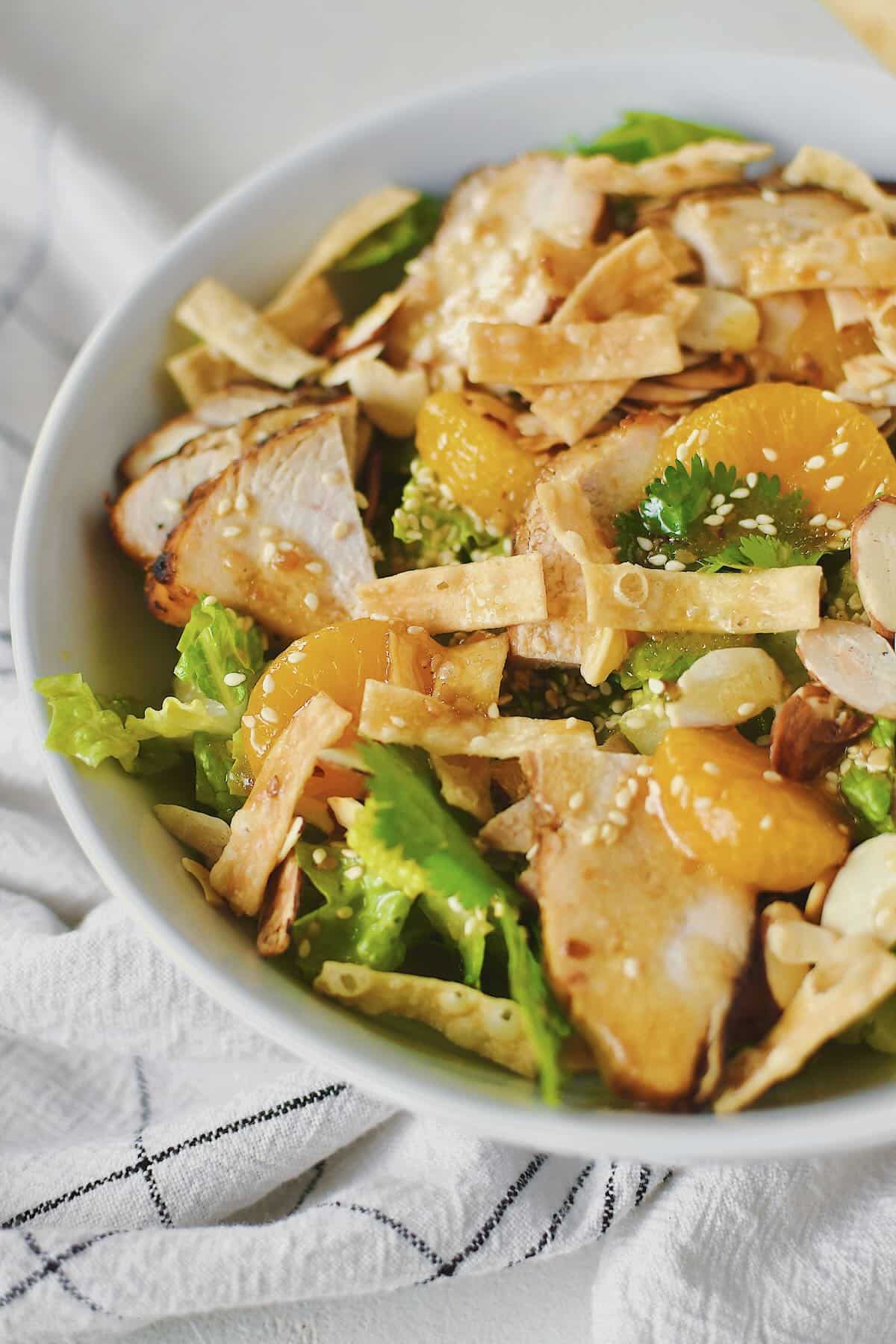 Whether you want to call it a copycat or inspiration, a nice big salad is one of my favorite lunches or even a good dinner in the hot summer months.
Jump to:
Ingredients
Grab a bag of wonton strips, and sliced almonds at the grocery store, they are usually in the fresh vegetable section by the lettuce greens and refrigerated dressings. I also use a store-bought dressing here and a can of mandarine orange slices. I know I usually preach homemade everything, but this is one of the rare occasions I take a little shortcut.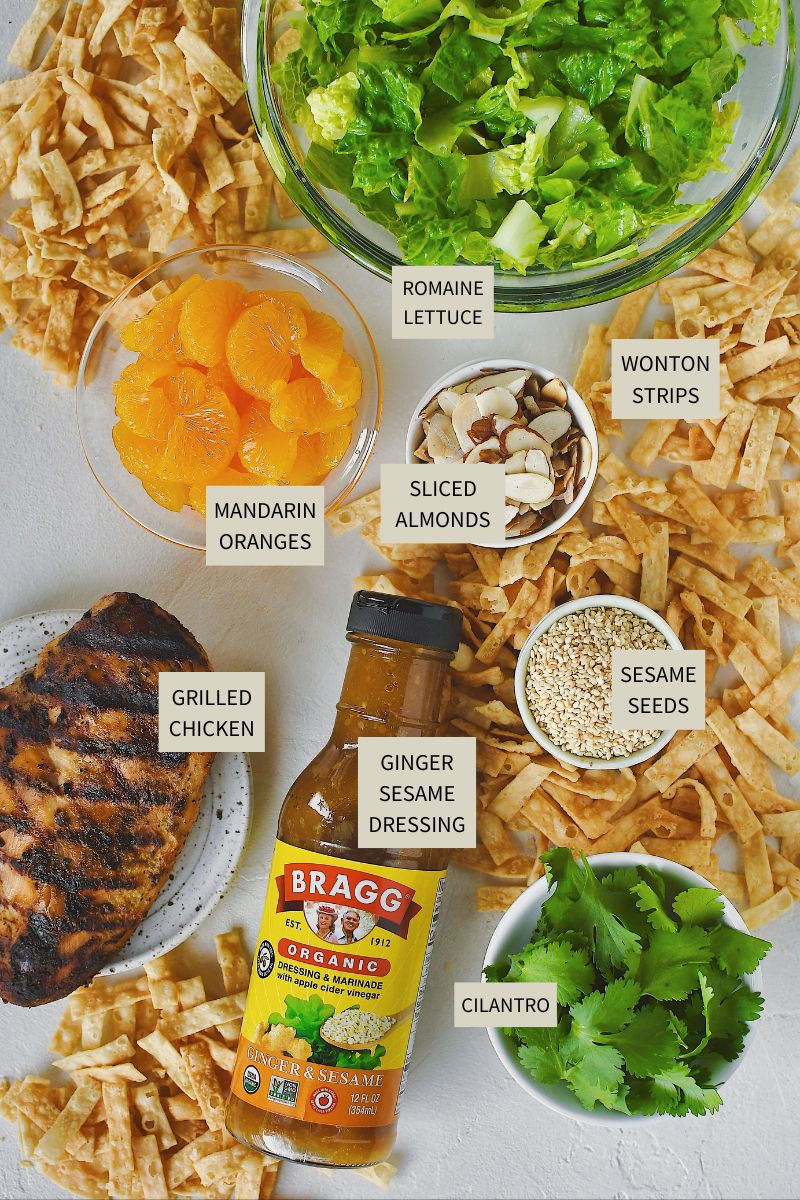 Beyond the storebought ingredients, you need a little romaine lettuce, and some cilantro, if you like it, and I do grill up some chicken at home too. I love this as a light lunch salad, or I make a really nice big one and have it for dinner.
Use the JUMP TO RECIPE button at the top of the post, or scroll to the bottom of the post to see the full recipe card with ingredient measurements and instructions.
Method
First, chop and wash the romaine, dry it off, and toss it in a big bowl with some cilantro. Add the dressing and toss till it coats the greens.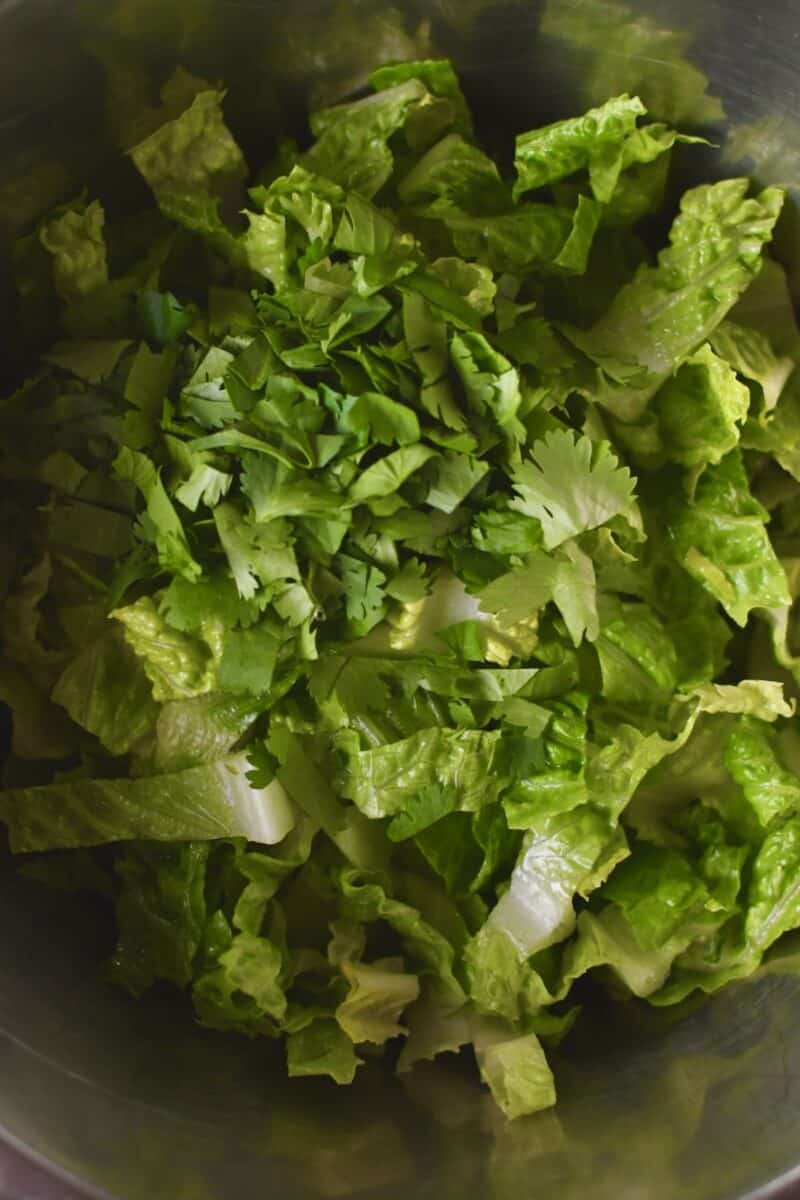 Place the greens in a serving bowl, and top with some sesame seeds and orange slices.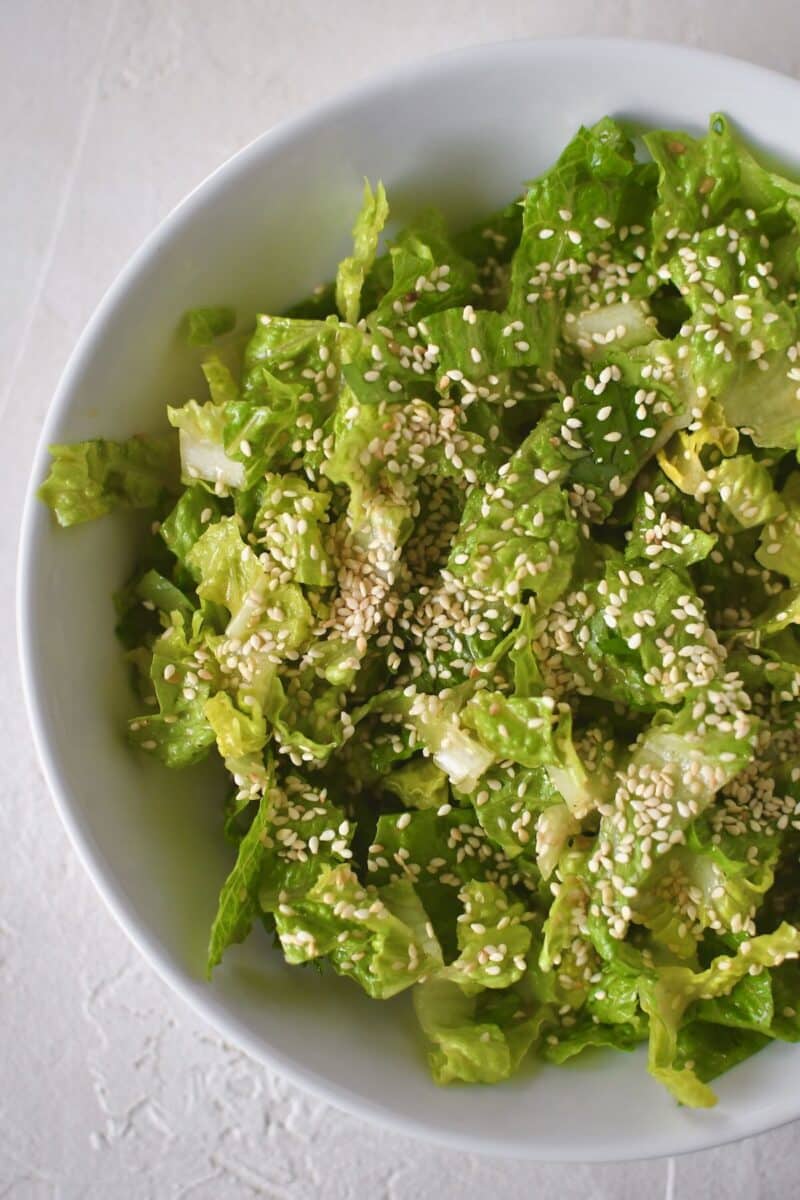 Finish with some chicken, wontons, and almonds. All that crunch is what makes this recipe a favorite of mine. I like lots of wonton strips.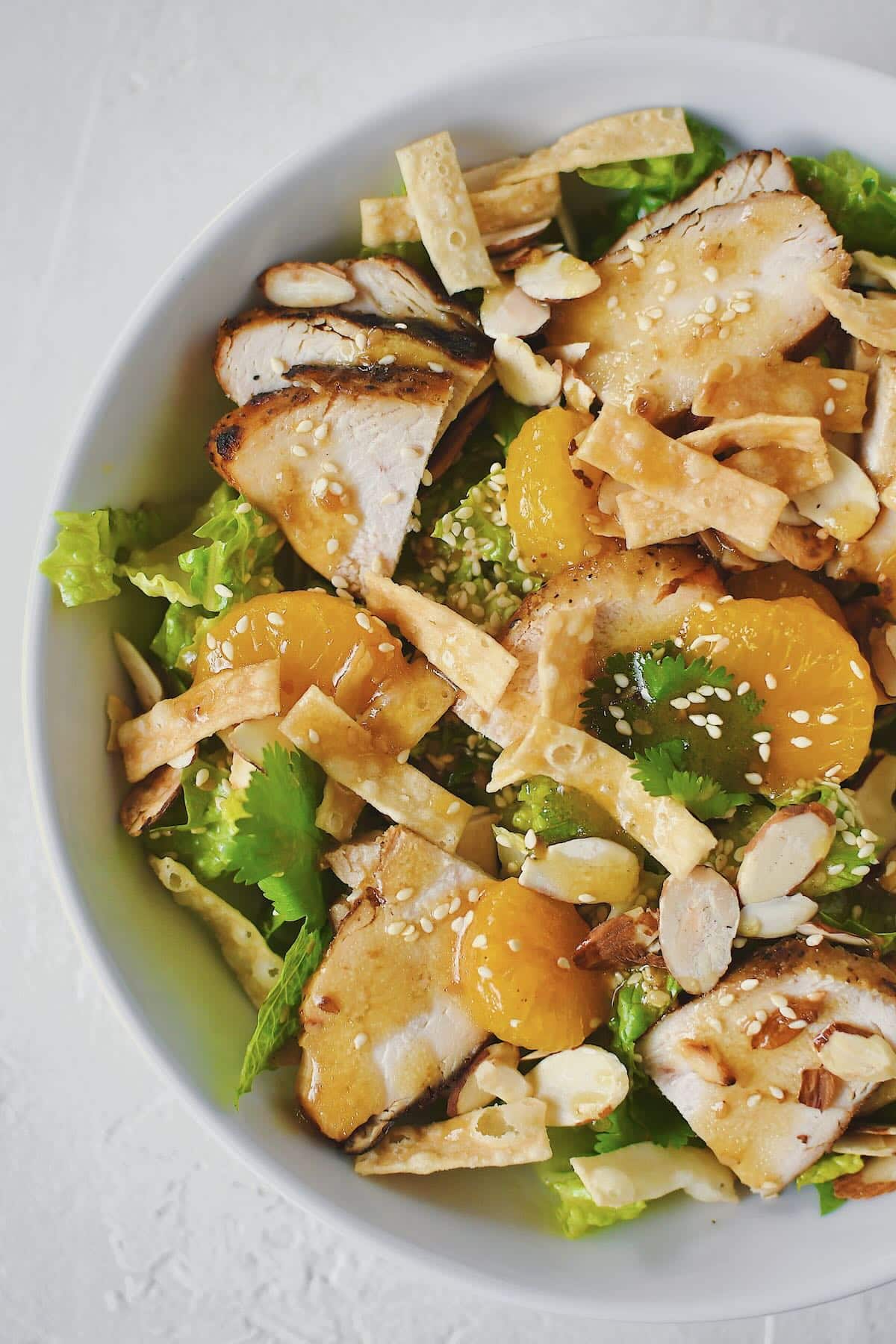 Notes & Tips
I have written this recipe to make 4 salads. If you are not serving them all at the same time, the ingredients make for great meal prep. Keep the dressing on the side, but place the lettuce and all other ingredients in a storage container and enjoy them as lunches all week long.
I also love to prep all the ingredients ahead of time and lay them all out like a salad bar. Then everyone can make their own salad with their favorite toppings. They can add as much or as little as they like. All about the customizations baby!
On that note, the only real work you have to do for this recipe is to grill the chicken. I season it with a little salt and pepper, then drizzle over some of the dressing and let it marinate for 20-30 minutes before cooking it. Just adds a little extra flavor to the salad.
Substitutions
I prefer crisp romaine for this salad. If you wanted to pack a little more nutrition into it you can add some spinach or use a super green lettuce blend.
If you are not a cilantro lover, leave it out. It is traditional to the restaurant salad, and I love the fresh extra flavor it brings, but all will be ok without it.
If I am going to take a shortcut I still want the best I can get. The Bragg Ginger & Sesame Dressing is my favorite storebought, but you can use your favorite.
I always used to add mandarine oranges to this salad when I ordered it. You can leave them off if you want to be traditional, but I like the brightness of them.
I like to make a meal of this salad, but you can remove the chicken and make it a side salad, or swap it for shrimp, or tofo depending on your needs.
If you can't find wonton strips, or want something a little different, you can swap them for crispy chow mein noodles too.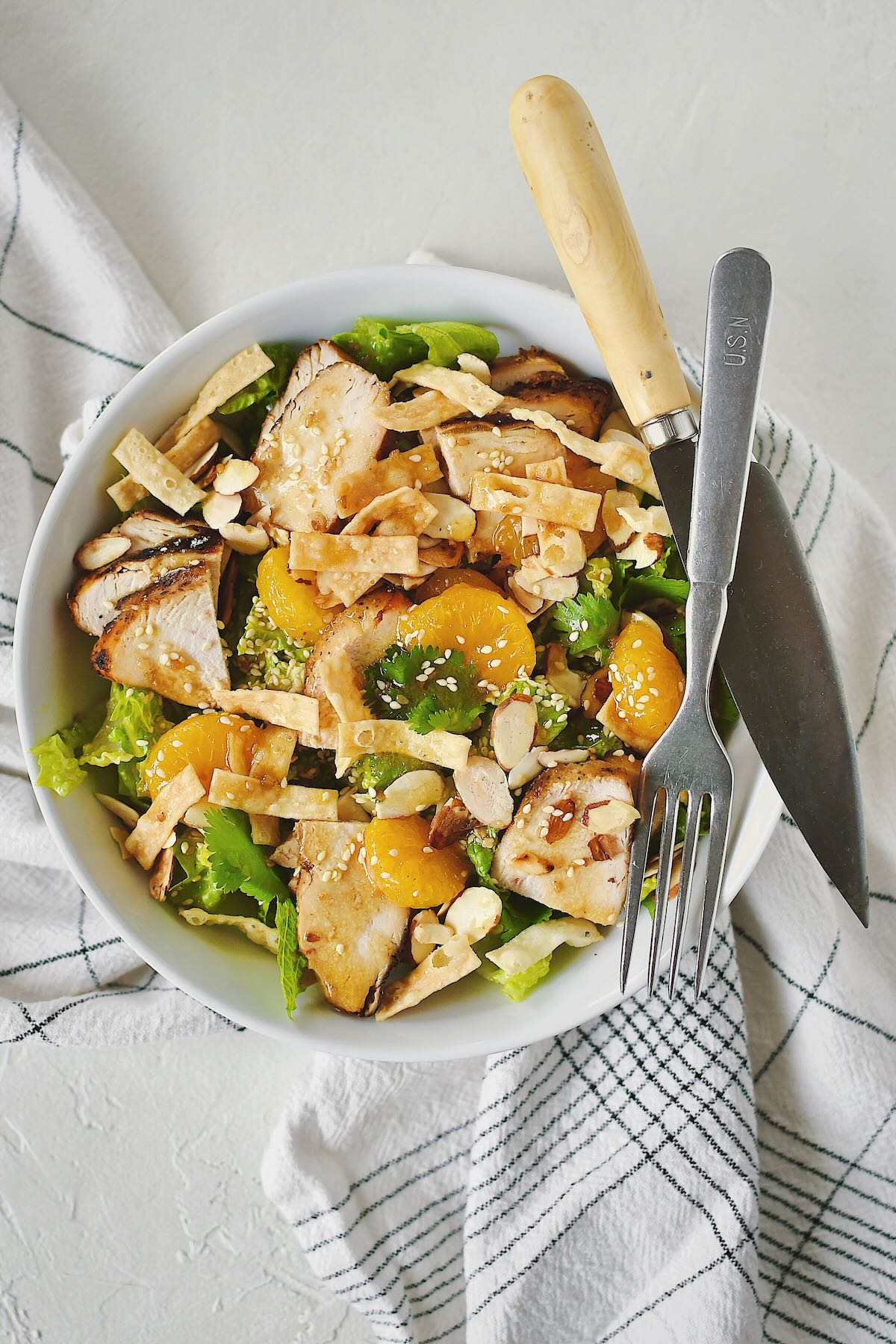 Did you make this recipe? Let me know by leaving a review or comment! And be sure to sign up for my newsletter, and follow along on Instagram, Pinterest, and Facebook!