Ok, I am going to be honest with you up front here, this recipe takes a little time and patience, but it is a once a year thing for me so I just enjoy it when it happens. The work is worth it for that yearly treat. I hope you enjoy these Peach and Pecan Fritters as much as my family and I do, they are extra special!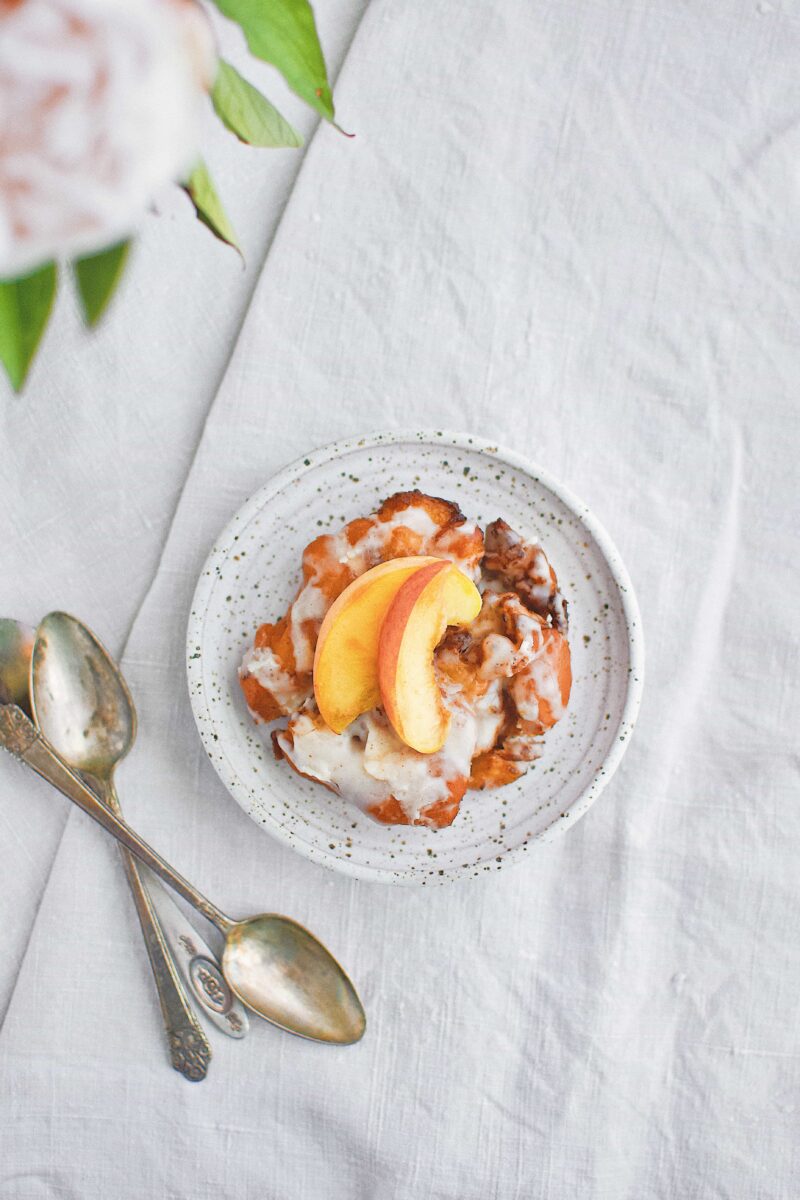 What makes Peach Season GREAT!?
I usually spend a few weeks every summer cooking every single peach recipe I can and experimenting with a few new ones when I can find an abundance of peaches to bring home! I have shared a few of my favorites that I have perfected over the year here on the site. Check out my section on "Peaches" if you need even more inspo!
While my Peach Sweet Tea might just be my favorite recipe I have for using up some peaches quickly, these Peach and Pecan Fritters just might be my next favorite. Like I said earlier, they are a bit of a labor of love, but it is something I am willing to whip up once a year at the heights of fresh peach season!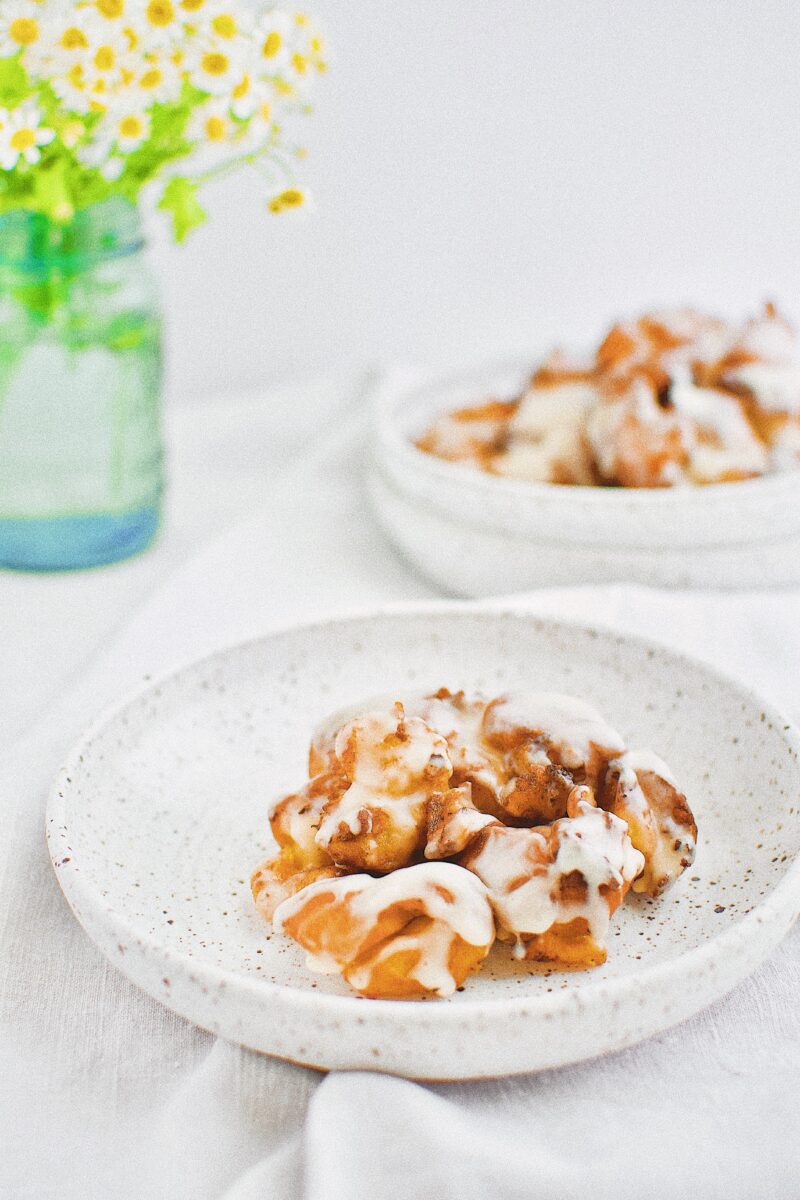 I think that is part of what drives me to love peaches so much. Their season is short and you really have to hunt down the good ones. I know this can be a big focal point of debate on who grows the best peaches, but as far as I am concerned the best peach is the one you can get from the most local place as possible.
The good news is, is that they grow in a wide variety of places so seeking out the freshest peaches can be easier than you might think. I try my best to find ones that have been just picked off the tree as recently as possible and that have experienced the least amount of time in refrigeration. In Texas, there are a few Peach Festivals around the state that offer me access to the freshest peaches I can get!
Peaches are a delicate fruit that can absorb the flavors and smells of things around them, and one that once ripe only are truly GREAT for a few days. They have to be eaten or processed quickly for the best results. So the short season and the need for quick use makes them special in my book, and I look forward to that special little joy every year!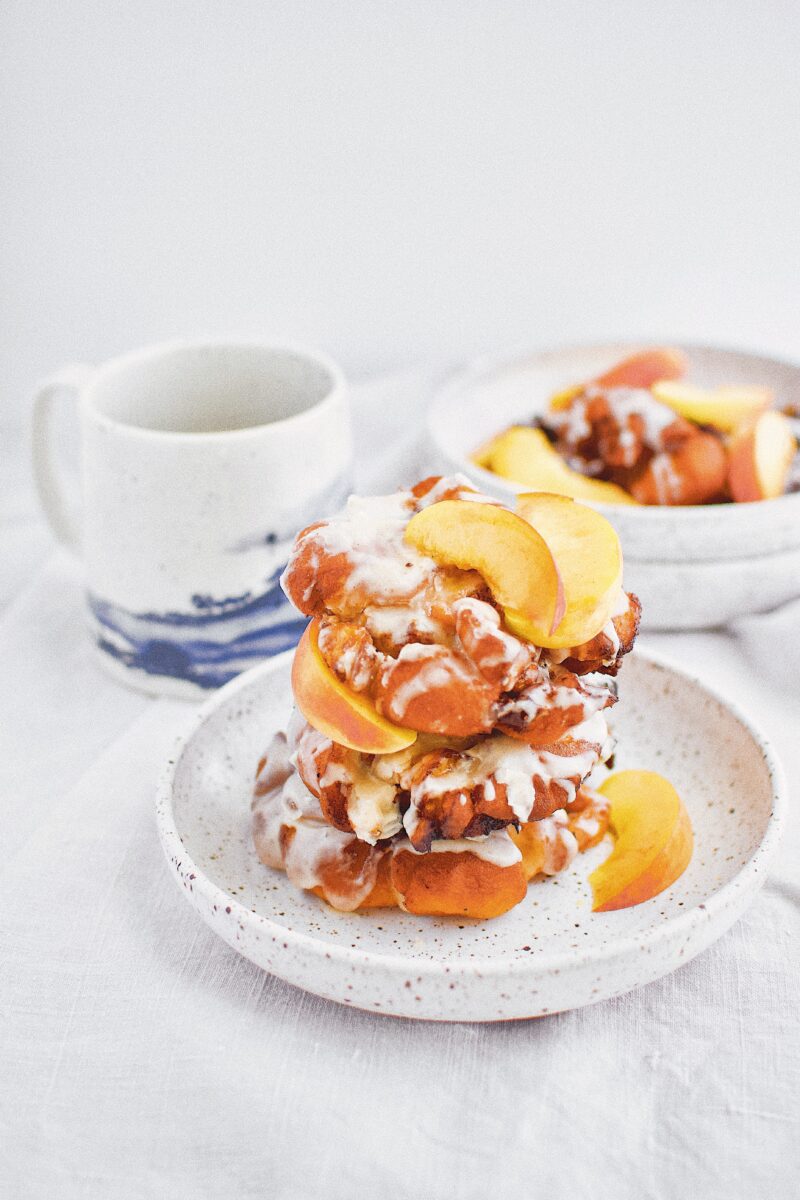 Making Peach Fritters!
The base of these fritters is a brioche style dough. It is very supple and soft with a little fat that helps keep it that way. The only real hard part is this, you have to make sure your yeast is fresh, and you have to exercise some patience waiting for the dough to rise.
The filling is super easy to make, I just throw everything in a saute pan and cook til it is thick and ready to be mixed in the dough.
The shaping is the hardest part, you have to roll out the dough and fill it with the filling. Chop it up, fold it and do repeat. This process evenly spreads the fruit out and works the dough just enough that it should hold it's shape in the deep fryer.
Then the patience part comes back, they need another rest and rise before being fried. And let me tell you right now, some of them will fall apart in the fryer and some little pieces will come off it them. This is ok, don't let it frustrate you, just cover all the pieces in glaze and enjoy them anyway!
I am including a few images below to give you an idea of how to bring them together from dough to rest before frying. It's not the prettiest method, but it creates something super tasty!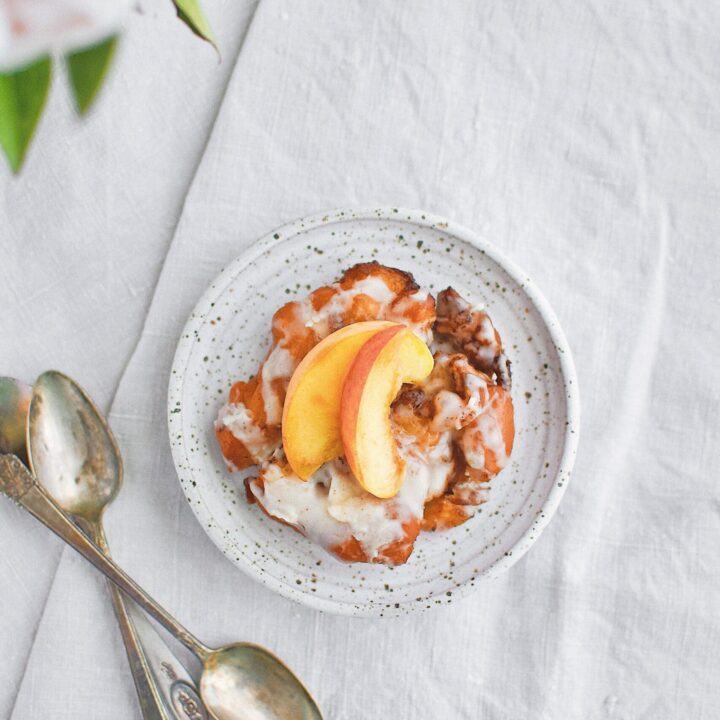 Peach & Pecan Fritters
This recipe is 100% a labor of love, I won't lie to you. They take a little time and require a little work, but the end result is totally delicious.
Ingredients
for the fritter dough:
1 tablespoon active dry yeast, two .25 oz packets
½ cup Water, warm (100˚-110˚)
¼ cup Granulated Sugar
2 ¼ cup Bread Flour
¼ teaspoon Baking Powder + more for rolling
½ teaspoon Cinnamon
1 teaspoon Kosher Salt
2 tablespoons Unsalted Butter, room temp
1 teaspoon vanilla extract
1 lg egg
for the peach & pecan filling:
1 tablespoon Unsalted Butter
2 cups Peaches, medium diced
¼ cup Brown Sugar
1 tablespoon Lemon Juice
2 teaspoon Cinnamon
½ teaspoon Ground Ginger
⅓ teaspoon Kosher Salt
¼ cup Pecans, toasted and roughly chopped
for the Salted Brown Butter Glaze:
3 tablespoons Unsalted Butter, browned
1 cup Powdered Sugar
1 Pinch Kosher Salt
½ teaspoon Vanilla Extract
2-3 tablespoons Whole Milk
1-2 quarts Corn or Vegetable Oil, for frying
Instructions
for the fritter dough:
In the bowl of a stand mixer fitted with the hook attachment, first, bloom the yeast and the warm water together for 5 minutes. Place the butter, vanilla, and egg into the yeast mixture, then add the sugar, flour, baking powder, cinnamon, and salt in that order on top of the yeast mixture. This is important so the salt doesn't come in direct contact with the yeast and kill it. Mix the on low speed until a soft ball of dough forms and pulls away cleanly from the bowl. If needed, add more flour 1 Tablespoon at a time to bring the mixture together. Increase the speed to medium and kneed for 8-10 minutes. The final dough should be smooth and slightly tacky, not sticky. Remove the dough from the bowl for a second, spray with pan spray, place the dough back in the bowl and cover with plastic wrap. Let the dough rest for 1.5-2 hours until doubled in size. While the dough rises prepare the peach filling.
for the peach & pecan filling:
In a medium sauté pan heated over medium heat, melt the butter and add the peaches, brown sugar, and lemon juice to the pan. Cook stirring constantly until the mixture comes to a boil. Season with the cinnamon, ginger, and salt, stir to combine. Continue boiling the mixture until the liquid is almost completely gone and reduced. Remove from the heat and stir in the toasted pecans. Set aside to rest and cool. Do not use until room temp or cold.
To prepare the fitters, roll the risen dough out to a 12x12 square, place the cooled peach filling mixture on one half and fold the dough over to form a rectangle. Use a knife and cut ½ inch strips all the way down the dough one way, then again the other way to form small squares of dough and filling. Fold the mixture, back on its self, flatten the dough back out, and repeat the process. The filling should be well dispersed throughout the dough. Now roll the dough into a log, sprinkle with flour, and cut into 10 1-inch pieces. Scoop up each piece of dough balls and form into a mound. Work the dough until all the pieces stick together or they will fall apart in the fryer. Place the dough balls on a floured cookie sheet and allow them to rise for 45 minutes to an hour until doubled in size.
for the salted brown butter glaze:
In a small pot heated over medium heat, place the butter in and allow it to melt. Continue cooking until the butter has stopped popping and foaming and it begins to brown. Swirl the pan from time to time to prevent black spots. When it just begins to brown remove it from the heat, the process will finish itself in the warm pan.
In a small wide bowl, combine the sugar, salt, vanilla, milk, and brown butter and whisk together. Blend until smooth. If you feel the mixture is too thick or thin, add more powdered sugar or milk respectively, as needed. The mixture should be pourable, yet thick.
In a heavy-bottomed pan or deep fryer, heat at least 2-inches of oil to 340˚F. Using a metal spatula or slotted spoon gently lift the fitters off the pan and lower them into the hot oil. Fry for 1-2 minutes on each side until deep golden brown. Remove the fitters from the oil to a wire rack set over a baking sheet and let cool. While the fritters are still slightly warm dip them into the Salted Brown Butter Glaze or pour it over while on the cooling rack. Allow to cool so the gaze can set, and Enjoy!
Nutrition Information:
Serving Size:

1 grams
Amount Per Serving:
Unsaturated Fat:

0g
If you make this recipe, please let me know by leaving a review at the bottom of this page!
And make sure to sign up for my newsletter and follow along on Instagram, Pinterest, and Facebook for more KendellKreations!
MY LATEST RECIPES!
Get my NEW e-Cookbook here!! ⬇️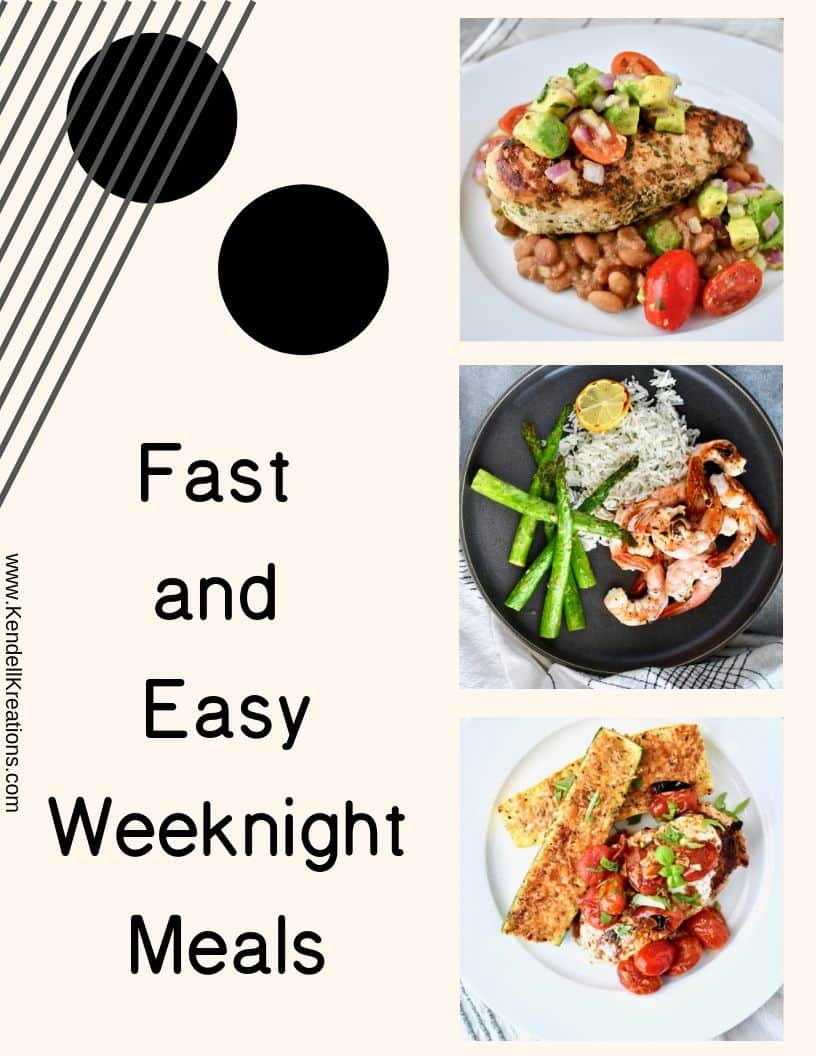 MY FAVORITE KITCHEN TOOLS!
Here are a few links to some of my favorite kitchen tools! You get a car, YOu get a car, YOU ALL GET A CAR…in my best Oprah voice
These Rösle Silicone Tongs are a little pricey but they will last you the rest of your life and are the softest in your hand. This is important for someone like m that cooks so much. It reduces strain, I have 4 sets in my kitchen!
These are my FAVE Nordic Ware Sheet Pans, every kitchen should have at least 2 sets of these! I think I have at least 4 of each of these.
This is my favorite pressure cooker, the Fagor is the same concept as the "Instant Pot" but easier to use in my opinion, if you don't have one you NEED one, it will be your best friend in the kitchen!
A sharp knife is the most important tool in the kitchen, these Japanese steel "Shun" knives are my favorite! And this is a great starter set to build on. Once you try them you will be in love so use this as a foundation you can build on for years to come.
This Scanpan 11″ skillet is just the right size for almost anything you will need to cook and my best friend and a real workhorse in my kitchen, it's also a great deal at $99. Scanpan is the best in the world for healthy cooking. It is coated with a proprietary ceramic-titanium coating that is durable while allowing you to use fewer fats and oils when cooking. It is a coating only they use. I could talk all day about my love for these pans, message me if you want more info. Here are some other sizes that are available if you are looking to outfit your kitchen with some new goodies. 8″ & 10″ Skillet set or 8″ Skillet, I still need this one for my kitchen Also, I don't really know how to cook small so the 12.5″ is my other fave!
This giant vat of olive oil is my favorite, I decant it into a smaller bottle for my counter. Or put this spigot on top of a wine bottle!
My favorite baking dish that is so easy to clean even burnt on cheese slides right off!
This Tovolo jar scraper has to be my single favorite kitchen tool, it is definitely the most used tool in my kitchen. If you are NOT a gadget person, this is the only necessity I say is a MUST beyond the wooden spoon.
A great wood spoon is essential, this Olive Wood one is my favorite, I have more than I can count. But can you really ever have too many?
A food scale can be a very important tool in your kitchen, this one is the one I use every day!
If you love Joanna Gaines as much as I do then the 'Magnolia Table Cookbook' is a must in your kitchen, get a copy HERE!