Ok, I am going to be honest with you up front here, this recipe takes a little time and patience, but it is a once a year thing for me so I just enjoy it when it happens. The work is worth it for that yearly treat. I hope you enjoy these Peach and Pecan Fritters as much as my family and I do, they are extra special!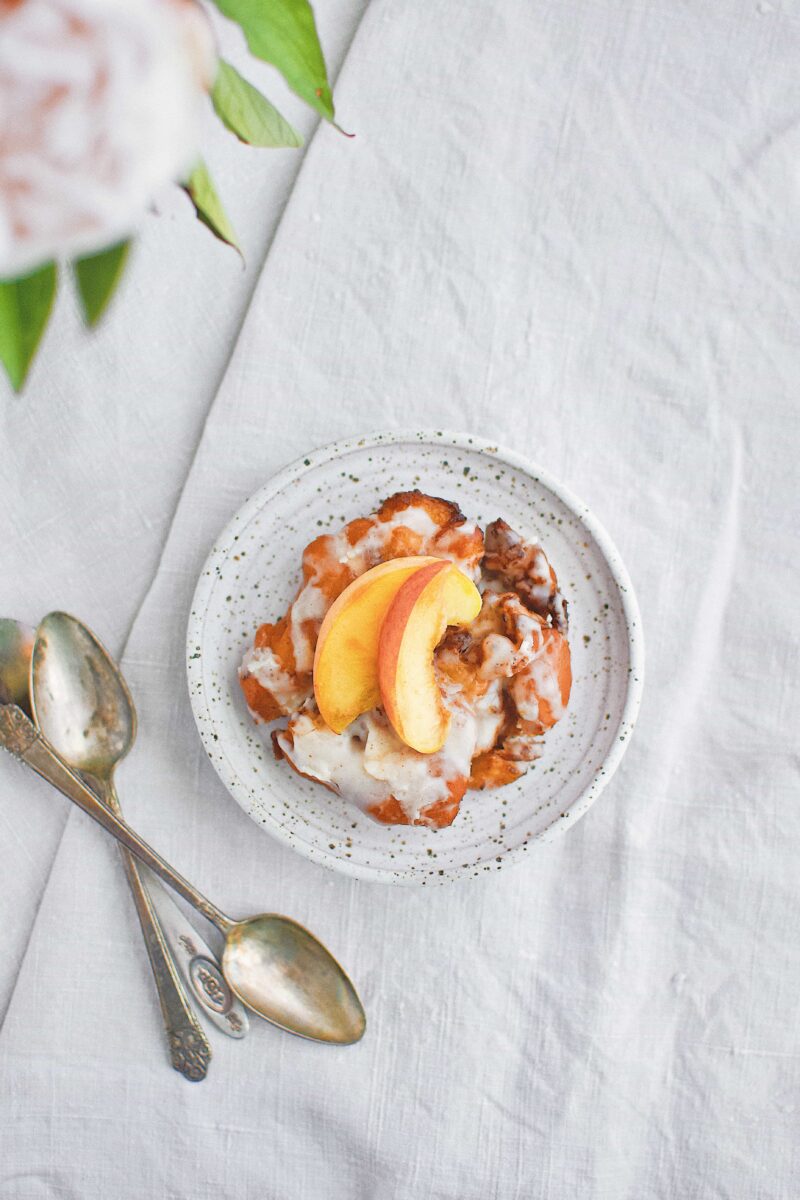 What makes Peach Season GREAT!?
I usually spend a few weeks every summer cooking every single peach recipe I can and experimenting with a few new ones when I can find an abundance of peaches to bring home! I have shared a few of my favorites that I have perfected over the year here on the site. Check out my section on "Peaches" if you need even more inspo!
While my Peach Sweet Tea might just be my favorite recipe I have for using up some peaches quickly, these Peach and Pecan Fritters just might be my next favorite. Like I said earlier, they are a bit of a labor of love, but it is something I am willing to whip up once a year at the heights of fresh peach season!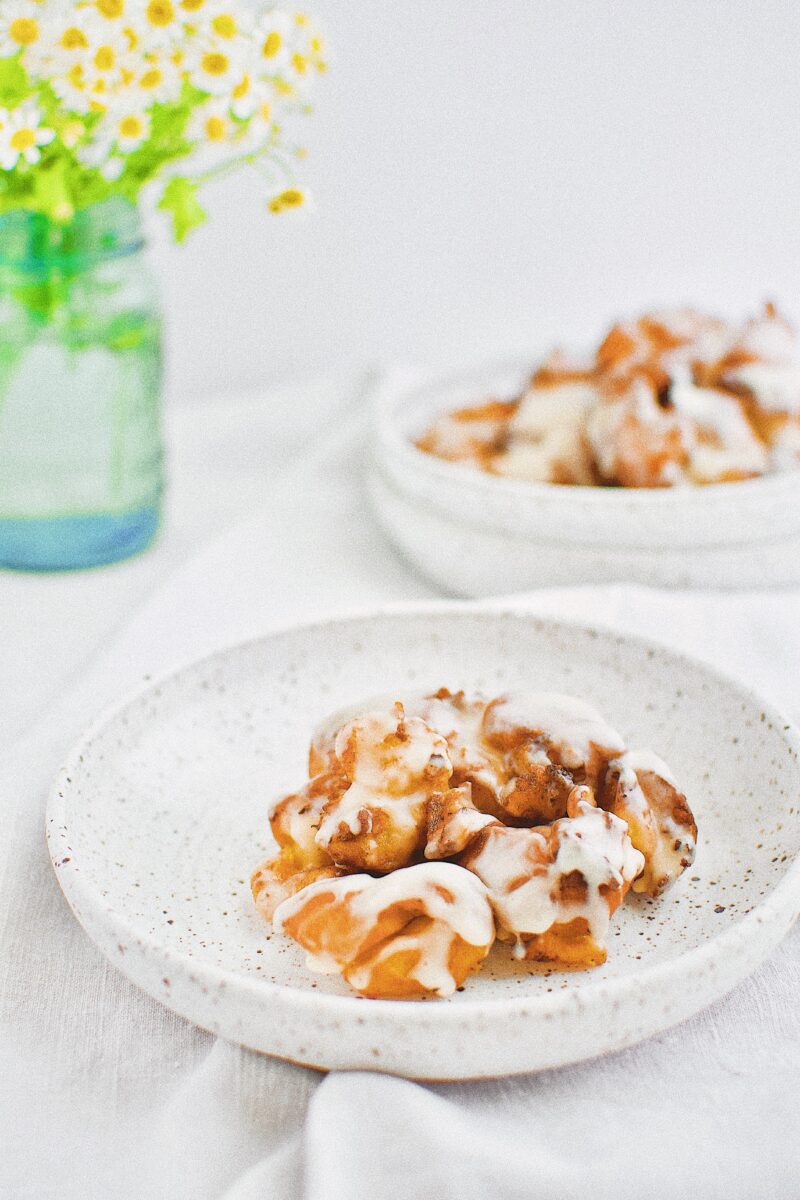 I think that is part of what drives me to love peaches so much. Their season is short and you really have to hunt down the good ones. I know this can be a big focal point of debate on who grows the best peaches, but as far as I am concerned the best peach is the one you can get from the most local place as possible.
The good news is, is that they grow in a wide variety of places so seeking out the freshest peaches can be easier than you might think. I try my best to find ones that have been just picked off the tree as recently as possible and that have experienced the least amount of time in refrigeration. In Texas, there are a few Peach Festivals around the state that offer me access to the freshest peaches I can get!
Peaches are a delicate fruit that can absorb the flavors and smells of things around them, and one that once ripe only are truly GREAT for a few days. They have to be eaten or processed quickly for the best results. So the short season and the need for quick use makes them special in my book, and I look forward to that special little joy every year!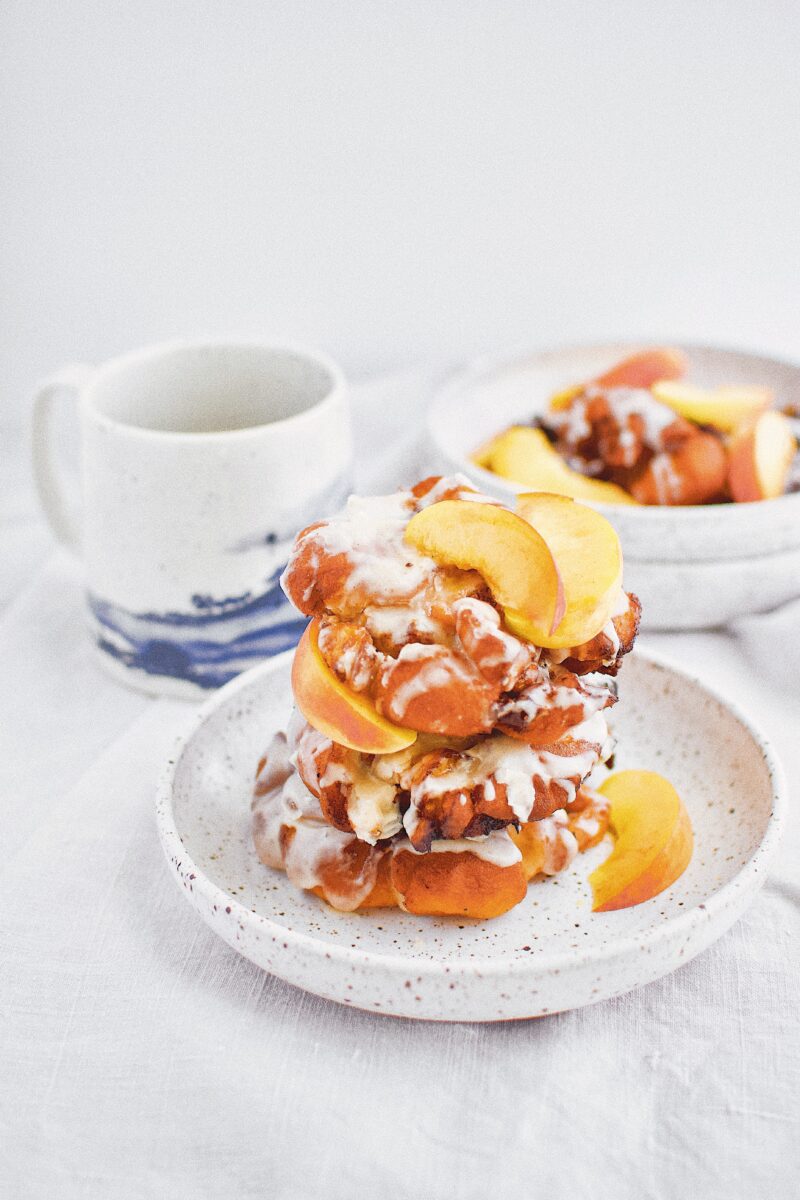 Making Peach Fritters!
The base of these fritters is a brioche style dough. It is very supple and soft with a little fat that helps keep it that way. The only real hard part is this, you have to make sure your yeast is fresh, and you have to exercise some patience waiting for the dough to rise.
The filling is super easy to make, I just throw everything in a saute pan and cook til it is thick and ready to be mixed in the dough.
The shaping is the hardest part, you have to roll out the dough and fill it with the filling. Chop it up, fold it and do repeat. This process evenly spreads the fruit out and works the dough just enough that it should hold it's shape in the deep fryer.
Then the patience part comes back, they need another rest and rise before being fried. And let me tell you right now, some of them will fall apart in the fryer and some little pieces will come off it them. This is ok, don't let it frustrate you, just cover all the pieces in glaze and enjoy them anyway!
I am including a few images below to give you an idea of how to bring them together from dough to rest before frying. It's not the prettiest method, but it creates something super tasty!
Did you make this recipe? Let me know by leaving a review or comment! And be sure to sign up for my newsletter, and follow along on Instagram, Pinterest, and Facebook!
Did you make this recipe? Let me know by leaving a review or comment! And be sure to sign up for my newsletter, and follow along on Instagram, Pinterest, and Facebook!