My Pumpkin Beer Cheese Lasagna was intended to be something completely different, but using the ingredients that I had and a little creativity something great was born! What's awesome about it is that it is the essence of what a KendellKreation really is!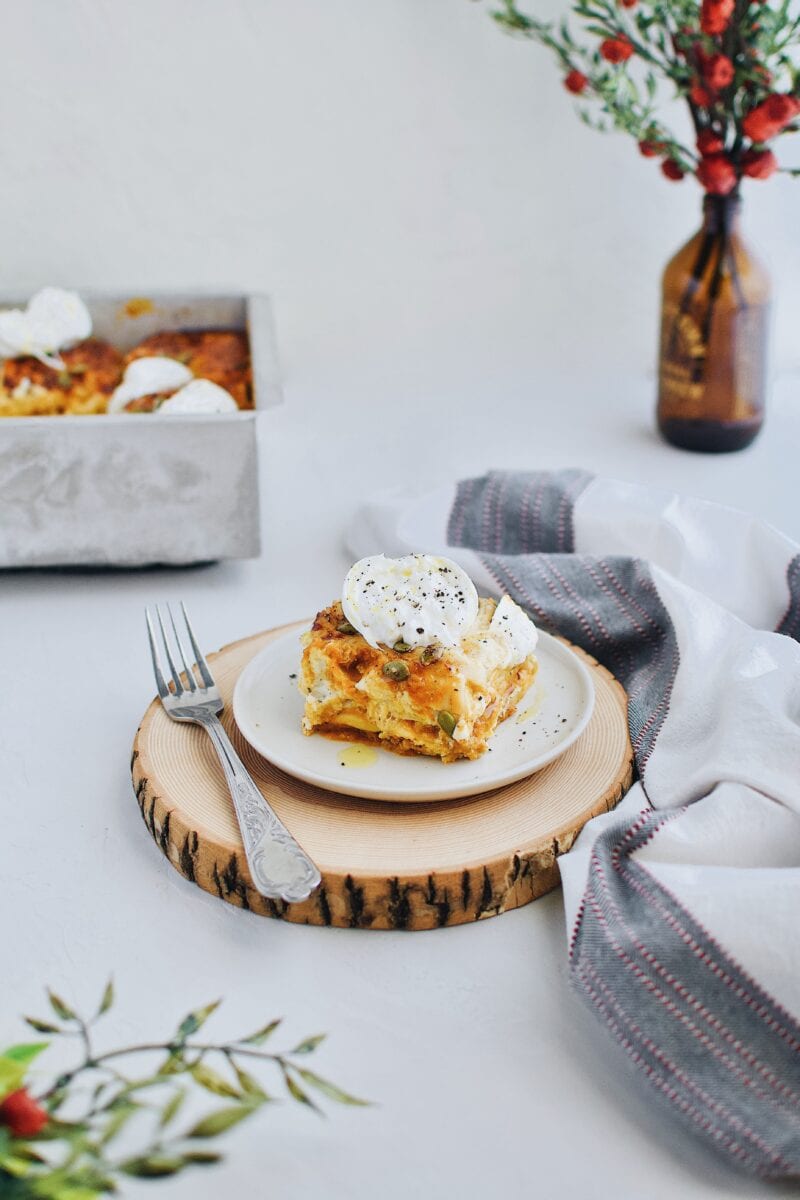 So funny story. I gathered all of my ingredients and prepared myself to make this beautiful lasagna. Only to find out that instead of purchasing Italian sausage for a classic lasagna, I had purchased German bratwursts.
The story gets better, instead of throwing my hands up and forfeiting I decided to press on and make a lasagna anyway. So steering away from the norm, and staring at cans of pumpkin that I had purchased to begin experimenting with, I had a genius idea!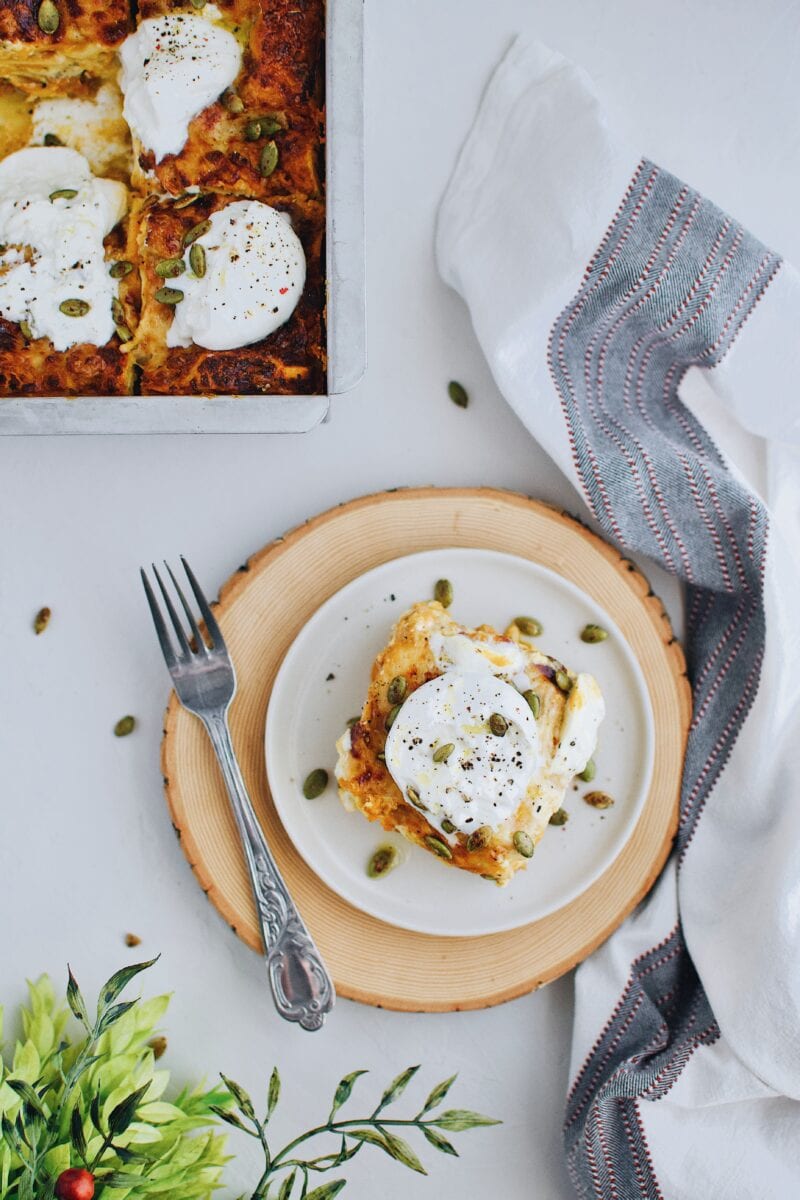 PUMPKIN LASAGNA! It was something I had always loved playing with but never really had turn out FANTASTIC! So Pumpkin Beer Cheese Lasagna was born.
It starts with a base like any other lasagna but takes a couple of twists and turns. I began by removing the sausage from the casing and browning it. Then I deglazed my pan with a can of beer.
Then I created a sauce in the blender by combining, pumpkin puree, chipotle peppers, chicken broth, heavy cream, garlic, olive oil, and parmesan cheese. I added that to the browned sausage and brought that to a simmer.
Let that hang out while you prepare your cheese mixture. Mix the ricotta, a cup of Italian cheese mix, and some Italian seasoning together. Now we are ready to build our lasagna.
So far, still so easy and simple! Never let homemade lasagna scare you, it is so easy and can be made in 30-45 minutes then just has to hit the oven.
Begin with a layer of sauce in the bottom of the pan and top that with a layer of noodles. Add another layer of sauce and a half the cheese mixture. Top that with another layer of noodles and sauce and more ricotta mixture, reserving about ¾ of a cup.
Add more noodles and sauce layers until you have used up all the ingredients. It is important that all of the noodles are coated in the sauce on the last layer or they will get dry and hard when cooked. These noodles absorb all the liquid, so you want to corners especially covered in sauce and cheese.
Top that with the remaining 1 cup of Italian cheese mix, and it is ready for the oven. Bake covered with foil at 350 degrees until warmed through, about 45 minutes to an hour.
After the initial cooking time, remove the foil, and cook 10-15 minutes more until the cheese is melted on top. When the lasagna comes out of the oven, top it with the burrata and allow it to cool for 15 minutes before cutting. Serve with a topping of my Roasted Garlic Pumpkin Seeds and enjoy!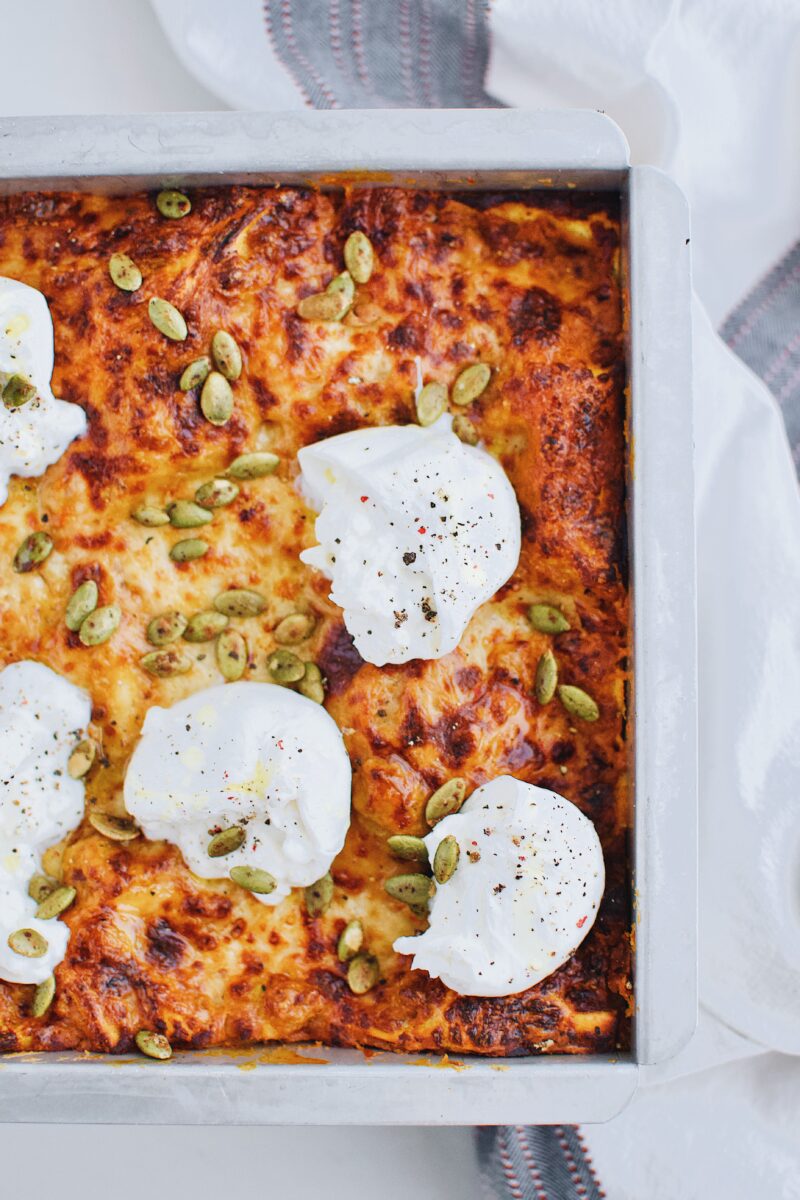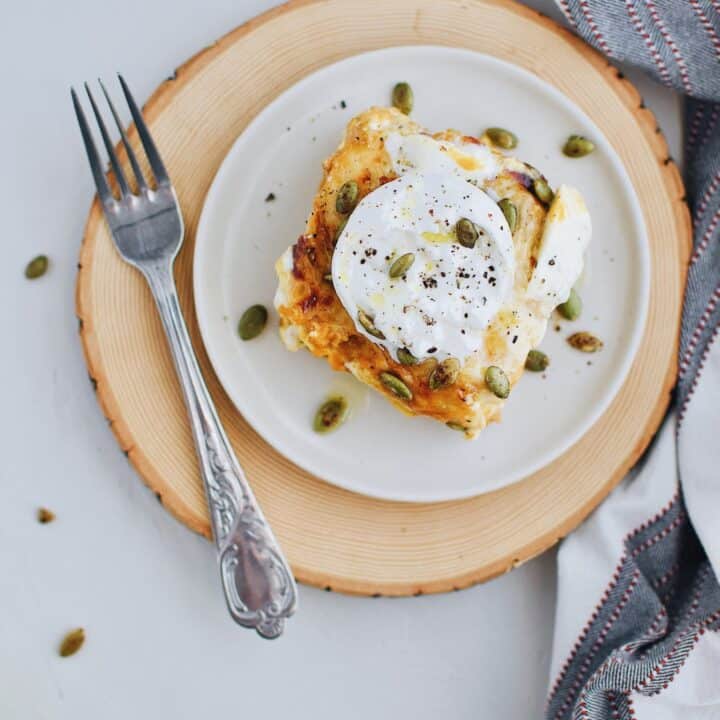 Pumpkin Beer Cheese Lasagna
This lasagna was born out of ingredients I had on hand and the accidental purchase of bratwurst instead of Italian sausage. It came out amazing so I wanted to share it with you here.
Ingredients
8-10 ea German Bratwurst
1 can/bottle of Beer, (like BUD HEAVY)
3 pc Chipotle Peppers in Adobo, freeze the rest
3 cups Chicken Broth
1 cup Heavy Cream
2 lg Garlic Cloves
2 tablespoons Olive Oil
1 cup Parmesan Cheese
30 oz Ricotta Cheese
2 cups Italian mix cheese
1 tablespoon Italian Seasoning
2, 9 oz pkg No-Cook Lasagna Noodles
8 oz Burrata Cheese
Instructions
Preheat oven to 350˚F.
Remove the bratwursts from the casing. In a large stockpot or dutch oven over medium-high heat, brown the sausage stirring often and breaking into smaller pieces until no pink remains. Drain the sausage pieces, then return to the pan. Get the pan nice and hot again and let the sausage start to brown, then deglaze the bottom of the pan with the beer.
In a blender, combine the pumpkin puree, chipotle peppers, chicken broth, heavy cream, garlic, olive oil, and parmesan and blend until completely liquified. Add a splash more chicken stock if needed to thin out the sauce and have it a thin even consistency.
Add the sauce to the pan with the sausage and bring it to a light simmer while you prepare your cheese mixture.
Prepare the cheese mixture in a separate bowl by combining the ricotta, 1 C Italian cheese mixture, and Italian seasoning. Mix to combine.
To layer the lasagna by spreading 1 cup of sauce in the bottom of a 9x13-inch baking dish and top with a layer of the lasagna noodles. Top the noodles with more sauce and half of the cheese mixture. Add another layer of noodles and sauce and the remaining cheese mixture, reserving about ¾ cup. Continue layering noodles and sauce on top until you have used all the noodles and sauce, making sure you save some sauce for the top layer. Cover the top layer of noodles with sauce making sure no raw noodles are exposed.
Top with the remaining Italian cheese mixture.
Spray a piece of foil big enough to cover your baking dish with cooking spray. Cover the pan with the prepared foil and bake until heated through 45 minutes to 1 hour.
After the initial cooking time, remove the foil, and cook 10-15 minutes until the cheese is melted and browned on top. If the top doesn't get completely brown, turn the broiler on and let it brown the top of the lasagna. Just be sure to keep an eye on it, it can burn quickly. When you remove the lasagna from the oven, top it with the Burrata and allow it to cool for 15 minutes before cutting. Serve with a topping of my Roasted Garlic Pumpkin Seeds and enjoy!
Nutrition Information:
Serving Size:

1 grams
Amount Per Serving:
Unsaturated Fat:

0g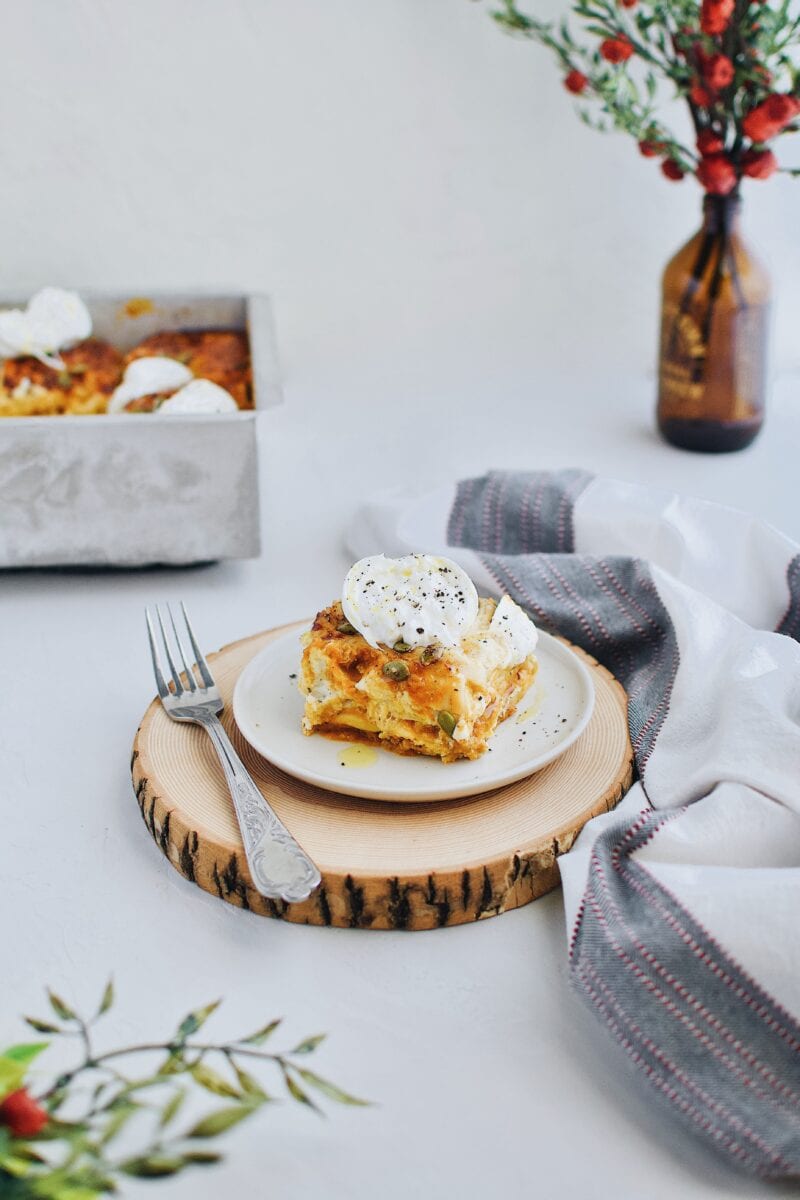 If you make this recipe, please let me know by leaving a review at the bottom of this page!
And make sure to sign up for my newsletter and follow along on Instagram, Pinterest, and Facebook for more KendellKreations!
MY LATEST RECIPES!
Get my NEW e-Cookbook here!! ⬇️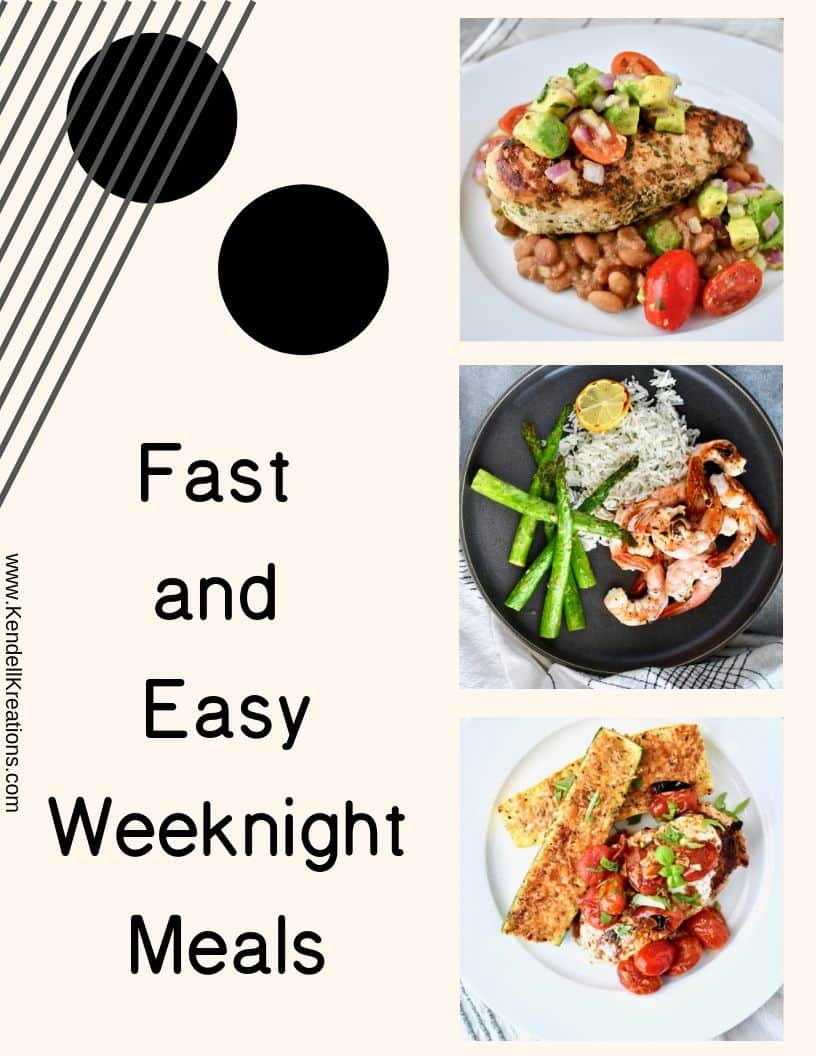 MY FAVORITE KITCHEN TOOLS!
Here are a few links to some of my favorite kitchen tools! You get a car, YOu get a car, YOU ALL GET A CAR…in my best Oprah voice
These Rösle Silicone Tongs are a little pricey but they will last you the rest of your life and are the softest in your hand. This is important for someone like m that cooks so much. It reduces strain, I have 4 sets in my kitchen!
These are my FAVE Nordic Ware Sheet Pans, every kitchen should have at least 2 sets of these! I think I have at least 4 of each of these.
This is my favorite pressure cooker, the Fagor is the same concept as the "Instant Pot" but easier to use in my opinion, if you don't have one you NEED one, it will be your best friend in the kitchen!
A sharp knife is the most important tool in the kitchen, these Japanese steel "Shun" knives are my favorite! And this is a great starter set to build on. Once you try them you will be in love so use this as a foundation you can build on for years to come.
This Scanpan 11″ skillet is just the right size for almost anything you will need to cook and my best friend and a real workhorse in my kitchen, it's also a great deal at $99. Scanpan is the best in the world for healthy cooking. It is coated with a proprietary ceramic-titanium coating that is durable while allowing you to use fewer fats and oils when cooking. It is a coating only they use. I could talk all day about my love for these pans, message me if you want more info. Here are some other sizes that are available if you are looking to outfit your kitchen with some new goodies. 8″ & 10″ Skillet set or 8″ Skillet, I still need this one for my kitchen Also, I don't really know how to cook small so the 12.5″ is my other fave!
This giant vat of olive oil is my favorite, I decant it into a smaller bottle for my counter. Or put this spigot on top of a wine bottle!
My favorite baking dish that is so easy to clean even burnt on cheese slides right off!
This Tovolo jar scraper has to be my single favorite kitchen tool, it is definitely the most used tool in my kitchen. If you are NOT a gadget person, this is the only necessity I say is a MUST beyond the wooden spoon.
A great wood spoon is essential, this Olive Wood one is my favorite, I have more than I can count. But can you really ever have too many?
A food scale can be a very important tool in your kitchen, this one is the one I use every day!
If you love Joanna Gaines as much as I do then the 'Magnolia Table Cookbook' is a must in your kitchen, get a copy HERE!