The simple ingredient list that these Roasted Garlic Pumpkin Seeds call for yields the most fantastic flavor. I love it when a simple recipe gives you something you'll love forever. You can use this recipe for seeds right out of a pumpkin or toasting pepitas any day of the year.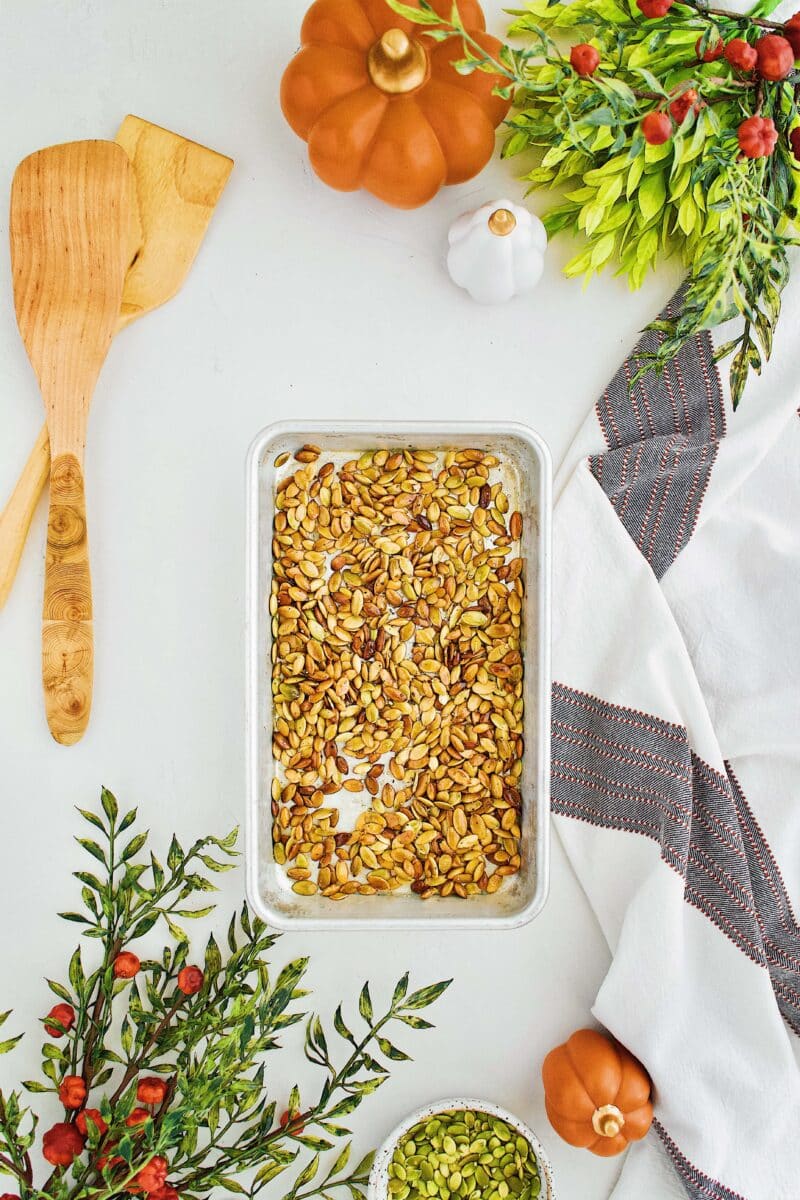 Time needed: 15 minutes
I start this recipe with raw pepitas and a little olive oil in the bottom of a pan. My favorite part, and when you can tell they are done, is when you see them go from long flat seeds to more round and puffy.
Start with Raw Pepitas

Oil your pan

In a large frying pan, give it 2-3 turns of the pan with olive oil. Heat over medium heat until the oil begins to move quickly in the pan.

Add Pepitas

Add in the seeds and toss to coat.


Season the Pepitas

Season the seeds with 1 teaspoon each, roasted garlic powder, hot smoked paprika, and salt. Continue tossing in the pan until the seeds have puffed up, 6-8 minutes.


Finishing the seeds

You know the seeds are done when they have become round and they begin to give off an audible popping sound. Remove them to a paper towel lined tray to cool. When the popping stops they are ready to eat.
These Roasted Garlic Pumpkin Seeds are great to eat by themselves but they also make a great garnish for fall and winter soups. I use them to top my Pumpkin Beer Cheese Lasagna to give it a little extra crunch.
More Fall recipes from my friends!
Healthy Pumpkin Muffins from Kathryn at Worn Slap Out
Triple Chocolate Brownies from Lori at Josie + Nina