Roasting a pumpkin to make Homemade Pumpkin Puree for use in baked goods is easier to do than you think. The end result is much more satisfying than anything that comes from a can. Use your Homemade Pumpkin Puree to make Pumpkin Cheesecake, Muffins, or Cake. And be sure to rinse off the seeds and save them for roasting, the Soy Sauce Pumpkin Seeds my friend Kristi taught me to make are out of this world!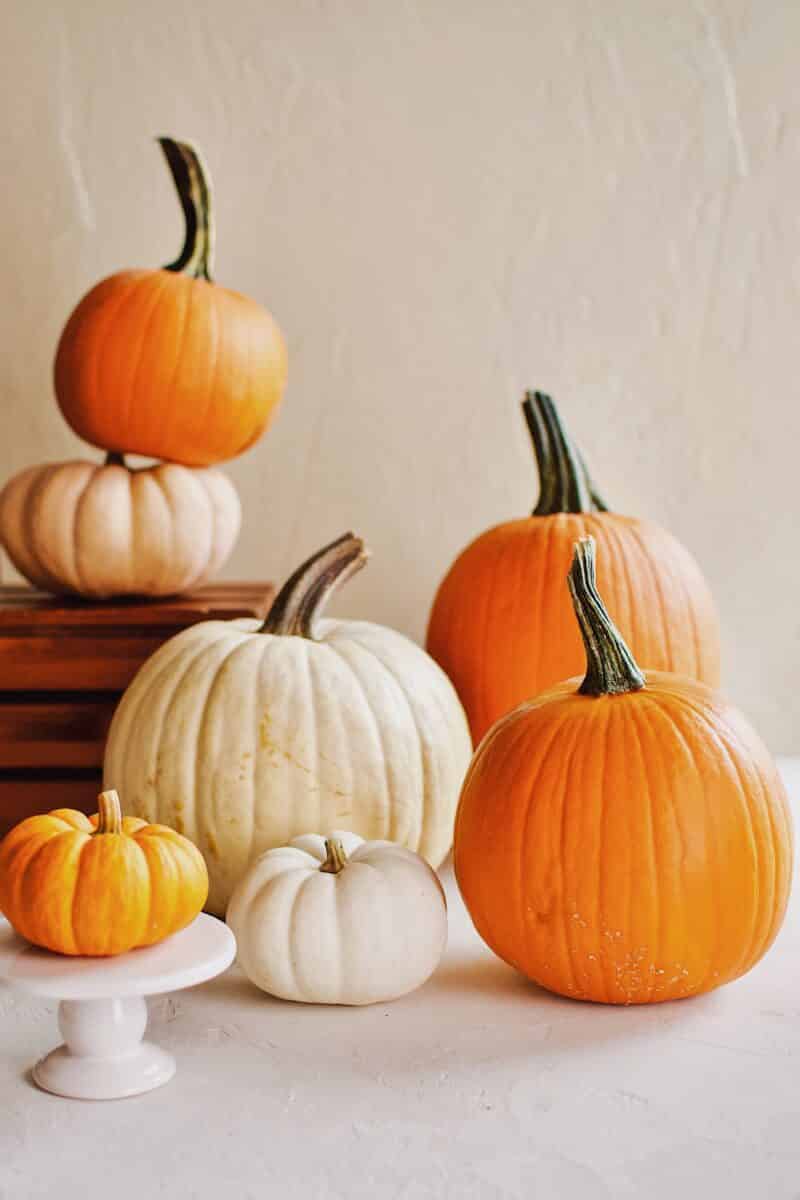 Jump to:
This post first published October 28, 2020, & was last updated September 2, 2021.
What kind of pumpkin should I use?
The best pumpkins to use are sugar pie pumpkins. They are small, sweet pumpkins that are perfect for baking. While you could cut up any pumpkin and bake it off and use it for cooking, sugar pie pumpkins are easy to handle and have great flavor.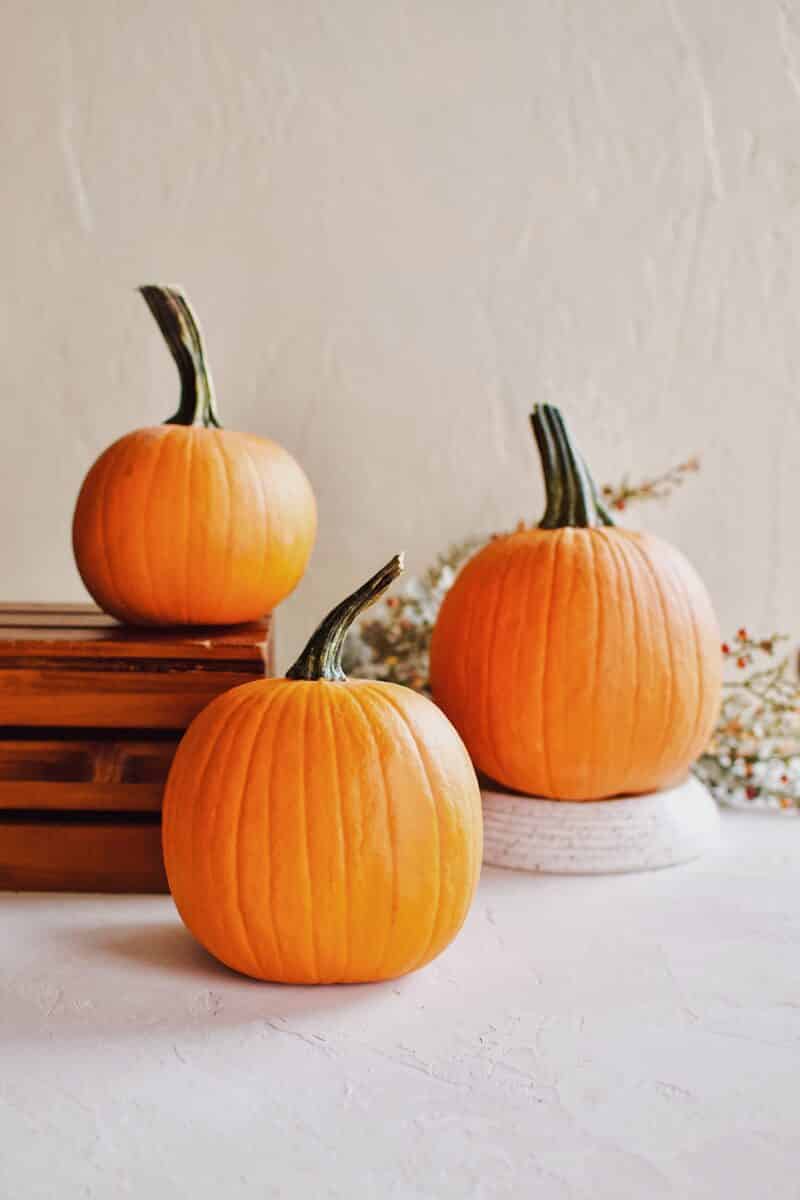 I have roasted fairytale pumpkins before and they are great for cooking too, but a little larger and harder to work with
How to cut a pie pumpkin
The hardest part of going from a whole pumpkin to roasted pumpkin puree is cutting the gourd in half. My suggestion is, cut off the stem top, then place the flat side firmly on your cutting board, then slice the pumpkin down the middle. With a very sharp knife this should be an easy task, just be sure to move swiftly and don't hack at it.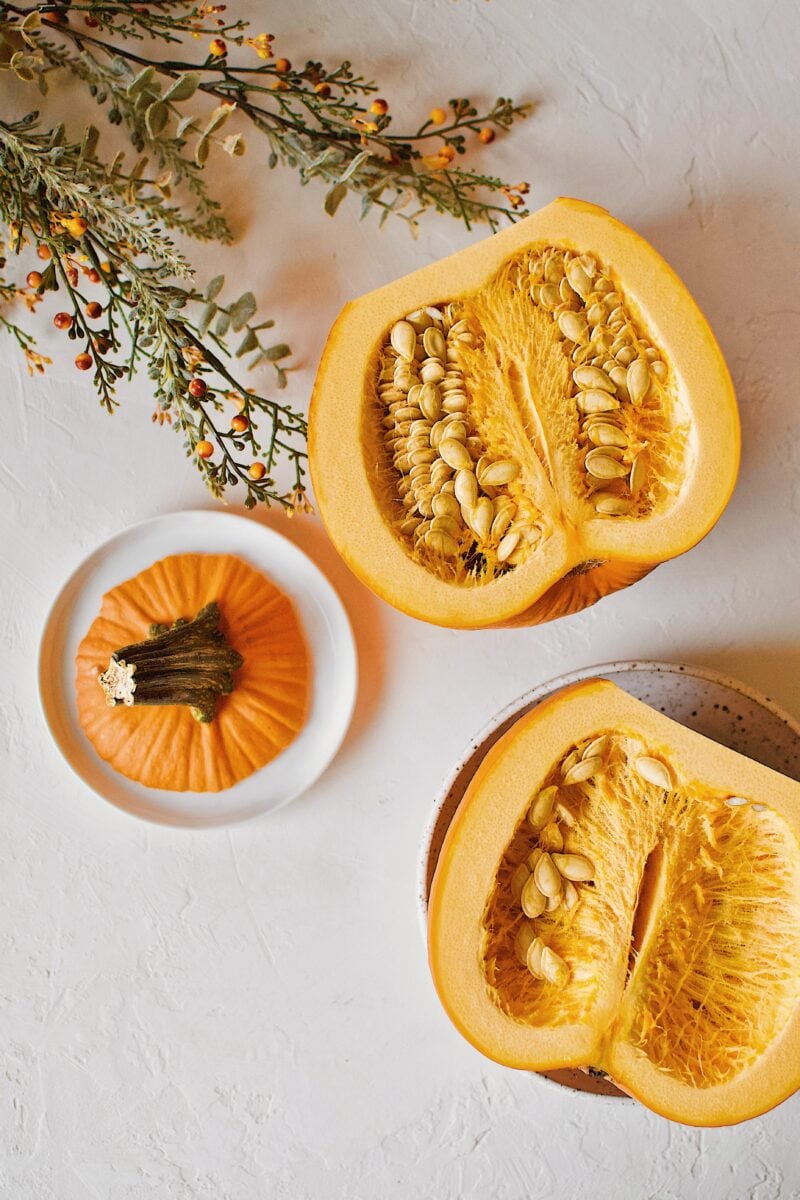 Roasting your pumpkin
Once your pumpkin is opened up, remove the seeds and membrane, and save them to make the Soy Sauce Pumpkin Seeds.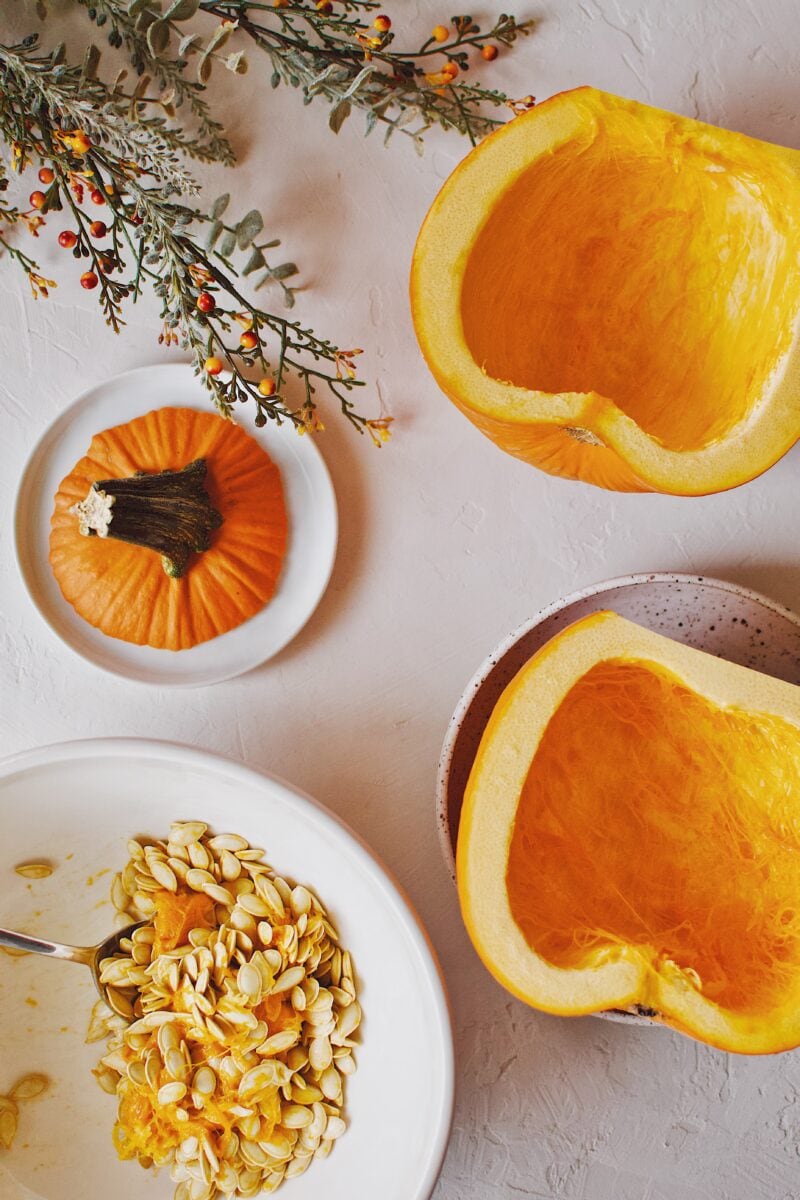 You will then place the pumpkin cut side down on a baking sheet and roast until soft, about 45 minutes or until fork-tender.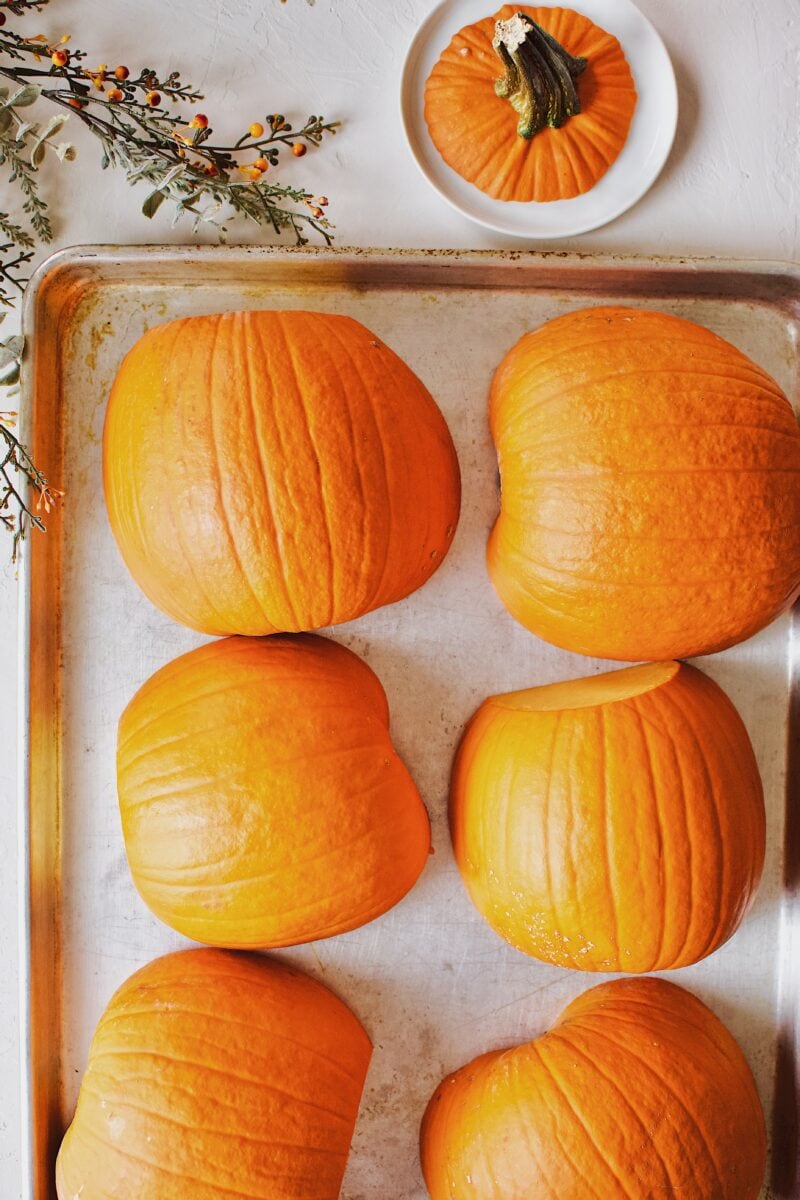 I press some tongs into them, and when they leave an indent, the pumpkins are perfectly roasted.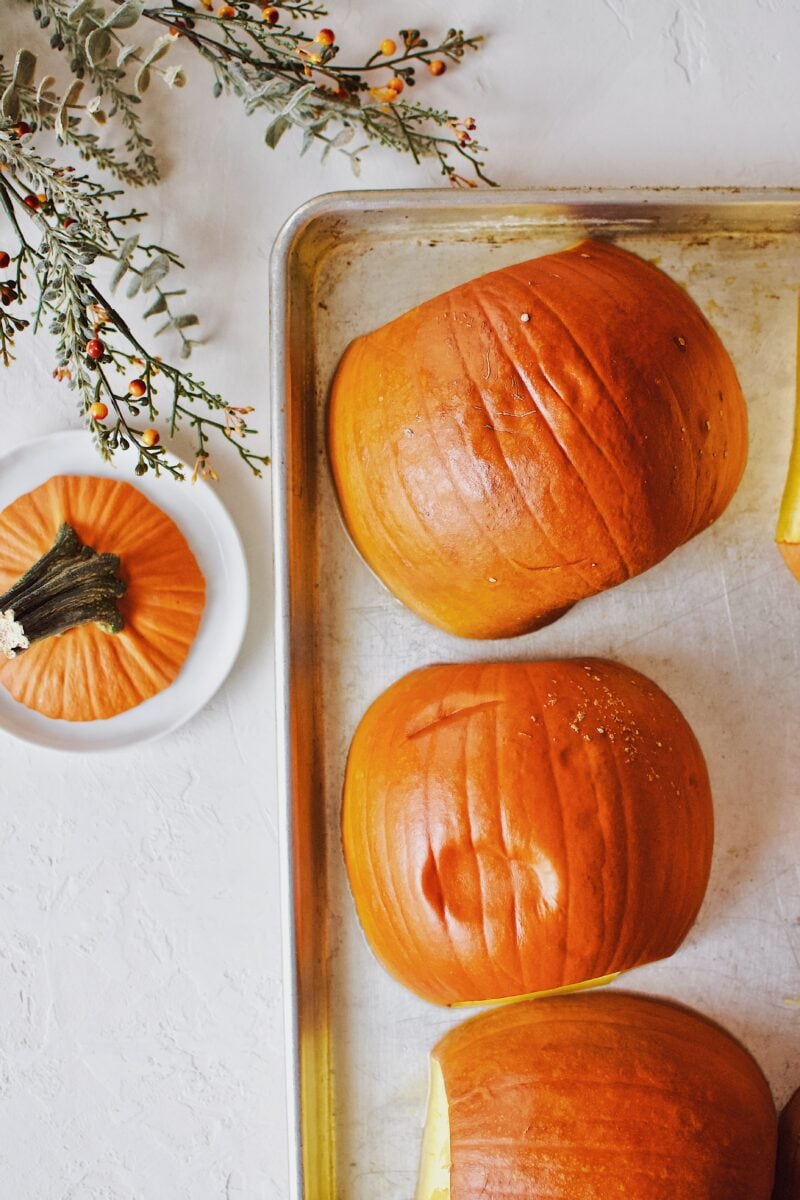 Cook the pumpkin only until it is soft and not mushy. I like to retain some texture, and you will also notice that the flesh has changed color as well. Turn the roasted pumpkin halves over to cool and scoop out the soft flesh as soon as they can be handled.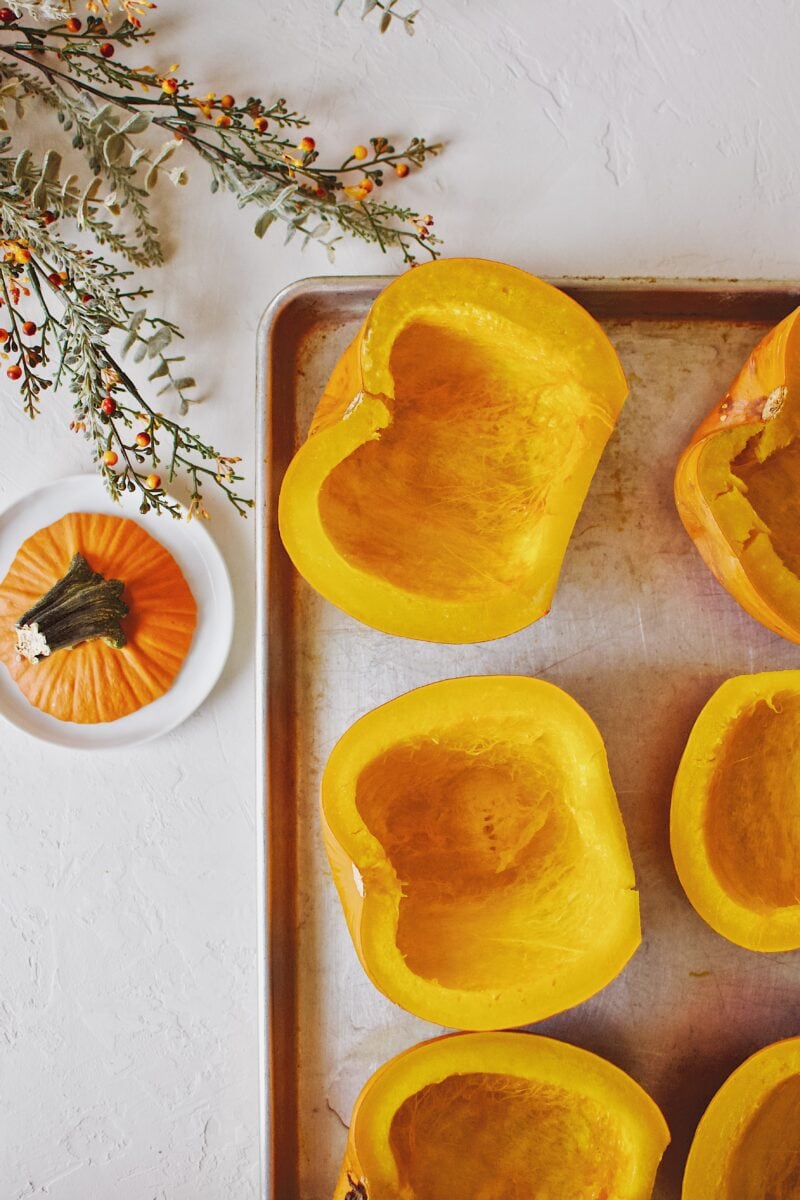 Processing the roasted pumpkin
You can throw the flesh into your stand mixer or food processor to give it a bit of a puree, or mash with a fork if you like a little more texture.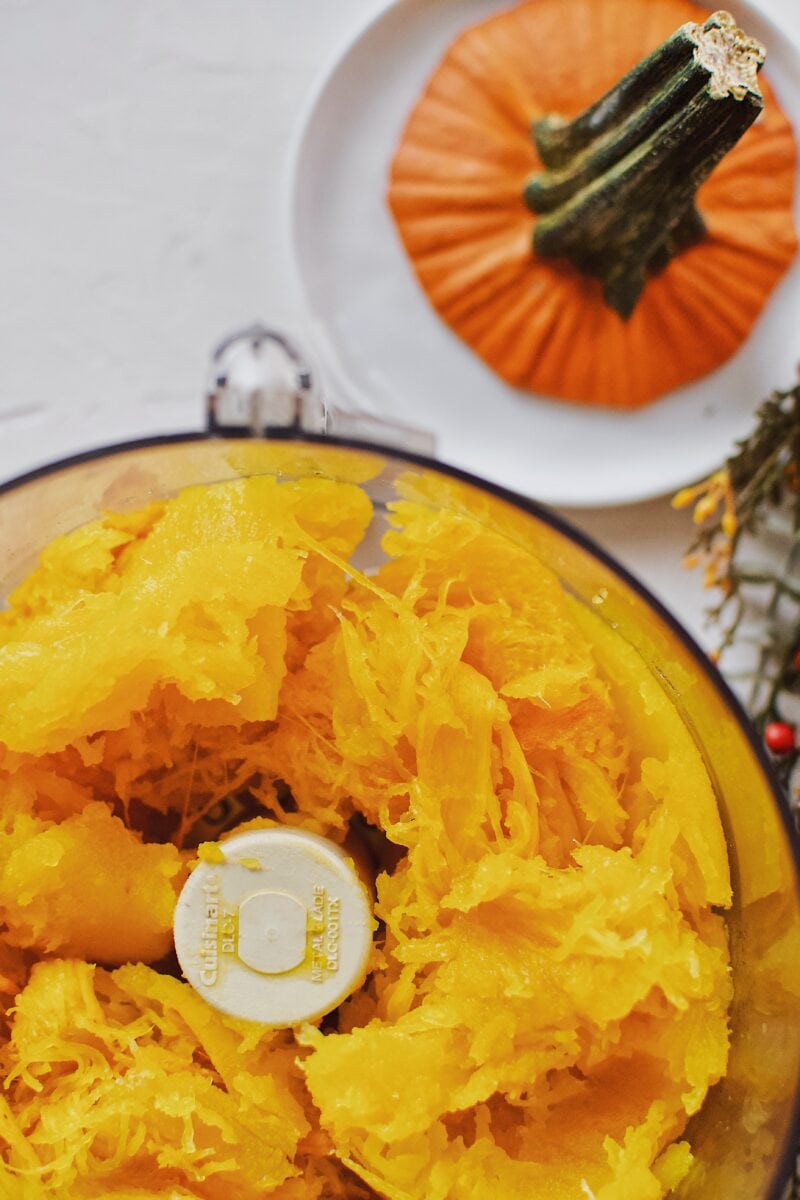 To get something that resembles what you get from a can, toss all the flesh in a food processor and pulse until smooth.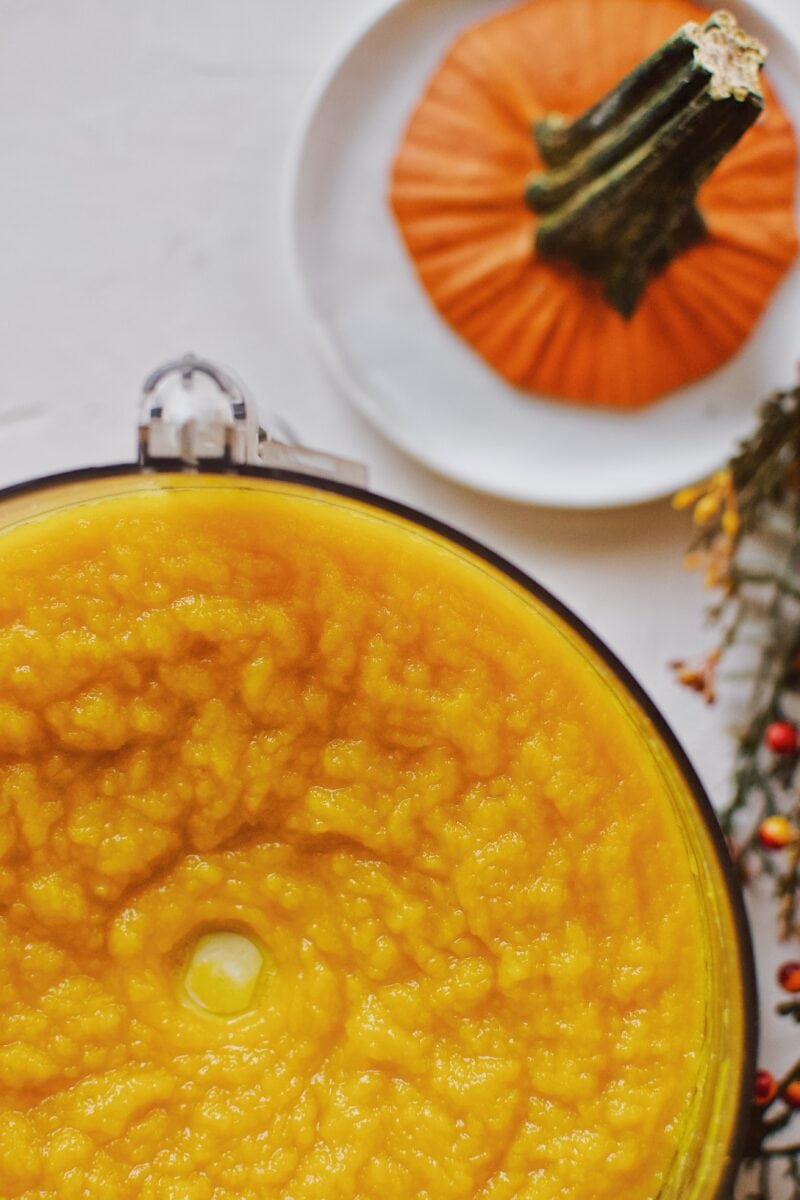 Store the cooked pumpkin in the refrigerator for up to 10 days. You can also freeze it for future use. I store it in sandwich bags, 2 cups in each, and freeze, most recipes call for at least 2 cups and this makes it easy to thaw and use. A can is also 15oz which is 1oz shy of 2 cups so it is also the equivalent to a can of pumpkin puree.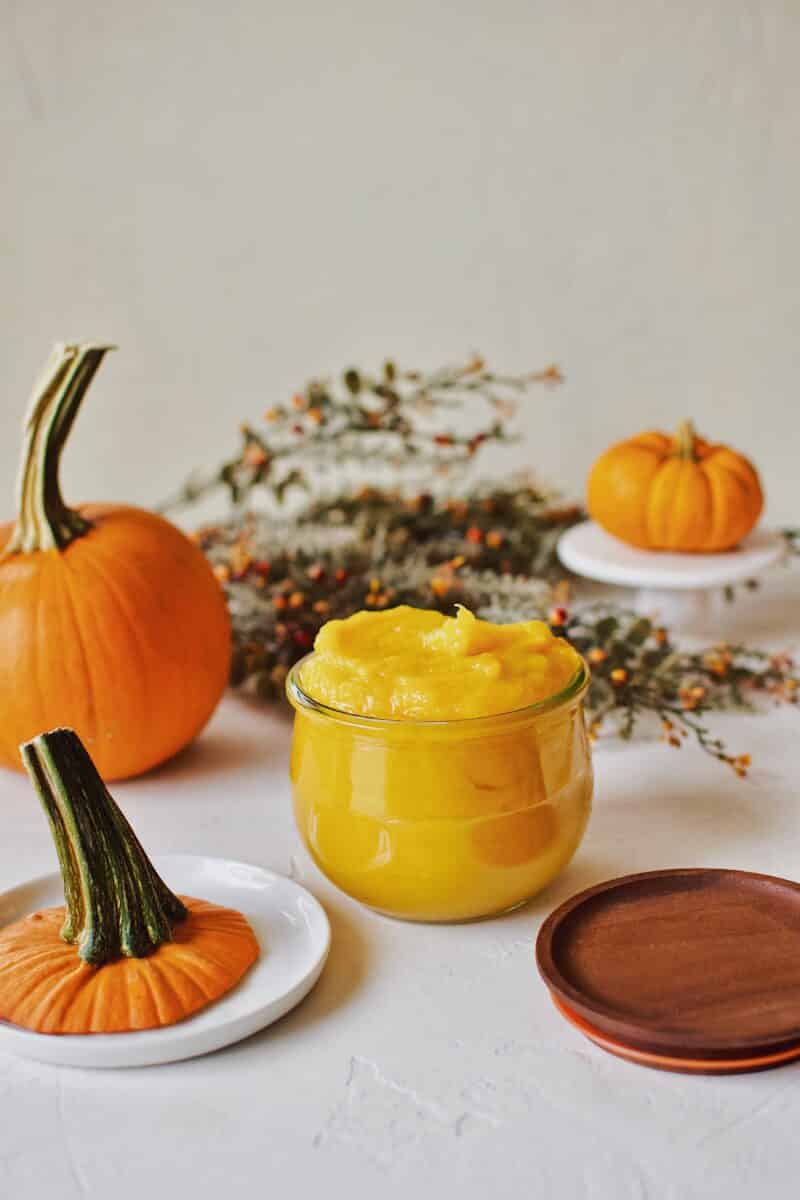 This fresh pumpkin puree can be used in any recipe pumpkin puree is called for.
More Pumpkin GREATNESS!
Pumpkin Chocolate Chunk Oatmeal Cookies
Did you make this recipe? Let me know by leaving a review or comment! And be sure to sign up for my newsletter, and follow along on Instagram, Pinterest, and Facebook!