Don't be fooled by this play on words, this potato salad is made with potatoes that have been roasted and is served when made at room temperature. It hits all of the flavor profiles right in the face and topped with some jammy eggs and bacon, I might have just knocked my socks off! I hope you enjoy my Roasted Potato Salad with your dinner soon, it would even be great for Easter dinner.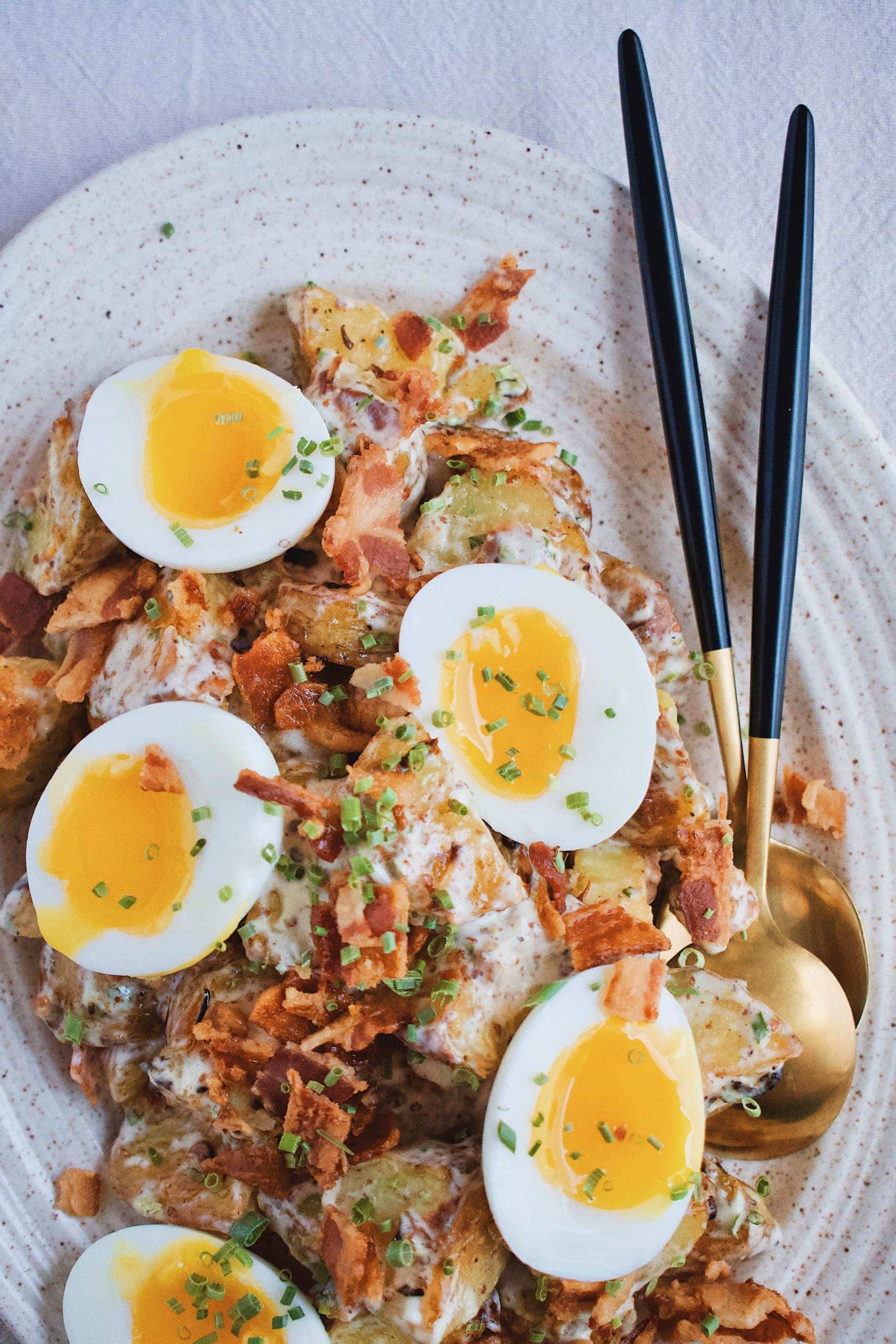 Y'all, I have got to tell you, I am really proud of this dish. It ticks all the boxes for me as to what a potato salad should be, in my mind at least, while updating it. I stepped outside my comfort zone a little bit and I couldn't be happier.
Roasting the potatoes...
The salad starts off with the perfectly balanced potatoes that have first been steamed and then roasted. This two-step process may seem like it is a bit much for a potato salad, but it is completely necessary to achieve a perfect end result.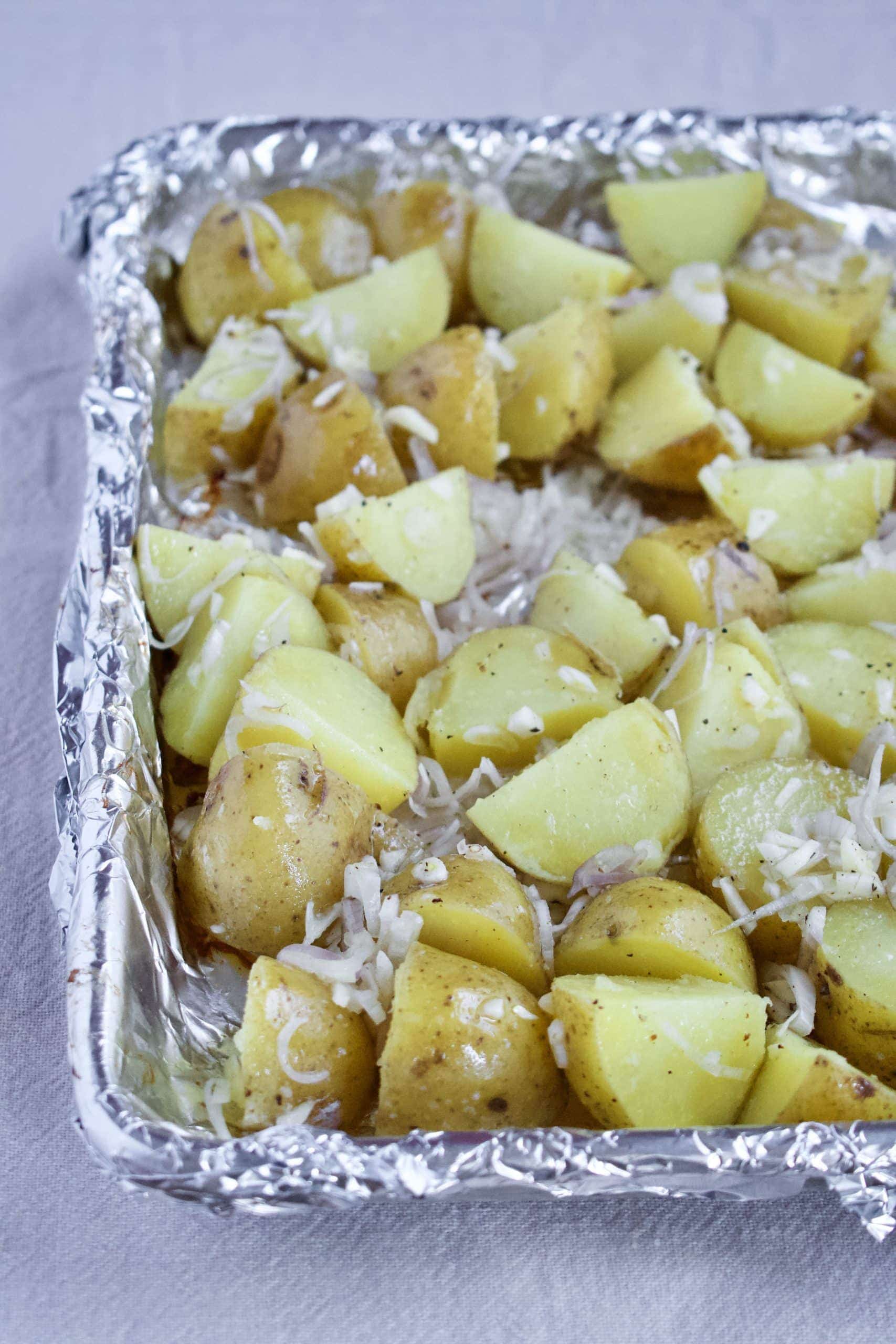 I am going for something similar to an English roasted potato, crisp on the outside and fluffy and creamy on the inside. This is much of what makes this roasted potato salad great. I also roast with some shallots and garlic, adding just another fantastic layer of flavor.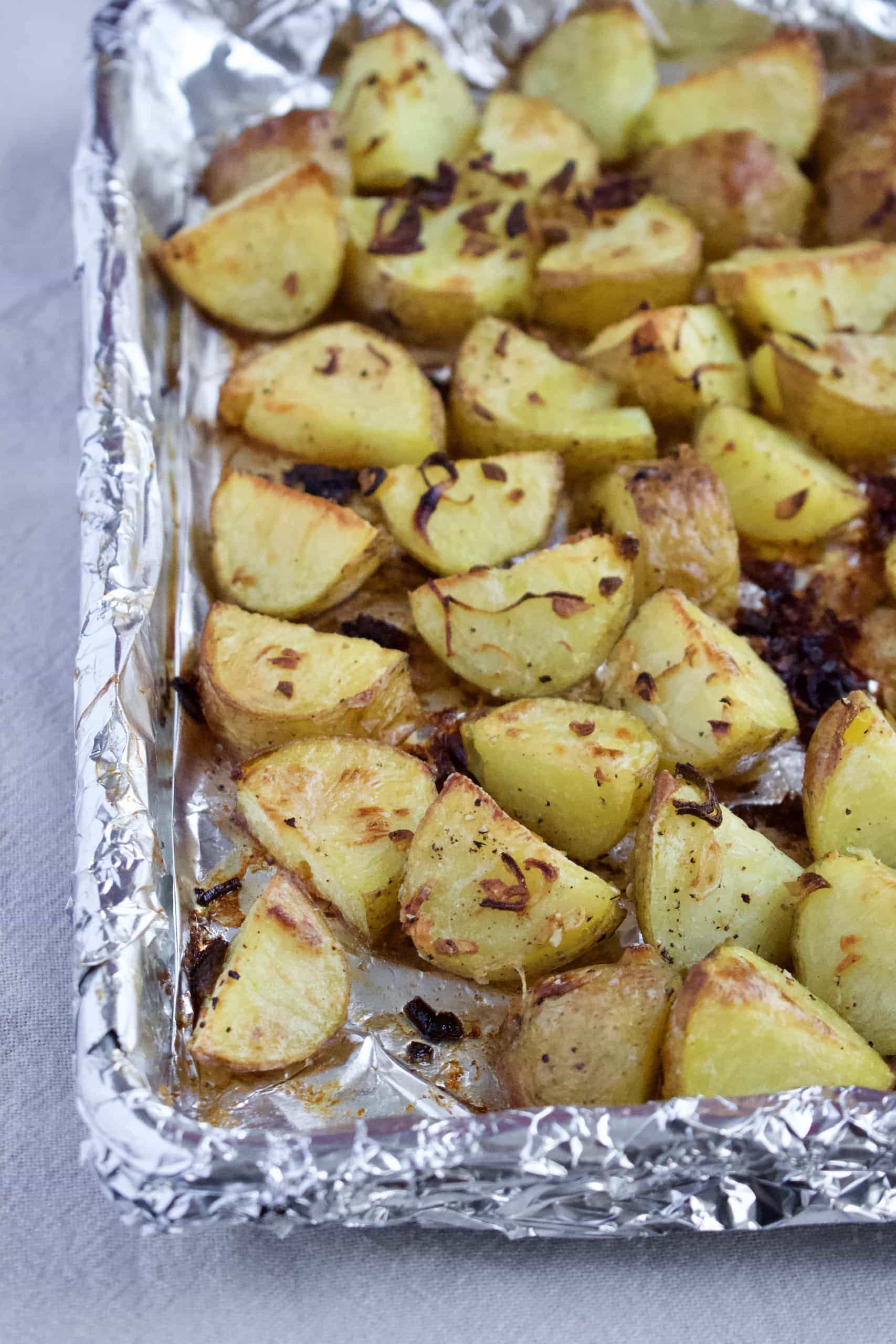 P.S. While the oven is on and these potatoes are roasting, throw some foil on a sheet pan and cook your bacon, 400 degrees for 20 minutes for a perfect crisp!
Preparing the dressing
This is a super simple dressing that I whipped up that is in keeping with traditional potato salads while giving it a fresh new spin that keeps it from being sludgy like something you might find in the grocery store. Potatoes, eggs, mayo, and mustard are the basics of most potato salads, I have just rearranged them in a fun new way.
The dressing is a simple mixture of mayonnaise, creole mustard, and white balsamic vinegar. This mixture creates a wonderfully balanced dressing that is creamy, yet light, with a sharpness coming from the mustard and the vinegar that balances the creamy potatoes beautifully. It is literally a balance of those ingredients, because we have seasoned and roasted our potatoes, when you dress them they are ready to go!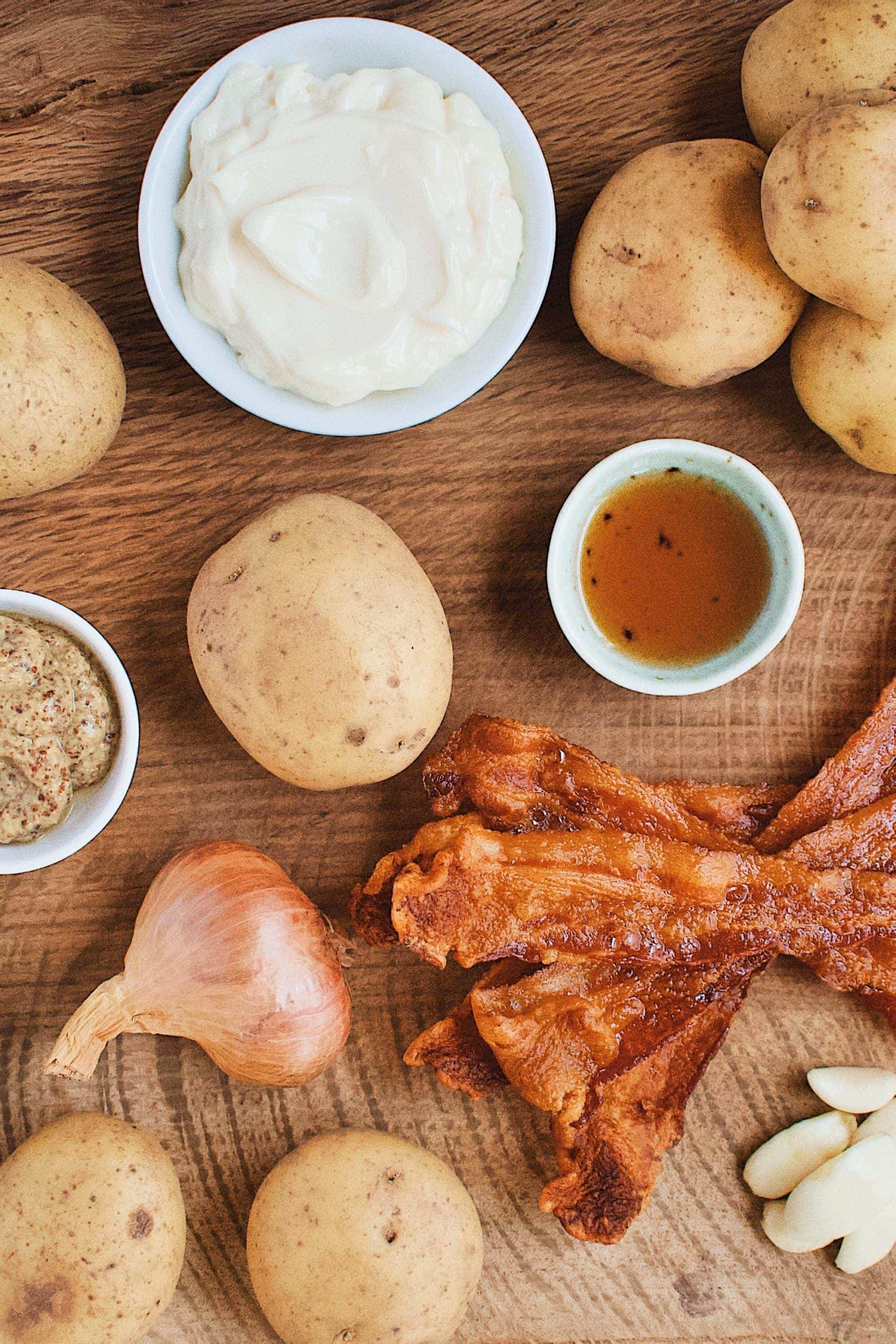 Preparing the eggs
Ok, I know what you are thinking right about now, another step!? But it is 100% worth it, and if you are making this around Easter time, just do a couple of eggs to this effect and set them aside for this salad. I promise, you're going to love it as soon as you try it!
They are done by simply bringing a pot of water to a boil and cooking them for 7 minutes. Remove from the water and place in an ice bath for 5 minutes to stop the cooking and keep the center nice and jammy like you see in the pictures. Peel them gently under cold running water, the running water helps the peel remove easily and in larger pieces, just work gently so you don't break the egg, it will be more tender than a hard-boiled egg.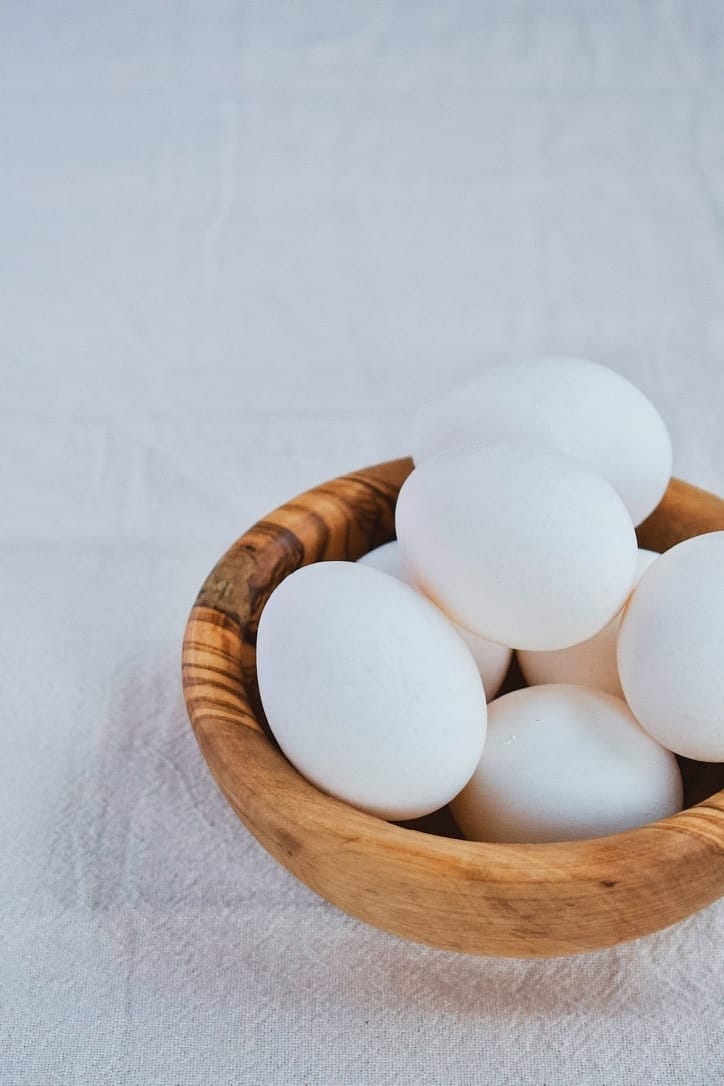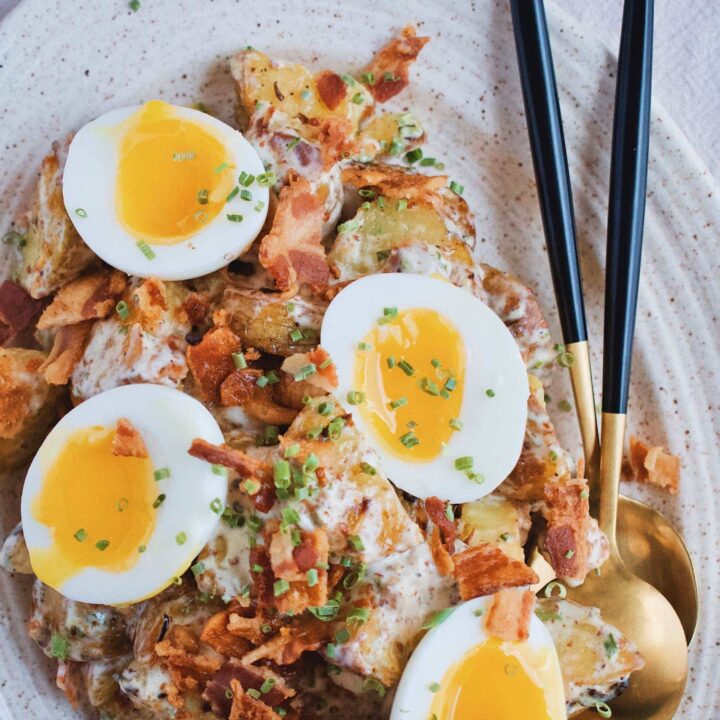 Roasted Potato Salad
I couldn't be happier with the way that this recipe turned out. I hope you enjoy it as much as I do. It pairs beautifully with a roast or would even be great on your Easter table.
Ingredients
4 lg Eggs, soft boiled 7 min
1.5 lb small Yukon Potatoes, quartered
1 Shallot, sliced
4-5 cloves Garlic, minced
2 teaspoon Olive Oil
Kosher Salt and Fresh Cracked Black Pepper
6 slices Bacon, crisped and chopped
½ cup Mayonaisse
2 tablespoons Creole Mustard
2 tablespoons White Balsamic Vinegar
2 tablespoons Chopped Chives
Instructions
Bring a medium-sized pot of water to a boil over medium-high heat. Prepare an ice bath in a bowl and set aside.
In the boiling water, gently lower the eggs in and cook for 7 minutes. When the time has elapsed, remove and place in the ice bath for a minimum of 5 minutes. Peel under running water and set aside.
In the boiling water that remains, place your potatoes in and boil for 5-6 minutes, just until you see the potatoes turn from translucent to opaque. You do not want them to be falling apart tender, just parboiled.
Preheat the oven to 450 degrees.
Line a sheet pan with tin foil or a baking liner as the potatoes cook. Drain the potatoes and add them to the sheet pan along with the shallot, garlic, olive oil, salt, and pepper. Toss to coat.
Roast the potatoes in the preheated oven for 25-30 minutes until the potatoes have crisped and the shallots and garlic have carmelized. Cook your bacon on a foiled lined baking sheet while the oven is on, I cook my bacon this way for easy cleanup! Chop the bacon when it is done cooking and set aside.
While the potatoes and bacon are cooking, combine the mayo, mustard, and white balsamic in a small bowl.
When the potatoes are done cooking, remove them from the oven and let them cool for about 15-20 minutes. When they are cool but still slightly warm, toss them in a bowl with ¾ of the dressing and a small handful of the bacon bits. Taste and adjust the seasoning if needed, but if you seasoned your potatoes well before roasting they should be good to go.
Place the potato salad on a platter, top with more bacon bits, the eggs that have been cut in half, and some chopped chives if using. Finish with the remaining dressing and enjoy!
Notes
The eggs and bacon can be prepared up to a day ahead of time, just allow them to come to room temp again before serving.
Nutrition Information:
Serving Size:

1 grams
Amount Per Serving:
Unsaturated Fat:

0g
If you make this recipe, please let me know by leaving a review at the bottom of this page!
And make sure to sign up for my newsletter and follow along on Instagram, Pinterest, and Facebook for more KendellKreations!
MY LATEST RECIPES!
Get my NEW e-Cookbook here!! ⬇️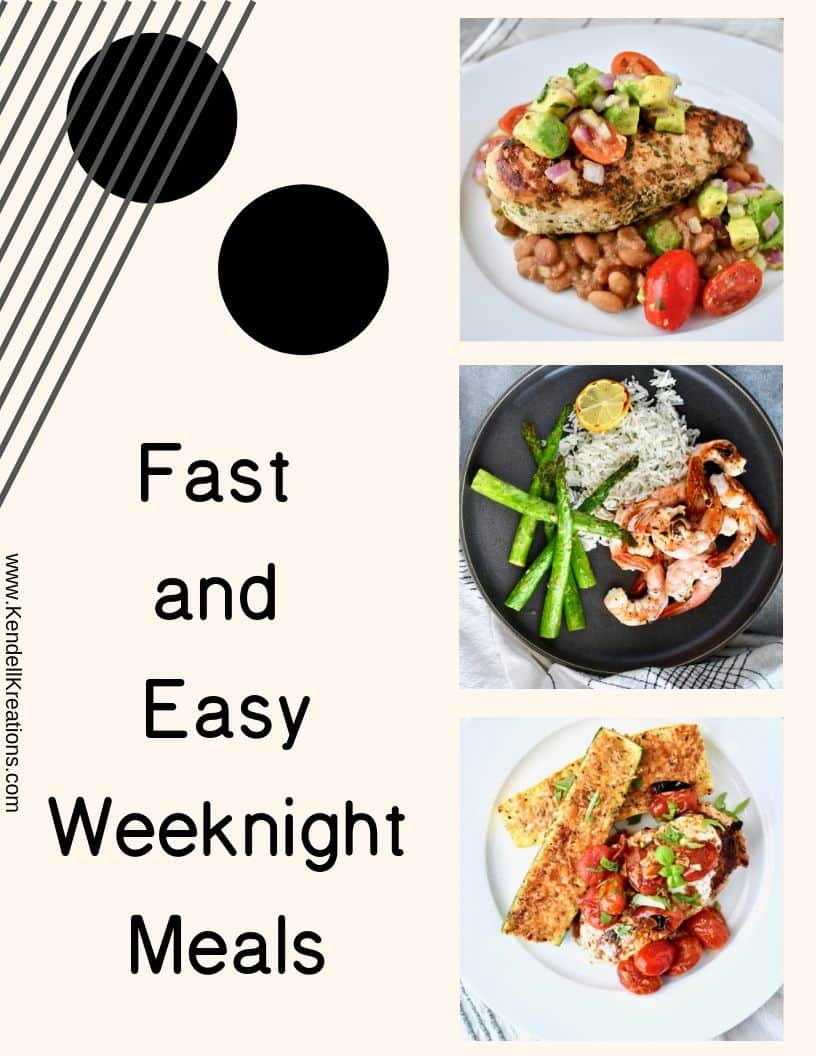 MY FAVORITE KITCHEN TOOLS!
Here are a few links to some of my favorite kitchen tools! You get a car, YOu get a car, YOU ALL GET A CAR…in my best Oprah voice
These Rösle Silicone Tongs are a little pricey but they will last you the rest of your life and are the softest in your hand. This is important for someone like m that cooks so much. It reduces strain, I have 4 sets in my kitchen!
These are my FAVE Nordic Ware Sheet Pans, every kitchen should have at least 2 sets of these! I think I have at least 4 of each of these.
This is my favorite pressure cooker, the Fagor is the same concept as the "Instant Pot" but easier to use in my opinion, if you don't have one you NEED one, it will be your best friend in the kitchen!
A sharp knife is the most important tool in the kitchen, these Japanese steel "Shun" knives are my favorite! And this is a great starter set to build on. Once you try them you will be in love so use this as a foundation you can build on for years to come.
This Scanpan 11″ skillet is just the right size for almost anything you will need to cook and my best friend and a real workhorse in my kitchen, it's also a great deal at $99. Scanpan is the best in the world for healthy cooking. It is coated with a proprietary ceramic-titanium coating that is durable while allowing you to use fewer fats and oils when cooking. It is a coating only they use. I could talk all day about my love for these pans, message me if you want more info. Here are some other sizes that are available if you are looking to outfit your kitchen with some new goodies. 8″ & 10″ Skillet set or 8″ Skillet, I still need this one for my kitchen Also, I don't really know how to cook small so the 12.5″ is my other fave!
This giant vat of olive oil is my favorite, I decant it into a smaller bottle for my counter. Or put this spigot on top of a wine bottle!
My favorite baking dish that is so easy to clean even burnt on cheese slides right off!
This Tovolo jar scraper has to be my single favorite kitchen tool, it is definitely the most used tool in my kitchen. If you are NOT a gadget person, this is the only necessity I say is a MUST beyond the wooden spoon.
A great wood spoon is essential, this Olive Wood one is my favorite, I have more than I can count. But can you really ever have too many?
A food scale can be a very important tool in your kitchen, this one is the one I use every day!
If you love Joanna Gaines as much as I do then the 'Magnolia Table Cookbook' is a must in your kitchen, get a copy HERE!