This recipe was formed around the essence of what a KendellKreation is. I had a handful of potatoes left from a big bag I bought, a few tomatoes on the verge of being done for, and a couple of ears of corn leftover. Roast off a little bacon and this recipe for Smashed Potatoes with Corn, Tomato, and Bacon Salad is born.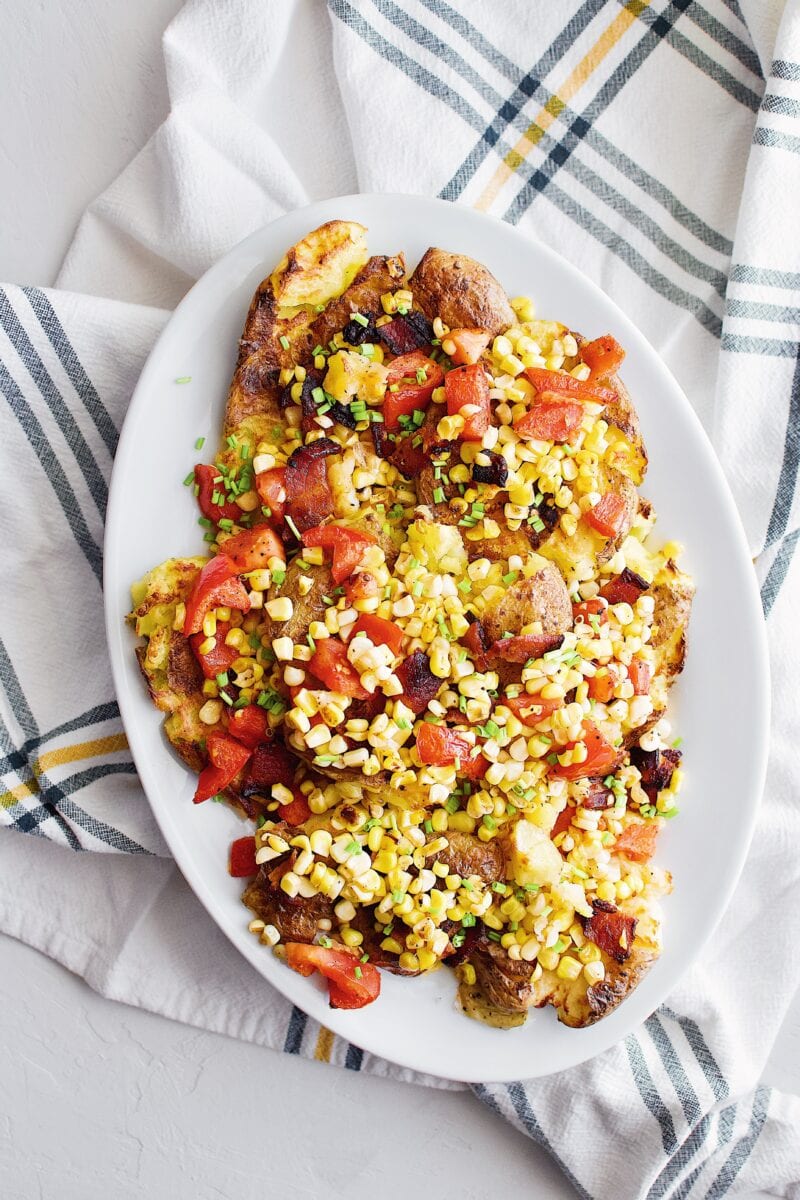 Assembling the components
I start by boiling the potatoes until they are fork-tender. Soft enough to smash by not falling apart. The time this takes will vary based on the size of your potatoes, just give them a prick with a fork to tell, if it falls out quickly and easily, they are ready to smash.
While the potatoes are boiling, roast off your ears of corn or warm frozen depending on the time of year and what you are using. I also roast off my bacon while my corn is cooking and the oven is on. I usually do this in my toaster oven because it is so quick and efficient.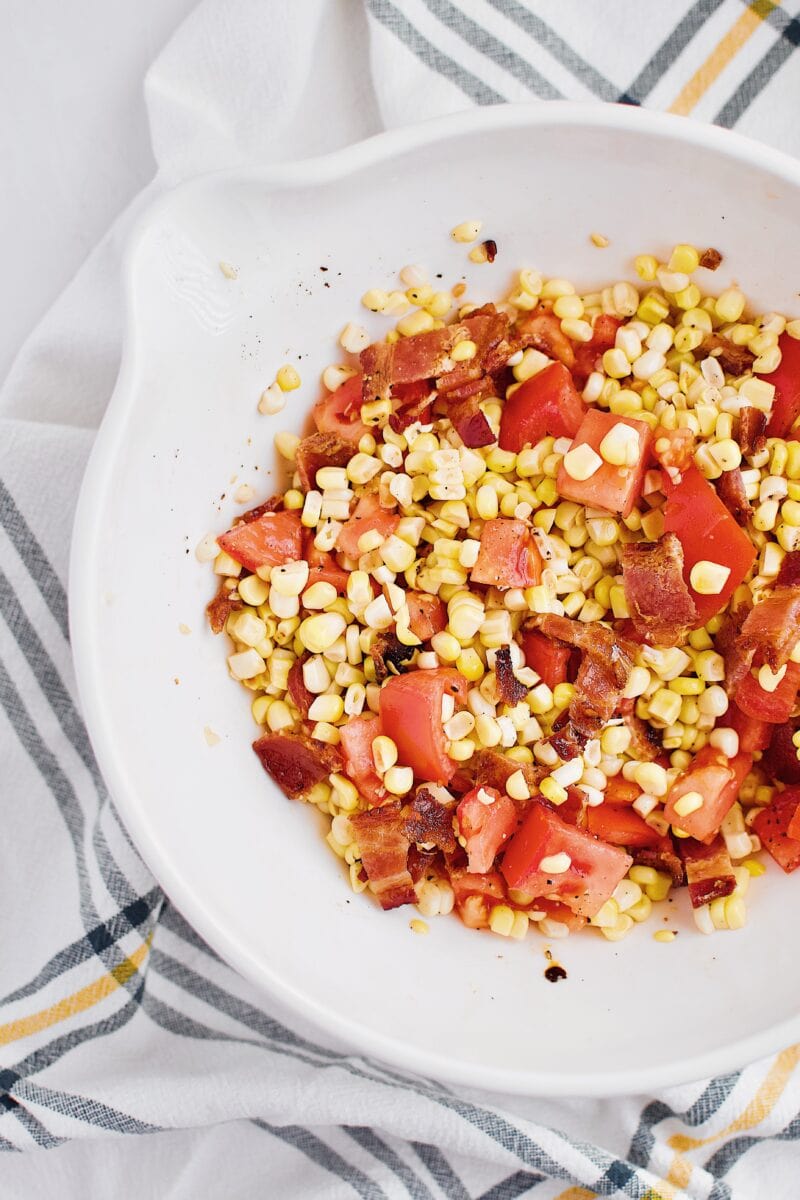 Cut off the corn when it cool, and chop the bacon and tomatoes and combine them in a bowl together. Season and dress to your taste. Taste and adjust it as needed.
When you remove the potatoes from the boiling water, roll them around in some of the fat from the bacon and season with salt and pepper.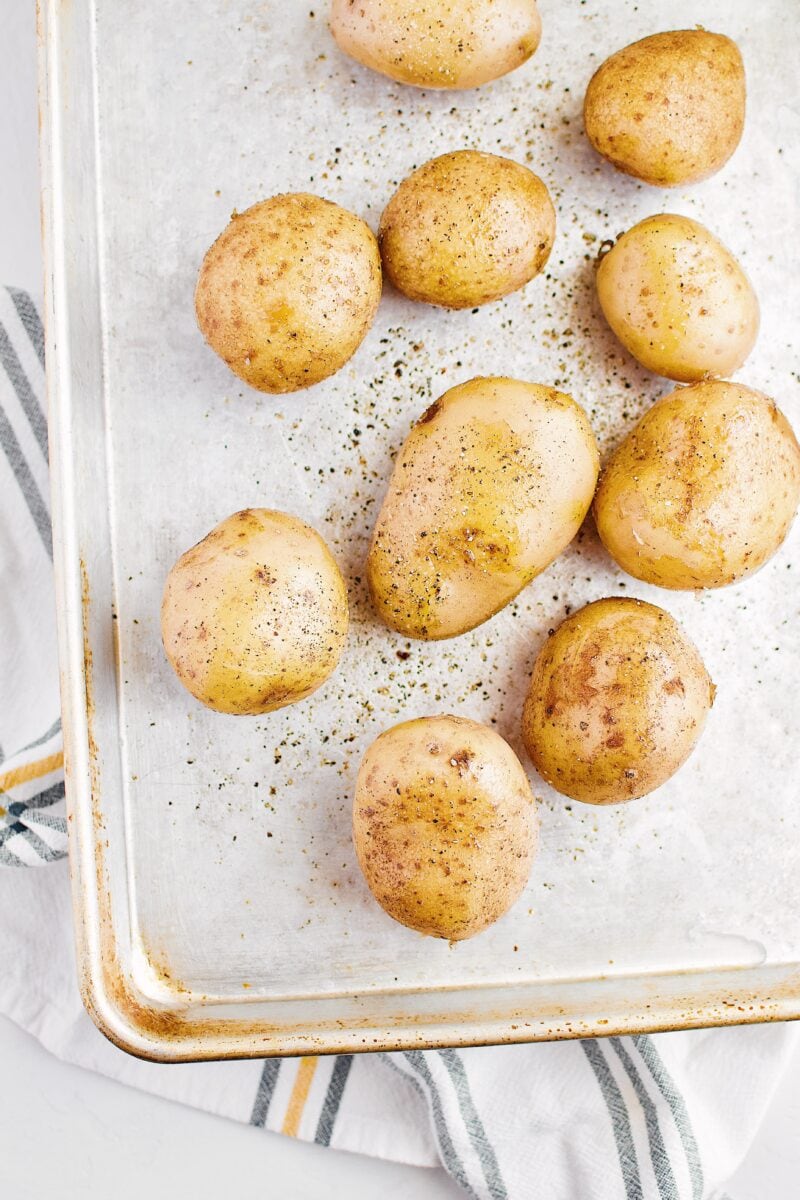 I used a cereal bowl because my potatoes were on the larger side, but a sturdy glass would work too. Smash the potatoes and drizzle with a little more oil or bacon fat and another sprinkle of salt.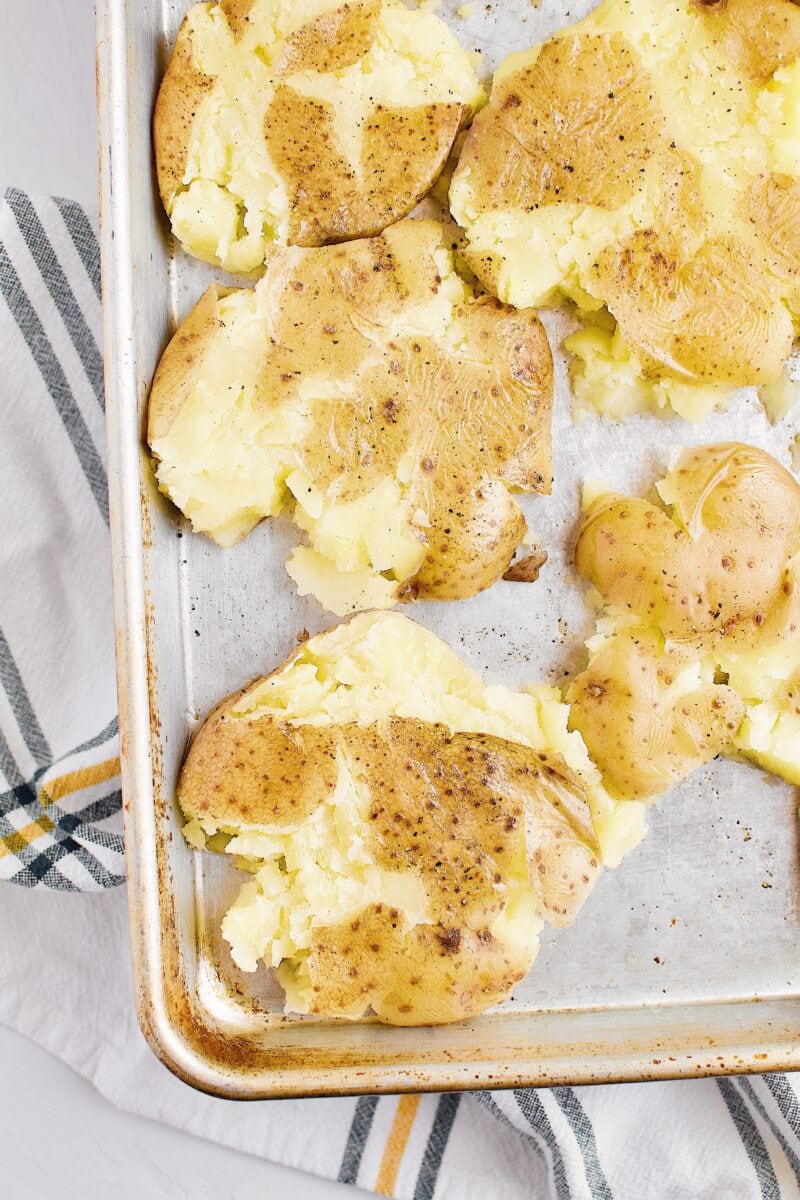 Place them under a broiler and roast until they get browned and crisp. This may take 10-15 minutes depending on the strength of your broiler.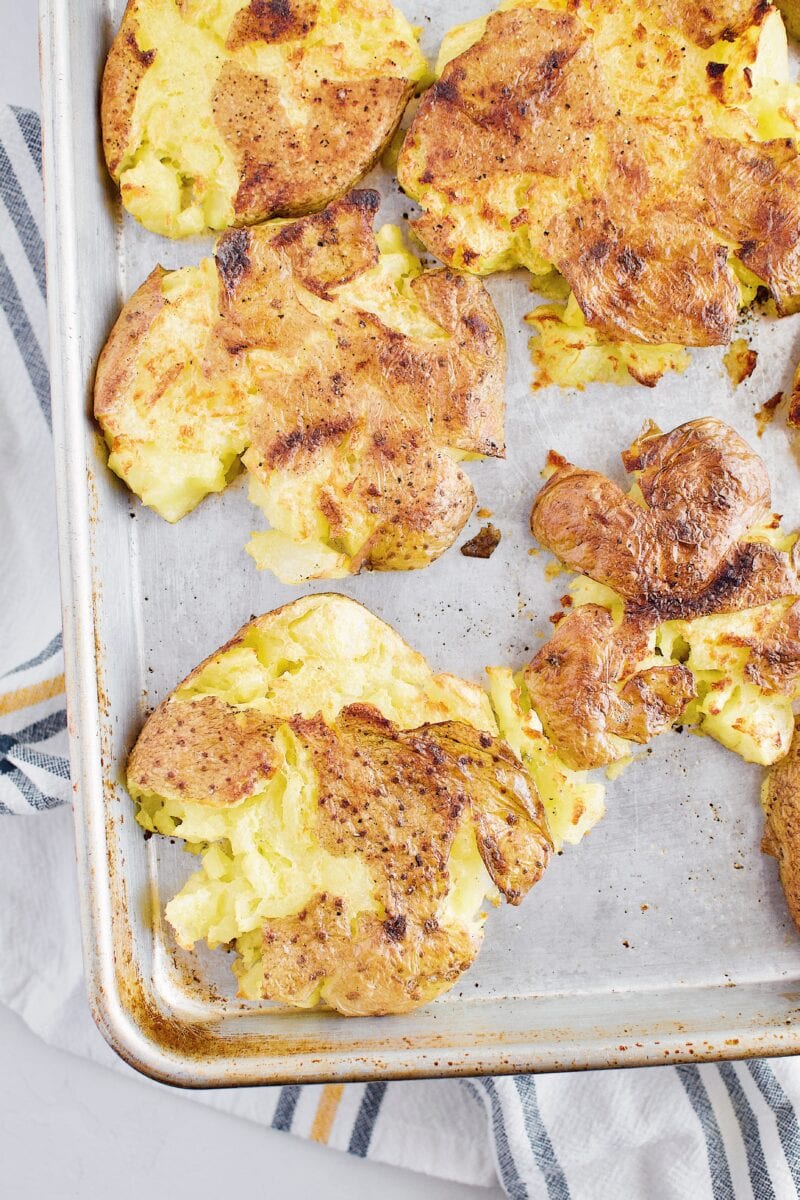 After the potatoes have browned toss the corn salad on top and return the pan to the broiler for about 5 minutes. This will warm the corn salad, cook the tomatoes a little and re-crisp the bacon, plus meld all the delicious flavors together.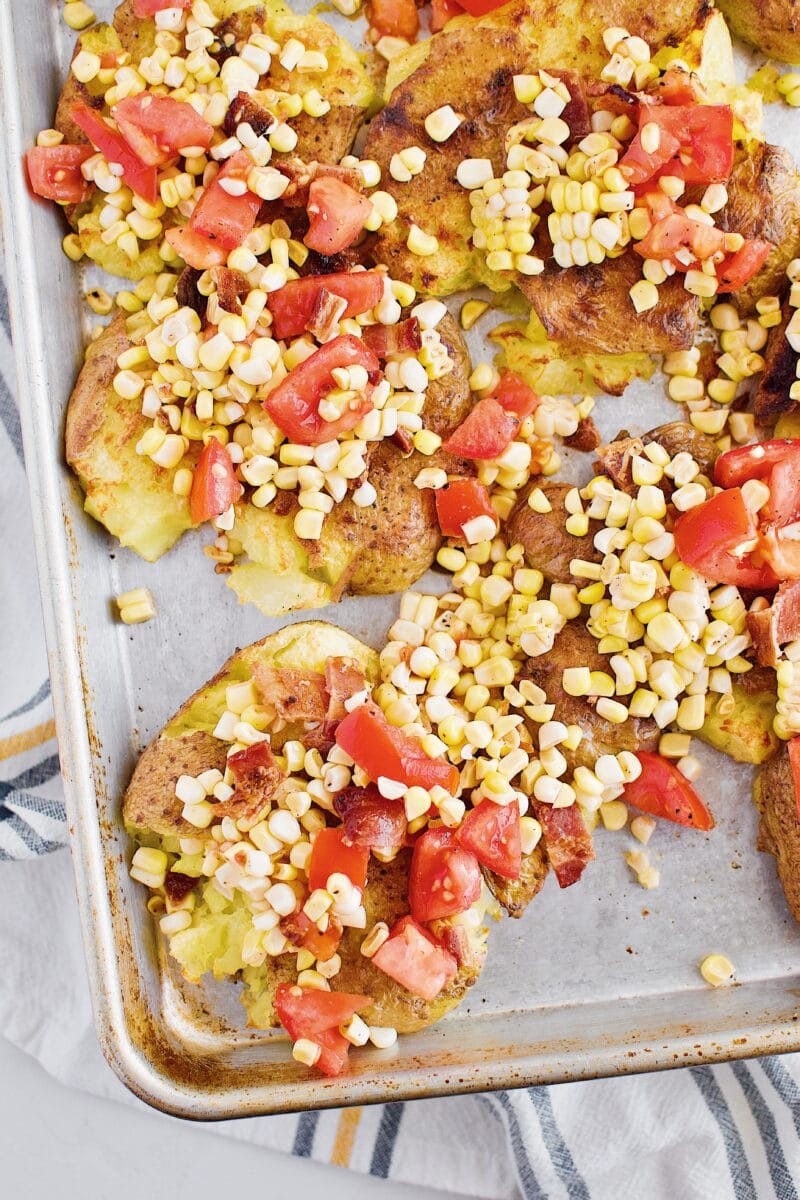 What to serve Smashed Potatoes with.
This recipe makes a great side dish to a fantastic summer grilled steak, or as an alternative Thanksgiving or Christmas side dish. I think it would even be great served at a barbeque with my Instant Pot BBQ Ribs. They would be great warm or at room temp and can hold up to sitting out for a little bit.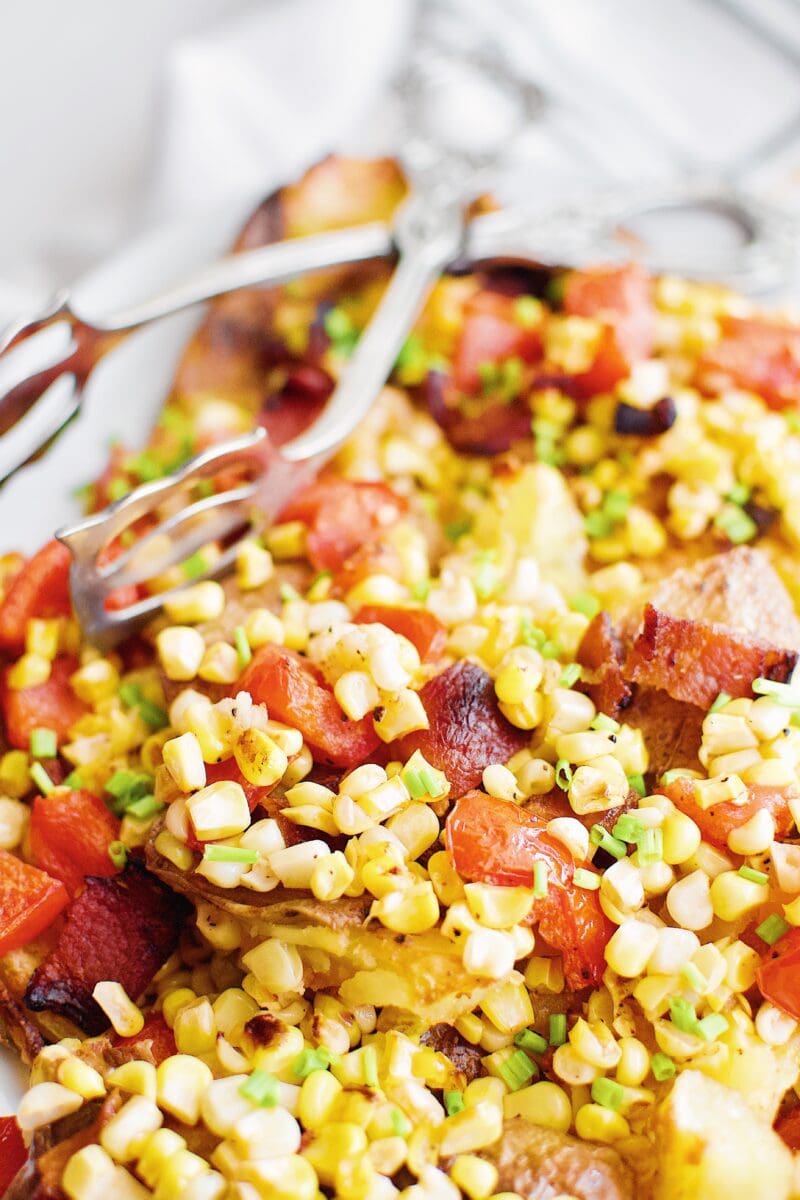 I even think of it as a bit of a potato salad alternative, minus the mayo if that's your thing. I hope you enjoy, whether it is for a holiday or a simple backyard cookout, it's delicious no matter what.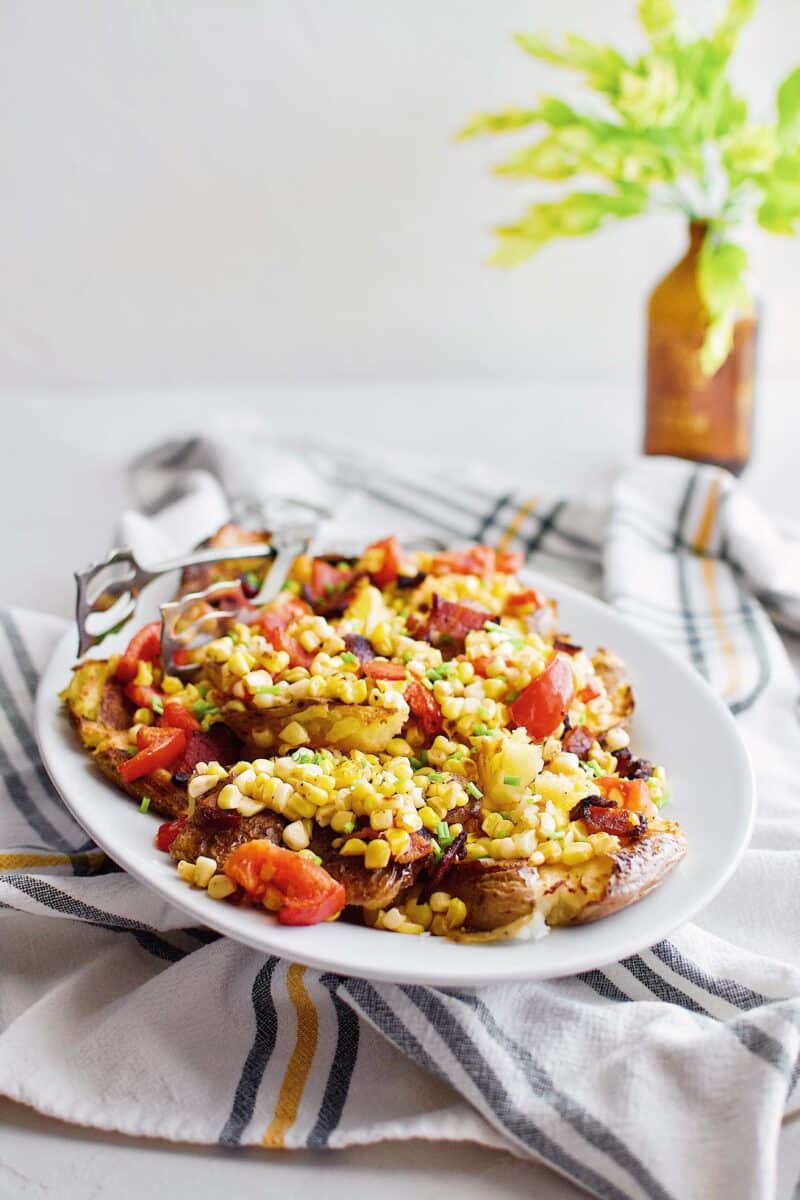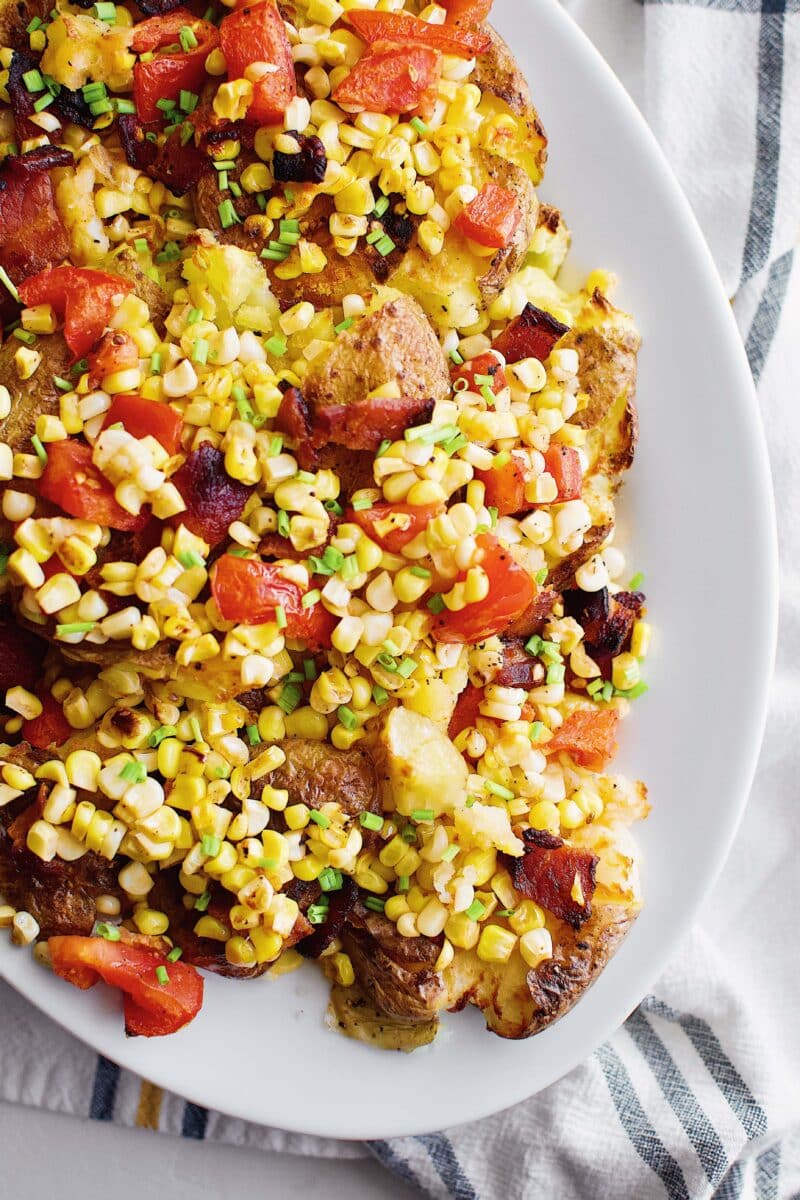 Did you make this recipe? Let me know by leaving a review or comment! Also, be sure to sign up for my newsletter, and follow along on Instagram, Pinterest, and Facebook!
For MORE of my most POPULAR Magnolia Table Reviews!
If this recipe review was valuable to you, take a look a some of my other reviews that have been super popular!
See all of my reviews of recipes Joanna cooked in Season 1, HERE!
Jo's recipe for 1919 Pimento Cheese is by far my most read review. I have adjusted to the recipe to replace the Velveeta, which I just can't bring myself to bring into my kitchen.
Her Zucchini Bread is my next most popular review, and it is one of my very favorites to pick up when visiting Waco.
And to ready my full ranking of every recipe in the first cookbook check out this post...Magnolia Table Cookbook…my overview!