Fear no more, you have found the chili recipe that will make your Texas loving heart a happy one. This recipe for Spicy Texas Chili is my take on the rendition. It is a bean-free chili, but it does still contain tomato product, which is also a bit of a point of contention. That said, this is a chili that is meant to be eaten in a bowl like soup, so the bulk and taming nature of the tomato is welcome here.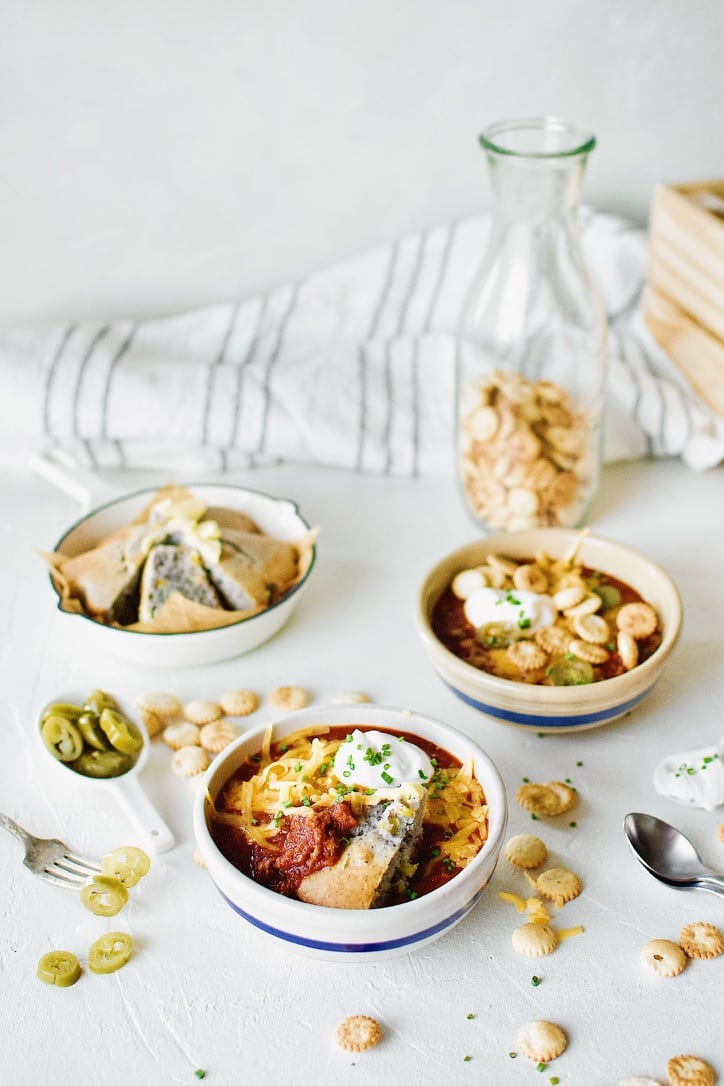 What makes it Texas Chili?
There is a great debate, that I am sure will go on for the rest of time, in Texas that chili absolutely does NOT have beans. It is said that a cowboy chili or chuckwagon chili would never have had beans. And since Texas is the Wild West, Texans, purebred Texans, say chili has no beans!
And I can agree. If back in the day you were tracking across the wild west in you covered wagon that you probably weren't cooking dry beans all day when you had to whip something up over a fire real quick every night. You might have had some spices or chili's, some meat, and water you had to collect. SO, in campfire fashion, I am keeping this chili SIMPLE!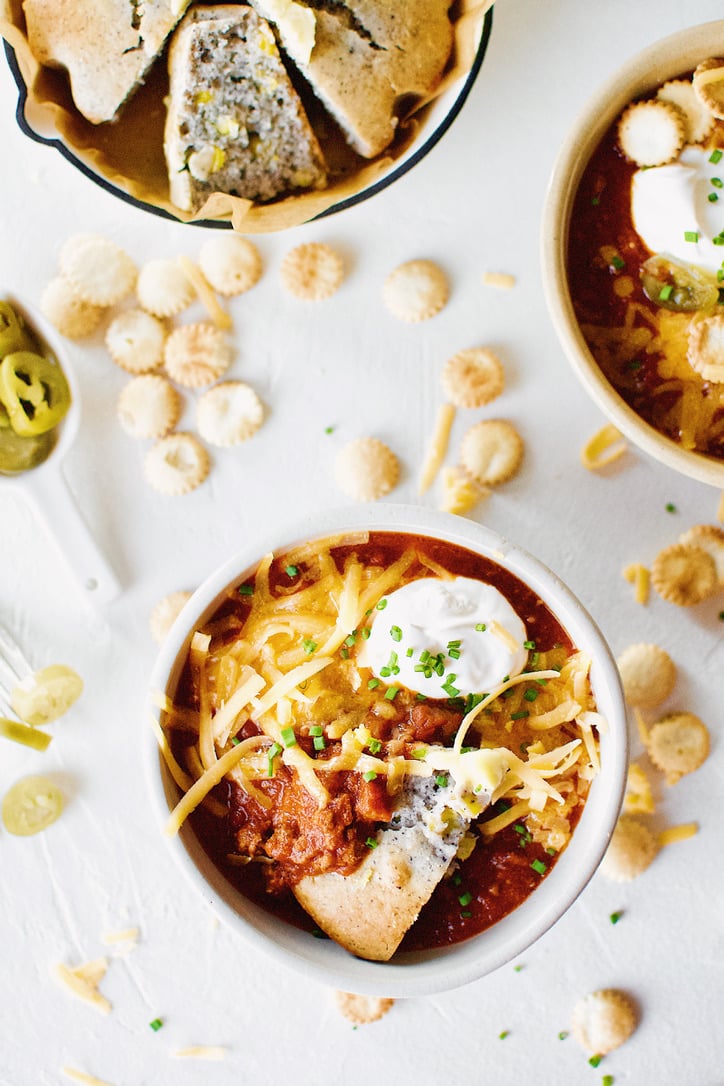 How to make Spicy Texas Chili
This is probably the most simple chili you could ever make. But remember, we are pretending we are wild west cooking. The whole goal is to build layers of flavor and really work those to the max.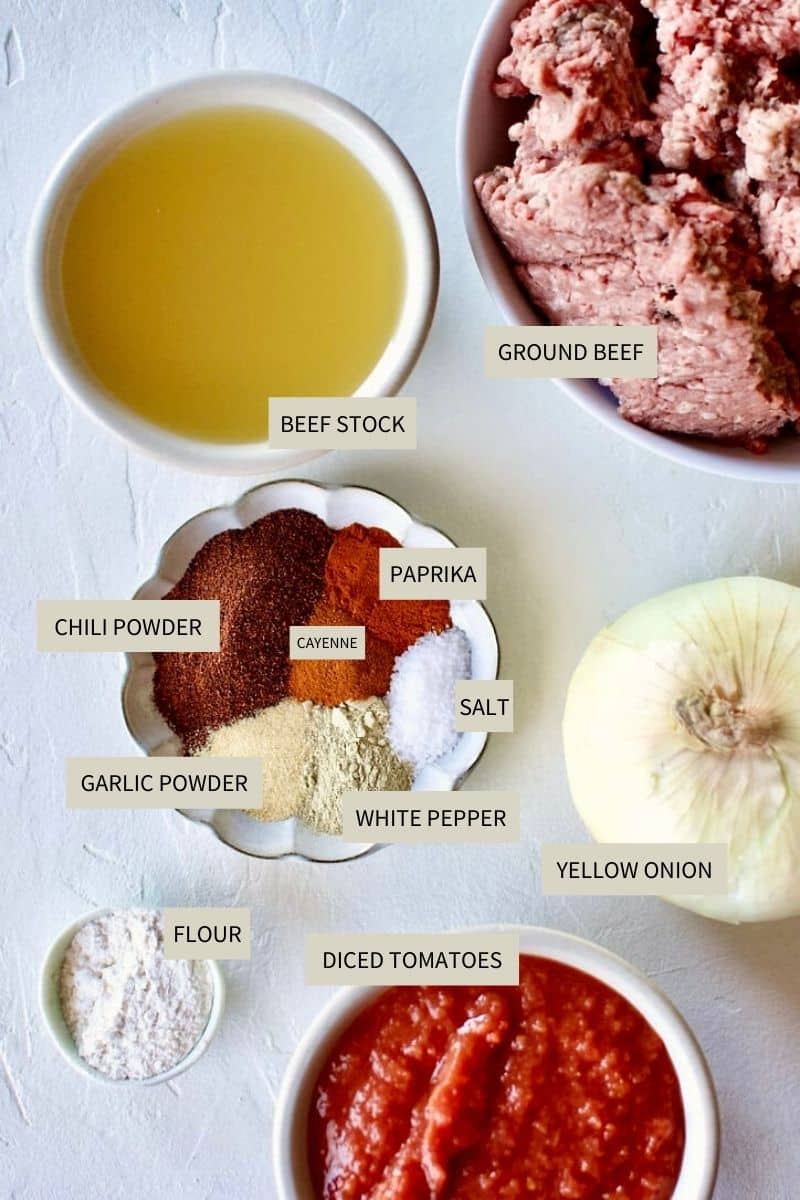 I start by sauteing some onions until they get some good color on them. Caramelization equals flavor, so get some color on those babies. I then cook the ground beef with the onions till browned before adding a few tablespoons of flour to thicken up the fat and juices that are released.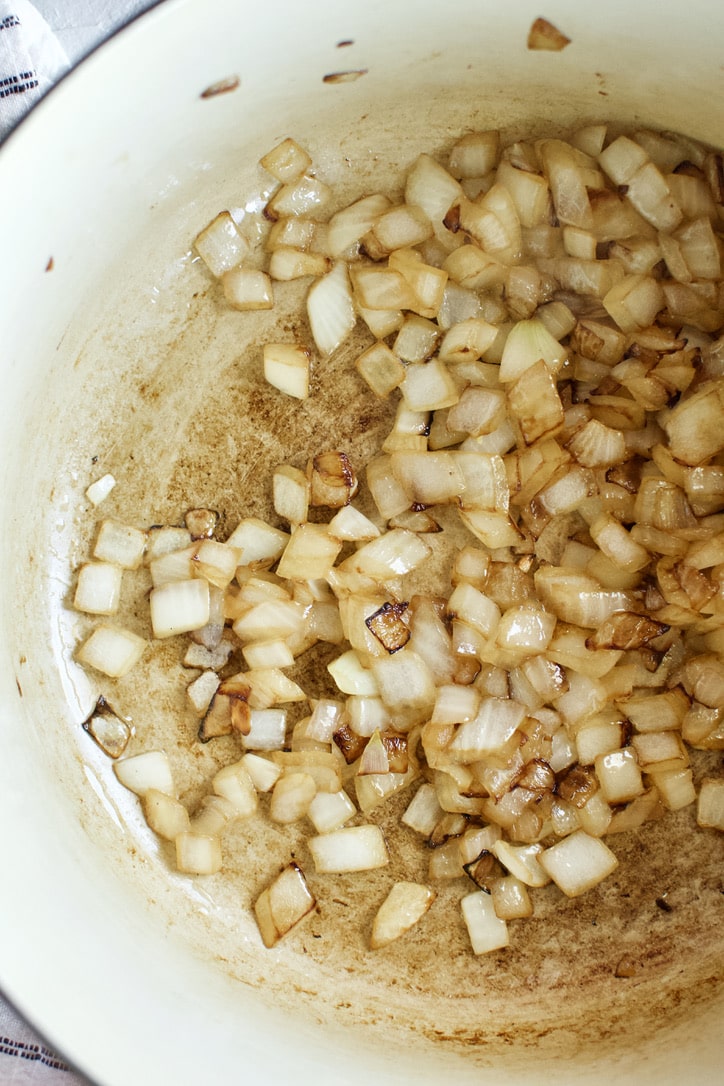 Then add in the spices and seasonings and cook until the mixture becomes fragrant. Stir, stir, stir, until all those spices are worked through. They will even get a little crispy on the bottom of the pot, be sure to not let them burn, but that will be another layer of flavor.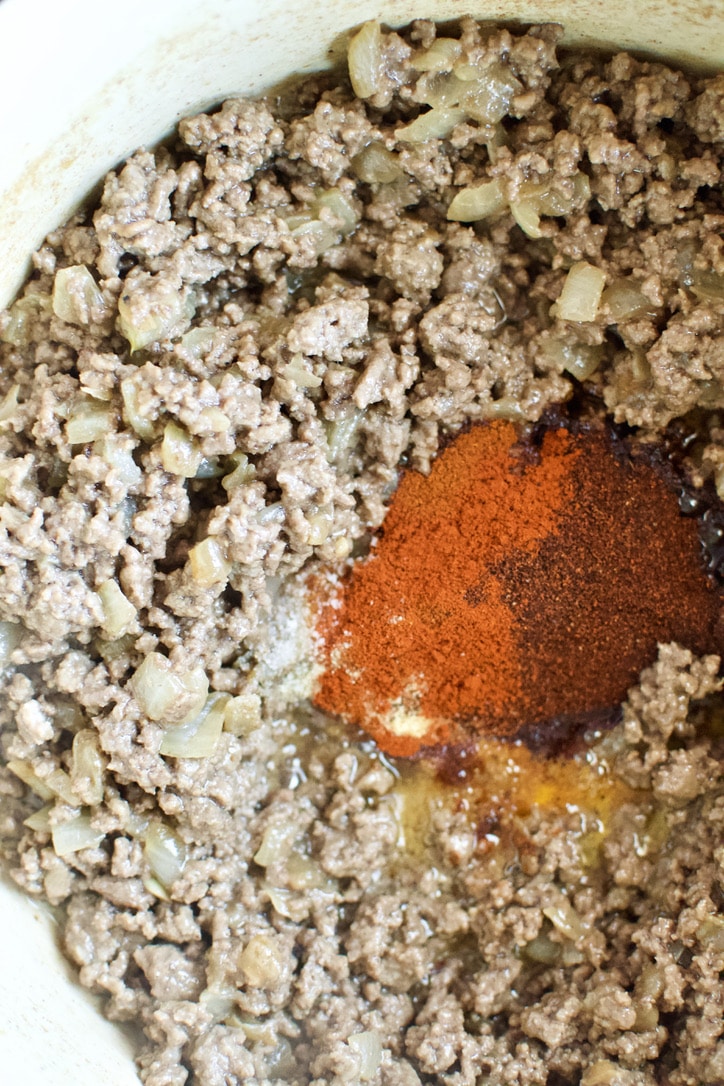 Next, deglaze the pan with a little stock. You can use beef, chicken, or even water if you'd like. Now is also the time to scrape any bits off the bottom of the pot that may have gotten stuck so far in the cooking process. Bring the stock to a boil and let the flour and spices thicken the liquid a bit. Simmer for about 5 minutes.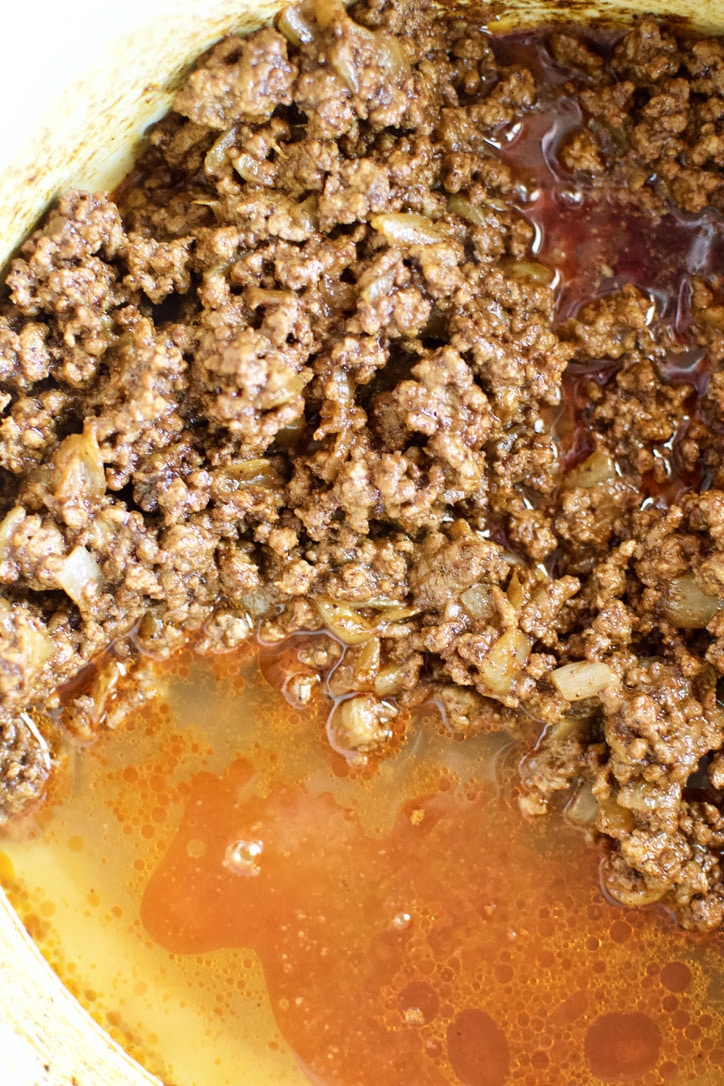 Then add the tomatoes to the pot and simmer for a minimum of 30 minutes. But if you want you can let it simmer all day. I like my chili to be a bit loose so I can put it over some cornbread and let it soak up all the juice. If your chili gets thick while simmering, add a splash more water or stock to thin it back out.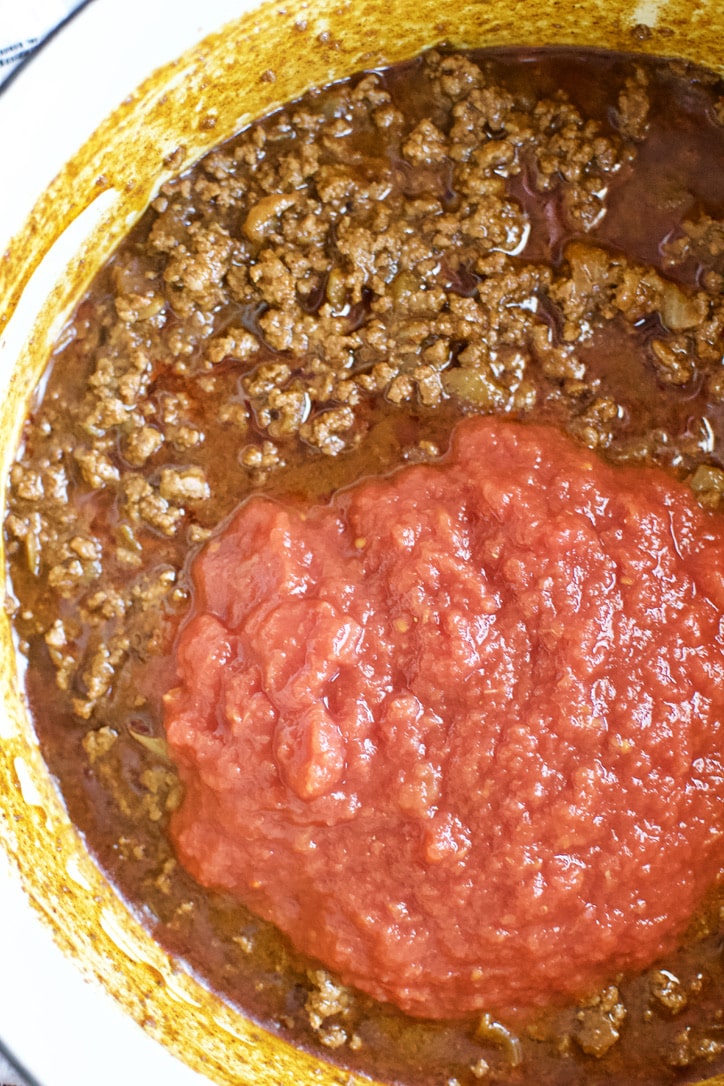 Serving and Storage
You can serve this chili with just about anything you like. I need a good dollop of sour cream in mine to tame the spice a bit, but I am more of a mild spice lover, I don't love it when my mouth is on fire!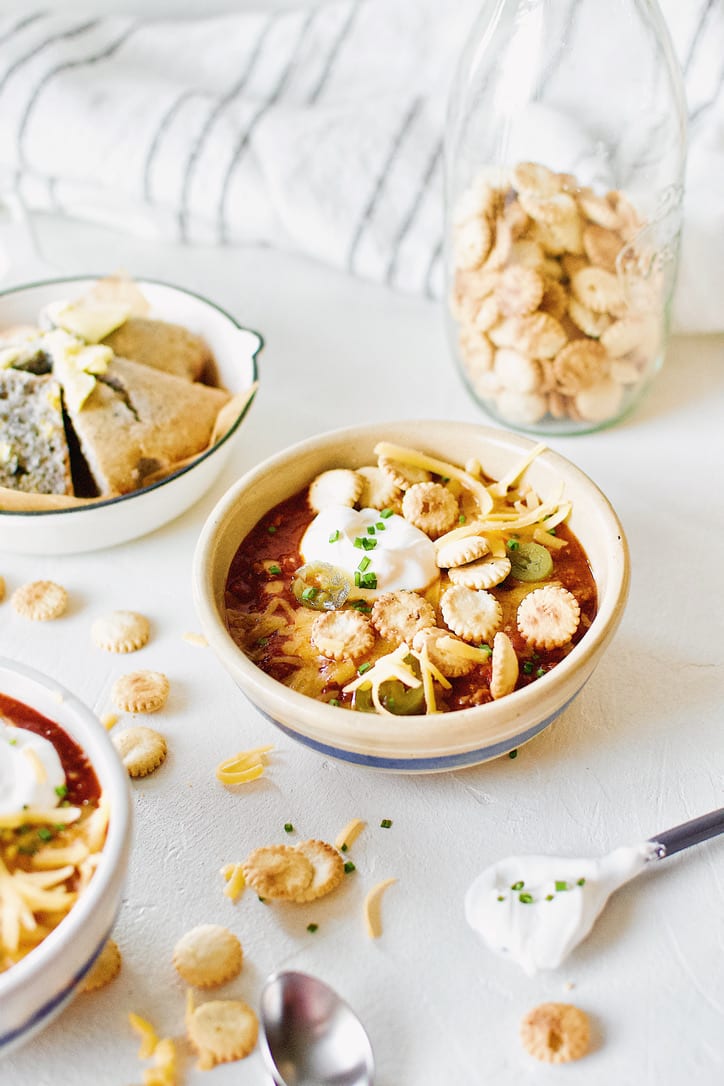 Now for the earlier mentioned cornbread, next to Joanna Gaines recipe for Creamed Corn Spoonbread, my Easy One-Bowl Blue Cornbread recipe is my favorite!
As far as storage goes, this chili freezes like a dream. I will hold up for about 6 months in the freezer. And it will last for about a week in the fridge. And chili is almost always better a day or two after it is made. If you want you can make this a day before you want to eat it for an even better/deeper flavor!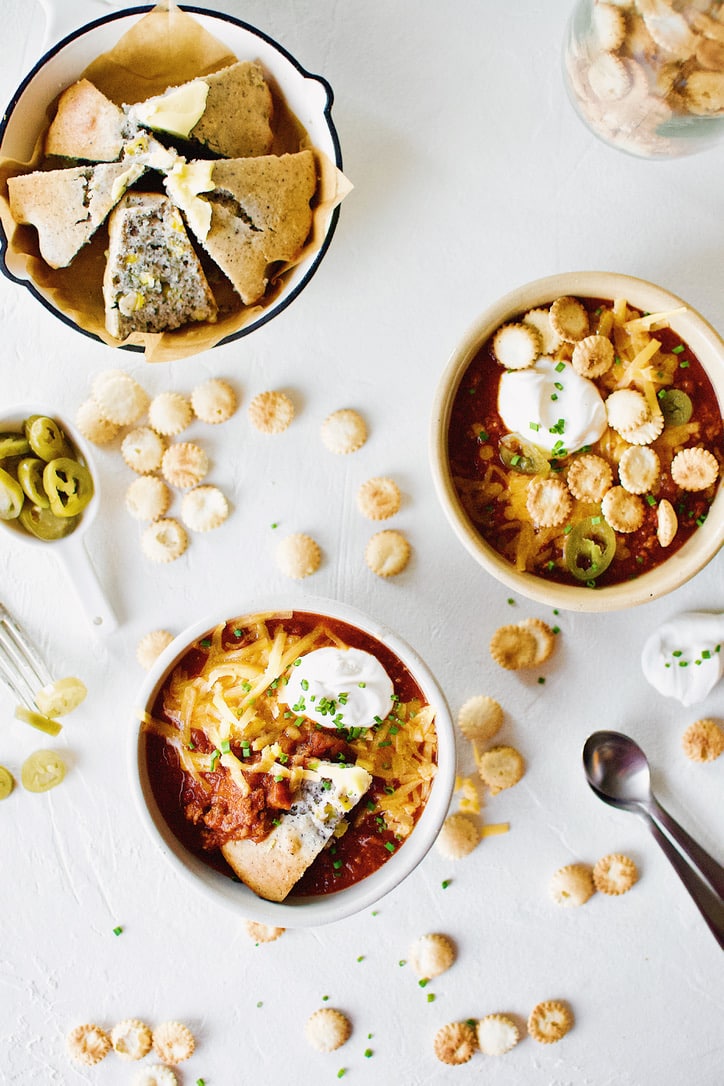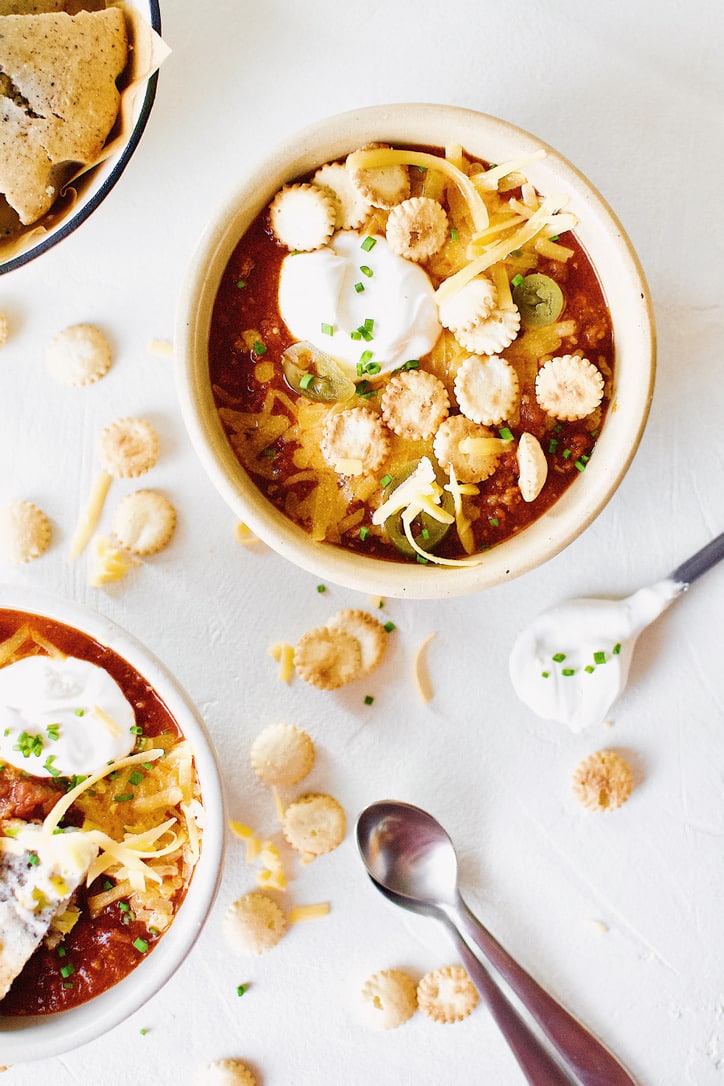 Did you make this recipe? Let me know by leaving a review or comment! And be sure to sign up for my newsletter, and follow along on Instagram, Pinterest, and Facebook!
Did you make this recipe? Let me know by leaving a review or comment! And be sure to sign up for my newsletter, and follow along on Instagram, Pinterest, and Facebook!