If you are looking for simple, yet homemade, this One Bowl Blue Cornbread is going to be your best friend. Things that come from a box are easy, but they are packed with preservatives. And when a recipe is this easy, the boxed stuff just isn't worth it.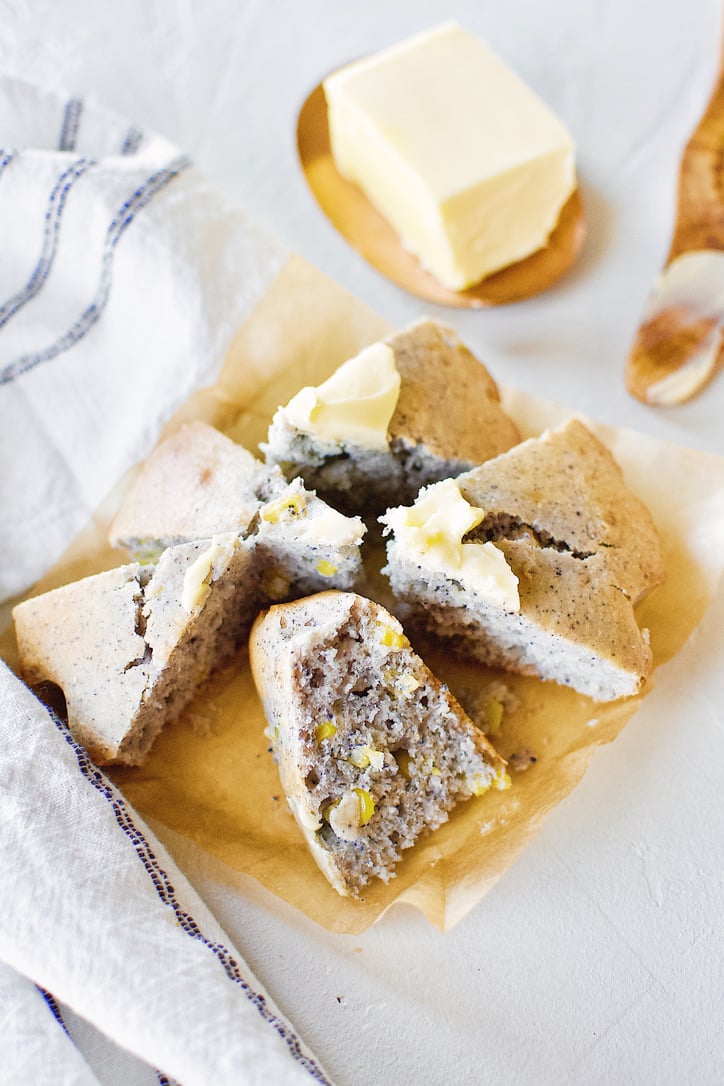 What is Blue Cornmeal?
Blue Cornmeal has a sweet and intense flavor as well as a hearty, fine texture. Blue Cornmeal is made from ground Blue Posole. It is also called Hopi Corn is still cultivated today by Native Americans in the southwest. Blue Corn has significant spiritual importance for them.
Blue cornmeal can be found at some big-box retailers and is made by both Bob's Red Mill and Maseca. For me, I find it at my local healthy grocer. I buy it pretty much any time I come across it because I enjoy the flavor and texture of it.
Blue corn cannot be eaten off the cob but it is packed with health benefits and a strong nutty flavor, making it an ingredient with value beyond its usual role as a mainstay in tortilla chips. Its rich, sweet taste makes blue cornmeal a delicious replacement for traditional corn in muffins, bread, and griddle cakes.
All that said, this recipe will work with regular cornmeal if you have a hard time finding blue cornmeal.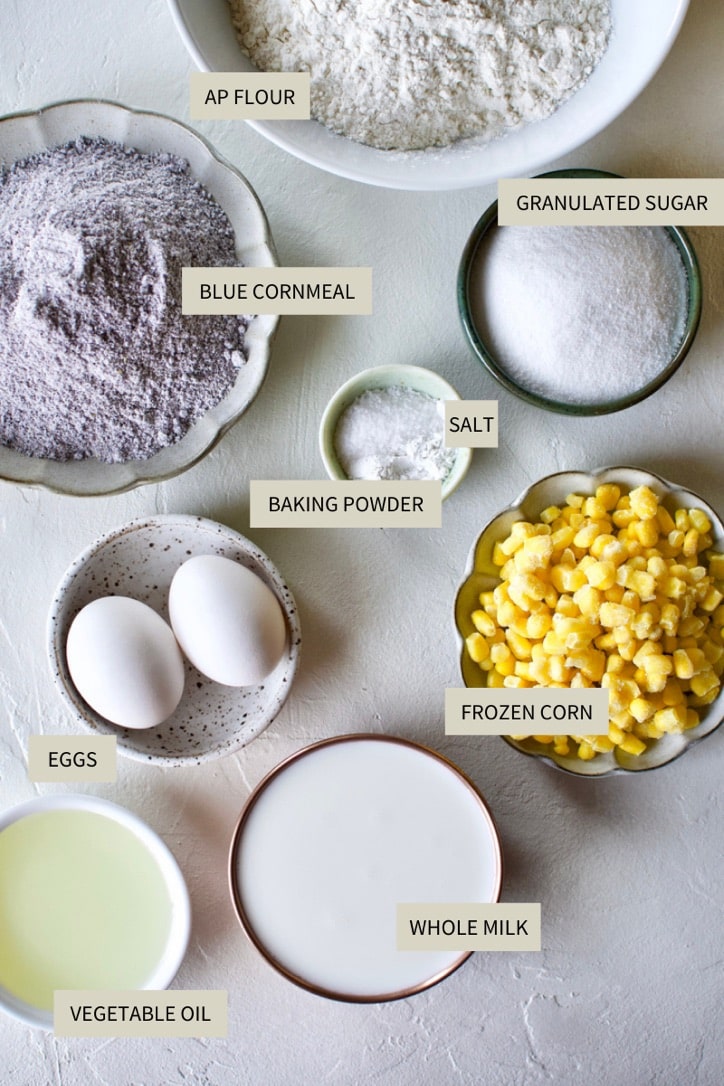 Making Blue Cornbread
Putting this cornbread together is very easy, but to make a one-bowl cornbread you want to follow the steps carefully. It is all in the method. Just follow these simple steps to the cornbread of your dreams.
In a large bowl, combine the eggs, vegetable oil, and milk. Whisk them together until lightly frothy and the egg is fully whisked in.
I then like to whisk in the cornmeal to give it a little head start on getting hydrated. Then add in the remaining dry ingredients and whisk until almost fully combined.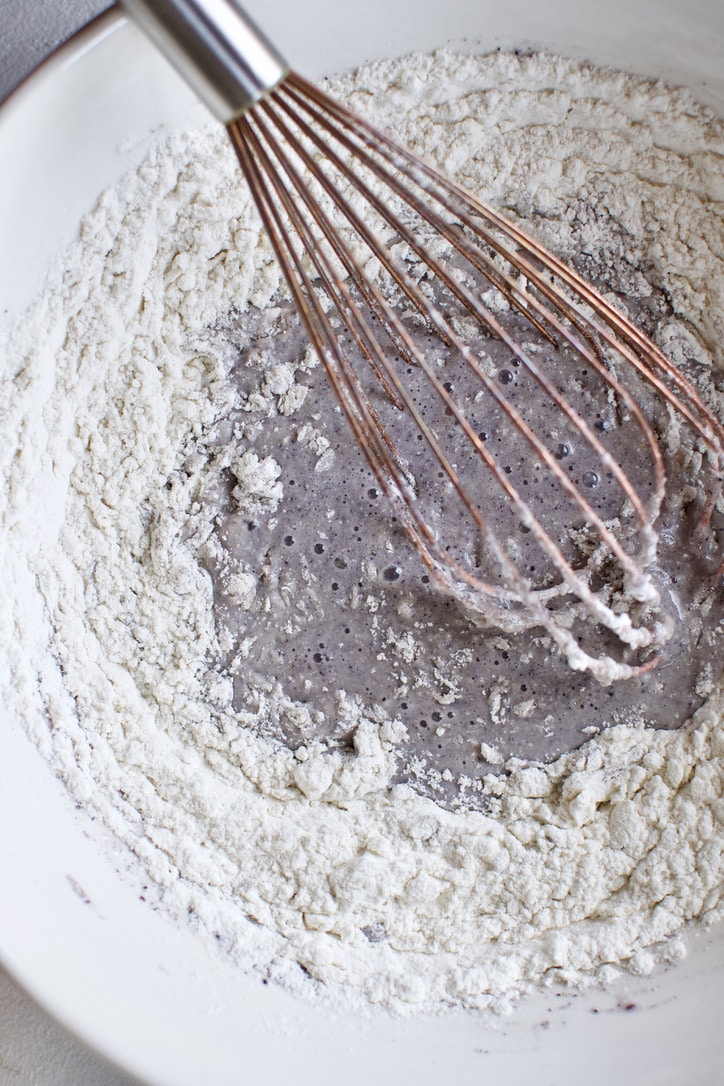 Then toss in the corn kernels and fold them into the batter. It is important to switch to a spatula and fold the batter just until the flour is worked in. You never want to overwork cornbread. It can get tough if you work the flour too much.
I like to bake this Blue Cornbread in mini cast-iron skillets. It is a little bit of a different take on cornbread so I like to present it in a bit of a different way.
Simply coat the pans with some pan-spray, line with parchment, and hit it with a little more spray. You don't want your cornbread sticking. There is nothing worse than that.
Cornbread in general has a rather shot bake time, so in just a few minutes you have a soft and fluffy cornbread ready to be slathered in butter. If you don't have mini skillets or pans this recipe can also be baked in a 10-inch cast-iron skillet. Follow my same instructions to spray and line the pan.
What to serve cornbread with.
As with any cornbread this is best served with some delicious chili on top. That is unless you like to dip your cornbread in your buttermilk. I have yet to try that, but I am going to give it a go soon.
I have a few chili recipes on my site and this would honestly pair with any of them.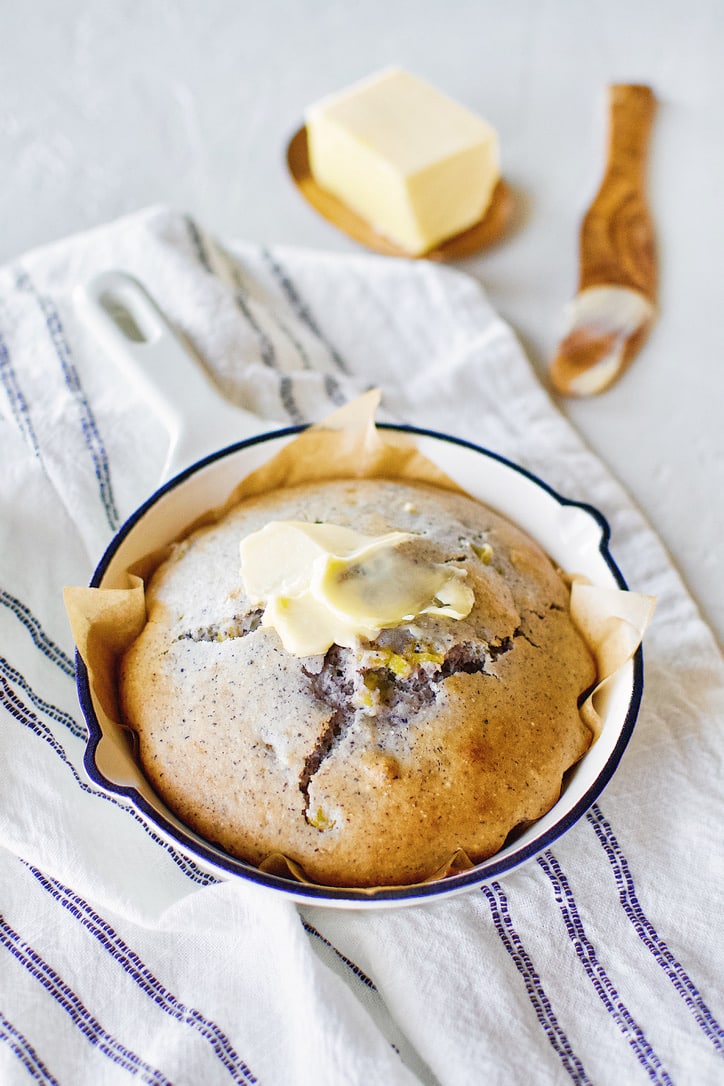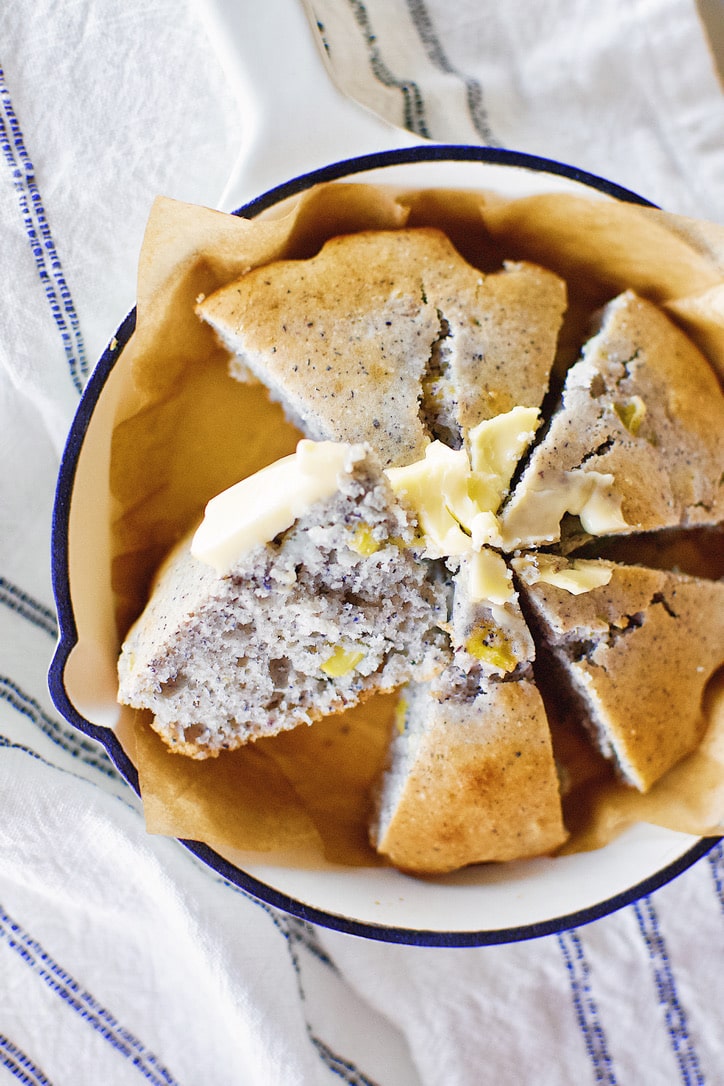 Did you make this recipe? Let me know by leaving a review or comment! And be sure to sign up for my newsletter, and follow along on Instagram, Pinterest, and Facebook.