I am always looking for a good way to work turmeric into a recipe that isn't a golden milk latte. Here the turmeric adds great color and boosts the flavor of the other spices. These heavily spiced Cheese Fries are crispy, cheesy, deliciousness!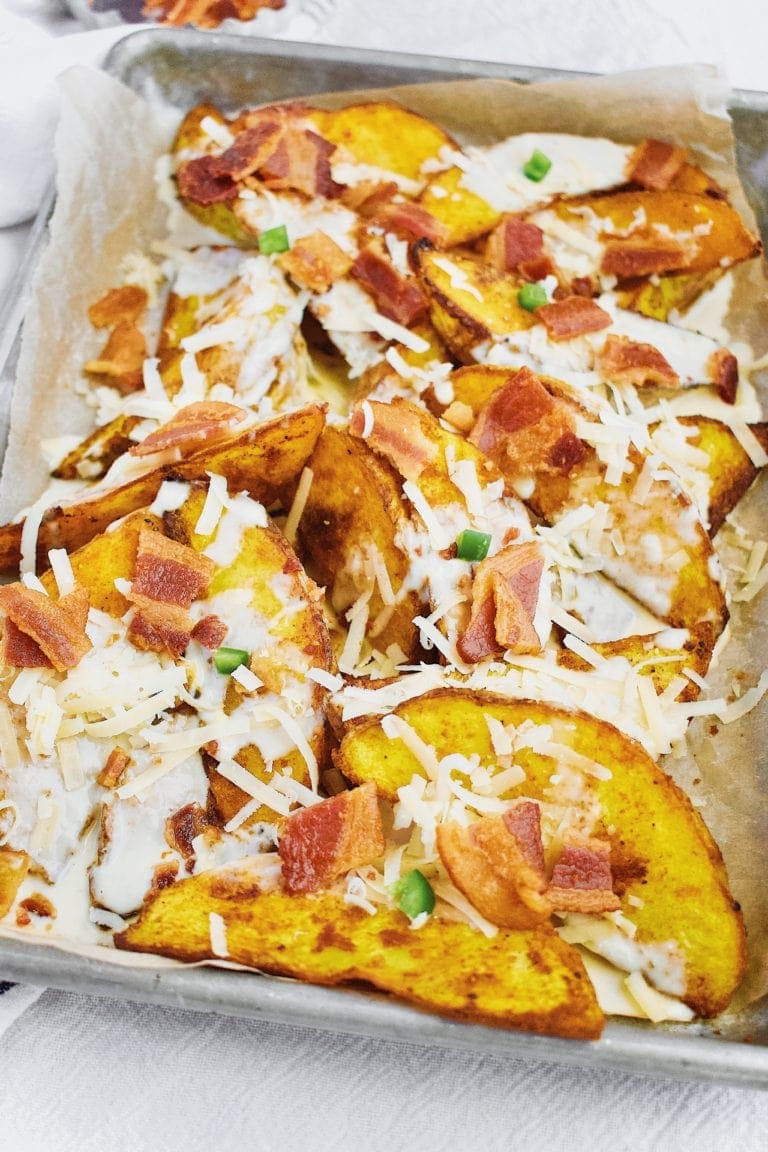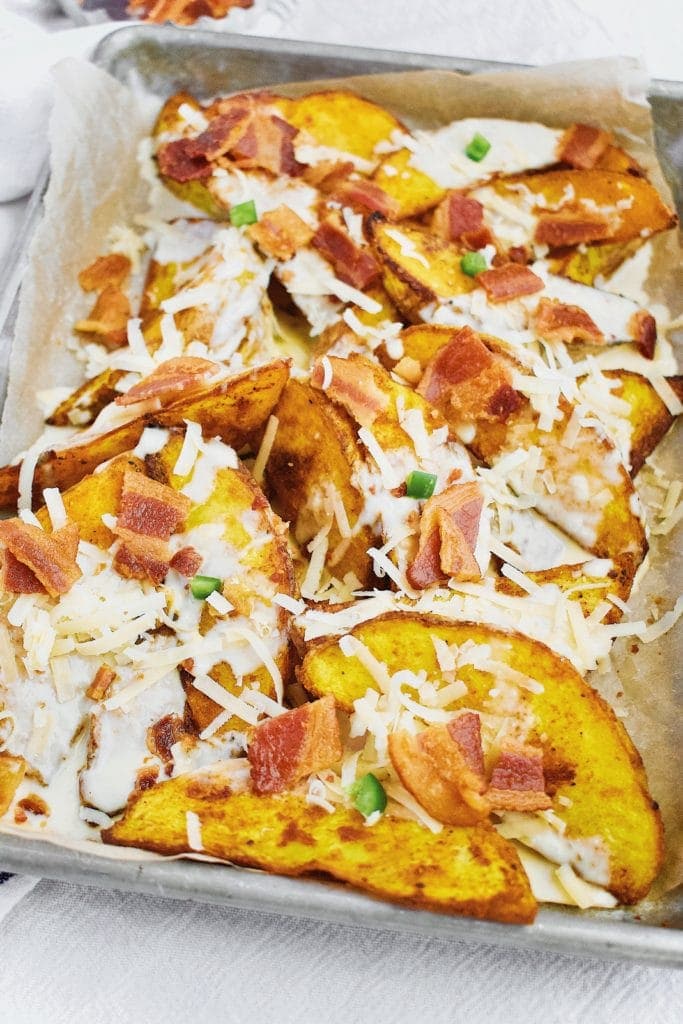 While I really can't say that these are healthy or even healthy-ish, they are covered in cheese and bacon after all. You can enjoy them knowing they have an added health benefit of an inflammation reducer, among its many noted benefits.
Crisping the potatoes...
The biggest key to getting crisp potatoes is ensuring that every inch of the surface is coated in spices and oil. Fat helps them brown, and that is where the flavor and texture comes from.
The next key is a HOT oven. I usually cook my potatoes that I want a nice crispy crust on at 475˚F. Also baking them on the bottom rack of the oven will help too, this is where the heat comes from and will give then a nice golden brown color.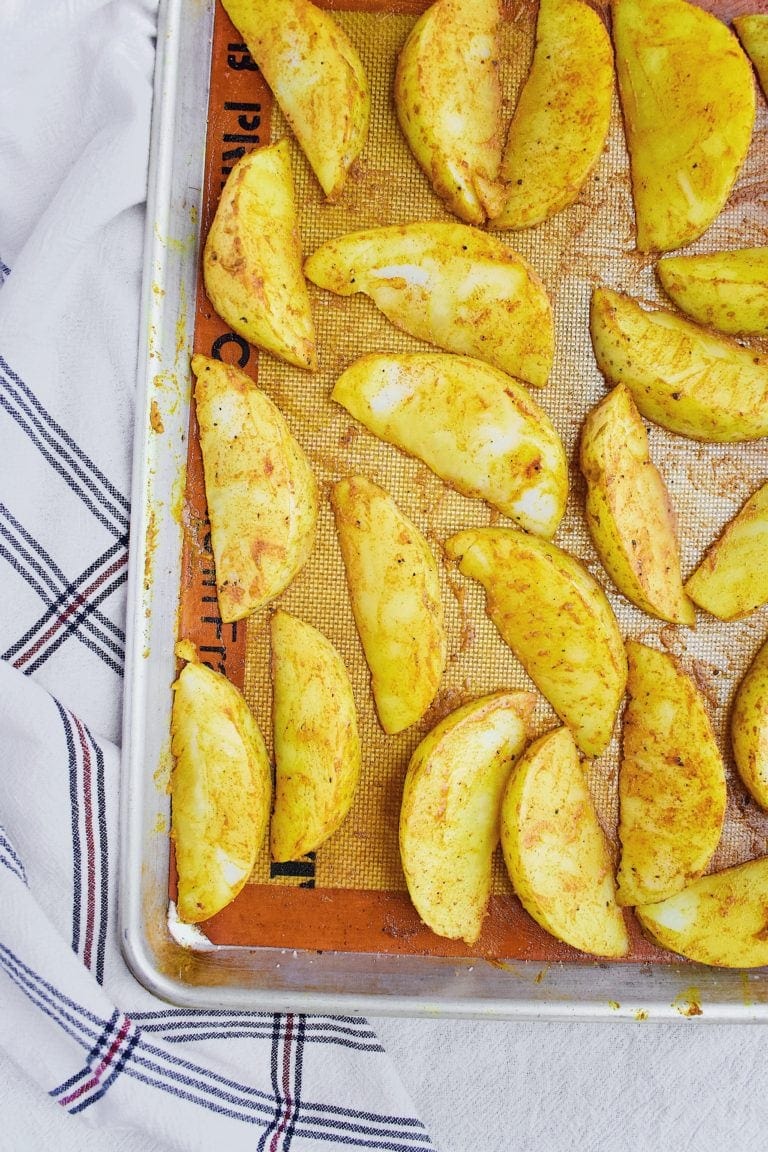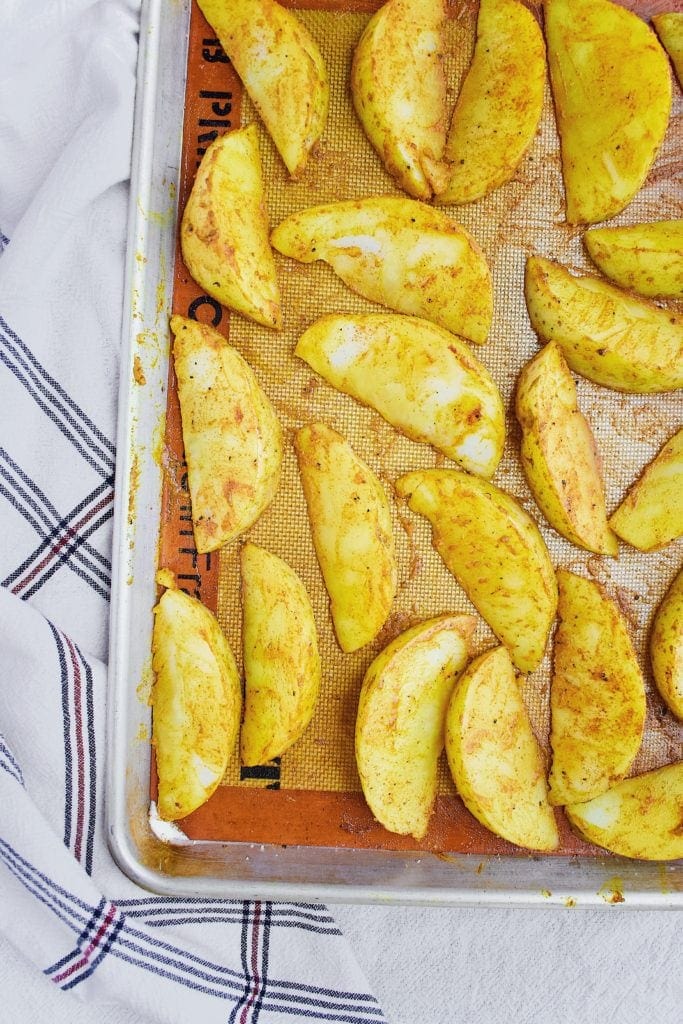 Be sure to flip them at least halfway through cooking or every 10 minutes or so to keep them oiled and exposing the surface to the hot sheet pan. I like to keep an eye on them and move the middle pieces to the outside edge as they begin to a crisp so I have a nice even browning on all the potatoes. Before cooking above, after cooking below.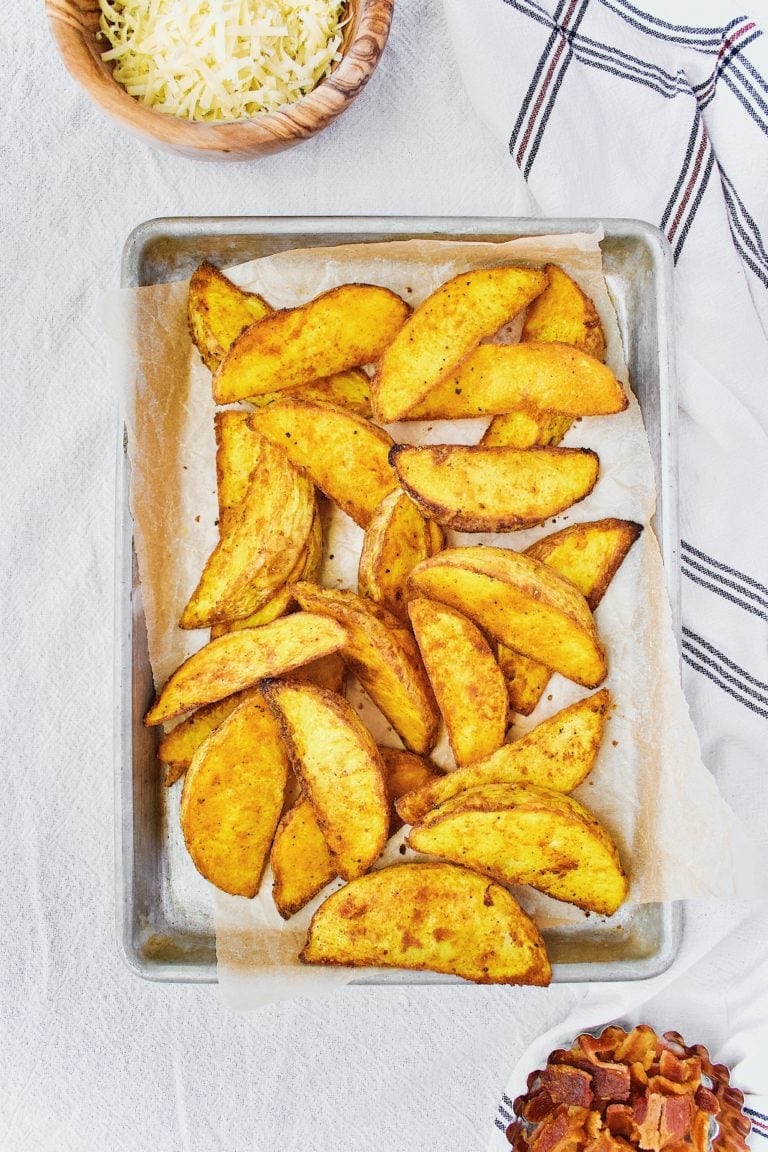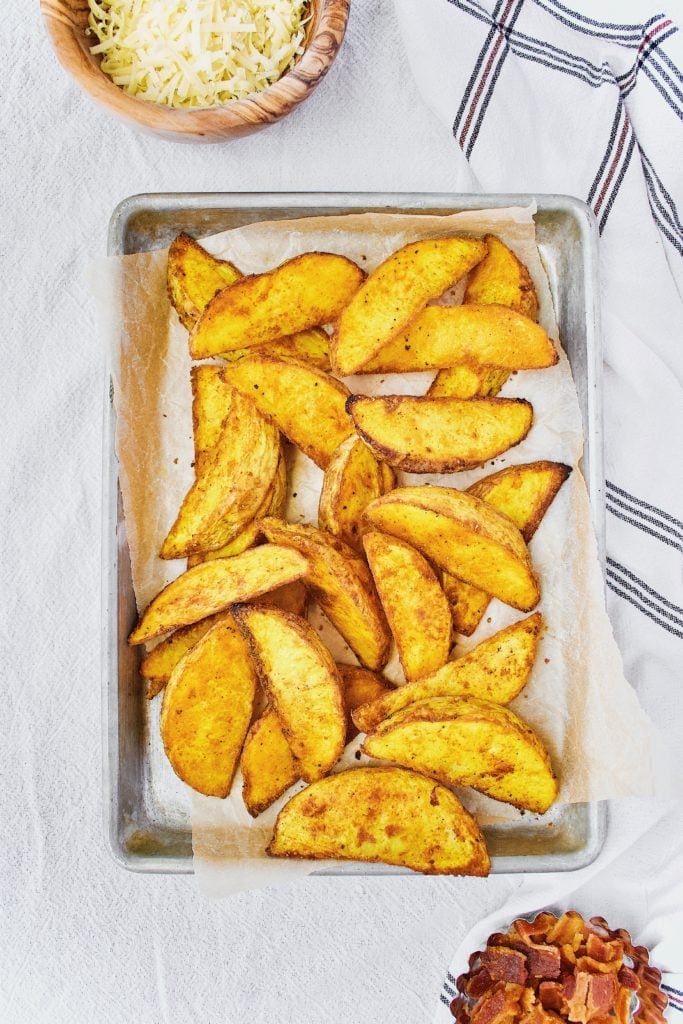 I mean, just look at that crisp courtesy of the oil and spices working so harmoniously together. Also, if I am doing this in the summer I 100% do it in my toaster oven so that I don't have to heat up the entire house, cause in Texas that is a BIG no, no!
I don't own an air fryer, but I bet you could also crisp these potato wedges in there. If you give it a try be sure to let me know how it went in the comments below.
The cheese sauce...
This is a great basic cheese sauce that you can really throw together with any kind of cheese you like. I used white cheddar because that is what I had on hand, but feel free to break out your favorite flavor!
The steeping of the aromatics, in the beginning, helps bring some extra flavor, so if you do go with a mild cheese you will know it still has a lot of flavors. It is a simple little trick that gives it that little extra oomph. Whether you choose to coat, cover, or dunk, this cheese sauce is necessary for many things in life!
It makes a nice big batch, so you'll have it around when you need it.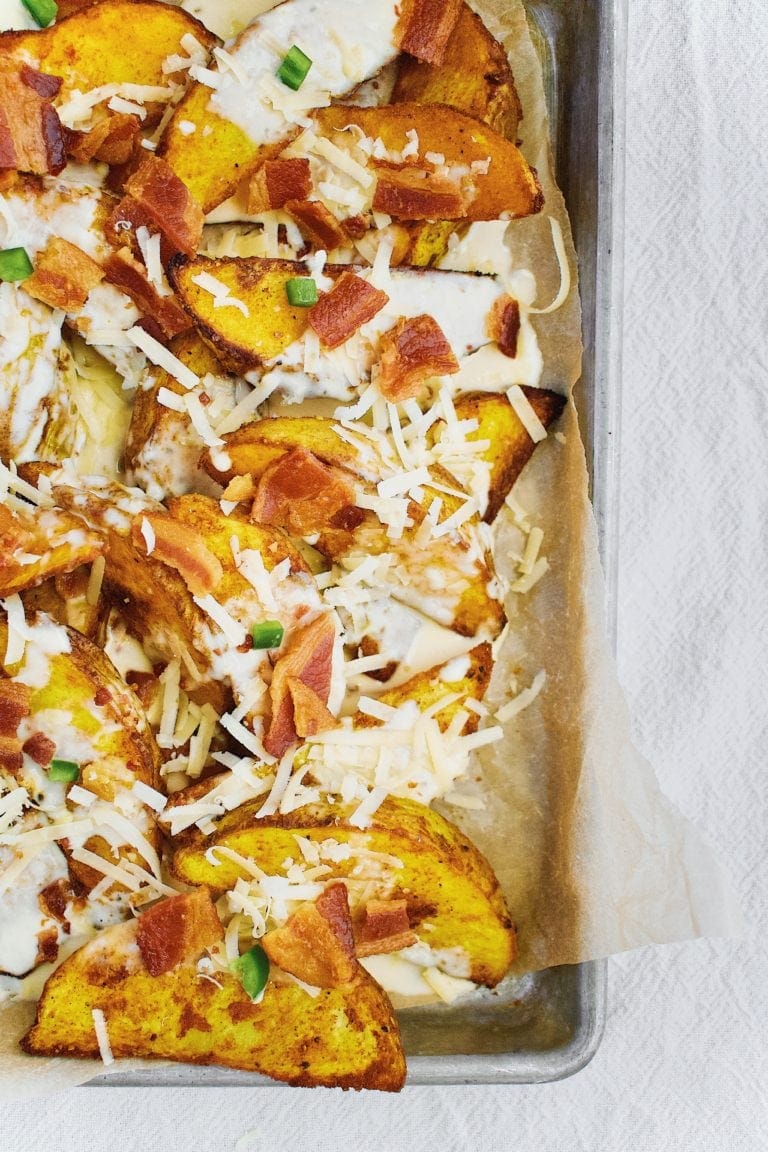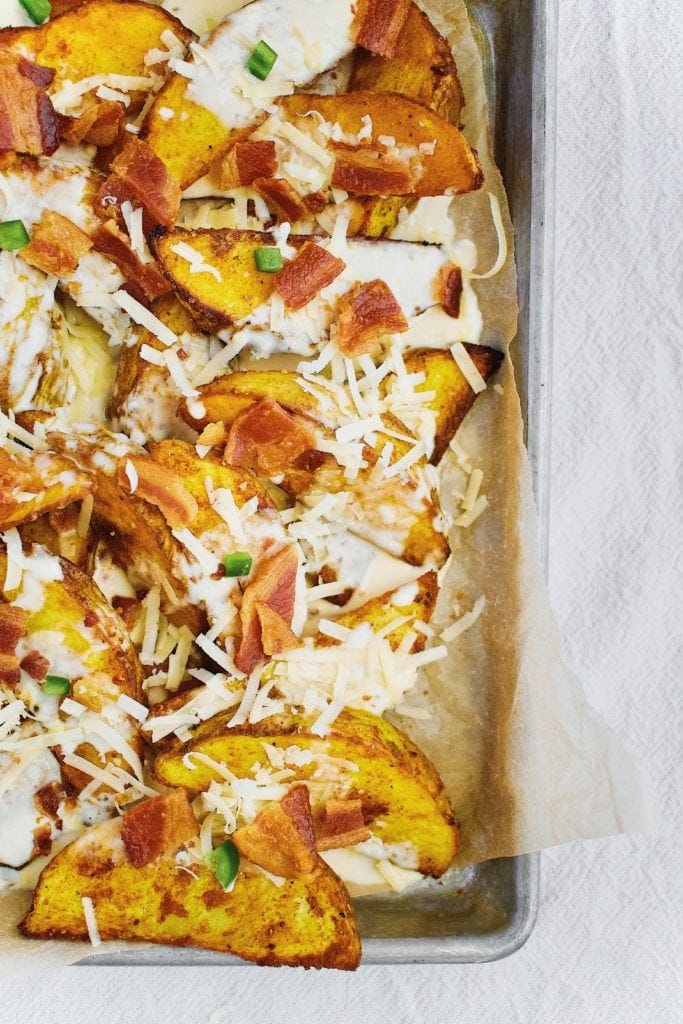 Assembling your cheese fries...
I like to layer my fries out on a sheet pan for family-style sharing...if you think your gonna share. Because trust, you really won't want to!
Layer your first batch of wedges, top with shredded cheese, cheese sauce, and bacon, then add more wedges repeat and then make it pretty with the addition of some jalapeno pieces or any other wild topping you can dream up.
Some salsa could give them a southwestern flair, or some catsup, mustard, and pickles make them cheeseburger fries! As long as you have crispy fries the possibilities are endless.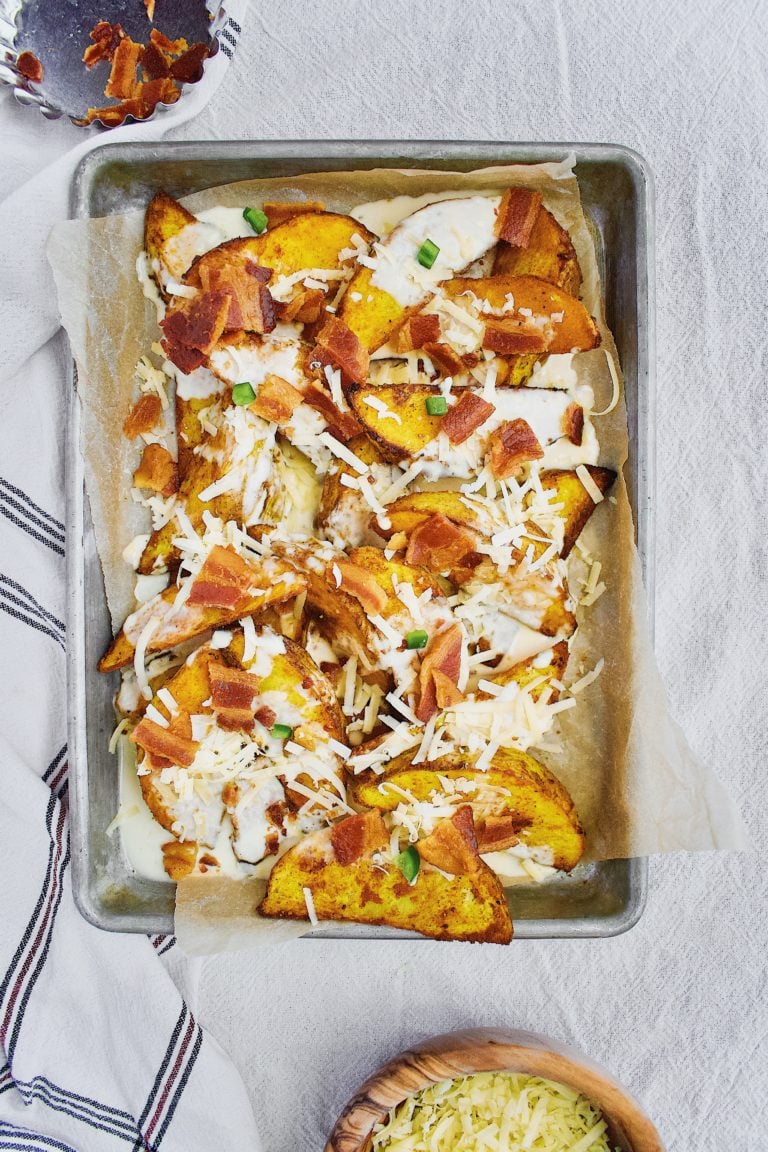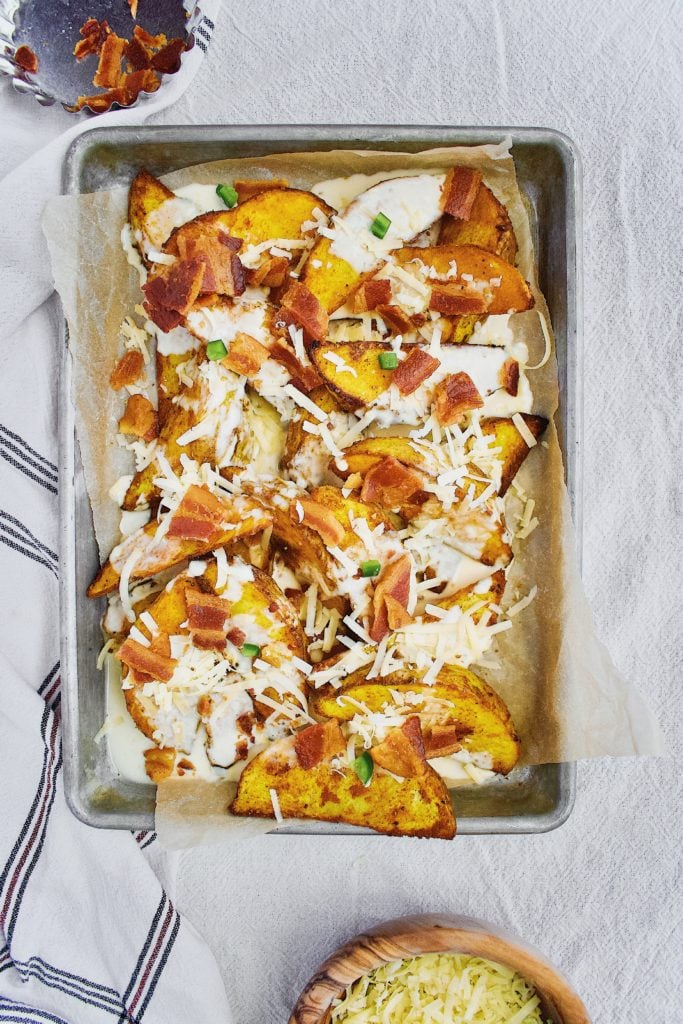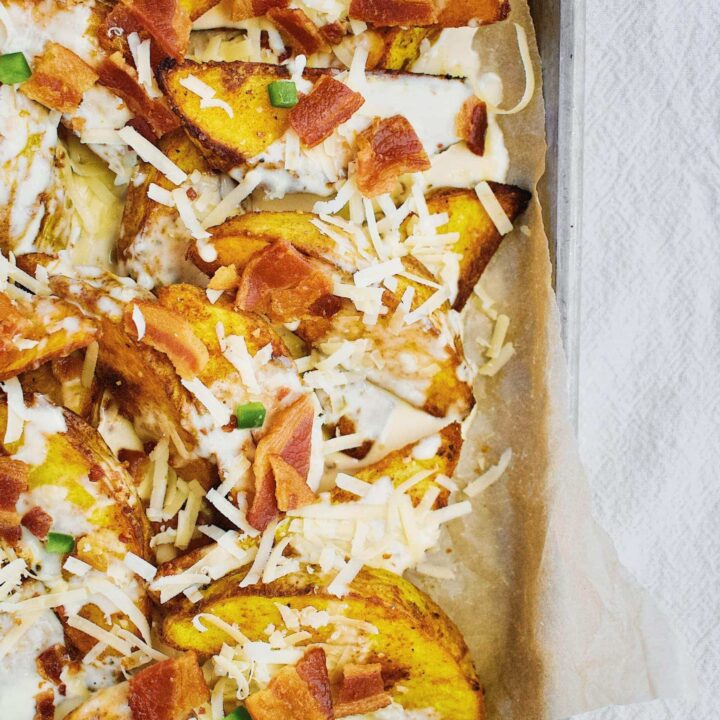 Turmeric Cheese Fries
What is better in life than potatoes, bacon, and cheese? Nothing right? Well, you're in luck because these potatoes wrap all that goodness up in a beautiful little package!
Ingredients
For the Potatoes:
2 lb Yukon Potatoes, cut into wedges
2 teaspoons Vegetable Oil
1 teaspoon Turmeric
1 teaspoon Kosher Salt
1 teaspoon Sweet Smoked Paprika
½ teaspoon Roasted Garlic Powder
½ teaspoon Cracked Black Pepper
4 sliced Bacon, cooked
½ Jalapeno, diced
For the Cheese Sauce
1 teaspoon Vegetable Oil
¼ cup Yellow Onion, chopped
¼ Jalapeno, sliced
1 teaspoon Black Peppercorns
¼ teaspoon Kosher Salt
½ tablespoon White Vinegar
1 teaspoon Dry White Wine
1 cup Heavy Cream
2 cup White Cheddar Cheese, reserving a handful for topping
Instructions
For the Potatoes:
Preheat the oven to 425˚F
Heat a 4qt pot filled halfway with water over high heat and bring to a boil. When the water has reached a boil season the with 2 t of salt and gently place the potatoes in the water and boil for 6 minutes.
Remove the potatoes for the water and place them on a lined sheet pan. Let them cool till they can be handled and toss them in the oil, turmeric, salt, paprika, garlic powder, and black pepper. Toss to coat and lay them out in a single layer on the sheet pan.
Bake in the preheated oven for 30 minutes, flipping halfway through cooking. Cook 5-7 minutes more if needed to crisp.
For the Cheese Sauce:
In a small saucepan, heat the oil over medium-low heat and add the onion, jalapeño, peppercorns, and salt to the pan. Cook until the onions are translucent, add the vinegar and wine and continue cooking until almost all the liquid has evaporated.
Add the cream and remove the mixture from the heat. Set aside and let it steep to infuse the flavors.
Return the pan to the stove and bring the cream to a simmer.
Place the cheese in a heatproof bowl and strain the hot cream over it.
Stir gently until the cheese has completely melted.
Top the crisped potatoes with the cheese sauce, bacon, jalapeño, and reserved cheese.
Serve immediately and enjoy!
Notes
The jalapeño and bacon are optional toppings, feel free to use them or leave them off, the cheese sauce is amazing on its own!
Nutrition Information:
Serving Size:

1 grams
Amount Per Serving:
Unsaturated Fat:

0g
If you make this recipe, please let me know by leaving a review at the bottom of this page!
And make sure to sign up for my newsletter and follow along on Instagram, Pinterest, and Facebook for more KendellKreations!
MY LATEST RECIPES!
Get my NEW e-Cookbook here!! ⬇️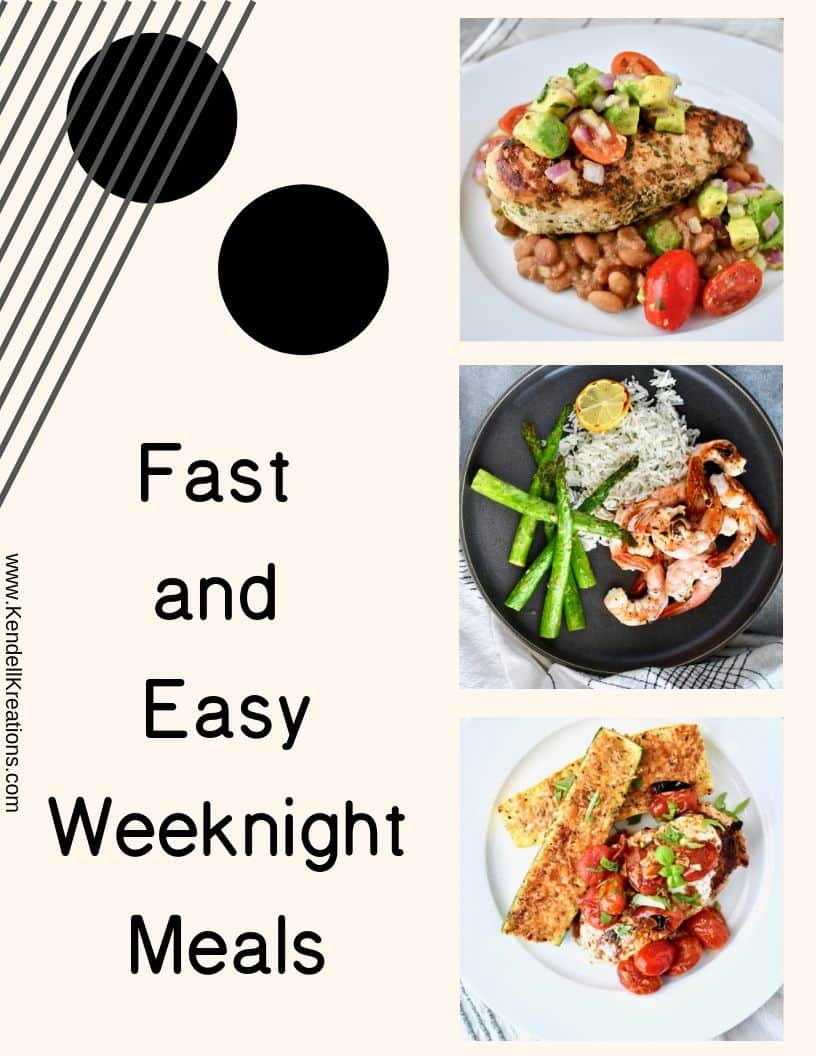 MY FAVORITE KITCHEN TOOLS!
Here are a few links to some of my favorite kitchen tools! You get a car, YOu get a car, YOU ALL GET A CAR…in my best Oprah voice
These Rösle Silicone Tongs are a little pricey but they will last you the rest of your life and are the softest in your hand. This is important for someone like m that cooks so much. It reduces strain, I have 4 sets in my kitchen!
These are my FAVE Nordic Ware Sheet Pans, every kitchen should have at least 2 sets of these! I think I have at least 4 of each of these.
This is my favorite pressure cooker, the Fagor is the same concept as the "Instant Pot" but easier to use in my opinion, if you don't have one you NEED one, it will be your best friend in the kitchen!
A sharp knife is the most important tool in the kitchen, these Japanese steel "Shun" knives are my favorite! And this is a great starter set to build on. Once you try them you will be in love so use this as a foundation you can build on for years to come.
This Scanpan 11″ skillet is just the right size for almost anything you will need to cook and my best friend and a real workhorse in my kitchen, it's also a great deal at $99. Scanpan is the best in the world for healthy cooking. It is coated with a proprietary ceramic-titanium coating that is durable while allowing you to use fewer fats and oils when cooking. It is a coating only they use. I could talk all day about my love for these pans, message me if you want more info. Here are some other sizes that are available if you are looking to outfit your kitchen with some new goodies. 8″ & 10″ Skillet set or 8″ Skillet, I still need this one for my kitchen Also, I don't really know how to cook small so the 12.5″ is my other fave!
This giant vat of olive oil is my favorite, I decant it into a smaller bottle for my counter. Or put this spigot on top of a wine bottle!
My favorite baking dish that is so easy to clean even burnt on cheese slides right off!
This Tovolo jar scraper has to be my single favorite kitchen tool, it is definitely the most used tool in my kitchen. If you are NOT a gadget person, this is the only necessity I say is a MUST beyond the wooden spoon.
A great wood spoon is essential, this Olive Wood one is my favorite, I have more than I can count. But can you really ever have too many?
A food scale can be a very important tool in your kitchen, this one is the one I use every day!
If you love Joanna Gaines as much as I do then the 'Magnolia Table Cookbook' is a must in your kitchen, get a copy HERE!