Baba Ghanoush, also spelled baba ganoush or baba ghanouj, is a Lebanese appetizer made of mashed eggplant that is blended with various seasonings and flavorings. I give this version my personal spin with some toasted garlic that gives it a rich deep flavor you will love!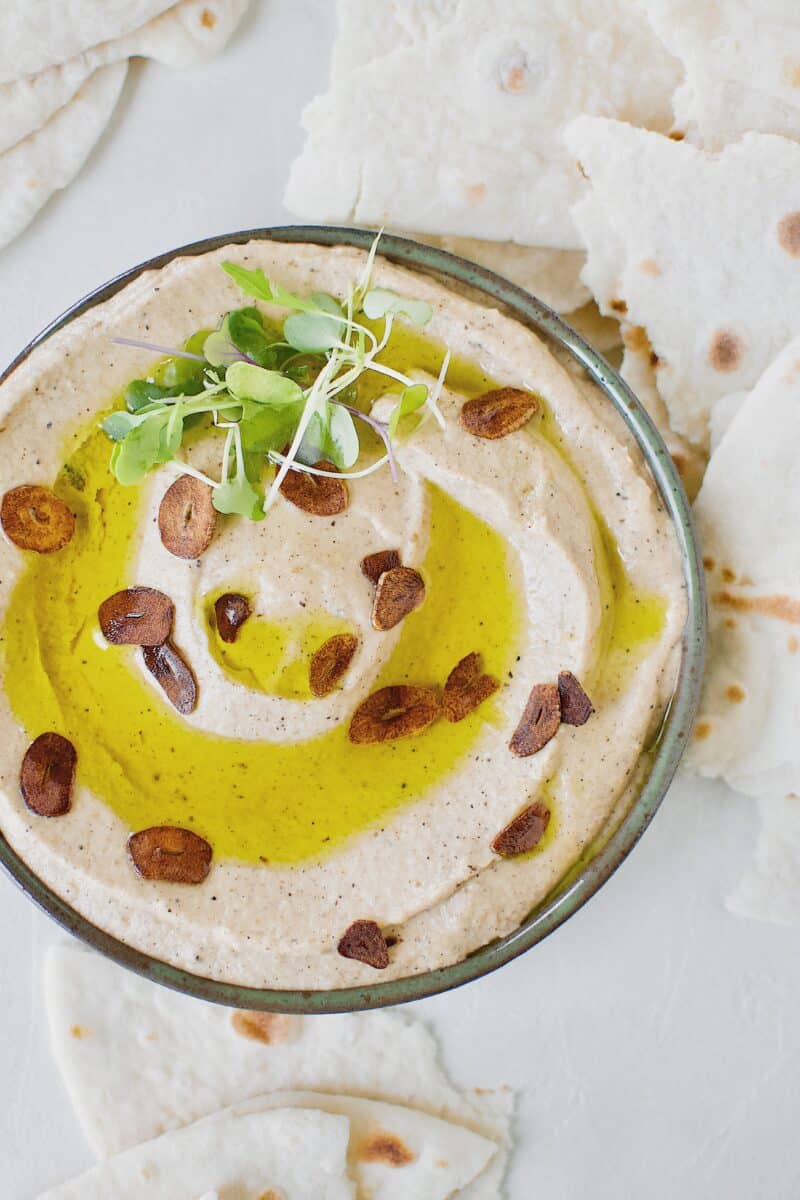 Baba Ghanoush is often served with hummus, or like hummus, but the main difference between them is that hummus is chickpea-based, and Baba Ghanoush is eggplant-based. And while both are very healthy, Baba Ghanoush packs more vitamins and a lower calorie count. As far as flavor it has more of an earthy tone, opposed to hummus which is nuttier.
Jump to:
Ingredients
Classic Baba Ghanoush is made of eggplant that has been charred on the grill or over hot coals, then removed from the skin, mashed and seasoned. I take this version a little further by toasting some garlic in olive oil and pureeing some into the roasted eggplant in a food processor.
Other than that this is a very classic Baba Ghanoush made with lemon juice, olive oil, and a little salt and paprika. The tahini paste is optional, but because I puree my dip in the food processor I like to add it to help smooth everything out.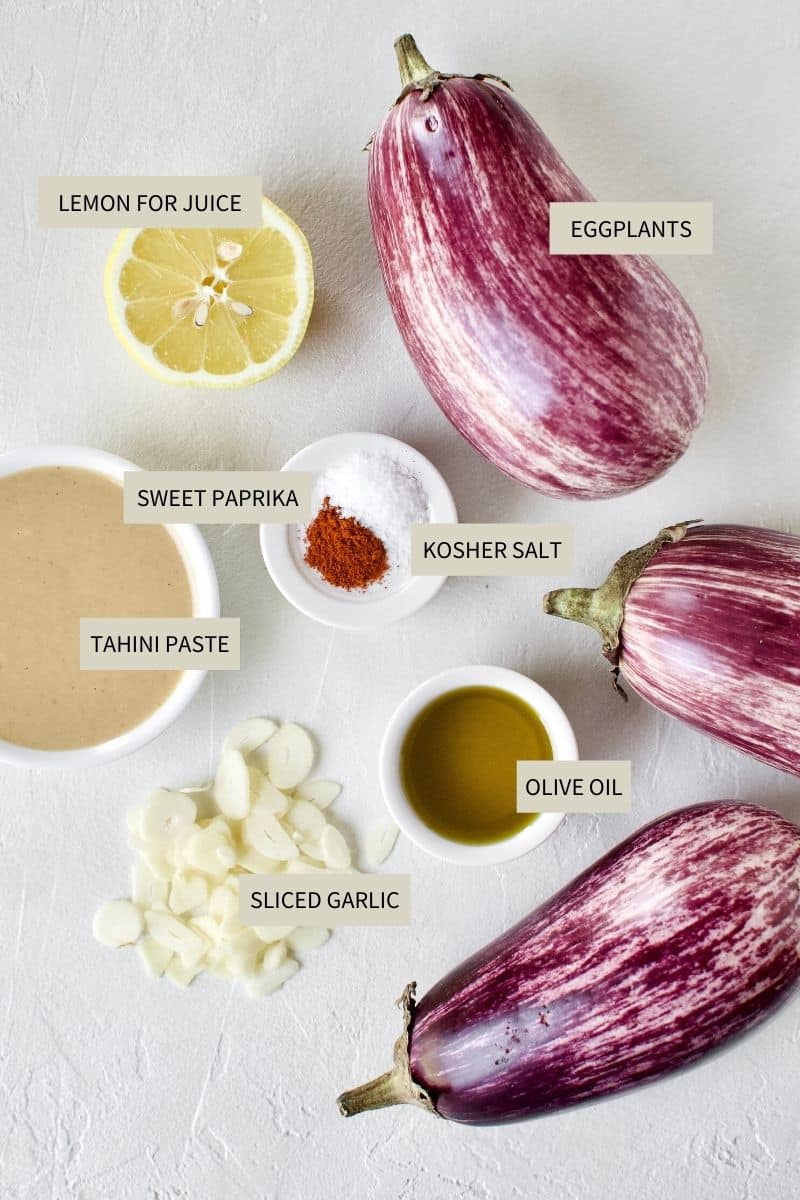 Use really good olive oil, it will shine through everything. You want to taste it and you want that flavor to be great. There have also been an array of studies done that shows olive oil does not degrade when heated, so I also use the same good olive oil I blend into this dip, to toast the garlic and roast the eggplant.
Use the JUMP TO RECIPE button at the top of the post, or scroll to the bottom of the post to see the full recipe card with ingredient measurements and instructions.
Method
The first thing I do to make this Baba Ghanoush is toast the garlic. I thinly slice the garlic on a mini mandoline then place it into a little skillet, cold, with just enough olive oil to coat the bottom. Then heat it over medium-low heat until the garlic slices are golden brown. Then pull them out and let them drain on a paper towel.
Next, season and grill the eggplant. I use that super flavorful garlic oil to coat the eggplant, and season it with a little salt. Roast it over a hot grill until dark golden brown and charred on the skin side.
When the eggplant comes off the grill, cover it with plastic wrap so the eggplant will steam as it cools, and make it easy to remove the skin. Use a spoon to scoop out the eggplant inners after it cools.
Then place the roasted eggplant and all the remaining ingredients, and half the toasted garlic into a food processor and blend until smooth. 60-90 seconds. I like my Baba Ghanoush very smooth. If you like it chunkier, you can just mash the eggplant and stir in the remaining ingredients.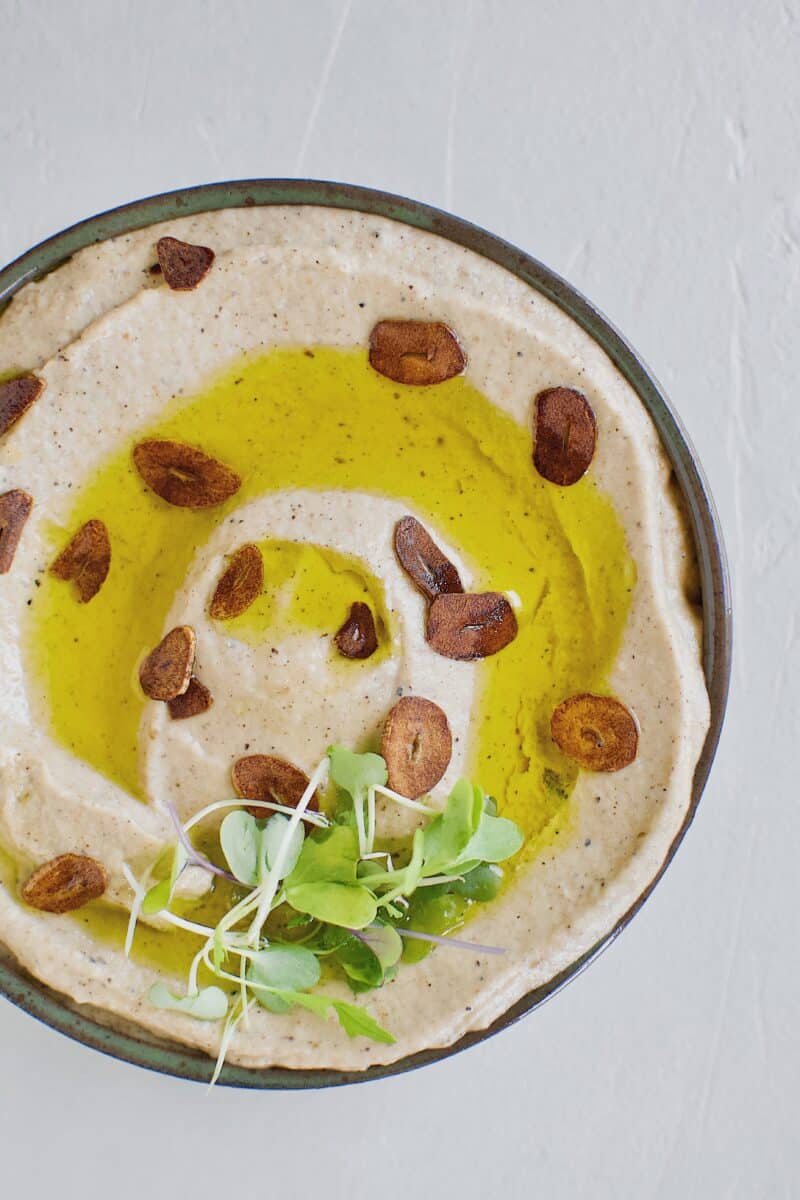 Notes & Tips
Baba Ghanoush should be a little bitter. Some of the bitterness will come from the eggplant being charred on the grill. Bitterness can also come through from the tahini paste. Taste your tahini, some brands can be over roasted leaving the tahini paste bitter. Find one that has a little sweetness to it.
Another way to reduce the bitterness of this dip is to allow the eggplant to rest with salt on it for about 30 minutes before coating it in the olive oil. The salt will pull out the bitterness in the eggplant itself.
The perfect pairing for Baba Ghanoush is fresh pita bread, and sturdy raw vegetables like carrots, cucumber, and celery. Bell pepper sticks and radishes are great too!
While Baba Ghanoush is typically eaten cold, I enjoy serving it just after I make it while it is still slightly warm. It is enjoyable either way.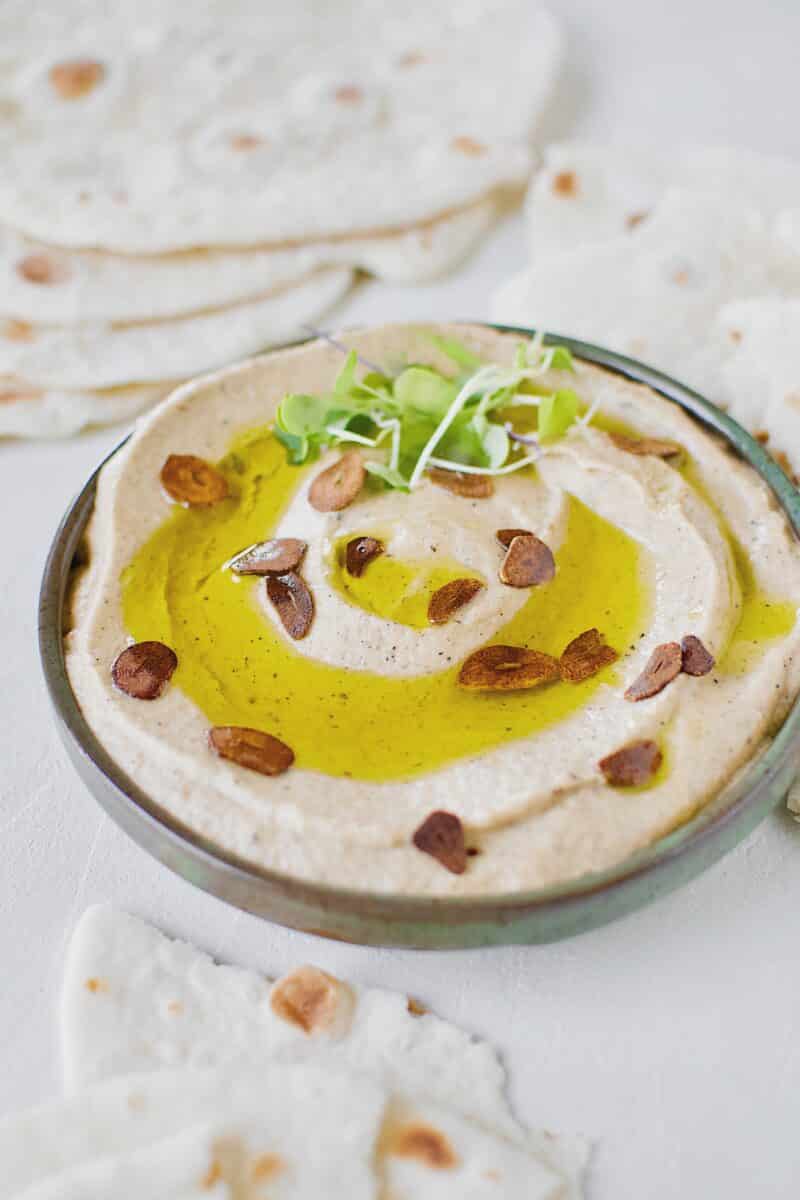 Substitutions
If you would like to make a more classic Baba Ghanoush, you can leave the garlic out. Follow the remainder of the recipe as it's stated.
The tahini paste is an ingredient I like to use because I puree my Baba Ghanoush. You can eliminate it if you don't have it or don't like it. Or if you just mash your dip instead of pureeing it.
I enjoy using paprika here. It gives it a slightly subtle sweetness and builds on the smoky-ness of the charred eggplant. You can eliminate it if needed, or swap it for fresh cracked black pepper.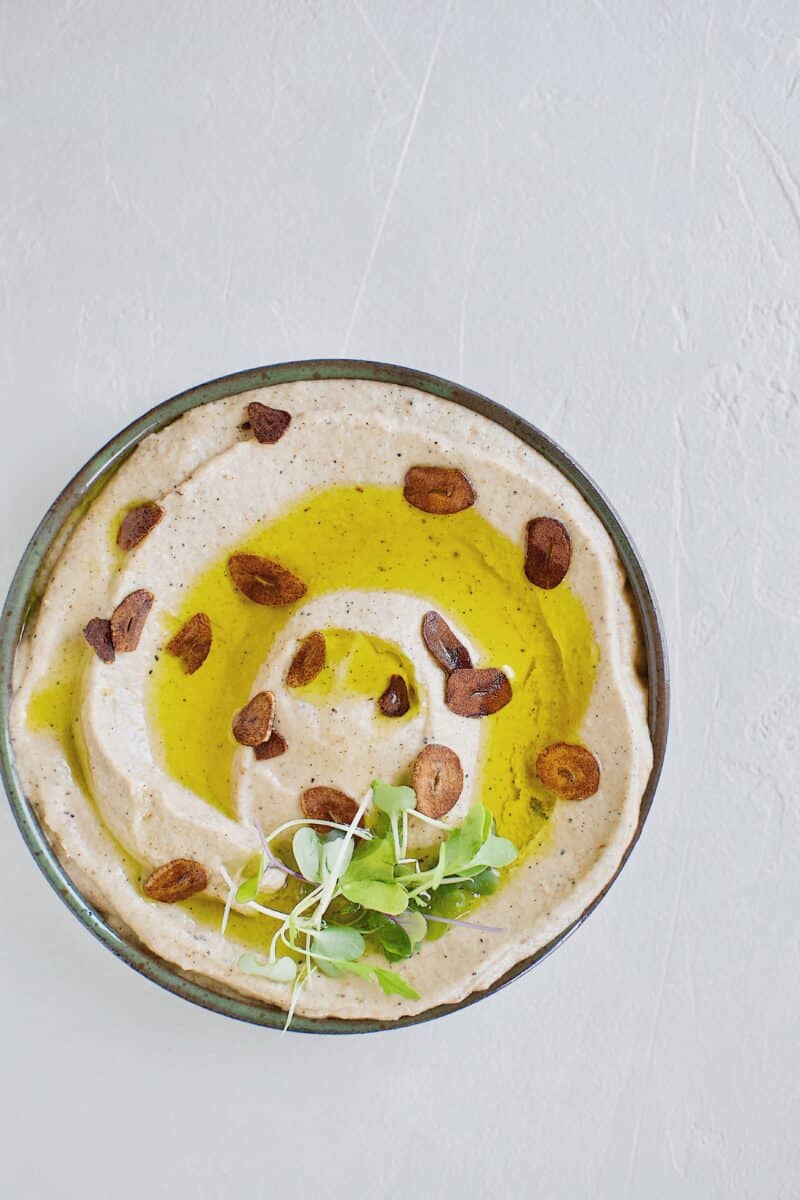 More Mediterannian-Style recipes
Mediterranean​ Saffron Chicken and Mushrooms
Greek Lemon Rice Soup - Avgolemono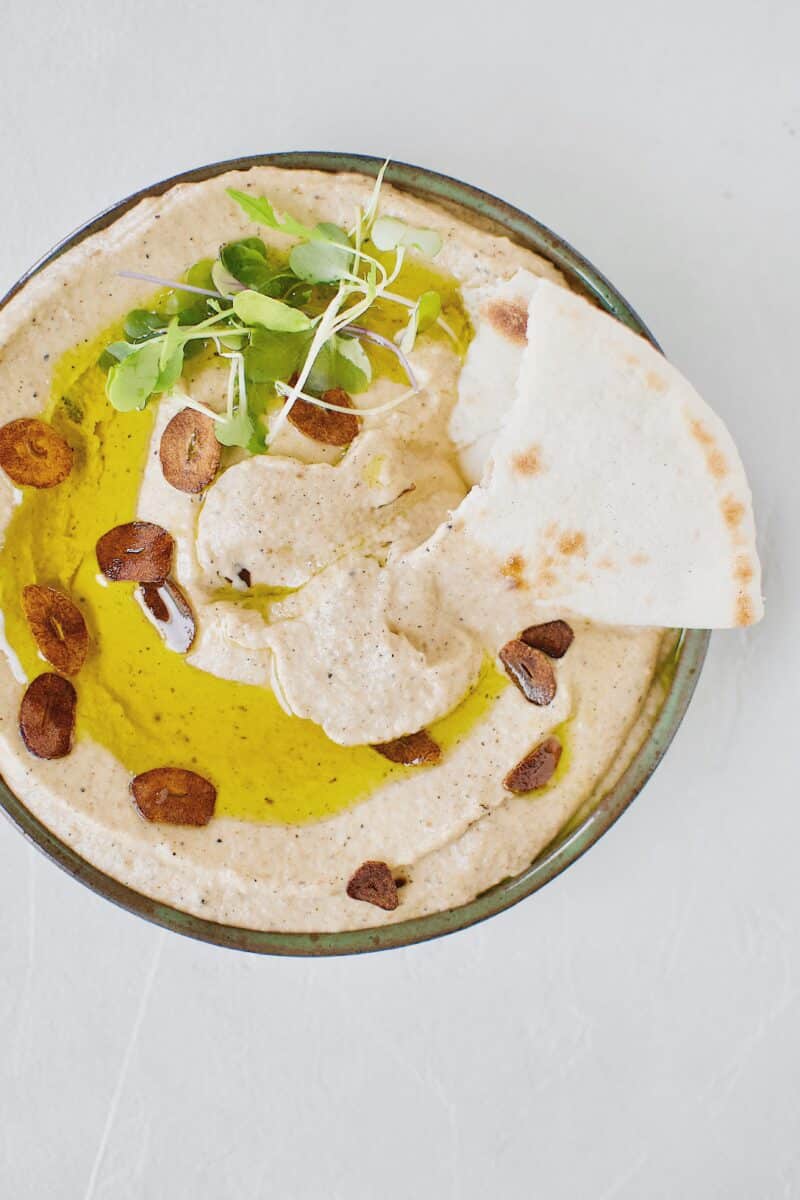 Did you make this recipe? Let me know by leaving a review or comment! And be sure to sign up for my newsletter, and follow along on Instagram, Pinterest, and Facebook!