This recipe for Carne Asada Marinade yields you the most flavorful fajitas you have ever had. But don't stop there, you can use this to make steak fajitas, nachos, tacos, or burritos. It is THE base recipe you want to use, and the longer you let it rest in the seasonings the better and better it will taste.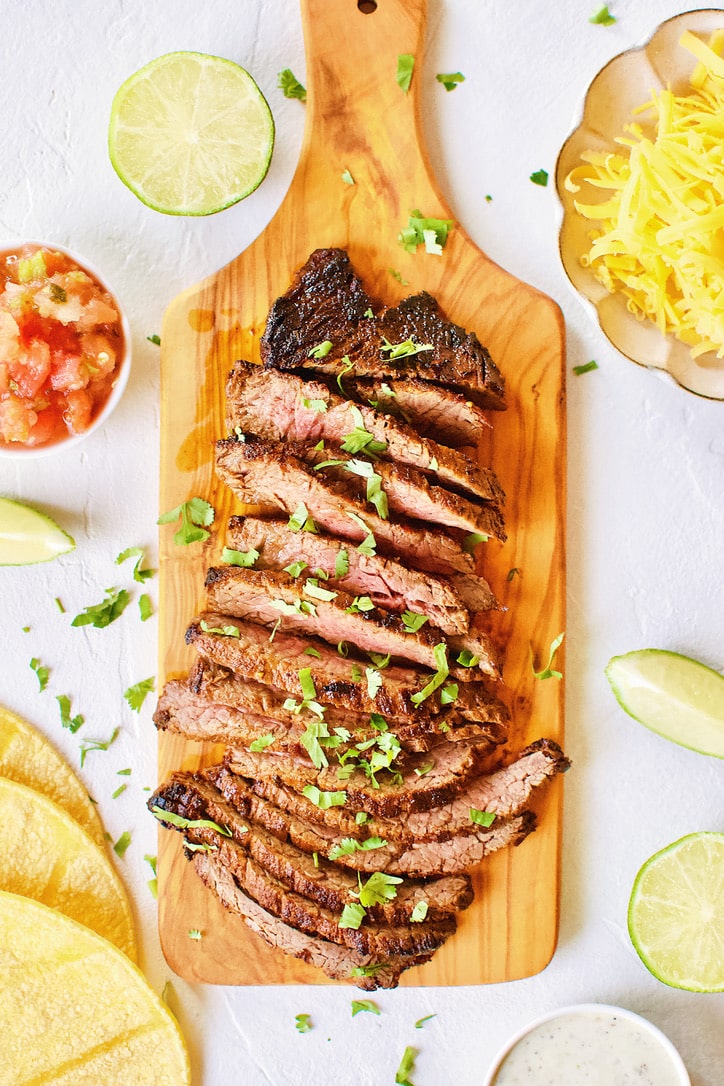 Jump to:
I use this recipe to make steak fajitas, but the leftovers make for great nachos, or quesadillas too. I like to let the meat shine and simply add a sauce, salsa, some cheese, and a squeeze of lime. But feel free to saute some onions and peppers and add them to your tacos if you like. Or just dress some tortillas with the meat, and some onions and cilantro with some lime to make them street taco style.
But for now let's focus on the marinade.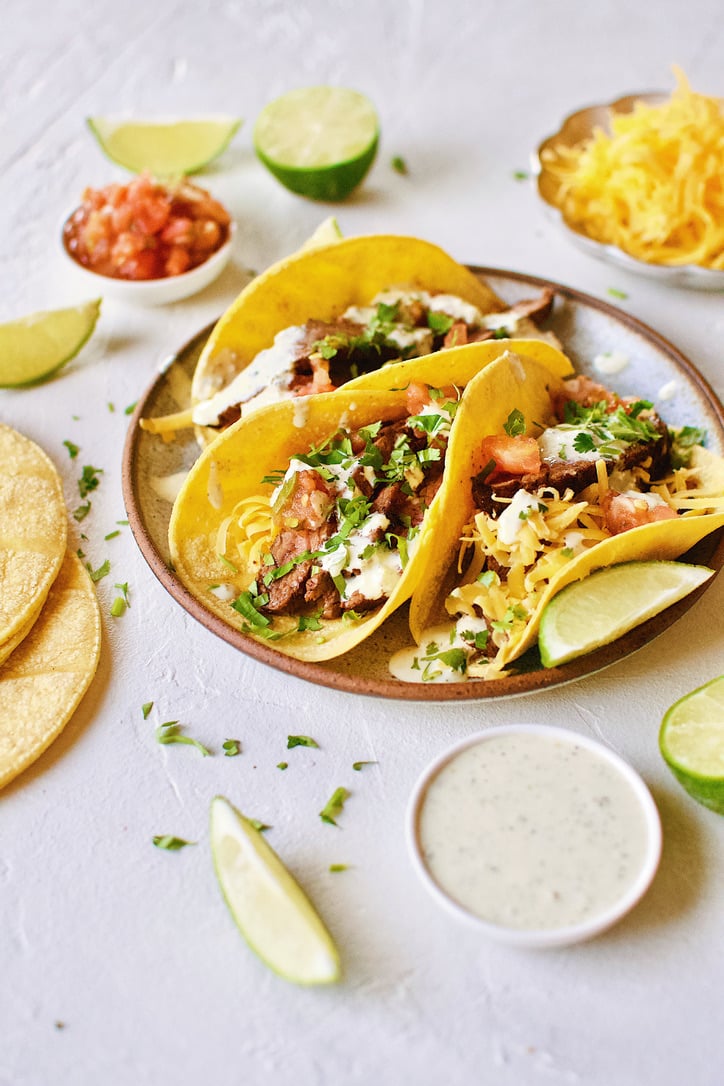 Use the JUMP TO RECIPE button at the top of the post, or scroll to the bottom of the post to see the full recipe card with ingredient measurements and instructions.
Ingredients
There are a few key ingredients in this Carne Asada Marinade that play very important roles in tenderizing the meat and infusing it with flavor.
Citrus - Citrus helps break down the tough membranes in the meat, making eating much more enjoyable. This will help you from pulling all the meat out of your taco on the first bite, you know what I mean! I like to use tangerine and lime juice personally.
Tequila - The alcohol acts as a tenderizer much like the citrus does. But it goes to the next level and really brings a super enjoyable eating experience.
Soy Sauce - This brings a deeper flavor, salt, and umami. The addition is welcome and is one I will never leave out. It will also bring caramelization to the meat, as does the citrus, during cooking.
Olive Oil - This acts as a preservative for the meat while it rests in the refrigerator and is needed to crisp the meat during the cooking process.
Seasonings, Spices, and Herbs - Salt and Pepper, cumin, and chili powder bring authentic Latin flavors to the meat, as well as welcome spice. And I am a huge fan of the light earthy flavor of the cilantro, but if you are a supertaster and don't prefer it, feel free to leave it out.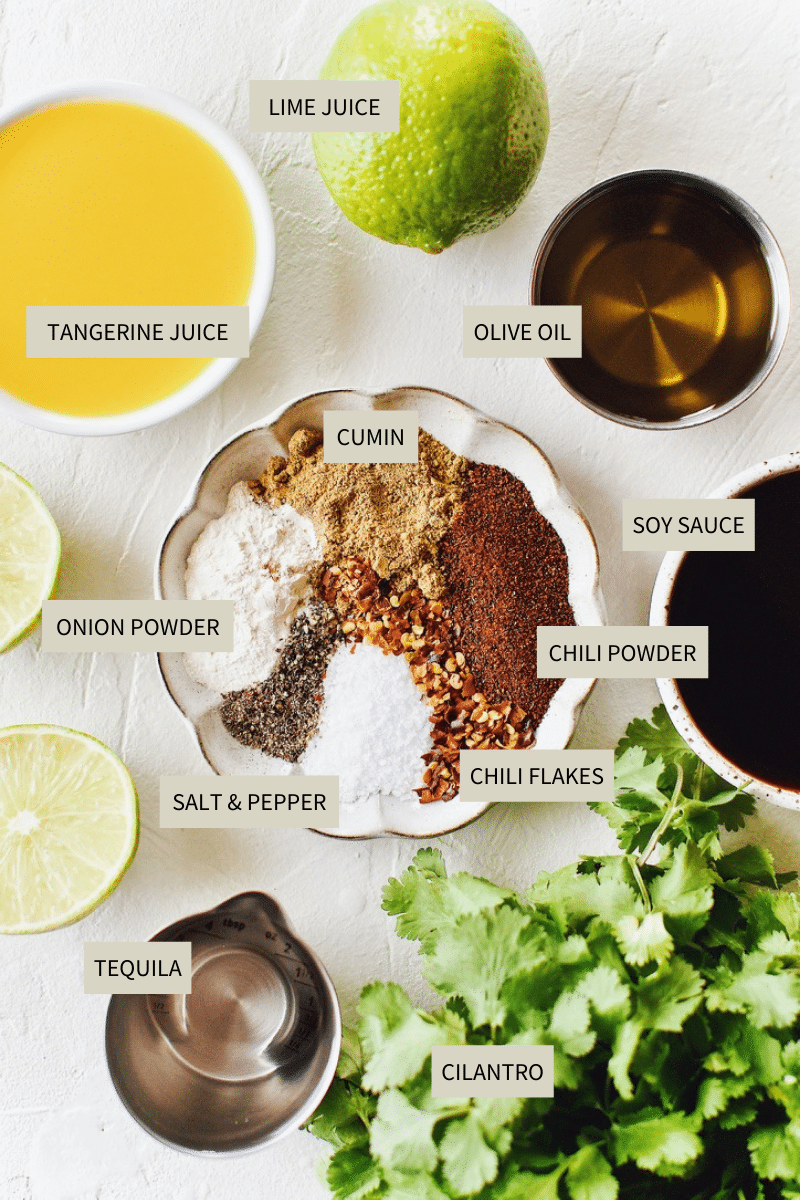 Method: Marinating the Steak
Combine all the ingredients in a bowl or a marinating container. Whisk it all together to evenly combine. Place the steak in it and let it rest on the counter for 30 minutes, turning it every 10 minutes.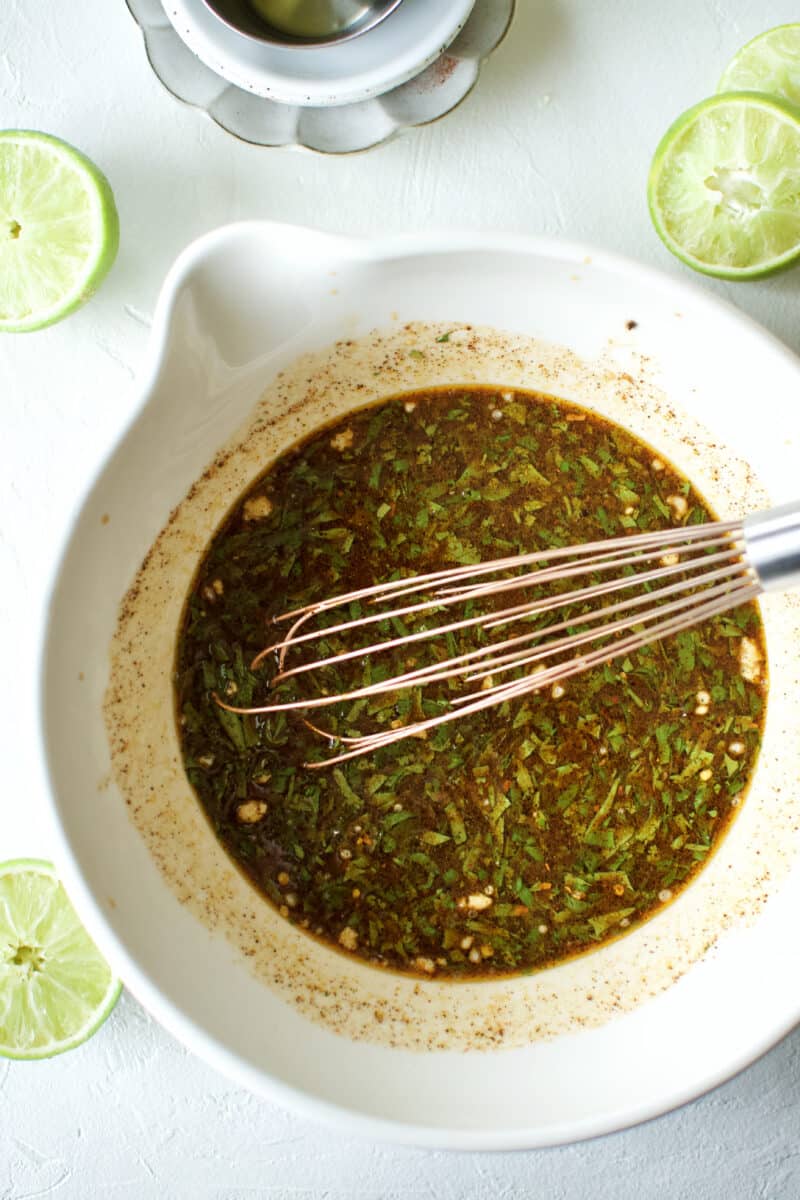 Store in the fridge until ready to use. The steak can be placed in the marinade up to 5 days before you want to use it, but I would do it a minimum of overnight. The longer you let it sit the better it will taste.
Cooking the steak
In my opinion, you want to cook this steak on a griddle or in a hot skillet. Be sure it is smoking hot and give it a quick sear, so you get a perfect browning and crip outside. Doing this brings tons of flavor to the meat.
Like my Chefs in Culinary School said, "Caramelization = Flavor!". That brown outside is part of what makes this recipe great. You can grill this meat, but cooking it plancha style is preferred.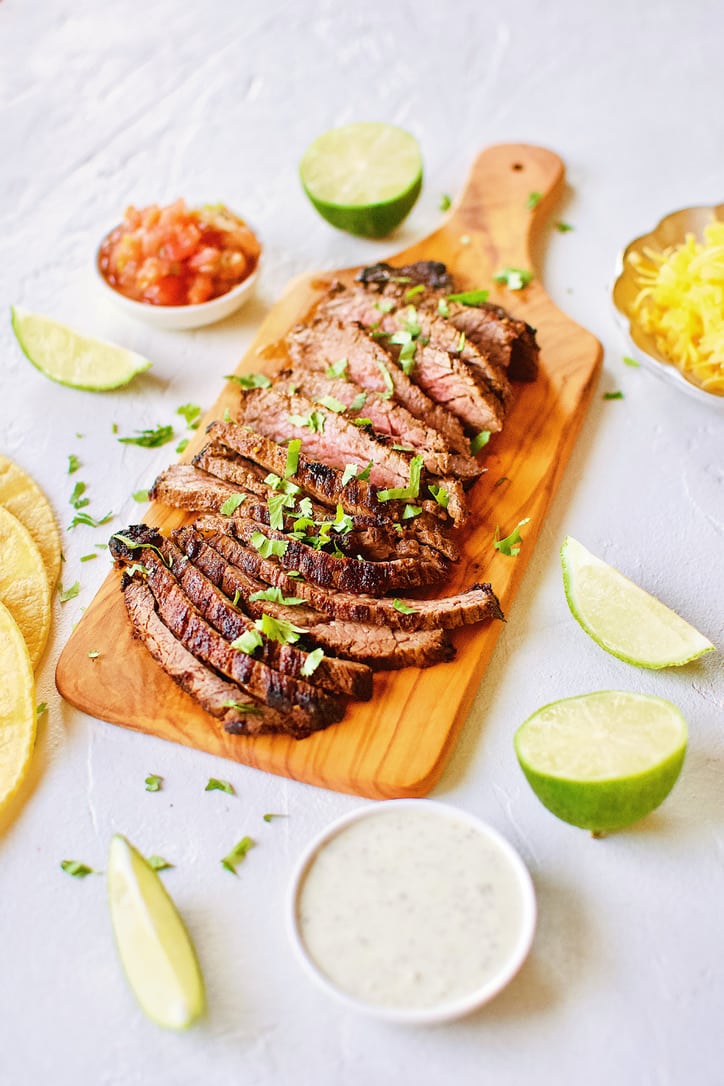 Notes & Tips
The cut of meat you use for this recipe will come in long strips. Be sure to cut it down into more manageable pieces. Cut with the grain of the meat to make pieces that will fit into your tortilla, after cooking you will cut against the grain for eating.
This marinade and cooking method for steak can be used to make Fajitas, Burritos, Quesadillas, Nachos, Street Tacos, Birra Tacos, or Burrito Bowls. I make a big batch for fajitas and then oftentimes use the leftovers for any/all of these suggestions.
If using the bag method, you can also freeze the marinated meat after an initial couple of hours of marinating time. I usually buy double the amount of meat and double my marinade and put half away for fajitas or tacos another time. Why not get 2 meals out of one!?
Substitutions
You can use this marinade for any cut of meat you like. If you can not find the Beef Loin Flap Meat Steak, you can use sirloin, skirt steak, flank steak, or if you are feeling fancy once in a while I make my fajitas with beef tenderloin steak.
If you are a super-taster and just can't do Cilantro, swap it for Mexican oregano, or parsley.
The tequila is an important ingredient here. It helps break down the meat and makes it even more tender. But if you don't have it or don't want to use it you can leave it out completely.
Any oil will work, I like to use olive for the extra flavor, but you just need some fat for when you cook the meat, and liquid oil will work.
When it comes to the citrus juices, I use tangerine and lime, but any variation you love will work. Feel free to experiment with it.
As far as the spices go, if you have a premade fajita seasoning you love, feel free to use that. The ingredient list looks a little long, but that is just because I essentially make my own fajita seasoning that I add to the marinade.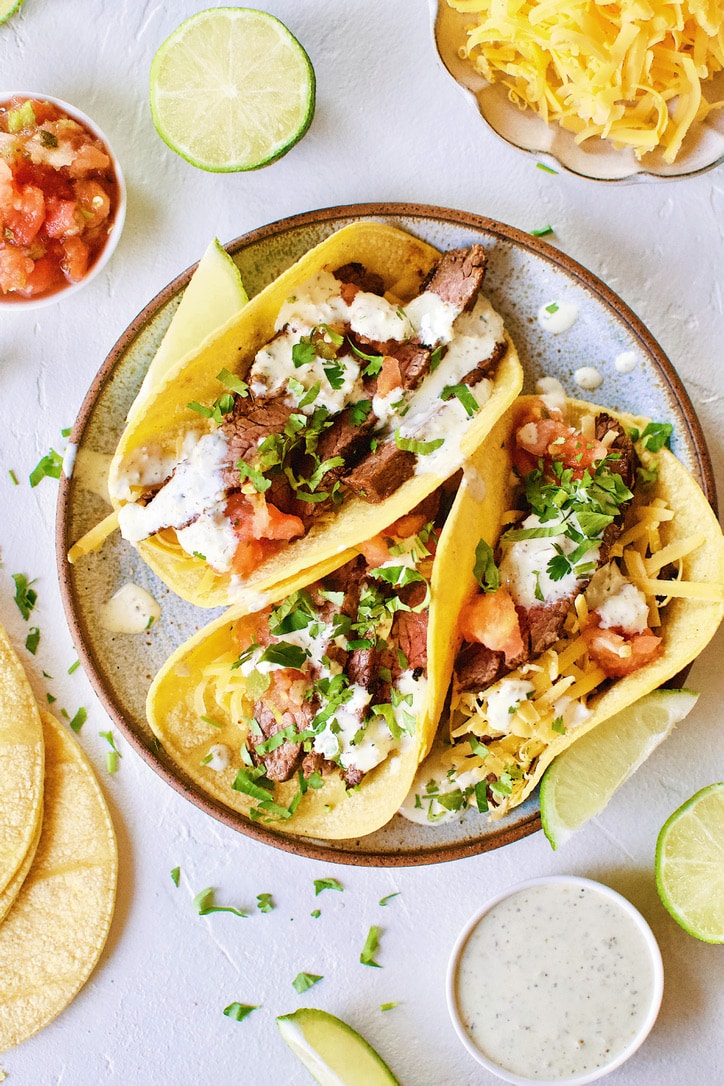 More Mexican Inspired Favorites
If you use this to make tacos, top it with my favorite Avocado Salsa or Pico de Gallo and some cheddar cheese or queso fresco.
For a refreshing drink pairing, try my Watermelon Lemonade and imagine it as a Mexican Aguas Fresca and you are sitting on the beach in Mexico!
And for more Mexican inspired dishes take a look at these:
Creamy Chicken Enchilada Casserole
Did you make this recipe? Let me know by leaving a review or comment! And be sure to sign up for my newsletter, and follow along on Instagram, Pinterest, and Facebook!