This recipe for Mac n' Cheese Waffles is a riff off of a restaurant item I had where I live. I think it is a genius take on Chicken & Waffles and it is so stinking delicious. If you follow the recipe fully I can almost guarantee love at first bite.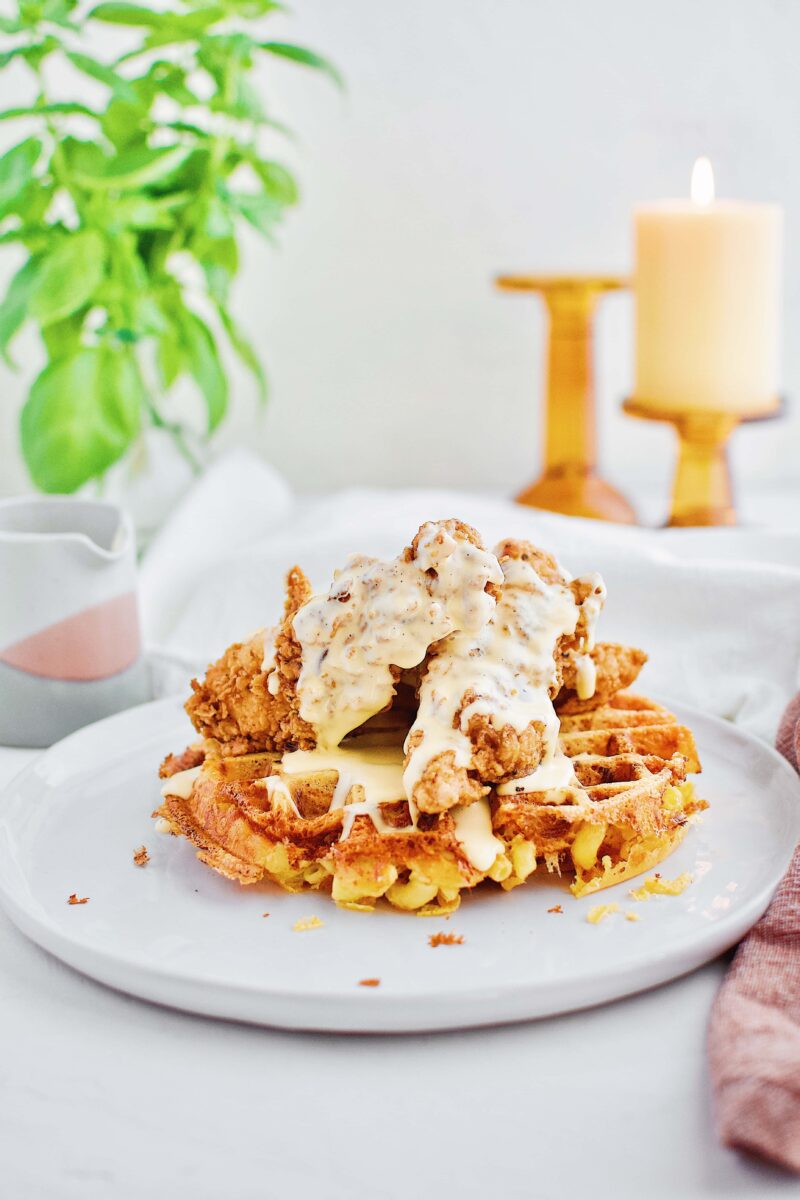 Creating the tastiest waffle EVER!
Now I know this recipe is a little more work than usual, but it is sooooo good that I am willing to work for it once in a while! The whole base of everything is the "Syrup" as I like to refer to it as. Be sure to invest in a good block of cheese for this one, I like to go with the Tillamook Extra Sharp Cheddar because it has so much extra flavor.
The extra sharp isn't usually my go-to favorite cheese, I am a regular cheddar guy most of the time, but that won't cut it for sauce because the flavor will be getting diluted by the milk. I also buy a whole block and shred it myself because pre-shredded has an anticaking agent that will keep your sauce from becoming EXTRA smooth.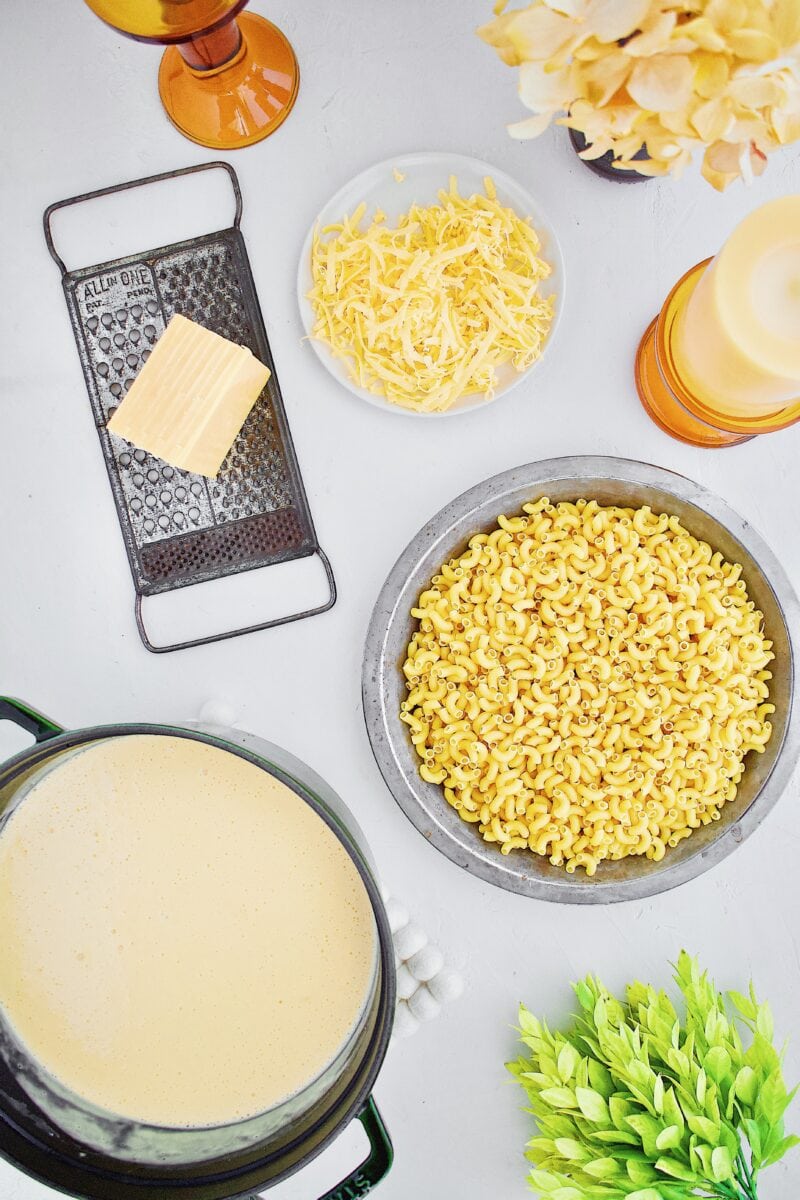 The BEST fried chicken
Ok, I think that I have officially found THE BEST fried chicken, at least the best I have ever had. The key is marinating it in a buttermilk spice blend for a day or two. I actually let this one sit 3 days, and lemme just say, you should too, it was THE BEST fried chicken I ever tasted!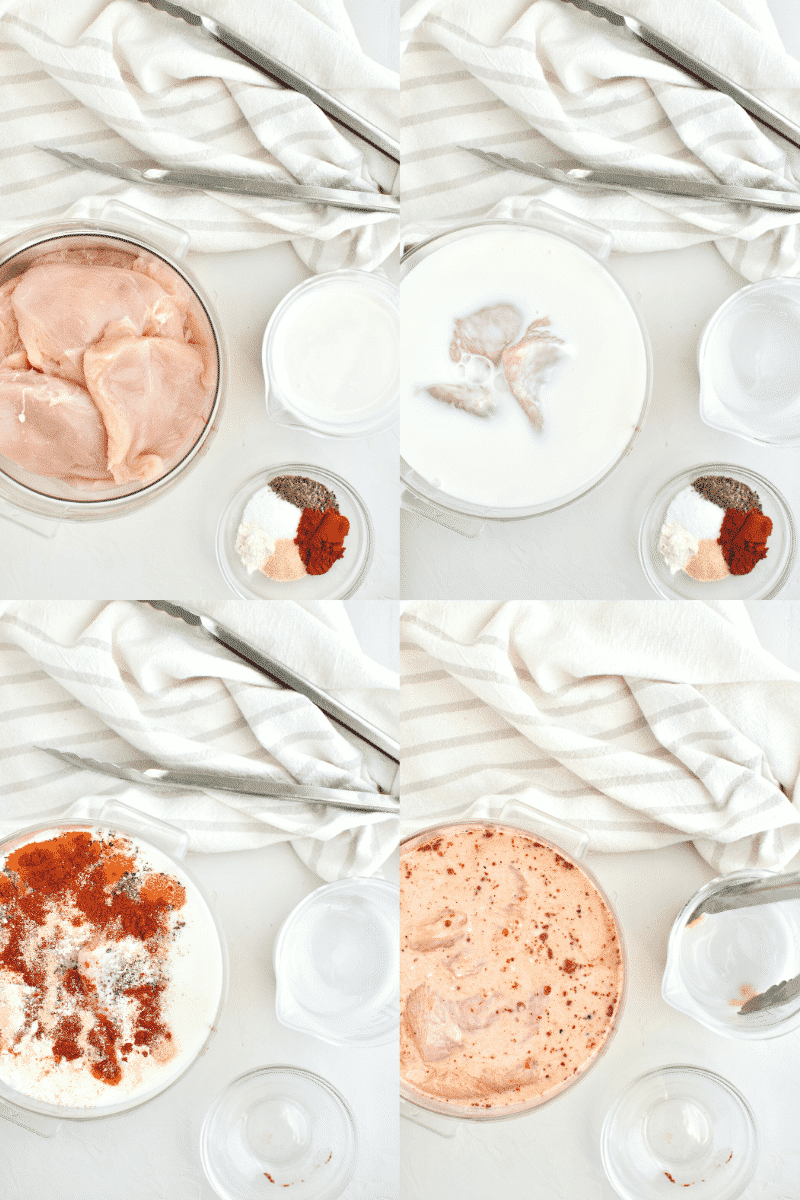 The buttermilk brine tenderizes the chicken and keeps it super moist while cooking. And when in doubt the longer you can let it soak, the better.
I then just remove it from the buttermilk brine and toss it right into some seasoned flour and it is ready to hit the hot oil. This simple breading process makes this recipe super easy and quick to get on the table. In about 6 minutes the chicken is cooked and ready to eat, and it beats take out any day!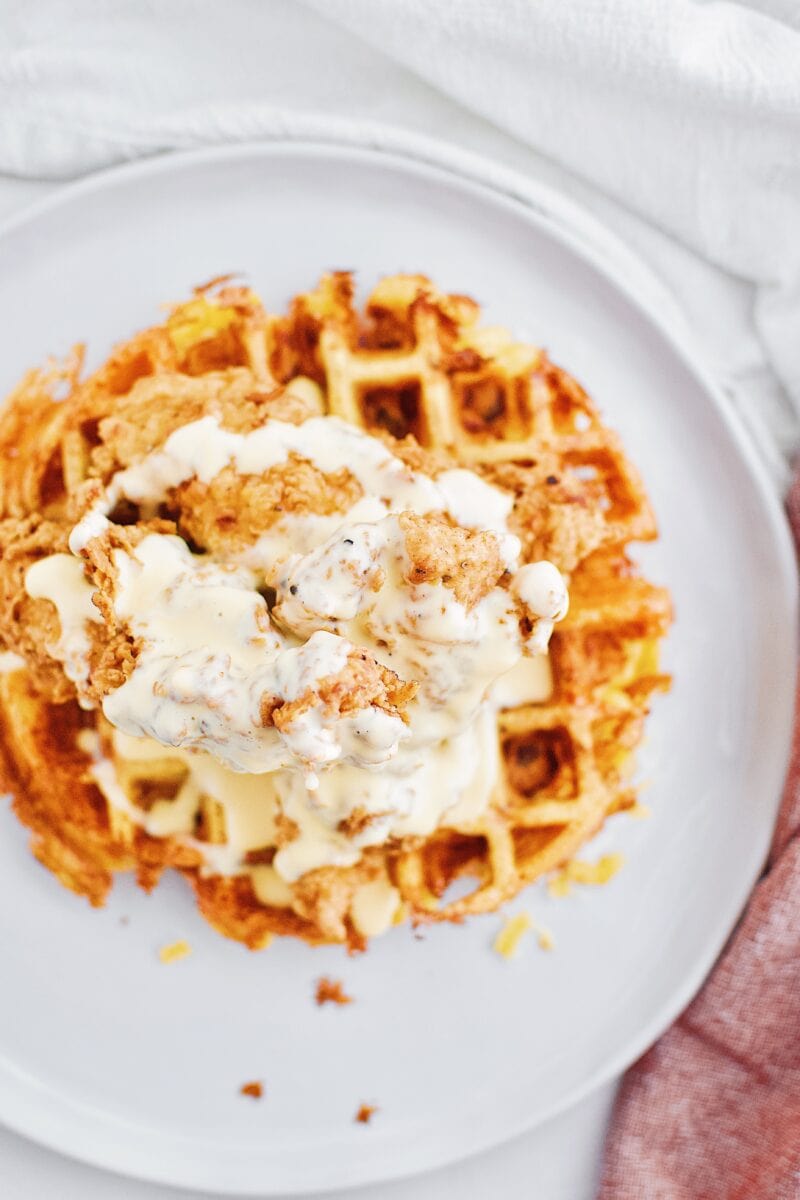 Then put the chicken on top of this Mac n' Cheese Waffle and topped with some cheddar cheese syrup, it's just so dang delicious! Be sure to bookmark this recipe even if it is just for the cheese sauce, I honestly just need an excuse to sip it with a straw. It makes for the best Chicken & Waffles ever!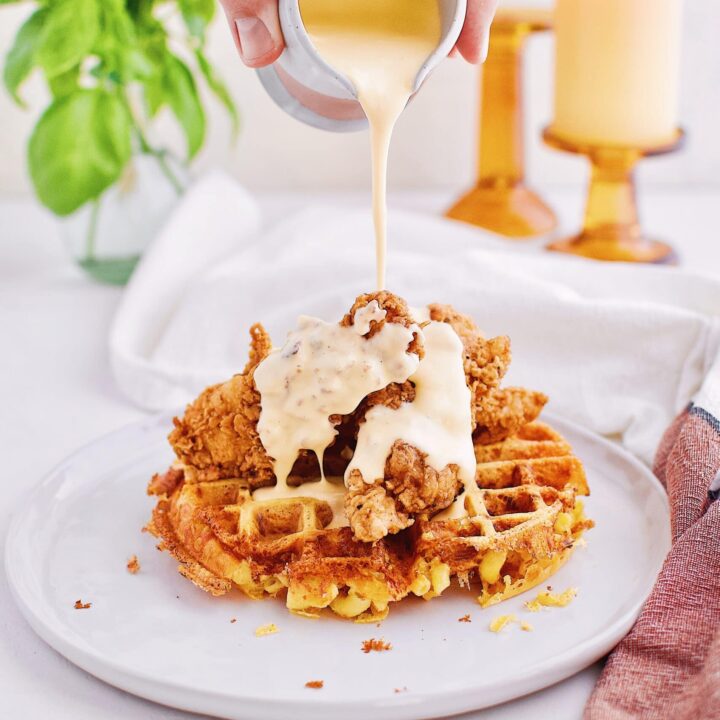 Chicken and Mac & Cheese Waffles
I first had this at a local restaurant and I am now turning it into an at home staple! I don't eat out much cause it is so much cheaper to just cook at home and I can eat til I am full instead of getting tiny portions. Not that this one is tiny, but get ready to have your socks knocked off! The chicken does require an overnight soak in buttermilk, so keep in mind you need to start this recipe the day before.
Ingredients
for the chicken:
2.5-3 lb Chicken Breast, cut into strips like tenders
2 cups Buttermilk
1 tablespoon Kosher Salt
1 teaspoon Black Pepper
2 teaspoons Hot Paprika
½ teaspoon Cayenne Pepper
½ teaspoon Garlic Powder
½ teaspoon Onion Powder
2 cups All-Purpose Flour
2 tablespoons Cornstarch
1 tablespoon Kosher Salt
1 tablespoon Black Pepper
½ teaspoon Garlic Powder
Corn Oil, for frying
for the waffle:
1 pound Elbow Macaroni Noodles
Kosher salt
4 tablespoons Unsalted Butter
2 tablespoons All-Purpose Flour
2 ½ cups Whole Milk
Dash hot sauce
2 pounds Sharp Cheddar Cheese, grated and ¼ pound or about 2 cups reserved
Instructions
for the chicken:
The night before, combine the chicken pieces, buttermilk, salt, pepper, paprika, cayenne, garlic & onion powders, in an airtight container. Toss the chicken in the buttermilk and place in the refrigerator for at least 8 hours, up to 48 hours. This is great to get done up to 2 days ahead of time.
To bread the chicken prepared the breading in a shallow dish by combining the flour, cornstarch, salt and pepper, and garlic powder stir to evenly combine.
Heat 2-inches of oil in a 12 inch cast iron skillet or deep heavy-bottomed pan to 325˚f.
Remove the chicken from the buttermilk soak and dip in to the flour. Flip it a couple of times pressing the flour into each pieces of chicken coating it well. Gently place each piece in to the hot oil. Cook for 2-3 minutes per side. Remove from the oil and place on a wire rack or paper towel lined platter. Sprinkle with a little bit of kosher salt.
for the waffle:
Put a large pot of water on the stove over medium-high heat and bring to a boil. Cook the macaroni noodles to the package directions. While the pasta is cooking start the sauce.
In a saucepan over medium heat, melt the butter. Then add the flour and cook, stirring constantly, for 2-3 minutes, forming a roux. Add in the milk and whisk until it comes to a boil and thickens slightly. Reduce the heat to low and add in a few dashes of hot sauce and the cheese, reserving some for making into waffles. Whisk until melted and well combined.
Reserve 1 to 1 ½ cups of the sauce for topping the waffles when serving. Place the cooked pasta in the sauce and stir to combine.
When you are ready to make the waffles, preheat your waffle iron, and if it has an adjustable heat setting turn it all the way up! Sprinkle some of the reserved cheese on the bottom of the hot iron and place 1 ½ to 2 cups of the sauced macaroni in the waffle iron, then top with some more shredded cheese and close the lid. Let the waffle cook for about 5 minutes, it is important not to open the lid for at least 5 minutes so the cheese has time to crisp an begin to release from the iron. When the iron will open easily and at least one side of the waffle will release, it is usually the bottom, open the iron and remove the waffle. It sticks a little sometimes but should come off with just a little encouragement.
Top the hot waffle with a few pieces of the fried chicken and the reserved cheese sauce. Enjoy!
Notes
For a SUPER SMOOTH cheese sauce, place this mixture in a high speed blender and blend on high until completely smooth.
Nutrition Information:
Serving Size:

1 grams
Amount Per Serving:
Unsaturated Fat:

0g
If you make this recipe, please let me know by leaving a review at the bottom of this page!
And make sure to sign up for my newsletter and follow along on Instagram, Pinterest, and Facebook for more KendellKreations!
MY LATEST RECIPES!
Get my NEW e-Cookbook here!! ⬇️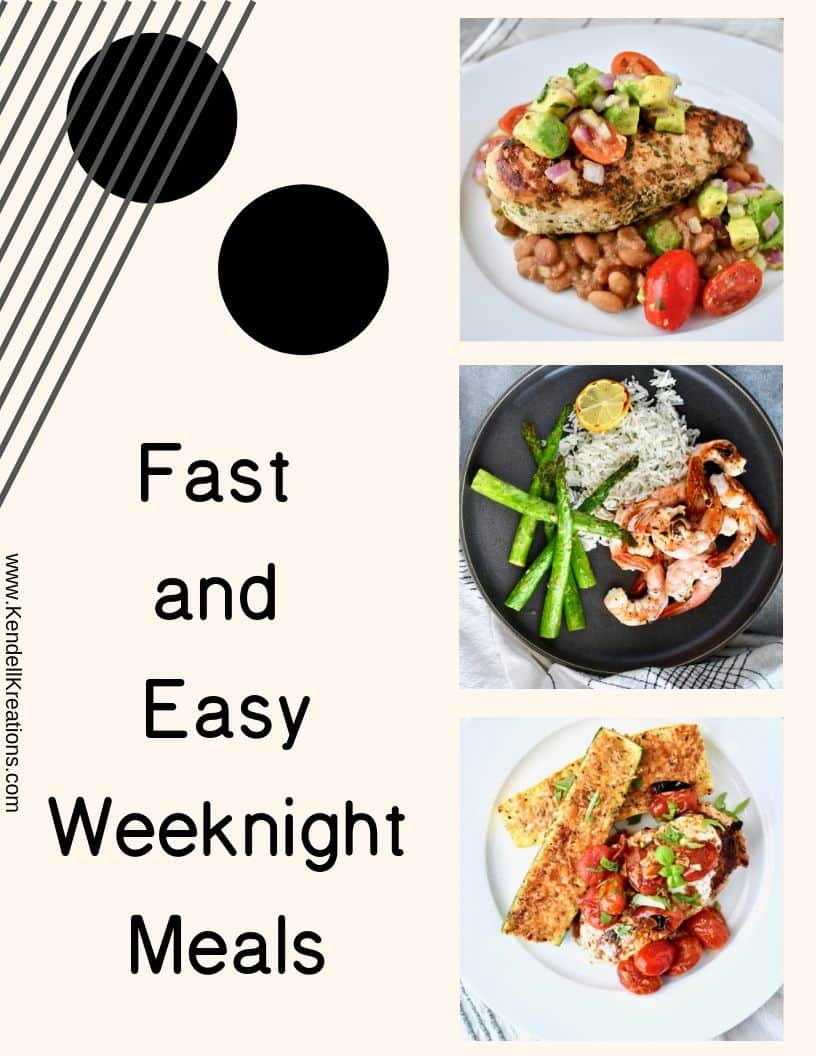 MY FAVORITE KITCHEN TOOLS!
Here are a few links to some of my favorite kitchen tools! You get a car, YOu get a car, YOU ALL GET A CAR…in my best Oprah voice
These Rösle Silicone Tongs are a little pricey but they will last you the rest of your life and are the softest in your hand. This is important for someone like m that cooks so much. It reduces strain, I have 4 sets in my kitchen!
These are my FAVE Nordic Ware Sheet Pans, every kitchen should have at least 2 sets of these! I think I have at least 4 of each of these.
This is my favorite pressure cooker, the Fagor is the same concept as the "Instant Pot" but easier to use in my opinion, if you don't have one you NEED one, it will be your best friend in the kitchen!
A sharp knife is the most important tool in the kitchen, these Japanese steel "Shun" knives are my favorite! And this is a great starter set to build on. Once you try them you will be in love so use this as a foundation you can build on for years to come.
This Scanpan 11″ skillet is just the right size for almost anything you will need to cook and my best friend and a real workhorse in my kitchen, it's also a great deal at $99. Scanpan is the best in the world for healthy cooking. It is coated with a proprietary ceramic-titanium coating that is durable while allowing you to use fewer fats and oils when cooking. It is a coating only they use. I could talk all day about my love for these pans, message me if you want more info. Here are some other sizes that are available if you are looking to outfit your kitchen with some new goodies. 8″ & 10″ Skillet set or 8″ Skillet, I still need this one for my kitchen Also, I don't really know how to cook small so the 12.5″ is my other fave!
This giant vat of olive oil is my favorite, I decant it into a smaller bottle for my counter. Or put this spigot on top of a wine bottle!
My favorite baking dish that is so easy to clean even burnt on cheese slides right off!
This Tovolo jar scraper has to be my single favorite kitchen tool, it is definitely the most used tool in my kitchen. If you are NOT a gadget person, this is the only necessity I say is a MUST beyond the wooden spoon.
A great wood spoon is essential, this Olive Wood one is my favorite, I have more than I can count. But can you really ever have too many?
A food scale can be a very important tool in your kitchen, this one is the one I use every day!
If you love Joanna Gaines as much as I do then the 'Magnolia Table Cookbook' is a must in your kitchen, get a copy HERE!