I call this homemade cheese sauce "golden cheddar syrup". One taste and you'll use it like syrup! Try it on my chicken mac n' cheese waffles!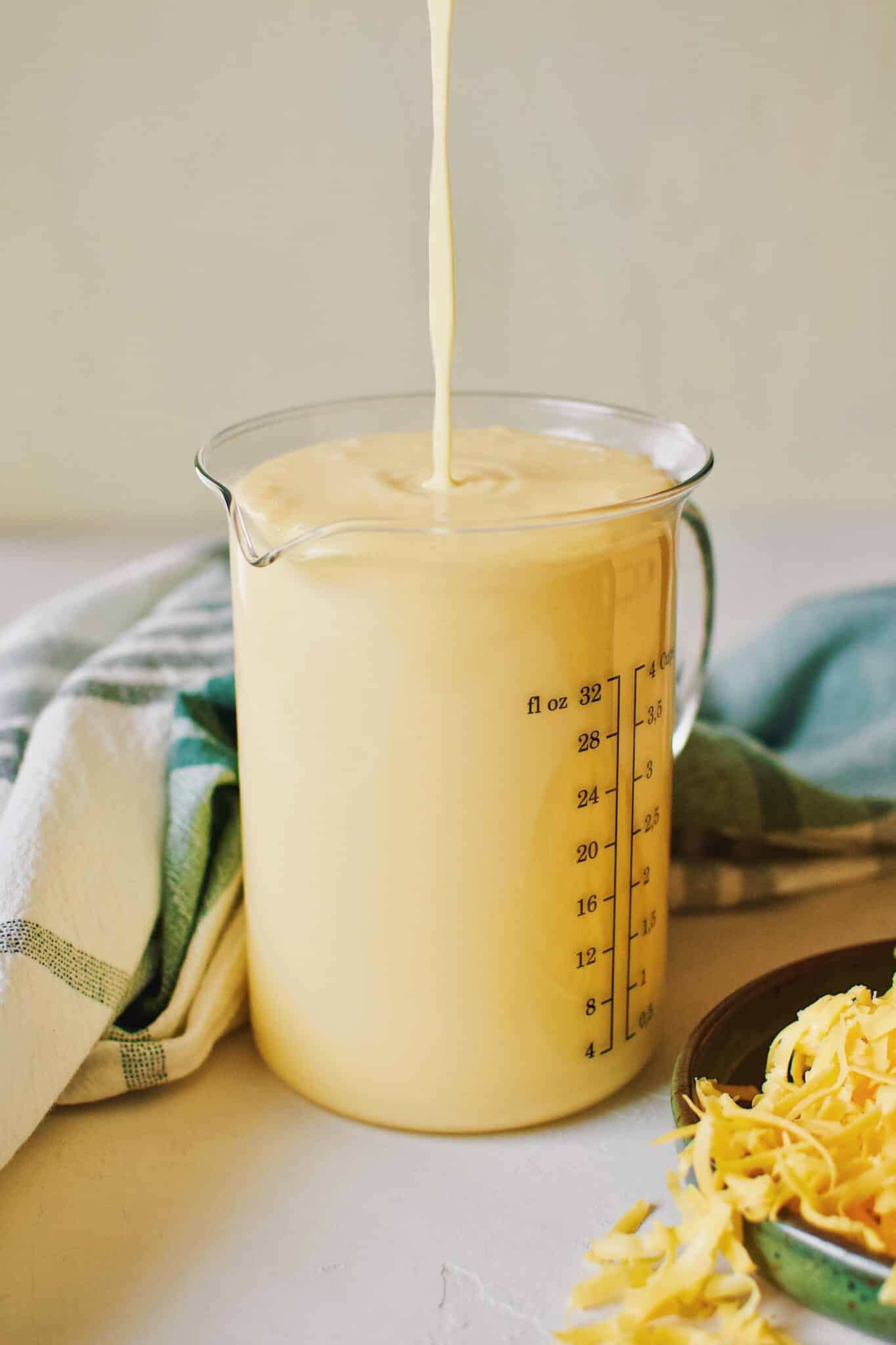 This post was first published October 29, 2020, and was last updated March 13, 2021.
At its heart, golden cheddar syrup is a simple homemade cheese sauce you can use to dip pretzels, make Cheez-It mac n' cheese, or as the base of a terrific nacho dip. Once cooled, I've even used cheddar syrup in place of Cheez-Wiz to make broccoli cheddar rice casserole!
Jump to: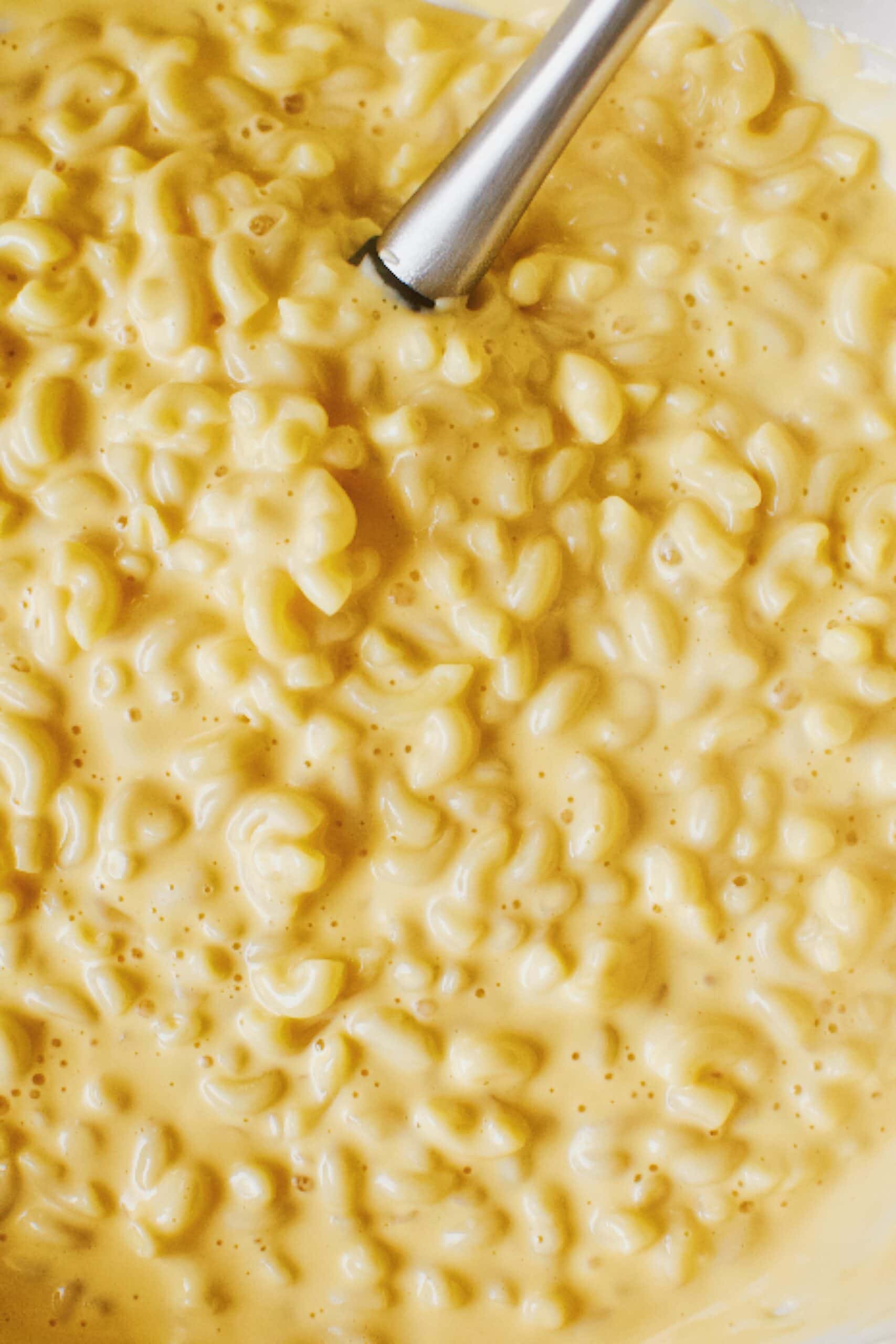 Use the JUMP TO RECIPE button at the top of the post, or scroll to the bottom of the post to see the full recipe card with ingredient measurements and instructions.
Ingredients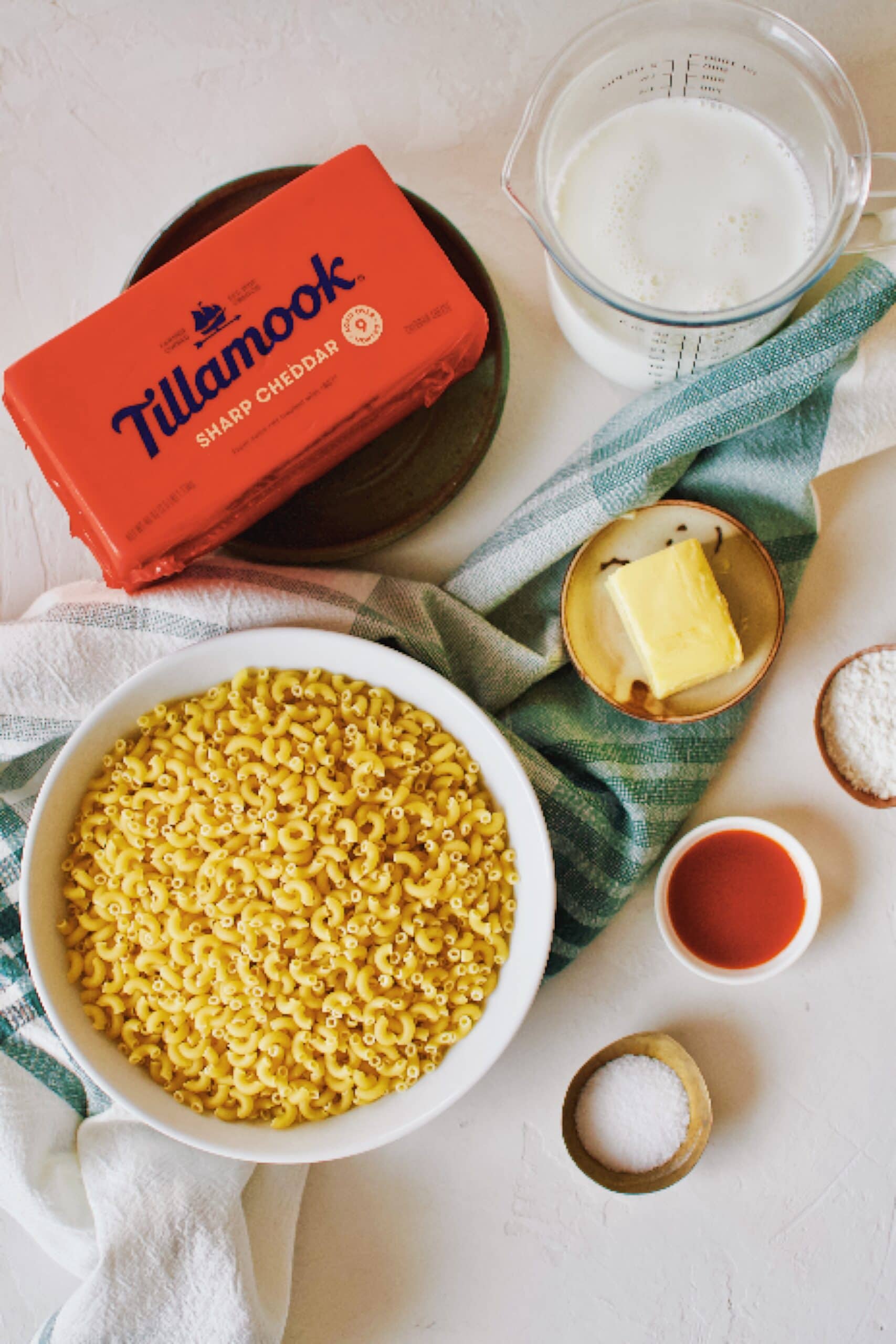 A few basic ingredients and a really good cheddar and you are on your way to a cheddar cheese sauce that you will very nearly want to drink as soon as you taste it.
Use a high-quality cheddar (I personally LOVE Tillamook) for optimal creaminess. Any high-quality cheddar will work, the lower the ingredient list the better. This recipe is really a method, you could use any semi-firm, or creamy cheese you like to make this sauce. Gouda, Fontina, any array of cheddars in the world, Havarti, or mozzarella can all be used to make a cheese sauce of their respective name.
Method
In a 2-quart saucepan over medium heat, melt the butter. Add the flour and cook, stirring constantly with a whisk, for 2 to 3 minutes, forming a roux. The roux is what will thicken the sauce.
Add in the milk and whisk together until the mixture comes to a boil and thickens slightly. To be sure the sauce has been heated enough, dip a spoon in the sauce then run your finger through the sauce on the back of the spoon. If a line holds on the back of the spoon the sauce is thick enough.
Carefully pour the hot milk mixture into a high-speed blender and add the hot sauce (if using), salt, and grated cheese. Blend on low, working up to high, until the golden syrup is smooth with no lumps. Keep the blender running for another 60-90 seconds to fully emulsify the sauce and ensure optimal creaminess.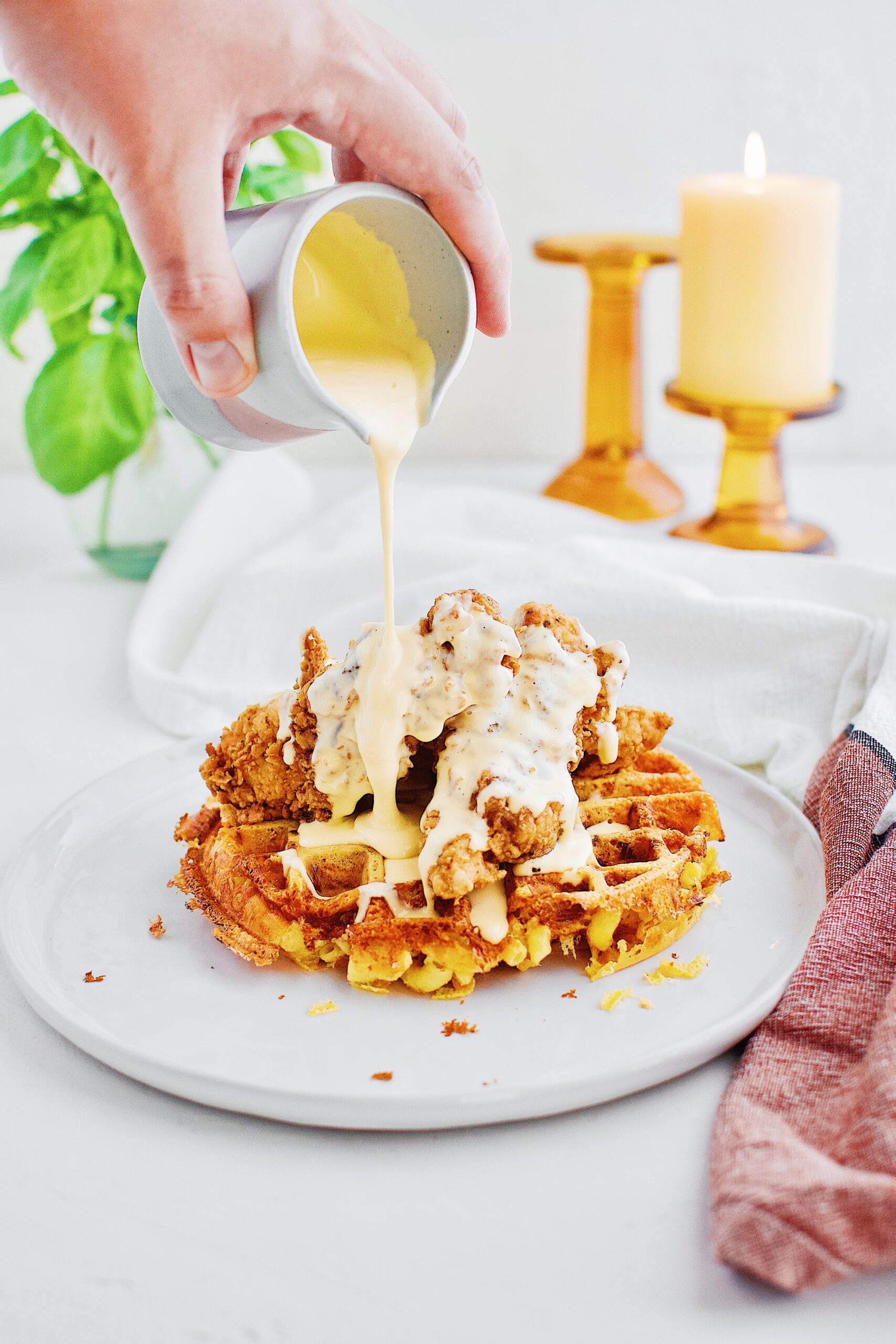 Notes & Tips
A high-speed blender really comes in handy to make the cheddar syrup as creamy as possible. Most blenders should work just fine, but I love my Vitamix because the high speed keeps my sauce hot and free-flowing while blending! I have this renewed one, and it's still a workhorse even after years of use.
Alternatively, and hand blender or a handy dandy whisk will work. If using a whisk add the shredded cheese over medium-low heat and whisk constantly until the cheese is fully melted and combined into the cream sauce. Constant whisking is needed so the cheese doesn't sink to the bottom and burn.
When storing leftover sauce, it will hold in the refrigerator for up to a week. When reheating, warm the sauce over a gentle heat until warm (in the microwave or in a saucepan on the stove), and if your sauce separates, simply throw it back in the blender or use the hand blender to re-emulsify the sauce and get it creamy again.
If you have made the sauce extra thick forming a "homemade Velveeta" if you want it thinner for later warm use, thin after warming back up with some chicken stock or milk depending on what you are using it for. I personally love the flavor the chicken stock brings to a queso, or for mac and cheese.
Substitutions
Try adding 1 cup (4 oz) more of grated cheddar, letting it cool completely in the fridge after blending, for a version of "homemade Velveeta". The extra cheese will set the sauce into a block, very similar to Velveeta, but less like plastic, and minus the preservatives.
To make this cheese sauce gluten-free, warm the butter and milk in the saucepan until it comes to a simmer, then thicken the sauce with a slurry made of cornstarch. Make a slurry by mix 2 teaspoons of cornstarch with 2 teaspoons of water and add it to the warm milk. Start with half and bring the mixture to a boil (this must be done to activate the cornstarch) whisking constantly. If the sauce has thickened enough to leave a line on the back of a spoon, it is done. If still too thin, add more of the cornstarch slurry to the boiling sauce. Follow the remaining steps of the recipe.
This recipe relies on all the dairy, so using an alternative milk or cheese won't really work as a substitute here. Plus, I'm no expert on dairy-free cooking so I don't want to send you down the wrong path.
Try golden cheddar syrup in Joanna Gaines' 1919 Pimento Cheese recipe! It would also make a great substitution in her Party Queso recipe from her first cookbook too.
When it comes to the hot sauce, it doesn't add HEAT or SPICE to the sauce, but more of a balance of flavor that gives the sauce a little humm. Something that makes people go, "why is that sooooo good?", while not massively altering the overall flavor.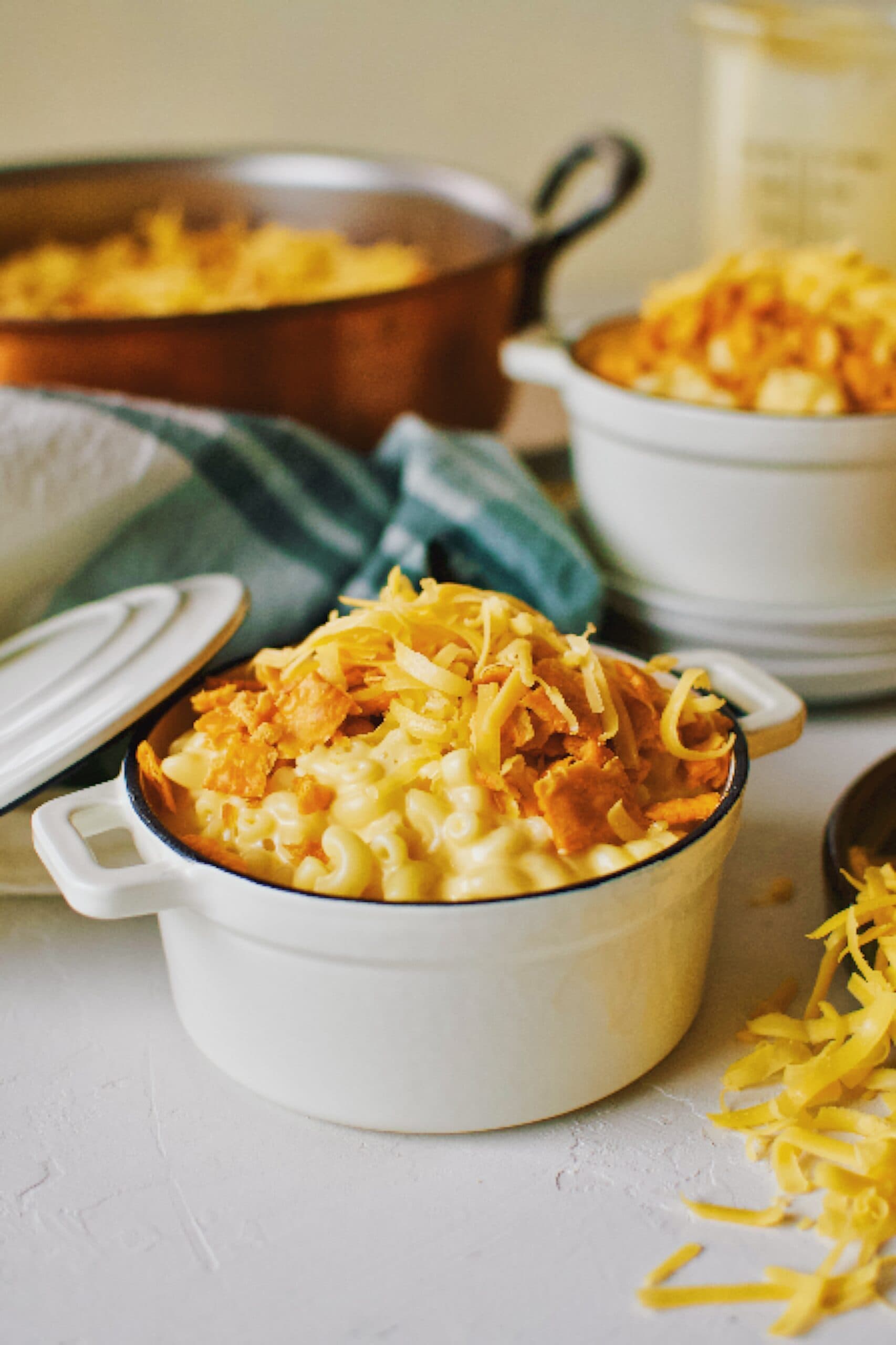 More Cheesy Goodness
Brie And Cheddar Grilled Cheese With Honey Glazed Pears
Did you make this recipe? Let me know by leaving a review or comment! And be sure to sign up for my newsletter, and follow along on Instagram, Pinterest, and Facebook!