Coffee time just got a whole LOT better! I don't often have a biscotti to enjoy with my coffee, but when I do, my day is definitely brighter. This Chocolate Hazelnut Biscotti makes a great gift this time year too!
Today is day 7 of my Christmas Advent Calendar. Tomorrow's recipe comes from Kathryn of WornSlapOut.com. It's a silky chocolaty treat that is sure to jolt your holiday cheer. Be sure to check back tomorrow for the recipe.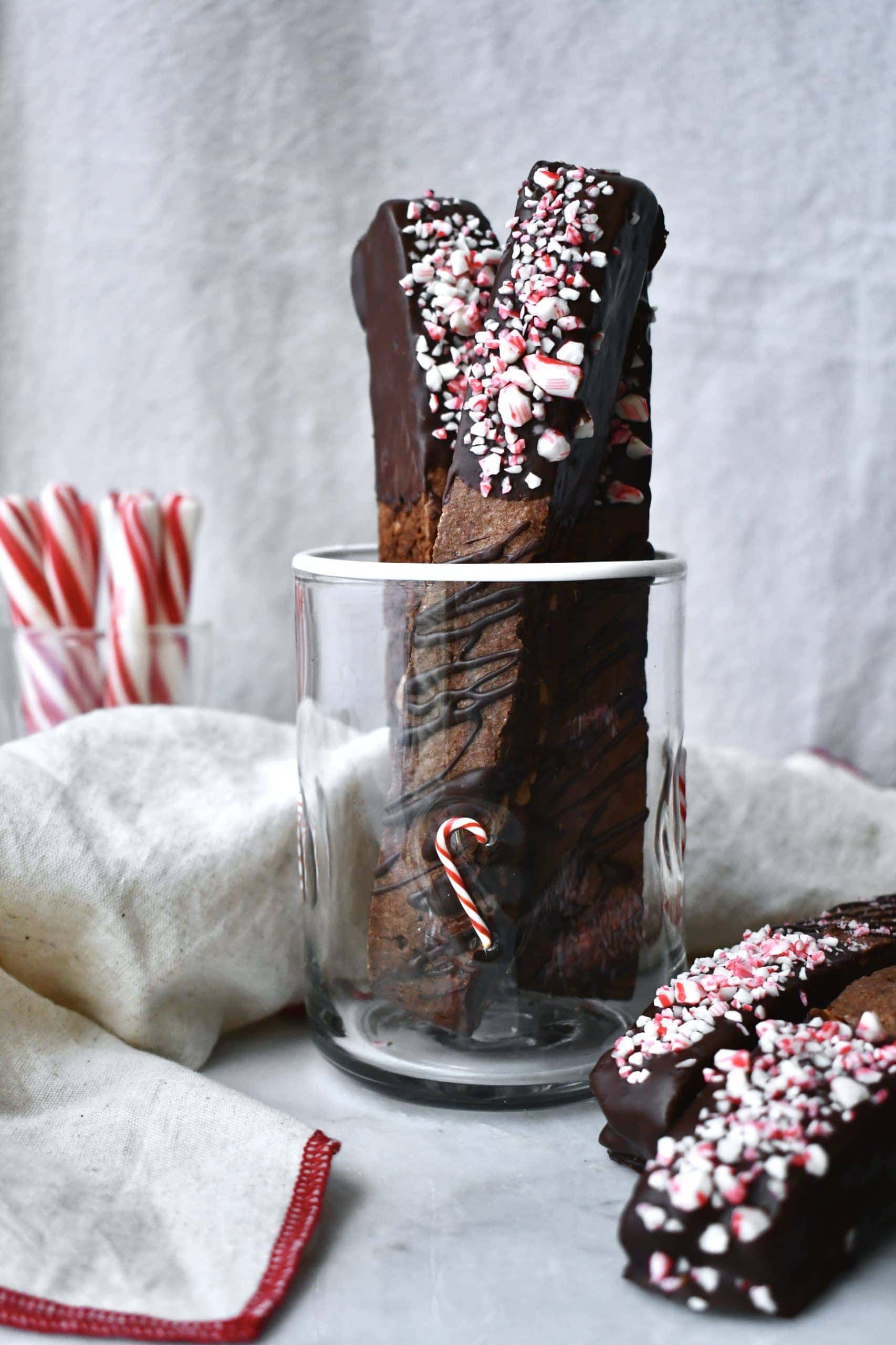 Until diving into this recipe I forgot how much I loved making biscotti. It is super simple to make and it is a treat enjoyed by everyone that partakes. And, fun little fact, 99% of all hazelnuts grown in the US are grown in Oregon.
Making Chocolate Hazelnut Biscotti at home.
I combine the majority of my recipe in my stand mixer and then work the final bit by hand. Fold the last addition of flour in with a spatula and then work the dough with wet hands. The dough is very sticky so keeping your hands wet will allow you to work it mess-free.
When you shape the dough I like to make sure that there are no largely exposed nut pieces. Smooth the dough over them so they don't burn during the first cook. Any pieces that are exposed after you slice the loaf will toast perfectly during the second cook, so don't worry about those later.
Dipping the cooled biscotti in chocolate is a completely personal choice. You could also drizzle it on top and sprinkle peppermint pieces over, or leave it off completely. Do what makes you happy!
US Grown Hazelnuts.
The Willamette Valley, also known for its award-winning wines, grows most of the official state nut of Oregon. Also knows as filberts, hazelnuts are known for their delicious flavor and are very versatile. Laurel Foods provided me with some great samples at a recent conference I attended and I used them to make this recipe.
This recipe turned out beautifully and will be a great addition to my holiday tables. If you want to make as gifts grab a pack of these bags and tie them up with a Christmas ribbon. Great for teacher gifts or takeaways for guests.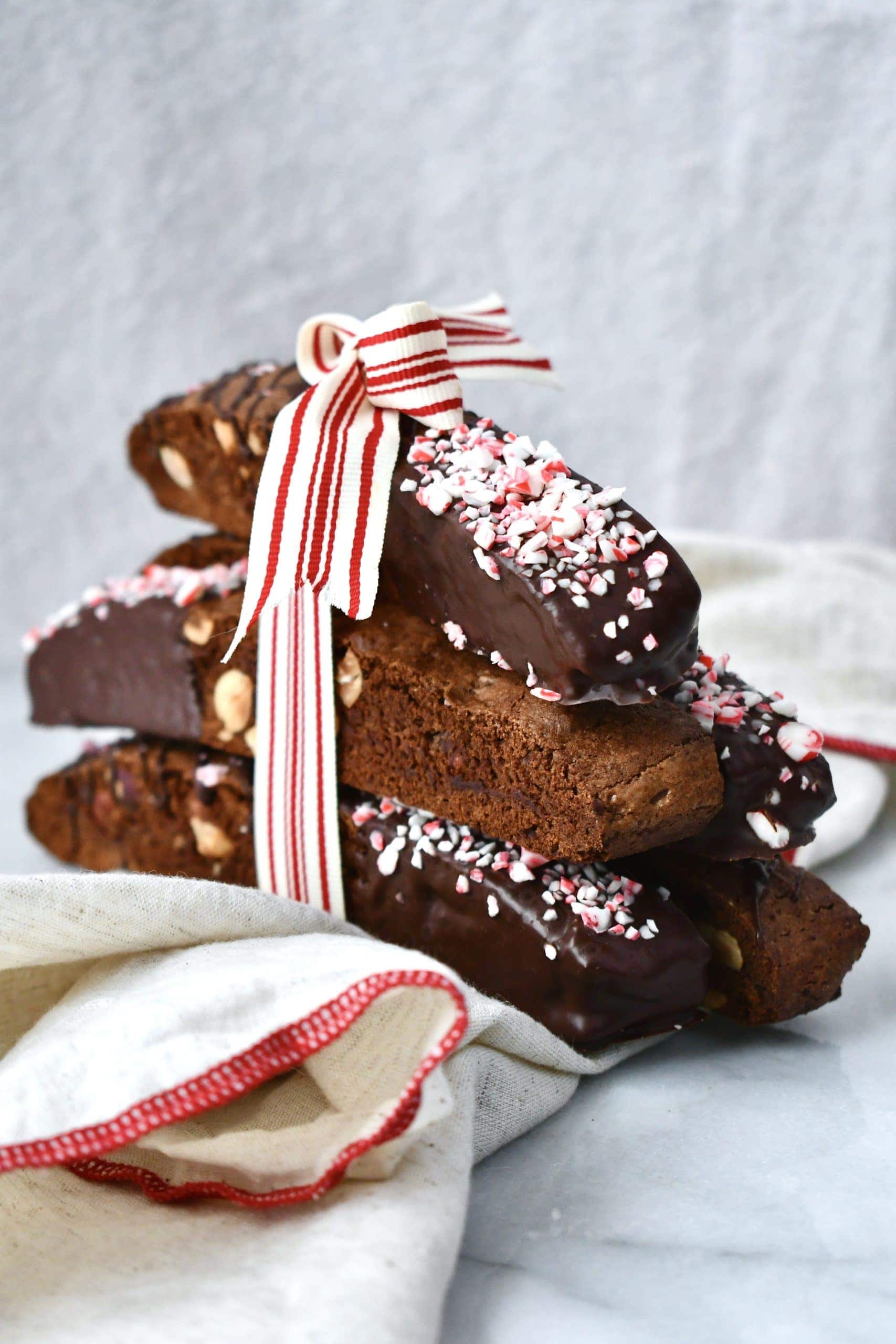 Biscotti fun facts!
Biscotti, translate to twice-baked in English, are traditionally Italian almond biscuits that originated in the city of Prato. They are twice-baked, oblong-shaped, dry, crunchy, and may be dipped in a drink, traditionally Vin Santo.
There are many variations and this is my own spin. The flavor combo pairs perfectly with my Candy Cane Coffee Creamer and holiday coffee time by the fire.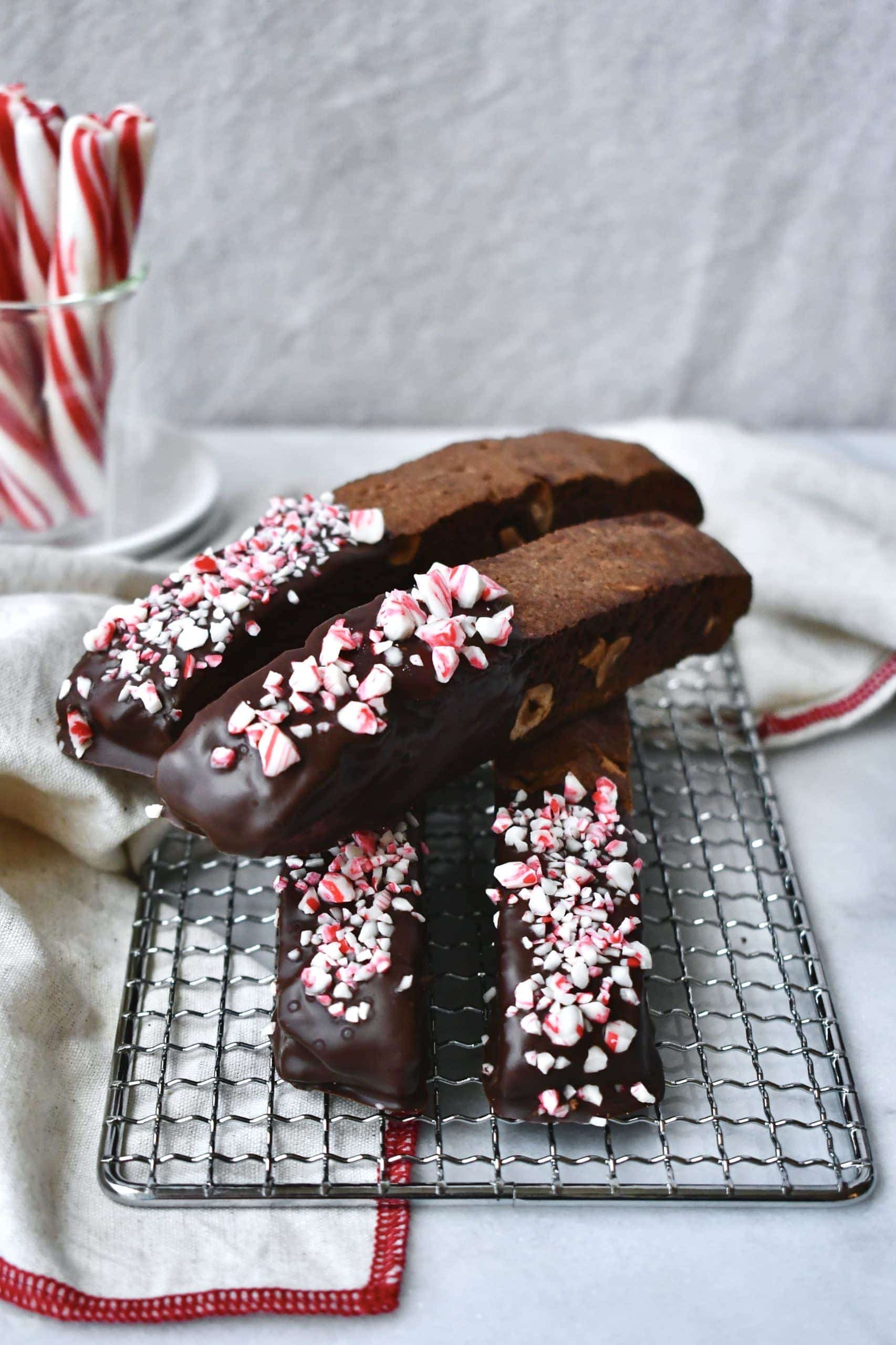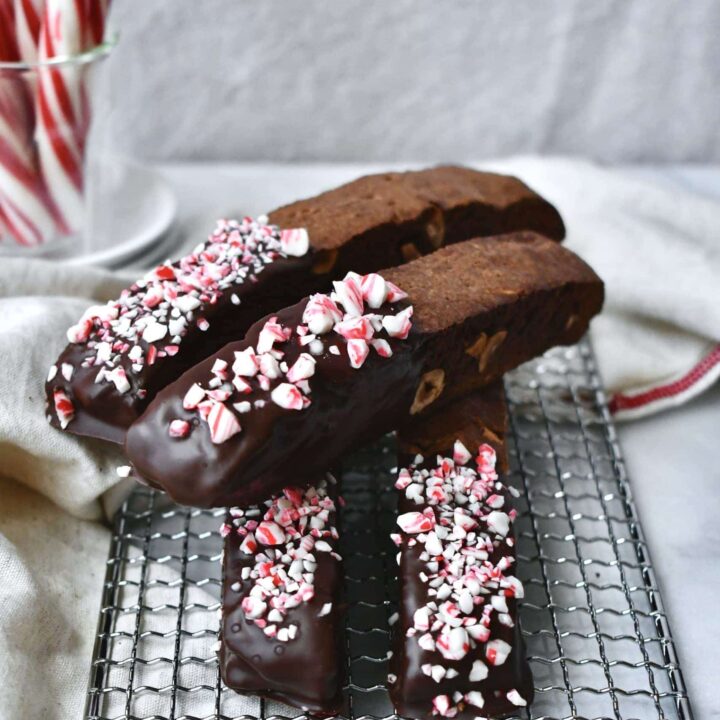 Chocolate Hazelnut Biscotti with Peppermints
Ingredients
Biscotti
1 ¾ cup All-Purpose Flour
½ cup Cocoa Powder
2 teaspoons Baking Powder
1 teaspoon Kosher Salt
2 lg Eggs
1 cup Granulated Sugar
8 tablespoons Unsalted Butter, melted and cooled
¼ cup Milk Chocolate Chips, melted
¼ cup Semi-sweet Chocolate Chips, melted
1 teaspoon Vanilla extract
4 oz Hazelnuts, roughly chopped
Topping
1 ½ cup Semi-Sweet Chocolate Chips
½ cup Peppermint Sticks, crushed
Instructions
Preheat oven to 350F.
Line a rimmed baking sheet with parchment paper.
In a medium bowl, whisk together flour, cocoa powder, baking powder, kosher salt, and pie spice.
In the bowl of an electric stand mixer, whisk together the eggs, sugar, butter, melted chocolate and vanilla bean paste.
Add half of flour mixture and mix to combine.
Add remaining half of flour and chopped hazelnuts and fold using a spatula until just combined and some streaks of flour remain. The dough will be sticky.
Place the mound of dough on your prepared baking sheet and dampen your hands slightly with water. Pat the dough out into an even rectangle about 1 ½ inches tall, approx.
Continue to wet hands as needed if the dough begins to stick. Smooth the sides and top until evenly formed.
Bake for 30 minutes, turning the baking sheet halfway through.
Let cool 5-10 minutes, then transfer the loaf to a cutting board.
Using a serrated knife, slice the loaf into 1" thick pieces.
Return biscotti to baking sheet, lining them up on their sides.
Bake for an additional 25 minutes, flipping them over halfway through cooking. Transfer to a wire rack too cool.
When cool, place chocolate chips in a microwave safe bowl. Melt in 30 second increments, stirring after each time, until melted and completely smooth.
Dip cooled biscotti in melted chocolate, allowing excess chocolate to drip off. Immediately sprinkle with the crushed peppermint pieces. Allow chocolate to harden, about 1 hour. Store in an airtight container and eat within 1 week or freeze for up to a month.
Nutrition Information:
Serving Size:

1 grams
Amount Per Serving:
Unsaturated Fat:

0g
Christmas Advent Calendar
A new recipe every day from December 1-24 from me or one of my friends!
Lori, from @JosieandNina. Italian Home Cook - JosieandNina.com
Sarah, from @SaltJar. Farm Fresh Food - SaltJar.com
Niki, from @CleanPlateClb. Food Photographer - CleanPlateClb.com
Kathryn, from @WornSlapOut. Recipe for the Joyfully Exhausted - WornSlapOut.com
Ruchi, from @TiffinKitchen. Plant forward food - TheTiffinKitchen.com
Kendell, from @KendellKreations. Food & Travel - KendellKreations.com
We have been working hard to bring you some great recipes that will bring the family together each night leading to Christmas Day. I hope you enjoy them and be sure to let us know if you make them by tagging any of us on Instagram through the month.
Christmas Advent Calendar Recipes
MY LATEST RECIPES!
Get my NEW e-Cookbook here!! ⬇️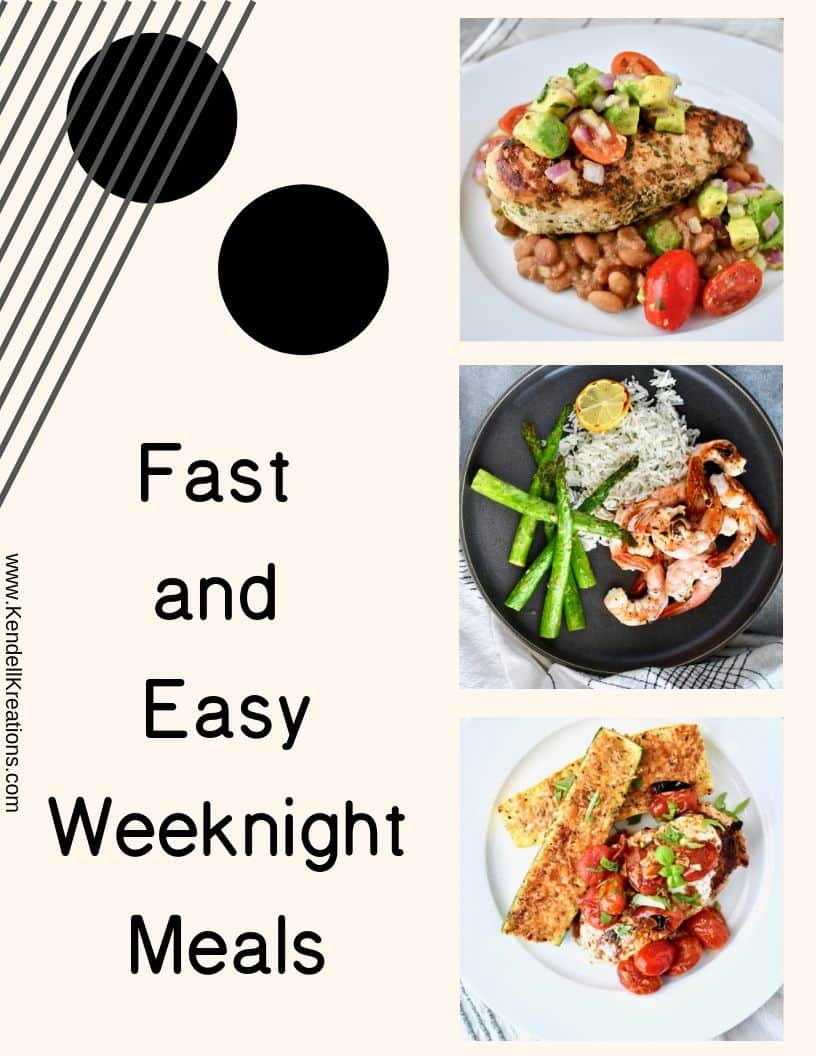 MY FAVORITE KITCHEN TOOLS!
Here are a few links to some of my favorite kitchen tools! You get a car, YOu get a car, YOU ALL GET A CAR…in my best Oprah voice
These Rösle Silicone Tongs are a little pricey but they will last you the rest of your life and are the softest in your hand. This is important for someone like m that cooks so much. It reduces strain, I have 4 sets in my kitchen!
These are my FAVE Nordic Ware Sheet Pans, every kitchen should have at least 2 sets of these! I think I have at least 4 of each of these.
This is my favorite pressure cooker, the Fagor is the same concept as the "Instant Pot" but easier to use in my opinion, if you don't have one you NEED one, it will be your best friend in the kitchen!
A sharp knife is the most important tool in the kitchen, these Japanese steel "Shun" knives are my favorite! And this is a great starter set to build on. Once you try them you will be in love so use this as a foundation you can build on for years to come.
This Scanpan 11″ skillet is just the right size for almost anything you will need to cook and my best friend and a real workhorse in my kitchen, it's also a great deal at $99. Scanpan is the best in the world for healthy cooking. It is coated with a proprietary ceramic-titanium coating that is durable while allowing you to use fewer fats and oils when cooking. It is a coating only they use. I could talk all day about my love for these pans, message me if you want more info. Here are some other sizes that are available if you are looking to outfit your kitchen with some new goodies. 8″ & 10″ Skillet set or 8″ Skillet, I still need this one for my kitchen Also, I don't really know how to cook small so the 12.5″ is my other fave!
This giant vat of olive oil is my favorite, I decant it into a smaller bottle for my counter. Or put this spigot on top of a wine bottle!
My favorite baking dish that is so easy to clean even burnt on cheese slides right off!
This Tovolo jar scraper has to be my single favorite kitchen tool, it is definitely the most used tool in my kitchen. If you are NOT a gadget person, this is the only necessity I say is a MUST beyond the wooden spoon.
A great wood spoon is essential, this Olive Wood one is my favorite, I have more than I can count. But can you really ever have too many?
A food scale can be a very important tool in your kitchen, this one is the one I use every day!
If you love Joanna Gaines as much as I do then the 'Magnolia Table Cookbook' is a must in your kitchen, get a copy HERE!