Let's face it, there is nothing like a fried cake donut, and these Pumpkin Donuts are the perfect autumn version of them! What's even better, they are SO EASY to make, even on a slow weekend morning.
Pour yourself a big cup of coffee and get ready to dive into the best-tasting donut of your life, because they came out of your kitchen!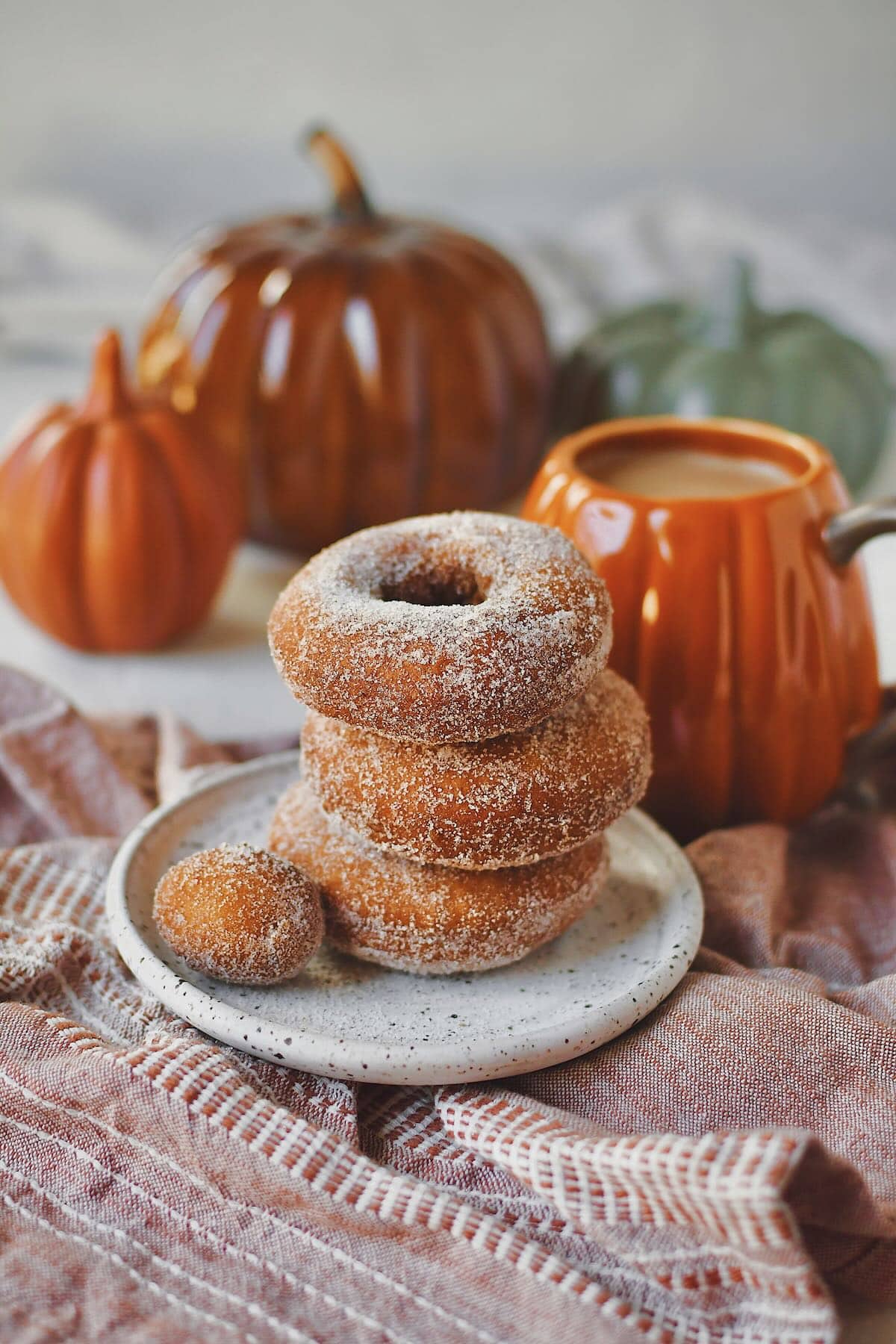 If you love fall as much as I do, you might want to whip up a batch of my Pumpkin Spice Coffee Creamer. It is a perfect way to whip up your own little version of a pumpkin spice latte at home.
Jump to:
This post was originally published on October 5, 2019, and was updated on September 26, 2023.
Ingredients
The ingredient list for these Pumpkin Donuts is INCREDIBLY down to earth. I love it when a few simple ingredients come together to create something as amazing as these donuts.
You don't need anything out of the ordinary here, but I do like to use my homemade pumpkin spice so I know they will be perfectly spicy.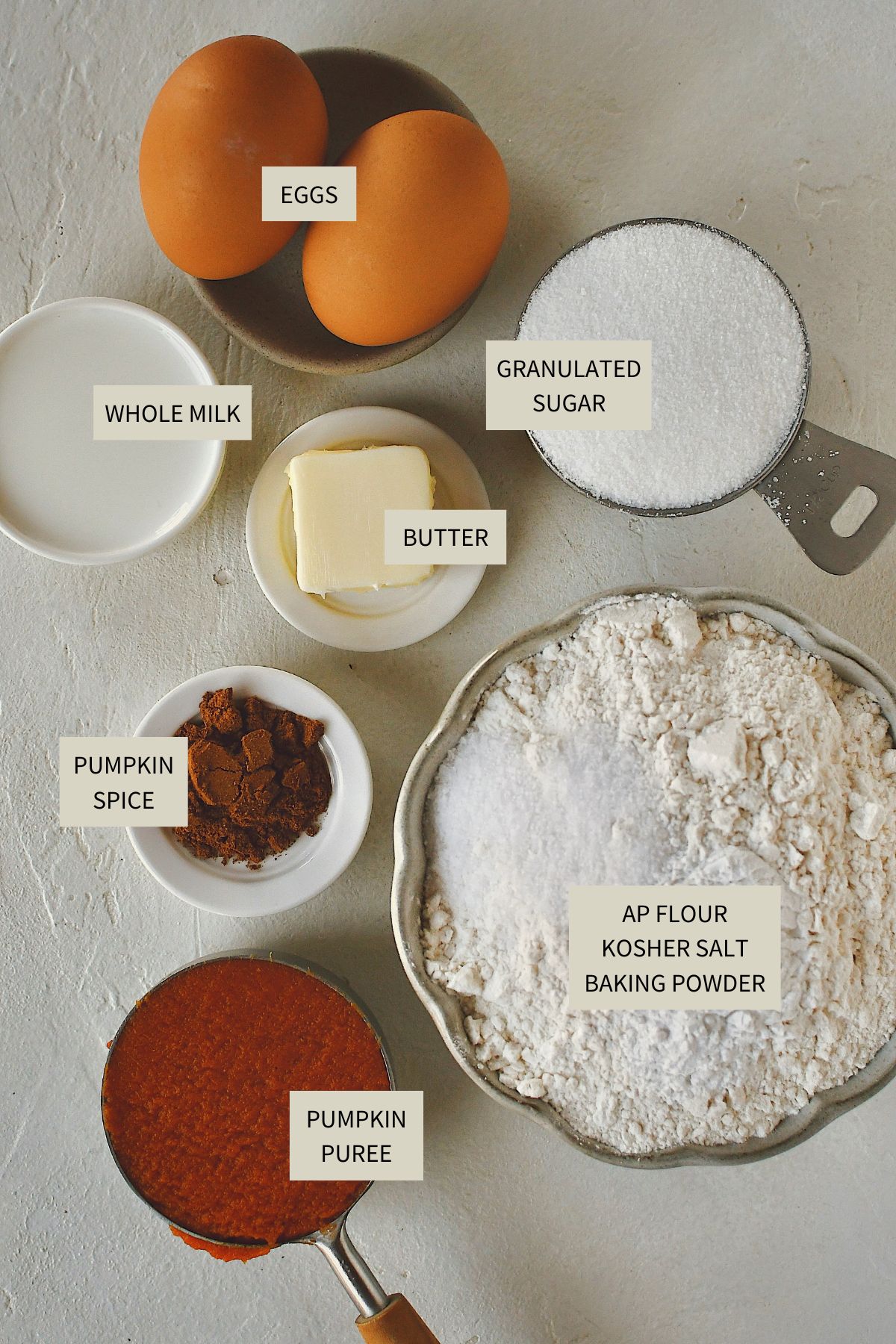 What you need:
Eggs
Granulated Sugar
Unsalted Butter
Pumpkin Puree
Whole Milk
All-Purpose Flour
Baking Powder
Kosher Salt, Morton's
Pumpkin Spice
Peanut Oil
See the recipe card for full quantities.
Use the JUMP TO RECIPE button at the top of the post, or scroll to the bottom of the post to see the full recipe card with ingredient measurements and instructions.
Method
To make the donut dough, first whisk together the butter, sugar, and eggs until well combined, making sure your butter is very soft, almost melting, but not hot so as not to cook the eggs.
Then add in the remaining ingredients till a stiff batter forms, it will be in the middle of loose and stiff, and it will get firmer as it rests in the fridge.
Don't worry at this point, you'll be asking how you are gonna roll this out, but as it rests in the fridge and the butter firms up, the dough will stiffen.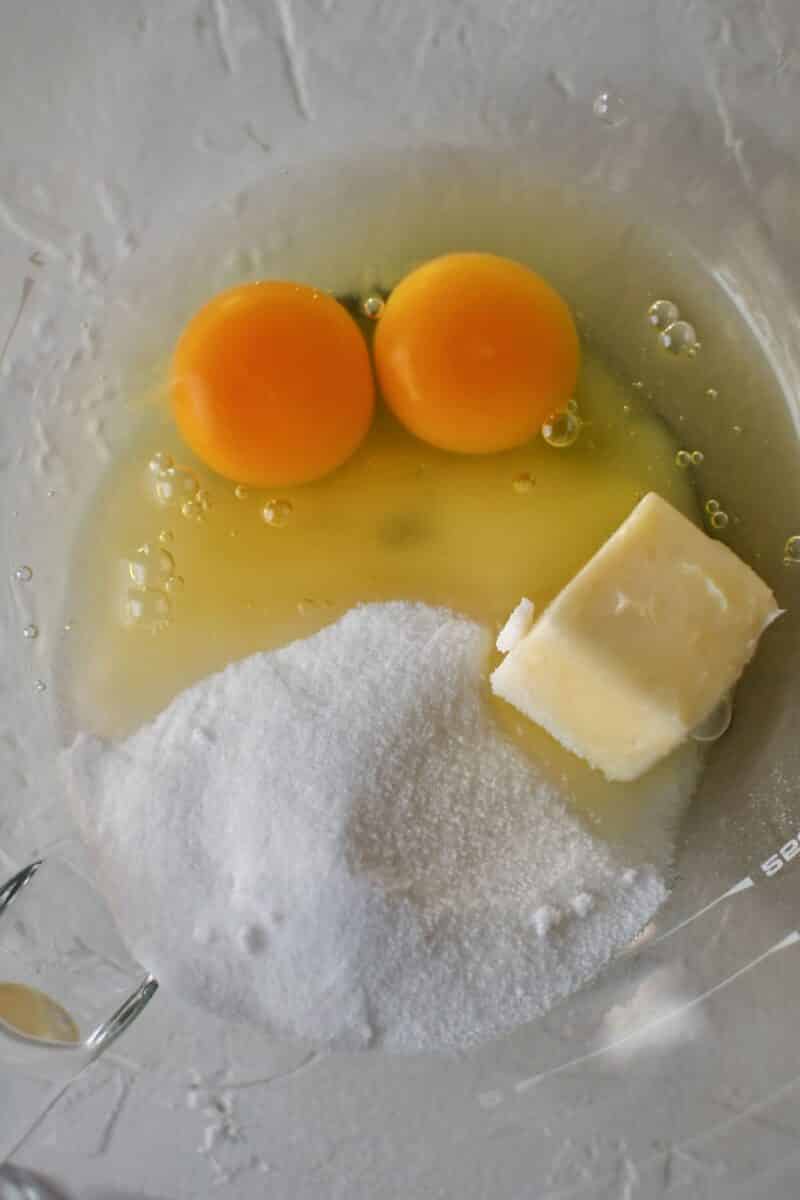 After the dough rests, you will be able to roll it out on a floured surface. Then using two biscuit cutters, one 3 inches, and one 1 inch, cut out your donuts.
Drop the dough in your hot oil as quickly as you can after cutting so it doesn't get warm and your donuts go from circles to ovals.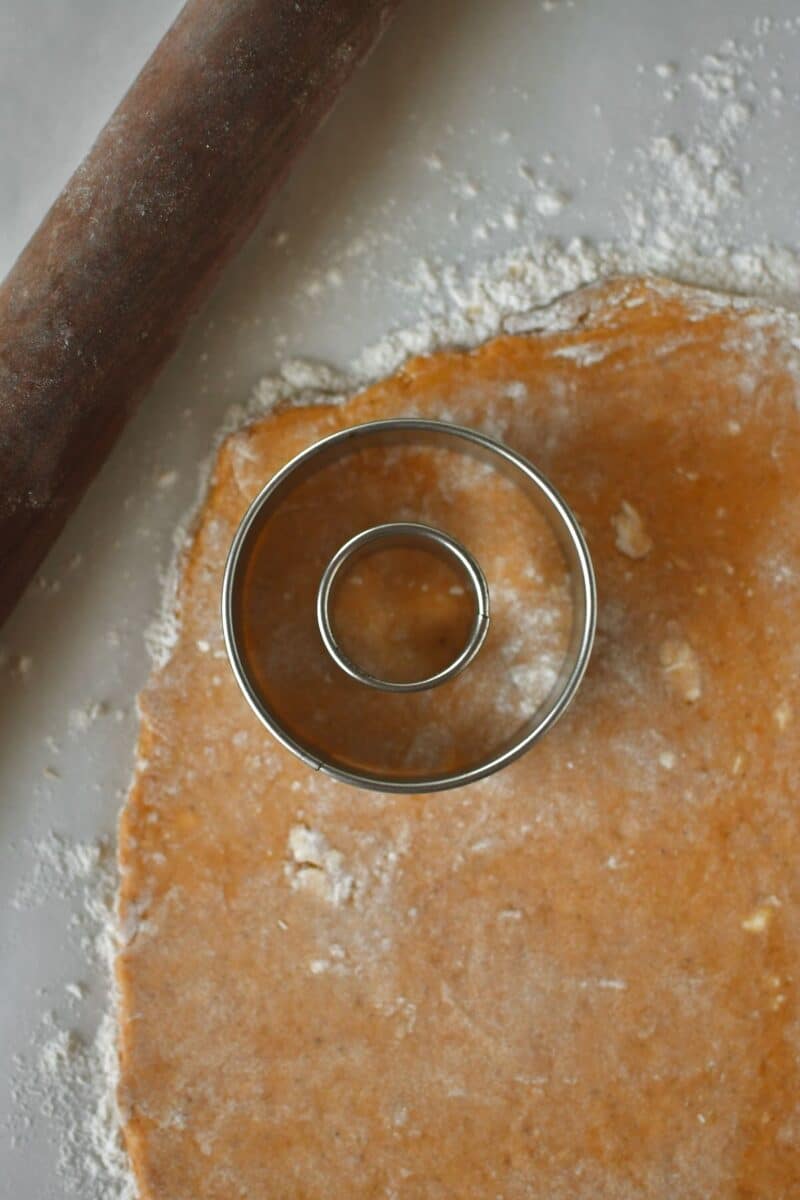 When they come out of the hot oil, and after cooling for a couple of minutes, dredge them through some additional sugar that you have mixed with some pumpkin spice. Roll them around until well-coated.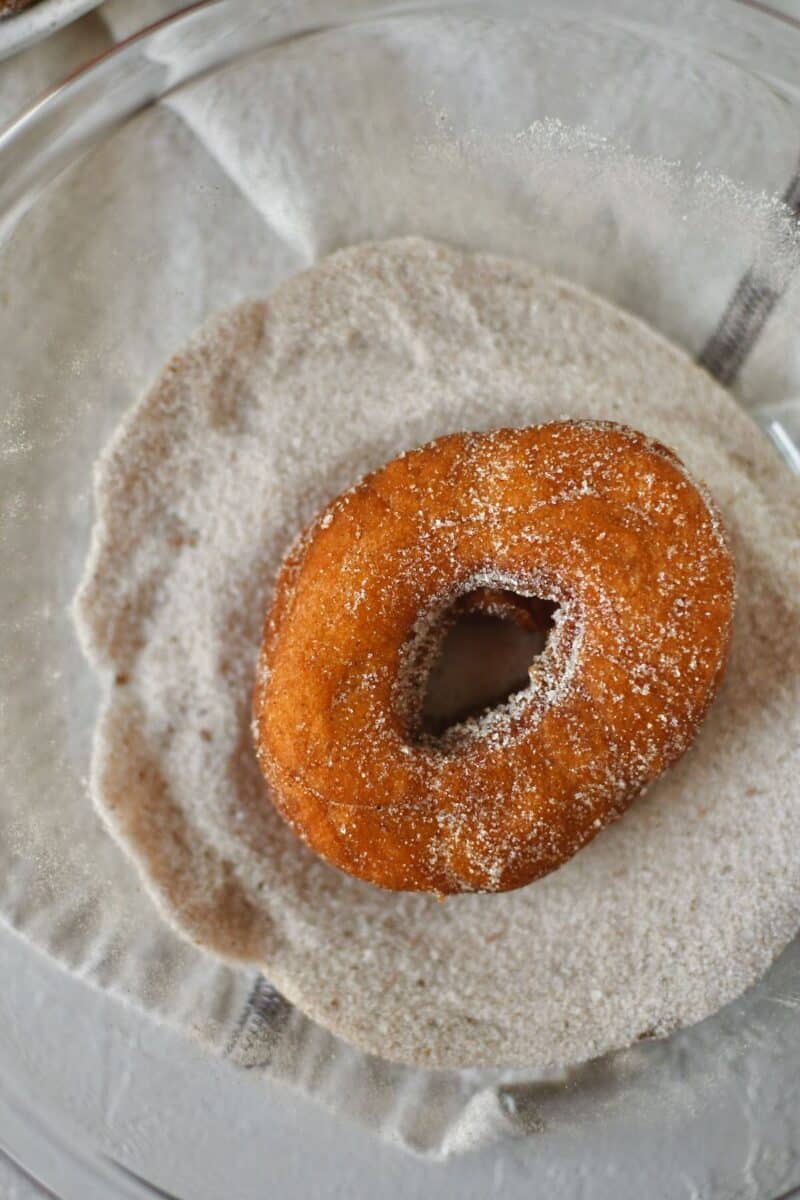 Now it is just time to enjoy the perfect marriage of coffee and donuts. Pour yourself a big Cup o' Jo and get dunking.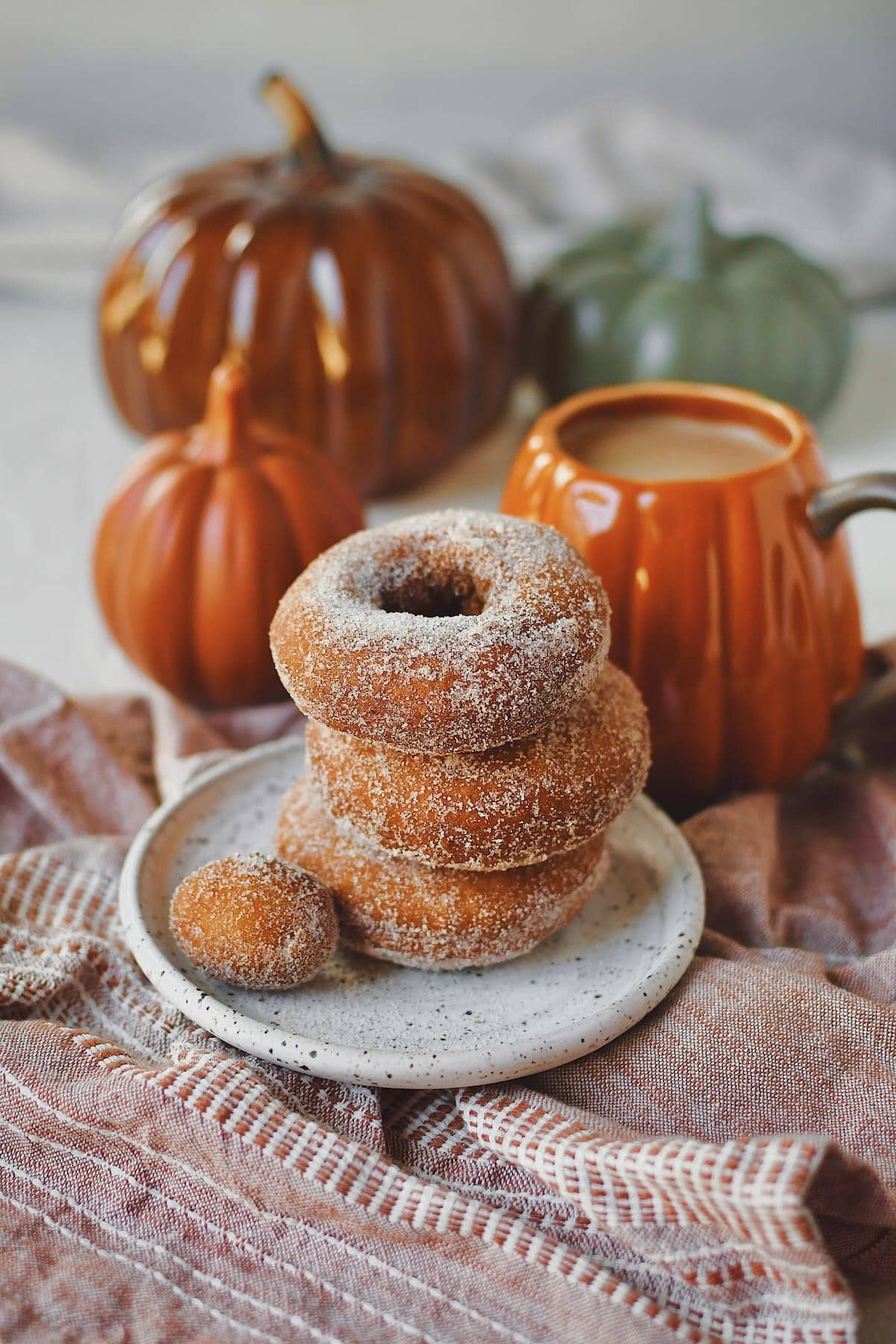 Notes & Tips
Don't worry if you find the dough after mixing to be a little loose or wet. It will stiffen up during its resting period in the fridge. The butter will solidify and the flour will absorb the excess moisture during this time.
The dough will still be a bit tacky after it rests, be sure to roll it out on a very well-floured surface to prevent sticking. Be sure to flour the cutters too.
If you cut all of the donuts before frying, store them in the fridge till the oil is hot. You can cut and reserve them in the fridge for up to 4 hours, any longer and the baking soda will start to lose its effects and they won't puff as much when fried.
The donuts will keep for a few days at room temp, but they are really best the day they are fried, and really only for a couple of hours.
After frying, let the donuts cool for about 5 minutes, but not too long. If they are too hot the sugar will melt on the outside, but too cold and it won't stick. Find the sweet spot because that sugar crust is the best!
If you do have leftovers, or worry you won't eat them all when you are frying, leave some plain without sugar. Then reheat the donuts in an air-fryer for about 3 minutes at 350˚F then toss in the sugar for a just out of the fryer freshness.
Substitutions
If you want to keep this recipe dairy-free you can swap the butter for a vegan or plant-based butter substitute. Also, swap the whole milk for cashew milk.
You can substitute freshly roasted pumpkin for canned, get my guide on homemade pumpkin puree here. It adds that extra layer of freshness that makes everyone go huh and treasure them even more, but canned works equally well.
If you need to make these gluten-free due to dietary needs, use THIS cup-for-cup swap. It is the best around and works perfectly with this recipe.
Peanut oil is my preference for frying. But if you have an allergy to it swap it for vegetable oil, or any other neutral oil, coconut would also work great.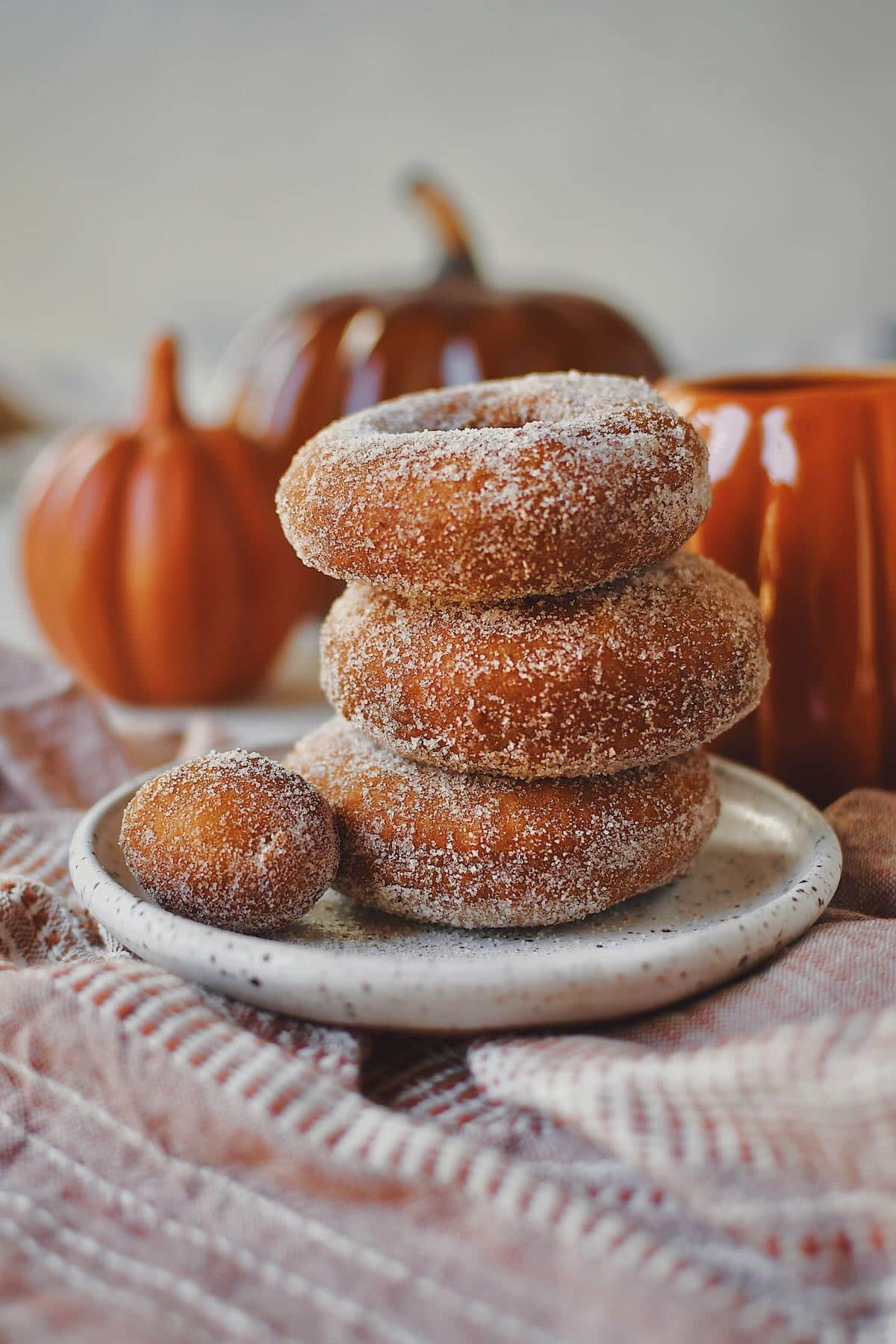 More Great Pumpkin Recipes
If you love to infuse your breakfast with this autumnal gourd, make my Pumpkin French Toast for a perfect fall treat.
For an extra special sweet treat, make my friends Creamy No-Churn Pumpkin Ice Cream.
When you carve pumpkins in the fall, save the seeds and roast them to make my Soy Sauce Pumpkin Seeds. They are BEYOND delicious!
For a great savory dinner option, whip up my Pumpkin Butter Chicken. It is my autumnal infusion of flavor into a classic butter chicken recipe.
Did you make this recipe? Let me know by leaving a review or comment! And be sure to sign up for my newsletter, and follow along on Instagram, Pinterest, and Facebook!