This decadent Pumpkin Waffles Recipe is packed with chocolate chips and is such a fun breakfast or brunch to celebrate autumn with.
I wanted to create a waffle recipe that screamed fall as much as my Pumpkin Scones do, and I think I did it with this one!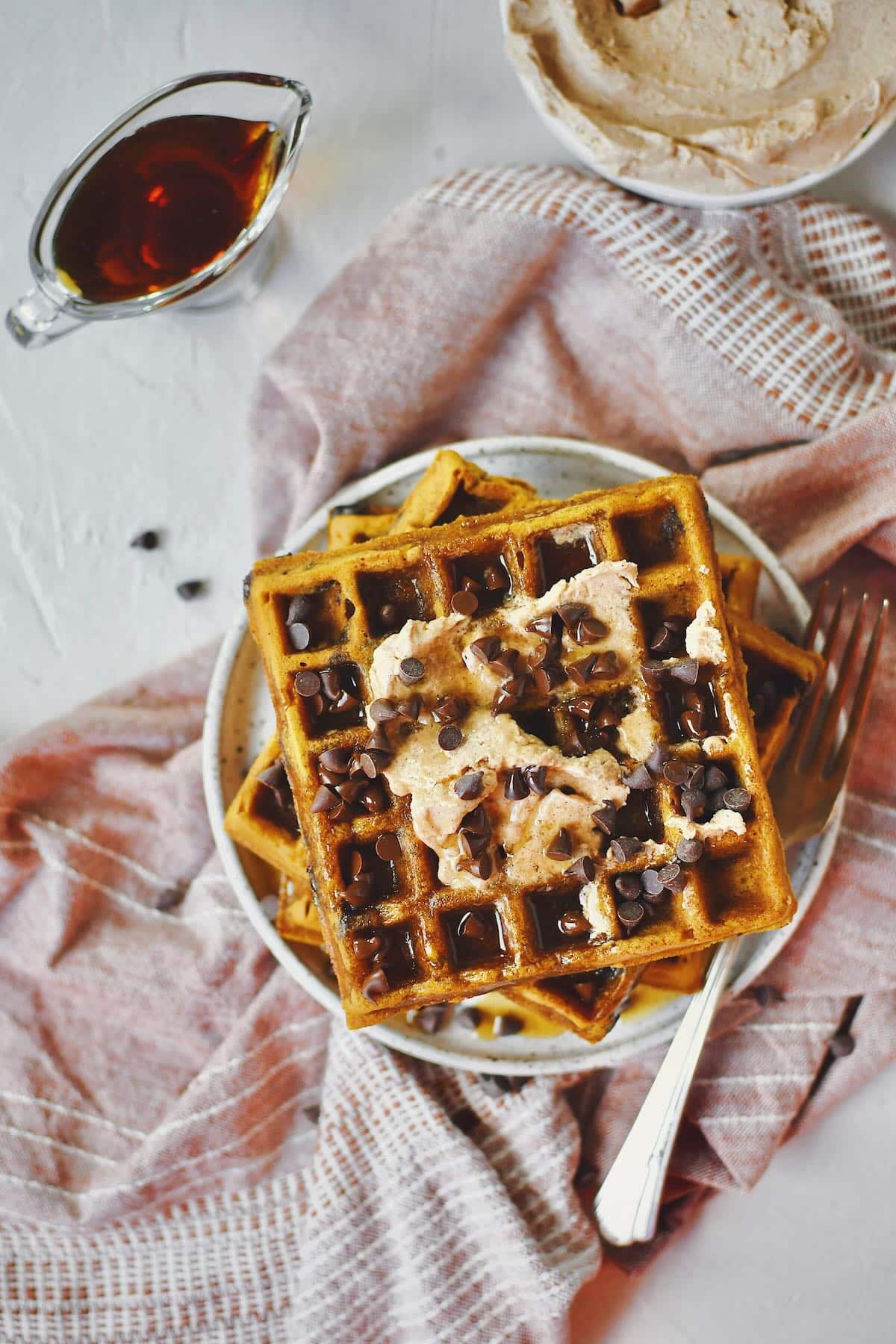 Fun fact about me, I am obsessed with breakfast and I could eat it for every meal of the day. Just don't go putting maple on my bacon or sausage. Pancakes make up a big part of that love too.
Jump to:
Ingredients
The only ingredient I want to talk about here is the buttermilk. While you can use whole milk in its place, buttermilk yields a much more tender airy interior.
What it does is react with the baking soda and give the batter a great lift. That is why it is so well known for being used in pancakes too.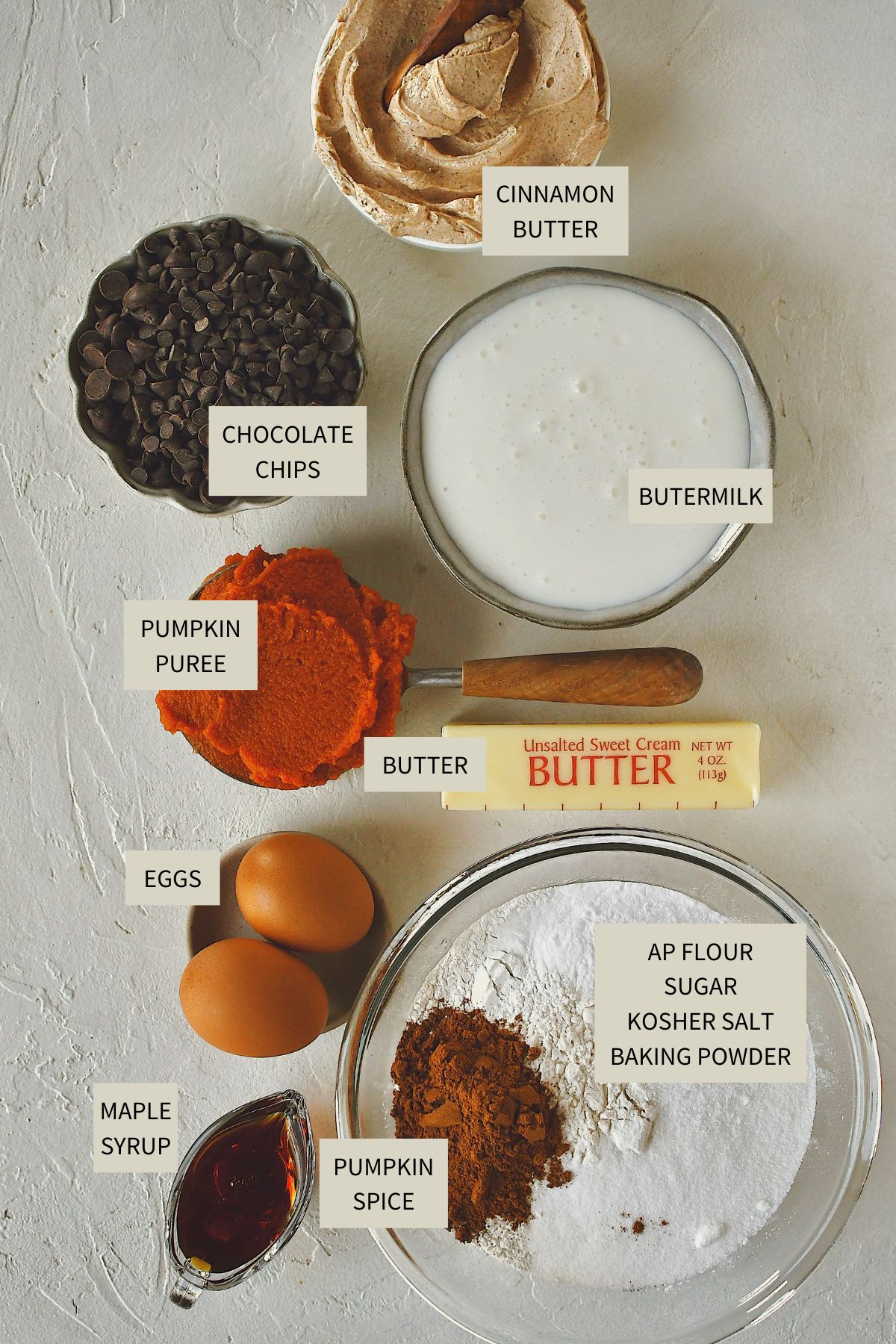 What you need:
Unsalted Butter
Buttermilk
Pumpkin Puree
All-Purpose Flour
Granulated Sugar
Baking Powder
Baking Soda
Kosher Salt, Morton's
Pumpkin Spice
Eggs
Semi-Sweet Chocolate Chips
Cinnamon Butter
Maple Syrup
See the recipe card for full quantities.
Use the JUMP TO RECIPE button at the top of the post, or scroll to the bottom of the post to see the full recipe card with ingredient measurements and instructions.
Method
Begin by melting the butter in a small saucepan, then add the buttermilk to the pan until just warm. The goal is that there are no solid pieces of butter but the buttermilk is not hot.
If you boil the buttermilk you will need to let it cool to room temp vs. using it right away or it will cook the flour when you add it to the dry good.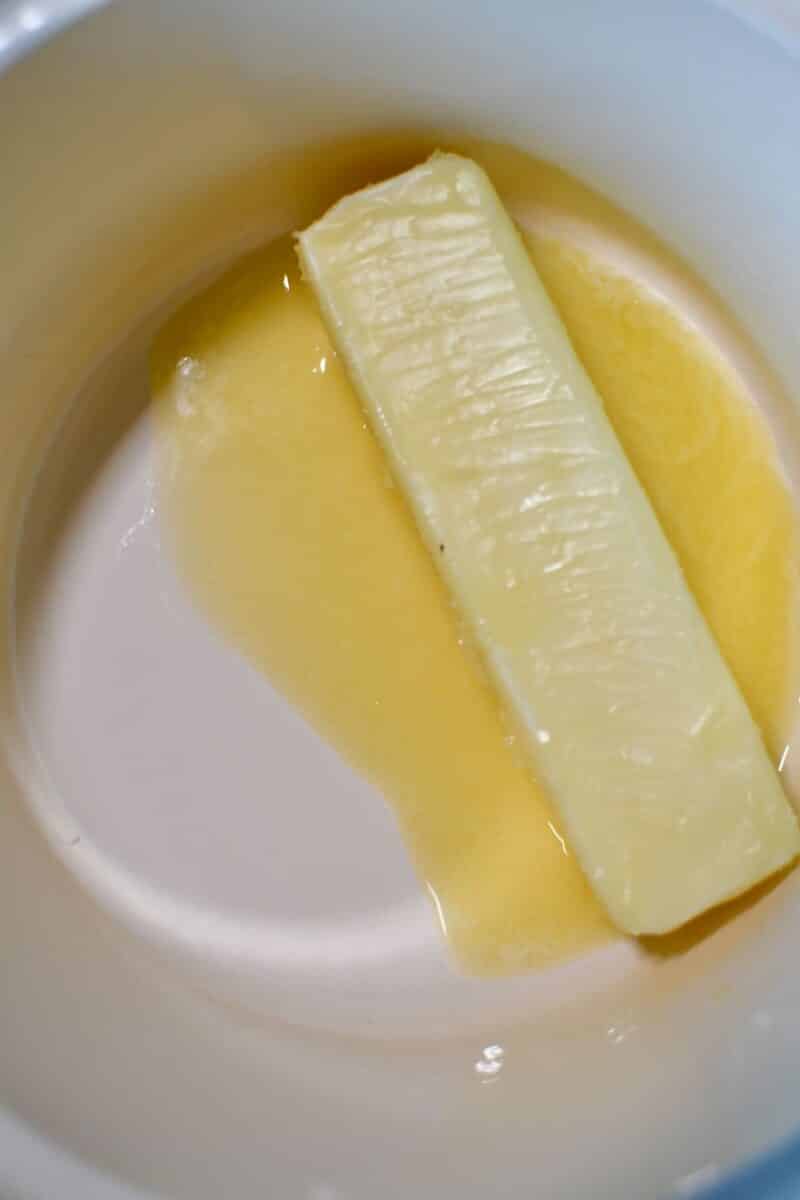 Whisk the buttermilk and butter into the pumpkin then whisk in the dry goods. Gently finish with the eggs, then fold in the chocolate chips and let the batter rest on the counter for 10 minutes while the waffle iron warms up.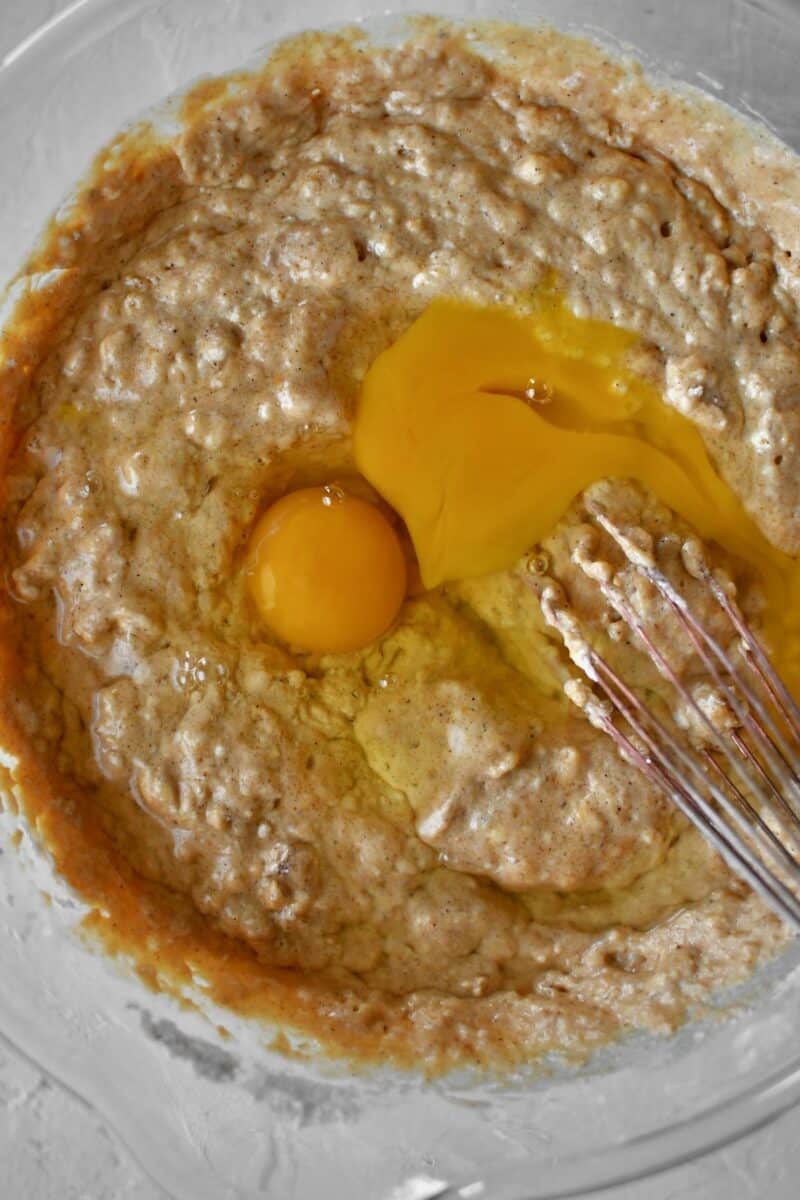 Cook the waffles on a medium-high setting if your iron has a settings dial. Otherwise, cook the waffles till slightly crisp on the outside and tender on the inside.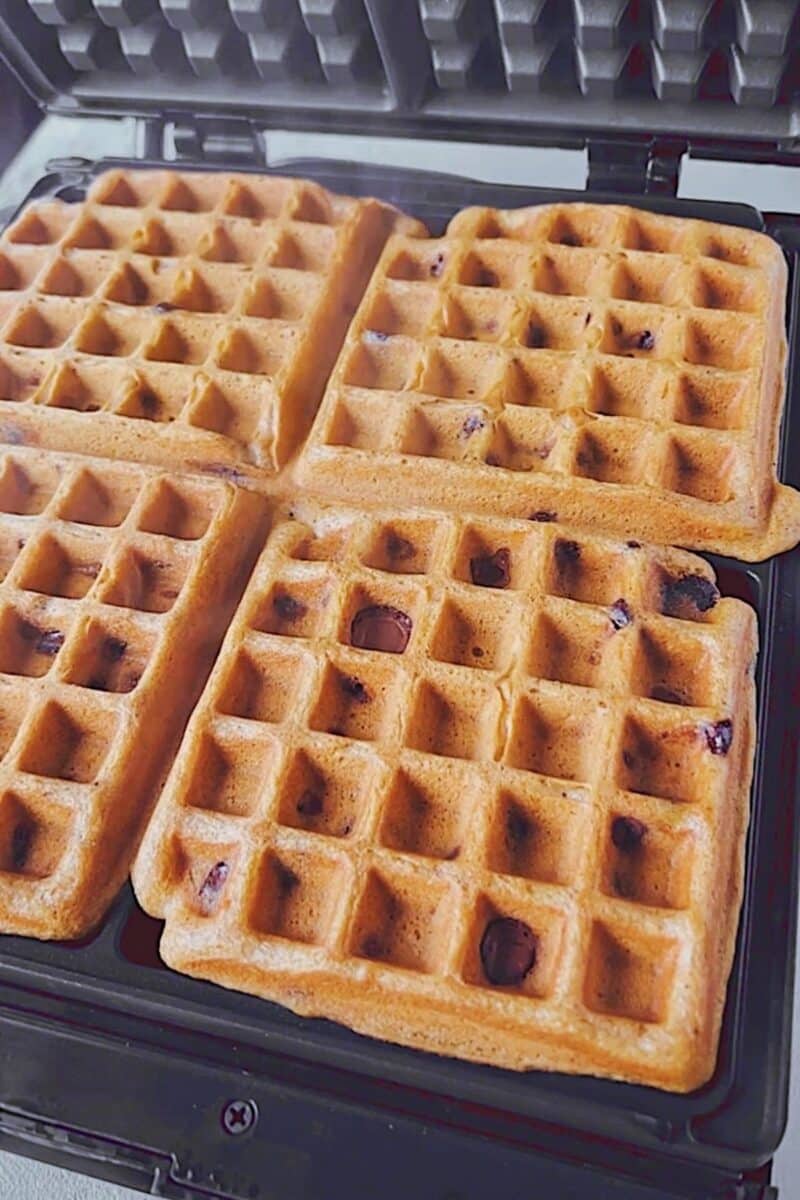 Serve this Pumpkin Waffles Recipe with a nice spread of cinnamon butter and more chocolate chips. Finish with a drizzle of maple syrup and get ready to dig in!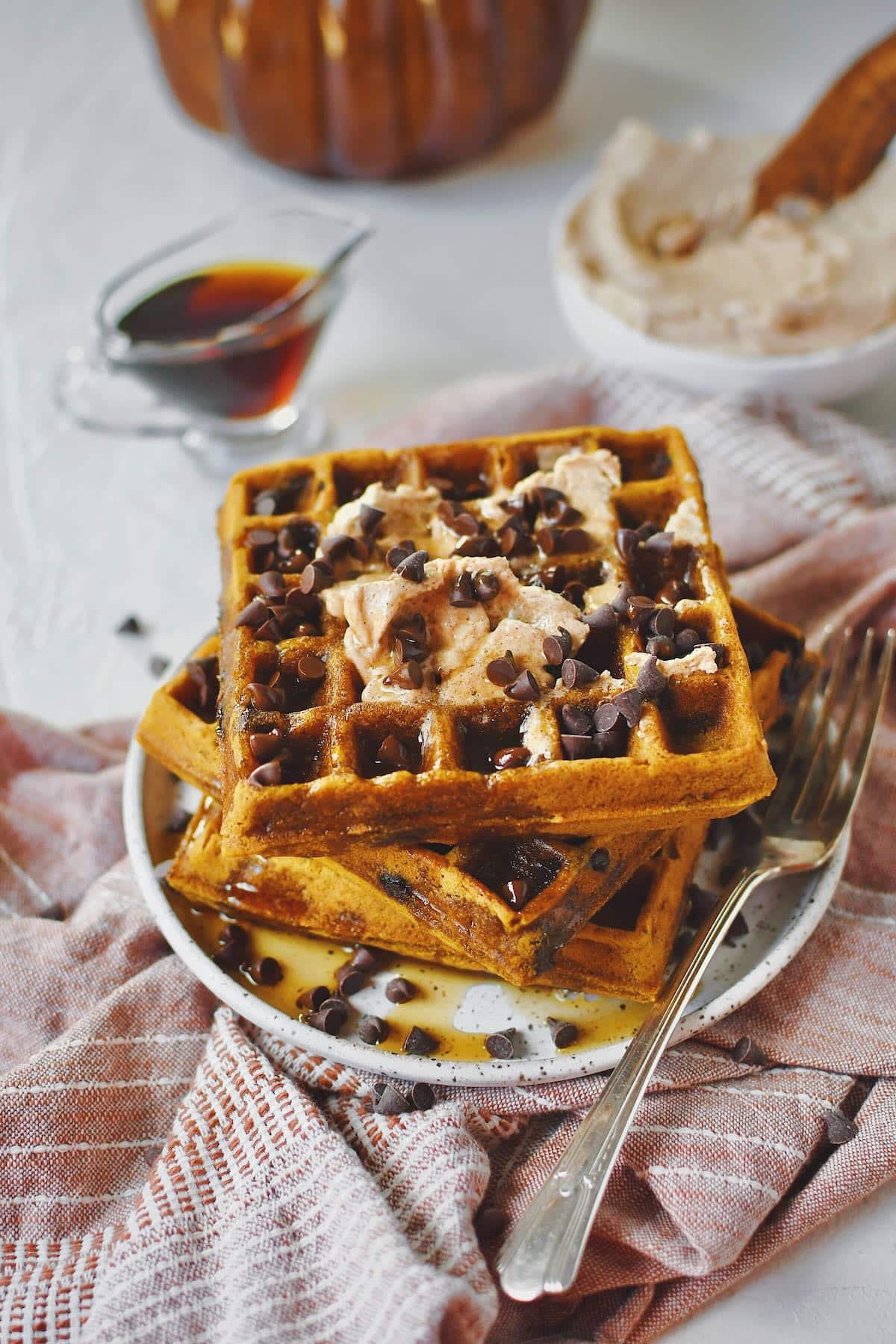 Notes & Tips
Be sure to not overheat the buttermilk when warming it with the butter. The goal is just to warm it enough that the butter stays liquid and doesn't get lumpy.
If it boils you will need to let it cool all the way to room temp before using or it will cook the flour when you add it and make your batter rubbery.
It is important to let the batter rest for 10 minutes after mixing it up. This allows the flour to relax and gives extra lift to the waffles. Light and airy is always the goal with pancakes and waffles.
Store leftover waffles in an air-tight container or zip-top bag in the fridge for up to 5 days. My favorite way to reheat them is in the toaster or toaster oven so they get their crisp back on the outside.
Substitutions
If you would like to make this recipe without butter, you can swap it for a vegan or plant-based butter substitute. You could also swap the 8 tablespoons of butter for ½ cup vegetable or coconut oil.
If you also need to replace the buttermilk, combine 1 tablespoon of lemon juice or white vinegar with each 1 cup of the non-dairy milk of your choice. Let it sit for 10 minutes then use it in your recipe.
The lemon juice or vinegar is needed to activate the baking powder and to give the waffles their signature lift.
Be sure you are using pumpkin puree and not pie mix. You can even make your own if you like.
If you need to make these gluten-free due to dietary needs, use THIS cup-for-cup swap. It is the best around and works perfectly with this recipe.
When it comes to chocolate chips, I like to use semi-sweet or mini. If you don't want your waffles to be sweet this would be a great place to use dark chocolate chips.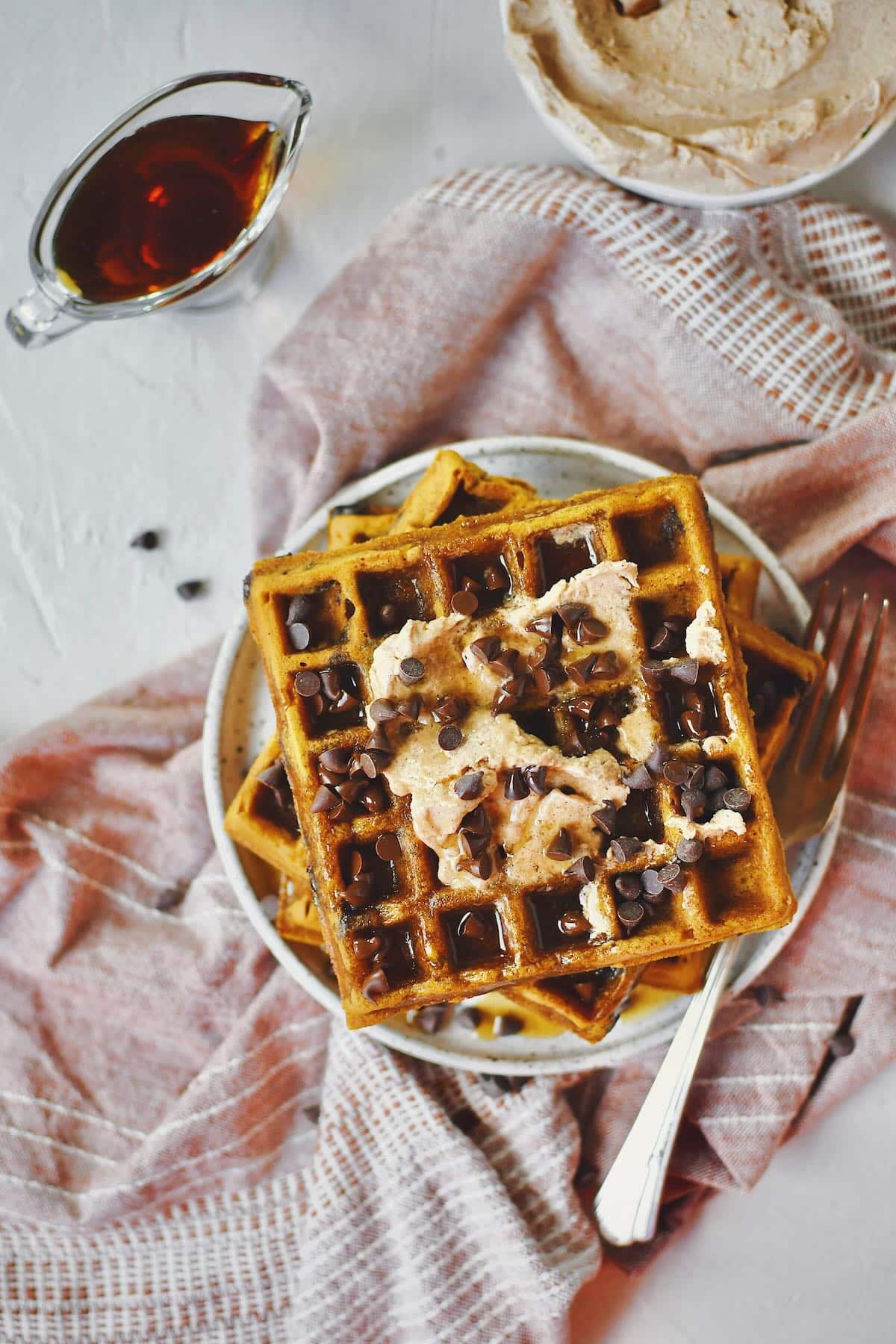 Did you make this recipe? Let me know by leaving a review or comment! And be sure to sign up for my newsletter, and follow along on Instagram, Pinterest, and Facebook!