There is nothing in the world that I love more than a blueberry muffin, and this Easy Blueberry Muffins recipe satisfies my LOVE for them, and quickly!
I also have to admit that I loved the McDonald's blueberry muffin. I ordered it on a whim on a road trip. You may think it's trashy food, but they took it off the menu so I had to replace it with this recipe.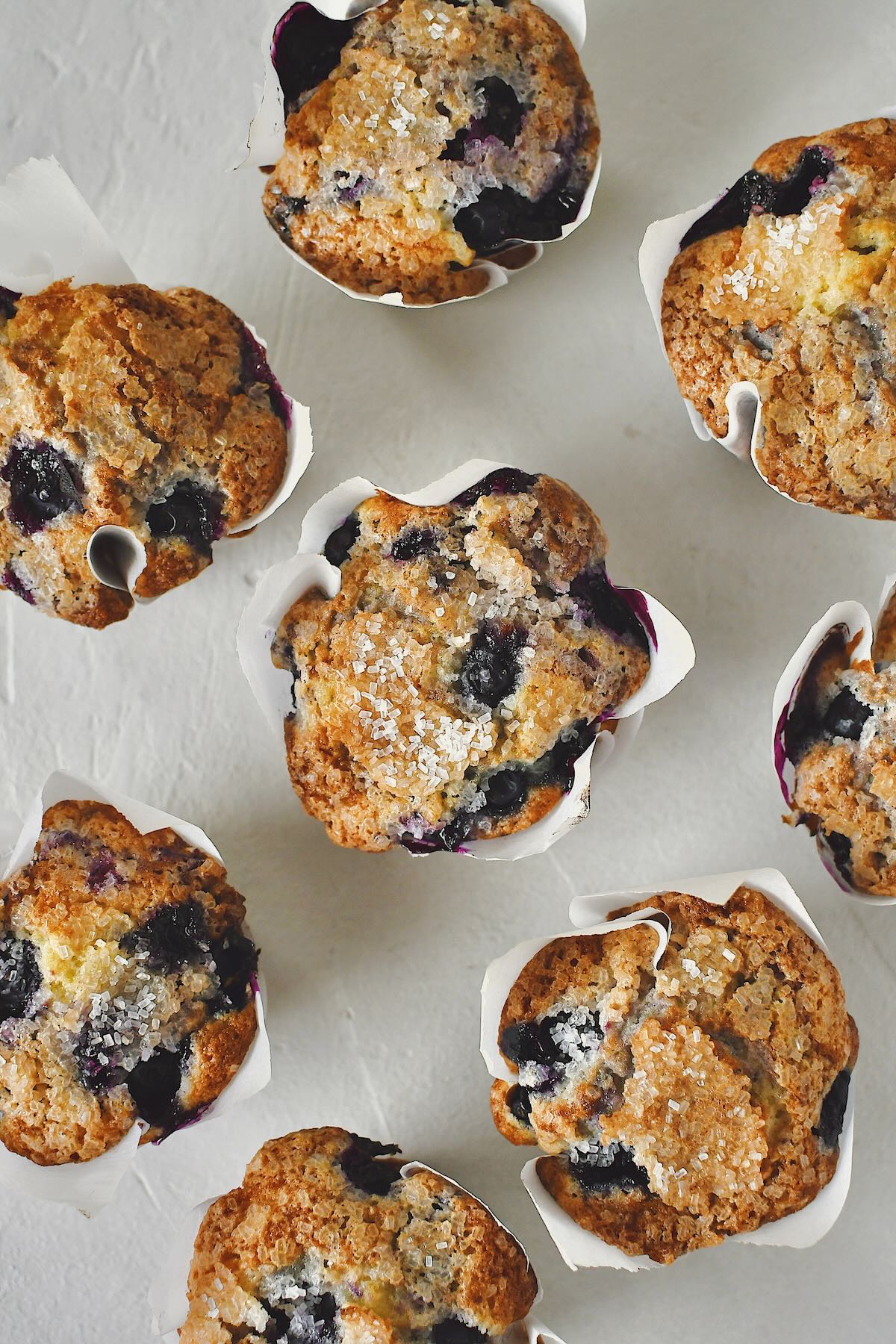 I personally think they are a PERFECT match for the fast-food version. But they are even better when they are fresh from my oven. It's safe to say this is a no-judgment zone. We all eat fast food from time to time, but homemade will always be best!
Jump to:
Ingredients
The ingredient list for these Easy Blueberry Muffins is just about as simple as it gets. Easy just like the recipe implies.
I do like to whip them up in the stand mixer. It is on the counter and I have to dirty a bowl anyway, plus it means I can get my butter really fluffy.
The only ingredient that you really have to seek out is the sanding sugar it is what solidifies the comparison to the fast food version, and it gives it a fantastic crunch and texture on top.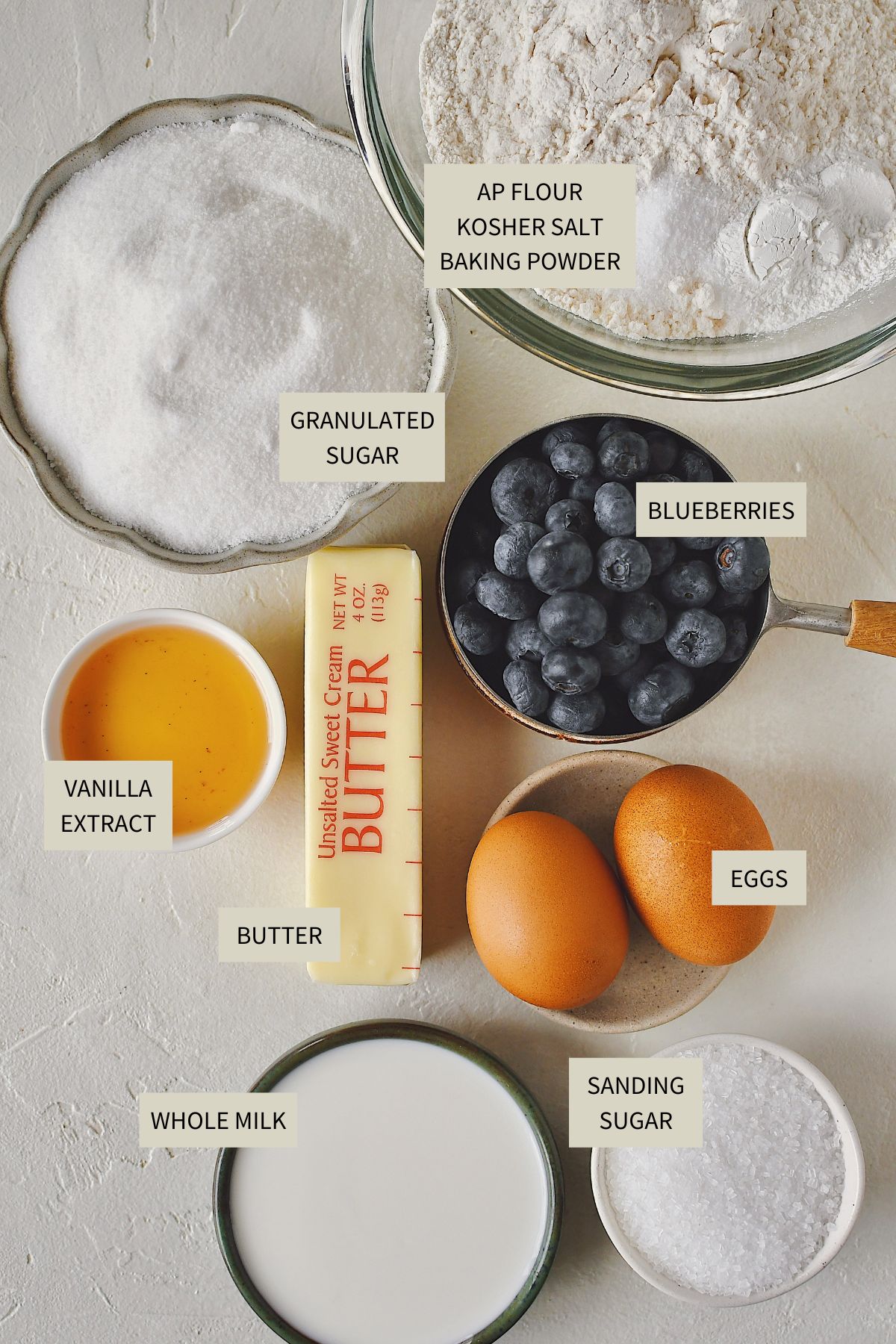 What you need:
Unsalted Butter
Granulated Sugar
Eggs
Vanilla Extract
All-Purpose Flour
Kosher Salt, Morton's
Baking Powder
Whole Milk
Blueberries
Sanding or Sparkling Sugar, for topping
See the recipe card for full quantities.
Use the JUMP TO RECIPE button at the top of the post, or scroll to the bottom of the post to see the full recipe card with ingredient measurements and instructions.
Method
Start by creaming the butter and sugar together until light and fluffy, then beat in the eggs and vanilla. Finish the base of the batter by beating in the dry ingredients until no lumps of flour can be seen in the bowl.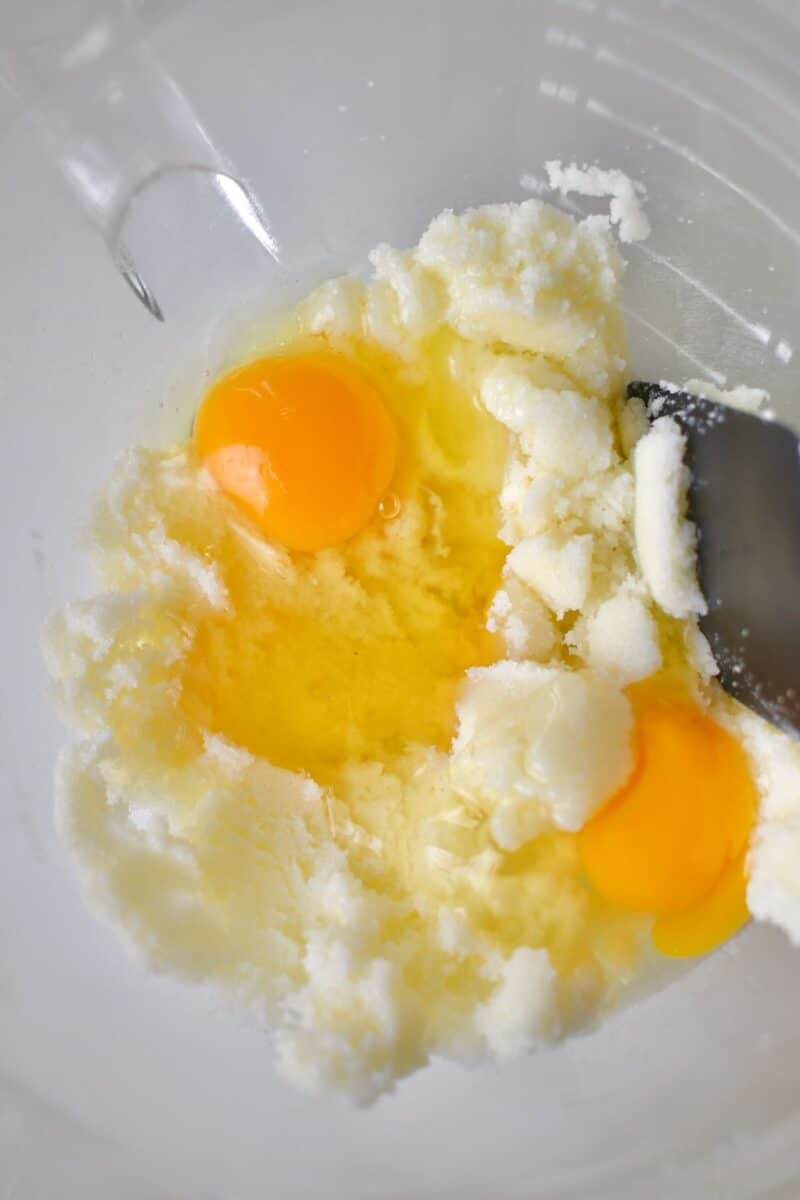 When you add the blueberries to the batter, I like to squish some of them with a fork till they become nice and tender. I sometimes toss them in the microwave for a minute to get a bit more juice out of them like you see below.
Then gently fold in the crushed blueberries into the batter, VERY gently, till it is just streaked through, only 2-3 turns of the bowl. If you mix it completely in you will overwork the batter and turn it completely blue.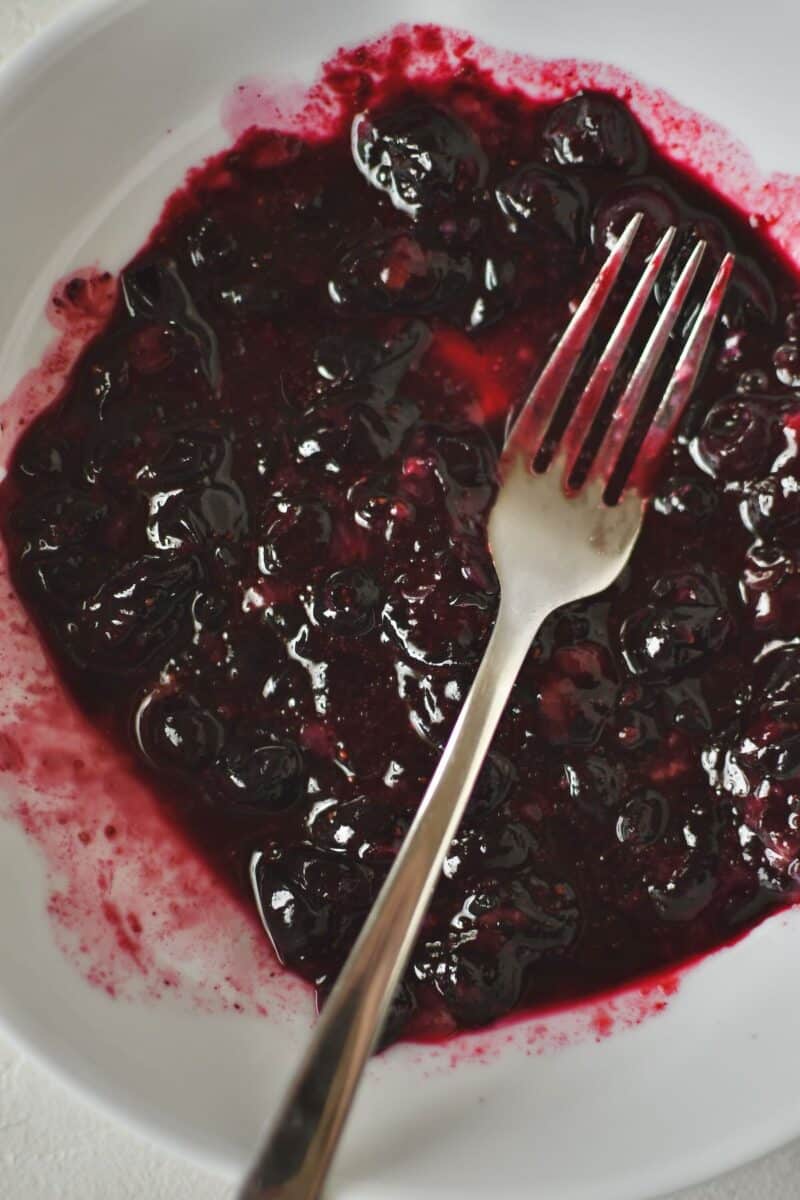 Portion the batter into a 12-cup muffin tin and top with more fresh blueberries and a full teaspoon of the sanding sugar. Bake till golden brown and a cake tester comes out clean.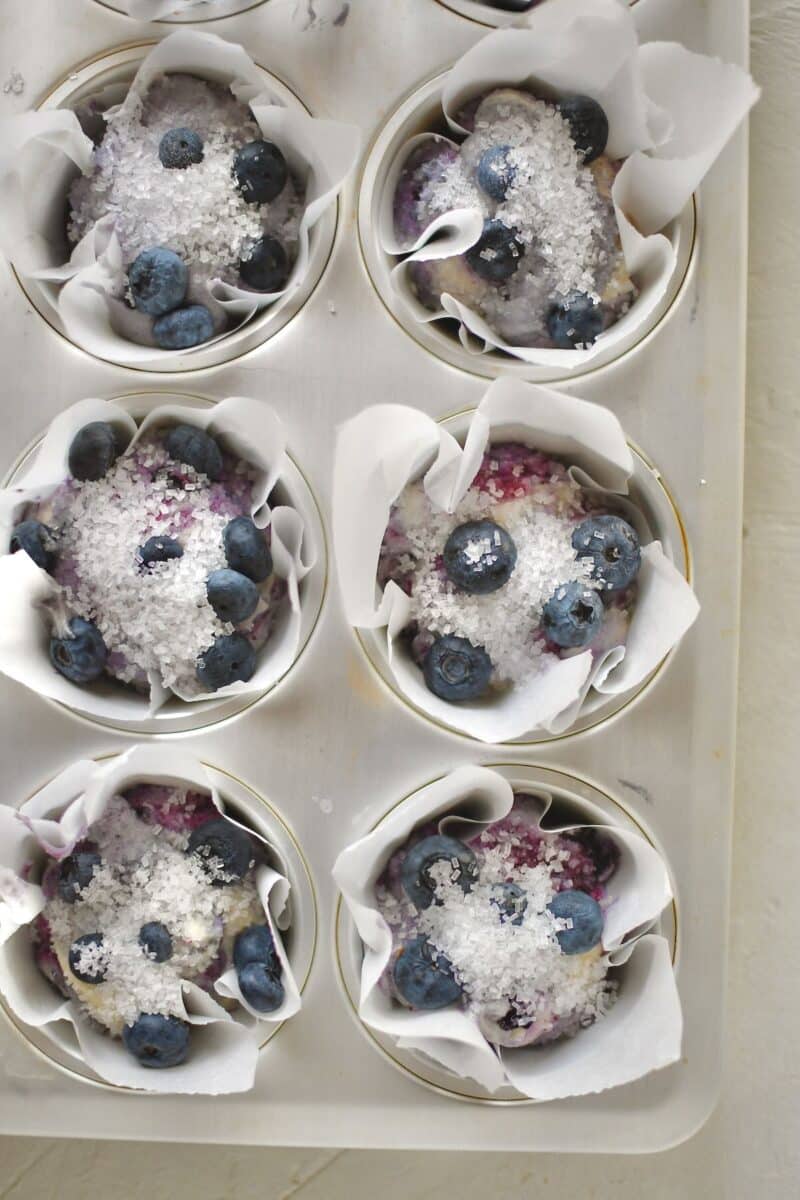 Remove the baked Easy Blueberry Muffins from the tin after about 5 minutes of cooling and let them cool completely on a wire rack. They are now ready to enjoy and will keep at room temp under a cake stand dome or in an air-tight container for about 3 days.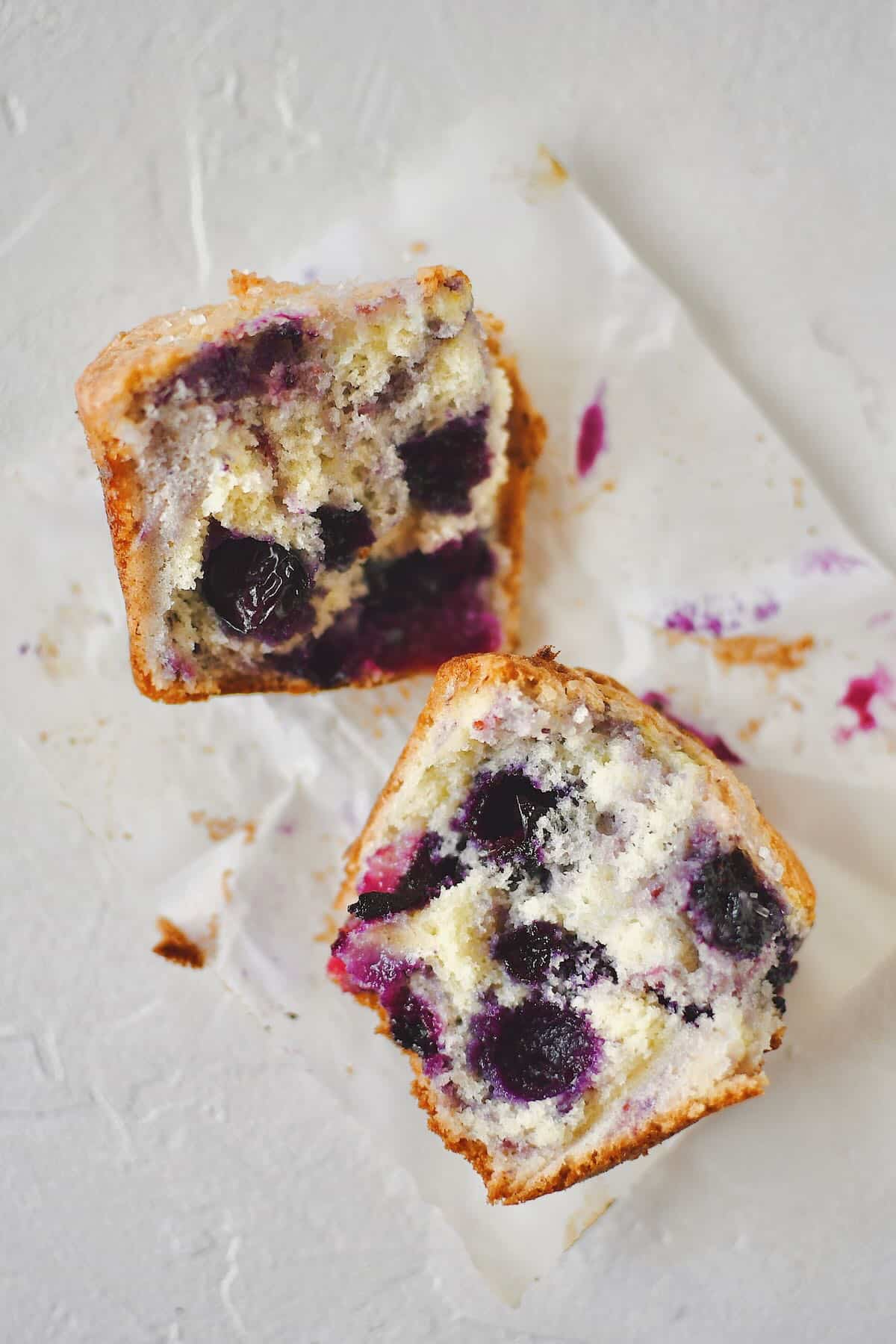 Notes & Tips
You can use fresh or frozen blueberries for this Easy Blueberry Muffins recipe, but if you use frozen I prefer to defrost them first. In a pinch, I typically only use the frozen ones for smashing and folding into the batter with fresh ones on top.
Take care when adding the mashed blueberries to the batter to only streak them in with 2-3 folds of the batter. You don't want to completely mix them in, just have them dotted through the batter.
I love to use my trusty blue disher for portioning the muffins. Each space should hold about 2 perfectly flattened scoops of batter.
I know a whole teaspoon of the sugar on top seems like a lot, but some if it will soak in, and it will spread as the muffins bake. Toss it all on there so you have a nice crunch on top when the muffins are done.
Substitutions
I haven't tried this recipe with a vegan or plant-based butter substitute but I am very confident it will work. They have gotten really good and the sticks I linked are great for baking.
To keep this recipe dairy-free for those who need it, aside from the vegan butter swap, use cashew milk in place of whole milk.
If you need this recipe to be gluten-free, swap the flour for THIS cup-for-cup swap. It is the best out there for baked goods!
If you want to swap the blueberries for another soft berry or fruit, you 100% can. The base muffin batter is pure perfection and is perfect with raspberries, blackberries, or even diced peaches.
If you don't have sanding sugar, or can't track it down you can add a sprinkle of regular granulated sugar on top to still give the muffins a crisp.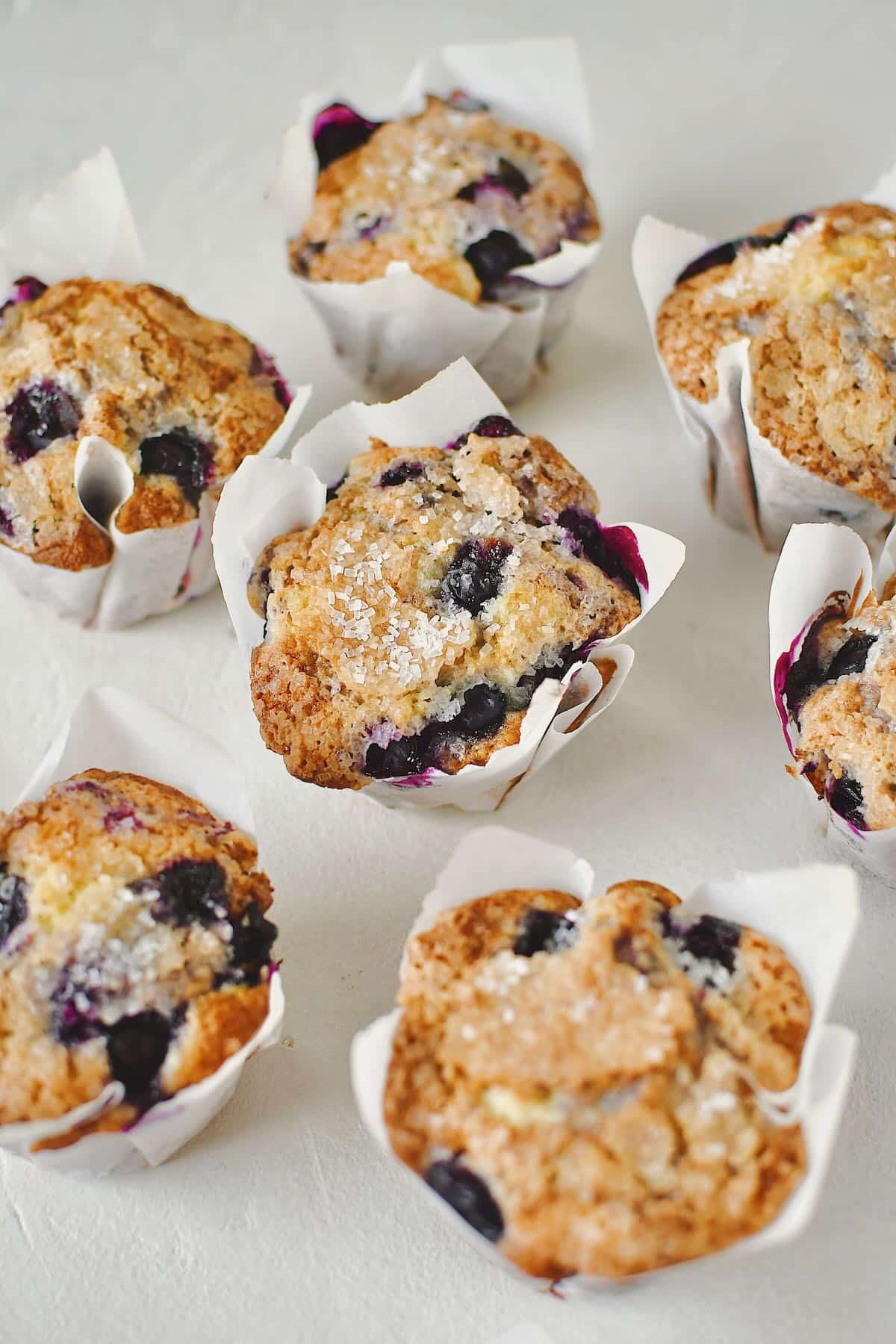 Did you make this recipe? Let me know by leaving a review or comment! And be sure to sign up for my newsletter, and follow along on Instagram, Pinterest, and Facebook!