This traditional icebox cake that uses chocolate wafers from the grocery store will take you directly back to your Grandmothers kitchen table. It is a blast from the past, but something I don't see being made much today. I honestly don't know why, because it is freaking amazing!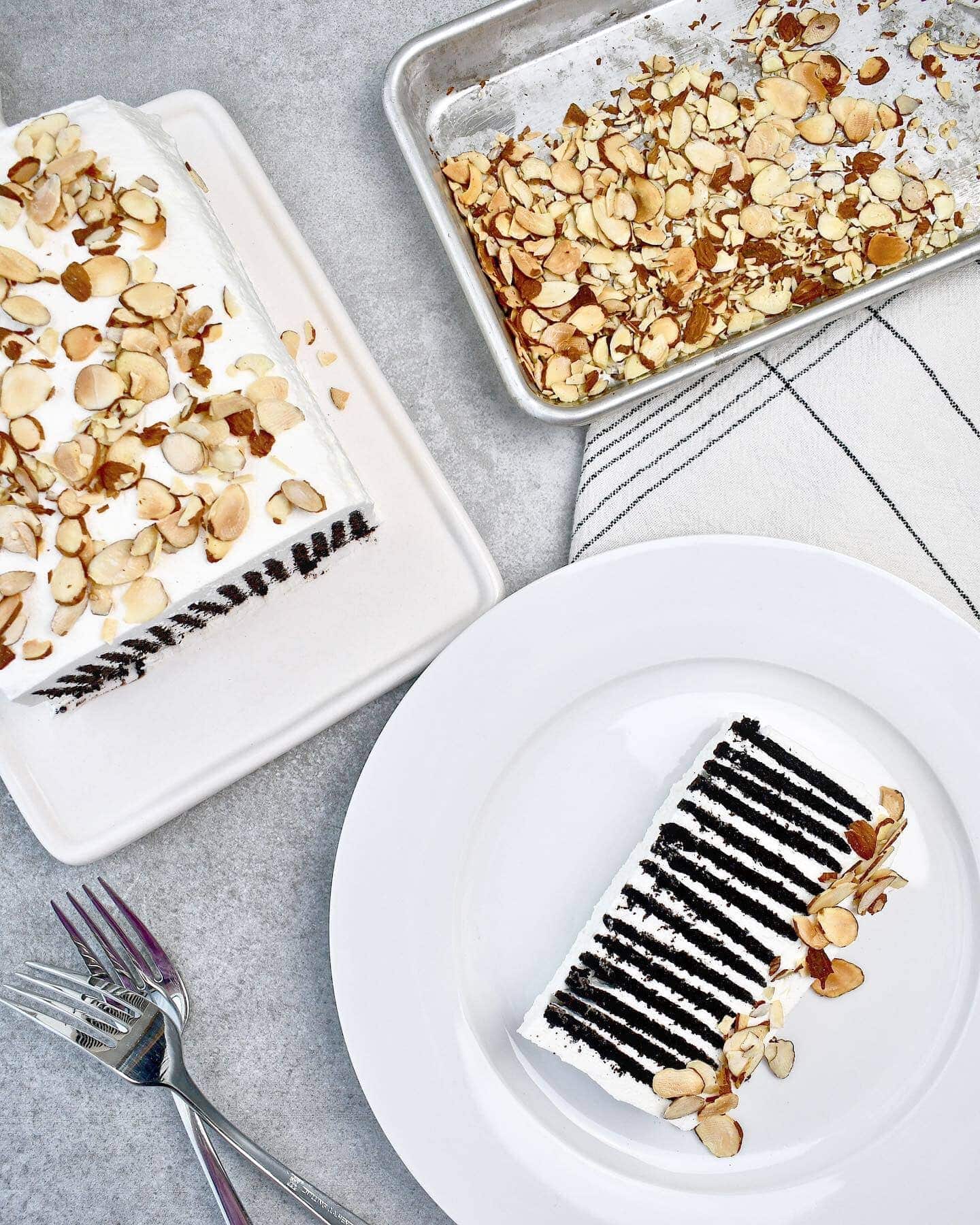 The cake like texture that these cookies take on when covered in whipped cream is basically the only thing you need in life. I can't pinpoint the exact time in life I remember this texture and flavor coming from. But the first bite gives you all the warm fuzzies you need in your adult life.
For more chocolate goodness make my Double Chocolate Almond Cookies! Need a Gluten-Free Chocolate option?? Try Chandice's Gluten-Free Caramel Chocolate Lasagna from This Vivacious Life. For something a little cleaner, try Abbey's Healthy Chocolate Banana Muffins at The Butter Half.
Building your Chocolate Wafer Cake
Now I really can't take the credit for this recipe apart from making it my own by making the whipped cream from scratch and topping with almonds. This recipe comes from the side of the chocolate wafer cookie box and simply states that you should spread 1-2 teaspoons of whipped cream between the cookies.
Build a tower and then spread a little cream on your platter and then lay them down. You can give them a little press on the top and sides at this stage to make sure they are all evenly dispersed and lined up.
That is it! Line them up and then cover in whipped cream. I mean, do the best things not just have the most humble beginnings?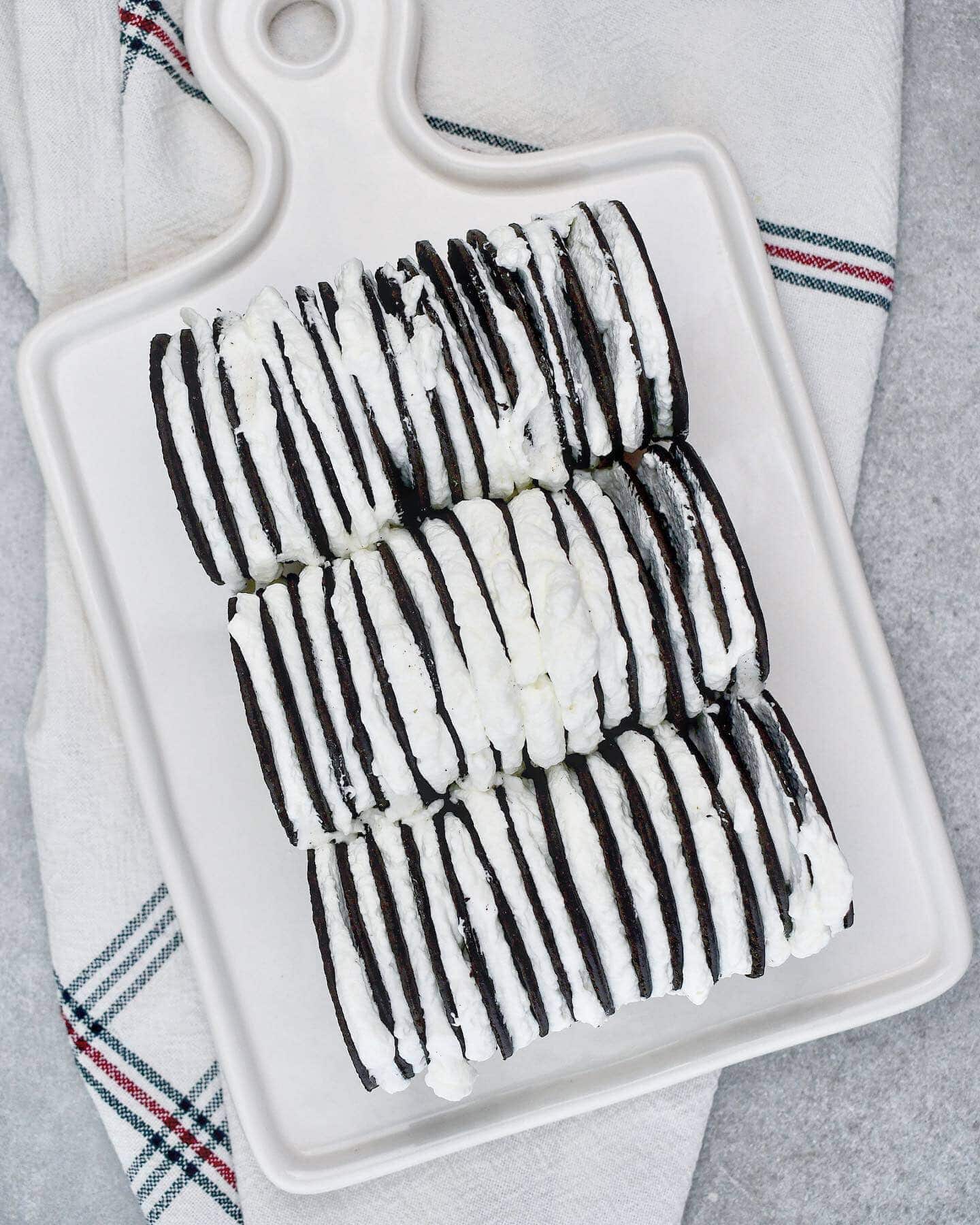 You can shape your cake as long or as short as you want. I just based mine off of the platter that I picked to finish it on. I think the more traditional intention was for it to be long and narrow, about 10 cookies wide, opposed to my 15. But you do you, the slices were a bit bigger and I'm not complaining.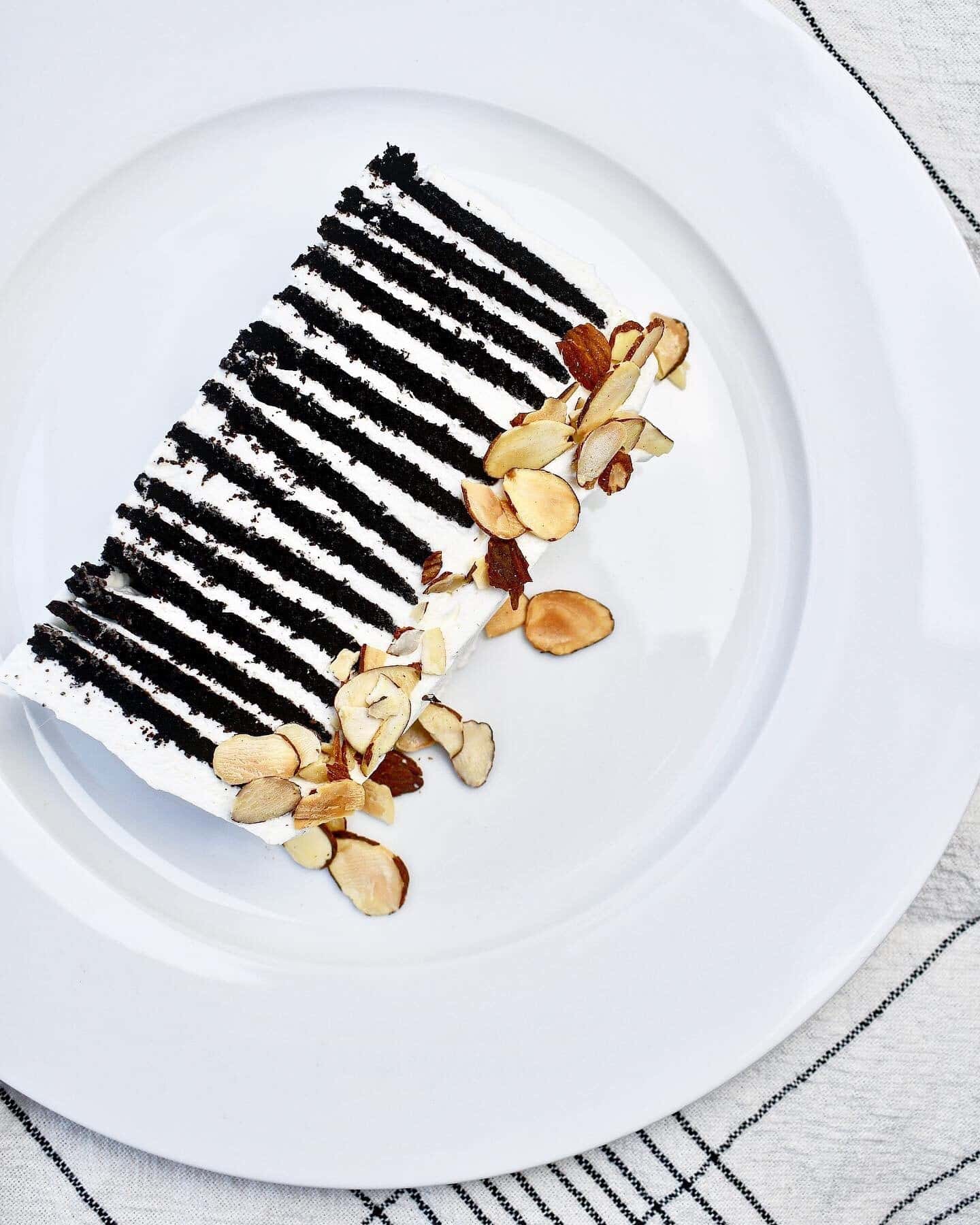 Ingredients needed
This is what you need to make it like I have and what you see above.
Nabisco Famous Wafer Cookies
4 Cups Whipped Cream
1 C Toasted Almond Slices
That's it! Three ingredients! Now if you are making your whipped cream from scratch you will need some powdered sugar and vanilla, but those are things you should already have in your pantry. Get my pantry guide to outfit your spice cabinet with the essentials.
Honestly this is such a simple and beautiful dessert that I would have no problem serving it at a party or taking it to one. The best part is that you can make it year round, just switch up the garnishes. You could top with peppermints for Christmas!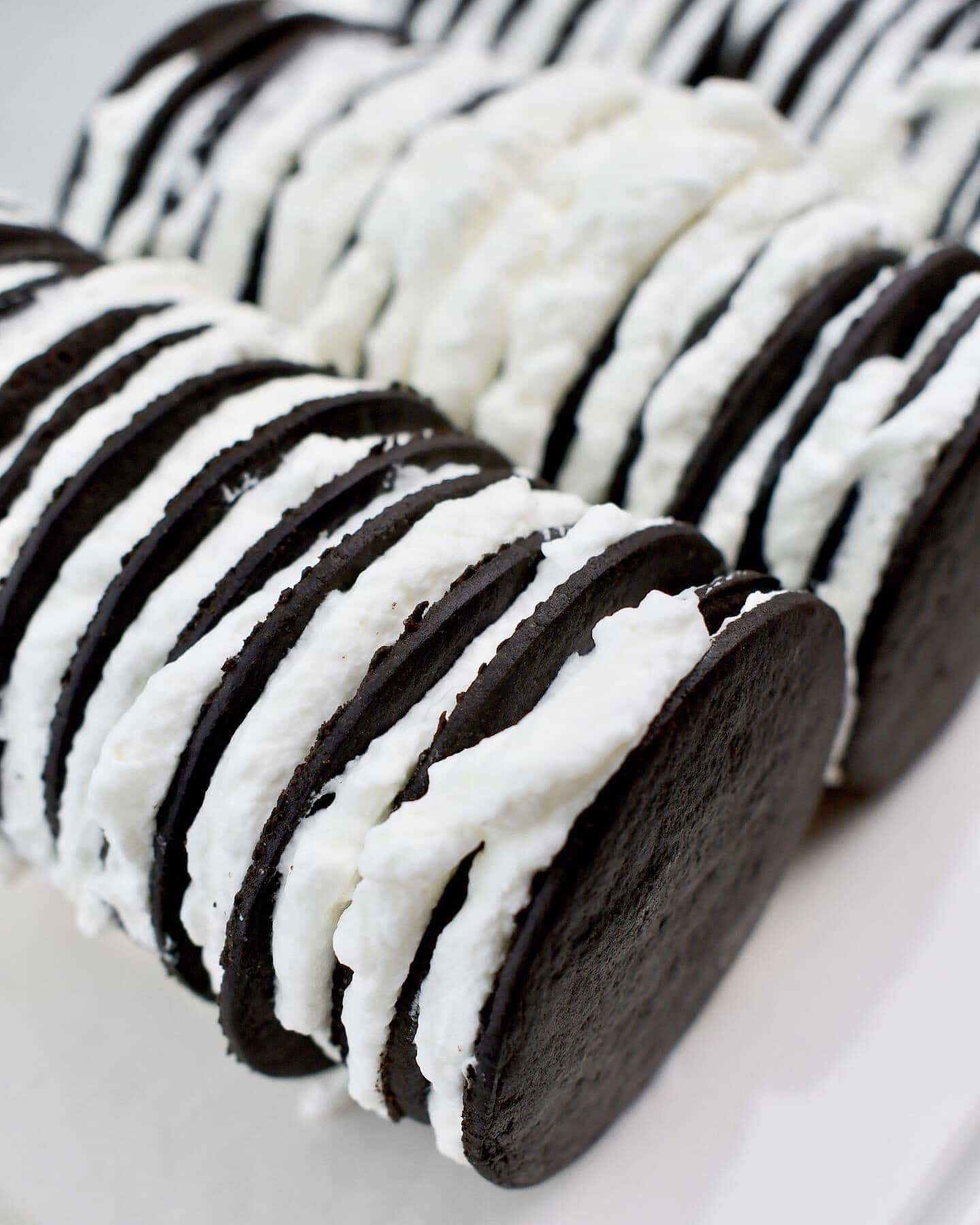 This cake is perfect served after my Crack Slaw. Get the recipe HERE!
MORE OF MY RECIPES HERE!
Get my NEW e-Cookbook here!! ⬇️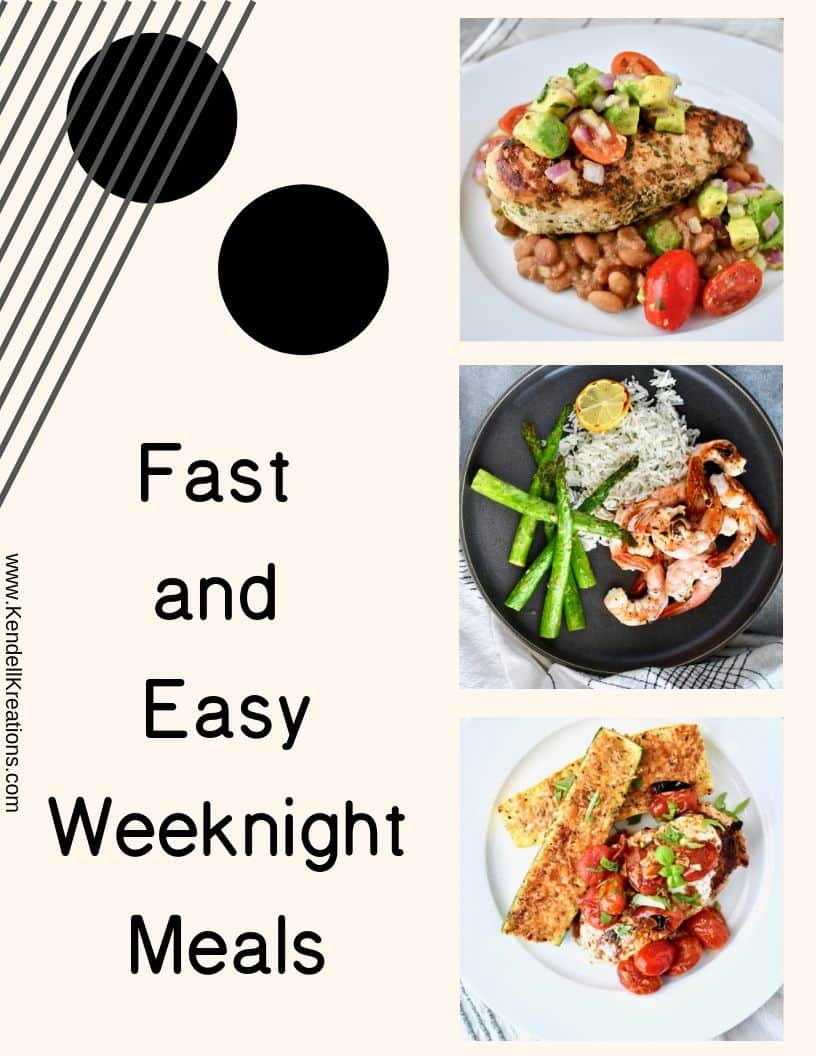 _
MY FAVORITE KITCHEN TOOLS!
Here are a few links to some of my favorite kitchen tools! You get a car, YOu get a car, YOU ALL GET A CAR…in my best Oprah voice
These Rösle Silicone Tongs are a little pricey but they will last you the rest of your life and are the softest in your hand. This is important for someone like m that cooks so much. It reduces strain, I have 4 sets in my kitchen!
These are my FAV Nordic Ware Sheet Pans, every kitchen should have at least 2 sets of these! I think I have at least 4 of each of these.
This is my favorite pressure cooker, the Fagor is the same concept as the "Instant Pot" but easier to use in my opinion, if you don't have one you NEED one, it will be your best friend in the kitchen!
A sharp knife is the most important tool in the kitchen, these Japanese steel "Shun" knives are my favorite! And this is a great starter set to build on. Once you try them you will be in love so use this as a foundation you can build on for years to come.
This Scanpan 11″ skillet is just the right size for almost anything you will need to cook and my best friend and a real workhorse in my kitchen, it's also a great deal at $99. Scanpan is the best in the world for healthy cooking. It is coated with a proprietary ceramic titanium coating that is durable while allowing you to use fewer fats and oils when cooking. It is a coating only they use. I could talk all day about my love for these pans, message me if you want more info. Here are some other sizes that are available if you are looking to outfit your kitchen with some new goodies. 8″ & 10″ Skillet setor 8″ Skillet, I still need this one for my kitchen Also, I don't really know how to cook small so the 12.5″ is my other fave!
This giant vat of olive oil is my favorite, I decant it into a smaller bottle for my counter. Or put this spigot on top of a wine bottle!
This Tovolo jar scraper has to be my single favorite kitchen tool, it is definitely the most used tool in my kitchen. If you are NOT a gadget person, this is the only necessity I say is a MUST beyond the wooden spoon.
A great wood spoon is essential, this Olive Wood one is my favorite, I have more than I can count. But can you really ever have too many?
A food scale can be a very important tool in your kitchen, this one is the one I use every day!
If you love Joanna Gaines as much as I do then the 'Magnolia Table Cookbook' is a must in your kitchen, get a copy HERE!
Check out this great product for your mason jar, the Ergo Spout lets you turn any jar into a pourable pitcher. Get yours here! I love making my homemade salad dressing and keeping them this way in the refrigerator.